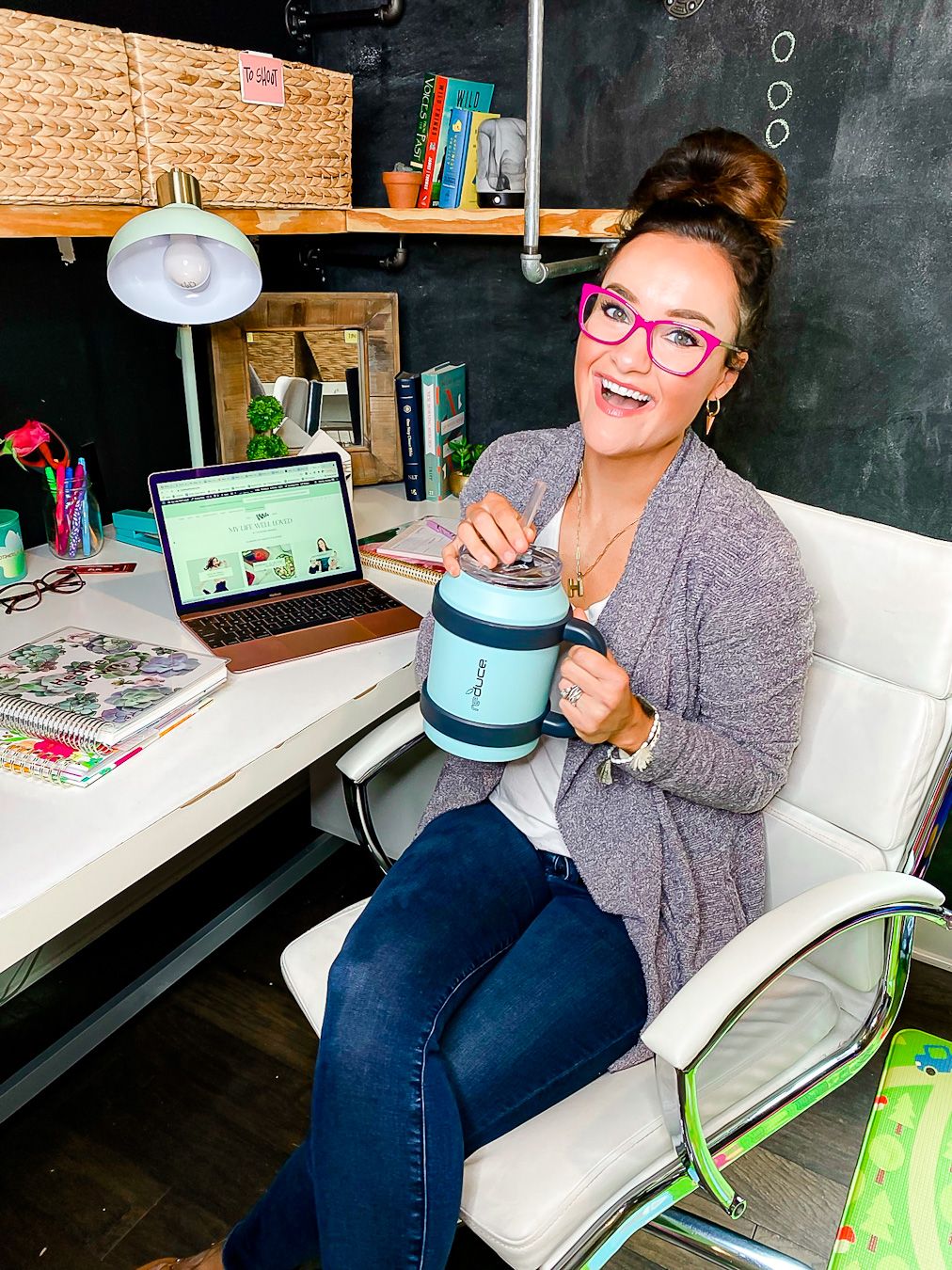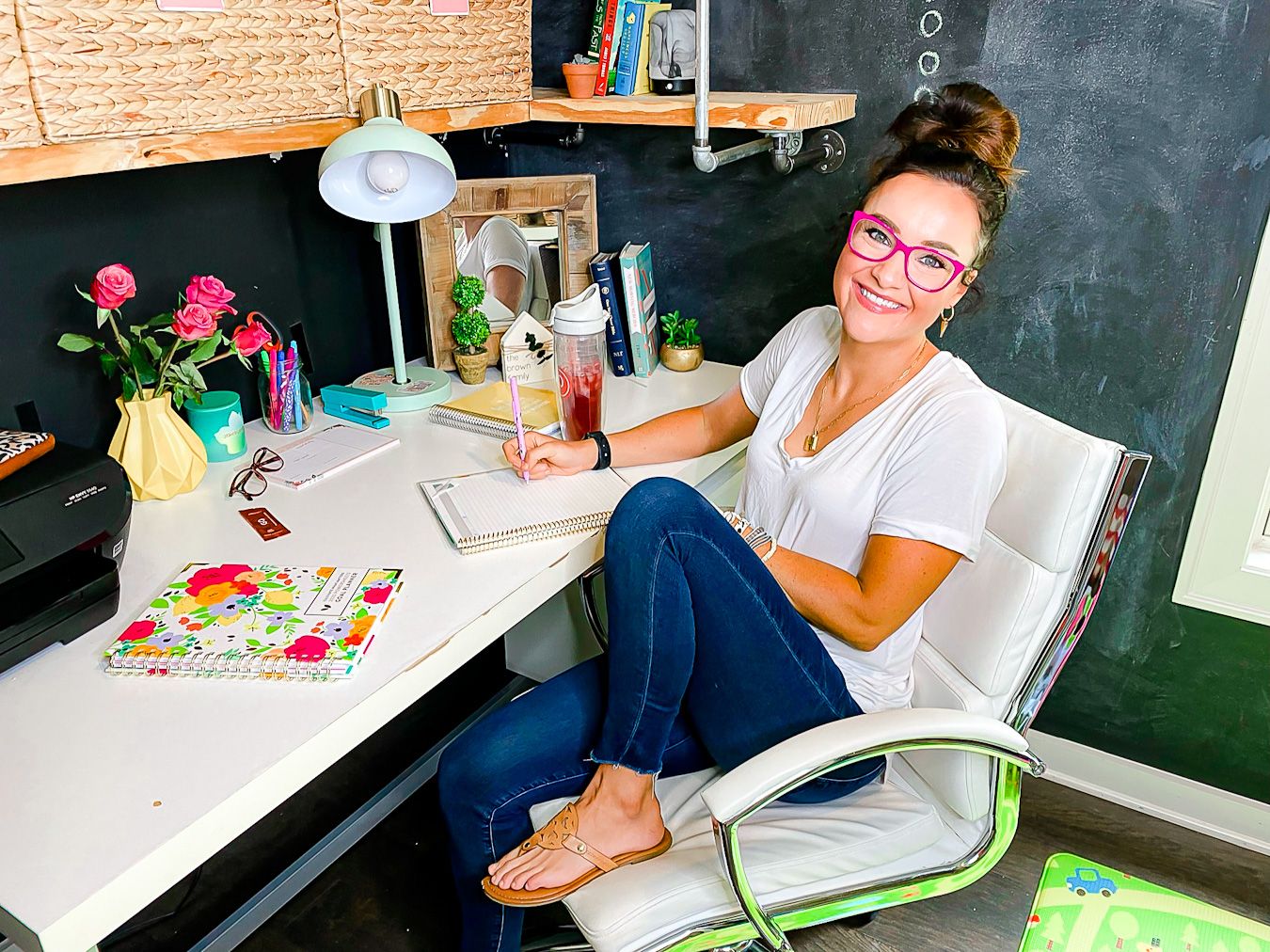 Shop The Working From Home As A Mom Post Here:
Use code HEATHER20 for 20% off my necklace and code HEATHER15 for 15% off my bluelight glasses!

About 10 years ago, I started working from home for a meal planning company. I remember thinking it was so cool that I could work from home and also have time to teach Pure Barre classes + working on the blog as my side hustle. Eventually, though, the company grew and started requiring us to come into the office more, and gradually got stricter, and eventually was fully in-office with only a 30-minute lunch break. I had really gotten used to the flexibility of working from home!

For my personality type, it's basically a nail in the coffin to ask me to sit at a desk all day and work without any breaks or freedom to set my own schedule. I loved being able to take an hour and a half lunch to workout or teach, even if that meant I had to work an hour and a half after my baby went to bed to make up for it. Working from home has SO many benefits, but it also has negative components as well. It's all about finding what works for you as you begin working from home as a mom.

I worked for that company for about five years. When I had my firstborn Leyton, my last day was about a week before my due date. After I had Leyton, the Lord orchestrated me to work part-time for a real estate agent while I was still growing the blog. If you've read my postpartum depression story, you know that this was a hard season for me. Eric and I continued to budget, plan, dream, and WORK my booty off on my blog, while having a side job as a Pure Barre teacher, and still helping the real estate agent part-time with marketing, and I eventually got to a place where we were comfortable with me doing Pure Barre and My Life Well Loved.

Here we are, almost a decade later, I am running My Life Well Loved with a team of women who work for me! It is a true honor to serve this community of women in this capacity. I am blessed to be able to share my life with you, and I know that the only way to have a life that is well-loved is if Jesus is at the center of it. I am so thankful to call this my job. If you are a work-from-home mom, or one day want to walk in these footsteps as an entrepreneur, I hope that this post will be encouraging and helpful to you!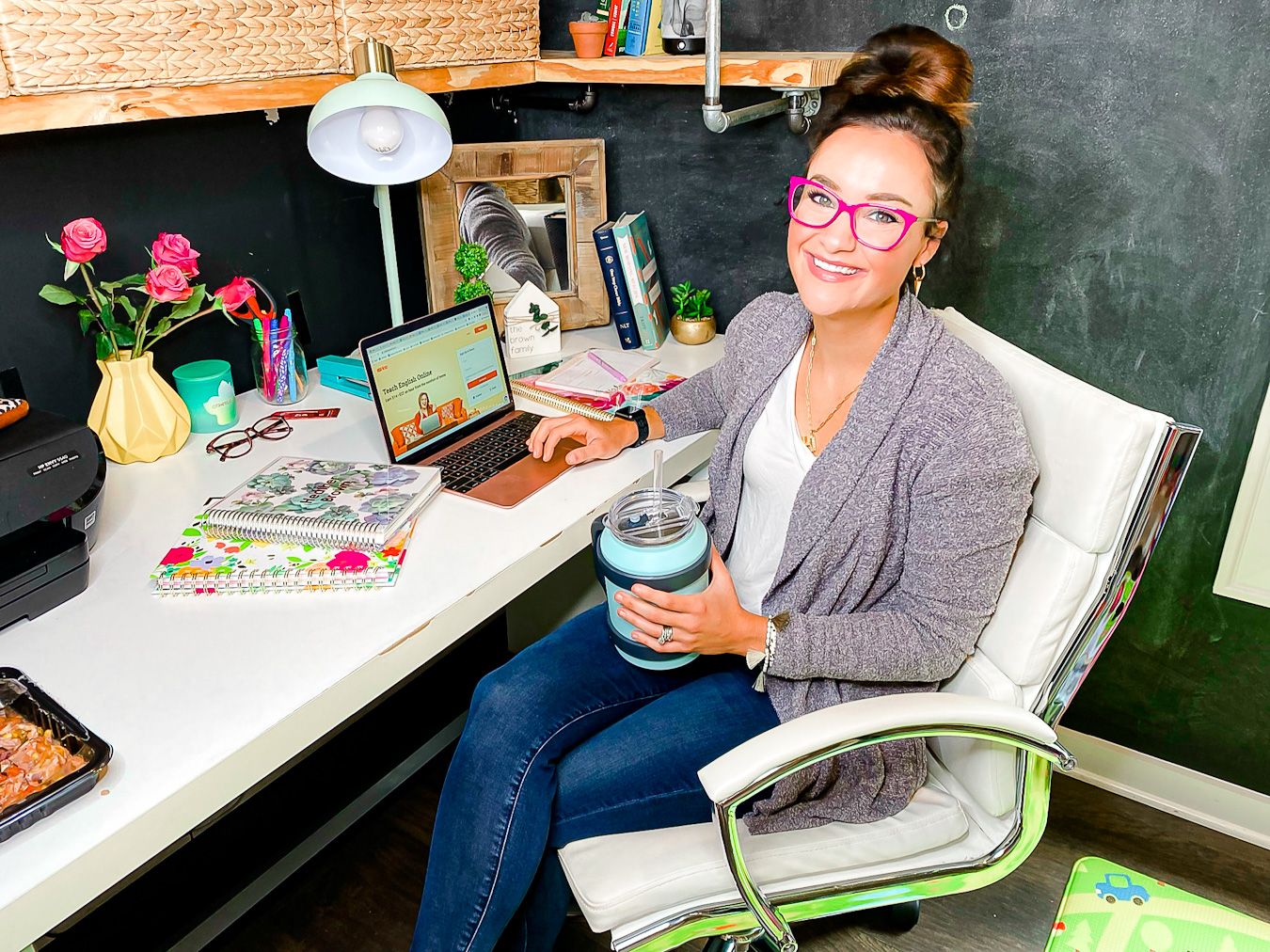 Working From Home As A Mom
A lot of you have reached out to me and are interested in doing something similar to what I do, whether it be blogging and content creation, or other jobs that can be flexible for working from home as a mom. There are so many side-gigs out there for making money from home. I feel like in the last year especially, more and more people are moving toward working from home. It's great to have side hustles, in fact, I've always heard that you should have multiple streams of revenue for building wealth. For me, I do ads on the website, Instagram and my other platforms, use affiliate programs like LiketoKnowIt and others, and most recently I started selling liquid collagen because I was passionate about it after seeing my own personal results. If you're interested in selling it, send me an email (mylifewellloved@gmail.com) and I can help you get set up!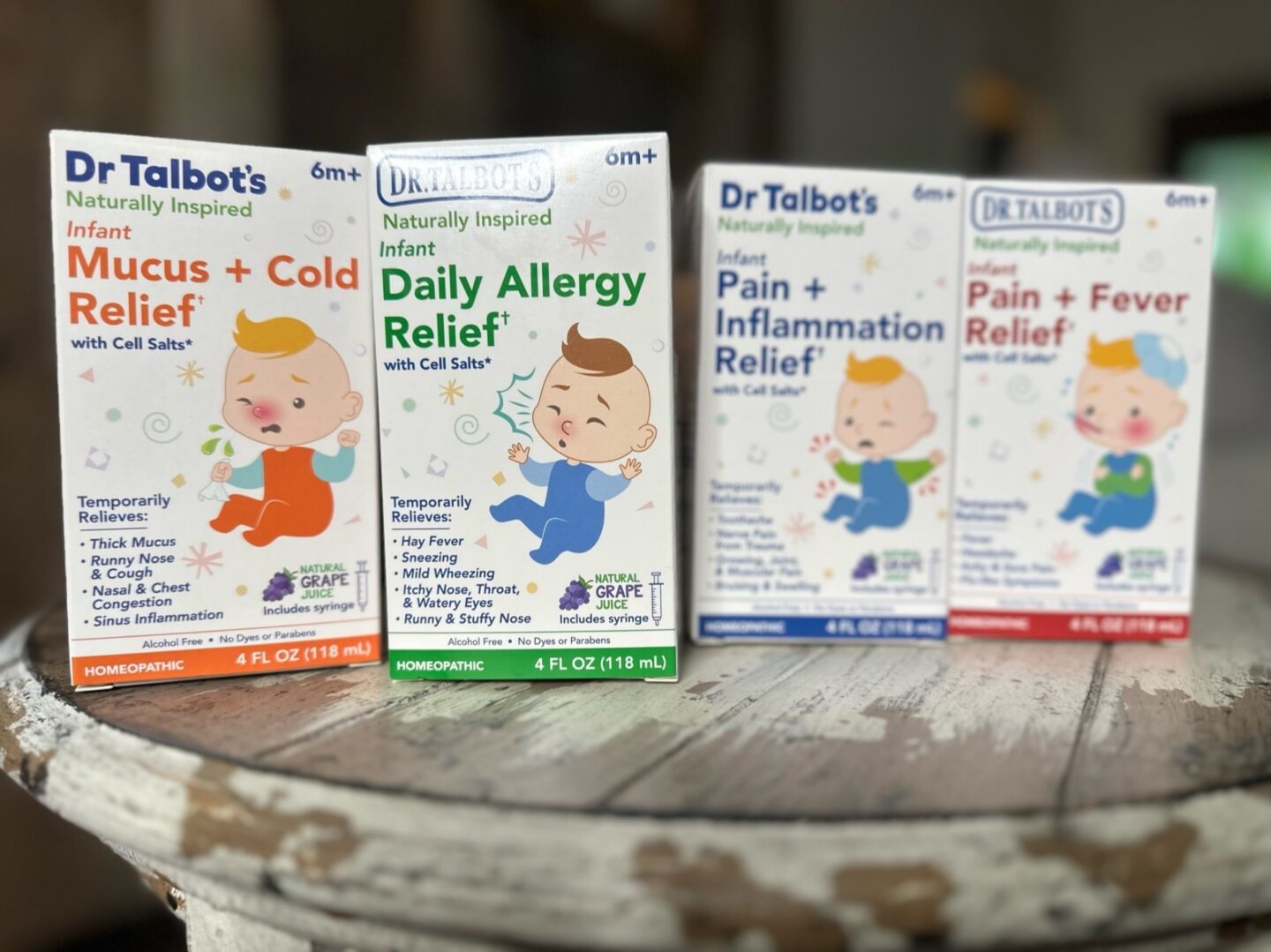 A new way you can start earning from home in the content creation space is through Dr. Talbot's x Kale content creation program! You can earn money by posting fun videos! Dr. Talbot's has teamed up with Kale, a creator community, and ANYONE can earn simply by sharing on Instagram or TikTok! Go to THIS LINK to get started!!
Another thing that I know some of my friends do to work from home is teach for VIPKID! It is a platform where people in the US and Canada can teach English to kids in China. It offers flexibility for teachers to create their own schedule whenever it is convenient for them to teach, anywhere that they have access to WiFi! The pay is anywhere from $14-$22 per hour, and you just have to have a bachelor's degree and at least two years of experience working with kids, which can be anything from babysitting to teaching. Check out this video for some FAQs about the hiring process. There is no class prep or curriculum prep required. Fun fact: they were voted #9 on GlassDoors best places to work! A quick google search will provide you with TONS of pros and cons to teaching for VIPKIDS, so you can decide if it's right for you! For more information, visit VIPKID!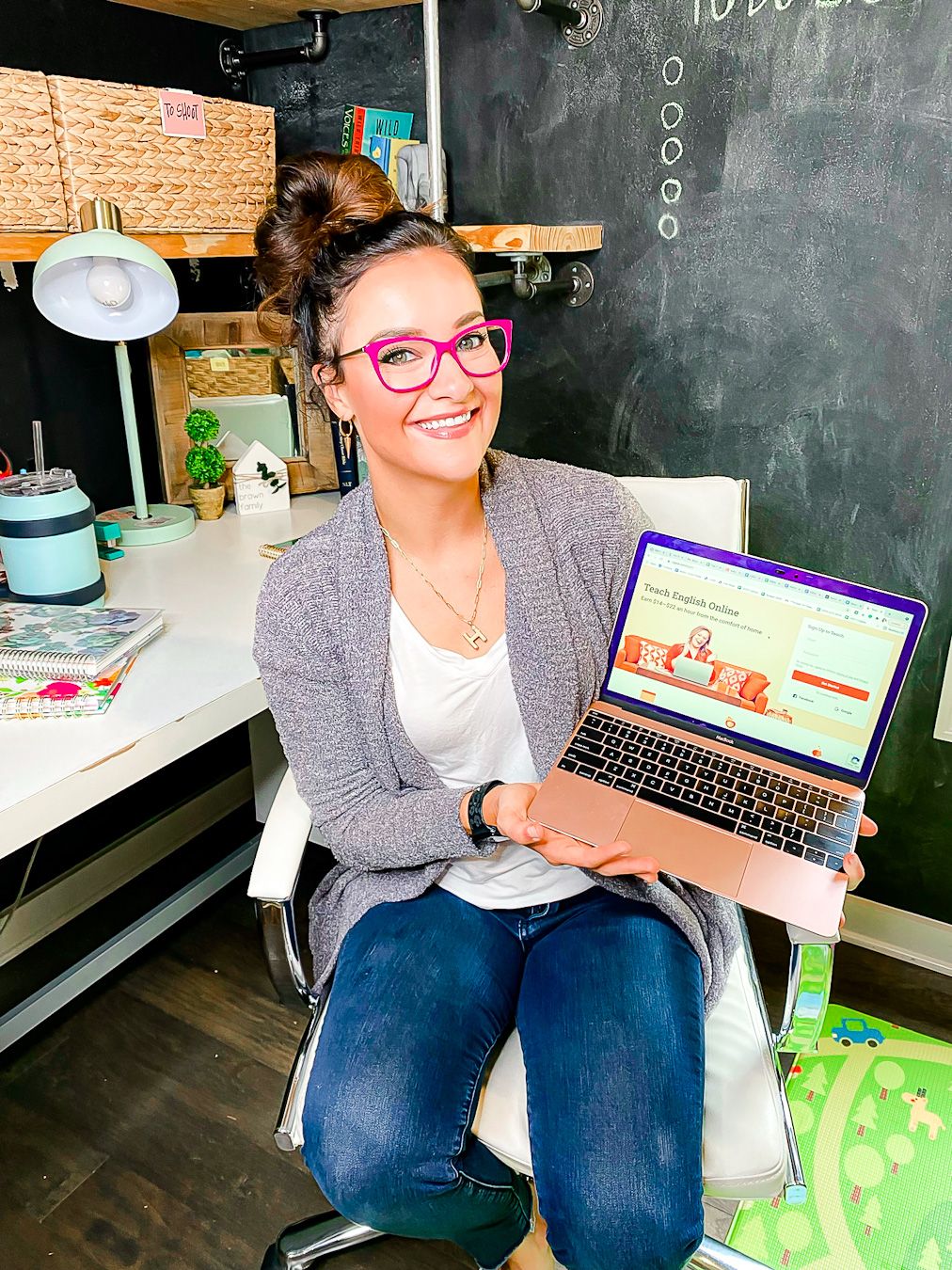 The Best And Worst Things About Working From Home
One of the questions I've been asked is the best and worst things about working from home as a mom. The worst part is the struggle to keep boundaries. When you work in an office, you leave at 5:00 and have the drive home to transition your mind from "work mode" into "home mode", whereas when Eric walks in the door at 6:00 I'm sometimes in the middle of a phone call or trying to fix a major problem on the website or some crazy thing that can't always wait. It's HARD to fully shut off with a job like this.
On the flip side, I know that this is what the Lord has called me to do! The My Life Well Loved community is so special to me. Any time one of you sends me a DM or email saying you've never worked out a day in your life but decided to start because I showed you that it's doable, and now you're feeling better and have more energy – that totally brightens my day. Or if you've seen the gospel through my platform and decided to open your Bible and get back into the Word – I cannot describe how much that means to me! I am truly grateful for this platform and the way God is using it for His glory.
Now, hopefully these tips I'm sharing below will help YOU in your working-from-home journey.
My Top 13 Tips For Working From Home As A Mom
#1 Develop A Routine // While I love working from home because my wakeup time and overall schedule can be flexible, I think it is so important to develop a routine and boundaries around that routine to help your body know what's happening. Consistency is key for defining the times in your head. When you work in an office, you drive to work and are able to transition into work mode. However, with the WFH life, it can easily all blend together without those boundaries and routines. Your workday needs to have a beginning and end so that you fully shut off "work mode". It's also helpful to get up and get ready as you would for a normal workday because it helps you stay structured. I make sure to drag myself to Burn Bootcamp every day because it wakes my body up, and it has free childcare so I can use my workout time to mentally prepare for the day without distractions.
#2 Spend Time With The Lord // It is extremely important to get in the Word and spend time with God (I linked some of my favorite devotionals here!). He loves for us to come to Him with anything on our hearts, including the stress of our job or struggles of parenthood! He is longing to provide us with comfort and peace. Spending time with Him is so life-changing and can set the entire mood for the day for your family. And remember, His mercies are new every morning! He loves you, friend, and wants you to draw your strength from Him.
#3 Have A Designated Work Space // Again, the flexibility of working from home is the main appeal, but for some people, working on the couch is not ideal. This is a personal preference but I know that it can sometimes starts to feel like home is work and work is home, so having that differentiation is important. Even if you don't have a full office dedicated to your work, try to set up a small nook or space that you know is your work zone. If you are needing help keeping your workspace or home clean, I highly recommend checking out Bear Brothers Cleaning!
#4 Fuel Your Body // Take the time in the workday to stop for lunch and eat something healthy! It's easy to get caught up in work and look up at 3:00 and realize you haven't eaten all day. Your brain won't function at its highest level if it isn't fueled with the nutrients it needs. If you need ideas, click here to get my FREE 6-week lunch guide!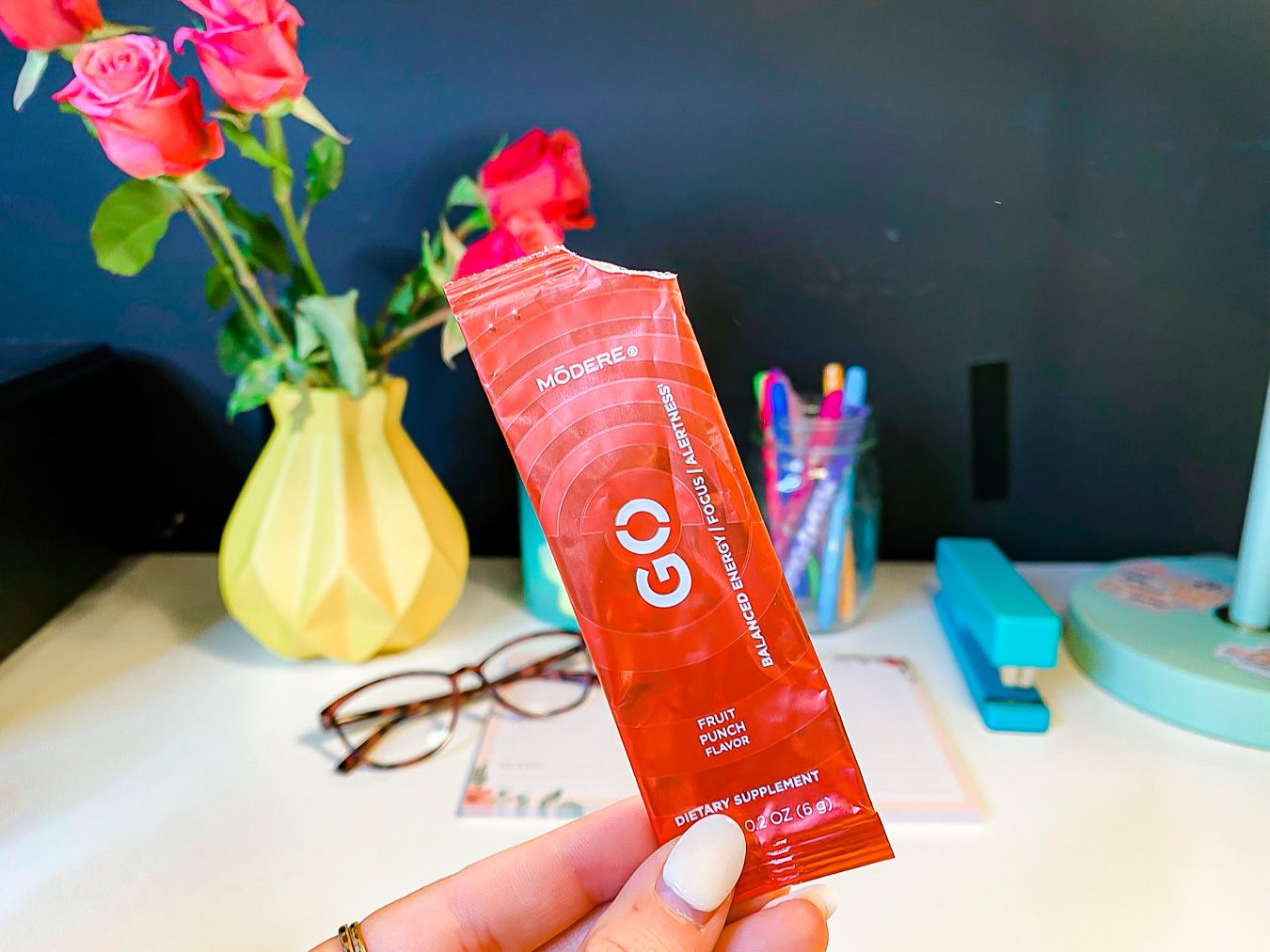 #5 Have Caffeine On Hand // This one is a non-negotiable for us busy mamas! I always keep my favorite Nutpods stocked, as well as my Iconic Protein for making my favorite Coffee Protein Smoothie recipe. When I'm not drinking those, I am always grabbing my Go Energy for an extra pick-me-up! New customers save an additional $10 when you use code 2256749. One other thing to note: you have to make sure you're getting your water intake. Staying hydrated is crucial for functioning at your best. If my brain ever starts getting a little foggy, I know it's because I'm not drinking enough water! If you need encouragement in this area, I have a FREE printable to stick in your planner to help with your water drinking goals!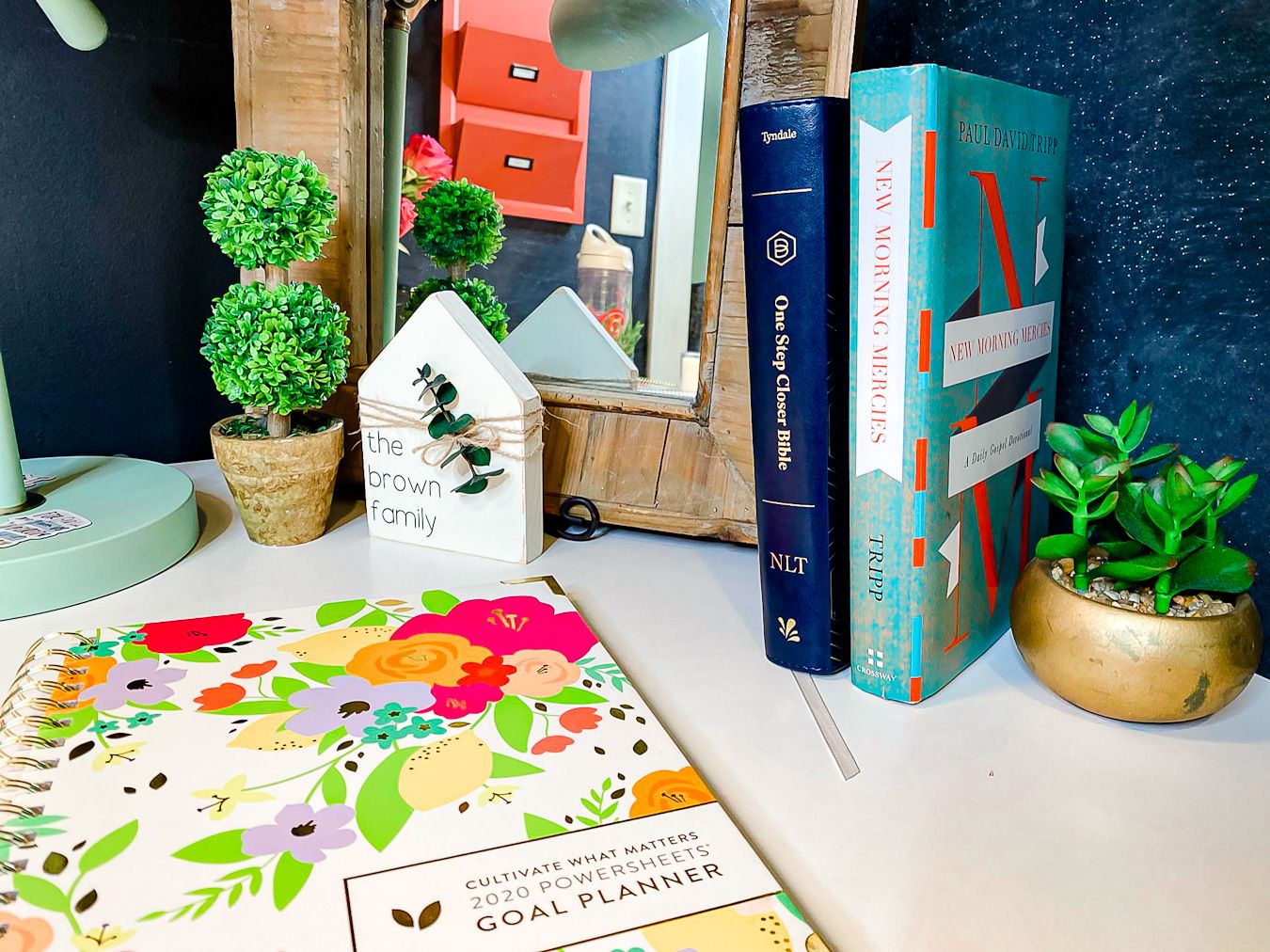 #6 Equip Your Desk For Success // My laptop is obviously my number one tool for blogging! I also use a ring light, charging cords, and some people love a lap desk if working in bed. I LOVE my Erin Condren planner, the new Daily Grace Co Desk To Do & Prayer Request List & the Cultivate What Matters PowerSheets Goal Planners for organization! Digital calendars are great but I always love physically writing things down, too.

#7 Take Walks // I take walks while I answer emails because it gets me out of the house and gets my body moving a little bit + like we just discussed in the stress buster post, Vitamin D is SO good for you! You can also invest in a standing desk so you can move around while working!
#8 Schedule A Babysitter On Busy Days // If I know I have a crazy workday coming up, I will schedule a babysitter for that day so I can fully devote myself to work. I typically have a babysitter 3 days a week to get my work done. If you feel comfortable with it, you can encourage your babysitter to take the kids to the pool while you take phone calls and need a quiet house. It's also more fun for the kids, too! Another note, if you don't go the babysitter route, you can take advantage of the kids' school time or extra-curricular activities. Try to batch work while they are at their activities to maximize your workday!
#9 Switch Up Your Environment // Maybe some days you work at home, but other days you hit up a coffee shop, or if the weather is nice you work on your back patio! Switching up your environment gives your brain a "refresh" and helps you not feel so stuck. I get SO stir crazy if I am stuck at home all day. Try to mix it up and give yourself variety in your environments! Again, this only works if you have access to a babysitter. There are plenty of days where I don't, and I've got to stay home while the kids are napping. But I take advantage of every chance I get to change up my work setting.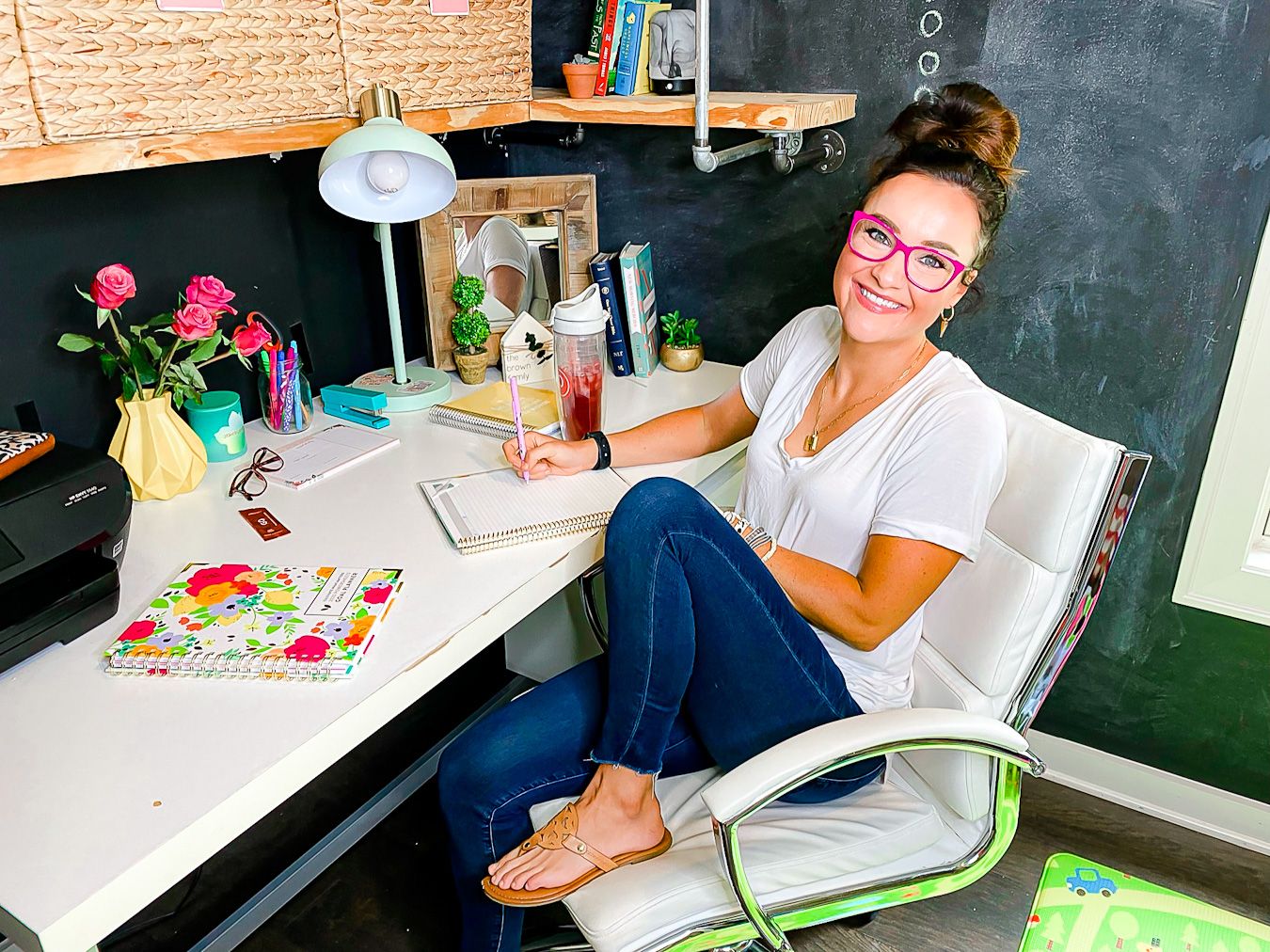 #10 Dress For Success // Another perk of working from home is that 99% of the time I am in athleisure outfits! I wear leggings, cute joggers, or workout clothes almost every day. However, for those more professional meetings, it's always helpful to have a cute denim jacket (use code HEATHERBROWN20 for 20% off) or a blazer to throw on the top half that will be seen on Zoom! Check out my 5-minute makeup routine or my hair tips for busy workdays!

#11 Identify Your Most Productive Hours // Are you more of a morning person? Do you thrive at getting work done at midnight? Is your best time right after lunch? Figure out the time of day that you are the most "on" and capitalize on that. Make sure you structure your workday to accommodate your own personal needs. I absolutely HAVE to have a to-do list, and I usually write it out in order of priority so I can make sure I'm working on the most important items when I'm in my best headspace.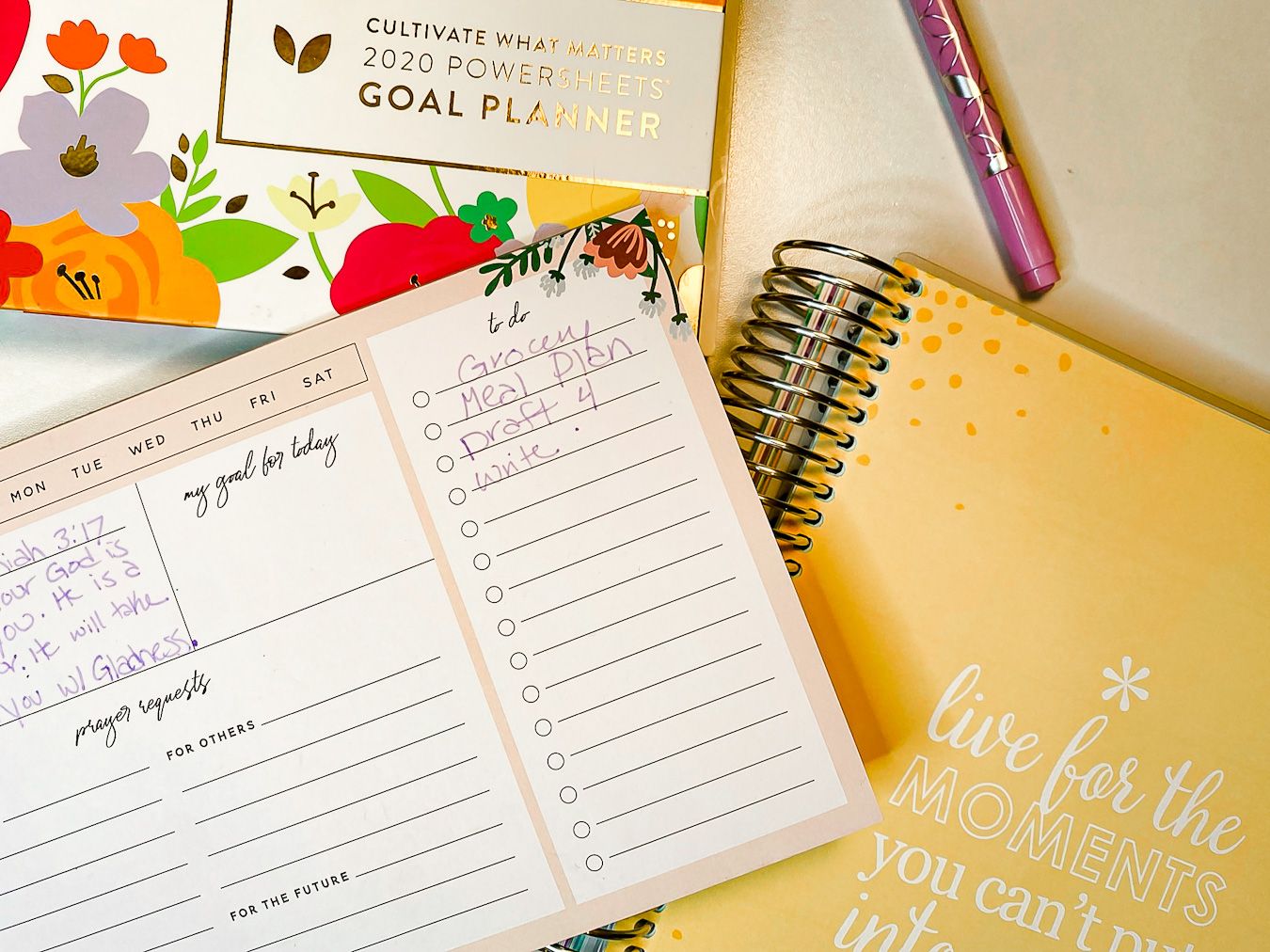 #12 Plan Your Week // I sit down on Sundays and plan out our week. When is date night? Who has doctor appointments? I try to brain dump the many things that can often get forgotten about and then end up as major stressors last minute. Something else I've found to be a game-changer: MEAL PLANNING for the week. This is an easy way to ensure you have one less thing to think about each evening when dinner rolls around. Especially working from home, 6:00 pm sneaks up on you really quick and you'll find yourself saying "Forget it, we're going to Chick-fil-A again!" more times than you can count if you don't plan ahead. My Meal Planning For The Busy Mom eBook is a great resource if you don't know where to start!
#13 Give Yourself Grace // It is perfectly okay to want to be a career woman AND a mom. Often times society makes us think we need to choose. I know how hard it is to have your own business, a team of people looking to you for leadership, and also wanting to show up for your family and give them your absolute best self. Working from home as a mom is HARD. But know this, moms: there is grace. You are not alone in this! If you get overwhelmed with work and snap at your kids, there is grace and forgiveness for that. It's hard to be fully dialed in on everything in your life at once. Remember to not be so hard on yourself when you're finding that balance. Every day is a new day to try again.
Thank you to VIPKID for sponsoring this post about working from home as a mom.
Shop The Post Here:

Click Here For More Posts:
Pin The Working From Home Post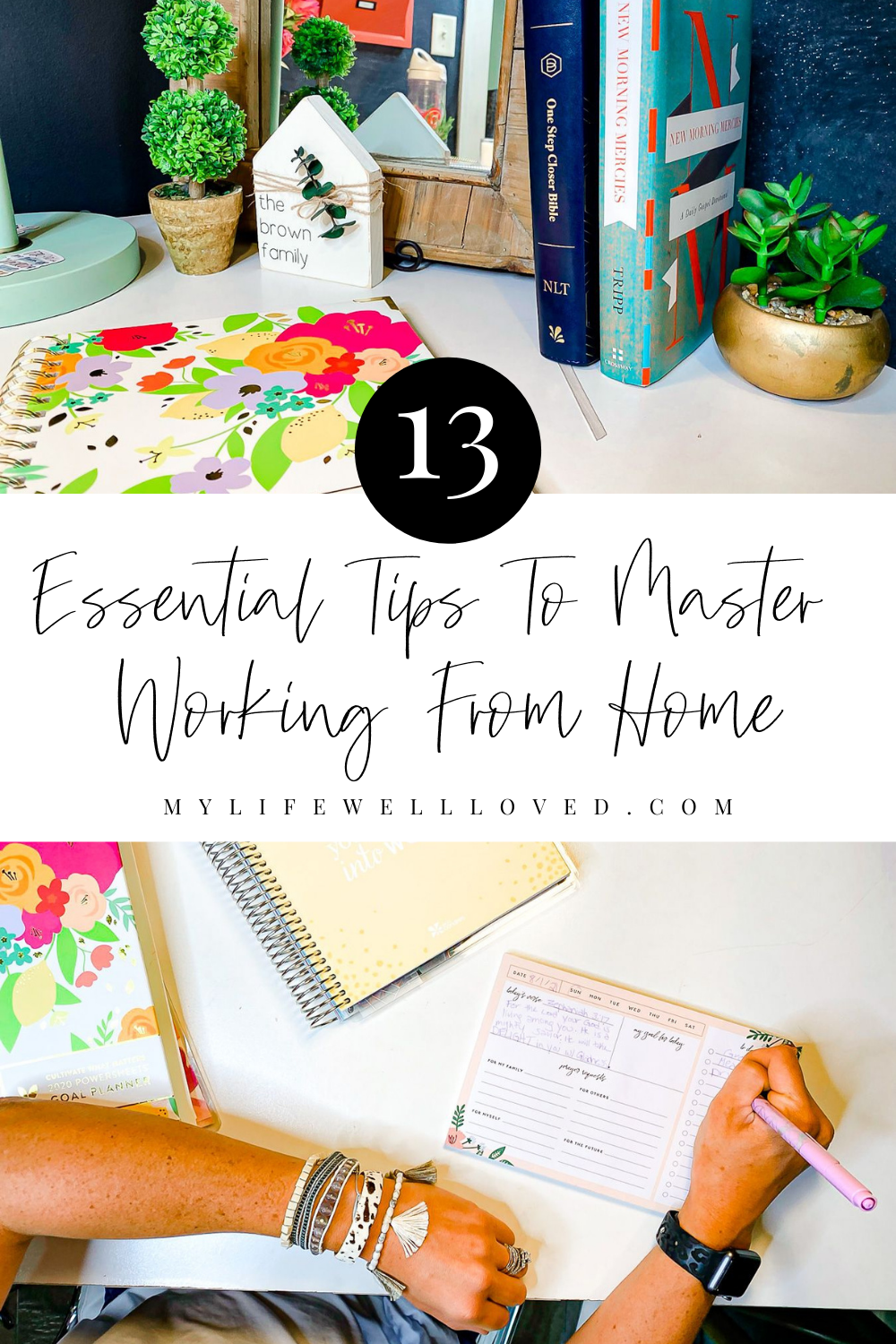 Heather Brown helps busy mamas of young littles who are caught in the hustle to find encouragement in their journey to true health, from the inside out, starting with the heart. Read her journey of learning to live a life well-loved
HERE!