Do you feel torn when people tell you to "slow down and enjoy the moments," when your moments are running together faster and faster and you're surviving on coffee and mom guilt? Don't know where to start in your personal journey to showing up as the healthiest, most fulfilled version of yourself? I got you, friend!
I'm your host, Heather Brown, business owner, wife, mama, wellness and fitness enthusiast + content creator and I'm here to come alongside you and give you doable steps to become the healthiest and most confident version of yourself without getting swept up in hustle and comparison traps. I do this by redefining health via my triple threat triangle of mind, body, and spirit.

WE'LL DISCUSS WAYS TO HELP YOU: 
Fall more in love with your Creator, your spouse, and your kids
Build a business while building a family
Make healthy food choices for your body + mind
Have fun with your everyday, not so ordinary life
Sunday Reset each week with tangible takeaways
Step out of the shame and societal pressure
Help you grab your permission slip
Feel seen in your desire to follow Christ in a culture that looks different
And learn how being a healthy mama is such a gift to your family
Yes, you can serve your people better by moving towards a healthier, happier lifestyle one inch at a time – and nope, no quick-fix fad systems here. We're big believers in the power of everyday – letting good things grow until they become daily healthy habits that are perfect for you.
In Healthy By Heather Brown, I, along with my husband Eric, will bring everything from my background in broadcast to my years of blogging experience to the coffee table as I invite you into my living room. Here, I host the conversations that matter about marriage, health, parenting, faith, and fun, with a healthy dose of Southern sass. My mission? To inspire and equip women where they're at, without shying away from real life challenges like PPD and mom guilt. Get ready for practical steps for letting go of burdensome expectations, pursuing healthy boundaries, and living a healthy life well loved!
Plus you'll love the spicy marriage corner convos where we'll get Eric's guy perspective on health!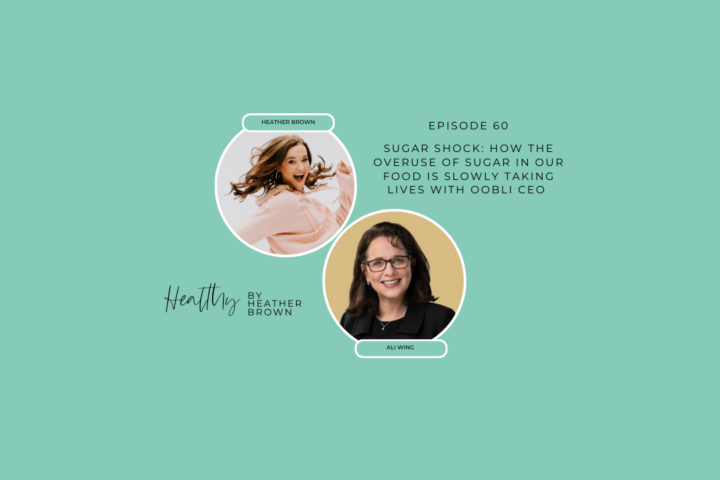 Keep scrolling to read the episode show notes from episode 60: Sugar Shock — How The Overuse Of Sugar In Our Food Is Slowly Taking Lives With Oobli CEO, Ali Wing! Find All The Podcast... Continue reading→