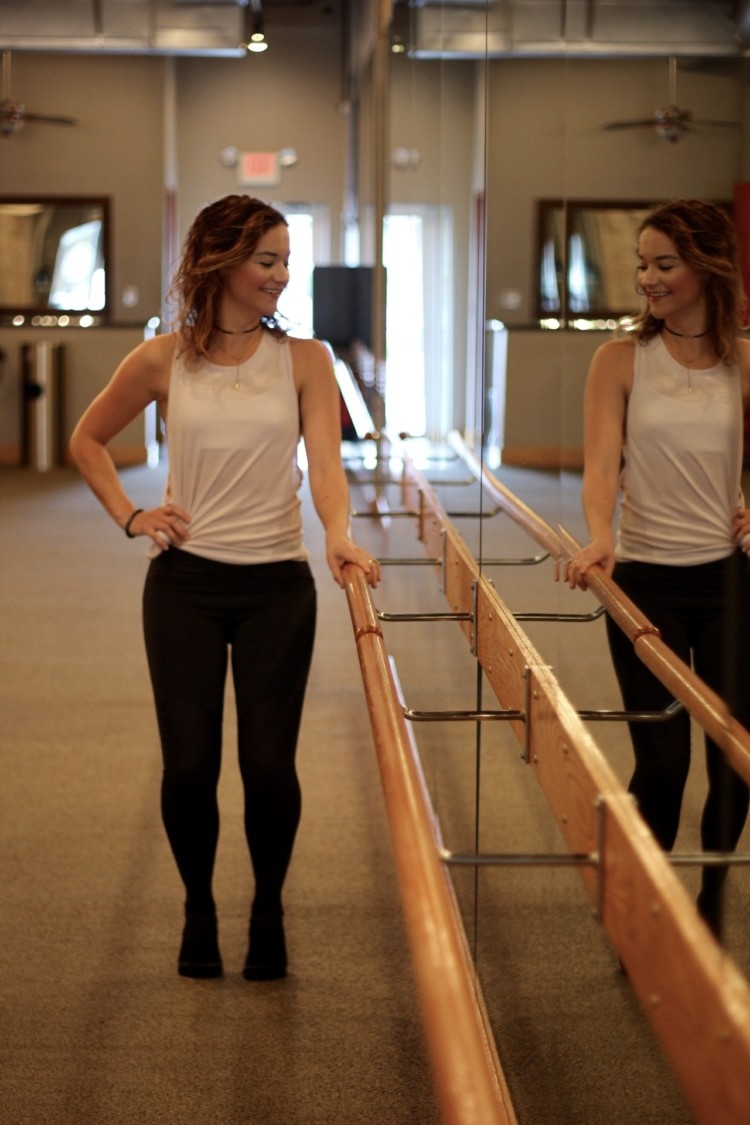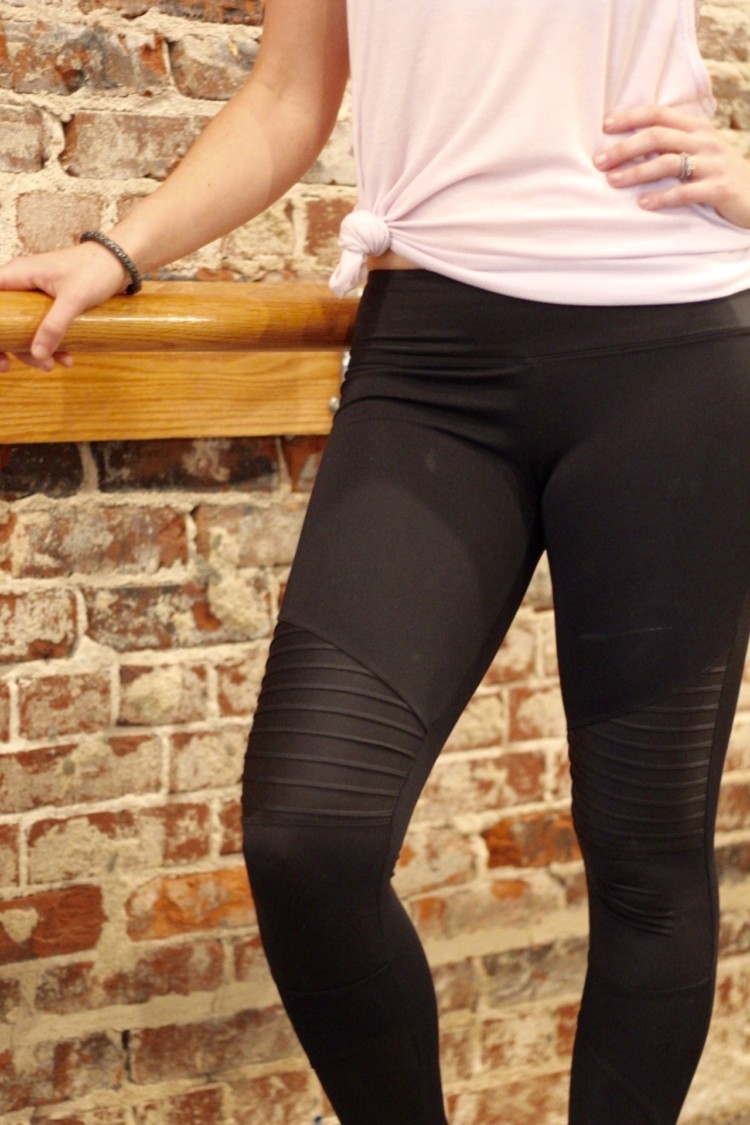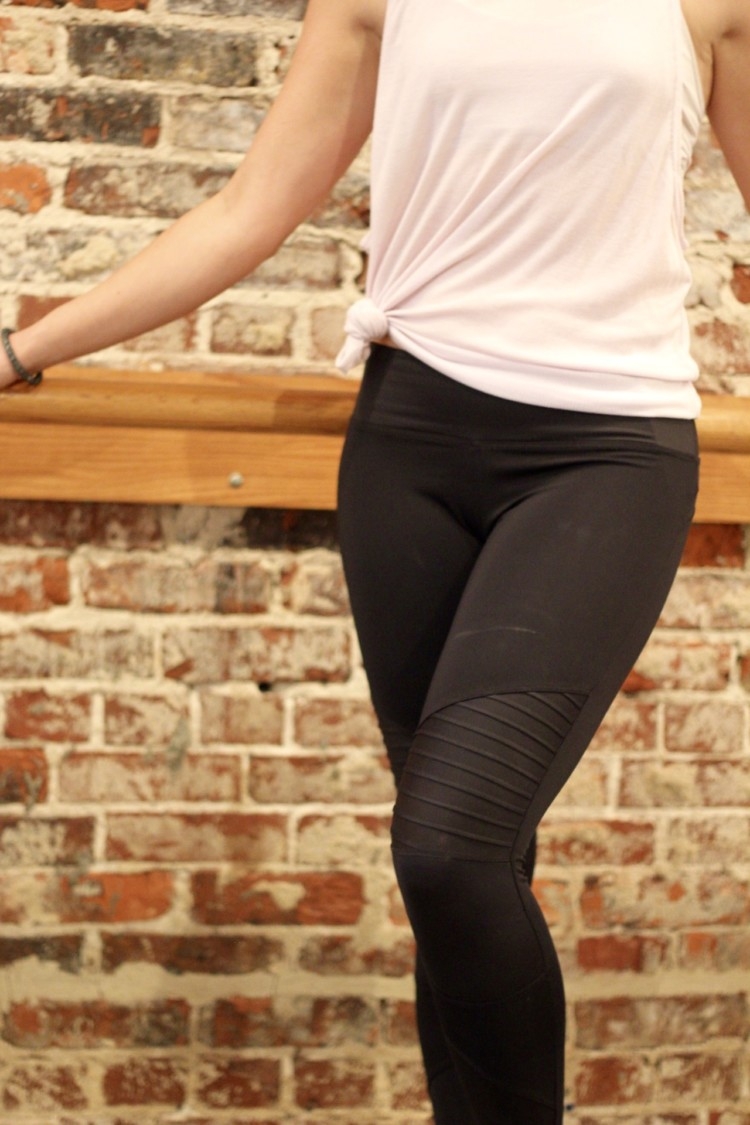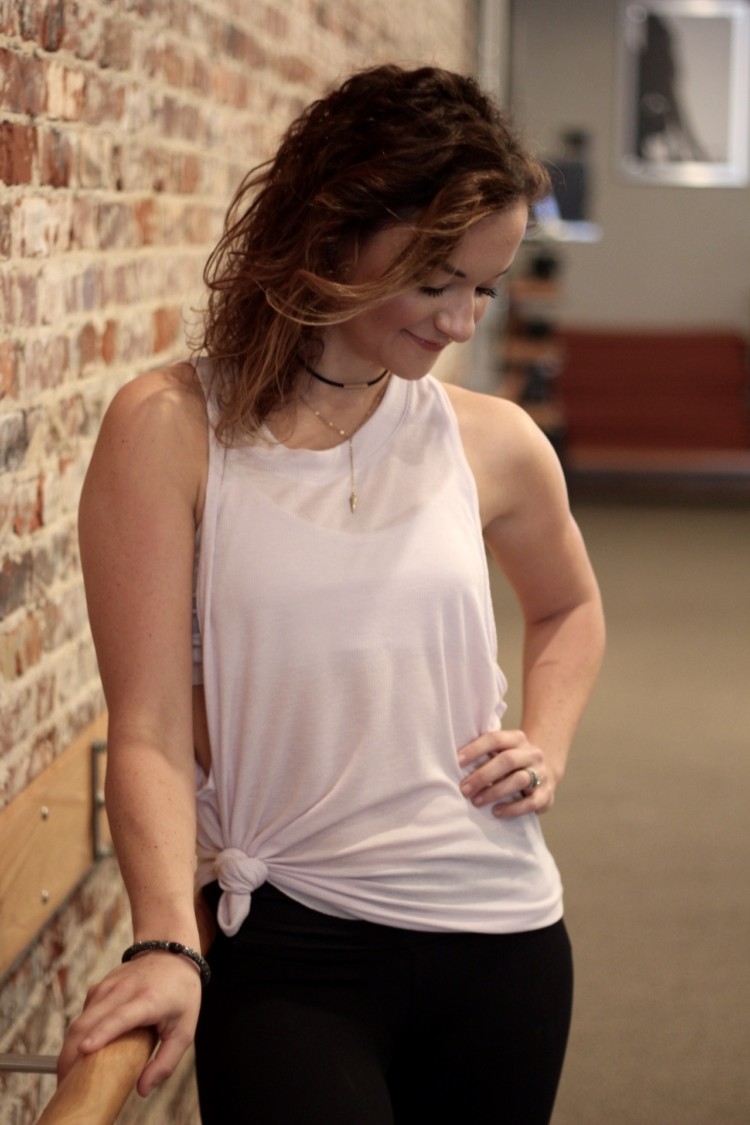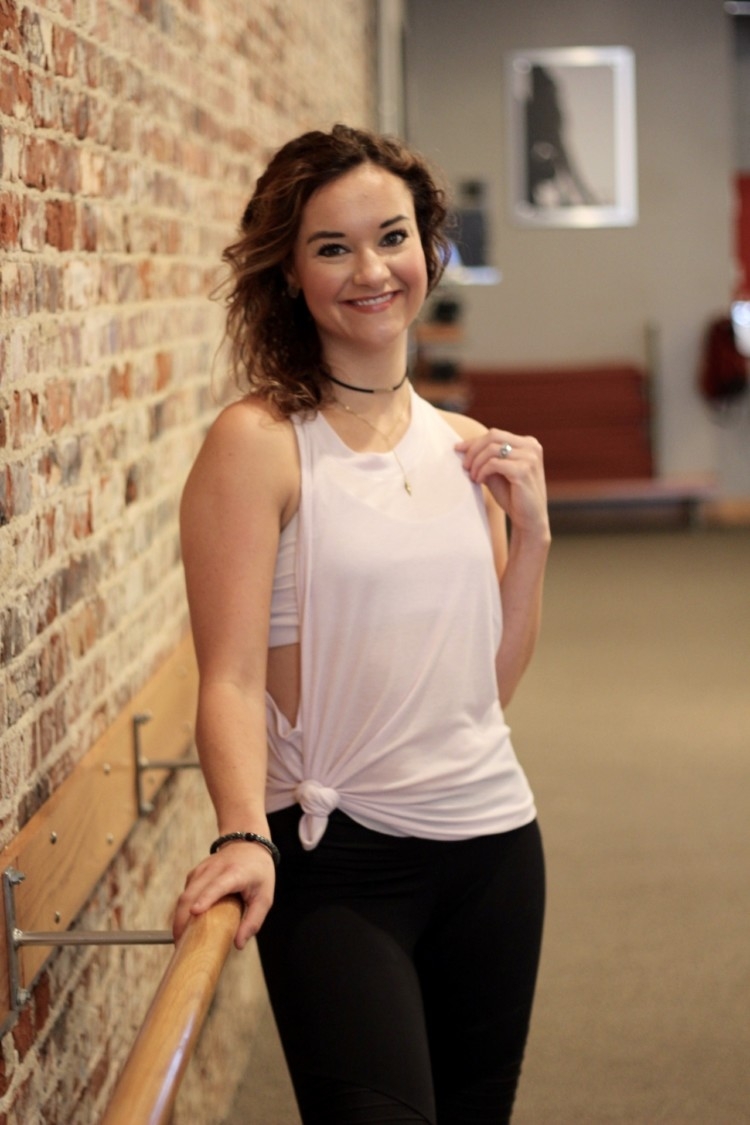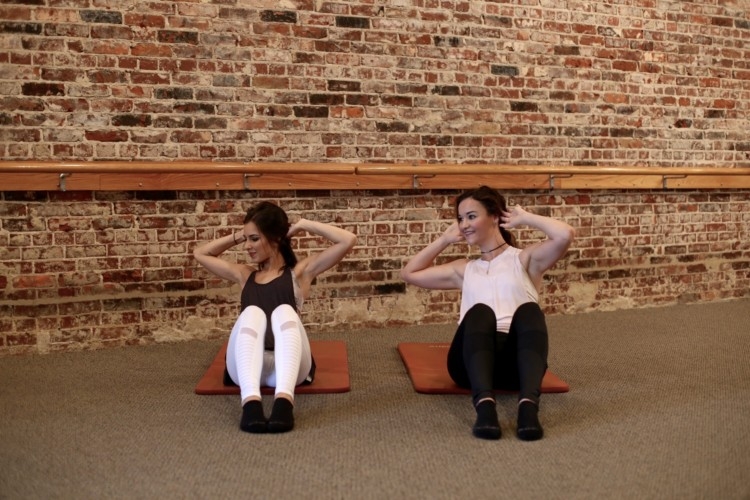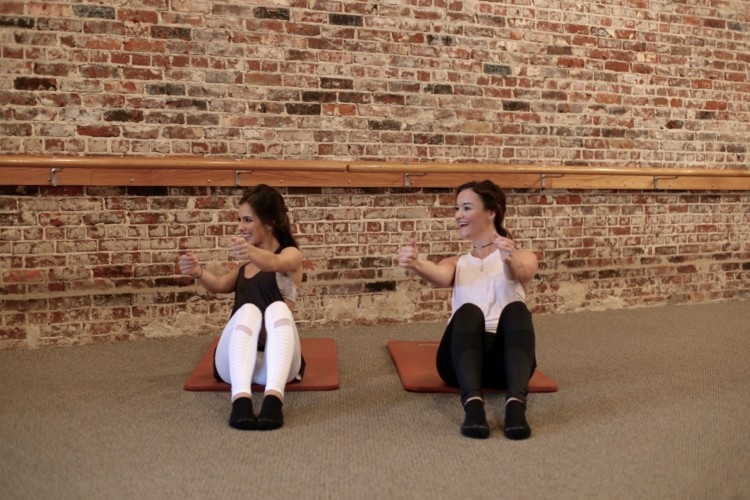 Top // Pants // Sports Bra // Necklace // Choker // Earrings // Barre Sticky Socks
One of the questions I get asked the most when I tell people I teach Pure Barre and Pure Barre platform is "What is barre?" I wrote a post a long while back about 10 Tips for Your First Pure Barre Class, a post about Pure Barre pregnancy modifications, and how to use the velcro tubes.
These Pure Barre posts are actually how a lot of you have found my blog, so I am incredibly grateful you are here to join me on the barre journey! Let's dive right into some of your biggest questions and/or concerns. Feel free to post more questions in the comments below and I'll be happy to answer them. AND, make sure you follow me on Instagram so you can LTB-Lift. Tone. Burn.- virtually with me via Instagram and Instagram stories. 🙂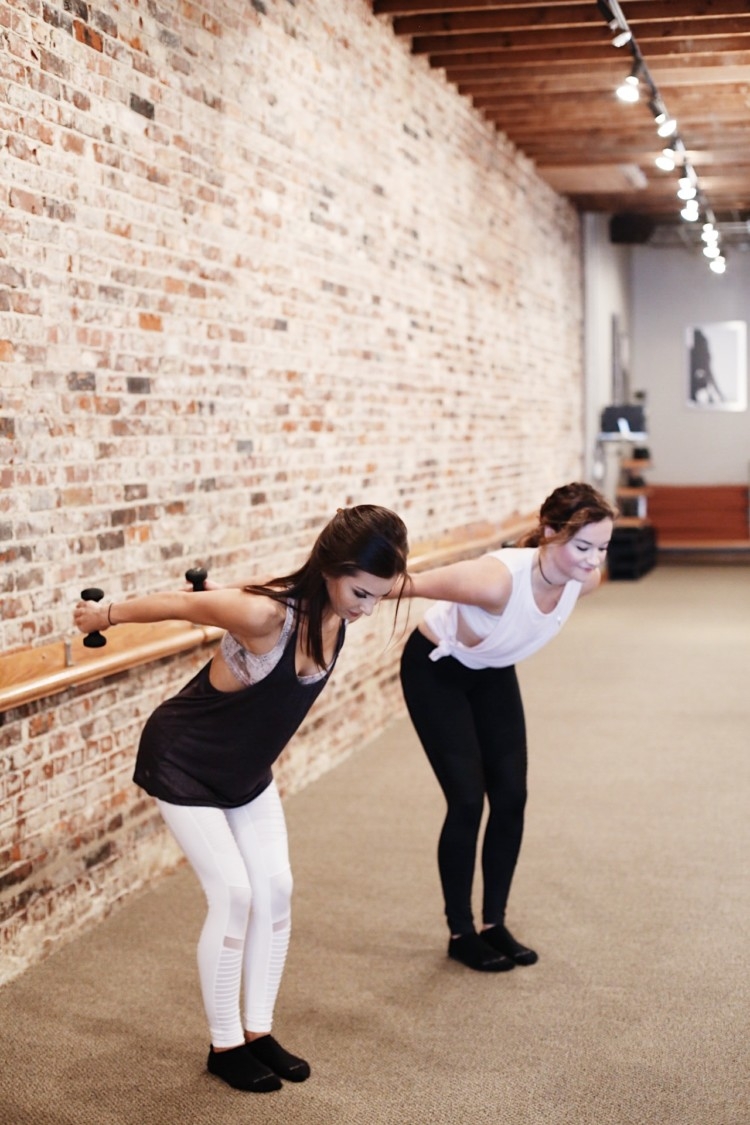 What is barre?
Barre simply refers to the ballet barre that most barre techniques use as a prop to facilitate the barre technique. Most barre techniques use some combination of pilates, yoga and ballet to help you achieve a long, dancer-like physique. Barre typically includes lots of isometric holds and tiny contractions to help your muscles hit fatigue.
Can I do barre if I'm not already "in shape?"
YES! Absolutely. I get asked this question a lot. At Pure Barre, each teacher is prepared to help give modifications or challenges to help each individual get their best workout. The hardest part of any workout or new routine is just showing up. Once you show up, and get started, your body will get you through it!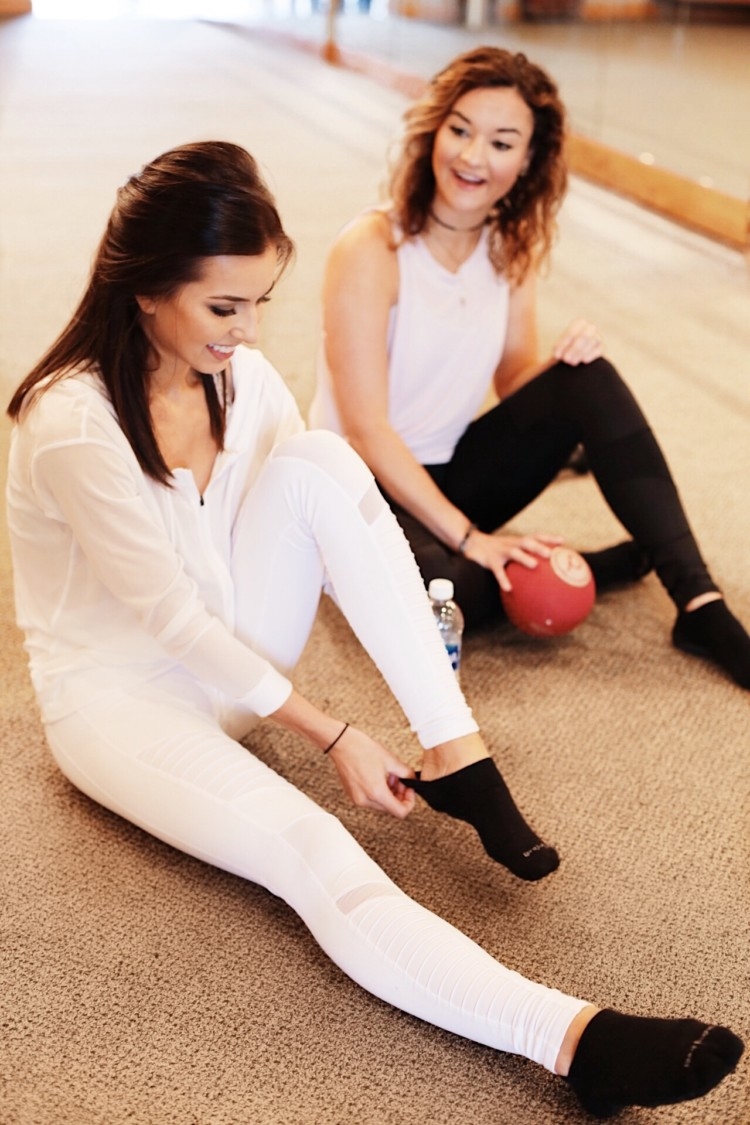 What do I wear to barre?
You can see Ashley and I are wearing yoga pants, a workout tank and sticky socks while we are working out. Speaking of Ashley, if you want to see a new client's perspective of their first month, I'd highly recommend you check out her post. You can wear capris, but not shorts in order to keep the muscles warm while we work. You can buy sticky socks here or in your barre studio.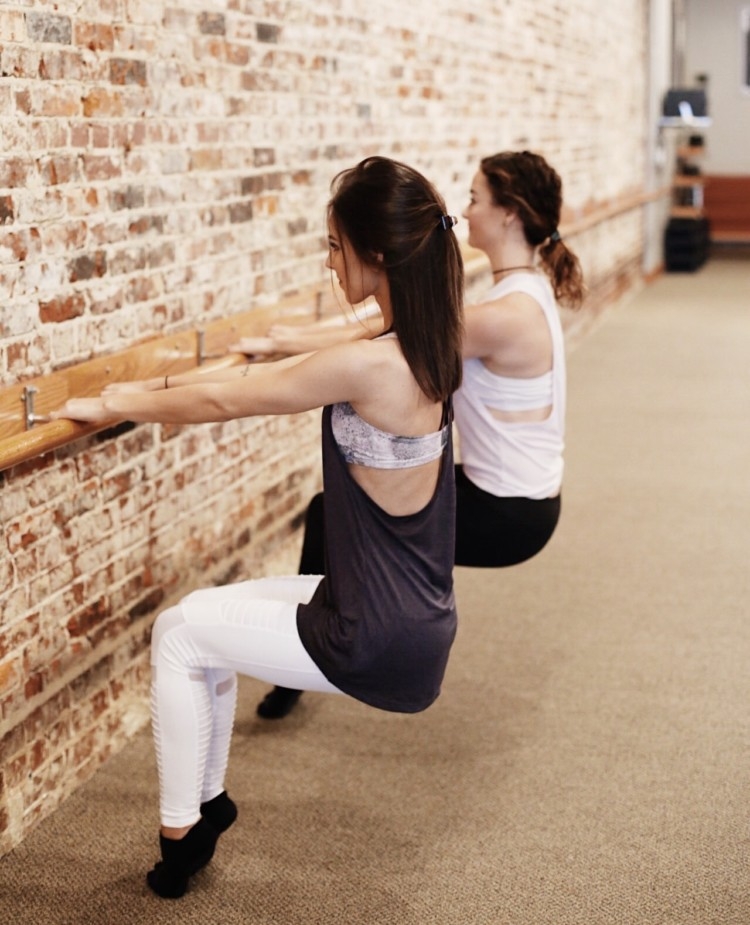 What is a pulse?
A pulse simply means squeeze down with your thighs. You pulse down in a short tiny contraction in your thighs and hold in that low shaky zone. If you get so shaky with your body that you want a break, try to instead just work up a little bit higher to stay in the work but also lessen the intensity until you are ready to sink back down. Hang tough! You'll get stronger every class you come to!
What is a tuck?
A tuck under means drawing your hips under your shoulders as you pull your abs in to strengthen your thighs in thigh work. It also means you are neutralizing your spine to protect your lower back as you work. When you hold a tuck under during the whole class, it means you are engaging your core for the whole 55 minutes. This tuck also adds resistance for your seat to work against in seat work. And by the way, "seat" is the term used in Pure Barre for your booty or glutes.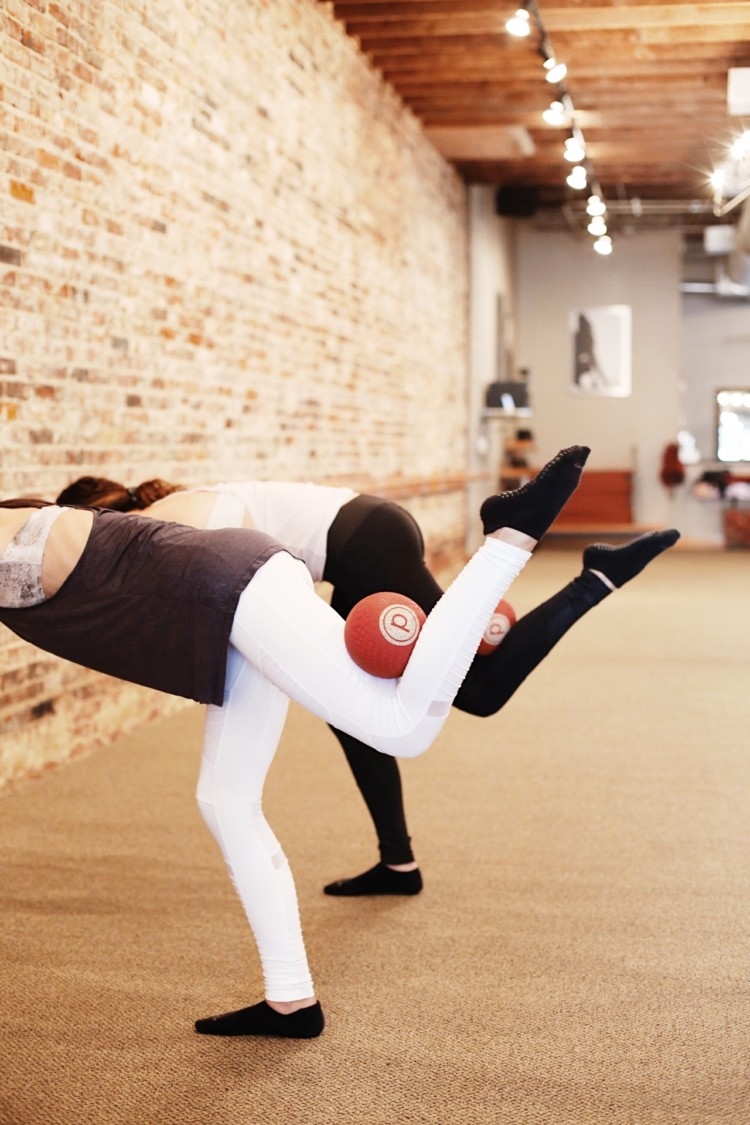 What is a freeze/hold?
Think back to when you were a kid playing freeze tag. When you "froze" you didn't move. You didn't bounce. You didn't move a thing. Same principle in Pure Barre…the hold is where the best shake and burn happens. And yes, contrary to popular belief those are actually a good thing in Pure Barre. 😉 When you hold a contraction of your muscle you are training it to get tighter and more toned.
You may hear your barre teacher say something like, "Tuck hold, tuck freeze." Those mean the same thing, she's just trying to give you a different visual of what the muscle should do. So if you are in thigh work and she says tuck hold, it means you tuck forward with your abs and thighs, hold the contraction in your thigh muscles and then tuck further under the next time.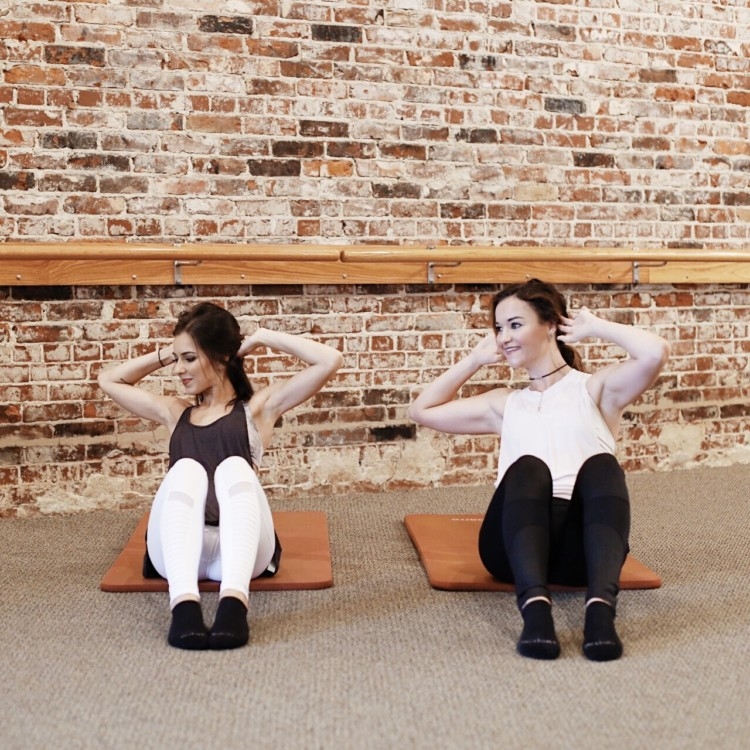 Squeeze what?!
Pay attention closely to each working section of class to know what you should be squeezing from. As soon as you start working, your instructor will clue you in. For instance, if she says something like feet are hip width apart parallel in thighs and then tells you to squeeze down an inch, up an inch…she'll typically tell you right after that to initiate the work from the top of your thigh muscles. That means you put all your "squeeze" "tuck" "down an inch, up an inch" and attention on your quads to squeeze from there.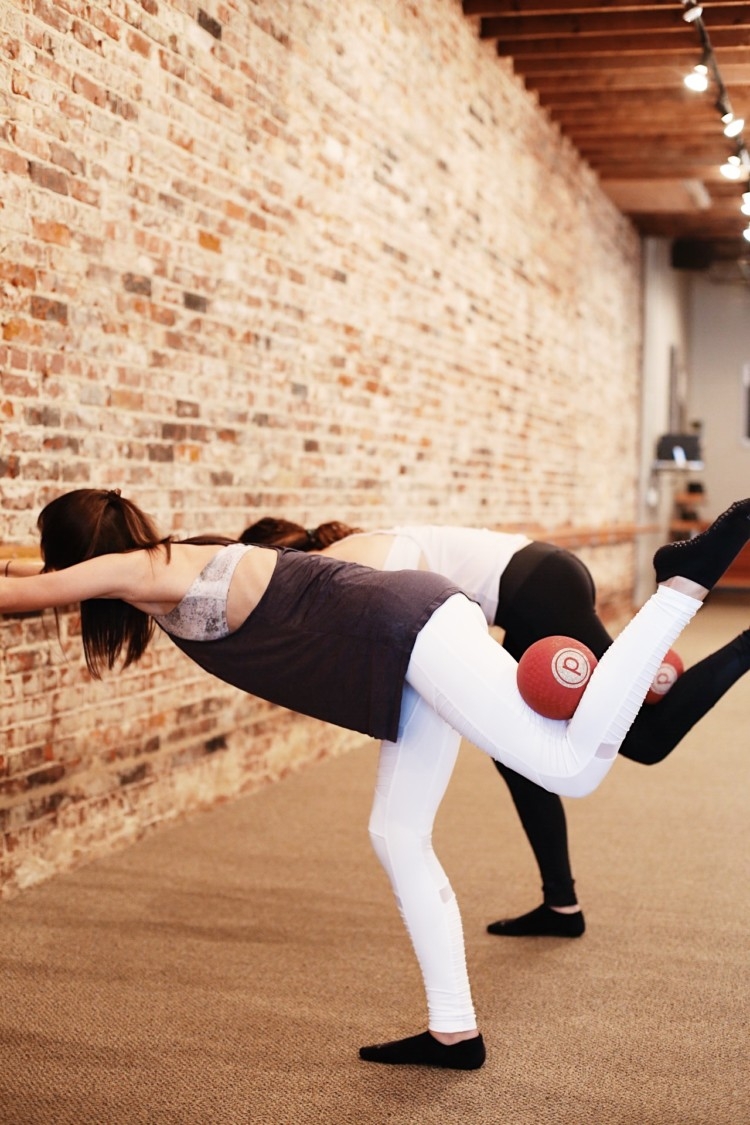 How do I keep up?
Don't be surprised if your first class, you feel a little lost. That's ok! Pure Barre is a fast moving class with a purpose. It's meant to keep your heart rate up and to distract you from all that burning and shaking your muscles are doing. After your first 10 classes, not only will you start to see results but you'll start to know what's coming and what to expect so it's not so overwhelming. Be patient with it.
Most studios also offer a Foundations class that allows you to have a little slower pace as an intro for beginners. Check with your studio to see when this class is offered.
Shop the What is Barre? Post:

What if I'm scared about going to my first class?
Remember we have ALL been there. Every single person in the studio who looks like they know what they are doing have been in your shoes. They remember how overwhelming it was at first and it's a no judgement zone. Also, everyone is so busy worried about how much their own muscles are shaking and burning to worry about anyone else in the room. 😉
One of the best parts about Pure Barre is the community! It's so nice to get plugged in at your studio and meet new friends. Be patient with it and don't be afraid to introduce yourself to the person sitting next to you.
I also highly recommend coming 10-15 minutes early for your first class so you can meet your teacher, and hear what to expect from the class from her as well as get your equipment set up.
I hope I answered your question of What is barre? and everything else, if not though PLEASE leave a comment below and I'll be happy to answer!
Want more Pure Barre posts? Check out these posts!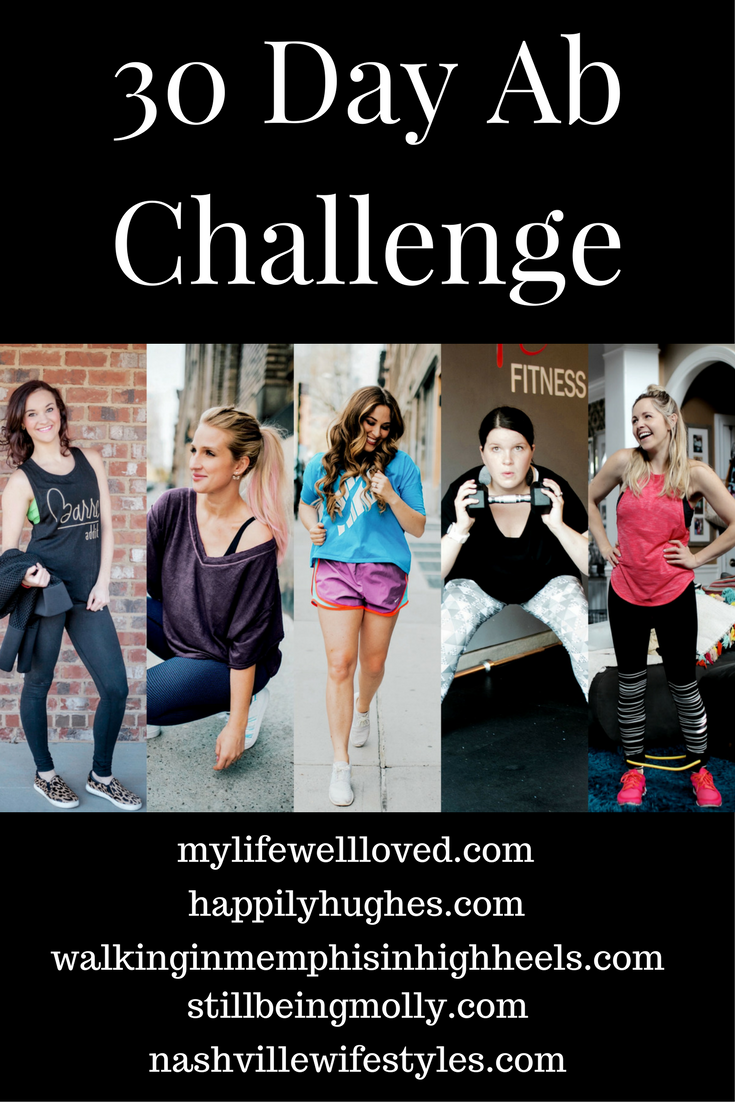 The abs challenge is almost over you guys! One thing I can guarantee you with Pure Barre is that it will definitely make your core tighter all the way around! Make sure you visit my co-hosts Laura, Happily Hughes, Still Being Molly and Nashville Wifestyles today to see their health and fitness related posts!
*In no way does this post express the thoughts or represent Pure Barre corporate. This is my opinion. Thanks to Pure Barre and Pure Barre Birmingham for the photos and for an inspirational place and business!*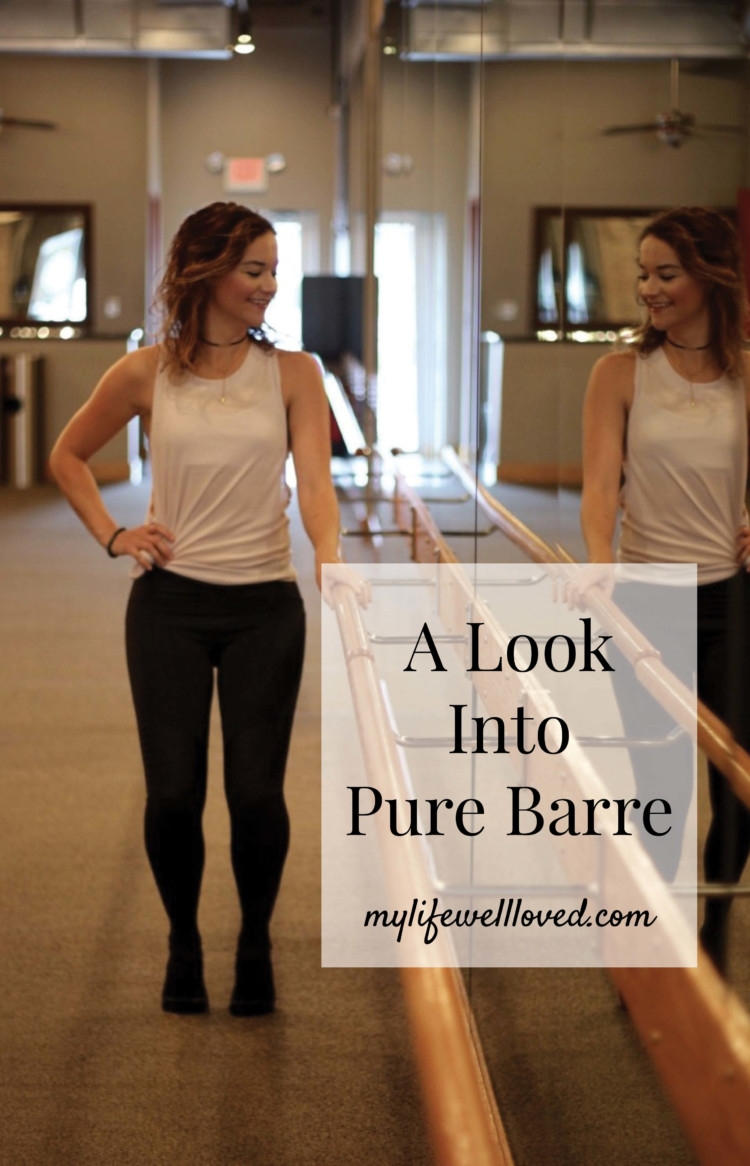 Heather Brown helps busy mamas of young littles who are caught in the hustle to find encouragement in their journey to true health, from the inside out, starting with the heart. Read her journey of learning to live a life well-loved
HERE!