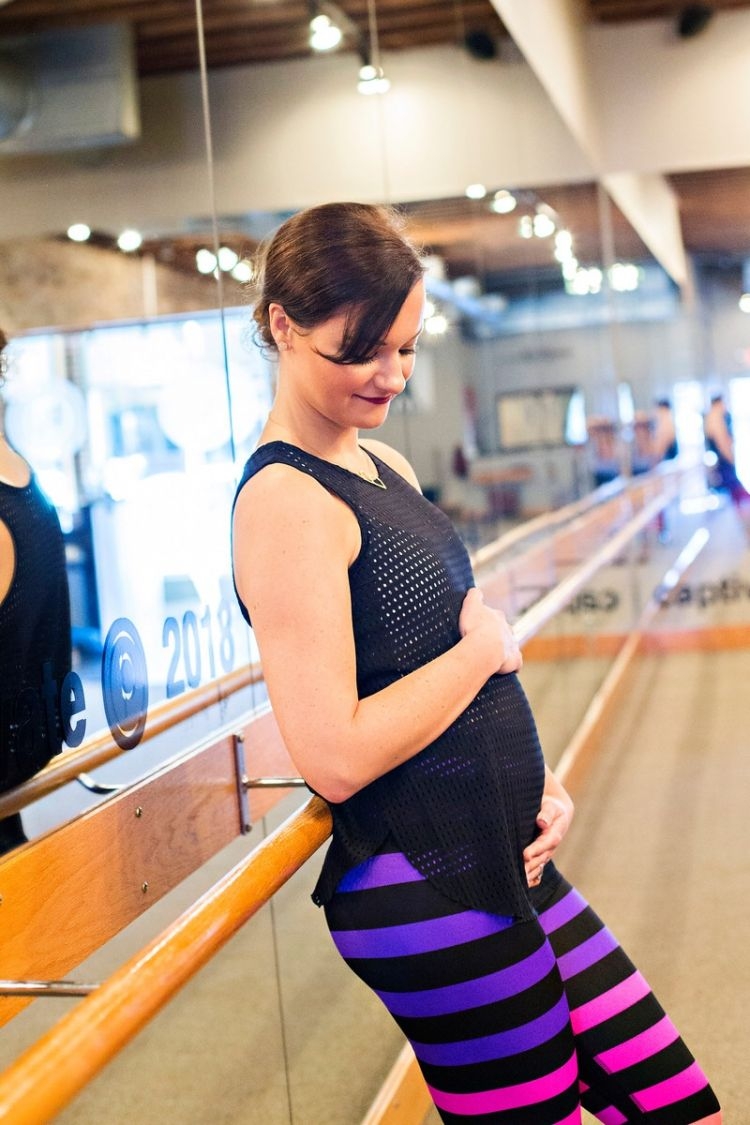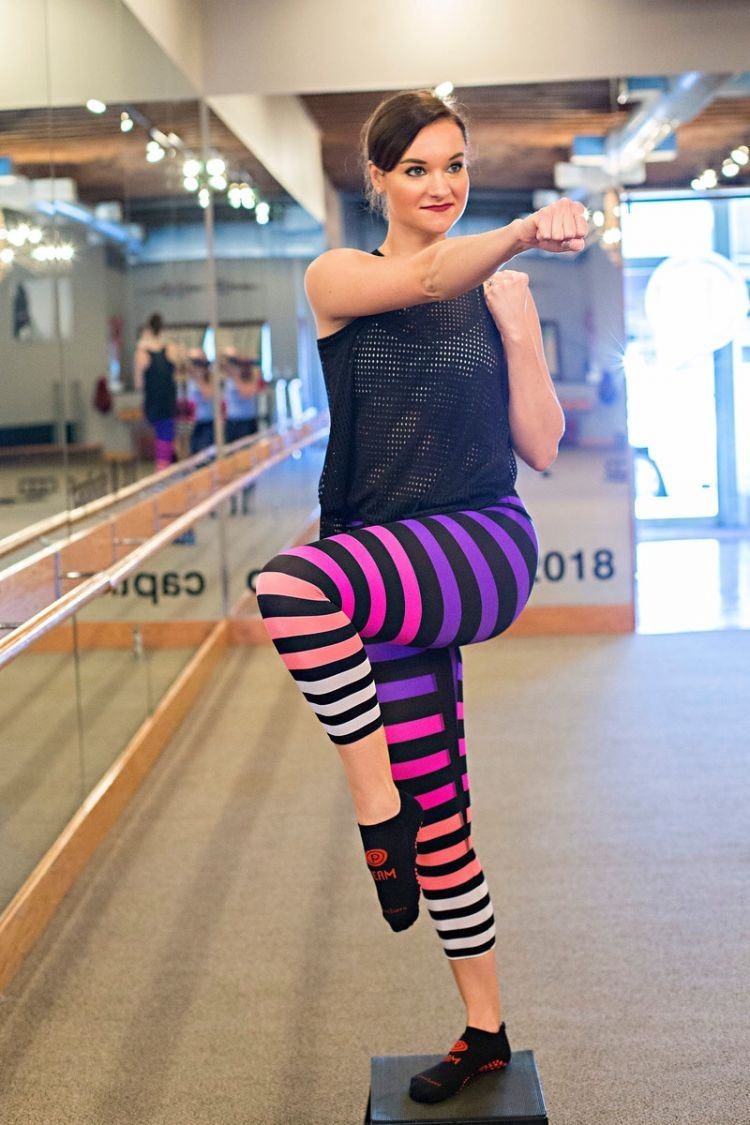 Shop the Pure Barre During Pregnancy Modifications Post: Leggings // Tank // Sports Bra // Barre Socks
Please consult your doctor before starting any exercise routine, including Pure Barre, during your pregnancy! These opinions are all mine and do NOT reflect the thoughts of Pure Barre.
One of the most popular posts on my blog ever from Google is my Pure Barre Pregnancy Modifications post and y'all have been asking me for a post on Pure Barre Empower Pregnancy Modifications for a while as well! In case you are new around here and have no idea what Pure Barre is or what Pure Barre Empower is, you can check out those posts by clicking the links!
Well, as part of our Mommy Fitness Series with Jess from Happily Hughes & Natasha from Hello Happiness blog, that post is FINALLY HERE! If you missed Week 1 or Week 2, click the links to check those out! have been teaching Pure Barre now for close to 9 years and have done Pure Barre during pregnancy with both Leyton and Finn!
Please note that this post is all completely based on MY experience and NOT that of Pure Barre corporate. Every pregnancy is different so I would urge you to listen to YOUR body first and foremost if you decide to do barre during pregnancy. Depending on the current routine of your class, you may notice that some of this doesn't apply to the class your teacher puts on for you that day.
Before going to any Pure Barre or Empower class, whether pregnant or not, I would always advise you to drink water ahead of time so you are well hydrated, bring water with you, and eat something to fuel your body before you workout. This is ESPECIALLY ESSENTIAL for barre during pregnancy.
Want more Pure Barre posts? Check out these posts!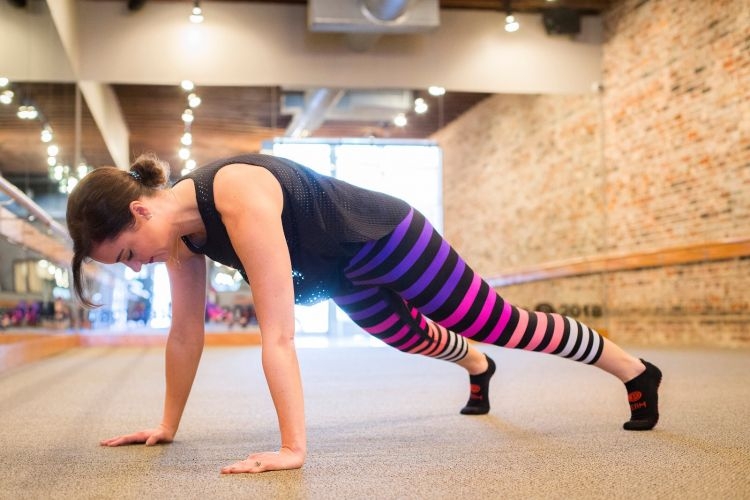 Barre During Pregnancy – Empower Warm Up:
In the beginning, I still used the wrist weights during empower but as my pregnancy progressed and I got more uncomfortable, I now do not use the wrist weights although you may feel totally fine using them.
Planks/Side arm planks: Option to drop to the knees or if in a sidearm plank the bottom knee or you can always do planks on an incline at the barre in a standing position.
Push-ups: Remember you can always drop down to your knees for push ups, work on an incline at the barre or not go down as deep into the work.
You can avoid using the platform all together if it feels like too much to balance on it, or too much for your core to be on it for straight arm planks.
Roll Ups: Keep the knees bent, feet flat on the floor, hold on behind the thighs for support as you roll up and down. You keep your chin towards your chest and don't lower all the way down towards a flat back.
Weight Work: There will be a lot of variety here so make sure you feel comfortable and solid in your balance and footing. Don't come to one foot and don't stand on the platform if you feel it my compromise your balance and what you feel capable of that day.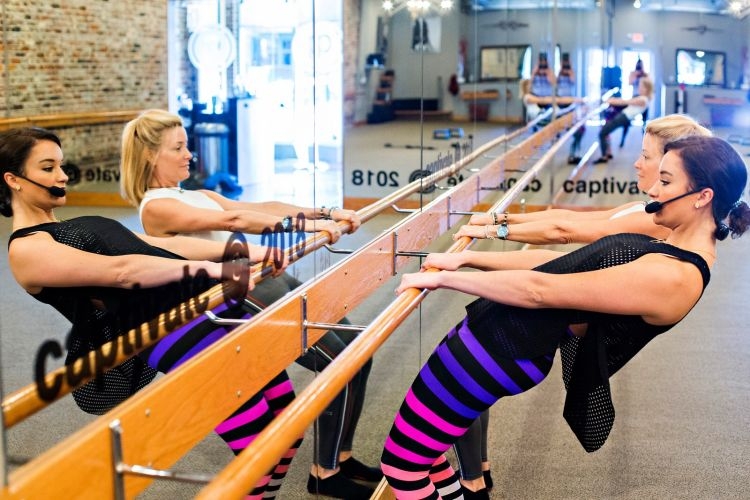 Barre During Pregnancy – Empower Strength Section at the Barre:
This section focuses largely on your thighs but also targets at portions of some classes in the core, glutes and arms/upper back. Modify as needed by not staying on tip toes, not lifting your leg as high or taking a break for more water if needed.
If you are in a standard thigh position and need to ease up some, you can always work up higher instead of bending down lower into the work.
If you need to face the barre and have a light grip instead of standing profile to the barre to help with balance, feel free.
You may want to have your feet out a little wider than normal to help with balance and accommodate your bump as needed.
I've noticed that if we are standing on one leg, it feels like there is too much weight on my supporting foot to be up on the tip toes so I come down to a flat foot. Also as your belly gets larger, you won't be able to lift your leg up as high towards the sky if you are in an extension position.
Barre During Pregnancy – Cardio Sections of Empower:
These are all so different from class to class but my overall advice on these is to listen to your body. Some women in our studio have used these as a potty/water break depending on the day and how they feel. I can't emphasize enough all throughout the class how important it is to listen to your body.
As you get later into pregnancy, if it's a plank series you can always come to the barre to do planks/pushups/mountain climbers, etc.
The great thing about our cardio sections is usually they start slower with the option to add on a hop, a jump a double time, etc. SO, it will hopefully be obvious that instead of picking up the pace or jumping that you can just stay at the step before the last.
As a reminder if this section utilizes the platform, you can always opt to NOT use it.
Barre During Pregnancy – Second Empower Strength Section:
This section focuses primarily on the glute muscles or the seat as we call it in Pure Barre, targeting the crease of the seat as well as the outer corner but you'll also notice you get work in your hamstrings and many other parts of the body as you add on moves including core work.
I typically modify this section by perhaps not doing a full foldover at the barre if it calls for that, and also find that sometimes instead of having a straight leg due to strain on my back I need to bend the leg.
Work with leg lower as needed.
You can always work on the floor instead of the platform if it calls for it, drop to knees or elbows as needed if working on the floor, etc.
If working in a tabletop position feels like too much pull on your lower back, you can also work at the barre doing the same motions.
LOSE the ankle weights. Ankle weights can strain hip flexors and ligaments for an already loosened up pregnant body with all that relaxin pumping through you!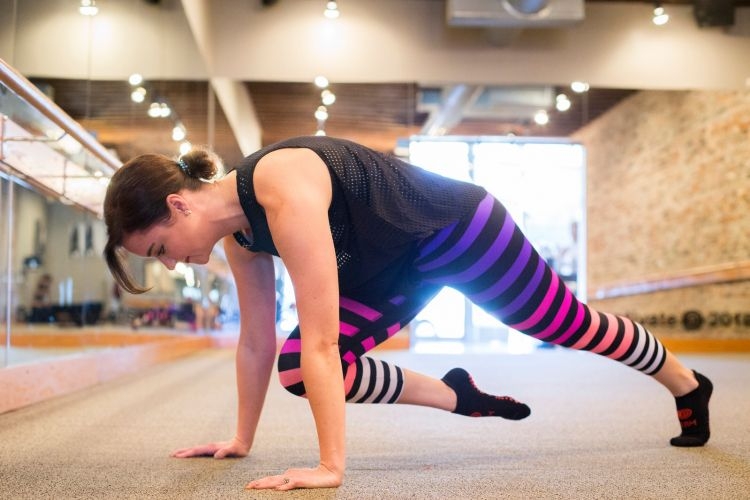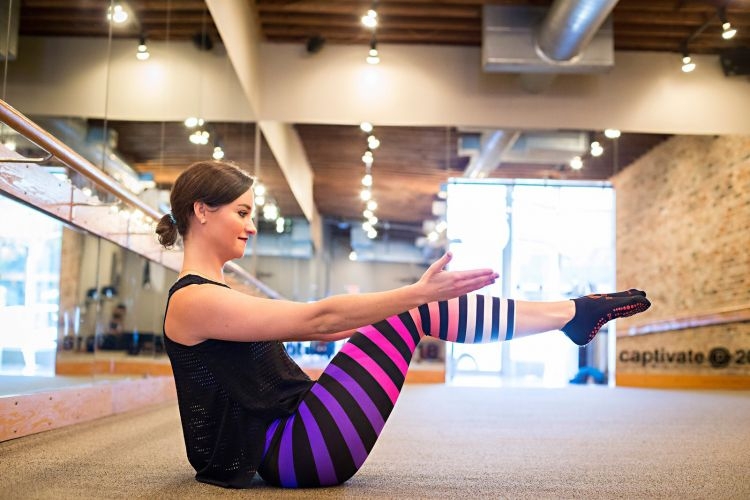 Barre During Pregnancy – Abs/Core Work Section:
One of our clients Jennifer said when I asked her what her tips for Pure Barre during pregnancy was "not to skip on core work if you don't have to! Refocus on obliques and a strong tuck- those muscles help push baby out. Everything is connected!! Isolate the specific muscle to not overextend secondary joint. It's so easy to compensate for weakening core muscles with hip flexors. Be conscious of the muscle group you should be working." This can apply to all sections of class!
You can use the ball behind your lower back for more support if everyone is sitting upright. Some of our abs sections are easier to do while pregnant than others and as you get closer to the end it does become more difficult so listen to your body here. About half way through second trimester, I had to start skipping out on abs.
Barre During Pregnancy – Last Section of Class:
This section of class is meant to tone up the backside one more time and is done on the back. You can work without the platform as well as keep your feet flat the entire time.
You may want to come just fist distance away from the mat instead of tucking your hips up high to the sky.
You may want to widen your stance for more stability and to provide more room for your bump.
Have you tried barre during pregnancy? I would love to hear how you modify to make it work for you body and with your bump!
Shop the Pure Barre During Pregnancy Modifications Post: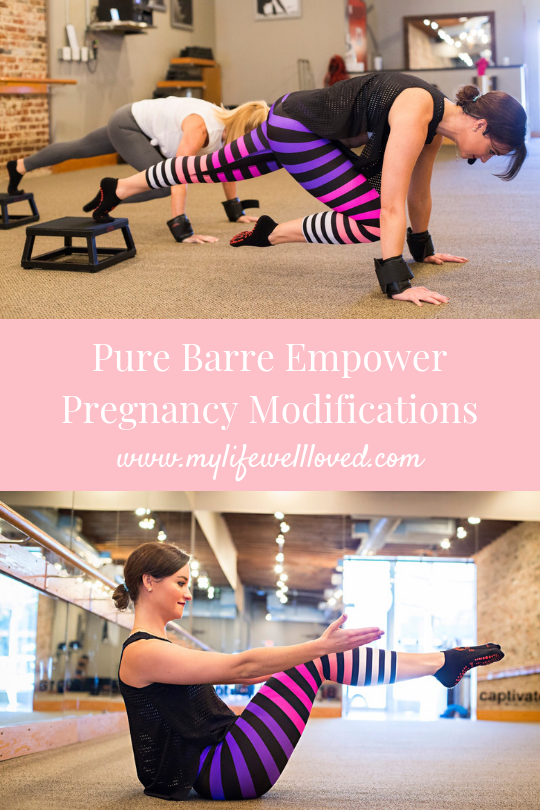 Heather Brown helps busy mamas of young littles who are caught in the hustle to find encouragement in their journey to true health, from the inside out, starting with the heart. Read her journey of learning to live a life well-loved
HERE!