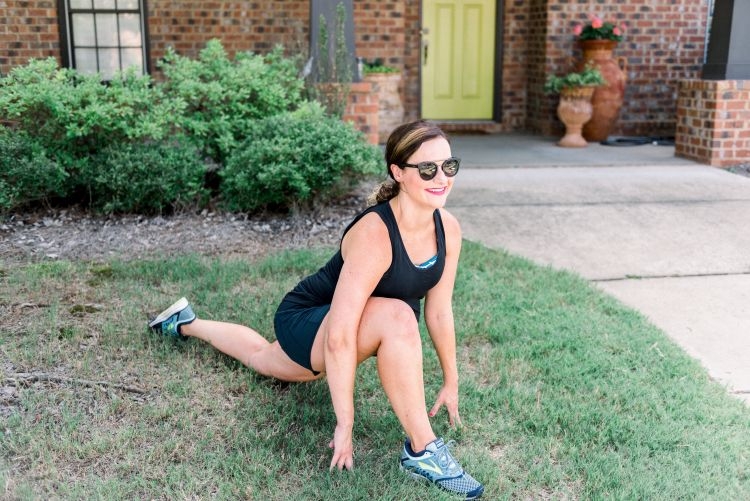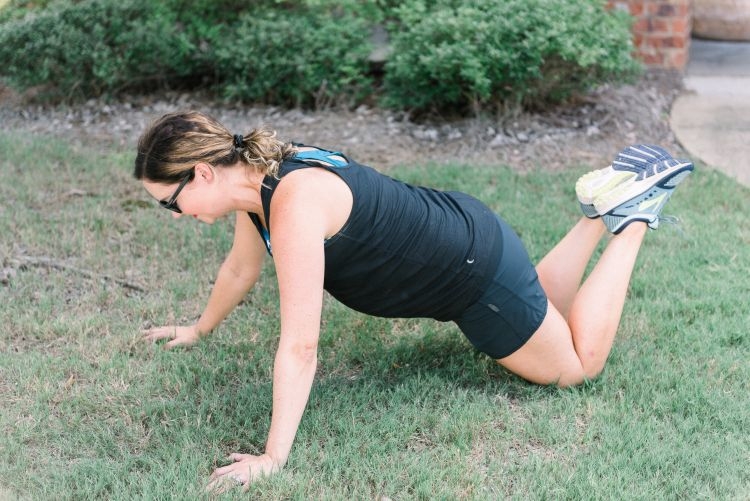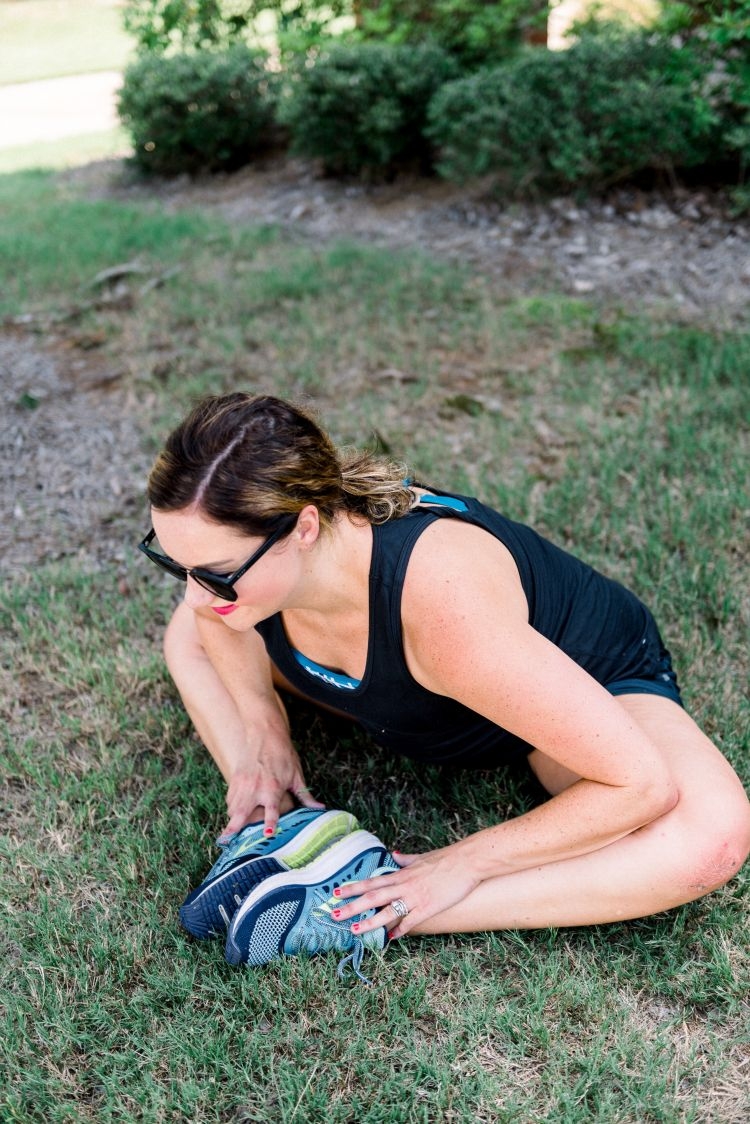 Shop the Pregnancy Workout Post: Tank // Sports Bra // Shorts // Sunglasses // Tennis Shoes
It is week TWO of the Mommy Fitness Challenge where we are talking all about what a healthy lifestyle looks like during any stage of motherhood! If you missed my 5 essential tips for living a healthy lifestyle as a mom, you can see them here from week ONE! Be sure you are following along with my friends Jessica at Happily Hughes and Natasha at Hello Happiness!
A frequently asked question I am hearing on repeat is HOW I worked out during my pregnancies! If you've been following my Instagram or the blog, you know this is a topic I am always excited to talk about. Exercise is really important throughout our life and pregnancy is no different! Not only is it safe to do a pregnancy workout but it has incredible benefits to help mommy and baby. It helped me keep my energy levels up, helped me fall asleep faster, and helped my recovery time after Leyton. I am hoping that is the same this time around with Finn! 
First things first, DO make sure to consult with your doctor or physician before starting any kind of exercise or pregnancy workout. This makes sure that your doc is aware of the exercise you are doing and can guide you throughout the process!
Pregnancy Workout: Do's and Don'ts
DO:
1. DO Listen to Your Body – Listening to your body should come as no surprise. During my pregnancy with Leyton I had to quit running during the first trimester because it felt SO uncomfortable. With my second pregnancy, I was able to alternate between running and walking without much difficulty until the third trimester. If your regular exercise starts to become too much, try out prenatal yoga or water aerobics (the weightlessness feels SO good!!) I was lucky enough to be able to teach Pure Barre up until 37 weeks using my Pure Bare Workout Pregnancy Modifications! PS: I have a new and updated Pure Barre Empower Class Pregnancy Modifications post coming NEXT WEEK! Stay tuned! 
2. DO Dress Comfortably – If it is easier for you to move around, injuries are much less likely to occur. You may notice lower back pain after jogging or just in general. If that's the case, a belly support band or workout tank may help release some of that pain while you workout. I did a whole post HERE on my absolute must haves for maternity friendly workout clothes!!
3. DO Pace Yourself – If you feel like you are lacking coordination or you are not comfortable, make sure to take a break or stop the workout altogether. If you are not fully recovered within 15-20 minutes of exercising, you overdid it! Make sure to pace yourself and realize when your body and baby need a break.
4. DO Strengthen Your Core – Back pain is one of the most common discomforts for pregnant mamas. You can read more about how I struggled with back pain and how the chiropractor helped here. However, workouts like this Pregnancy Plank Workout can help strengthen your abs to give your back more support.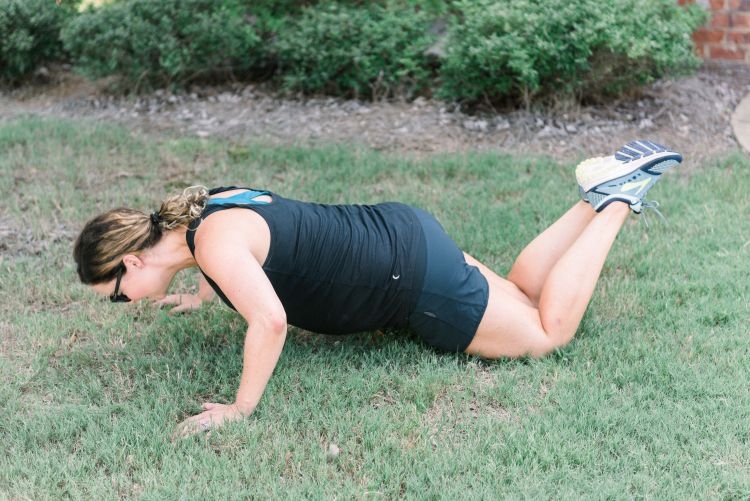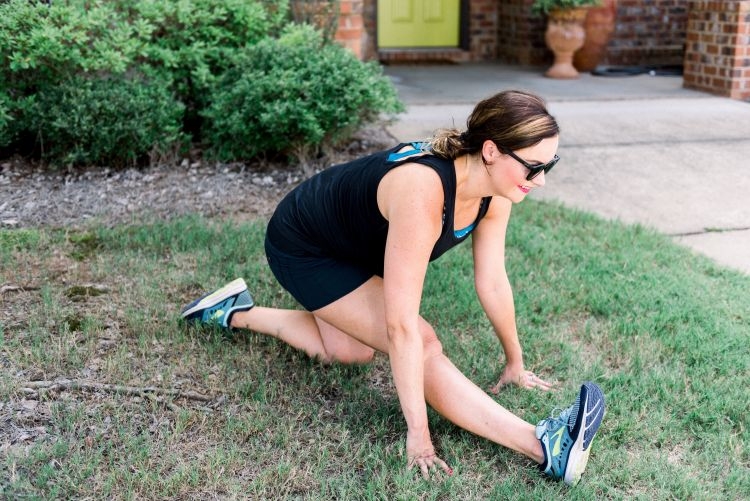 DON'T:
1. DON'T Over Stress Your Body – Don't twist, spring or lay flat on your stomach or back after 20 weeks. Avoid putting excess pressure to your spine and abdomen. Performing heavy compound movements (especially in third trimester) can cause serious damage to your ligaments, joints, and muscles as well as the baby. Try this Modified Partner Pregnancy Workout if you are needing a safe pregnancy workout!
2. DON'T Forget The Water – There are many benefits of staying hydrated, whether you are pregnant or not. To prevent unnecessary stress by the workout, make sure you are drinking lots and lots of water. You want to drink plenty of water before, during, and after your workout and make sure you aren't sweating too much. If you are needing some motivation to stay hydrated, check out my 30 Day Water Challenge. 
3. DON'T Try Out New Pregnancy Workouts – This is probably not the time to begin to train for a 10k or horseback riding. As your bump expands, your center of gravity is compromised. This makes you and baby more at risk of blunt trauma. My doctor told me with my first pregnancy that because my balance was compromised, she'd recommend I quit tennis after the first trimester. If you do a sport like biking, consider changing to a stationary bike instead.
4. DON'T Participate In Any Contact Sports or something that has you too off balance- This should be a no-brainer but worth a reminder anyway. Leave basketball or boxing for after the baby. My doctor told me she had a patient who broke her leg playing tennis while pregnant and suggested I quit playing early on in my pregnancy because your balance is so off and it's such quick jerky movements to stop and start running while pregnant.
During this super exciting yet stressful chapter, it is so important to maintain a healthy lifestyle so you have the strength to provide for others around you and your little one! I have written many maternity and pregnancy posts from tips from my chiropractor to my top favorite baby registry items HERE so that you can feel more prepared and at ease in this exciting time of your life!
Any other exercise tips you found helpful during your pregnancy? Leave me a comment below as I am always looking for your suggestions and tips to share with the MyLifeWellLoved community! Thanks so much for tagging along on this journey with me and letting me be a part of yours! xoxo
Shop the Pregnancy Workout Post: 
Pin the Pregnancy Workout Post for Later!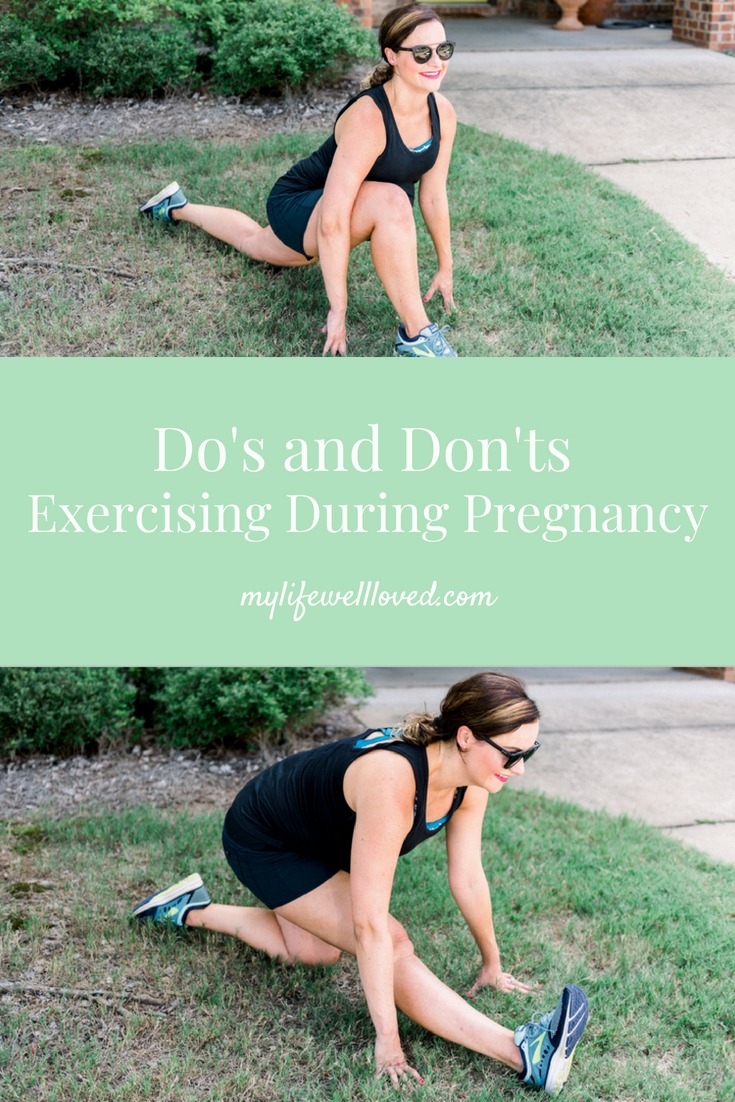 Heather Brown helps busy mamas of young littles who are caught in the hustle to find encouragement in their journey to true health, from the inside out, starting with the heart. Read her journey of learning to live a life well-loved
HERE!