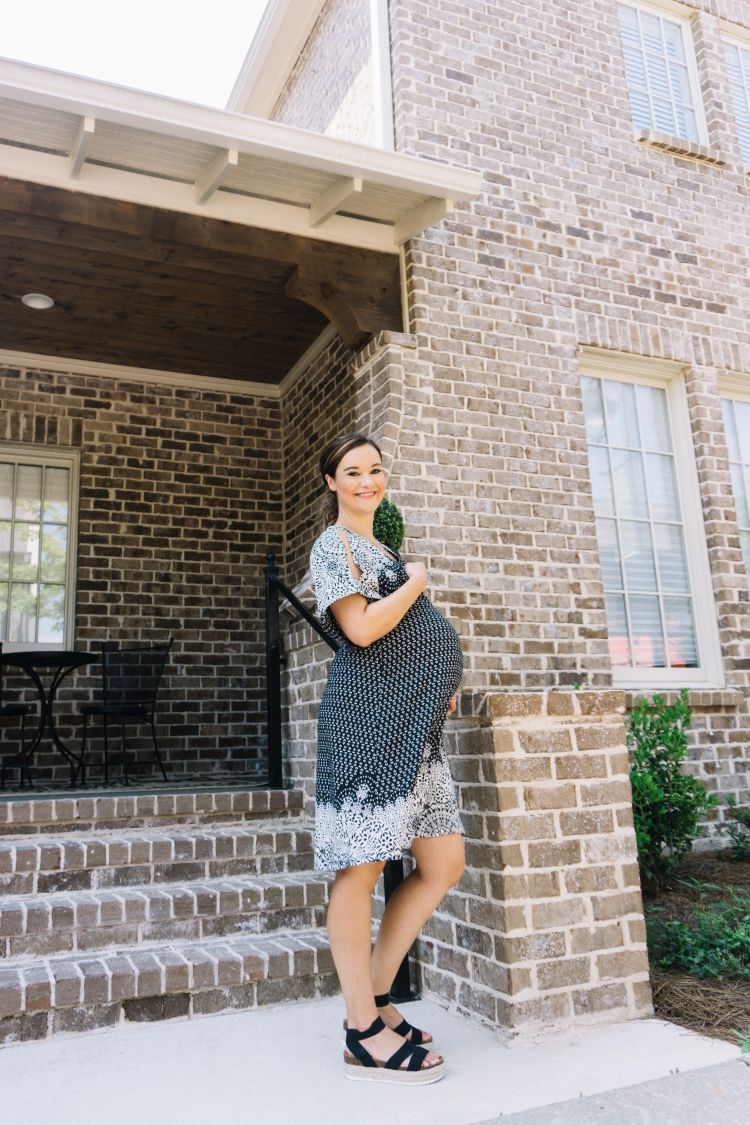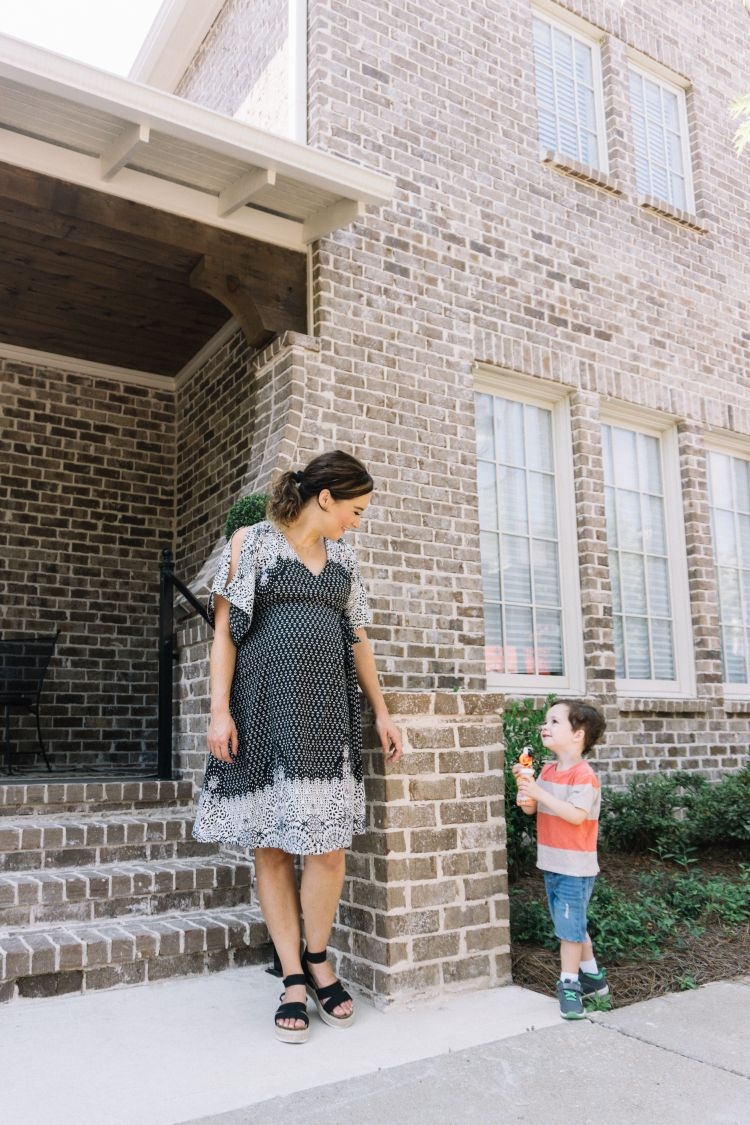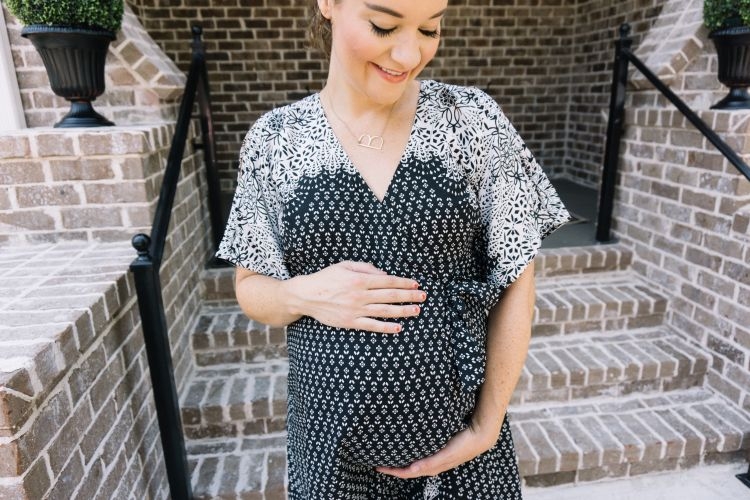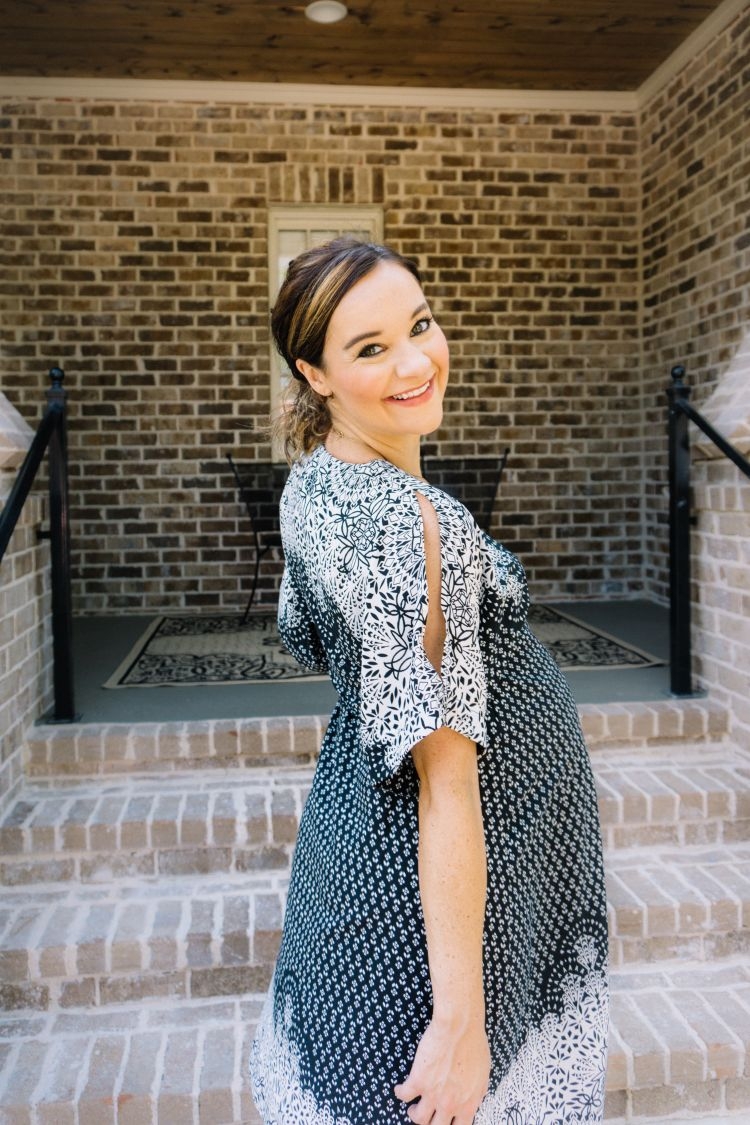 This post is sponsored by Macy's!
Shop the Thirty-Eight Weeks Bumpdate Post HERE: Jessica Simpson Maternity Dress – Similar Option – Another Similar Option // Nursing Bra // Steve Madden Black Flatform Shoes
Even though Finn made his arrival at 38 weeks, I still wanted to publish my last bumpdate to remember exactly how I was feeling up until he was born! If you missed his birth announcement, you can read it here!
Thirty-Eight Weeks Pregnant Bumpdate
Baby Is The Size Of? A leek and weights about 6.8 lbs or more! He was estimated at our last ultrasound two days before induction at 7 lbs 15 oz.
Total Weight Gain: 40 lbs – my doctor assures me he's proud of the healthy way I've gained the weight. Eek, still that number though!
Maternity Clothes & Favorite New Maternity Piece? I just got in a big shipment from Macy's this week with a lot of new basic maternity/post-baby friendly pieces. Even at thirty-eight weeks pregnant, I am loving these items! This Jessica Simpson Dress is great for maternity and I'll be able to wear it afterwards as my body hopefully morphs back to what it once was, ha! This dress is perfect for a baby shower, wedding, church, or even a dressy brunch!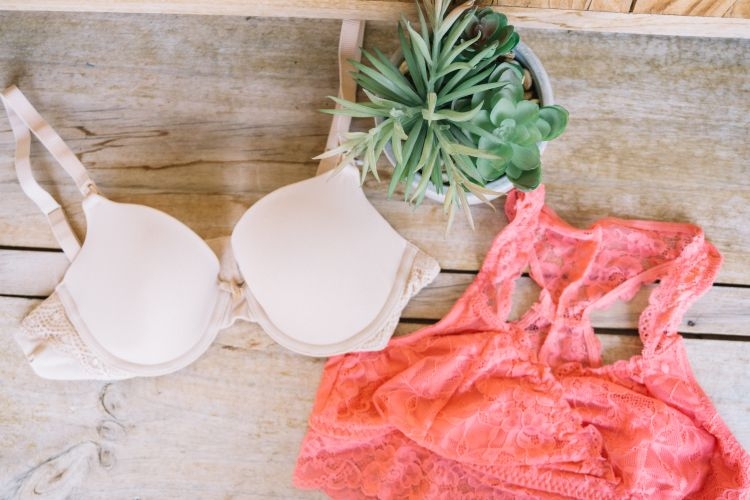 I'm wearing it with my new Motherhood Maternity full-coverage underwire nursing bra. I needed a new good, basic nude bra that will work for nursing and while I was browsing their site, I also found this cute Motherhood Maternity lace nursing sleep bra  which I found on sale for only $15.99! Y'all know I've fallen in love with fun bralettes recently to peek out under off the shoulder shirts so this one will provide function + hopefully make me feel a little more sassy despite feeling like a milk maid at the same time! 😉
I also got this cute black scoop-neck nursing top that's nursing friendly while I saw it was on sale! I shared it in my thirty-seven weeks bumpdate here!
Stretch marks? Not yet!
Sleep: Getting harder/more uncomfortable…just feeling so heavy and hard to get comfortable anyway I go. Could still be so much worse I know.
Best moment this week: We sold our guest bedroom furniture! So glad to have at least one big to do checked off our list. Now all the items in those dresser drawers and night stand are strewn all over my room and closet and need to be cleaned/organized/sorted. We also now need to get a new dresser and nightstand for Leyton's big boy room since we have somewhere to put it and are waiting on his bed to get in. Jesus, take the wheel. Sharing more about how we are preparing for baby #2 here!
Movement: Every time I go in for an OB appointment the nurse comments on how much baby is moving that it's hard to even get his heart rate at first!
Food cravings: Watermelon, cheese dip, brown sugar brownies from Urban Cookhouse, salads – so cold and refreshing during these hot summer days! It says it FEELS LIKE 102 outside today. YUCK!
1 thing I'm struggling with this week: Trusting the Lord. Trying to figure out if we want to induce, when, and then on top of that getting all my work projects tied up ASAP. It's been an emotional roller coaster. I only have two photo shoots left before baby and so many contracts/brands to close and waiting on products makes it hard to plan and shoot ahead of time. HELP! Ha.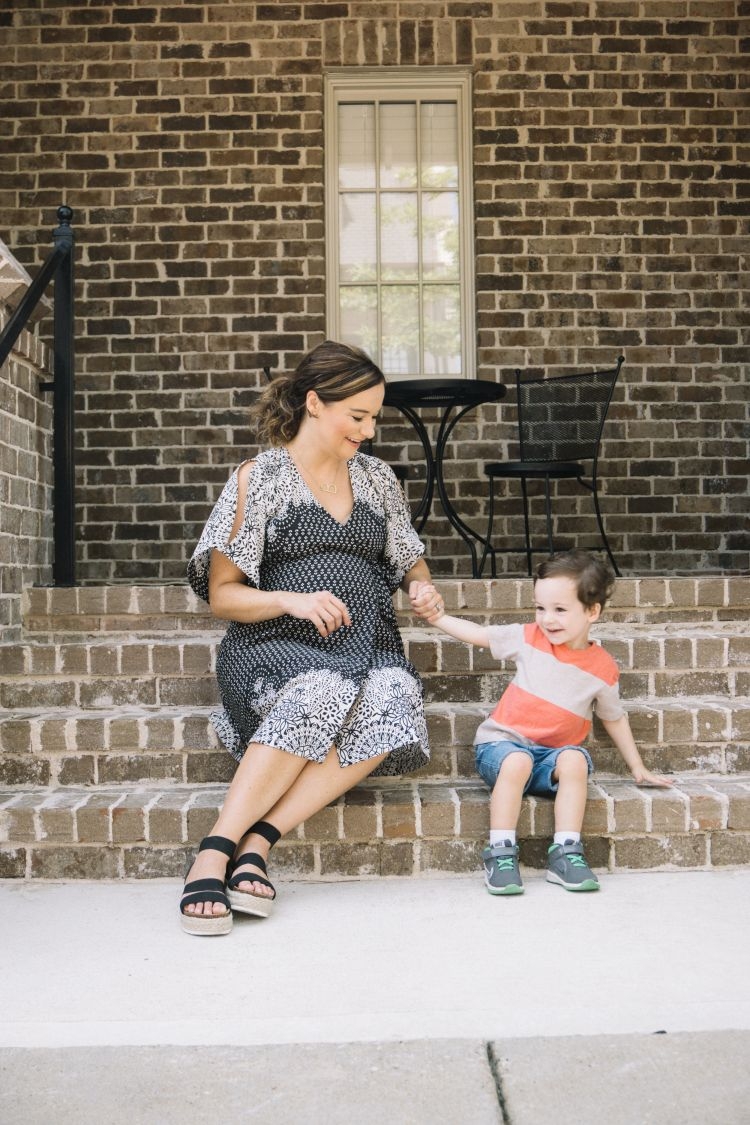 Gender: Boy!
Labor signs: Just progressing along and feeling heavy!
Symptoms: Getting so uncomfortable, lower back pain, stressed, feeling very hormonal/tears likely. UGH. Also feeling baby drop has made it even more uncomfortable with pressure, etc.
Belly button in or out? All but out!
Wedding rings on or off? Still on, thank you Jesus for not too much swelling despite the heat.
Mood: Anxious… needing to let go and let God but not sure how to get it all done. I literally want to laugh when people tell me to "relax" and enjoy the last few weeks. I'm trying to relax but how do you relax when you need to finish a toddler room, clean out and organize 3 closets due to the room transitions, write thank you notes, soak up time with your first born before there are two, work 40 hours+ a week, be a good wife, cook meals, clean baby clothes and still fulfill all your normal obligations. I just don't even get how it's all possible.
Looking forward to: Having my full wardrobe back again and not being so uncomfortable, ha!
To read my bumpdate from when I was thirty-eight weeks pregnant with Leyton, go here! 
Pin the Thirty-Eight Weeks Pregnant Bumpdate for Later!
Heather Brown helps busy mamas of young littles who are caught in the hustle to find encouragement in their journey to true health, from the inside out, starting with the heart. Read her journey of learning to live a life well-loved
HERE!