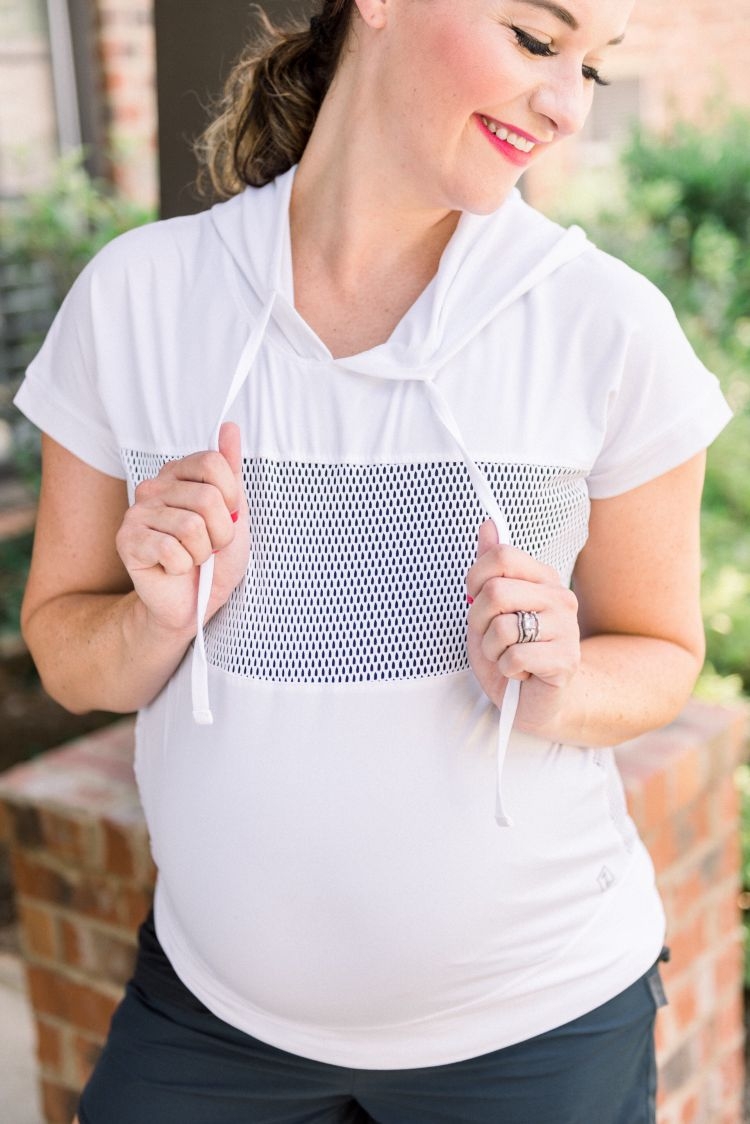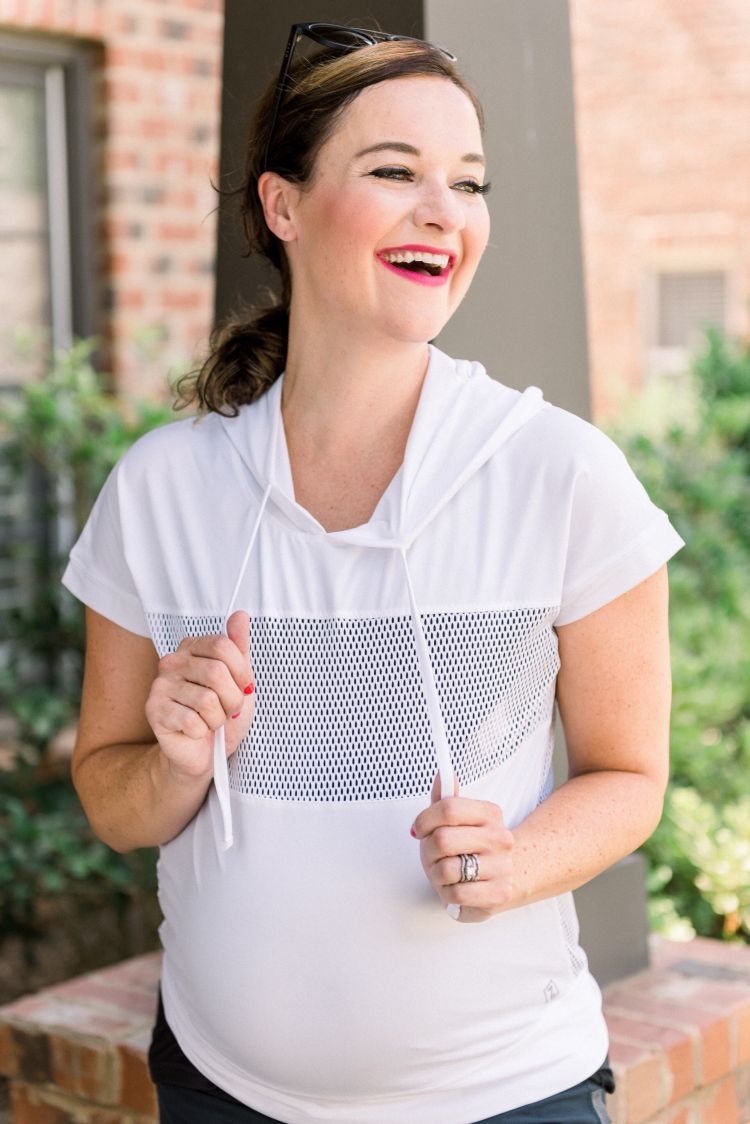 Shop The Fitness Challenge Post: White Workout Top // Black Shorts // Sunglasses
Welcome to Week 1 of the Fitness Challenge for Moms!
I am so excited to kick-off a 30 Day Fitness Challenge for Moms! Whether you are pregnant, just had a baby, or had babies years ago – this challenge is for YOU! We want this to be informative and helpful for any stage of life you are in. I know you are all busy mamas so this challenge will focus on easy and doable fitness hacks, healthy tips to get you on track, and ways to modify if you are pregnant or just had a baby!
As always, for the Fitness Challenge for Moms, I am teaming up with my dear friend Jessica from Happily Hughes and our guest cohost this month is Natasha from Hello Happiness! Even though I just had baby Finn and I won't be doing much working out today (or really any day in the near future), I still want to bring you helpful tips for you to follow during your season of pregnancy, postpartum, or motherhood in general!
5 Tips to Follow During the Fitness Challenge for Moms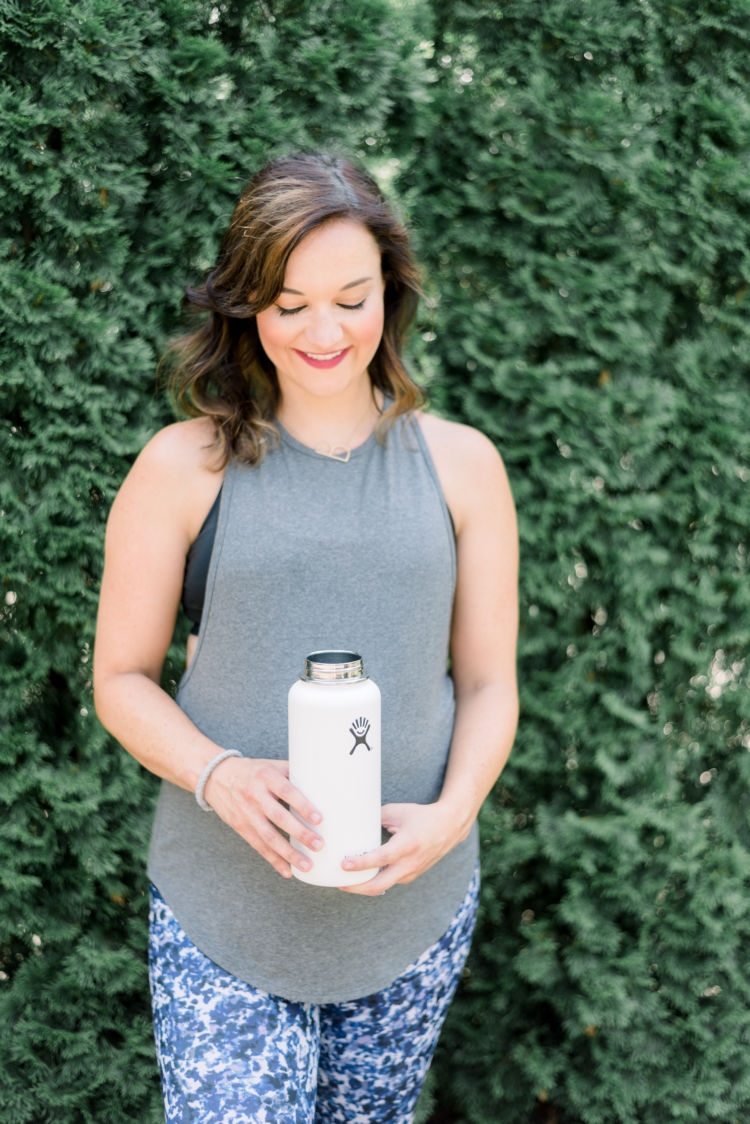 Leggings // Tank // Sports Bra // Water Bottle
1. Make sure you drink enough water –
Staying hydrated is so important and is key to a successful healthy lifestyle and fitness journey. We harped on this during our 30 Day Water Challenge in July! It is recommended to drink at least half your body weight in fluid ounces every day. However, if you are breastfeeding (ME!), drinking a lot of coffee (which dehydrates you), are out in the heat, or exercising, you really should be drinking more than that! It seems crazy, I know! But I promise it is doable and you will feel so much better for it. If you are wanting my Free Printable from our 30 Day Water Challenge, be sure to click over and print it out!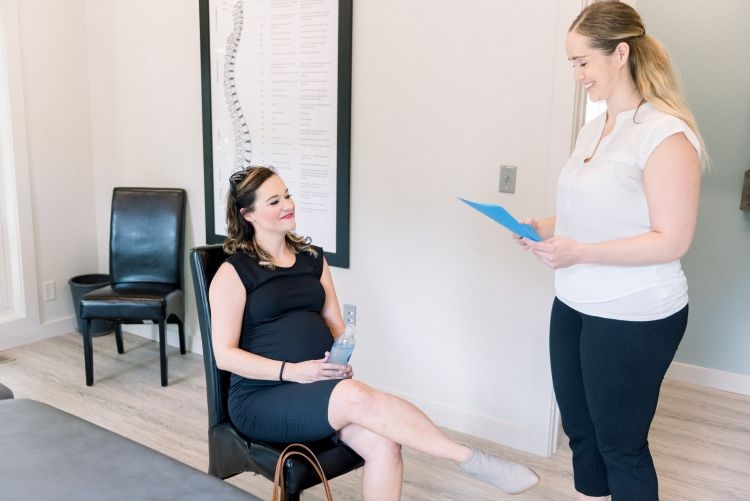 Dress // Booties // Sunglasses
2. Talk to your doctor and find a chiropractor –
If you are pregnant or recently had a baby, I strongly encourage you to check with your doctor before you begin working out. If you are cleared for physical activity, then go for it! I also recommend finding a GREAT chiropractor. As you know, my chiropractor saved me from daily back pain during this pregnancy! I hadn't seen a chiropractor before I got pregnant with Finn and I wish I would have been going to one all along! As moms, we are constantly on the go, bending over backwards for our kiddos (literally and figuratively), so we must make the wellness of our bodies a priority! If you want to read more about why I love my chiropractor and FAQ answered by my chiro, be sure to checkout my recent post!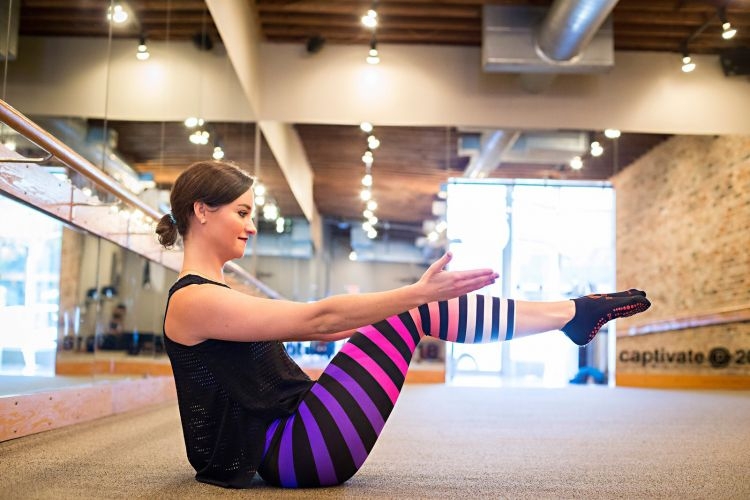 Tank // Leggings // Sports Bra // Pure Barre Socks
3. Find your favorite workout class and modify! 
Finding a class or workout that works for you is key! For me, Pure Barre is what I love and is something I look forward to daily. I took Pure Barre classes up until 37 weeks and followed my pregnancy modifications! I actually have another pregnancy modifications post coming in 2 weeks for how I modify during Pure Barre Empower!
Whether it's yoga, pilates, HIIT, boxing, cycle, find what you LOVE and go for it! I know many gyms offer a wide range of classes and childcare services which could be a great option for you mamas! However, if you can't leave your babies or it's not in the budget to pay for a class/gym membership, my go-to home workout option is YouTube! I will search "30 minute pregnancy leg workout" or whatever I am hoping to find, pick one, and go for it!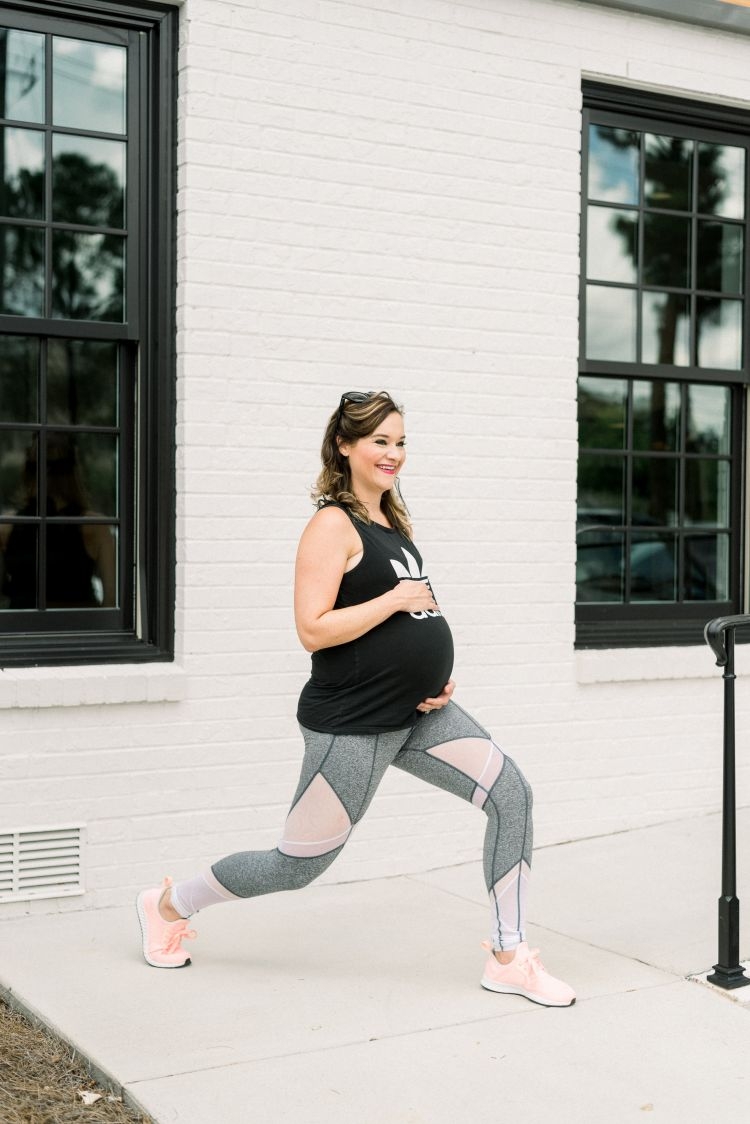 Tank // Leggings // Tennis Shoes // Sunglasses
4. Get some good mom-friendly or bump-friendly workout clothes! 
Let's be honest, we all know a new workout outfit makes us way more motivated to actually workout! I am a big believer in finding bump-friendly activewear that will also work for after pregnancy. However, sometimes maternity activewear is a must! I recently shared my love for the Beyond Yoga Maternity Leggings and Zella Maternity Leggings. I lived in the Beyond Yoga leggings the last few weeks of pregnancy and they fit my 38-week-pregnant bump GREAT! If you are looking for more activewear options, here is my Favorite Bump-Friendly Activewear post! If you are aren't pregnant, here is my Favorite Activewear post!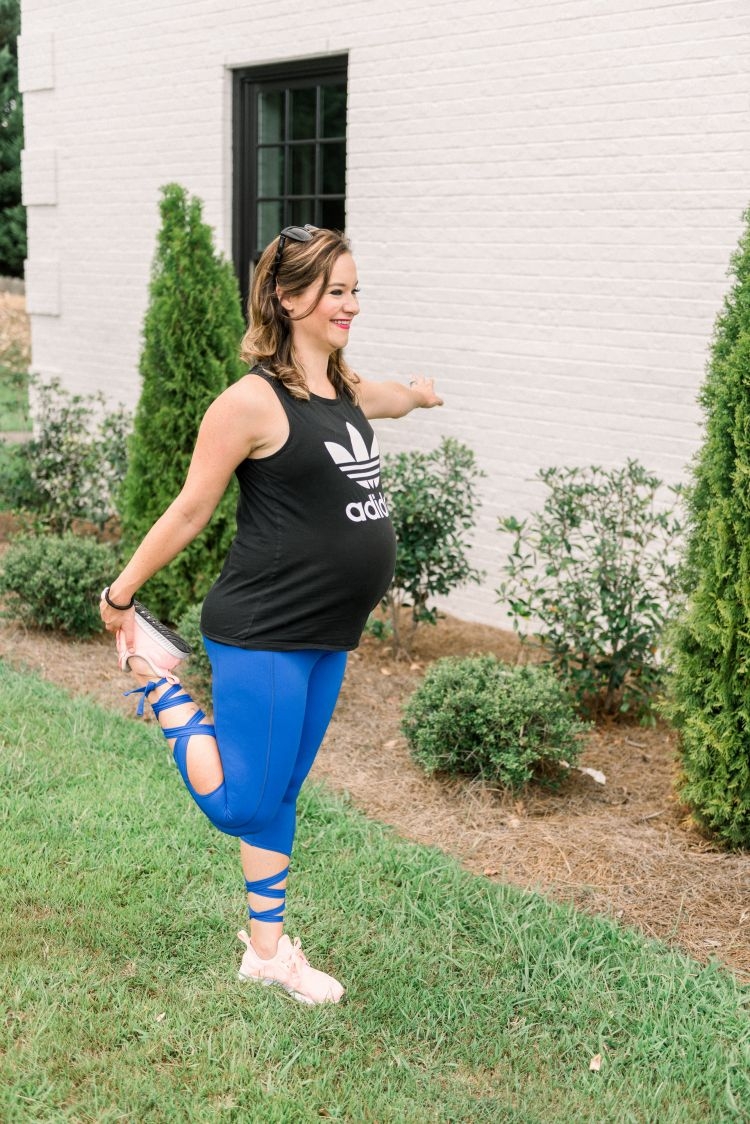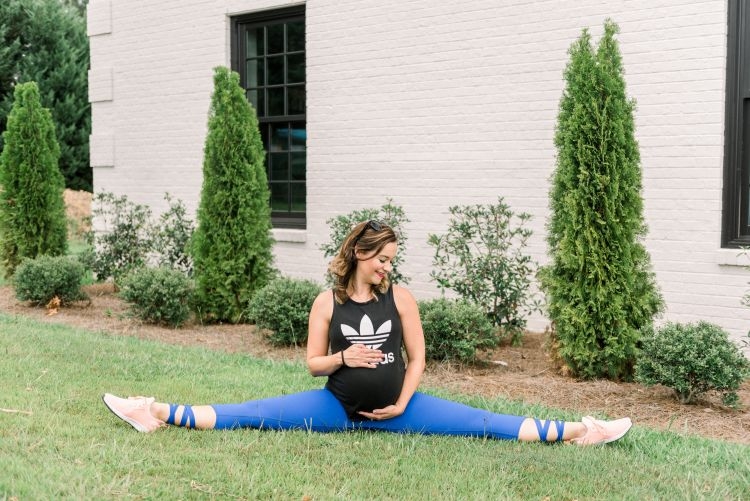 Tank // Leggings // Tennis Shoes // Sunglasses
5. Stretch, stretch, and stretch some more! 
Whether pregnant or not, stretching is so important! Not only is it great for stress relief (I think all of us mamas need a little stress relief), it also helps your posture, can help with back pain, improves flexibility and range of motion, and can help your performance in workouts or other physical activities (aka LABOR)! I feel like we often look past stretching because it causes us to sit or be still and as moms, we are constantly go, go, go! However, stretching is a simple way to improve your mental and physical health and kick start your fitness journey!
I hope you have enjoyed these 5 easy tips to implement during our 30 Day Fitness Challenge for Moms! What is your best tip to maintaining a healthy lifestyle as a mom? Leave it in the comments below! PS – If you are looking for more fitness challenges, checkout these: Booty Challenge, Arms Challenge, Lower Body Workout, Plank Pregnancy Modifications.
Shop the Fitness Challenge for Moms Post:
Pin the Fitness Challenge Post for Later!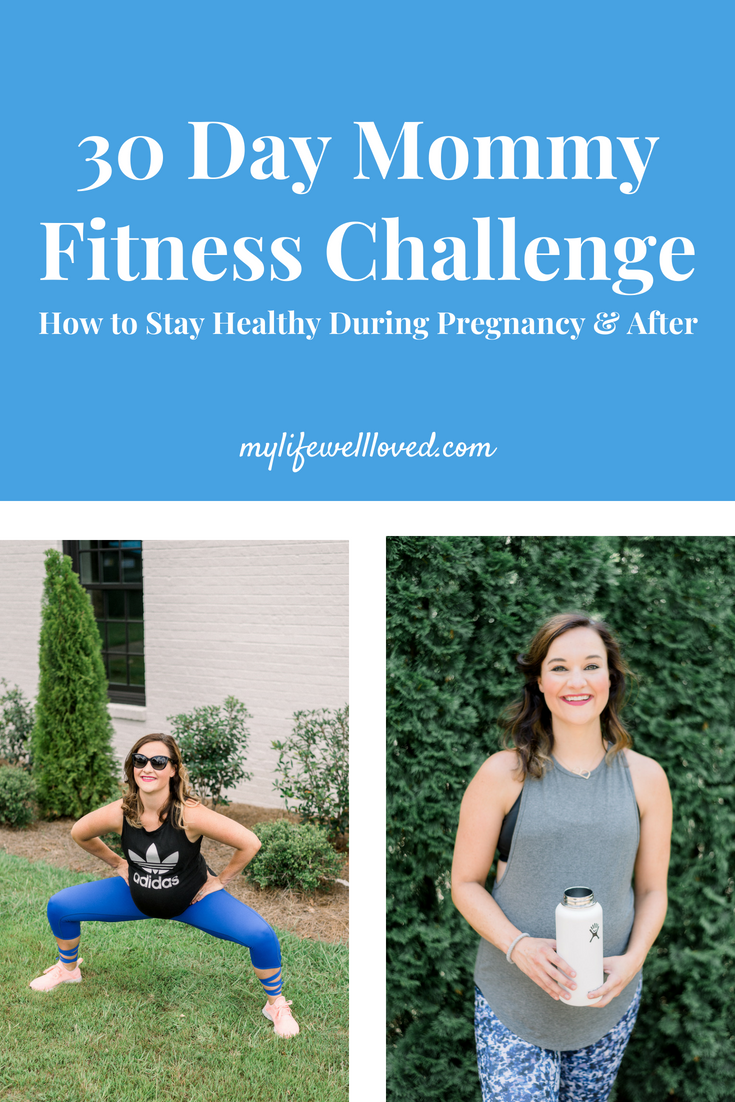 Heather Brown helps busy mamas of young littles who are caught in the hustle to find encouragement in their journey to true health, from the inside out, starting with the heart. Read her journey of learning to live a life well-loved
HERE!