This post on What To Wear To Barre Class was originally published in January 2018 and updated in June 2022.

Shop The What To Wear To Barre Post HERE: White Tank Top // Black Leggings // Gray Tank Top // Sports Bra // Camo Leggings // Socks // Black Tank Top
Affiliate links included.
Lift. Tone. Burn. is the Pure Barre mantra. I've written many a post about Pure Barre whether it be about our newer cardiocentric version of barre – Empower, 10 Tips for Your First Pure Barre Class, and Pure Barre Pregnancy Modifications. What I haven't covered in depth yet is what to wear to barre class.
If you're new around here, I taught Pure Barre for 8 years. Even though I don't teach anymore, I still love it! When I was going more regularly, I was taking class about 3 days a week and doing cross training 2 other days during the week. As you may imagine, I have developed quite the love for athleisure clothes. You can see some of my favorite fitness brands broken down in this post.
Although, if you follow me on Instagram stories, you basically see it every day because it's pretty much all I wear…I thought I'd elaborate on it for you guys because it's always one of the first questions I get asked by barre newbies. 🙂
A lot of you have mentioned trying out Pure Barre for the first time or coming back to barre after taking a fitness hiatus so I'm here to be your "what to wear to barre class" guru. Ha! Is that even a thing? Well, we'll make it one.
Let's start from the top, shall we?
Want more Pure Barre posts? Check out these posts!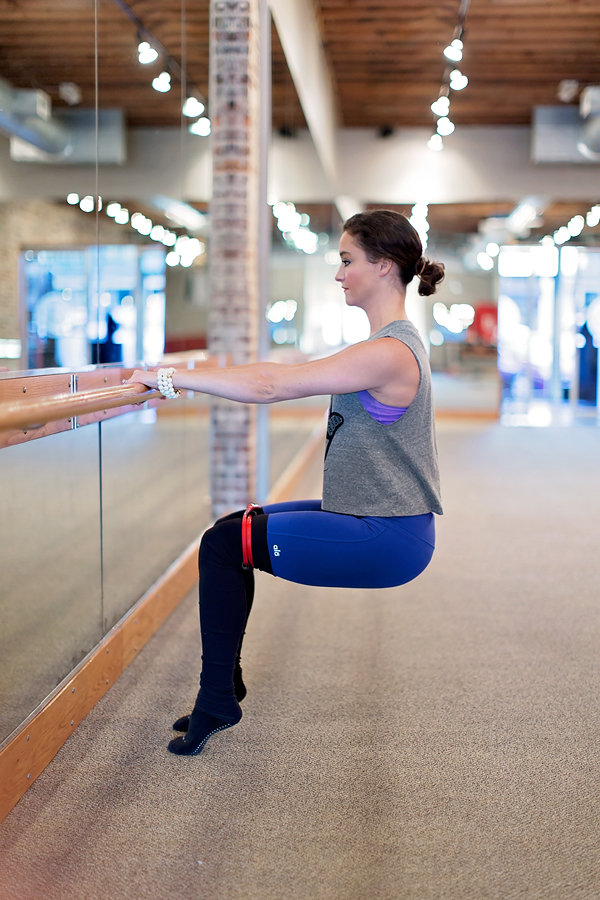 What To Wear To Barre Class Broken Down From Head To Toe:
Ponytail holders – (Use my code MYLIFEWELLOVED15 for 15% off!) Of course, a necessity. Some women come to regular Pure Barre with their hair down, and more power to them, but I get so annoyed doing pushups in our warmup when my hair is flopping in my eyes. I'd highly recommend at least some bobby pins to pull your hair back out of your eyes. If you take Empower or Cardio Barre, you'll definitely want a hair tie. Teleties are really popular in our studio currently because they help avoid hair creases and stay more sanitary than cotton ones that soak up your sweat. I just got some and have really liked them since usually I do get a crease no matter what ponytail holder I use but not with this one! Invisibobbles are a good dupe for a lower price point as well!
 Tank top or athletic shirt of some kind – Here's where the "what to wear to barre class" can start to get a little more interesting. Most barre studios are a little more fashion forward with athletic apparel. Whether it be keyhole backs, tied up tanks, open back shirts, mesh, or funky straps, the details make your barre wear pop. I love to find low scoop back or open back tanks to allow my strappy sports bras to show. It's a fun way to get creative with the way you dress. But no worries if that feels outside your comfort zone, you can always wear a plain old t-shirt and no one is judging. 🙂
Low to medium impact sports bra – I get asked about sports bras a decent amount which cracks me up because hello, flat chested club over here. 😉 Note that if you are doing a cardio barre or pure barre empower class that you should wear a higher impact sports bra if you are more gifted up top. Barre is a great place to wear your fun, strappy and colorful sports bras to peek out in the back of your cut out tanks as mentioned earlier.

Capris or pants but NO shorts – We wear tight fitting pants or capris to keep muscles warm and help you get the most out of your workout. Shorts just aren't feasible in a barre class setting. There's mirrors everywhere and you end up doing positions that could possibly make you and your neighbor feel uncomfortable if you are in shorts that could expose…a bit too much. Wear the pants or capris that make you feel most confident, and then start to play around with cut outs, mesh panels and bright colors. Some of the pants I get the most compliments on are these crazy and fun K Deer Leggings pictured below.

Sticky socks – We don't wear shoes in barre classes, so you'll want to wear a pair of sticky socks for the best experience. You'll be lifting and lowering your heels a lot and holding in difficult positions on your tip toes so having that grip is KEY to not slip sliding all over the room. Most studios sell them at the front retail area, but you can also pick some up ahead of time, typically for a better cost. I've only ever worn the Pure Barre brand socks but some of our clients swear by the Zella sticky socks that Nordstrom sells.
Water bottle – Last but not least don't forget your water bottle! It will be one of your best accessories, because not only will you use it for your barre class but you can keep it with you all day to get enough water. I love to use a water bottle with a straw or a large Yeti to help me get in enough water for the day.

Bonus tip! If you need a kick of pre-workout energy, Modere's RUSH pre-workout is my top pick! You get the energy kick to get your through your workout, without the crash of caffeine. Use my code HEATHER for $10 off!
Check Out More Posts Here:
Shop What To Wear To Barre Class Here:

Pin The Post Here:

Heather Brown helps busy mamas of young littles who are caught in the hustle to find encouragement in their journey to true health, from the inside out, starting with the heart. Read her journey of learning to live a life well-loved
HERE!