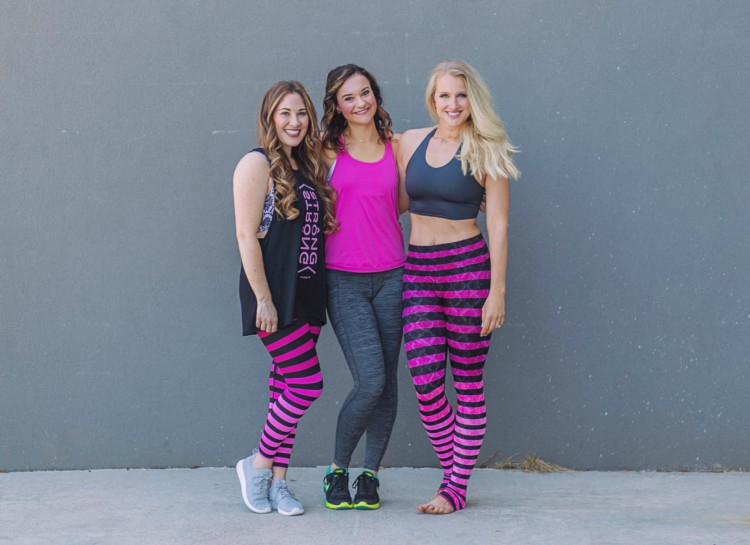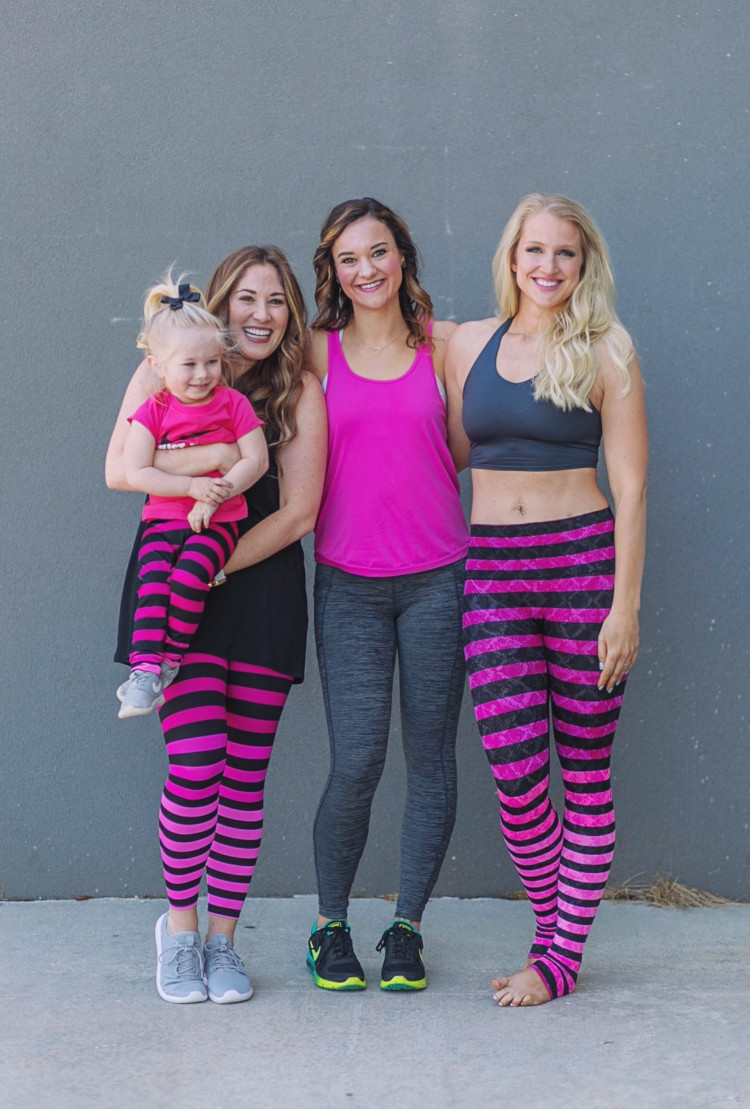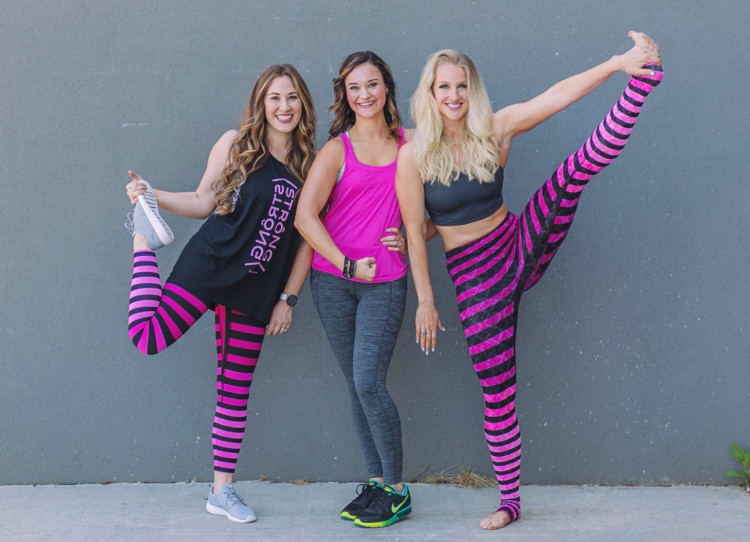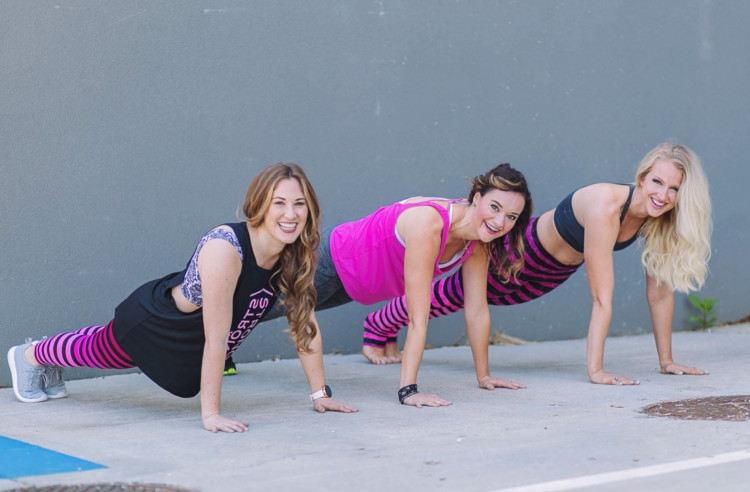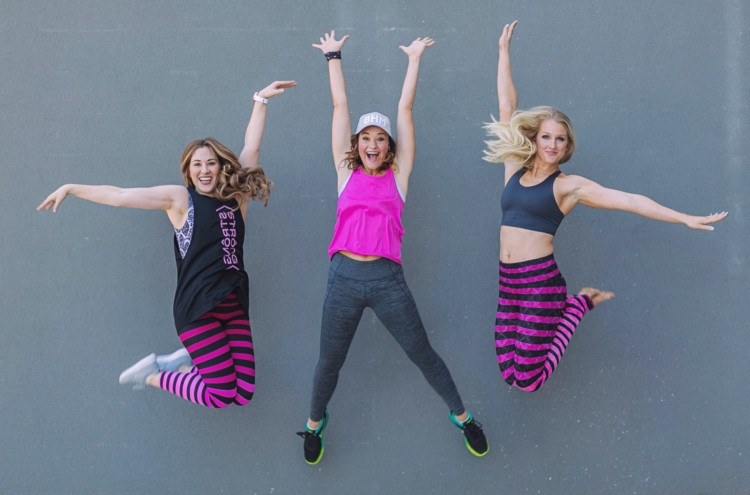 Athleisure Tank (old Splits59) // Sports Bra (similar) // Pants (similar, similar) // Shoes // Hat  c/o // Earrings
Everybody knows that working out is more fun with friends! These two made me want to jump for joy hanging out in Atlanta a couple of weeks ago. We had the best time and now I wish we all lived in the same city. If you missed the start of our sugar detox challenge with Veronika's Blushing, make sure you head back to read that post.
You know I'm basically your resident blogger expert on athleisure gear, right? I mean I do wear spandex about 90% of the time teaching Pure Barre. Ha!
My Favorite & Best Athleisure Brands:
BeyondYoga: Out of all the brands of yoga pants I own, (and TRUST ME, it's a lot!) these are the softest. I don't think you can beat how soft their leggings are. I have BY pants and sports bras and love them. I am currently crushing on this bra and these pants.
Splits59: The hot pink tank I'm wearing in this shoot is from Splits. It's about 3 years old and still looks vibrant as ever. I've also had SEVERAL pairs of their pants which tend to run long. The pants don't hold up as well as I'd like on the inseams on your inner thigh but again, I wear mine hard and often so this may not be your experience. Not to mention, I'm REALLY picky about this and haven't gotten new pants from them in a couple of years.  You can shop the Splits59 items on sale here. I'm currently crushing on the Balance Tank.
Athleta: The pants I'm wearing in this pic are from Athleta and I also have another funky pair in black and white + I've heard great things about their swimsuits too! I love that they usually run great sales and their items have held up well for me so far!
Nike: I honestly don't know how you have a list of athleisure clothes without including Nike. The age-old staple. I wear these Nikes  for running around town, walks, and because I love the colors.Many times if I run though, I throw on my Brooks. These shoes are currently really hot. I've also got Nike sports bras, Converse shoes, and tons of their shorts.
Onzie: We started selling this brand at Pure Barre not too long ago. I have one pair of leggings from them I LOVE that you've seen before all over my Instagram story and Snapchat because I wear them so much. They feel like liquid slipping into them and their mesh game is strong. I'm currently crushing on this sports bra and these fierce leggings. They're a little bit different in that their sizing is S/M or M/L. I wear a size small/4 normally and get the S/M.
SOLOW: We also started carrying this line at Pure Barre semi-recently and the fit can be a little odd. Every pant and top seems to fit slightly different. I'd recommend trying these on first if you can and if not, do somewhere with free returns. I have some moto black leggings from them in a small and love them! I even wear them with a tunic or piko top after class sometimes to dress up my athleisure look.
Calia by Carrie Underwood: I fell in love with the Calia by Carrie Underwood  line last year when I got two of her bathing suits at my local Dick's. All her clothes look SO cute!
Lululemon: I have Lululemon pieces that I bought when I FIRST started teaching Pure Barre 7 years ago that are still hanging in there. I don't like how their pants pick up tons of lint and pet hair, etc but that's one of the few drawbacks. They've had their up's and down's in the media but I do personally love our store and the employees here in the Birmingham store. I've got too many pieces from them to list, but one of my favorites is my Speed Racer short. If you don't like your shorts too short or tight, I'd recommend sizing up.
What are your favorite athleisure brands? I would love to hear in the comments below!
Shop the Best Athleisure Brands Below:

Don't forget to visit my partners in crime for the Sugar Detox Challenge!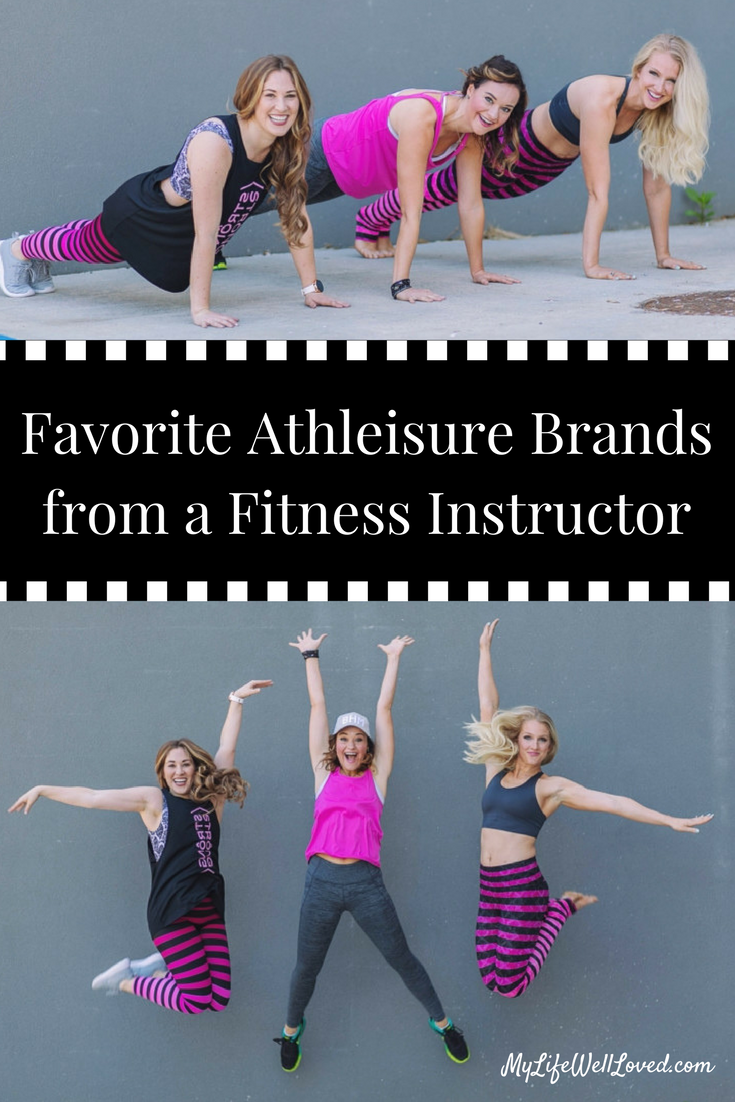 What do you think are the best athleisure brands? Do you know of one I need to learn about?
Heather Brown helps busy mamas of young littles who are caught in the hustle to find encouragement in their journey to true health, from the inside out, starting with the heart. Read her journey of learning to live a life well-loved
HERE!