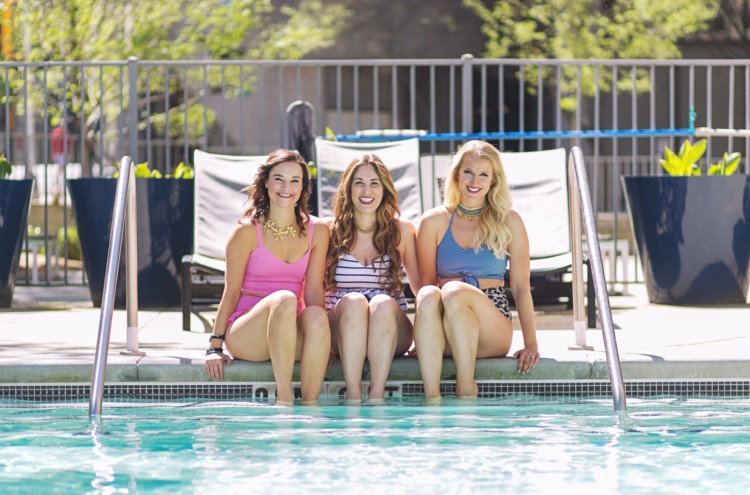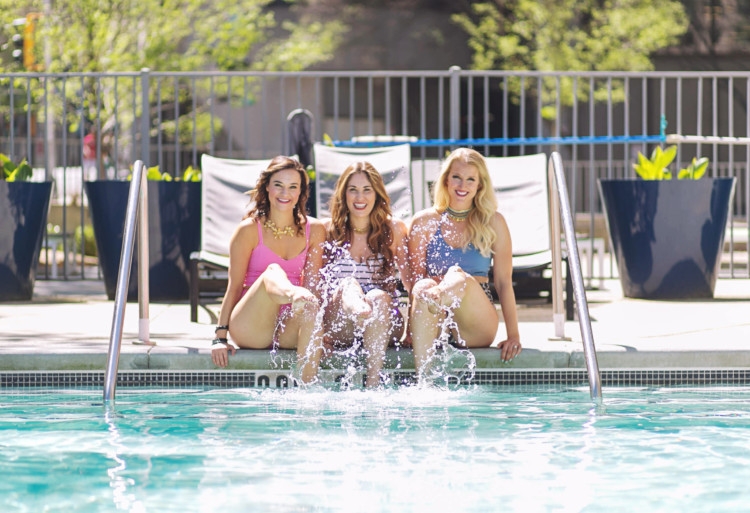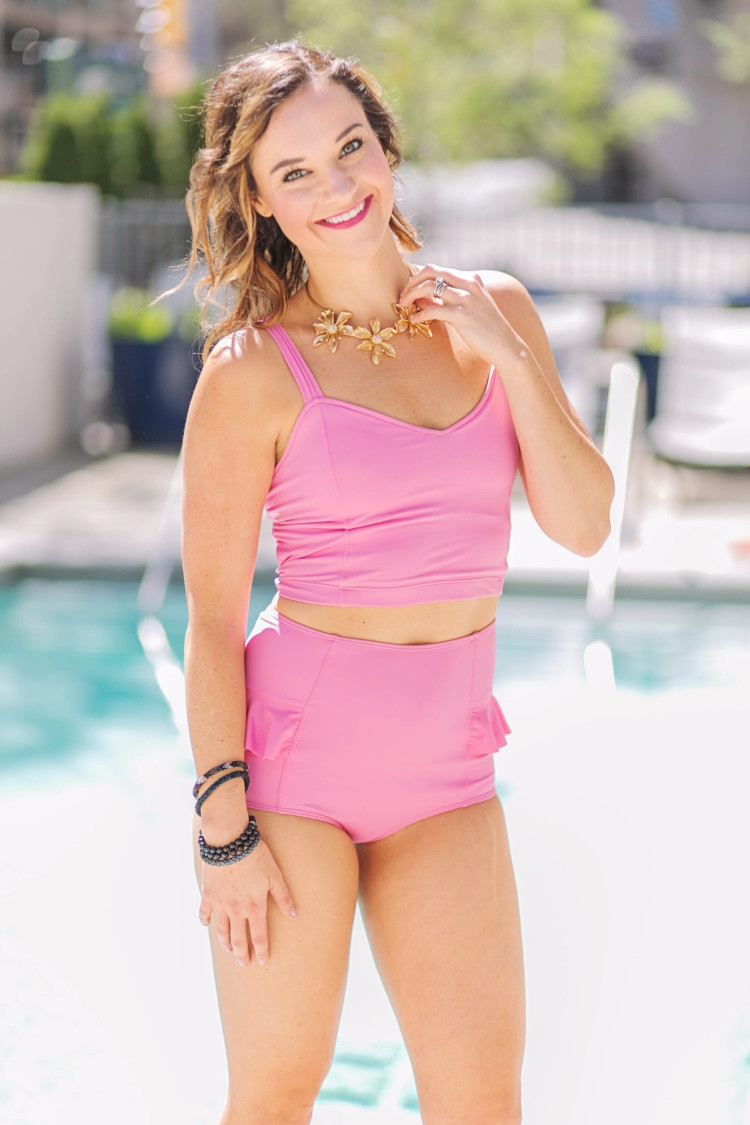 Bathing Suit Top // Bathing Suit Bottom // Necklace // Beach Bag // Bracelet
And just like that… swimsuit season is here (and the 30-day sugar detox)! Since I put on a swimsuit and took these fun photos with my friends, it got me thinking about how I could help keep you inspired to look your best in your swimsuit this summer.
You'll be SHOCKED at how good your body feels and looks when you detox the sugar out of your system. I think if you join this challenge with us, you'll feel better in your swimsuit than you ever have before.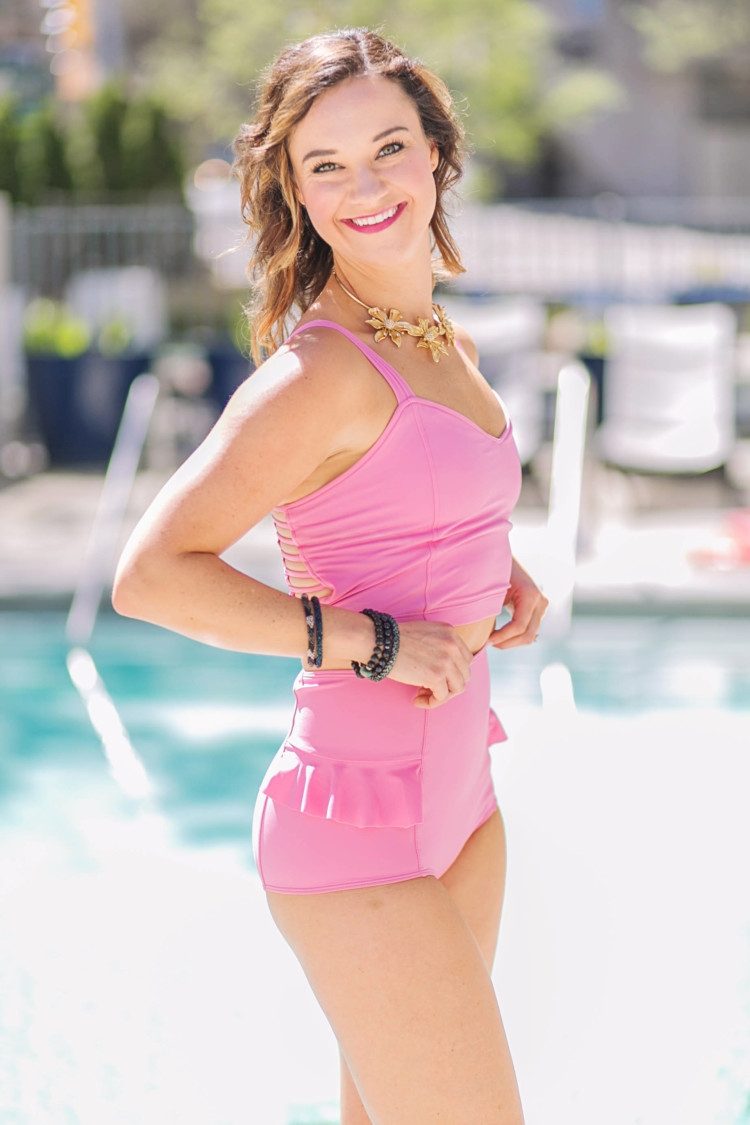 Rules Of The 30 Day Sugar Detox Diet:
High in Protein: Honestly, this detox is pretty similar to paleo. Get in as much protein and veggies in your day as you can. Protein will leave you feeling fueled for your workouts and busy mom's life.
Eat ALL the Veggies: Regardless of whether you do this challenge or not, always try to up your veggie intake! It's nearly impossible to get in the number of servings you should have in a day so grab a juice, and nosh on vegetables in between meals. Carrots, anyone?
Fruit is only for when you have a sugar craving: Although I rely on fruit heavily, I'm going to try for this challenge not to eat too much because it still has lots of natural sugars. Save fruit or cacao chocolate for when a sugar craving hits.
No White Grains: This is pretty standard for me with clean eating and paleo unless I'm having a cheat meal so it's not that different. Instead of white rice/white bread or pasta, opt for whole grains. Although the best-case scenario would be to opt for Ezekial bread and sweet potatoes if you want a carb.
Limited or No Alcohol: If you want to really drop weight for a vacation or swimsuit, cut the alcohol. I am allowing myself to drink socially with others no more than once a week during this. You are allowed one cheat meal a week, but just one! So if you know you have an event or party, plan the cheat meal to be then.
Dairy is allowed: Yay for bringing back the goat cheese into my life after the paleo challenge last month! Just avoid any sweetened yogurts with tons of hidden sugars in them. Yogurt can be greek yogurt with less than 10g of sugar. After doing Whole30 or paleo in the past with me though, if you know your body doesn't react well to it please feel free to eliminate it. Only get unsweetened almond and/or coconut milk if you opt for these.
No Candy, Sodas, Juices, Sugary Cereals, Sugar for Coffee, Sweetened Milk, etc.
See Week 2 of the Sugar Detox HERE!
The goal of any challenge or lifestyle change is to make it fit YOUR lifestyle. We just want to be accountability partners for you as you walk through your healthy lifestyle. We all know how detrimental and addictive sugar can be which is why all 4 of us are excited to partner for this 30-day sugar detox diet. (If you don't know how addictive sugar can be, please go watch Fed Up on Netflix!) Please as always modify as you see fit for your body and mind.

Heather Brown helps busy mamas of young littles who are caught in the hustle to find encouragement in their journey to true health, from the inside out, starting with the heart. Read her journey of learning to live a life well-loved
HERE!