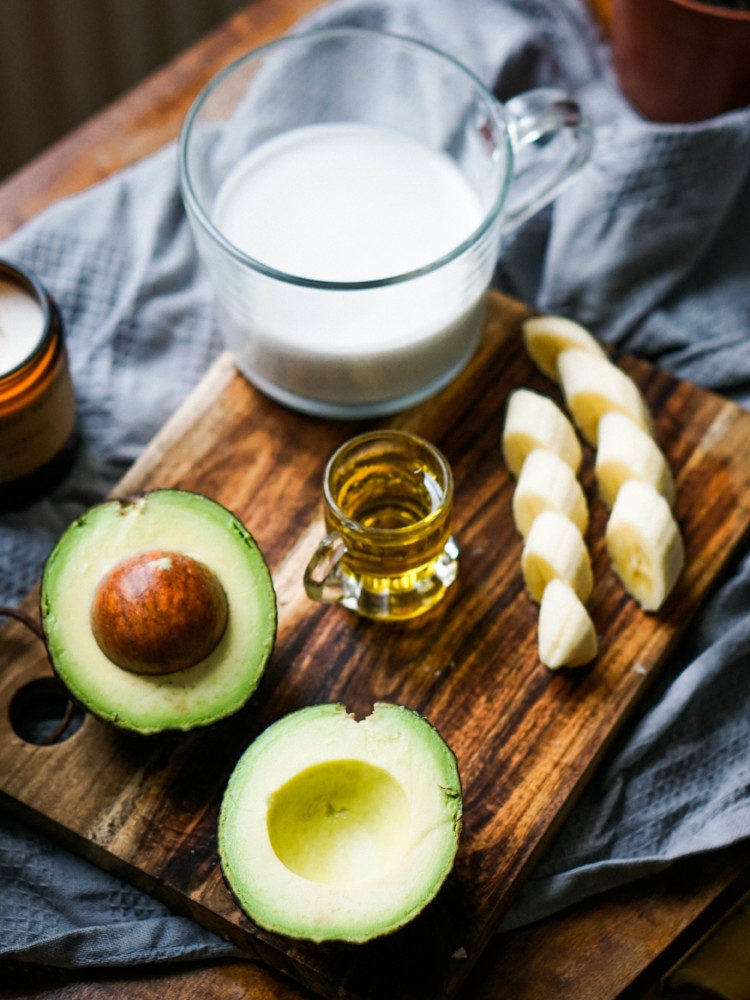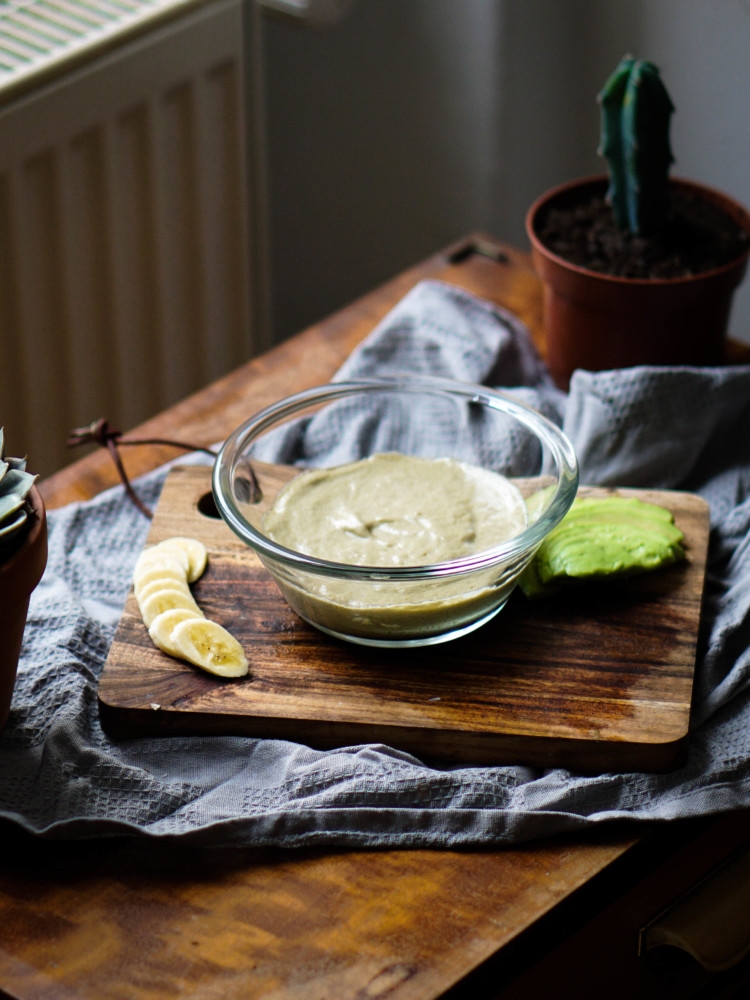 Do you feel like your locks are dried out and tired from a winter of static and up and down weather? Here in Alabama, it was only cold enough to do a fire in our fireplace twice. I've invited Louisa to share her go-to DIY vegan hair mask with us in case you want to have a girls' night in and pamper yourself this week. PS Don't forget to enter to win our Kortni Jean Bathing Suit + Jewelry Giveaway & our It Cosmetics Giveaway. (Affiliate links included.)
The road to beautiful, shiny hair can be long and hard. Sometimes we need to give our strands a health kick that our conditioner just can't deliver, and my DIY vegan hair mask recipe is just the thing you need.
It's chock full of nutrients, antioxidants and protein to help strengthen your hair and bring back its natural bounce. It's great for protecting your hair during hot summers as well as for adding moisture in the drier winter months. You can also take a look at my post on The Best Sulfate Free Shampoos which are gentle and non-drying. 
Avocado
Spreading avocado through your hair might feel a bit strange at first, especially if you're more used to using it in guacamole than for beauty treatments. As it's rich in potassium, amino acids, protein, vitamins, and minerals, it's the perfect ingredient to bring your strands back to life.
It can help improve shine, add moisture, protect against environmental stress, repair your scalp and even increase the rate at which your hair grows. So go and find an avocado, now!
Banana
Bananas contain many hair-loving nutrients such as Vitamin B6, folate, magnesium and potassium. Using it in a hair mask can help thicken and strengthen your hair, and also improve natural elasticity to help your strands withstand daily stress and heat styling.
Massaging banana into your scalp is also a natural way of combating dandruff, as it provides a gentle exfoliation and infuses your skin with moisture.
Coconut Milk
Coconut milk works as a natural conditioner and detangler and provides a wonderful exotic fragrance. It contains saturated fatty acids, as well as a variety of vitamins and minerals.
Using coconut milk in a hair mask can make your strands longer, healthier and shinier, and also adds moisture to promote healthier, nourished hair.
Coconut Oil
Coconut oil is one of the hottest products in the beauty world right now, as you can use it to remove makeup, exfoliate dead skin cells, fight dandruff, tame frizz, protect from heat damage and moisturize your hair.
It's a healthy source of medium chain fatty acids, which penetrate hair follicles more deeply and faster than traditional conditioners. It can help repair dry hair, improve split ends and provides a healthy shine. It's one of the best multitasking natural ingredients around!
Olive Oil
Just a tablespoon of olive oil can help make your hair extra soft and pliable, meaning it's easier to manage and create styles that hold. Its emollient qualities improve split ends and tame frizz and flyaways, and it can be used as a quick fix as well as promoting healthier hair in the long run.
It's an ideal ingredient for all hair types, including hair which has been processed with relaxers, perms or bleach.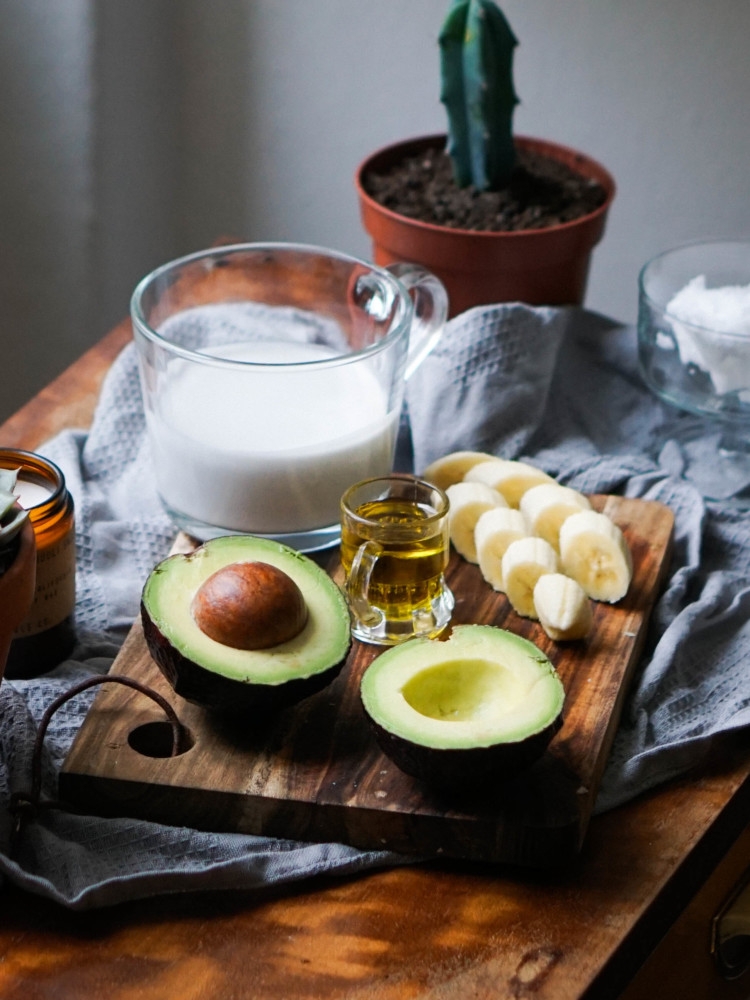 DIY Vegan Hair Mask
Ingredients
– ½ Avocado
– ½ Banana
– 50 ml Coconut Milk
– 2 tbsp Coconut Oil
– 1 tbsp Olive Oil
Method
Blend all the ingredients together to make a smooth paste.
Spread the mixture throughout your hair, working all the way down to the ends where your hair is driest. Massage your scalp for a few minutes to improve blood circulation and let your skin absorb the nutrients.
Leave the mask on for 15 to 20 minutes. You can leave it on for longer, but I wouldn't recommend leaving it on overnight.
When you're ready, wash your hair with a mild shampoo which is preferably organic or sulfate free. Thoroughly rinse your hair making sure there is no residue left behind, as you don't want to be smelling like bananas all day (or maybe you do, each to their own…!)
Condition and style your hair as usual, and enjoy this hair mask's natural moisturizing and smoothing qualities.
Shop the DIY Vegan Hair Mask Post:
Sulfate-free shampoo // Coconut Oil //Coconut Milk
Have you every made a DIY vegan hair mask or done one at all? Do you have one you'd recommend? I'd love to hear about it in the comments.
About The Author: Louisa Rose is from Cologne, Germany. She runs Body Health Love, where she blogs about health and beauty advice for young women.
Heather Brown helps busy mamas of young littles who are caught in the hustle to find encouragement in their journey to true health, from the inside out, starting with the heart. Read her journey of learning to live a life well-loved
HERE!