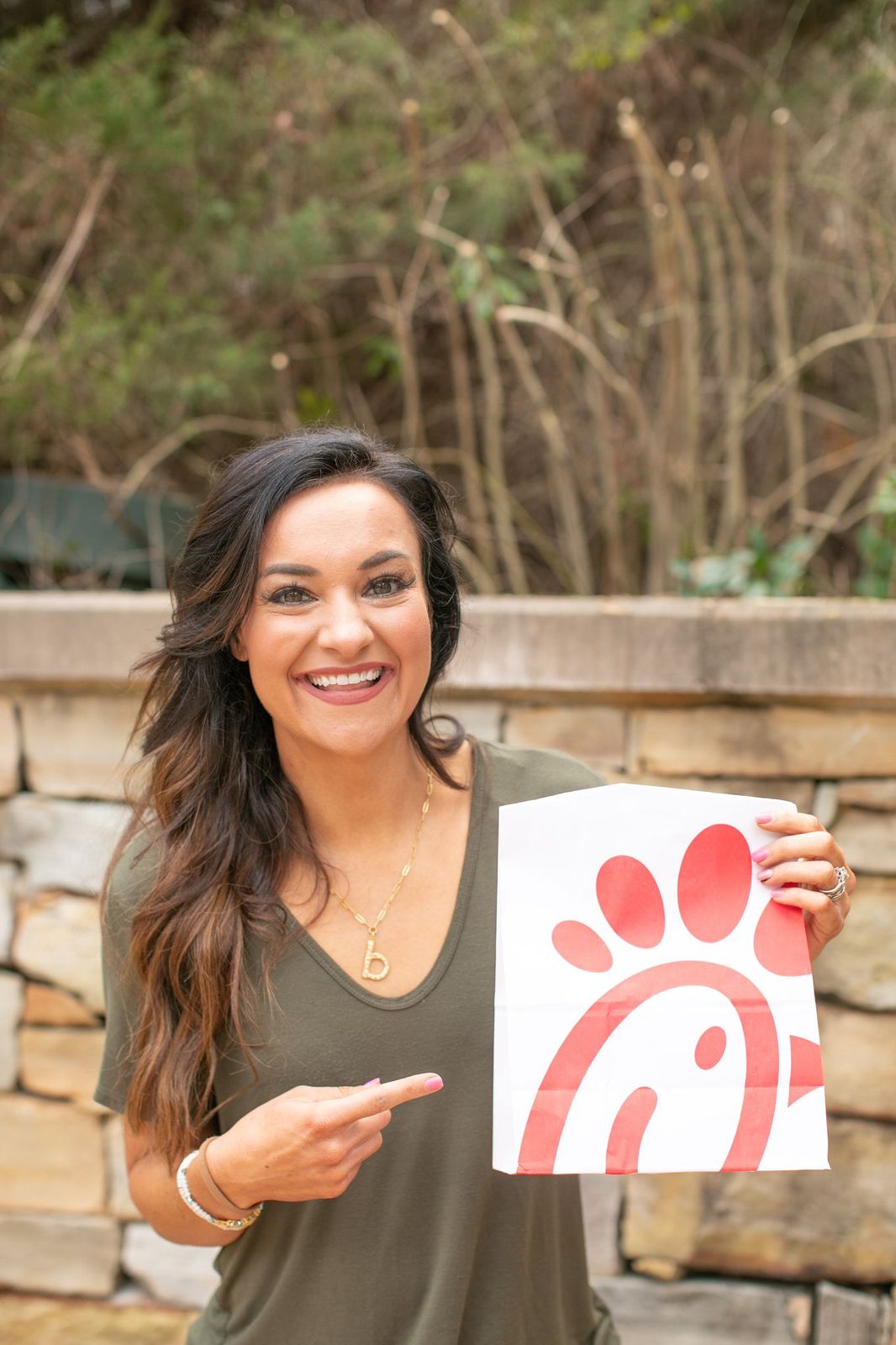 SHOP The Healthy Chick-fil-A Meals Post HERE: Similar V Neck Tee // White Denim Jeans – Fits TTS // Similar Sandals // Similar Bracelets // Initial Necklace Code: HEATHER20 for 20% off // Gimme Beauty Hair Ties

Photos by Mary Kate Steele
With summer trips and activities in full swing, I know you're looking for easy on-the-go dinner and lunch ideas! That's why today's post is going come in clutch for all the mamas because I'm sharing some healthy Chick-fil-A meals for you to try! And, let's be honest, what southern mama doesn't LOVE CFA?!

Have y'all tried the ice dream coffee? OH. MY. STARS! It is INSANELY good. OR the "Chick-A-Way" (as Leyton used to call it) chocolate chip cookies. I inhaled those suckers during pregnancy! BUT… that may not be quite the healthy ideas you were looking for coming to this post so I'll get back on track. Can you tell sweets are my weakness?!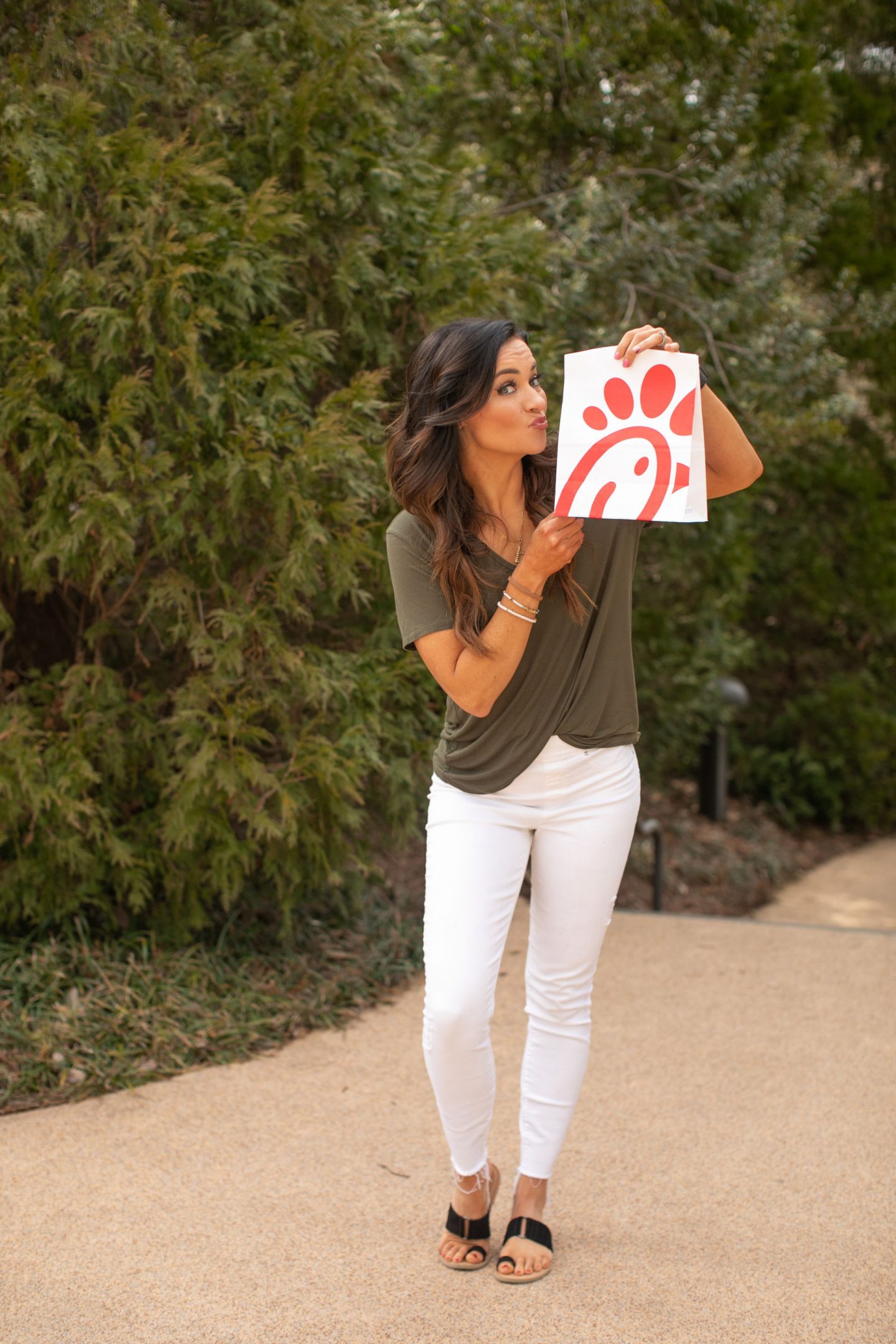 If you're traveling, you'll be looking for options to keep you full but that won't cause you to overindulge. After all, you don't want your car ride meal to be your cheat meal when you're on vacay! Make sure you pin this post to save it for your next road trip!
I'm all about providing healthy alternatives and making life a little easier for all the busy mamas out there. That's why I had to round up the best healthy Chick-fil-A meals for y'all today. In case you missed it, I also put together a roundup of healthy fast food options from other restaurants we love. You can check it out HERE!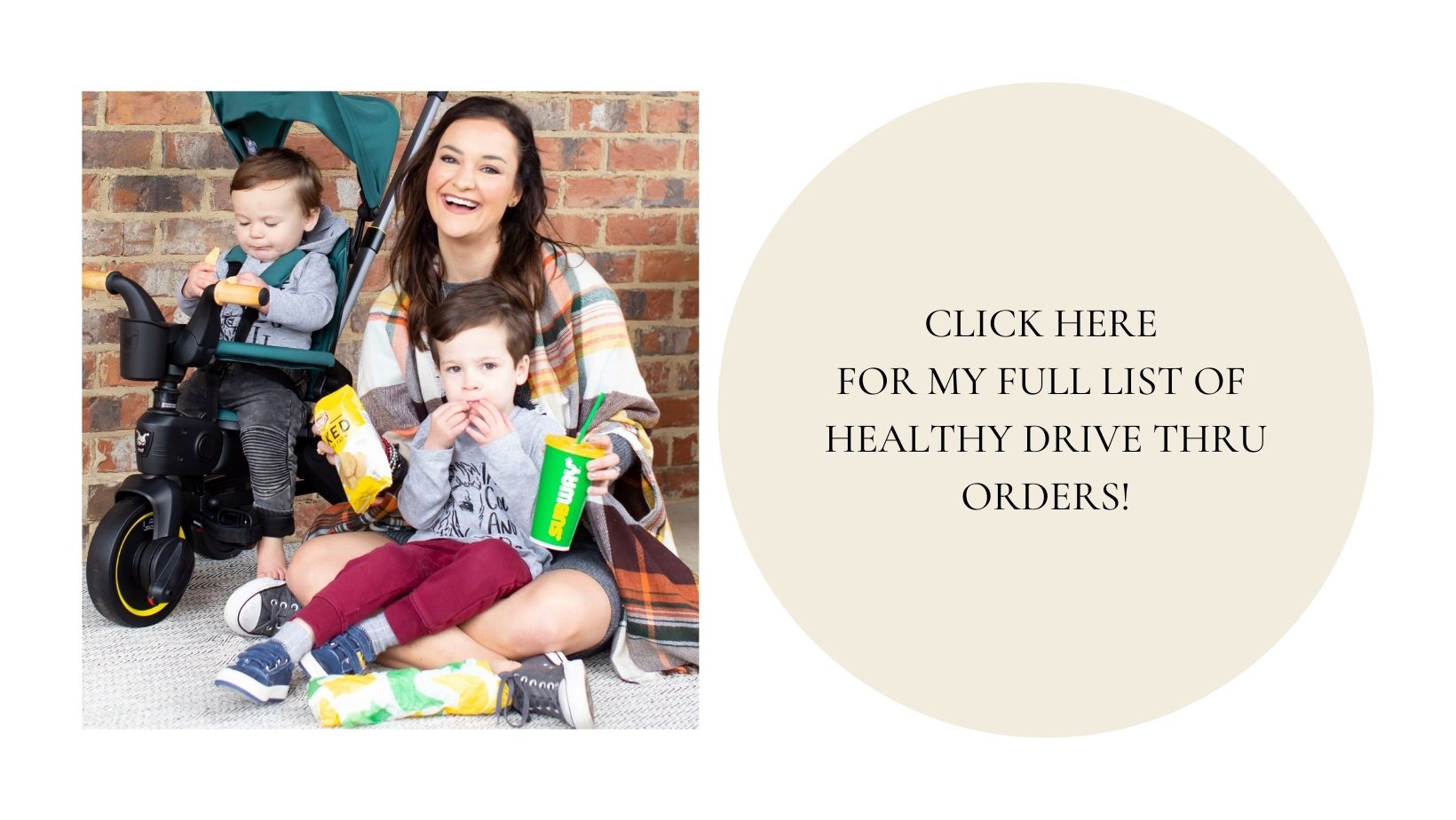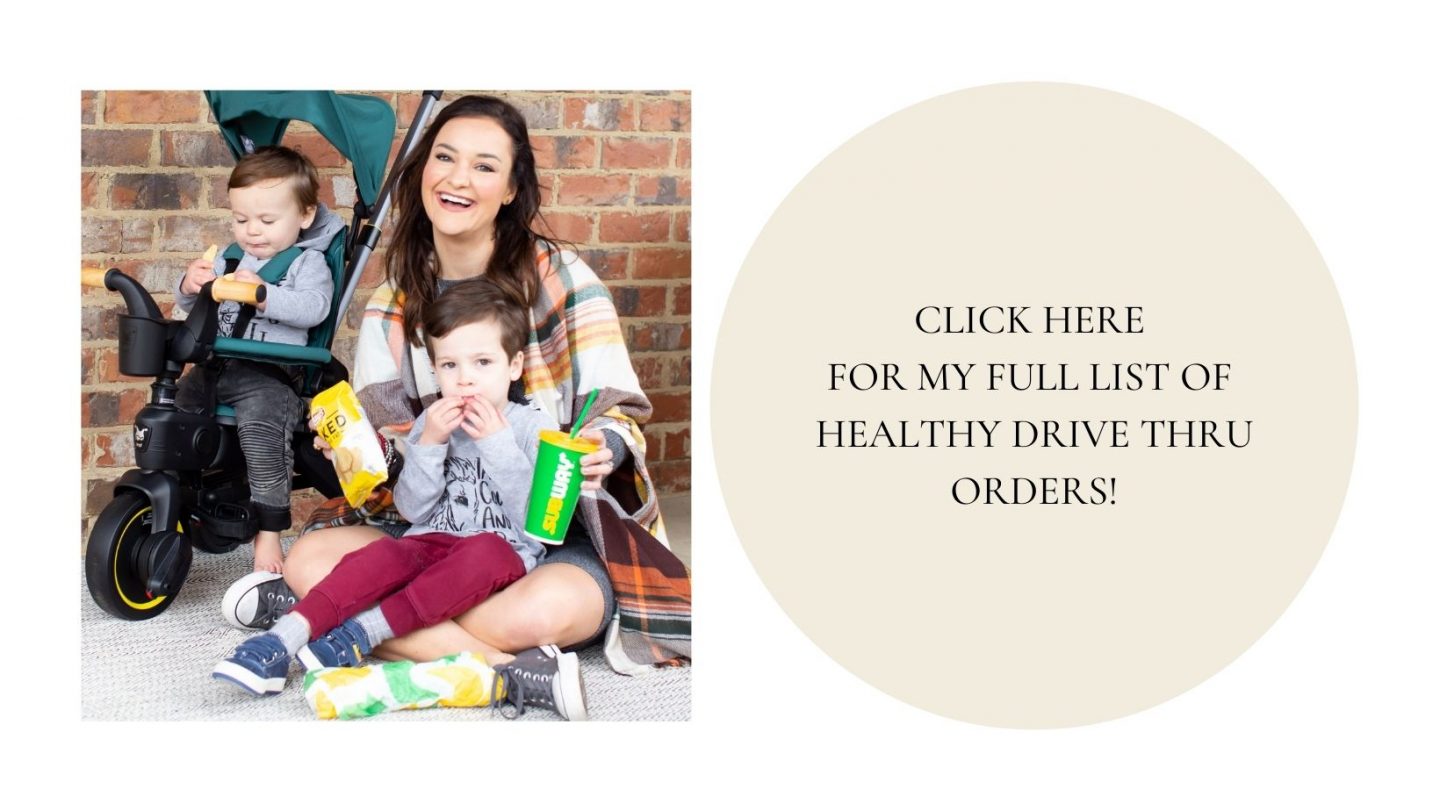 My mind was blown when I learned about the cookie parfait as a healthy dessert option! Give it a try if you haven't yet! I also always add a large water with a splash of diet lemonade or lemon to keep my water intake up! Another yummy idea is the Instagram famous Polynesian / Ranch order! I wanted to try it without as many calories so I lightened it up some by doing 1/2 grilled and 1/2 fried nuggets but you could make it all grilled nuggets if you really want to minimize the fats and calories!
I always try to stick to my macros throughout the week. Counting my macros is part of the FASTer Way To Fat Loss program I follow. My coach, Miranda, makes it so easy to learn how to track your macros, and stick to a plan that will work for you!
My Healthy Chick-fil-A Meals Hack:
My Healthy Chick-fil-A Order:
1 // Tik Tok Famous Salad Hack:
Side Salad + Ranch with 5 Count Half Grilled Half Fried + Polynesian Sauce
– Calories: 540, Fat: 35.5g, Carbs: 31g, Protein: 26g

2 // Save Money & Calories:
5 Count Grilled Nugget Kids Meal with Fries + Unsweet Tea with a Splash of Diet Lemonade & Sub Toy for Ice Cream for Kids
– Calories: 350g, Fat: g, Carbs: 23g, Protein: 22g

3 // Healthy Dessert: Cookie Parfait
– Calories: 280g, Fat: 9g, Carbs: 35g , Protein: 14g
More Healthy Options:
Breakfast:
Any breakfast sandwich, and substitute egg whites

Egg white grill
290 cals/7g fat/31g carbs/27g protein
Parfait (no granola) or fruit cup for a side instead of hash browns.

280 cals/9g fat/35 carbs/14g protein

Lunch & Dinner:
Grilled chicken sandwich

320 cals/6g fat/41g carbs/28g protein

Grilled wrap or veggie wrap (no chicken)

Cool wrap
350 cals/13g fat/29g carbs/42g protein

Grilled nuggets (8 count)

130 cals/3g fat/1g carbs/25g protein

Seasonal spicy grilled deluxe sandwhich

480cals/20g fat/42g carbs/33g protein

Any salad with grilled nuggets

Cobb salad
420 cals/20g fat/21g carbs/40g protein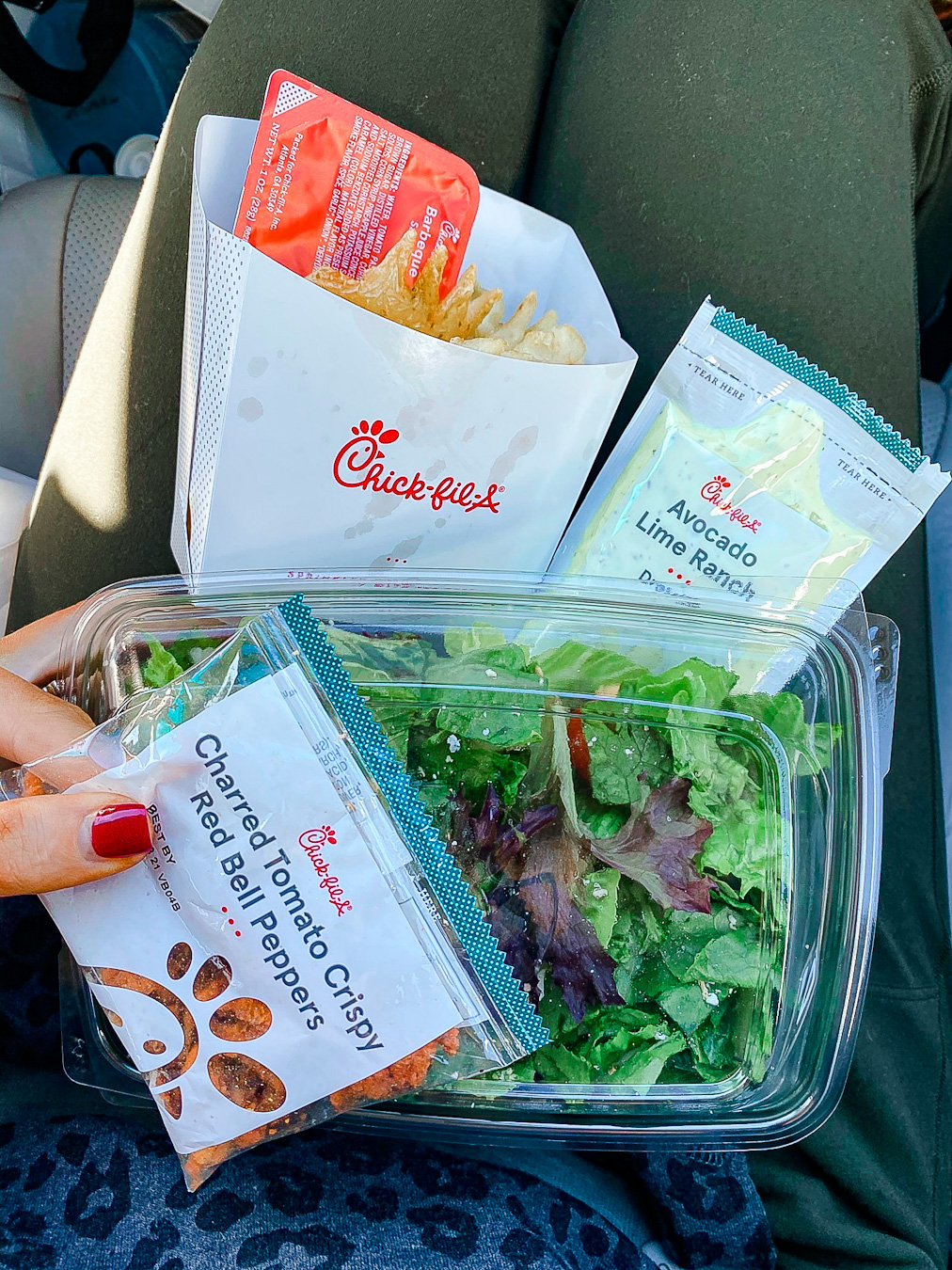 Variations:
Any sandwich can be ordered with a gluten free bun
Any meal comes with fries, swap fries for a fruit cup, parfait, side salad or kale crunch side
Ask for sandwiches with a lettuce wrap instead of a bun
Fries with no salt
Bun with no butter
Dressings:
Light balsamic

80 cals/4g fat/10g carbs/0g protein

Light Italian

25 cals/1g fat/3 carbs/0g protein

Fat free honey mustard

90 cals/0g fat/23g carbs/0g protein

Keto Options:
Breakfast:
Sausage, egg and cheese biscuit OR bacon, egg and cheese biscuit, no biscuit. (Or sub in egg whites.)
Egg white grill, no muffin.

290 cals/7g fat/31g carbs/27g protein
Lunch & Dinner:
Grilled chicken sandwich or grilled chicken club sandwich, no bun
Grilled nuggets
Cobb salad with grilled chicken
Side salad
Sauces & Dressing:
Garden and herb ranch sauce

280cals/29g fat/2g carbs/1g protein

Zesty Buffalo sauce

25cals/2.5g fat/1g carbs/0g protein

Creamy salsa dressing

290cals/0g fat/2g carbs/1g protein

Light Italian dressing

25 cals/1g fat/3 carbs/0g protein

Avocado lime ranch dressing

310cals/32g fat/3g carbs/1g protein
Love Chick-fil-A But Need Some Free Lunch Options:
SHOP The Healthy Chick-fil-A Meals Post HERE:

Check Out More Health & Wellness Posts HERE:
PIN The Post For Later!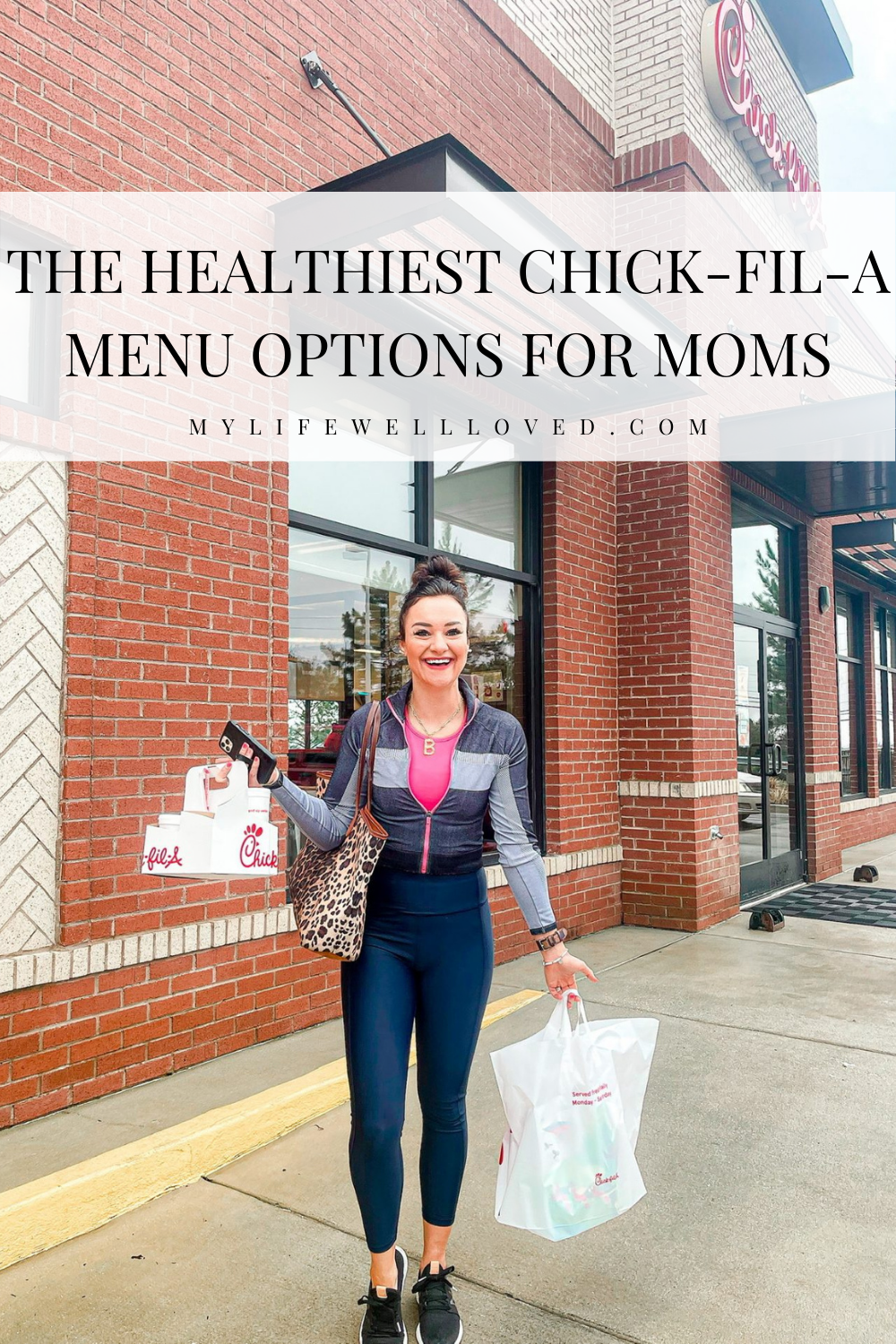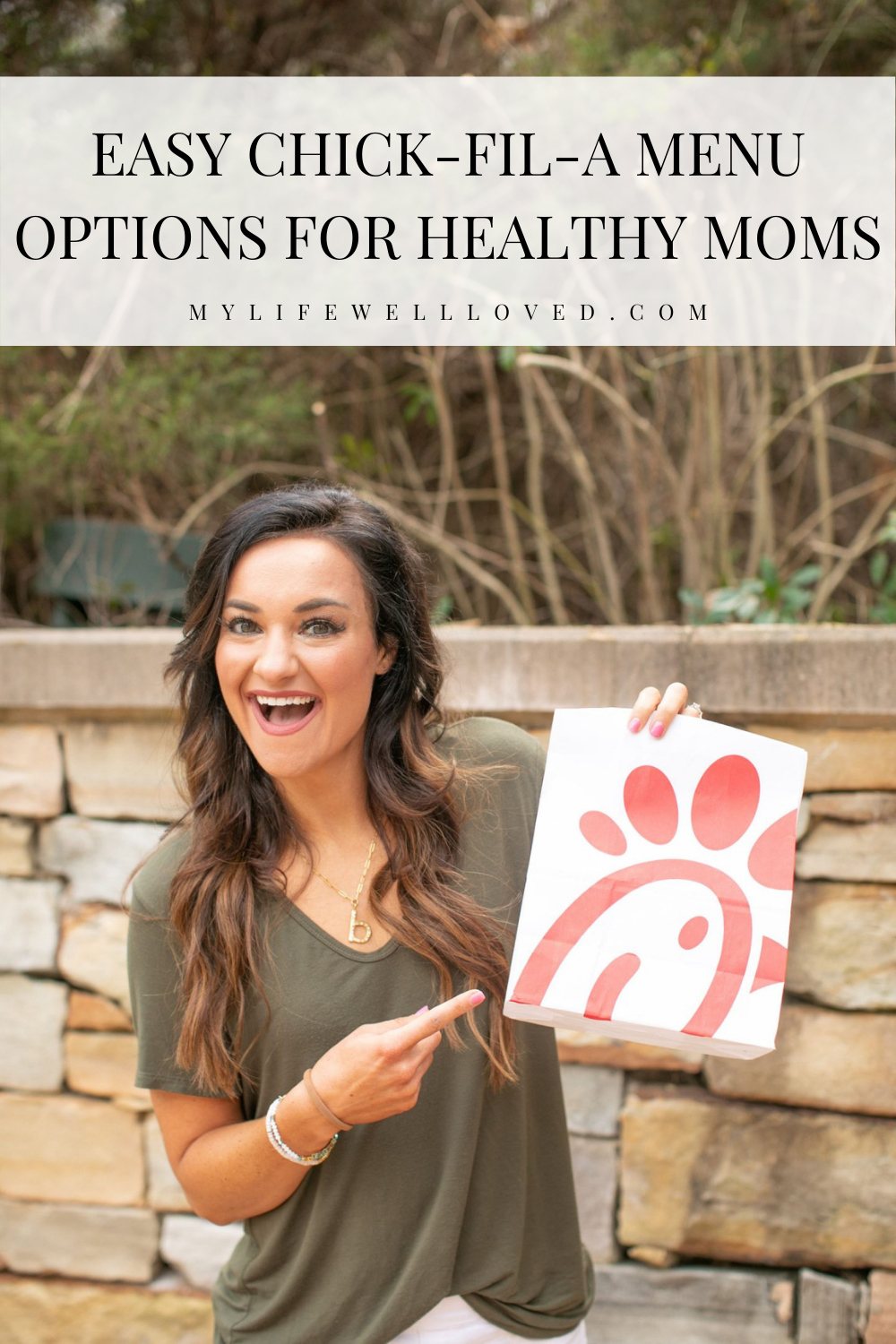 Heather Brown helps busy mamas of young littles who are caught in the hustle to find encouragement in their journey to true health, from the inside out, starting with the heart. Read her journey of learning to live a life well-loved
HERE!