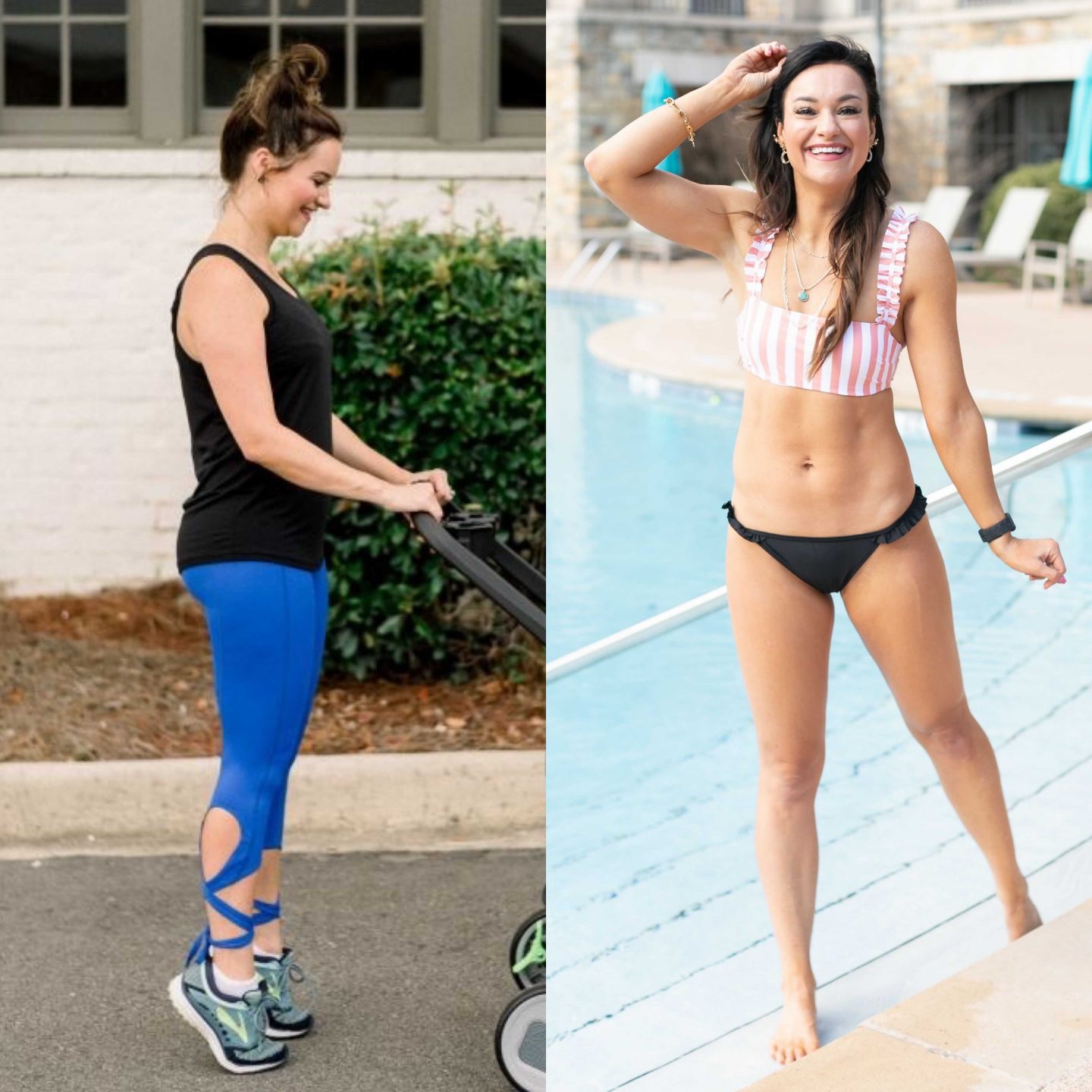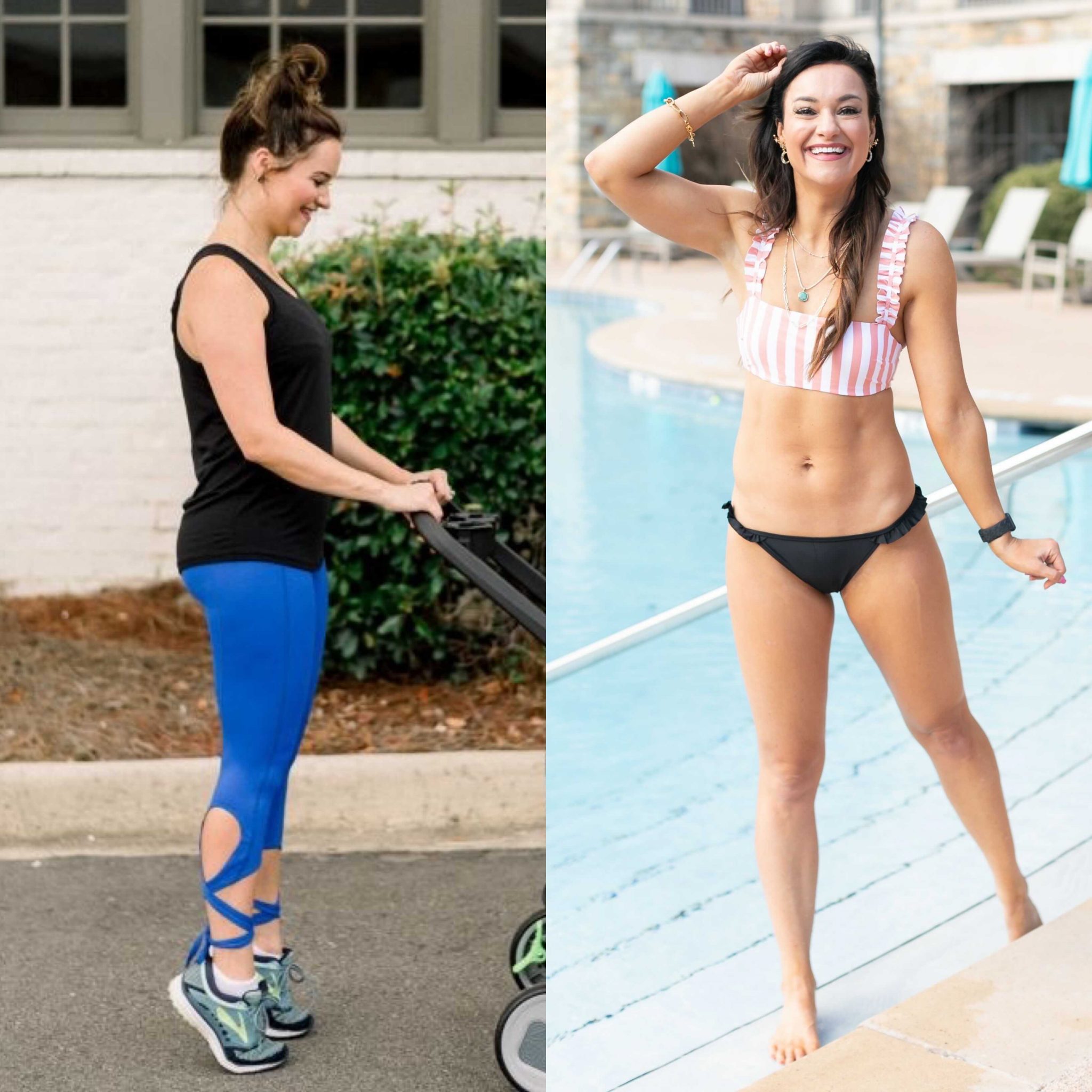 Left – October 2018, 2 months postpartum // Right – February 2021, 2.5 years postpartum
This page is dedicated to FASTer Way to Fat Loss! This is an amazing program and one that I am seeing very promising and positive results from in getting the last of my baby weight off. Make sure when you sign up, you put Miranda Wesley as your coach to be in my group.
Here are some quick FAQs:
How much does FWTFL cost? $199 for the first 6 weeks, then $79/month after that! You can cancel at anytime.
What do you get with the program?

One-on-one training with my coach, Miranda Wesley!
Weekly meal planning
Daily 30 minute workouts
A community of support
Accountability
SO MUCH MORE!

What are the workouts like? When you sign up, you'll receive 3 work out plans: Beginner or Low Impact, Gym Version and At Home Version!
What is it like for beginners? The first week is essentially a "training week" where you watch videos and learn all about the program. I love that you get to do prep week first before diving right in!
For more FAQs, CLICK HERE!
Left – August 2018, 9 months pregnant with Finn // Right – March 2020, 18 months after having Finn!
I realize that starting a new program can be stressful and bring on so many questions and uncertainties; that's why this page is here- to answer those questions and be a resource for you. Use this as a place to go to when you need questions answered, are looking for products, or want to learn more about the program.
You can see my BEFORE and AFTER progress from working out with Burn Bootcamp, and implementing FASTer Way to Fat Loss eating habits.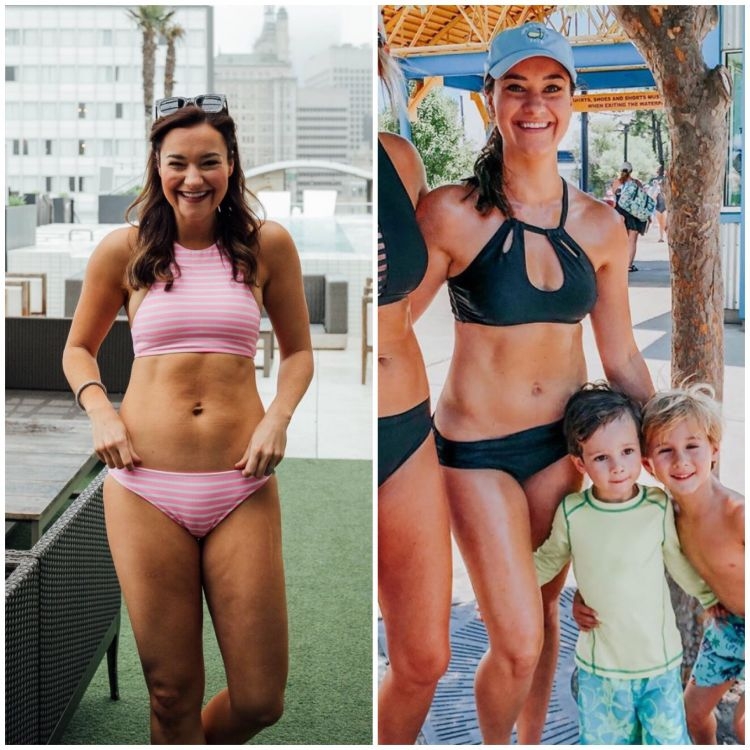 Left – The week I started FWTFL // Right – 3 months into FWTFL!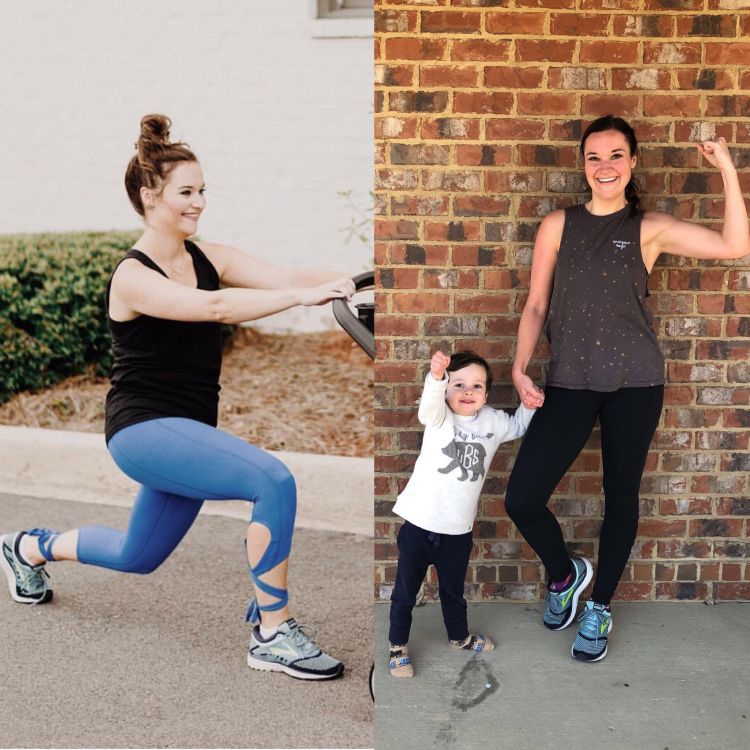 Left – October 2018 // Right – March 2019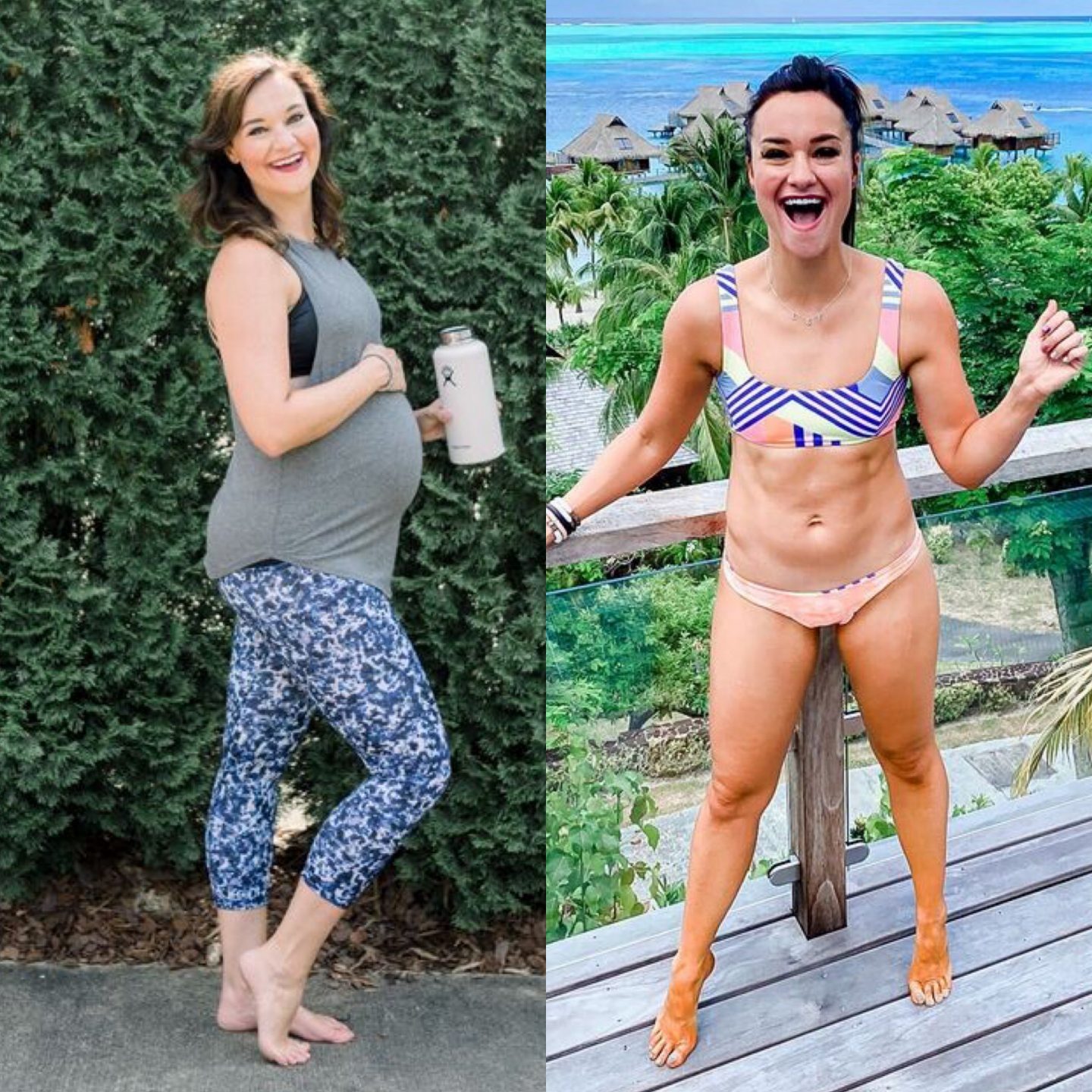 Left – August 2018, 9 months pregnant with Finn // Right- March 2020, 18 months after having Finn!
FWTFL Testimonials From You:
"I grew up a very competitive athlete and was always in great shape and good health. Then at 28 years old, I gave birth to healthy twin boys. I was over the moon and excited to experience motherhood. Once I was cleared to workout I began noticing that my abdominals were getting worse and I was beginning to look more and more pregnant. Strangers would even ask when I was due. I started researching and learned about DR (Diastasis Recti). I was crushed because I felt like there was nothing I could do to get my abdominals back.
As time went on I started feeling extremely fatigued, no motivation to do anything, my skin started getting dry and swelling, my eyes were puffy, and I could go on and on with the list of symptoms I was experiencing that I thought was just "Mom Life." It wasn't until my twins were 4 years old that I finally got my diagnosis…. Hashimotos. I had no idea what that was, but according to my Dr., my Hashimotos had gotten so bad I was days or weeks away from being in a coma. Immediately I got on medication and started to feel better, but I knew that this was not how I wanted my life to be. I did not want to rely solely on medication for the rest of my life and I was determined to fix my DR. I started researching everything I could about the 2 health struggles I was facing.
I began intermittent fasting and cutting out gluten and dairy. I began breathing exercises to help my DR, but was still afraid to workout and make my abdominals worse. Then enter the FASTer Way. I came across this program from a wonderful influencer on Instagram and low and behold her neighbor was a FASTer Way coach. I kept listening to her talk about this program and I was hesitant and thought it was just like all of the other programs you hear about.
Let me tell you…. The FASTer Way is the ONLY way! I quickly learned to track macros and started working out every day. Within 2 weeks my DR went from a 4-inch gap to a 2 1/2 inch gap!!! I immediately became addicted and starving for more. My husband constantly commented on how much more fit I looked every week during my first 6 weeks and how much better of a mood I was in.
Not only has The FASTer Way taught me how to eat properly and get me back on the workout train, but it has given me hope that I can heal my DR and ease a lot of my Hashimoto's symptoms. My twins will be 6 in a few weeks and my only wish is that I would have joined sooner. If you have DR, Hashimotos, or are just on the fence about joining this program…. DO IT!! You will be so glad you did." -Ashlee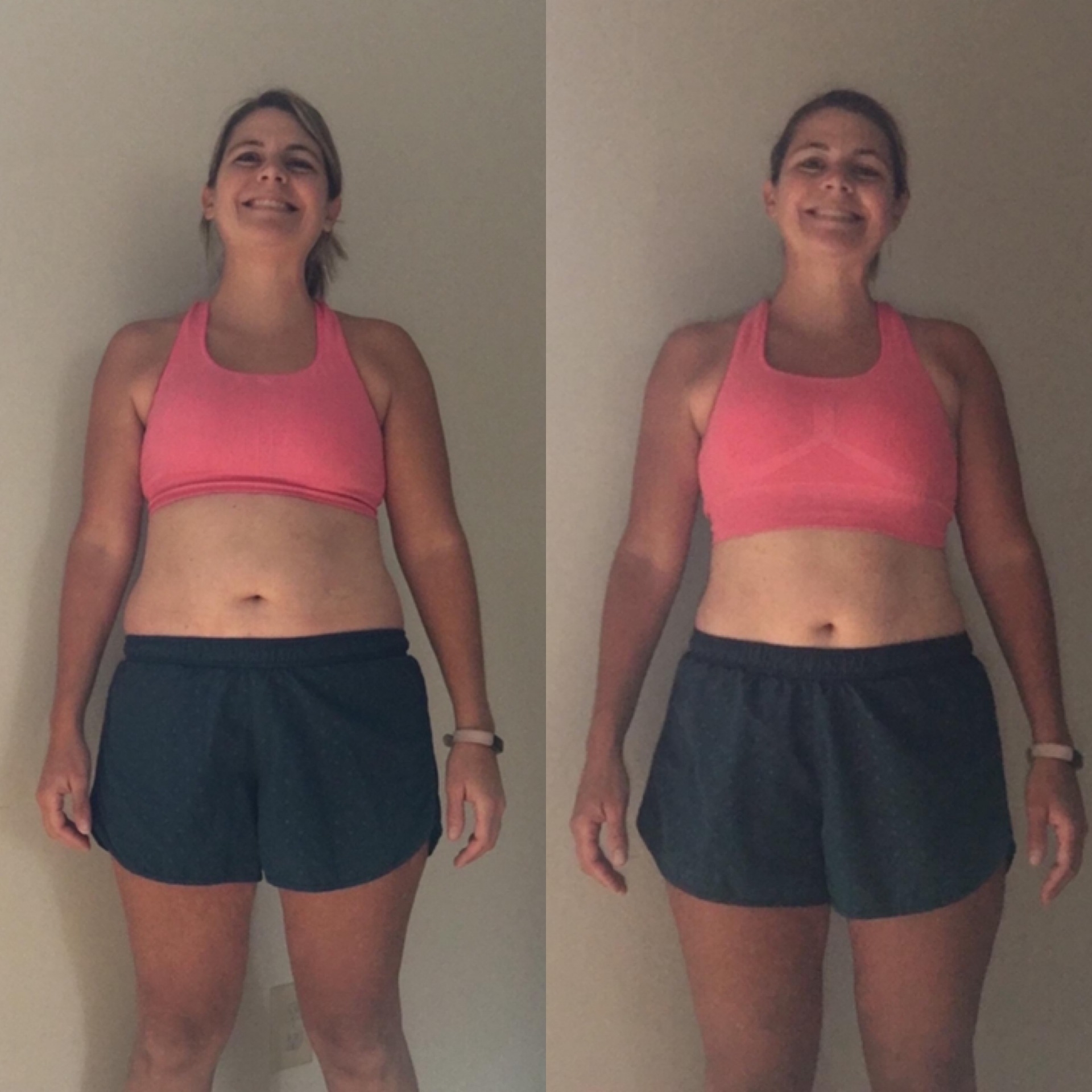 "After treatment for breast cancer, my "diet" journey has been a roller coaster. Some of it worked well but bothering stuck. During quarantine, I drank and ate way too much. I signed up for FWTFL. I honestly thought it was just intermittent fasting. Quickly I learned I was going to be counting Marcos. I thought, here we go again with a diet that won't be sustainable. In six short weeks, I am proven wrong. You can still have alcohol, chips, and chocolate as long as it fits in the fasting window and within your macros. I was worried about being social. But I also learned that FWTFL wants us to choose memories over macros. So there were days I didn't completely follow the program. I never felt guilty because of the mindset my coach Miranda helped me create. Let's talk about the amazing half-hour workouts. I feel like I am finally building strength back since my double mastectomy.
Now for my final 6-week results. My weight is down 4 pounds. My waist at my belly button went down about 2 inches, 2 inches below and above my belly button is down an inch each. My arm is down half an inch. My thigh is down two inches. I am stronger, snack less, and am more confident because I know I am working on myself.
Like most healthy habits, you get out of if what you put into it. For me, this is a marathon and I'm ok with that. I could have pushed myself harder for faster results. But I love this program because I know that even with drinking alcohol and eating my favorite chips sometimes, I continue to have progress in my results." -Amanda
Are you ready to register and begin? CLICK HERE!
My Most Popular FWTFL Posts:
Shop My FWTFL Favorites:
Shop my AMAZON STOREFRONT for healthy inspo and workout gear HERE!
My FAVE Nut Pod Creamers that keep me under 50 calories while fasting:


Heather Brown helps busy mamas of young littles who are caught in the hustle to find encouragement in their journey to true health, from the inside out, starting with the heart. Read her journey of learning to live a life well-loved
HERE!