The Best Things To Buy At Aldi: LOW CARB Edition Post was originally published in August 2019 and updated in July 2020.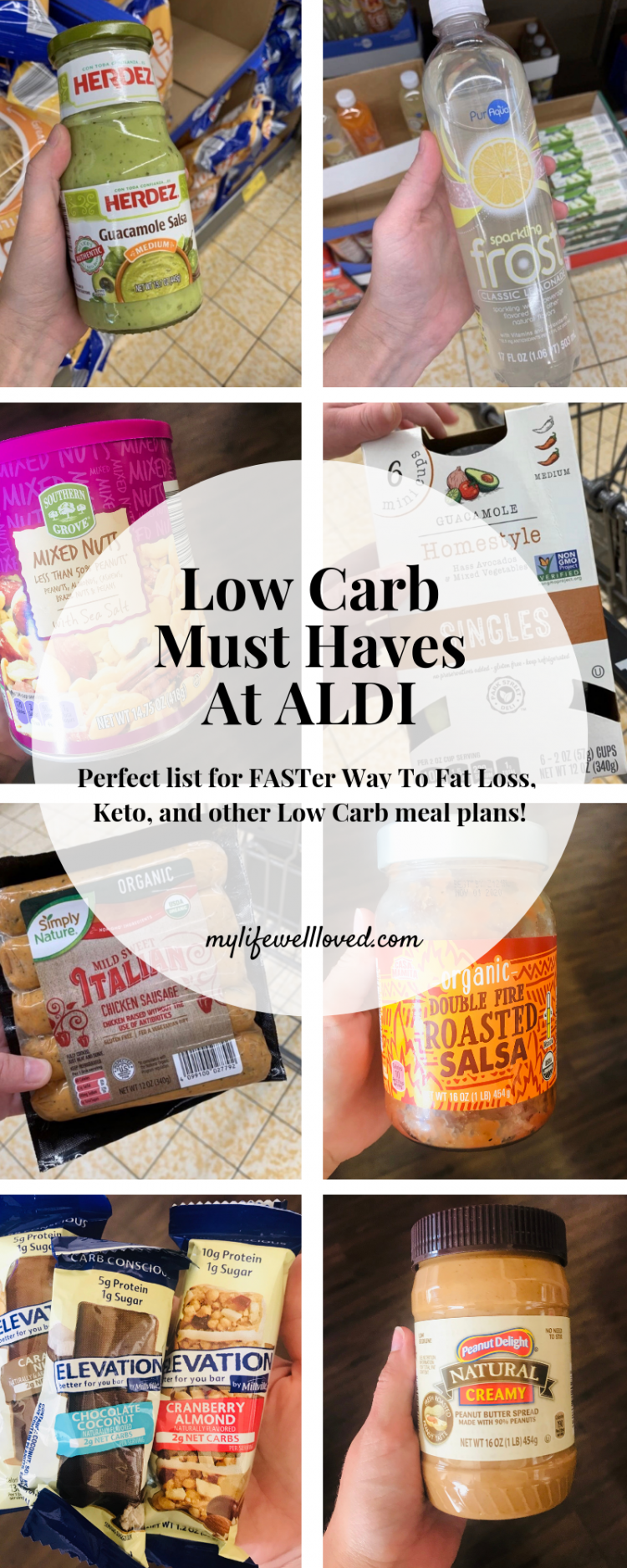 Check Out The Best Things To Buy At Aldi Below!
In case y'all don't know… I LOVE Aldi. We do a ton of our weekly shopping there and when I started Faster Way to Fat Loss and realized the need for low carb options for low carb day, I had hoped Aldi would still have options available for me. And boy do they!
Today, I am sharing a few of my top favorite Aldi picks that are perfect for low carb day along with some new things I found!
As a disclaimer… I do want to mention that this is obviously not an exhaustive list. Just like any grocery store, there is a HUGE section of produce, meats, cheeses, etc. that are all available to you and are all great low carb options. Don't stay away from those just because they aren't on this list! Remember that this list is only a handful of the best things to buy at Aldi that qualify as low carb!
If you are looking for more info on FASTer Way To Fat Loss or are ready to sign up, CLICK HERE!
LOW CARB: Best Things To Buy At Aldi: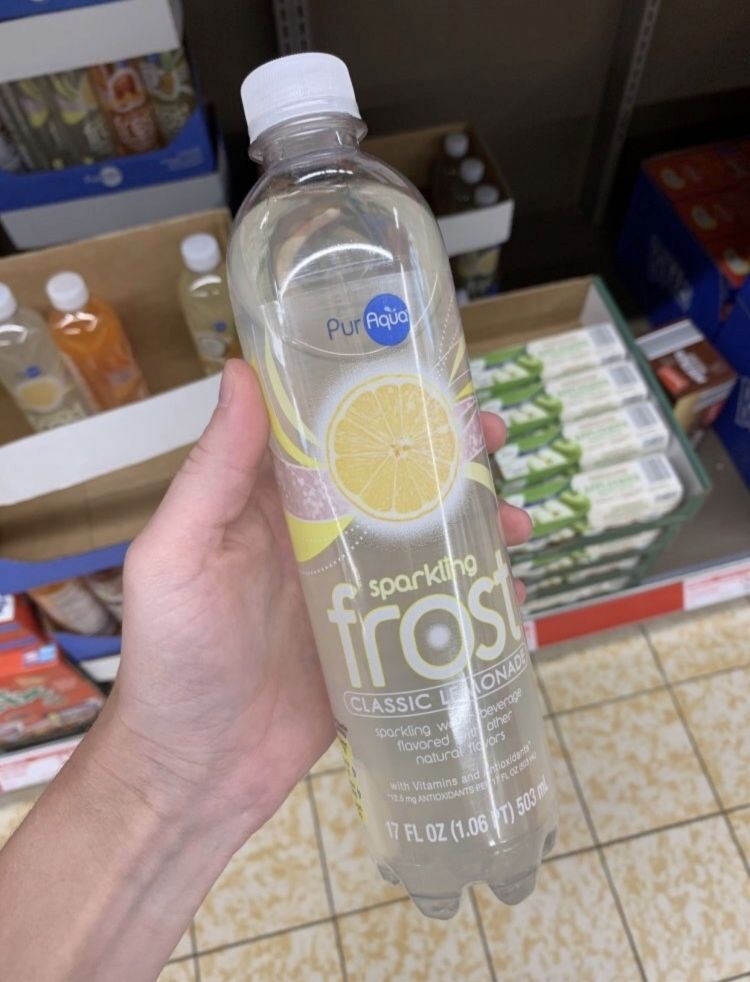 PurAqua Lemonade Sparkling Frost Water – 2g net carbs // I love all the sparkling water options at Aldi! Sometimes you can even find La Croix or Hint (0g net carbs) and you better believe I add to my cart every time!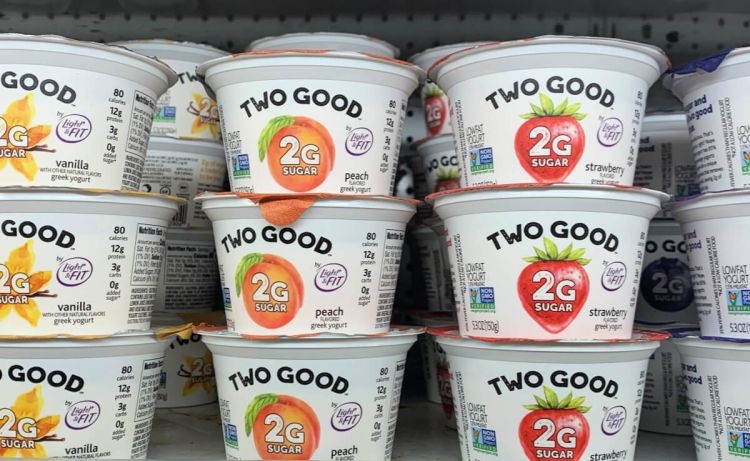 Two Good Yogurt – 3g net carbs // This is a more recent find for me that I have been buying on repeat! I love having this yogurt when I break my fast or even after dinner for a "sweet" treat!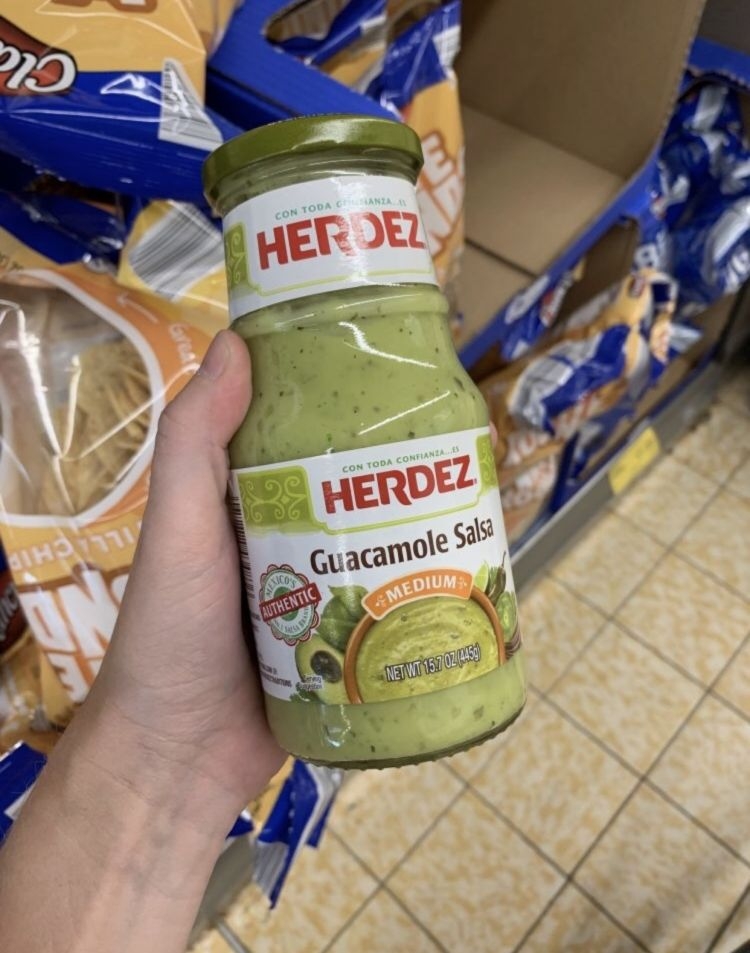 Herdez Guacamole Salsa – 2g net carbs
// We love having Guacamole Salsa stocked in the pantry for a quick + easy dinner! This
2 ingredient crockpot chicken recipe
is LOW CARB and is so cheap to make for your family on a weeknight or to feed a crowd on game day!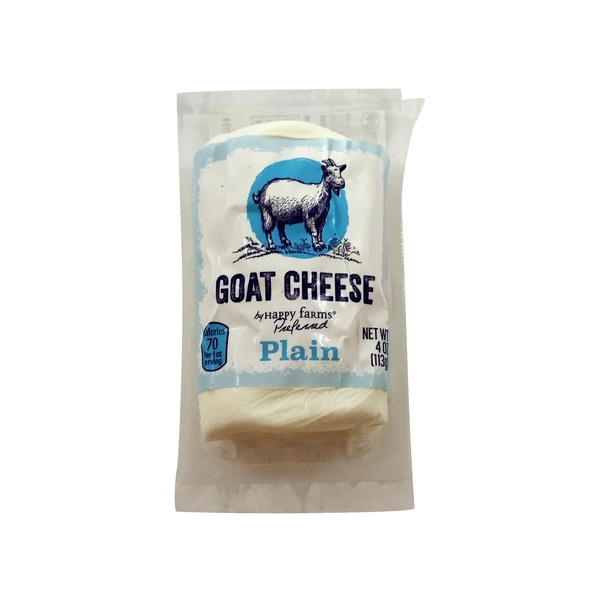 Happy Farms Goat Cheese – 1g net carbs // This goat cheese is my favorite and only $2!!! Y'all, you can't beat that price! I also love the honey flavor too.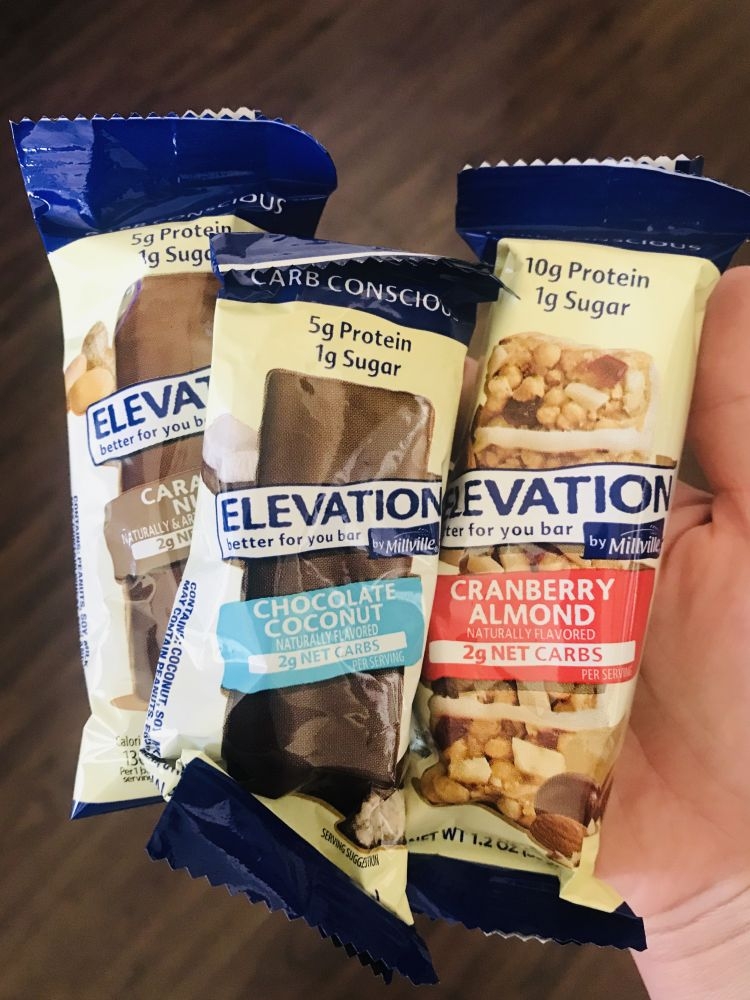 Elevation Carb Conscious Bars – 2g net carbs
// Quite possibly my FAVORITE
Aldi
low carb find are these bars! They have several flavors and ALL of them are only 2g net carbs. My favorite is the Chocolate Coconut because it literally tastes just like an Almond Joy! But I have also heard great things about the Caramel Nut and Cranberry Almond.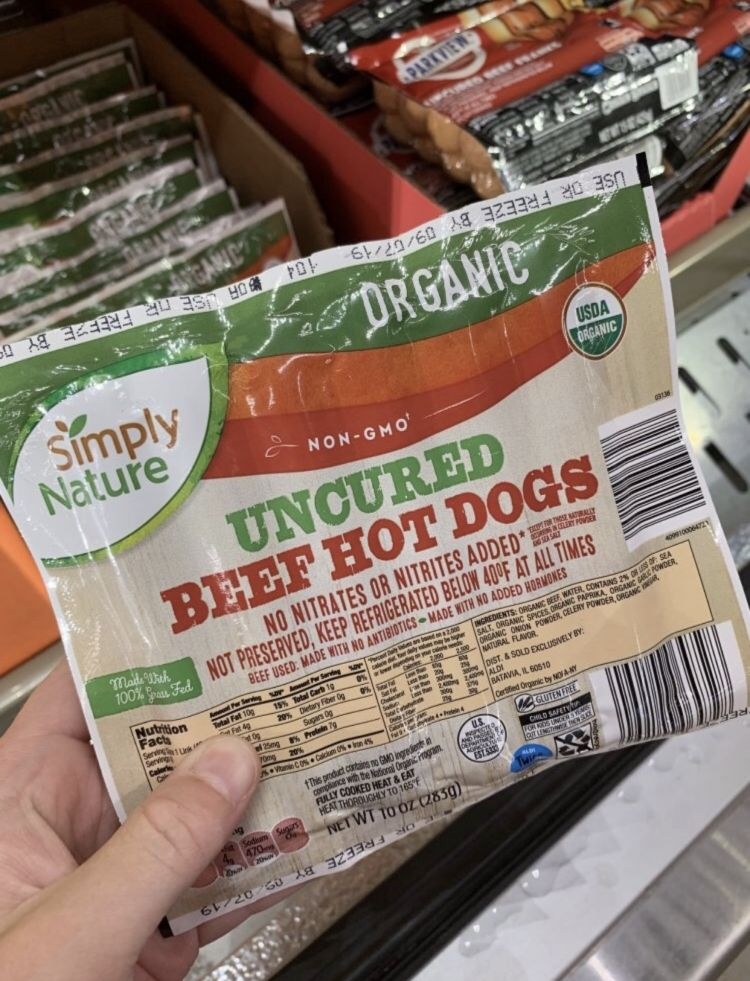 Simply Nature Uncured Beef Hot Dogs – 1g net carbs // Whether their Beef Hot Dogs or their Chicken Apple Sausage (similar and cheaper than Aidell's Chicken Sausage), these are GREAT to have on hand for easy dinners thrown together with baked veggies, like broccoli, or a side salad!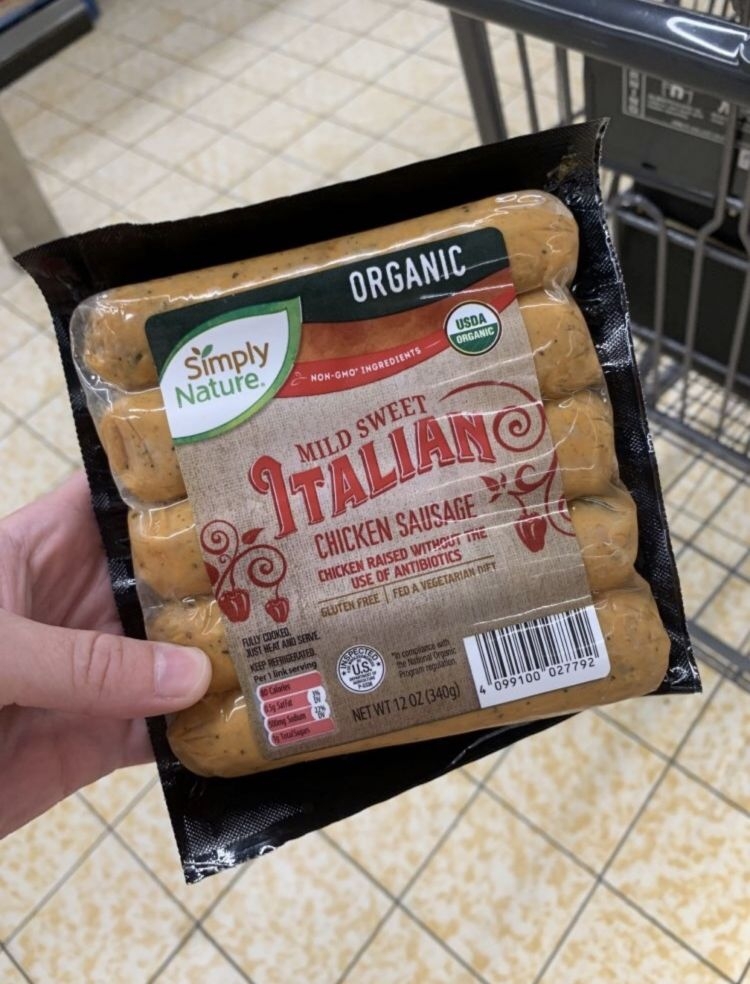 Simply Nature Mild Sweet Italian Chicken Sausage – 1g net carbs
// As mentioned above, I love
Aldi's
chicken sausage! This is very similar to Aidell's but half the cost and so delicious!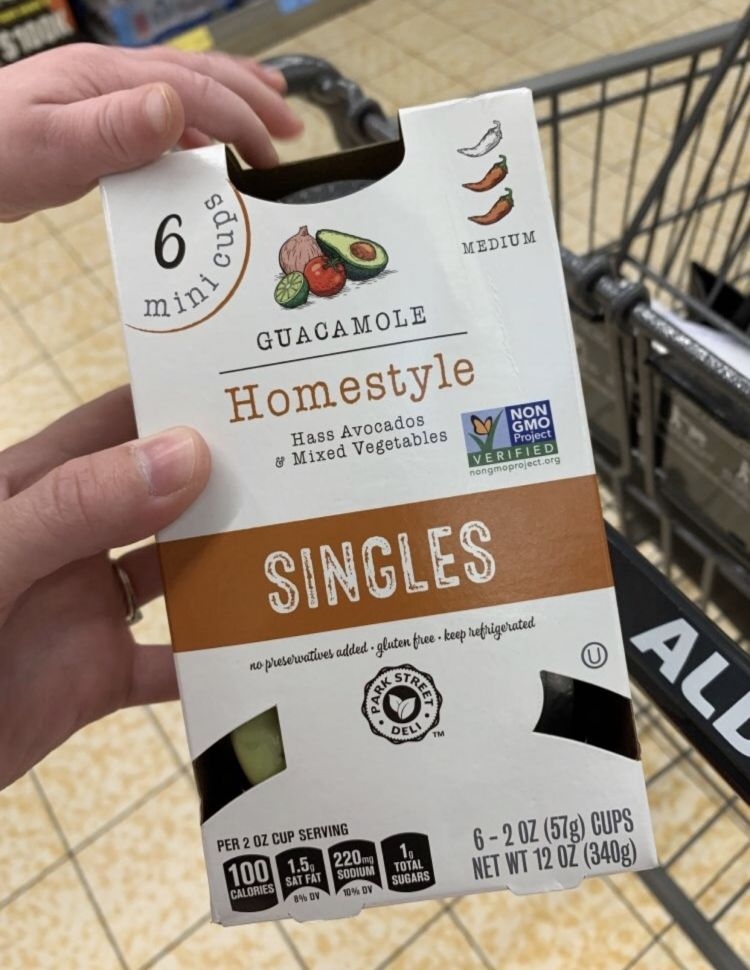 Park Street Deli Homestyle Guacamole Singles – 2g net carbs // I love having these on hand for low carb day lunches! They are individual guacamole cups that are perfect to take with you on-the-go!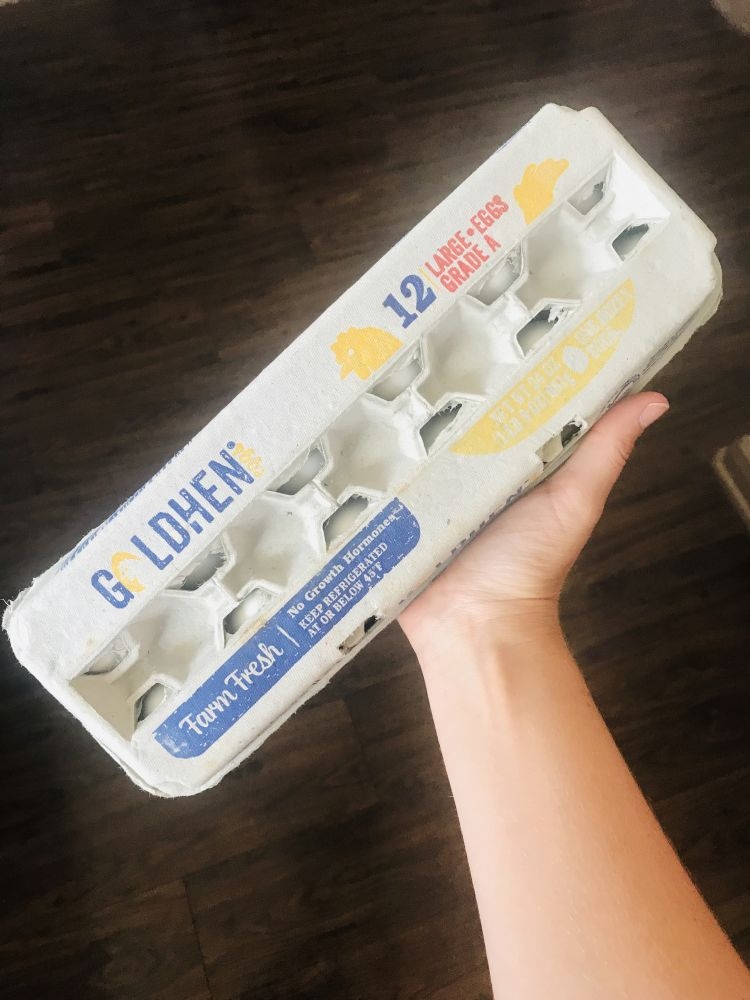 Golden Farm Fresh Eggs – 0g net carbs
// One of my long-time-must-have products from
Aldi
has always been their eggs! They are insanely cheap and are not just good for breakfast but also hard-boiled for lunch, great for cooking/baking, and we love making breakfast for dinner on low carb day with bacon or sausage!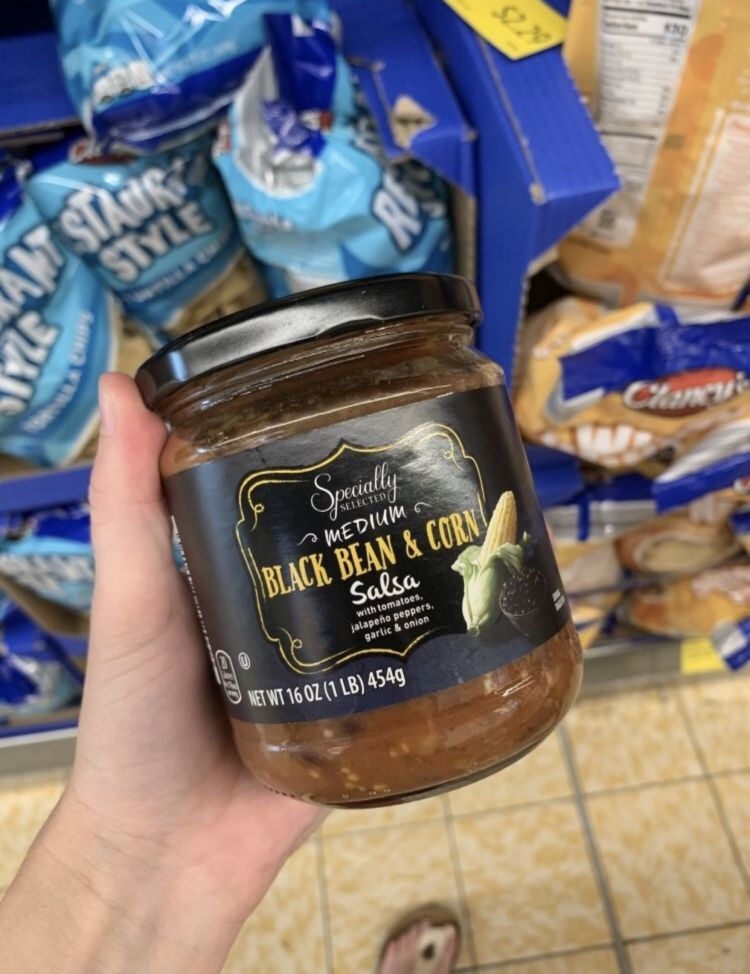 Specially Selected Black Bean & Corn Salsa – 3g net carbs
// Give me any and all the salsa on low carb day! I have tried several of
Aldi's
salsa options and haven't been disappointed yet. I will top my dinners with salsa (like a cauliflower rice taco bowl) on low carb day or dip cheese crisps or sweet bell peppers in the salsa!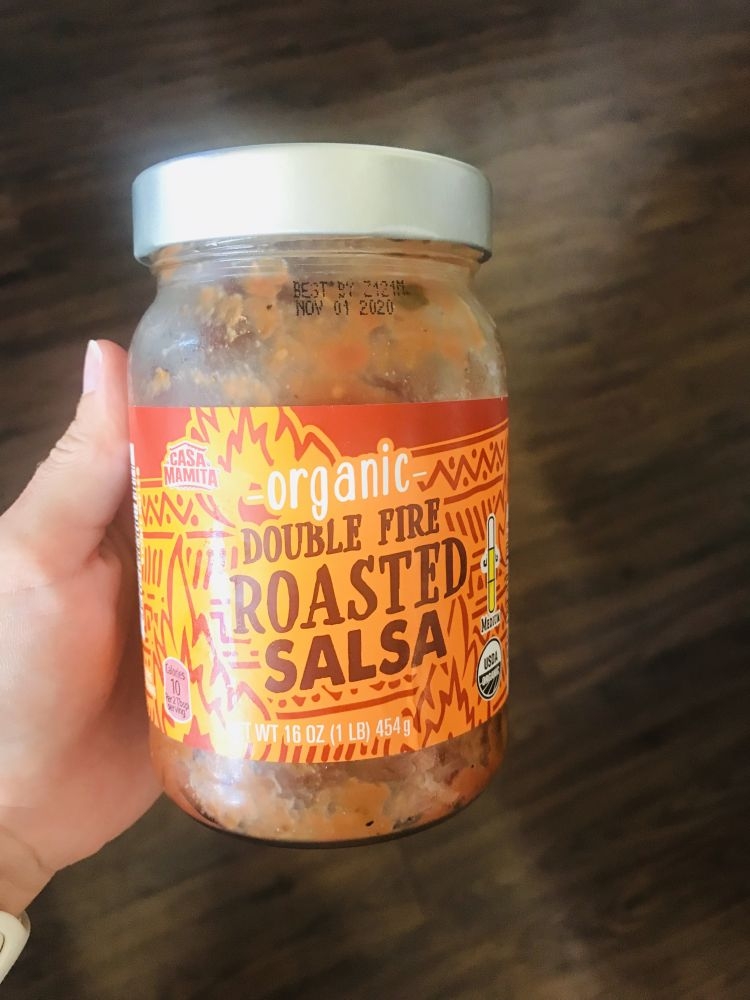 Organic Double Fire Roasted Salsa – 2g net carbs
// Another great salsa option at
Aldi
for low carb day!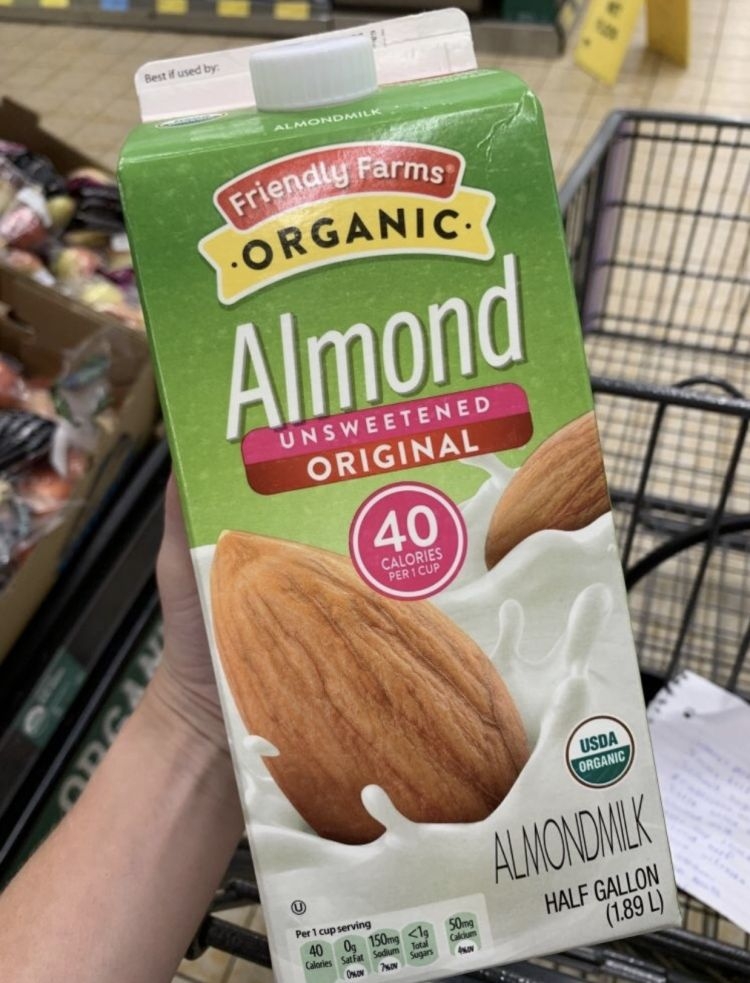 Friendly Farms Unsweetened Original Almond Milk – 1g of carbs
//
Aldi's
almond milk is super affordable and perfect to add a splash to your coffee or cook/bake with!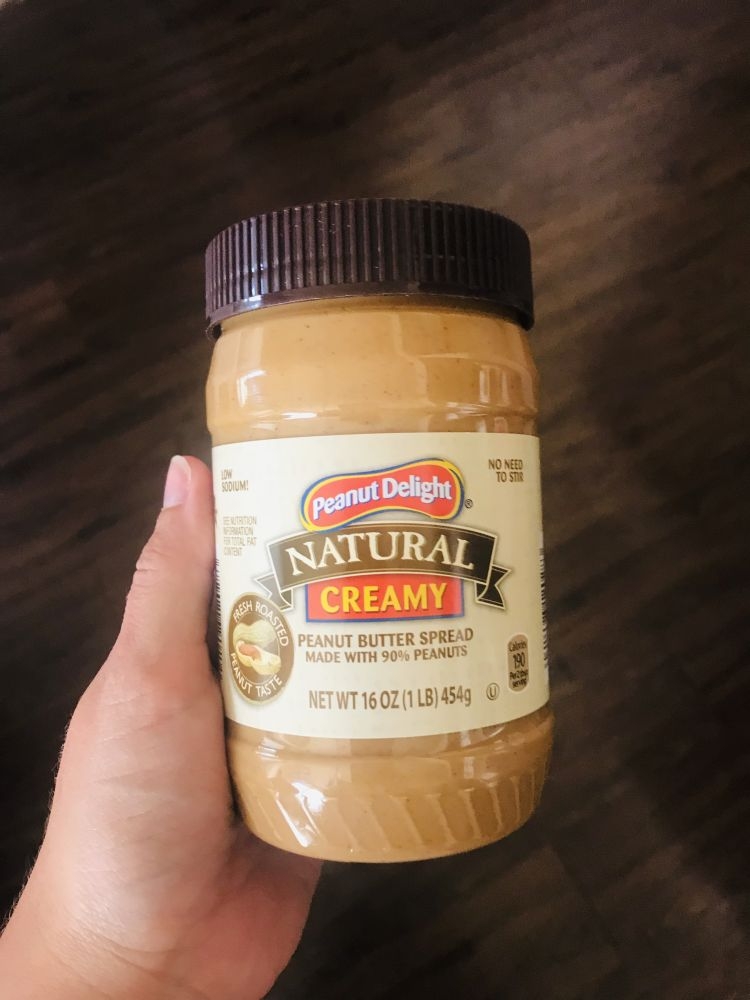 Peanut Delight Natural Creamy Peanut Butter – 6g net carbs // If you are in a pinch and need something other than meat on low carb day, peanut butter or nuts can be your best friend! While 6g of net carbs are on the higher end, you can definitely still make this peanut butter work for low carb day as long as you pre-plan your other macros!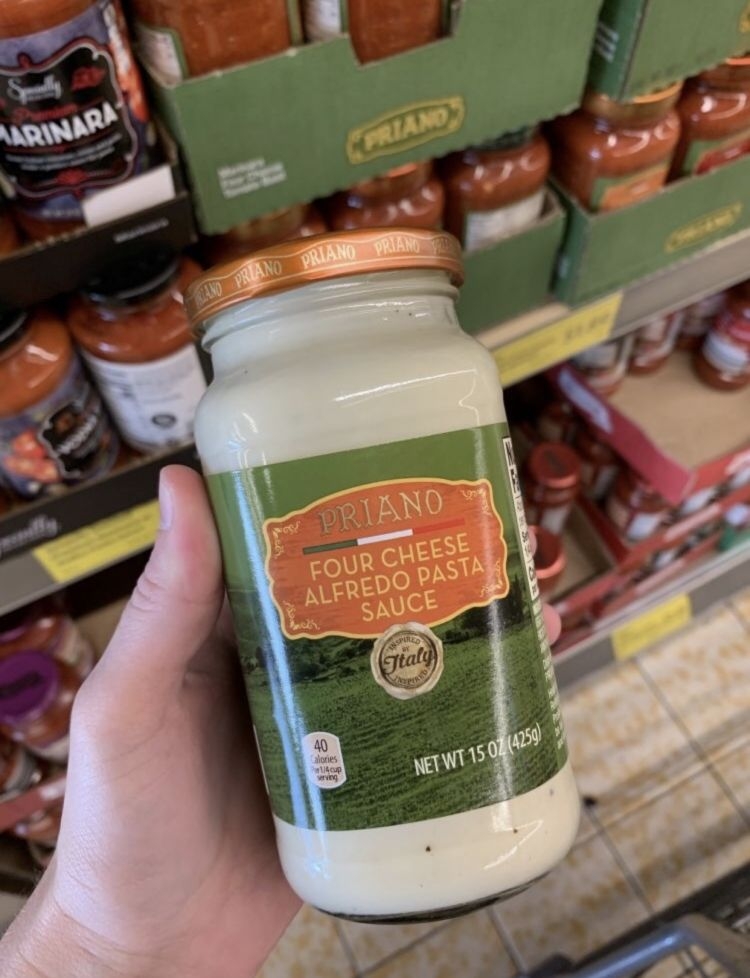 Priano Four Cheese Alfredo Pasta Sauce – 3g of carbs
// This is a new find for me and I am excited to test it out! While you can't have regular pasta on low carb day, you can have
Banza
pasta
and this would be the perfect sauce to pair with it! You could also add this to a baked chicken dish!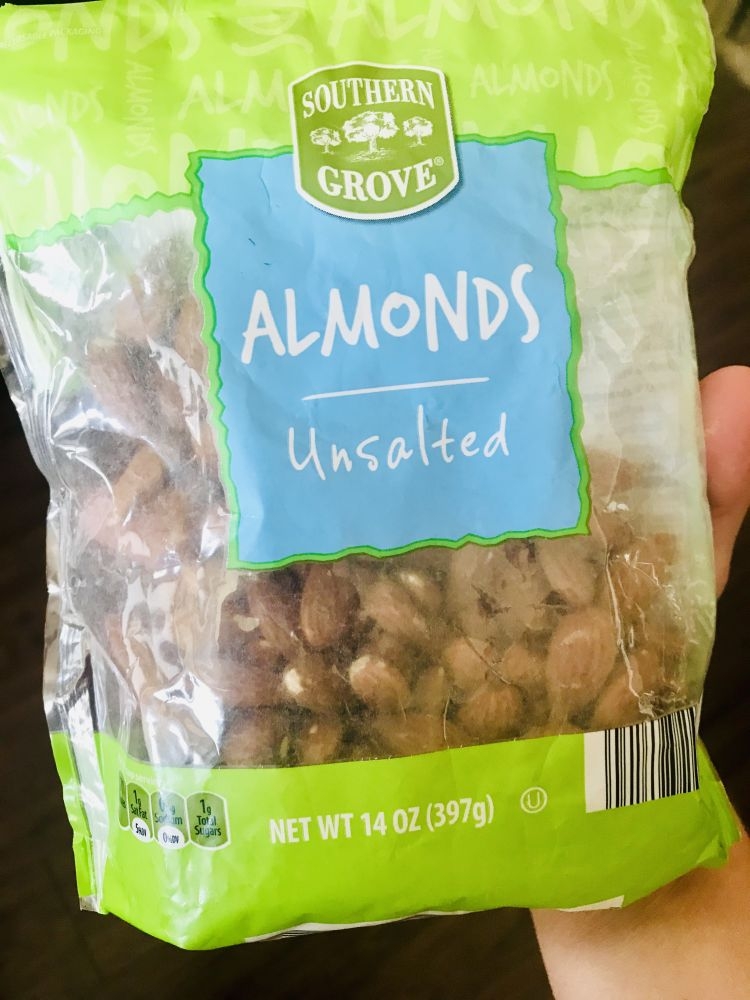 Southern Grove Almonds Unsalted – 2g net carbs
//
Aldi
takes the cake for the BEST price on nuts – hands down!! Probably the best & lowest-carb nut option at
Aldi
are their unsalted almonds! Only 2g net carbs per 1/4 cup and I seriously
always
have a bag of their nuts in my purse for when I am in a pinch on low carb day or regular macro day!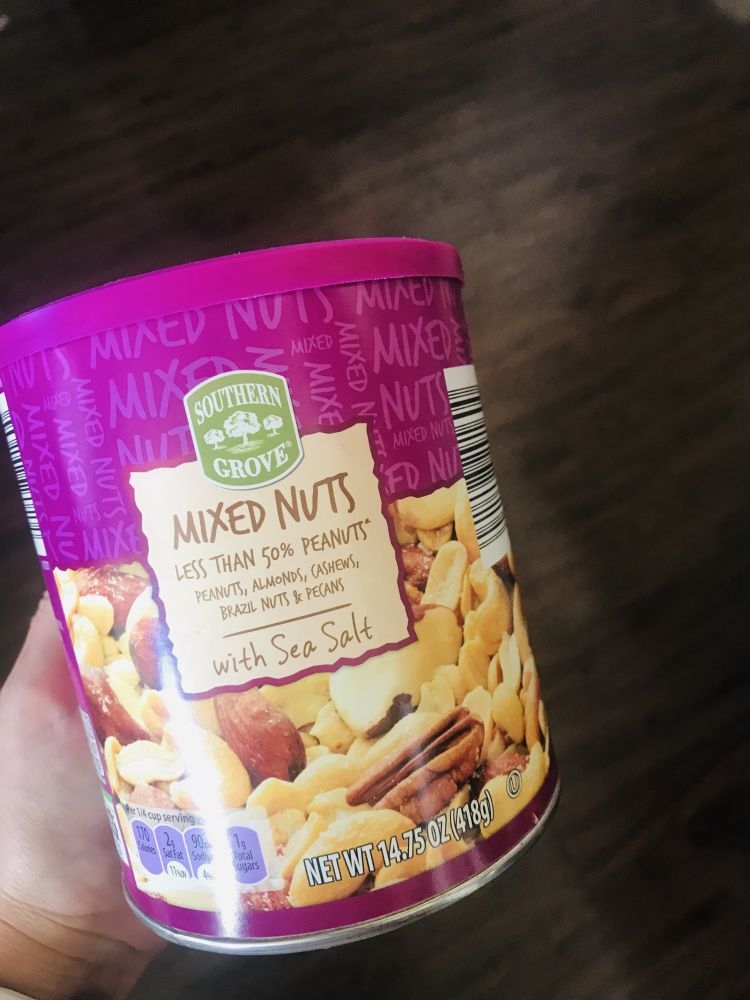 Southern Grove Mixed Nuts – 3g net carbs // This mix of nuts is CRAZY GOOD for low carb day! You only get 3g net carbs per 1/4 cup and the addition of pecans and Brazil nuts is a nice mix from regular peanuts and almonds!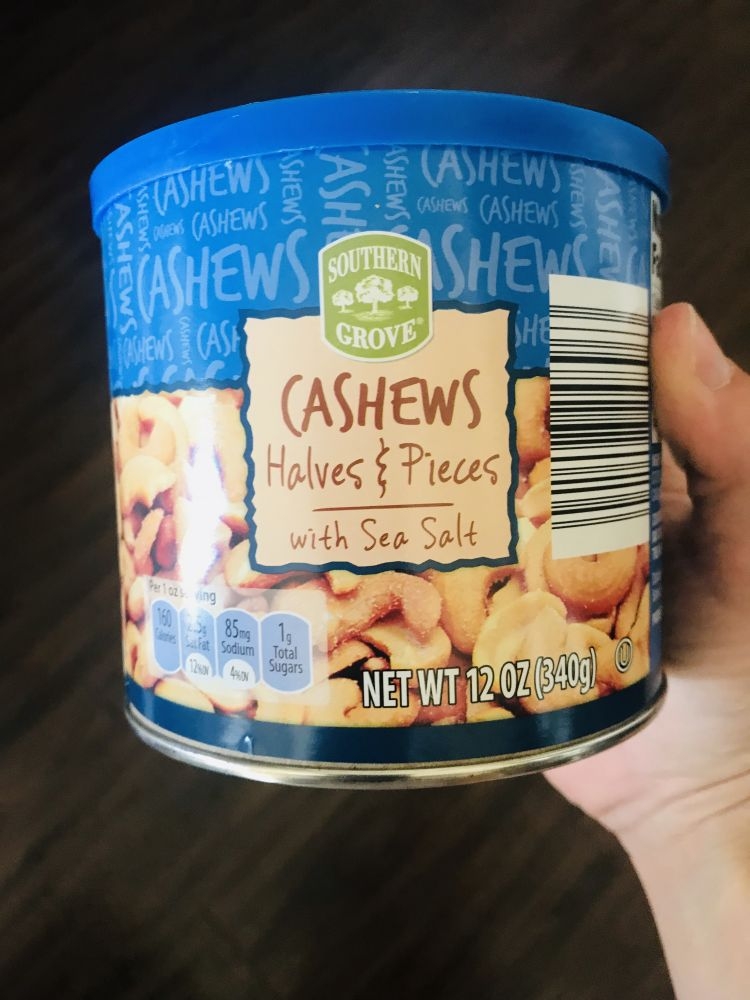 Southern Grove Cashews – 8g net carbs // Cashews have a few more carbs than the other nuts I'm sharing but they could still work for low carb day if you play it right!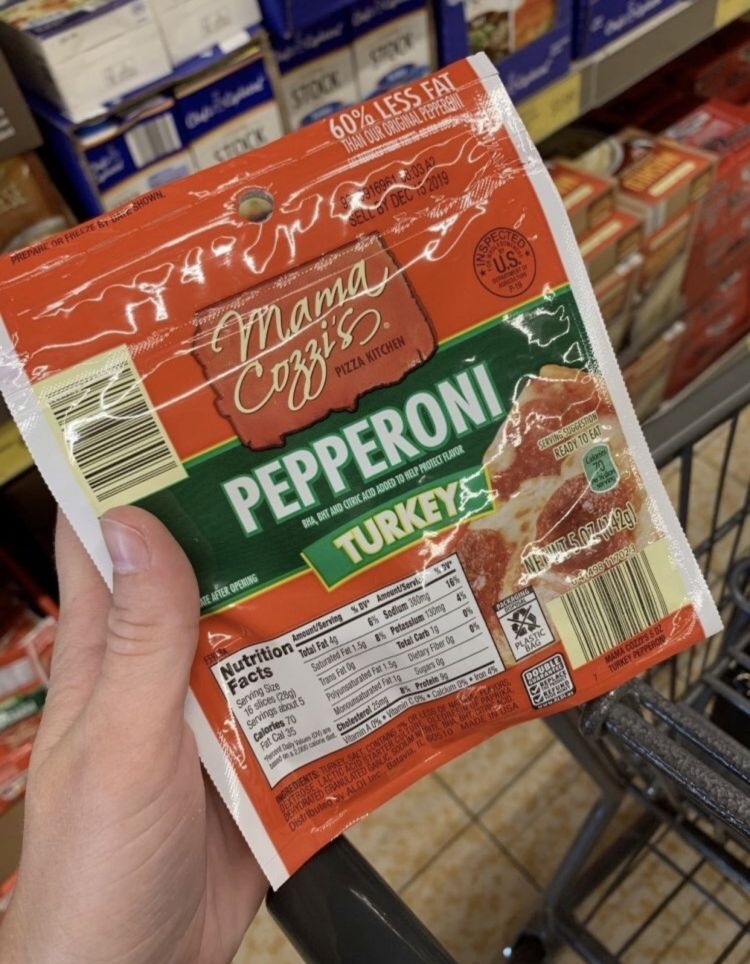 Mama Cozzi's Turkey Pepperoni – 1g of carbs // While I am not a fan of pepperonis (weird, I know!) these would be great to have on hand for protein snacking on low carb day!
What are some of your favorite low carb options at Aldi? Let me know! I always love trying out new goodies!
Check Out More Posts Like Best Things To Buy At Aldi HERE:
PIN The Best Low Carb Buys At Aldi Post For Later!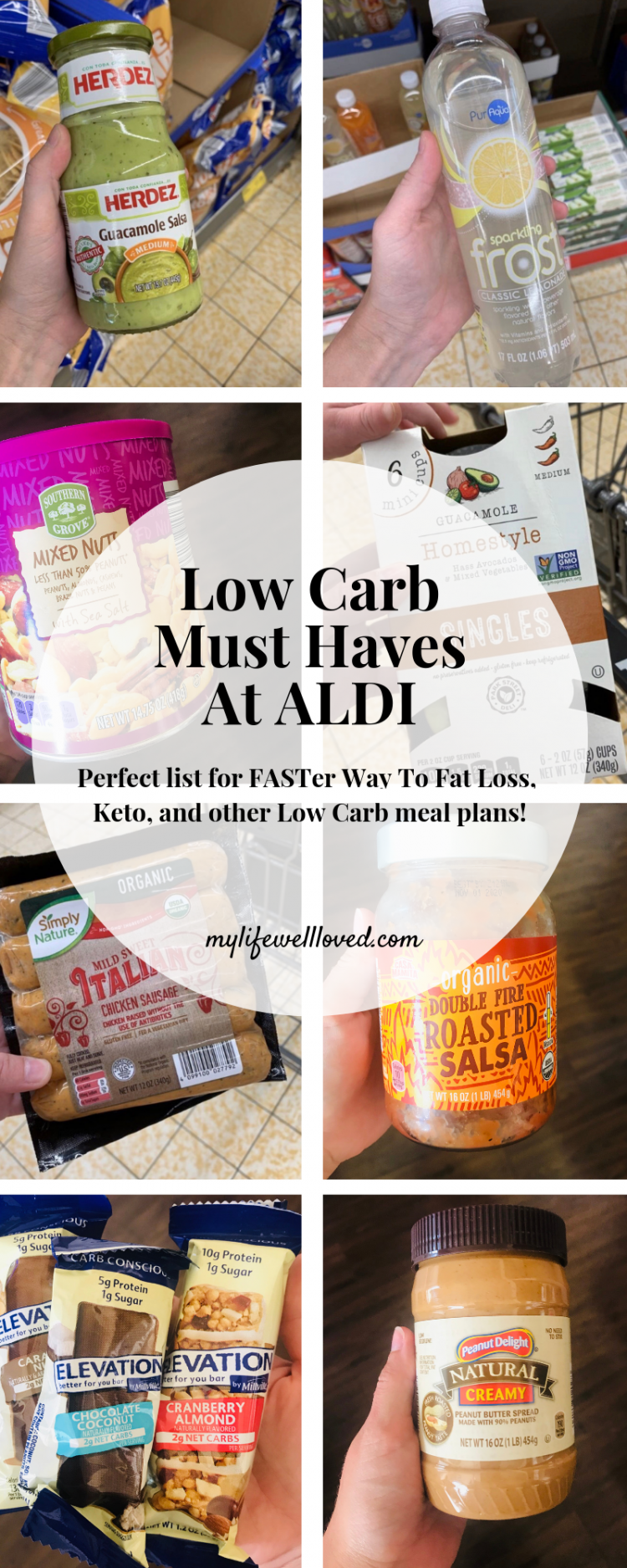 Heather Brown helps busy mamas of young littles who are caught in the hustle to find encouragement in their journey to true health, from the inside out, starting with the heart. Read her journey of learning to live a life well-loved
HERE!