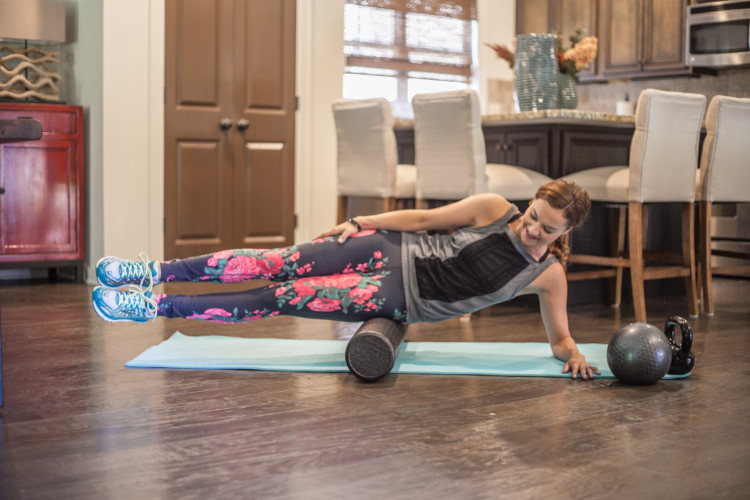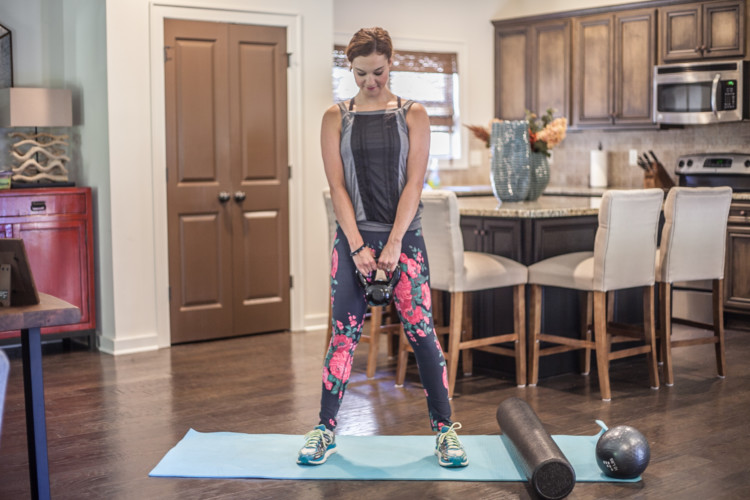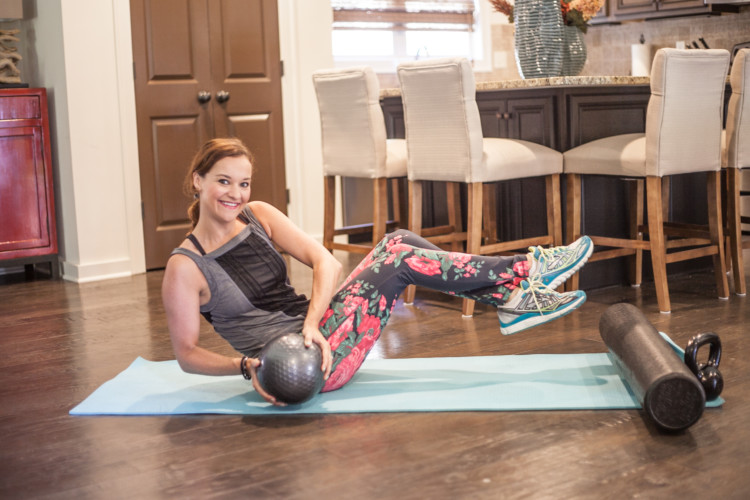 I woke up like this. No, really, I roll out of bed and work out in my home…but OK, not QUITE like this. My hair and makeup usually aren't done. 😉 Allow me to introduce you to the beauty of in-home fitness. I have had HomeFit help craft the 7 Day Legs Challenge for you guys, and mentioned them in passing before, but I've gotten so many questions about it that I thought it deserved its own blog post.
I mentioned to Eric years ago before Leyton was ever a blip on our radar that if I could have a personal trainer after I had a baby, that it would be amazing. Little did I know then, the complications I would have with recovery after delivery (read Leyton's birth story here) and how nice it would be to have someone walk me through modifications and heal my body entirely first.
I started researching at-home personal trainers before I ever had the baby with a simple Google search. One of my blogging friends knows Cody (the president of HomeFit), and had good things to say so when I saw them pop up in the top of my search, I reached out. I was really impressed with how quickly they got back to me and how professional they were with me on the phone. They wanted to know my background in fitness, any injuries, why I wanted to do in home personal training and then asked if they could meet me and do our first session free with an initial assessment.
I waited till after I had Leyton and then had them come to my home to learn more about my fitness and eating habits, injuries, and goals. We waited a while for my body to continue to heal after birth and when I was cleared to start exercising again with some modifications, I nervously picked up the phone and scheduled my first post baby workout. One reason I was really excited about this was that I could schedule them to come to my home without having to worry about getting a babysitter. In the beginning Leyton would nap while I worked out, but now he happily watches me workout and cheers me on from his play mat as you may have seen on my Instagram or Snapchat (@mylifewellloved).
Here's how it works…Twice a week, my personal trainer comes to my house with all the equipment we'll need for that day. Sometimes it's resistance bands and a fit board. Other times it may be boxing gloves and a yoga mat. Still other times it may be kettle bells or a weighted jumping rope. I never know what to expect and that's why I love it! It keeps me on my toes and keeps my muscles guessing. My trainer will ask if I have any muscles that are sore or anything I want to really work on and then I turn on my Pandora radio station and we start to warm up for the workout ahead.
Typically my sessions last about 45 minutes but sometimes if we do a quick tabata style workout we may be done in as little as 15-20 minutes. I have been forced to break out of my comfort zone and do burpees, sprints, suicide drills, and perhaps most importantly for my body…foam rolling! It has been a much needed addition to my workouts.
HomeFit is in Birmingham, Huntsville, Tuscaloosa, Destin, SoWal, and 30A. So, if you are too busy to get to the gym or need the push to do things you wouldn't typically do, this may be the perfect thing for you!
If you want to try out a FREE BOOTCAMP CLASS, HomeFit is offering 2 classes this summer, so mark your calendars and go here for more information! Both classes will be the second Saturday of June and July so lace up your sneakers, grab your yoga mat and some water and join us this Saturday.
Thanks to Casey Marie Photography for these photos and to Albion Fit for my floral pants! A full fit chic post is coming on this outfit soon.
Heather Brown helps busy mamas of young littles who are caught in the hustle to find encouragement in their journey to true health, from the inside out, starting with the heart. Read her journey of learning to live a life well-loved
HERE!