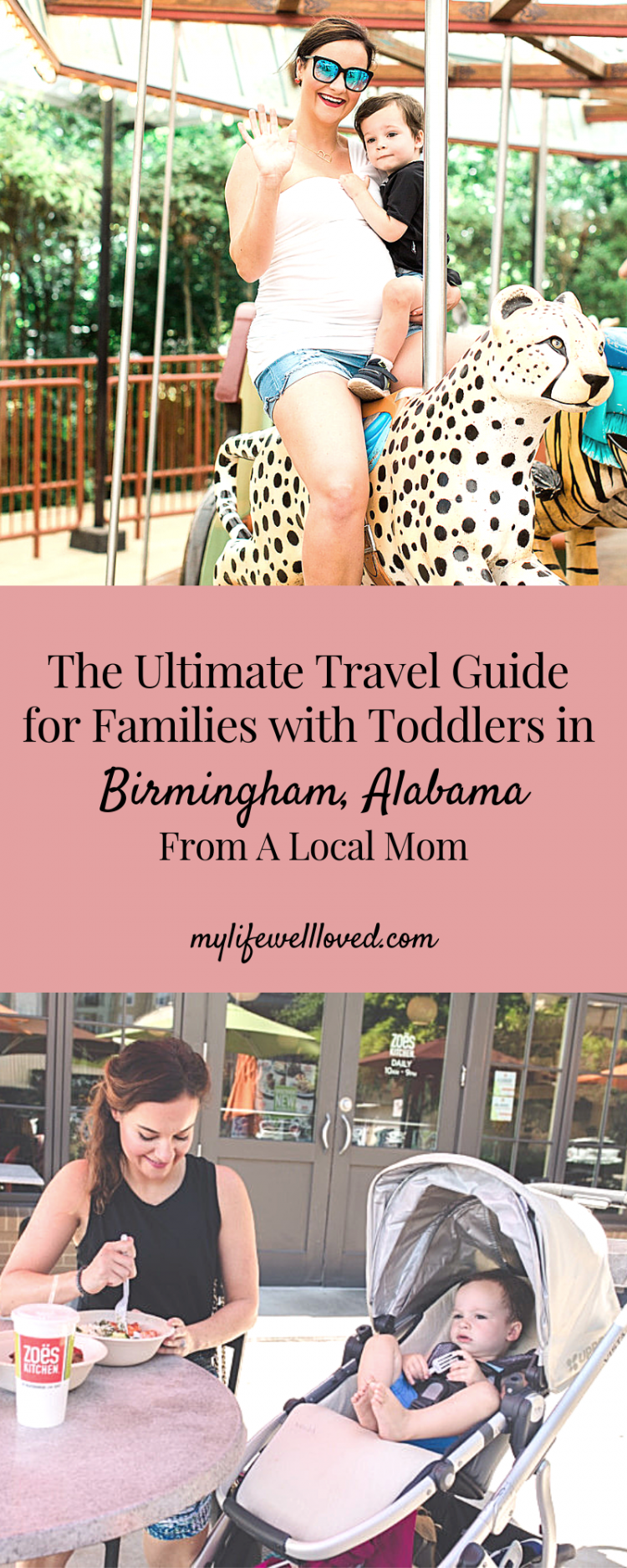 My Birmingham Series is finally here! I cannot wait to show you around B'ham over the next 4 weeks to share all of our favorite must see, eat, and do next time you are in Birmingham! I know many of my followers are local while a large portion are out-of-towners but I am consistently asked, "What is your favorite (fill in the blank) in Birmingham?" Whether it is my favorite date night spot, favorite indoor activity with a toddler, favorite hotel or spa, I am sharing ALL of it over the next 4 week! My hope is that everyone in my audience, local or not, can gain something from this series by pinning it for future travel.
This week I am focusing on all of our favorite kid-friendly spots! Leyton and I have hit up just about all the restaurants and activity spots and are here to share our favorites with you! Eating out as an adult with a toddler is certainly a much different scenario than eating out around town as a Samford college student.
Back then, I wanted to be at the hippest and most fun places although 10 years ago that was pretty limited compared to Birmingham now! With a 3.5 year old little boy and a 6 month old, we are always looking for the EASIEST and most accommodating places to eat out with a toddler + baby. Here are our top picks for Birmingham toddler-friendly restaurants & activities!
For more Birmingham Posts, try these:
Top Things To Do With Kids In Birmingham: Kid Friendly Activities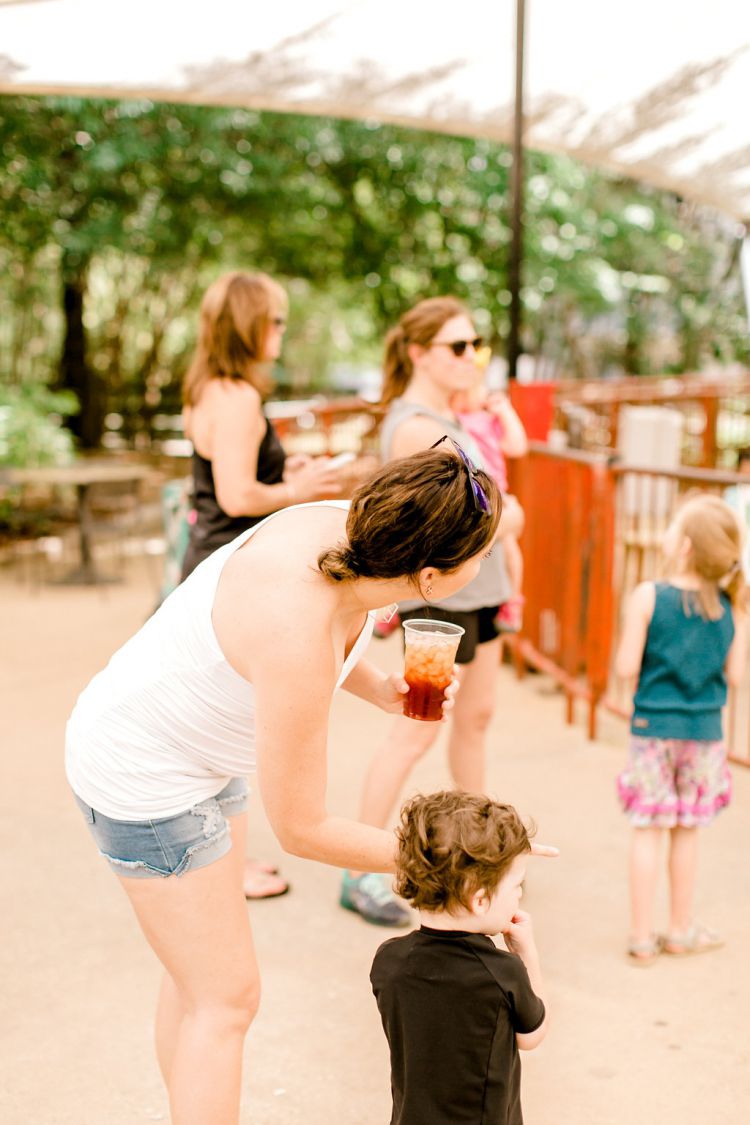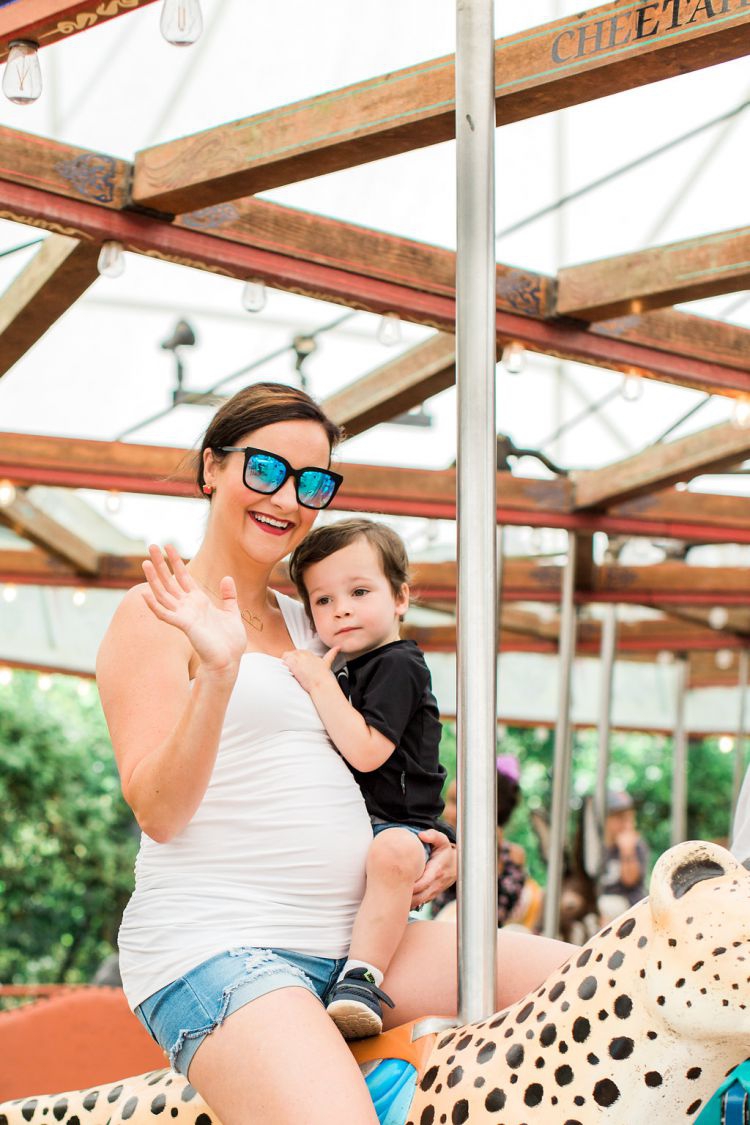 Birmingham Zoo – Little ones love the splash pad during the summer & the carousel + the animals of course!
McWane Science Center – Fun to be had at all ages although Leyton's favorite time is around Christmas when the model trains are set up, so cool!
Rainy Day? No worries, we have PLENTY of options for you then too. We did a whole post on it here!
Top Golf, RTJ Golf Courses or Ross Bridge: Eric & I love to go grab a drink at the clubhouses and let Leyton play with us on the putting practice area. I'm sure this is the real technical term for it. 😉 Eric will die that I don't know, ha! Eric has taken Leyton with guy friends to Top Golf several times, actually in multiple states!
Any of our walking trails or parks from Homewood Park to Mountain Brook Trail to Railroad Park to the Ross Bridge trail to Rotary Trail, Moss Rock or anything in between! We love to go on long walks and take in the city and views this way!
Birmingham Botanical Gardens – Plenty to roam around and see + beautiful and right next door to the zoo!
Top Things To Do With Kids In Birmingham: Kid Friendly Restaurants


Anyone else dying at how little Leyton was in these photos?! 
Shop our STROLLER here!
Taco Mama: No explanation needed if you're local. Best margs, loud enough for kids to be no problem. Fun atmosphere. Guaranteed to run into friends from the neighborhood. 🙂
Zoe's Kitchen: We love the SOHO location especially because you can sit out on their patio with the large umbrellas and have a little enclosed outdoor area for your kids to run around in. Bonus? If Leyton is good for the meal, he gets one of their GINORMOUS chocolate chip cookies.
Nabeel's: I have taken Leyton here with couple friends, with girlfriends and their kids, and gotten take out from here to take to friends who have just had kids. It's an excellent option to sit on their side patio and enjoy the outdoors plus then with that little tucked away patio, you aren't bothering the rest of their guests. Insider tip: If you've never tried the Feta Theologos app, it's mouth-wateringly good! My sister-in-law requests we go to Nabeel's each time just to get it!
Urban Cookhouse: This fast casual American fare restaurant tucked in the heart of downtown Homewood is loud, bustling and no one will notice if your kid has a meltdown. They have healthy options, a yummy kids menu and they go above and beyond to show that they "get the kid thing" by having little cups of Cheerios ready for you to give to your hungry munchkins.
Brixx Pizza: Eric and I have fallen in love with the laid back vibe, the beer draft selection, drink specials, and the Brixx salad with extra goat cheese and salmon. Seriously, it's so good! The crazy part? You can request pizza dough for your child to play with while you wait! AND they have chalkboard walls kids can draw on, so fun!
Ashley Mac's: Leyton and I are pretty regular luncher's at Ashley Mac's with girlfriends. We love how the founder has really implemented mom-friendly thoughts into her store from the easy takeaway meals to the cute kids' toy pliable sticks that come with kids' meals. We enjoy sitting outside where Leyton can run around!
Jim 'N Nicks: A Birmingham staple, cheese biscuits and a boisterous atmosphere make for the perfect scenario for no one to care about toddler hollers!
Vecchia: I have learned recently that I'm doing Vecchia all wrong. I usually get the lasagna roll up's and their wine ON TAP – yes, you read that right! – but lately I hear that the panini's are where it's at. We come to Vecchia for the beautiful big wrap-around porch, the scenic views and the ability to walk around and take in Moss Rock Preserve. On Saturday's they have a bounce house to entertain kids and chalk available for drawing all the time.
Post Office Pies: One of our very favorite things to do with other couples who have young kids is grab Post Office Pies (one of my favorite local pizza joints) and head over to sit outside and have drinks and playtime at Avondale Brewery where you can play bags, kick around a soccer ball, take in the pooch watching or just let your toddler run wild. It's truly a spring time staple!
Beef O'Brady's: Kids eat free on Thursday nights with a paying adult and they often have kids' activities this night as well. It's low key, you can have a fun night out with your family and nobody is bothered by kids running around.
Dave & Busters: Half off games on Wednesday!
Soho Social: LOVE the patio for kids to run around on, the lights outside are beautiful at sunset and it's delicious + great beers on draft selection.
Little Donkey: You've gotta try the fried chicken! You can sit inside or outside, your kids can hang on the outside patio with you, they are always super friendly and mama can get a margarita. Plus pop next door for popsicles at Steel City Pops. Can I get an amen?
Although we all know that you can pretty much hit up any Mexican restaurant in Birmingham, I wanted to think a bit outside the box for places to recommend that are toddler-friendly in their vibes and that also have good eats to offer the adults.
Make sure to scope out the list below for many fun ideas you guys gave! LOVE how many suggestions y'all gave that I didn't even know of!
Things to Do with Kids in Birmingham from the MLWL Community/Birmingham locals!
Mcwane @keriawarner
South of BHM, peach park in Chilton county off i-65! I love close and love it! Very kid friendly @_taylor_oaks_

"I went to Hoover Seafood the other day…super kid-friendly! They gave my son a mini moon pie and they have a chalk wall for kids to color while you wait. We got some steamed Cajun shrimp and they were delish! They steam them in store." @BamaWorkingMom
Mcwane, Homewood park, zoo @sbcampbell421
Roam at the botanical gardens! @mandybaughnphotography
Zoo!! Especially in the summer with the splash pad! @bamaworkingmom
Pepper place when it's sunny @aleshalg
Zoo! Also ash  in Homewood on Tuesday's kids eat free! @saratlawrence
Hoover library story  time, veteran's park playground, let's play at the Grove (great on rainy  or hot day) @jenwstephens
Birmingham boulders climbing gym! @annadieg
The zoo, topgolf, hiking Ruffner mountain @made2sing
Zoo! Any of the parks! @racheljmars
Botanical Gardens! @racheljmars
Cookie fix and steel city pops @kmcwallace
Homewood park @casey__hayman
Mcwane @casey__hayman
Tuesday nights at Vestavia Library @nicole_hardkopf
Mcwane center! My 6 yo could literally go every week! And hiking, she loves Moss Rock @jasnicole07
Mcwane center  (duh), petting zoo at OM State park, next level,  moss rock @taylormfoundren
We get yearly passes to the zoo and mcwane center, also let's play. My toddler LOVES it. @therealchelsearay
Don't' have kids but the Birmingham zoo, heart of dixie railroad in Calera, Mcwane @echum98
Dave and busters. Half off games on Wednesdays @krysgodfrey
Gardendale splash pad is amazing and free! Theres also tons of food places nearby. Kids eat free on Sat/Sun at Farm Burger @krysgodfrey
Mcwane center, zoo, botanical gardens (good way to wear them out) @mssam0305
Hiking at oak mountain. Picnic at Vulcan @racheltidmore
Mcwane  center @mollyarainey
Putt golf balls and ross bridge @kabultem
Let's play! Perfect  for all ages @batisdale88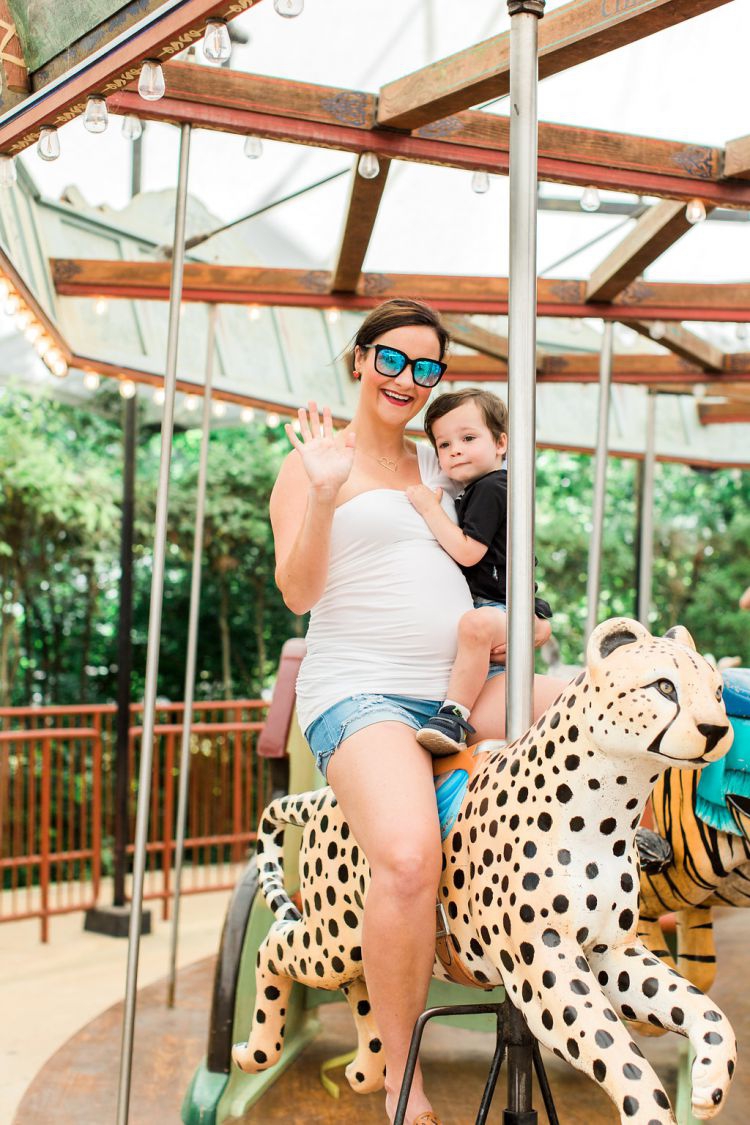 Fun Restaurants in Birmingham for Kids from the MLWL Community/Birmingham Locals:
Taco mama @casey__hayman
Twisted Root @echum98
Cow fish @racheltidmore
Taco momma's, Urban cookhouse, la paz and ironstone pizza @katefloyd
Hickory tavern @tmhardy12
Cowfish (has good kid menu and outdoor games), jasons deli (ice cream incentive!) @yowcaro
Taco mama @sbaxter12
Urban cookhouse and twisted root @sibrymer
Urban cookhouse! @stephdatnoff
Cracker barrel @enapay112
Tazikis @traciisom
Urban cookhouse! @bamaworkingmom
Cowfish! @kbghames

Ash in west Homewood! @lindsaywoods_
PIN the Top 17 Fun Things To Do With Kids in Birmingham Post for Later!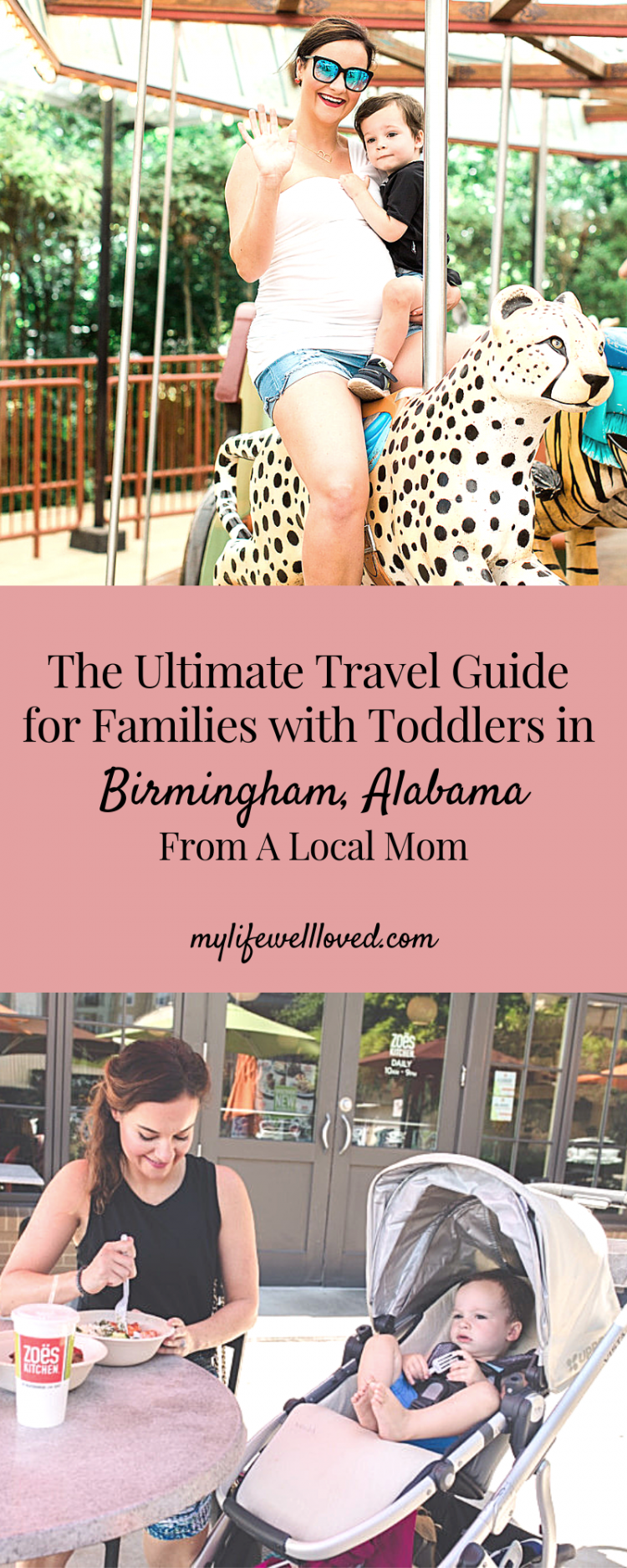 Heather Brown helps busy mamas of young littles who are caught in the hustle to find encouragement in their journey to true health, from the inside out, starting with the heart. Read her journey of learning to live a life well-loved
HERE!