Shop The Easy Holiday Hacks To Simplify The Season Post HERE: Sweatshirt // Motto Leggings // Butterfly Wall Art // Flocked Mini Tree // Velvet Pumpkin // Ornaments // Woven Basket
The fall and Christmas season is upon us and with it comes events, parties, family traditions, cookies to bake, costumes to get… whew! It's the best time of the year but wow the calendar can explode like dynamite!
I don't know about you, friend, but the holidays can hold a lot of expectations and pressures. It's all in how we approach them.
Do we choose to simplify, or do we try to do it all?
Can we plan ahead, or do we try to cram too much in at the last minute?
Do we embrace the imperfections, or do we hustle for perfectionism?
In my holiday resource, The Busy Mom's Holiday Planner, I help you walk through making the right choices and keeping it fun and magical for you, your spouse, and your kids!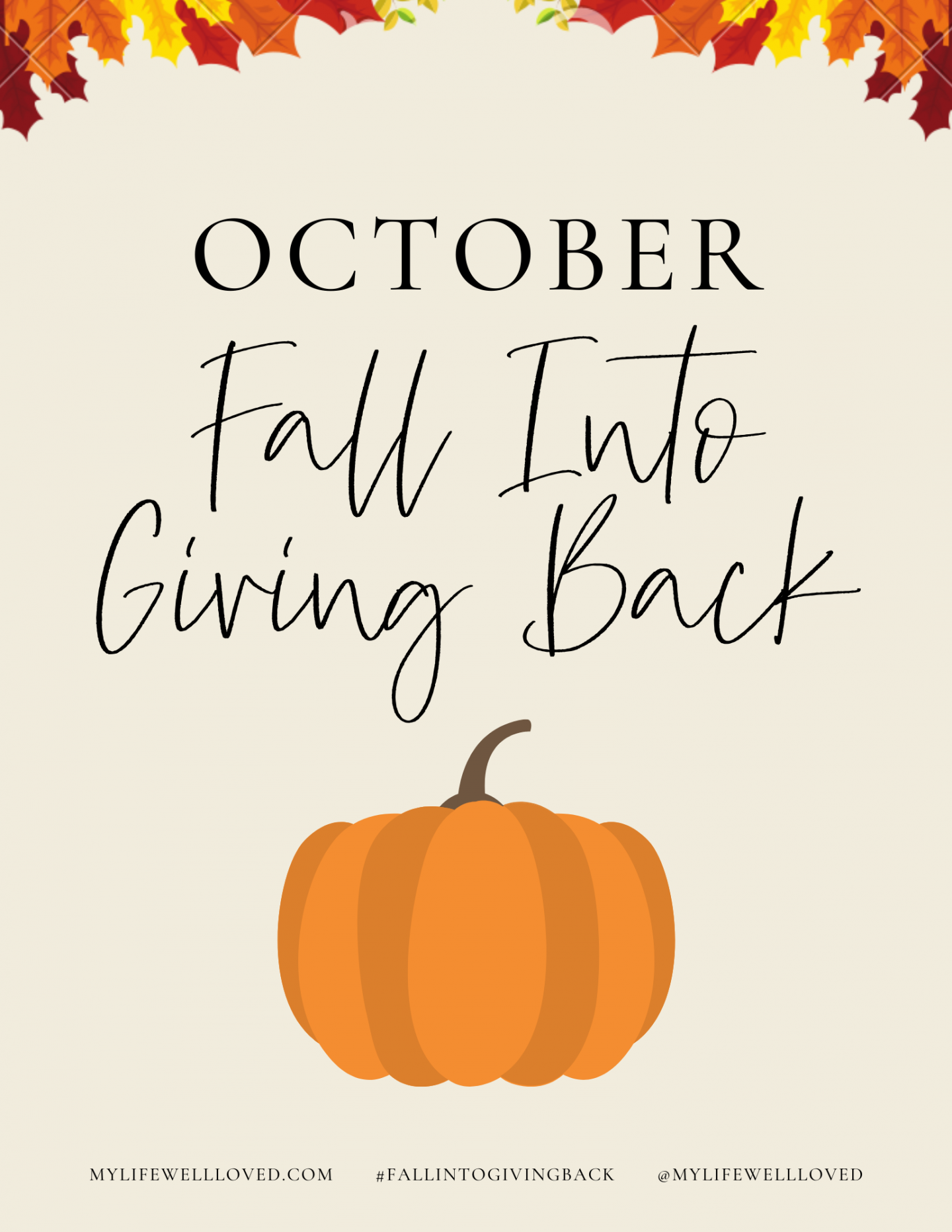 With my planner you can truly hack the season by utlizing:
Let's tackle the holidays with intention and joy! While I know the to do list can run long, today I'm sharing some of my best holiday hacks to help YOU simplify the season!
My List Of Easy & Doable Holiday Hacks To Simplify The Season
TIPS FOR STAYING ORGANIZED!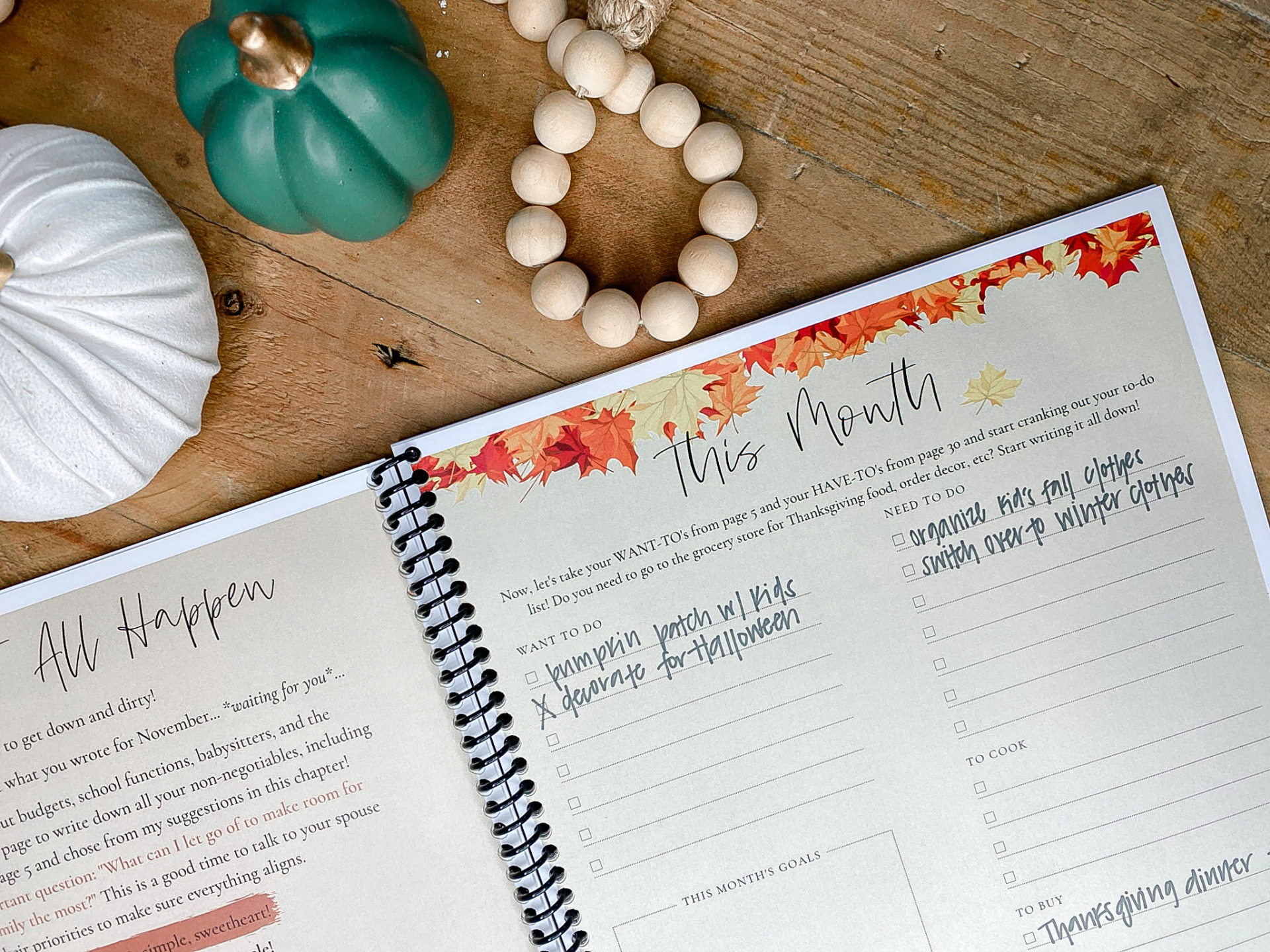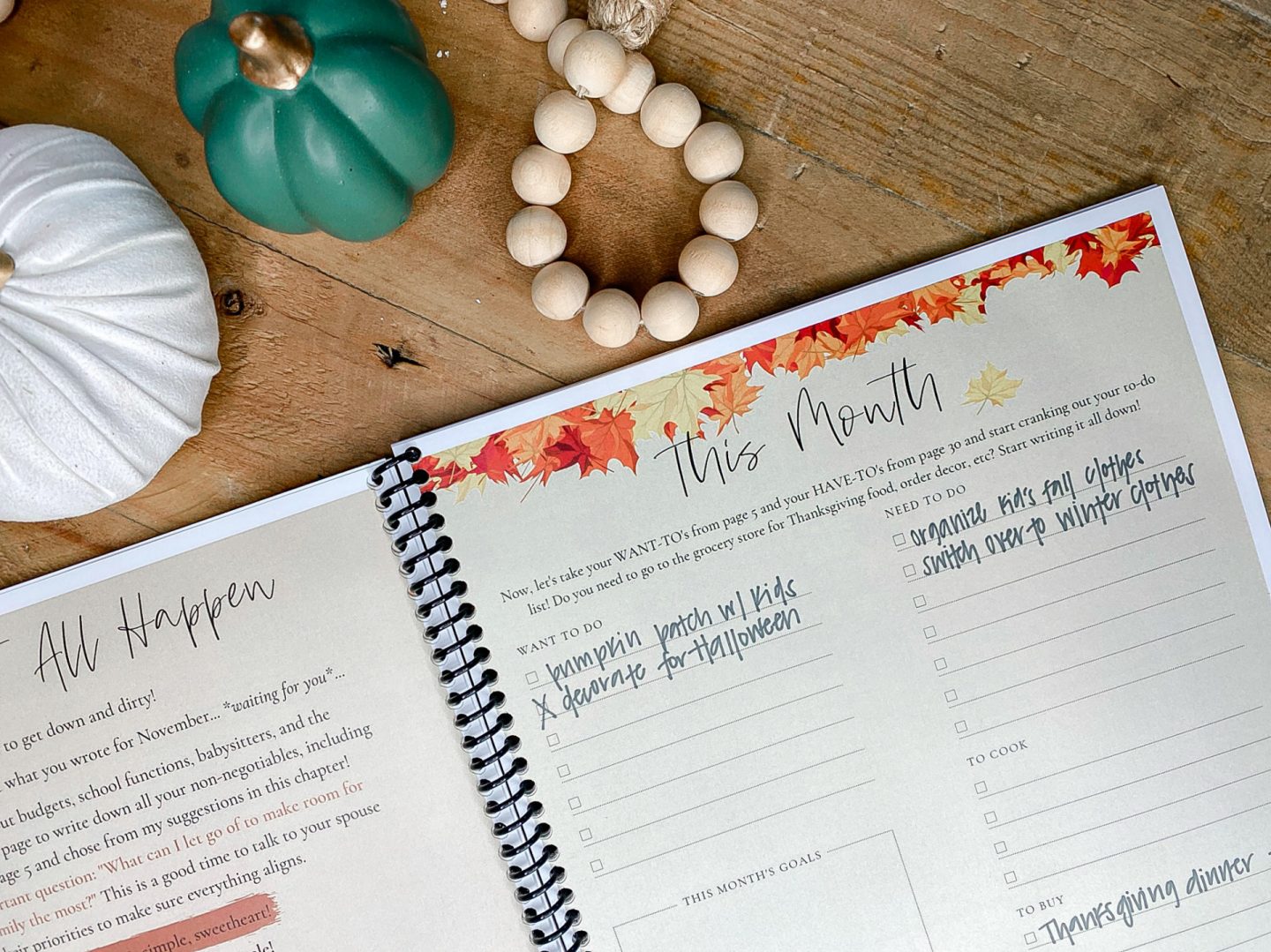 Stay organized! Start with the big picture. Don't lose track of dates, parties, and deadlines–when you're hosting and what you're in charge of! This will give you so much peace of mind. My #1 hack to help with this is my foolproof holiday planner!
Number your gifts so you remember what's inside! // I heard this tip recently and loved it! You put a tiny number on the gift tag (1, 2, 3, 4) etc. and then in a notebook or the Gift List app, write down the same number next to each gift. This is especially helpful if you are saving a "big gift" for last or if 2 gifts go together. For example Airpods + Airpod case – you wouldn't want your recipient to open the case before the AirPods. In instances like this, it helps to keep everything organized once the gifts are wrapped and under the tree!
Download the Gift List app! // This holiday hacks app helps you stay organized with what you've bought for each person, how much the gift cost, and the total amount spent for Christmas gifts. It is a great free app option for budgeting during the holidays!
Designate a folder in your email or an envelope in your home for all receipts! // Anyone else go crazy at the holidays with the number of receipts you are trying to keep track of? I love having one spot I can throw each receipt so I don't lose them in case returns need to be made!
TIPS FOR SAVORING THE SEASON!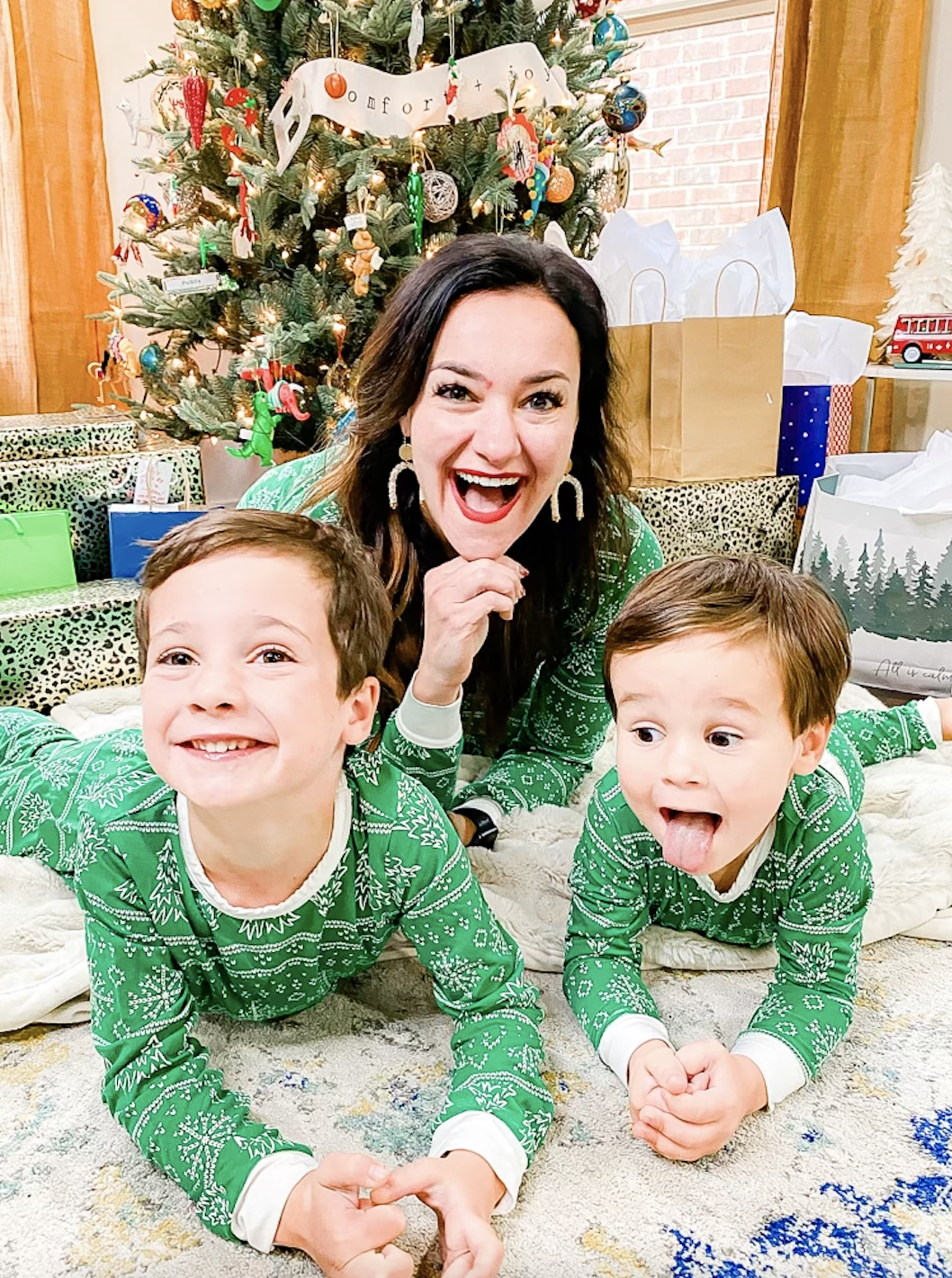 Make it fun for your littles! // Don't forget how special this time of year is for your kids!! See the wonder of Christmas through their eyes. Take the time to bake the cookies, make the crafts, wrap the presents together, ALL the things!
Don't be afraid to "decide once" as Lazy Genius says. // DECIDE ONCE and be DONE, mama! This tip is all about simplifying. Figure out ways you can decide once and repeat that same decision. For example, one type of gift for all the teachers or all the nieces and nephews and BAM – you're done!
TIPS FOR STAYING HEALTHY!
Keep simple dinner recipes ready to go! Take one enormous thing off your plate by stocking your pantry and freezer NOW so you always have dinner options on hand (I personally love THIS recipe and I've been making variations of it a ton recently! <3 )
TIPS FOR HOSTING & ATTENDING PARTIES!
Keep the bar stocked! // That means it's time for a liquor store run, haha! You always want to have something to serve for those last minute get togethers or unexpected guests. If you need any fun & festive recipes, click HERE for all of our favorite holiday cocktails!
Use the fireplace on Netflix / Youtube! // We have a fireplace but here, in the south, sometimes it's 85 degrees on Christmas Day. If you don't have a fireplace or you need to avoid the warmth of a real fire, head to Netflix or Youtube to set the mood! This is a fun addition to any holiday get together!
TIPS FOR SAVING MONEY & BEING RESOURCEFUL!
Donate your live Christmas tree to the zoo! // If you go the real tree route and never know what to do with your tree after Christmas, I recently heard that local zoos accept donated live trees as they will use them in their animal exhibits.
Add gifts you know you want to buy to an Amazon wishlist! Of course, make sure the list is PRIVATE but by doing this, you are creating an EASY list to go back in and quickly check periodically to see which items might be on sale. When you add items to a wishlist, Amazon will even notify you if it's the lowest price in last 30 days! When you buy gifts from Amazon, always click the "gifting option" and tape the gift receipt to the gift so your recipient can easily return or exchange as needed. ALSO if you aren't in a rush on receiving your shipments, choose the "no rush shipping" option. By doing this on each Amazon purchase during the holidays, you'll rack up the $1 digital credits and can spend those on ebooks, audio books, etc.
Buy the bigger gift sets at Costco! // Buy those big gift sets at Costco and break them up amongst several gifts. For example, Costco usually has big packs of gift card, candles, or kids books for a discounted price and you can divide those amongst stockings, gift baskets, etc.
Take advantage of free shipping day! // Did you know "free shipping day" was a thing? It's on the calendar and everything! If you missed free shipping with Black Friday or Cyber Monday sales, you can usually still score free shipping on free shipping day! Save any online orders for this day so you can save a few bucks on shipping fees!
My friend, Brendt at She Gave It A Go, has one of my favorite holiday hacks! With the ongoing hosting that comes with the holiday season, it is important to style your house for the season. Brendt shares how she styles her farmhouse blanket ladder for the season!
Do you have holiday hacks I need to add to my list? Leave me a comment below or head over to Instagram and send me a DM! Let's simplify this holiday season together!
Shop The 20+ Easy Holiday Hacks To Simplify The Season Post HERE:
PIN The Holiday Hacks Post For Later!
Heather Brown helps busy mamas of young littles who are caught in the hustle to find encouragement in their journey to true health, from the inside out, starting with the heart. Read her journey of learning to live a life well-loved
HERE!