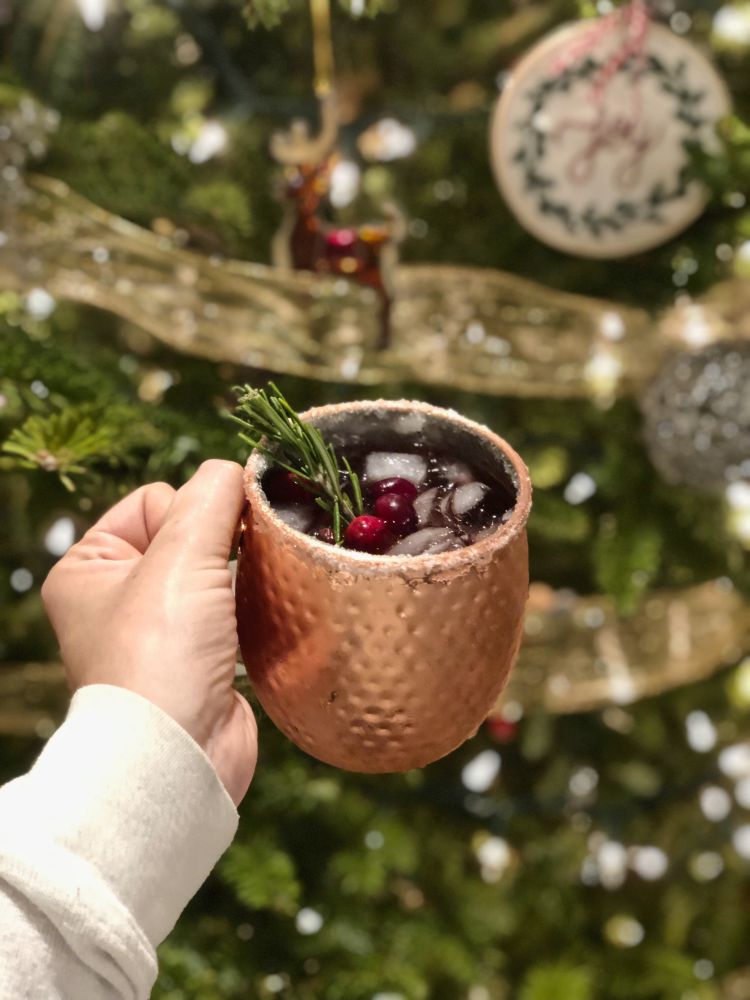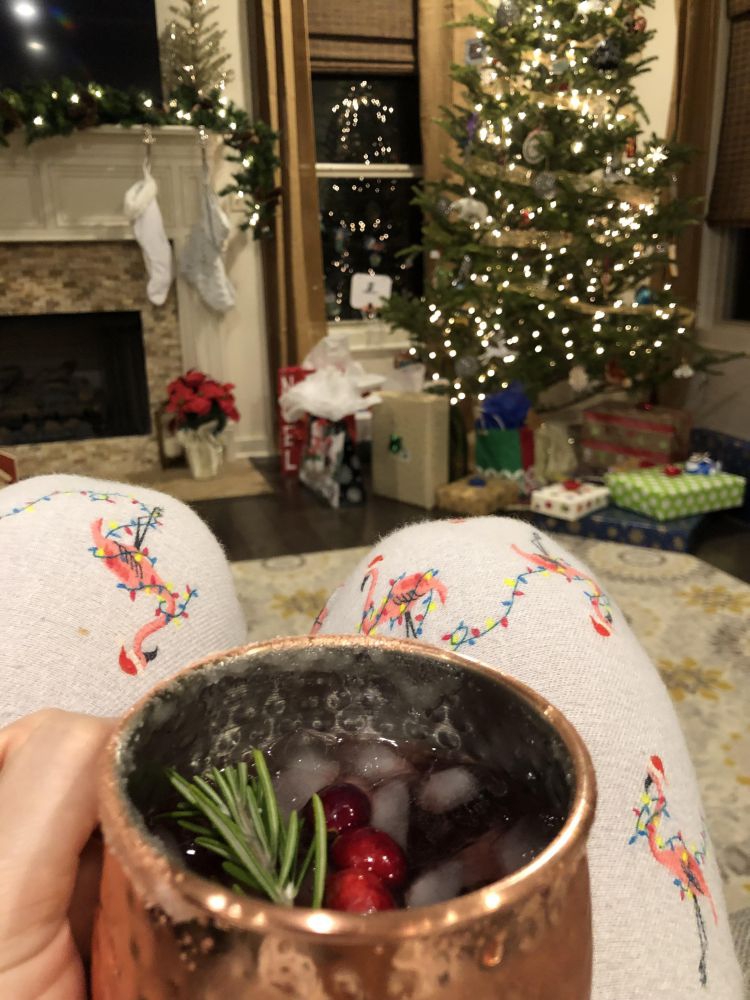 Shop the Cranberry Moscow Mule Drink Post: Lime/Lemon Squeezer (truly one of my favorite new kitchen gadgets this year!) // Moscow Mule Mugs // Flamingo Pajamas
I shared a boomerang of the Cranberry Moscow Mule drink Eric made me earlier this week and my inbox flooded with questions about the festive looking drink. I always know that if I get more than a few questions about it, it needs to become a blog post because then it always lives here for you to easily find by using the search bar in my upper right hand corner of the website and you can easily pin it to PINTEREST to find and make later on!
Speaking of Pinterest, I am close to hitting 45,000 followers there so I'd so appreciate you popping over to follow & pin with me there. I'm about to go on a mad Whole30 pinning spree to prep for us staring Whole30 together on January 1. I will be doing a modified version of it for breastfeeding and I'll explain more about that as we get closer to starting!
Some of you may remember this Cranberry Moscow Mule we had on the blog a while back but the hubs simplified it and added a sugar rim plus a few garnishes that take it over the top! We plan to sip on these on New Year's Eve as well because it's so fun and festive!
I've been so busy scoping out all the after Christmas Sales (that you should check out here!)that I'm just now getting a chance to finally share this recipe with y'all. I hope you love it as much as we do! If you make it, please share on Facebook or Instagram stories and tag me. I'd love to see you make it!
I am 99.9% sure you'll love this drink recipe because it was a crowd-pleaser! Everyone in my family who tried it loved it and we have quite the wide variety of tastes from my sister who likes the sweetest drink she can find to my dad who likes the harshest of drinks out there, ha!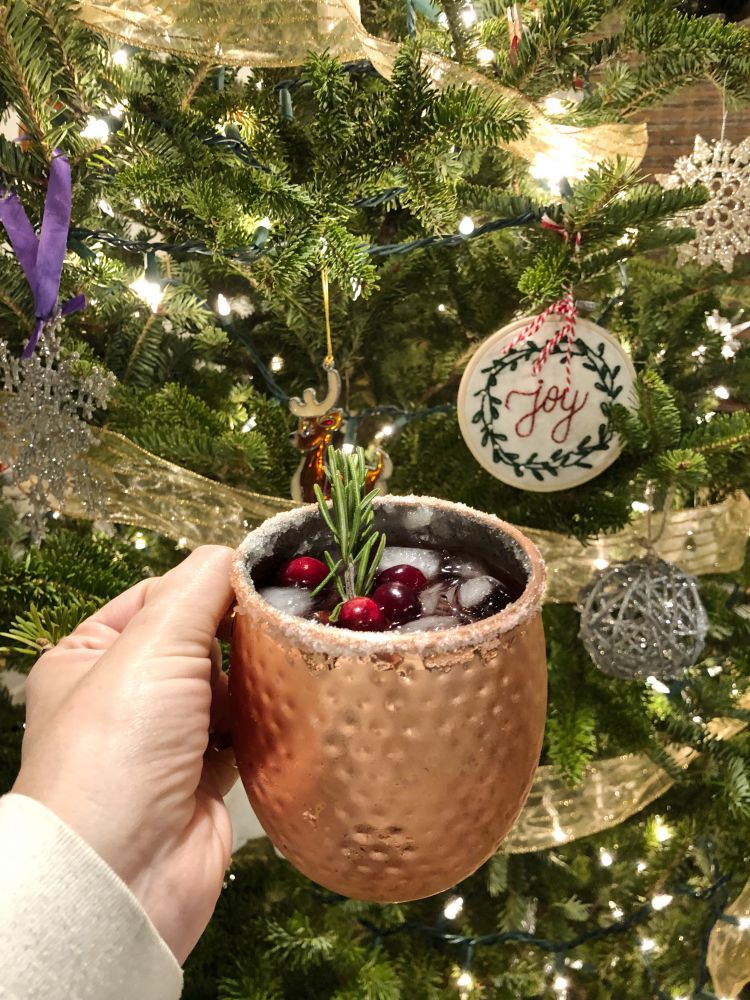 Festive Cranberry Moscow Mule Drink
Ingredients
1.5-2oz gin or vodka of choice
6-8oz of ginger beer (non-alcoholic) I prefer Fever Tree
Fresh squeezed lime juice
Splash of cranberry juice
Garnish with cranberries and rosemary.
Instructions
For sugar encrusted rim, apply lime wedge around rim of glass. On flat surface spread sugar and dip rim of glass in sugar.
Simply add gin or vodka, ginger beer, lime juice, splash of all-natural cranberry juice to cup or glass and garnish with cranberries & rosemary.
Enjoy!
Have you tried a cranberry Moscow mule drink before? If not, what's your favorite festive holiday drink? Let me know in the comments below!
Pin the cranberry Moscow mule recipe for Later!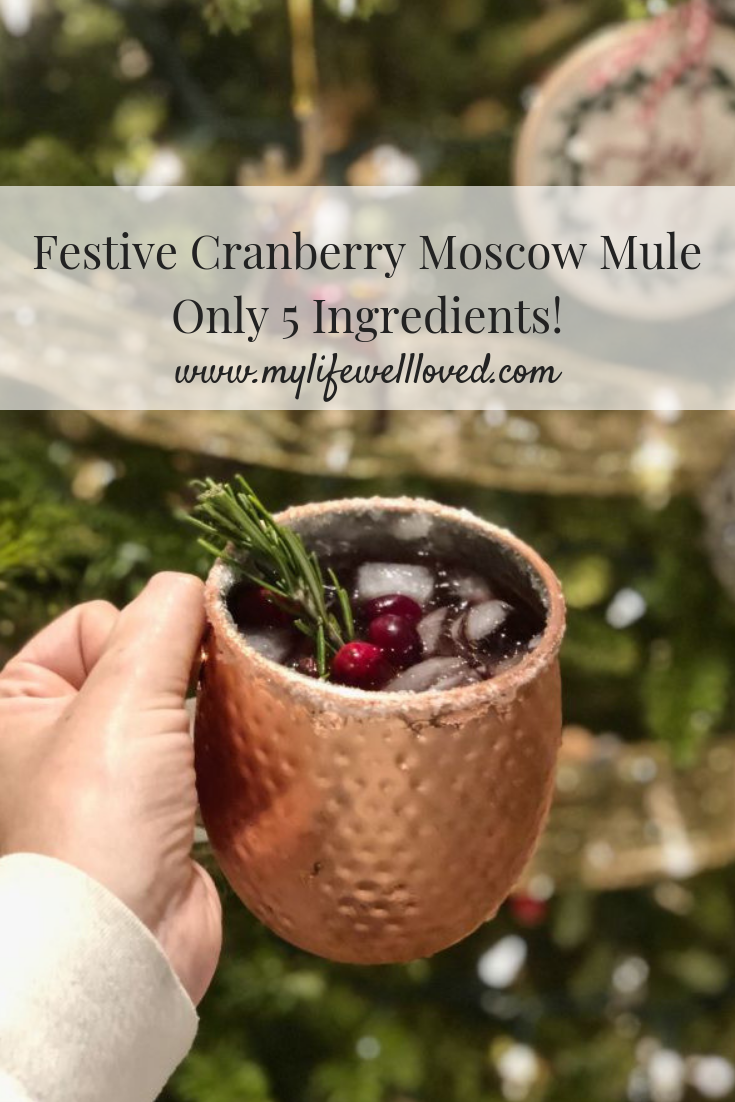 Heather Brown helps busy mamas of young littles who are caught in the hustle to find encouragement in their journey to true health, from the inside out, starting with the heart. Read her journey of learning to live a life well-loved
HERE!