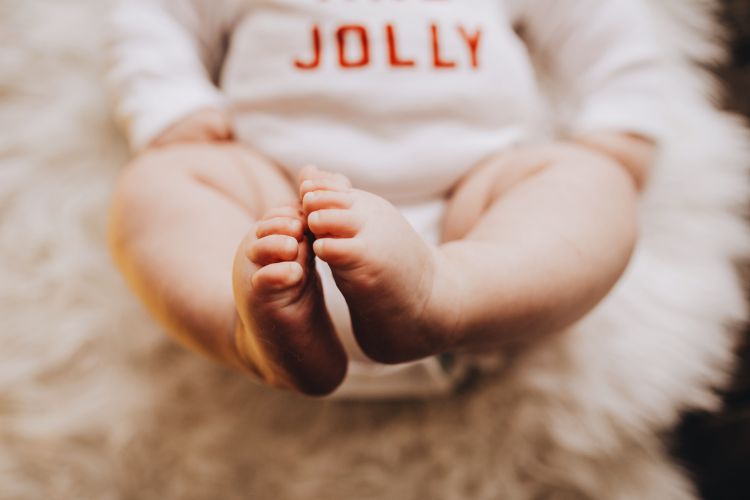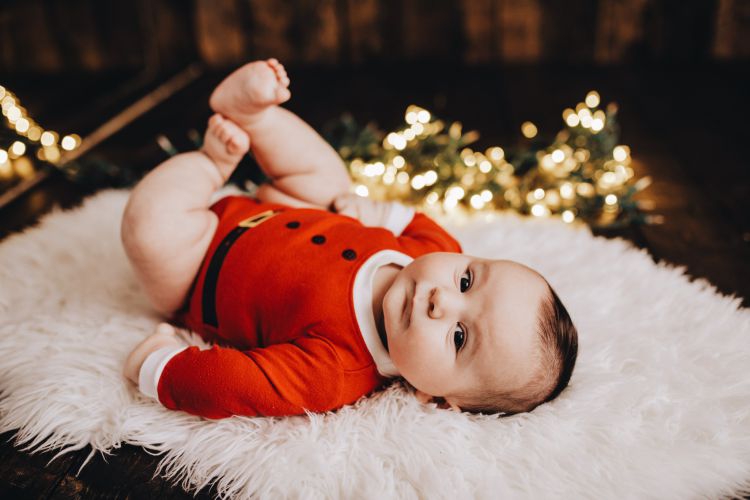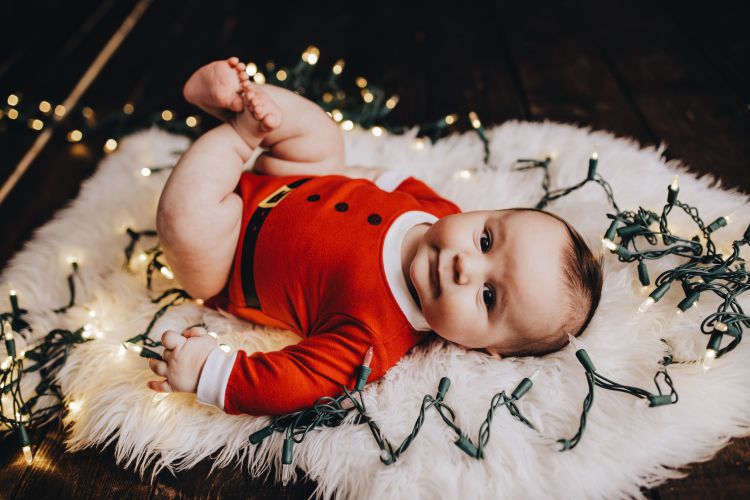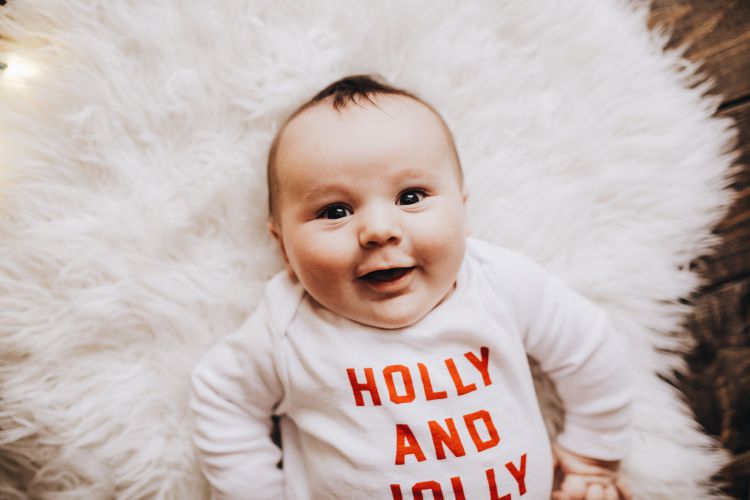 Shop the Baby Milestones by Month Photos: Finn's Christmas Outfit
Baby Finn,
You've found your voice as of 12/15 and WOW, you love to use it! You've started HOLLERING out in the shrillest squeal and then you act shocked that you just made that noise. I love watching your reactions. This month you've really gotten the full out giggle going. You love to laugh when I hit your tickle spot with my chin or hair going up your belly and neck in kisses.
You had your first ear infection and we had to put you on antibiotics but you still have acted so mild-mannered even with not feeling your best. Luckily, your 4 month check up was actually scheduled on the day you probably felt the worst because your every-once-in-a-while cough I had noticed ramped up that morning. I'm so glad we could get you some fast relief.
You are my cuddle bug and so relaxed. Even during our Christmas Eve service, you didn't make a peep. Just sat there contentedly on my lap and took in all the singing and lights around us. I have had way too much fun dressing you up in Santa onesies, reindeer outfits and taking pictures of you with Christmas trees and lights. I just love your little chunky self, baby boy.
Having said that, you have started to thin out a slight bit where your cheeks aren't AS BIG compared to the rest of your body. Don't worry, you're still in the 95th percentile for weight though! You've started to be fascinated by seeing your face in the phone or the mirror.
Much like Leyton you also love laying on your changing table and looking up at the decorative mirrors and anchors on the wall in your nursery. You like to be up and seeing everything right now, so Mrs. Lindsay came up with the idea that we could strap you in the Boon high chair and drag you around with us so you can see everything going on in the kitchen instead of just always being down in your swing or in the loungers we have for you.
Your pediatrician was surprised you aren't rolling over yet since you have "such good muscle tone" and basically said you are being lazy in so many words. HA! I can't say that I'm mad about it, I love soaking up your baby phase so much!
We are so excited to have you for your first Christmas this year and our family has such a good thing going with you in our lives. I love watching Leyton look out for you already, offering you blankets or wanting to kiss or hold you. You are a lucky boy to have him as your big brother! We love you baby Finn!
Baby Milestones by Month: 4 Month Update
Sleep: Moms on Call loosely followed still – you wake up about 6-7 am each morning now since you've had your ear infection to eat and go back to sleep after feeding.
Eating: Every 4 hours except for night time – still BF'ing
Strength: "Strong muscle tone"
Loves: Bath time still, Cooing and talking to us, finding your voice, Ollie swaddle Magic Sleep Suit, Mommy tickling your tummy and neck and chest with my chin/hair kisses.
Clothes: 3-6 months mostly and some 6 months outfits
Weight: 18 lbs 9 oz WOW! BIG BOY!
Nicknames: Baby Finn, Finnster, The Lizard
Baby Milestones By Month: Previous Posts
To see Leyton's 4 month update, go HERE!
Heather Brown helps busy mamas of young littles who are caught in the hustle to find encouragement in their journey to true health, from the inside out, starting with the heart. Read her journey of learning to live a life well-loved
HERE!