Hot Ruby Cranberry Cider makes great, easy holiday cocktails (use code HEATHER10 for 10% off + free shipping).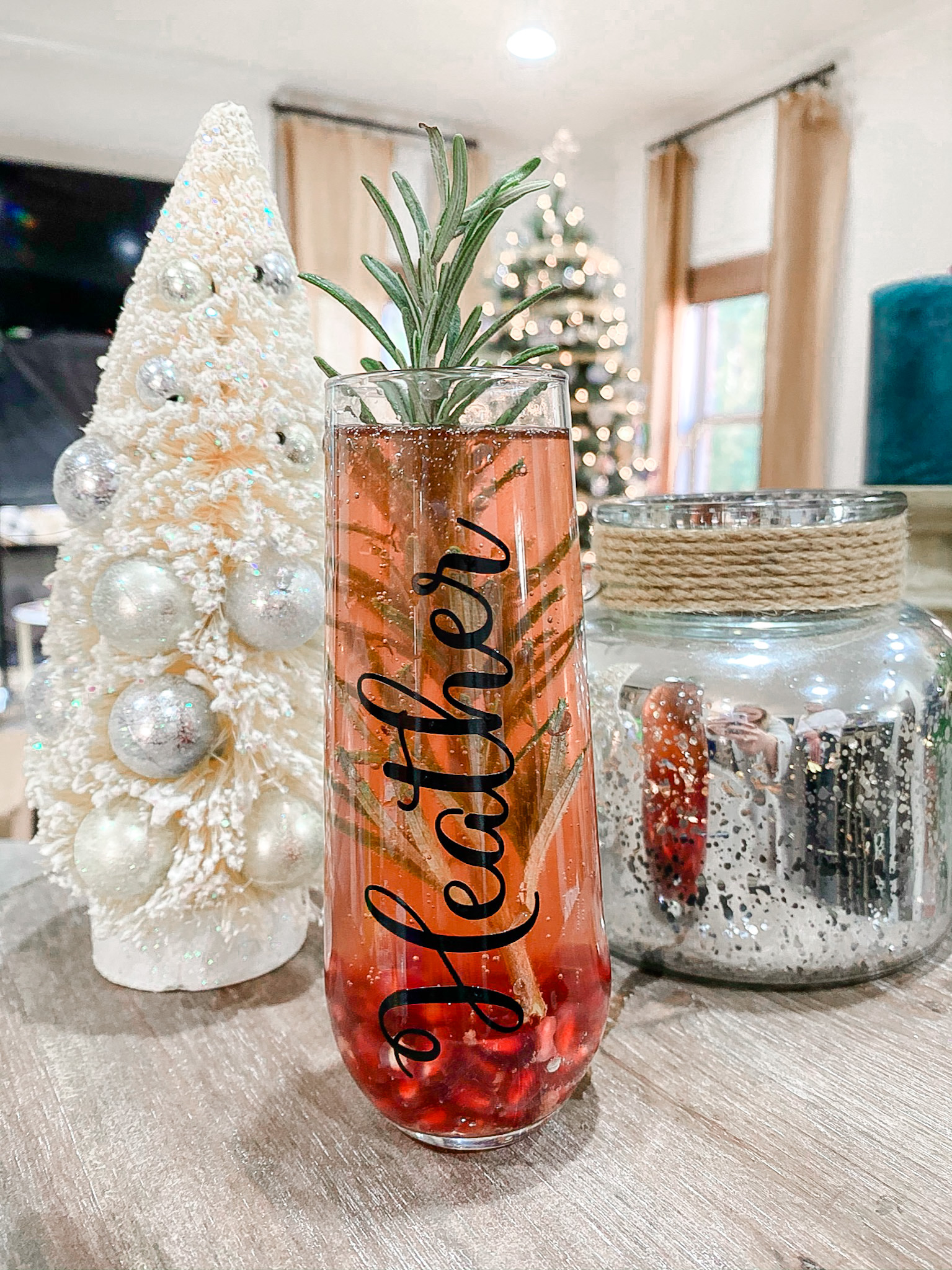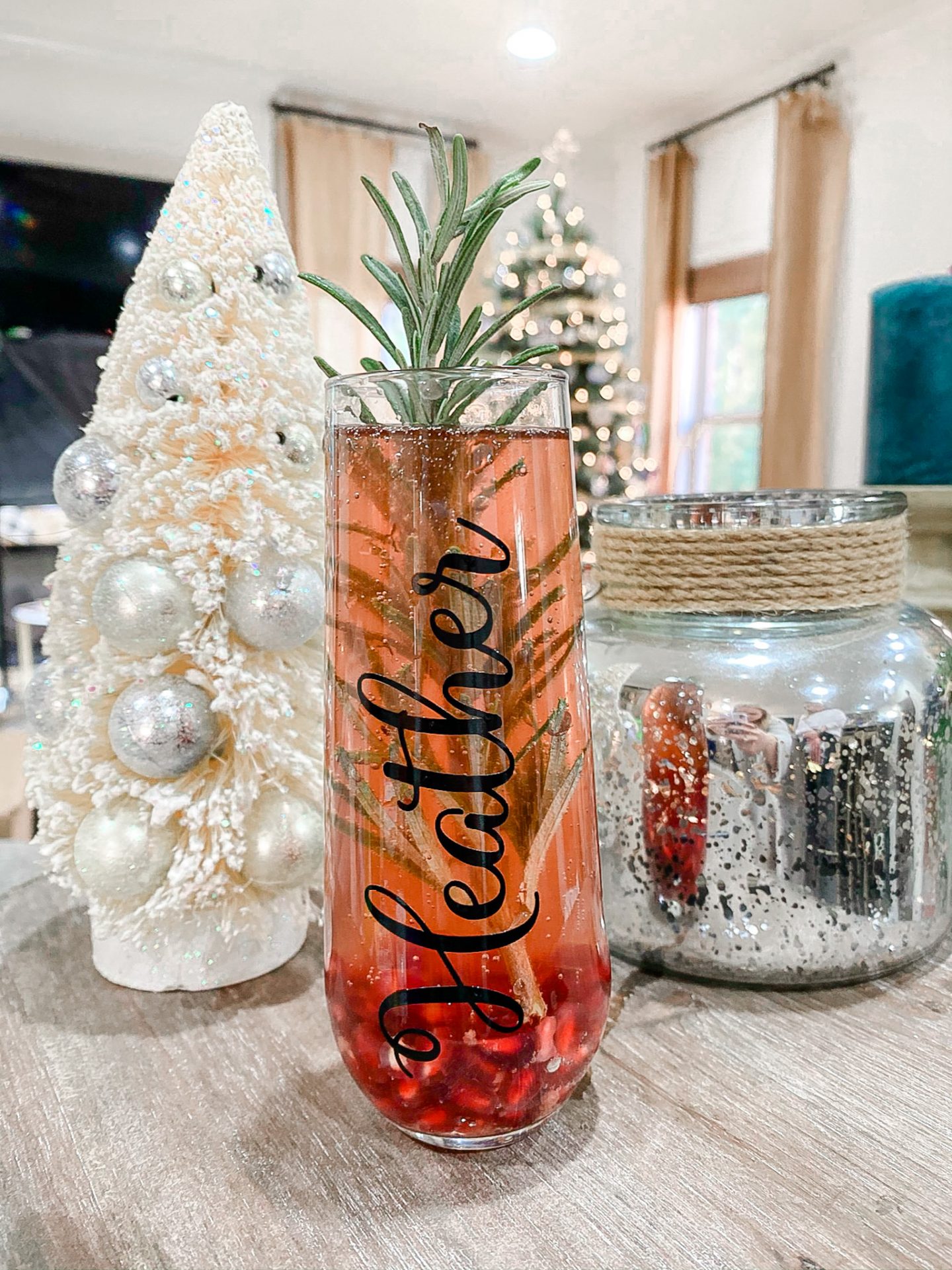 SHOP The Easy Holiday Cocktails Post HERE: Bottle Brush Tree // Capri Blue Candle // Champagne Glass
Eric and I love to entertain, especially around the holidays. I've been testing lots of fun recipes for y'all lately and I'm so excited to share them with you! Each of these recipes can be modified to fit your preferences, feel free to make them your own!
These recipes will be my go-to's for the holiday season. In addition to my favorite Hey Mama Wines (use code HEATB10 for 10% off) and Hot Ruby Cranberry Cider (use code HEATHER10 for 10% off + free shipping). Cheers, friends! I love using Blue Chair Bay Rum in my cocktail recipes, if you try their delicious flavors, make sure you snag the $8 mail in rebate HERE! And don't miss my guide to low calorie cocktails from this summer HERE!
How is your Christmas shopping going? Are you done yet? I certainly am not! If you need extra help getting your shopping done this year, make sure you click HERE and allow me to be your Elf In The Inbox! I'll send each of my curated gift guides right to your inbox! Looking for more gift ideas for the beer and wine lover in your life? Click HERE!
8 Easy Holiday Cocktails: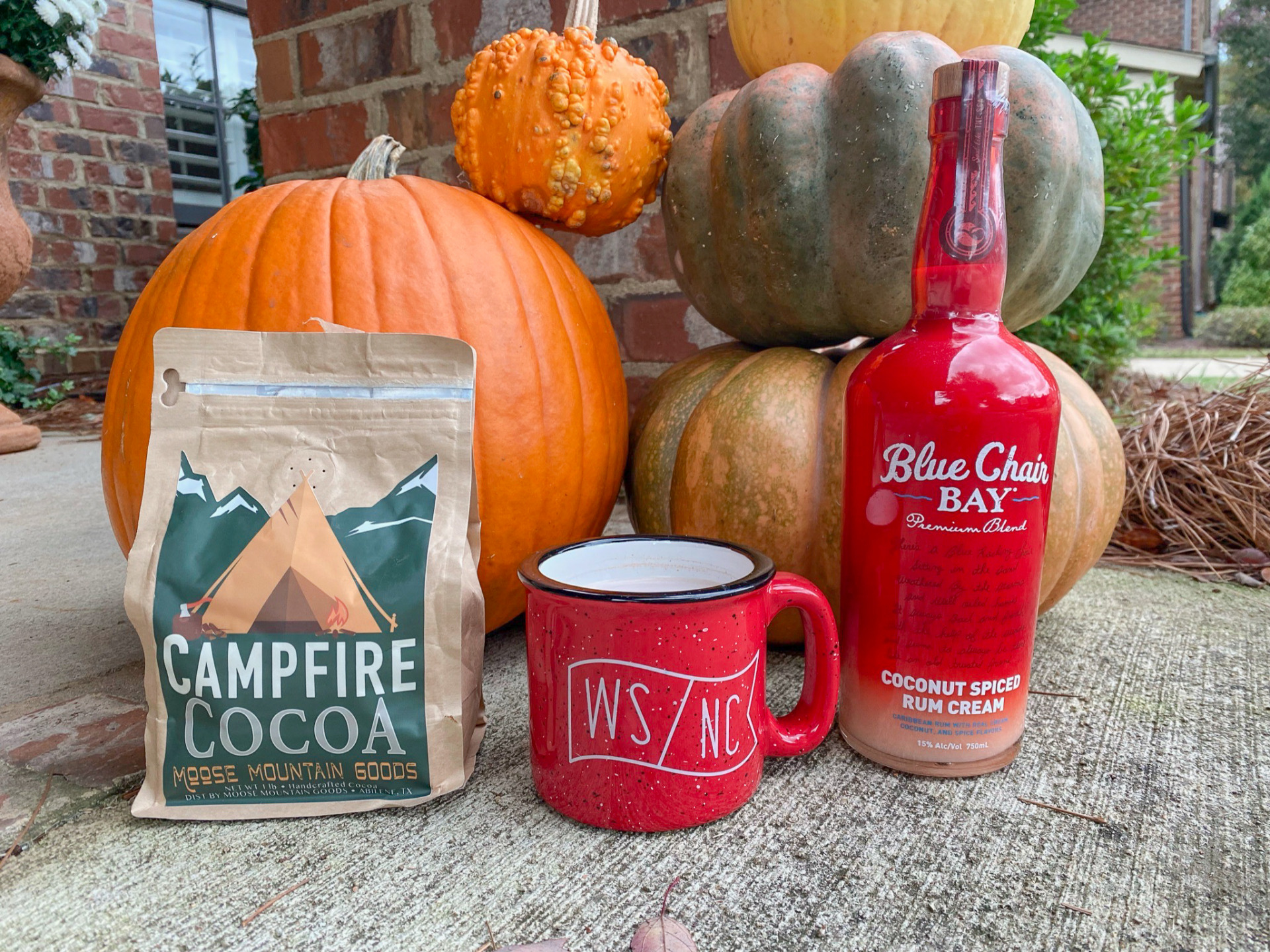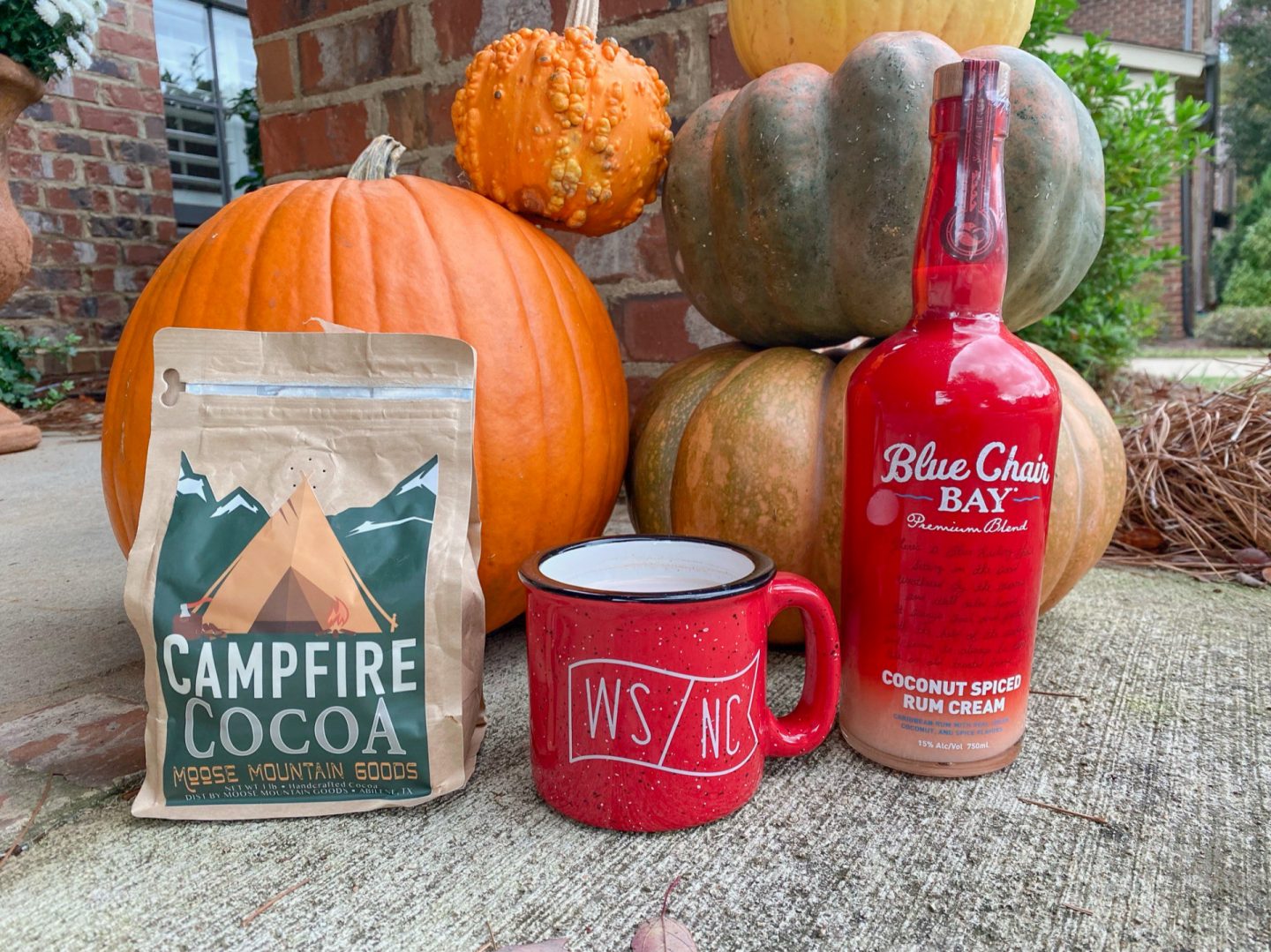 Boozy Hot Chocolate
1 Mug of Brewed Hot Chocolate
Directions
Brew a cup of your favorite hot chocolate
Add in your Coconut Spiced Rum Cream
Mix together and ENJOY!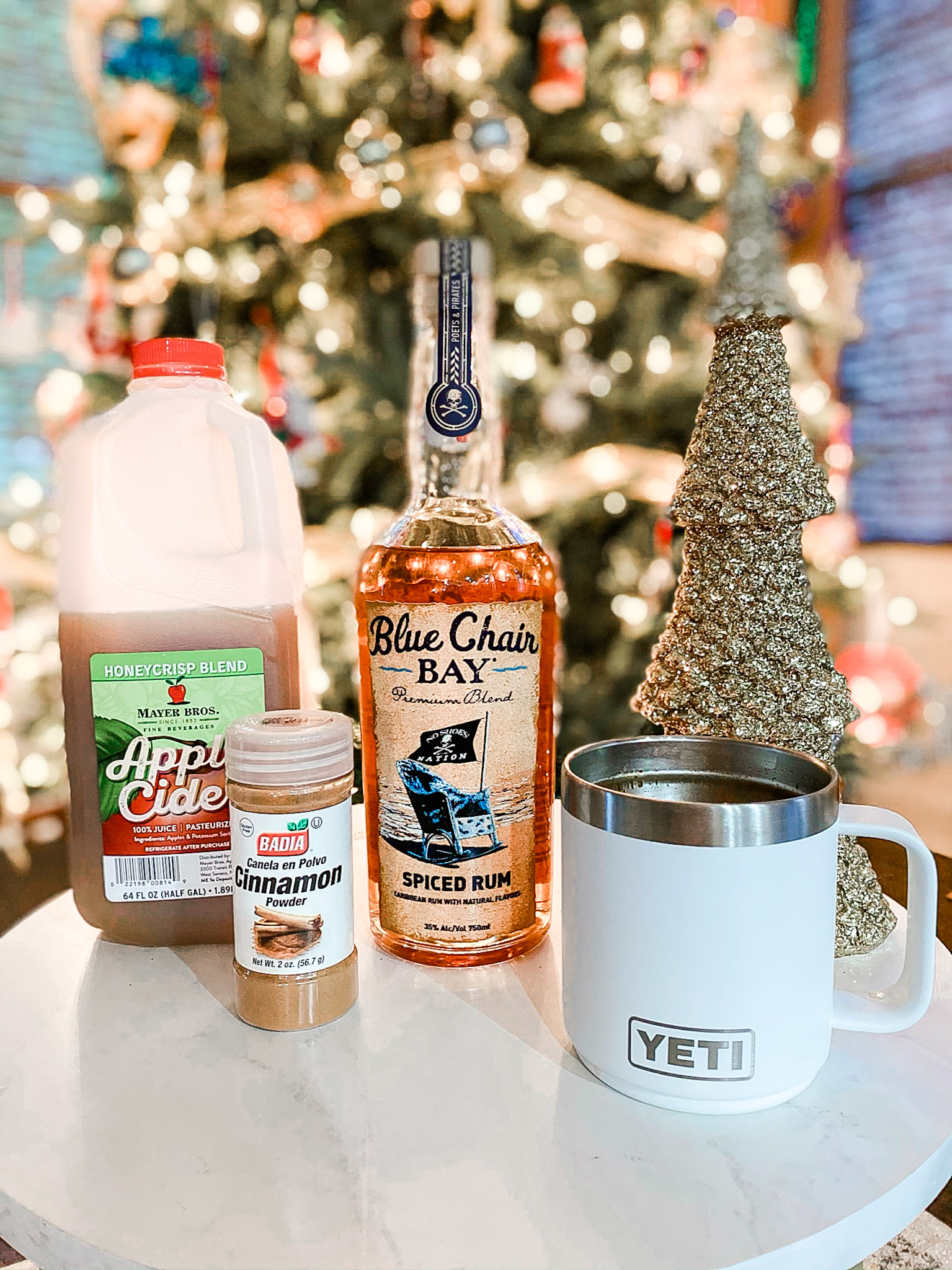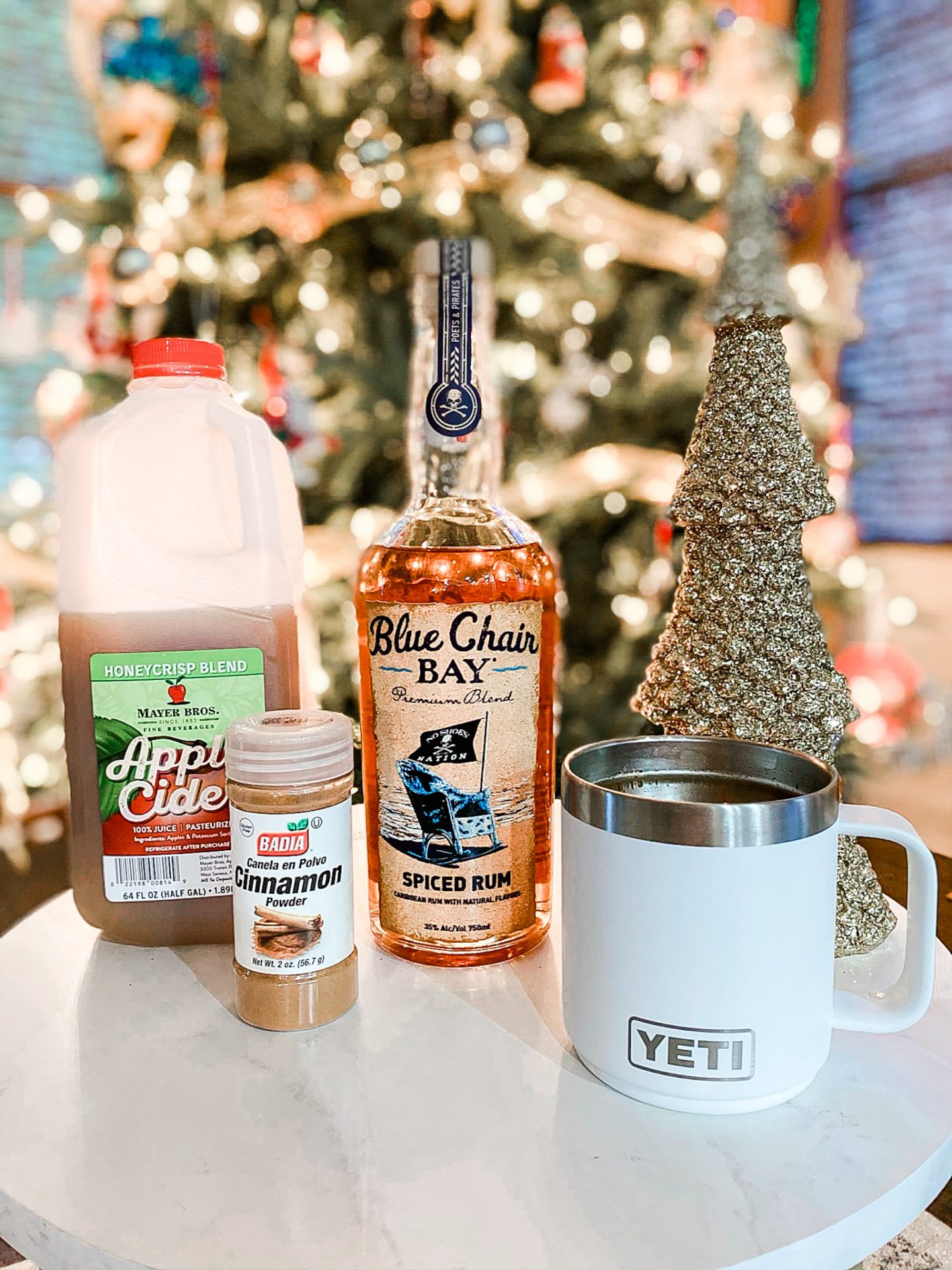 Yeti // Gold Tree // Cake Stand // Check out my Christmas Decor HERE
Spiked Spiced Apple Cider Recipe:
Directions:
In a shaker, combine all ingredients.
Shake vigorously.
Pour into a glass garnished with an apple slice and cinnamon stick.
*Please note some ciders will be sweeter than others. You may want to taste test them first to see if you need the simple syrup. I also like this in its most basic form… Heated cider + alcohol of choice if you want to keep it simpler!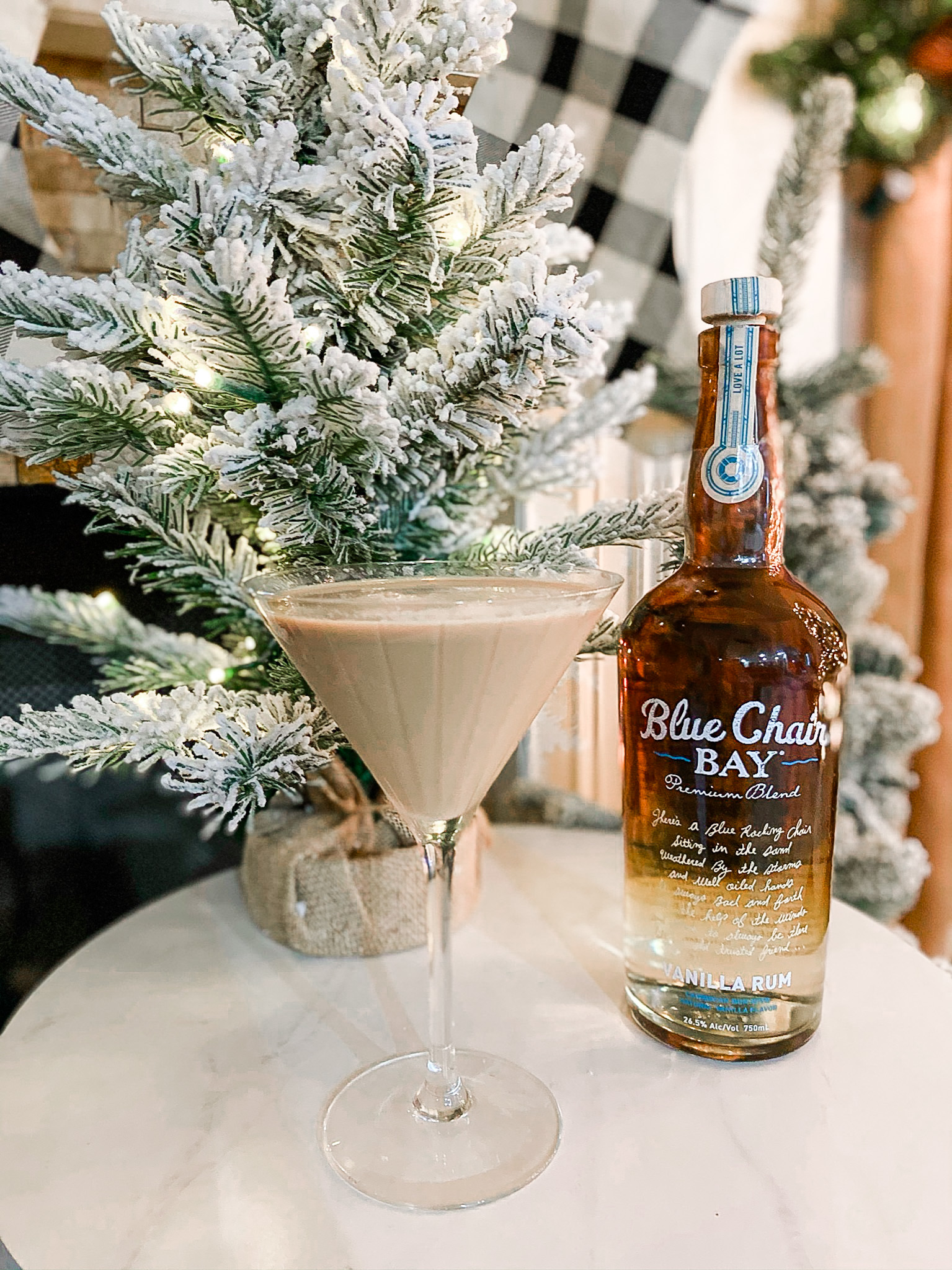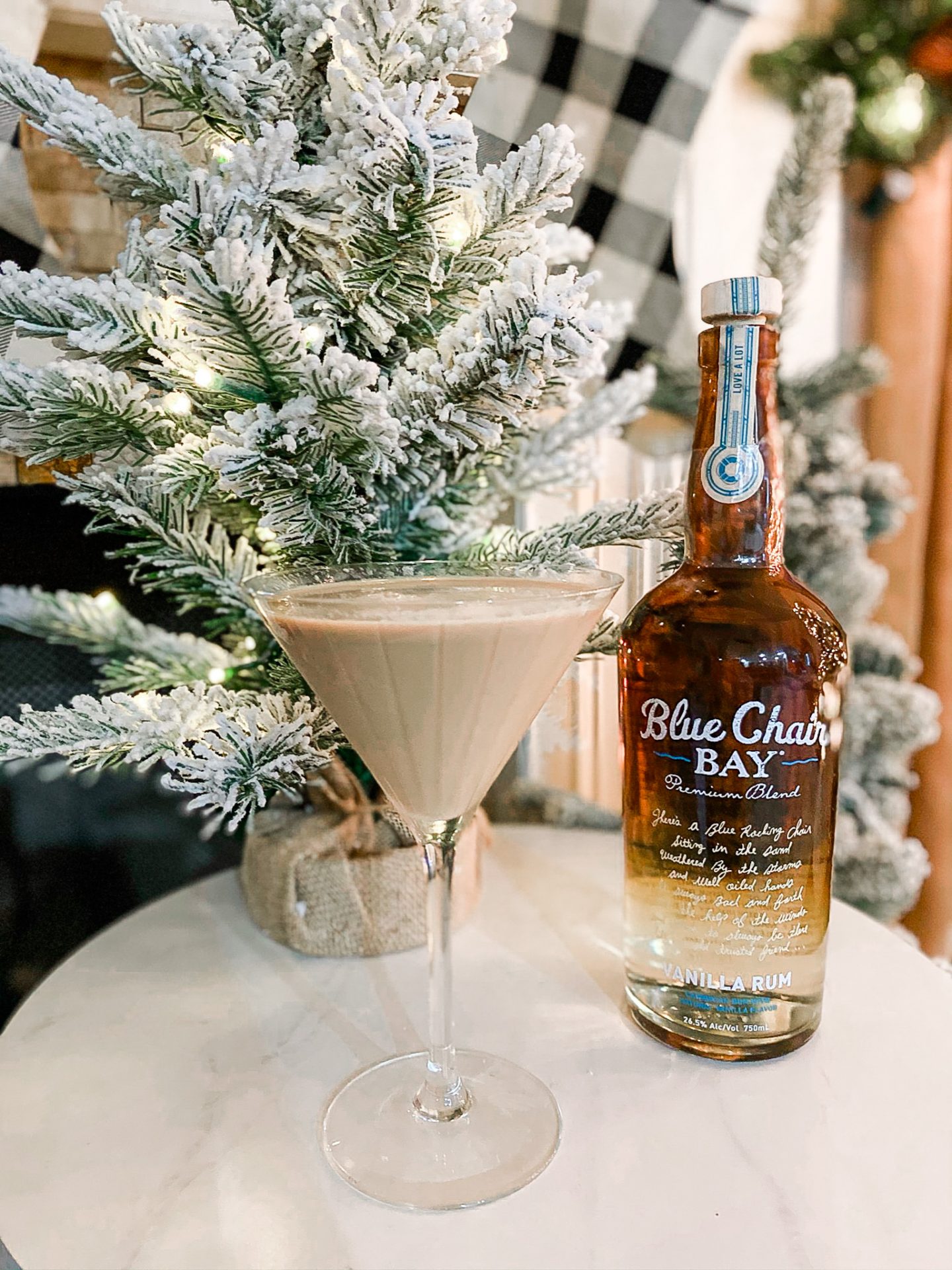 Tree // Stocking // Martini Glass // Cake Stand
Boston Cream Pie Martini Recipe:
Directions:
Shake over ice and serve in a martini glass rimmed with cocoa.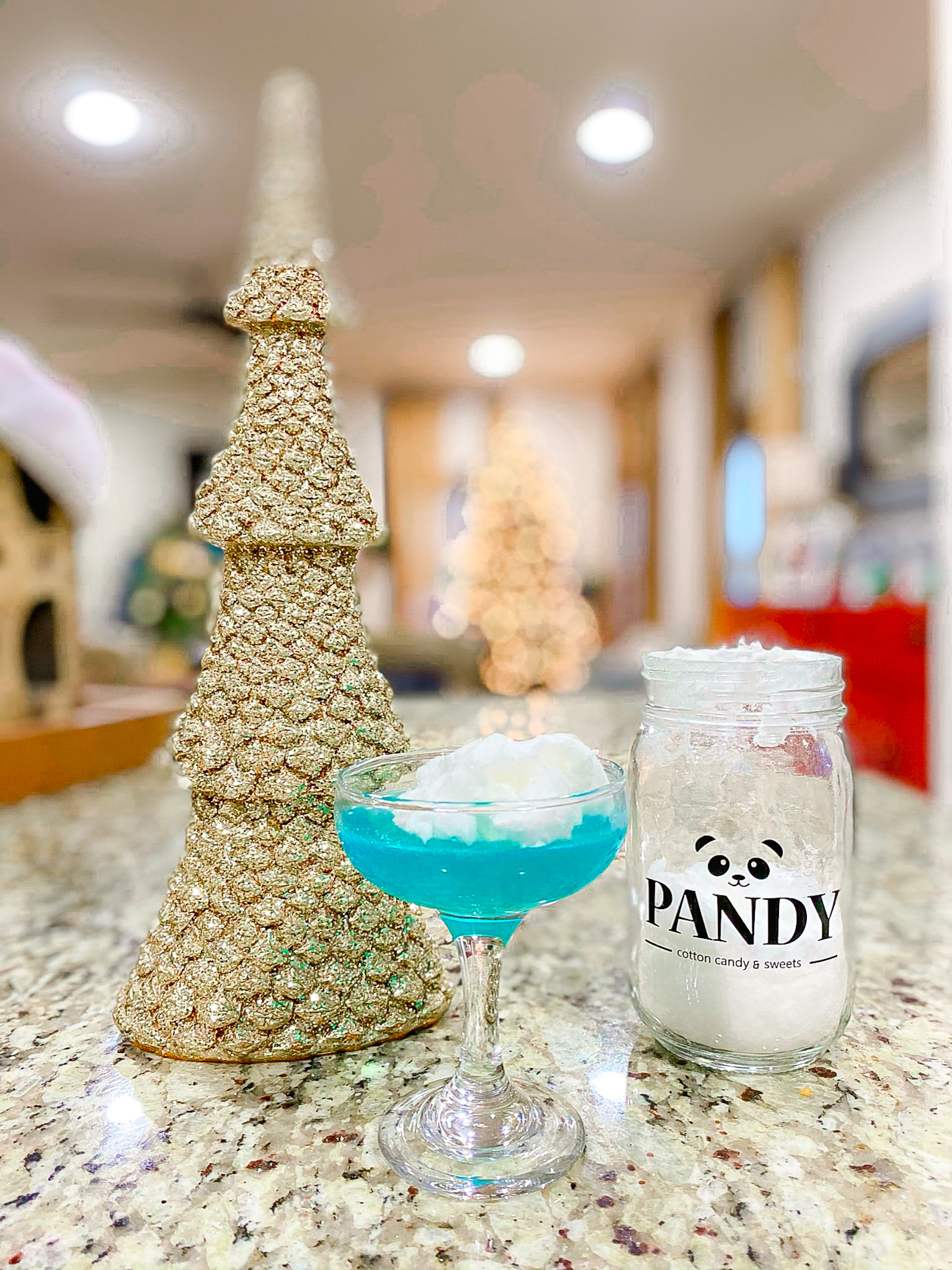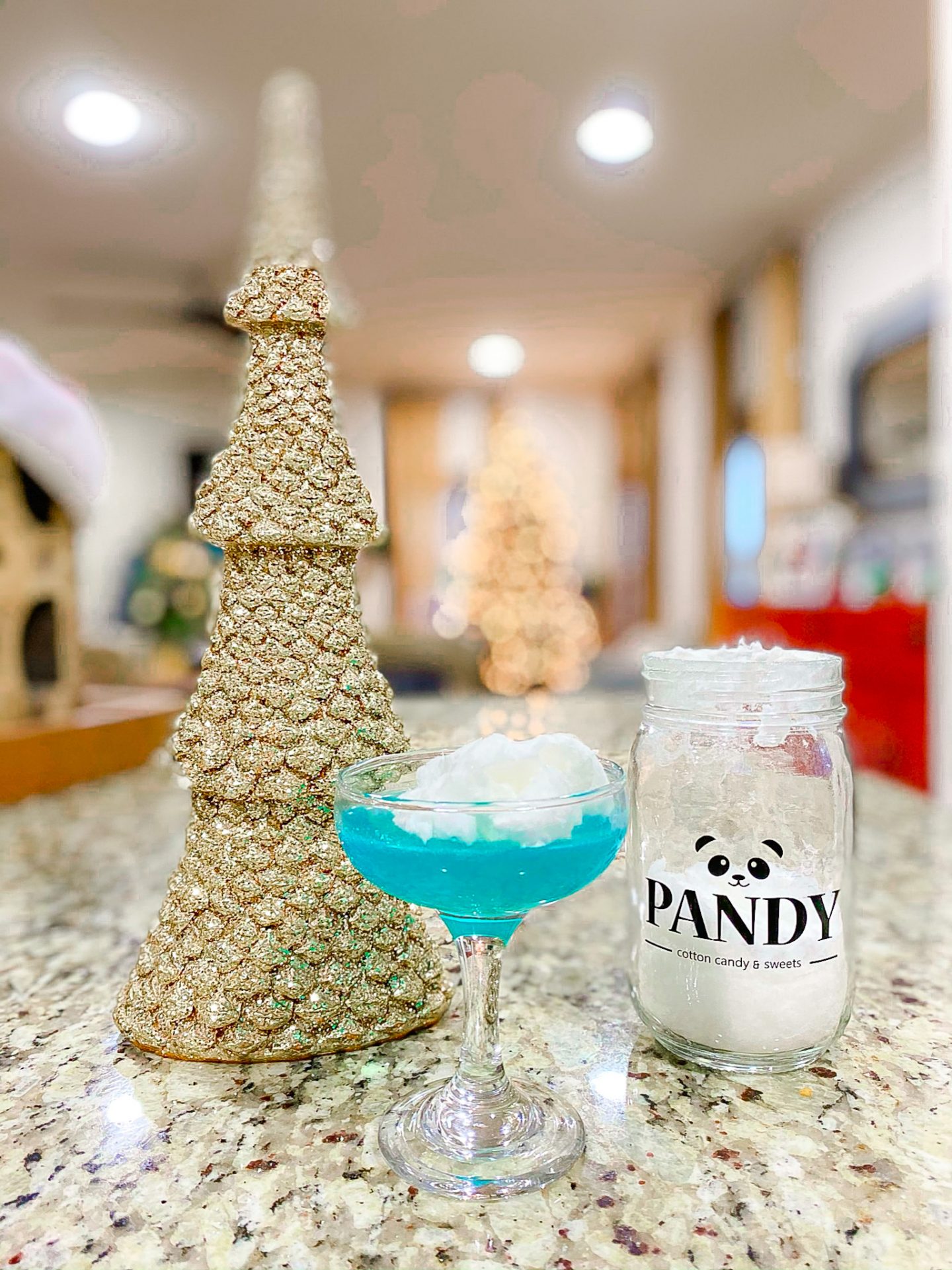 Pandy Daiquiri Recipe:
1.5 oz. Blue Chair Bay White Rum
0.5 oz. lime juice
0.75 oz. simple syrup
0.5 oz blue curaçao
Pandy cotton candy, for topping
Directions:
Add all ingredients to a cocktail shaker with ice cubes, shake well.
Strain into a coupe glass.
Top with Pandy cotton candy Blue Chair Bay coconut cotton candy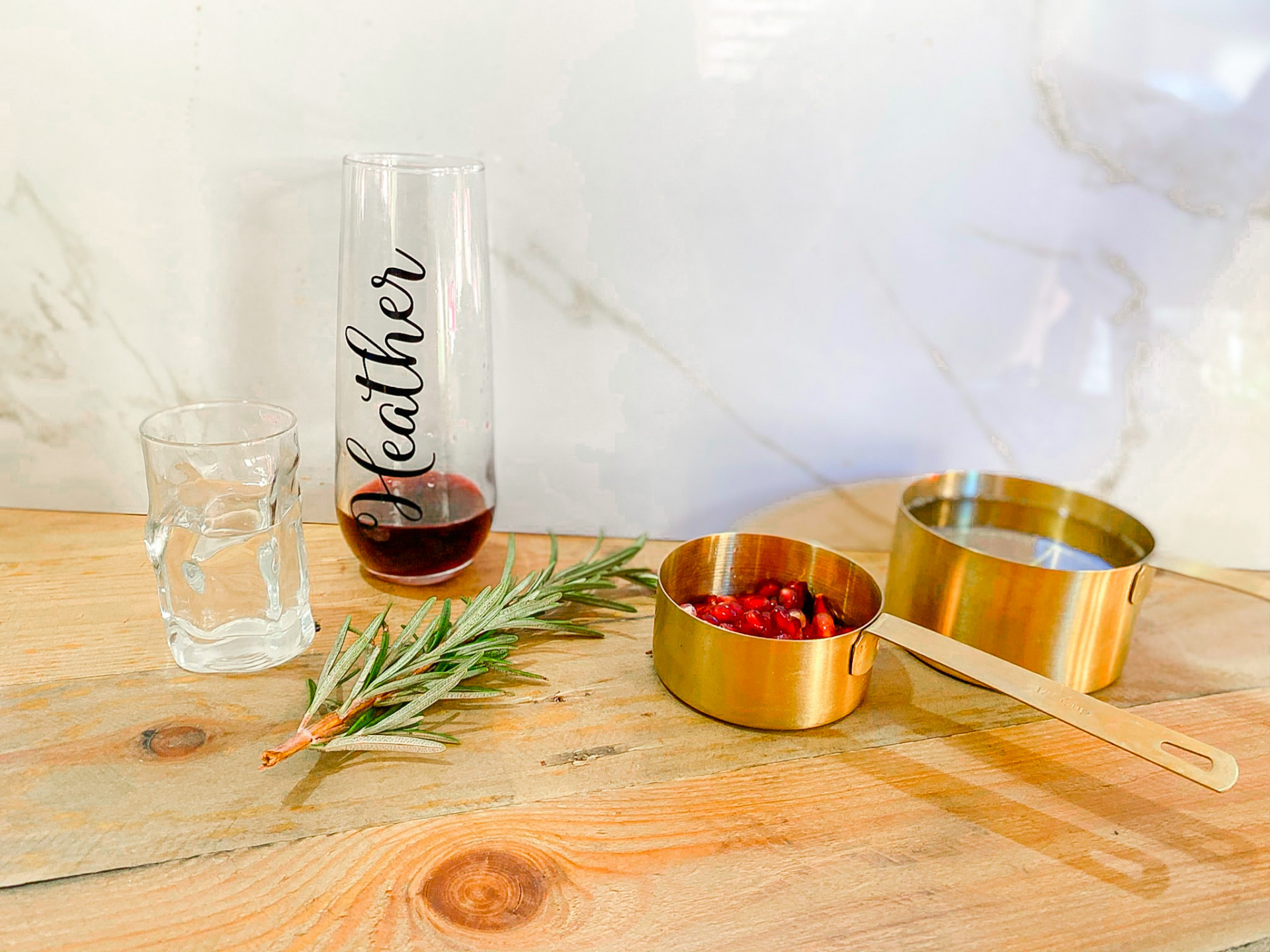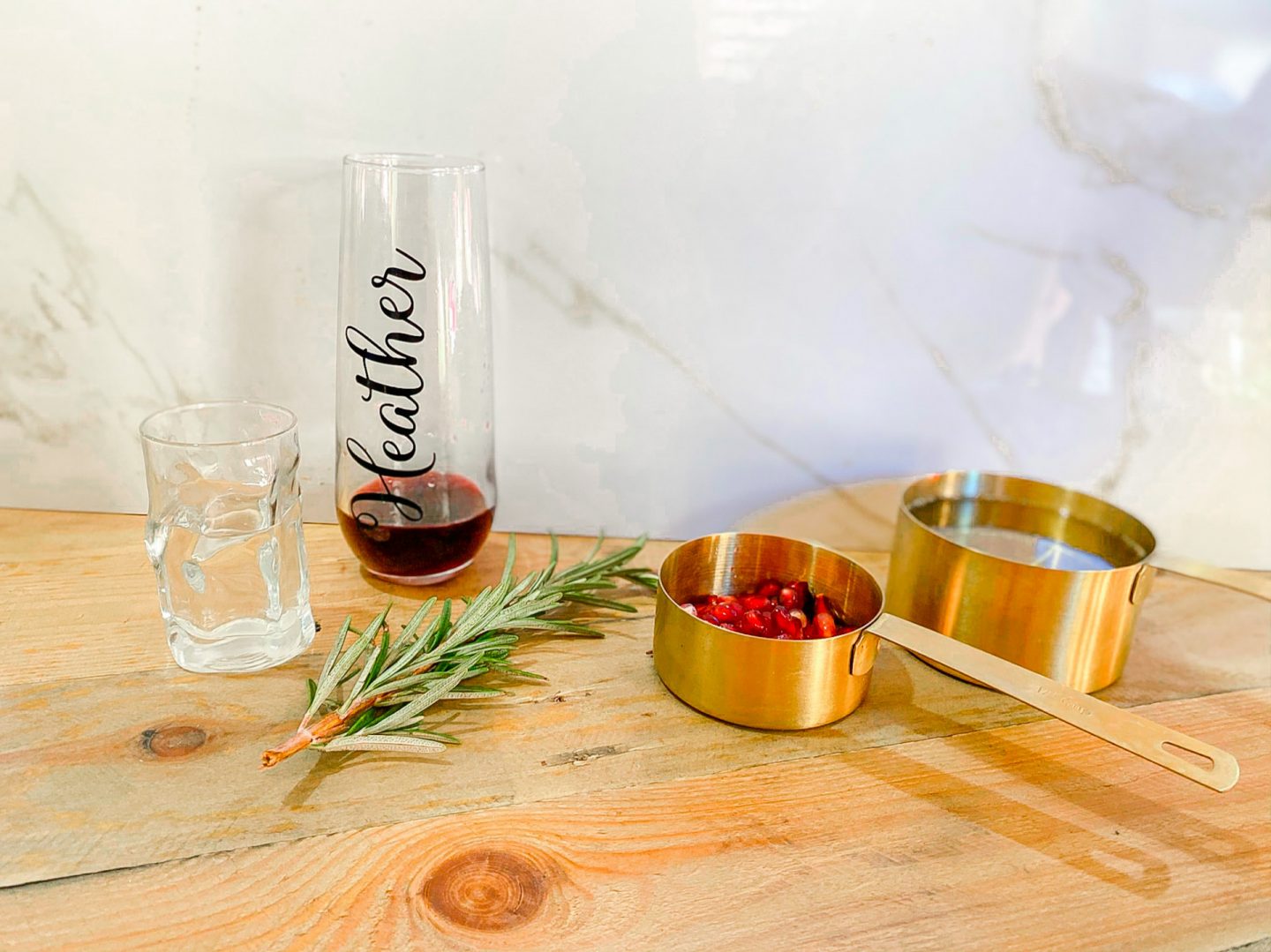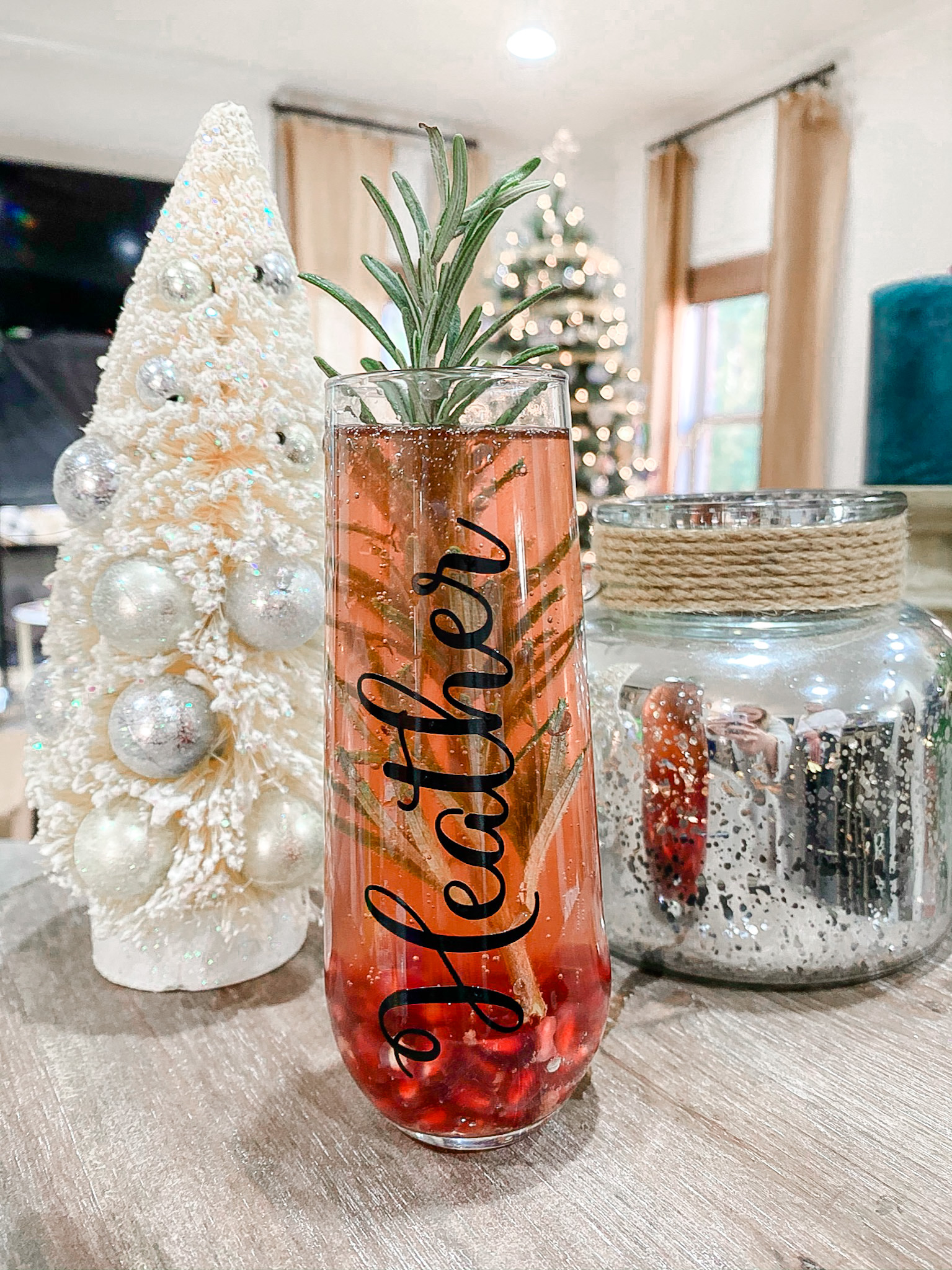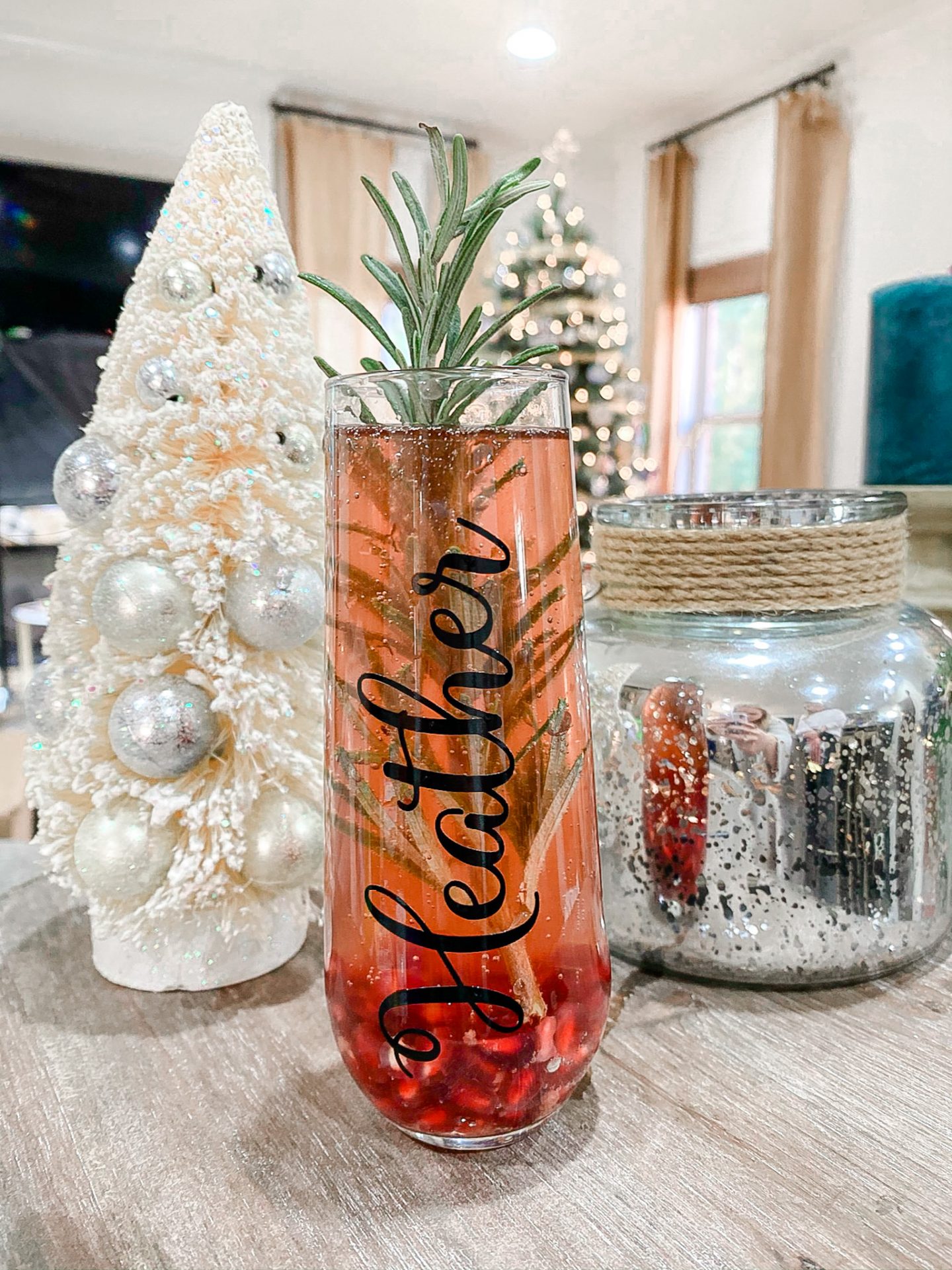 Gold Measuring Cups // Bottle Brush Tree // Capri Blue Candle // Champagne Glass
Sparkling Cranberry Recipe:
.5 oz. Blue Chair Bay Coconut Rum
2 oz. 100% pomegranate juice
2 oz. carbonated lemon lime soda or Prosecco
Fresh pomegranate seeds, for sprinkling
Fresh sprigs of rosemary, for garnish
Red sanding sugar, for rimming
Directions:
Rim cocktail glass with red sanding sugar.
Fill the glass with ice cubes and add the Blue Chair Bay Coconut Rum, pomegranate juice, and lemon-lime soda.
Gently mix cocktail. Garnish with pomegranate seeds and rosemary.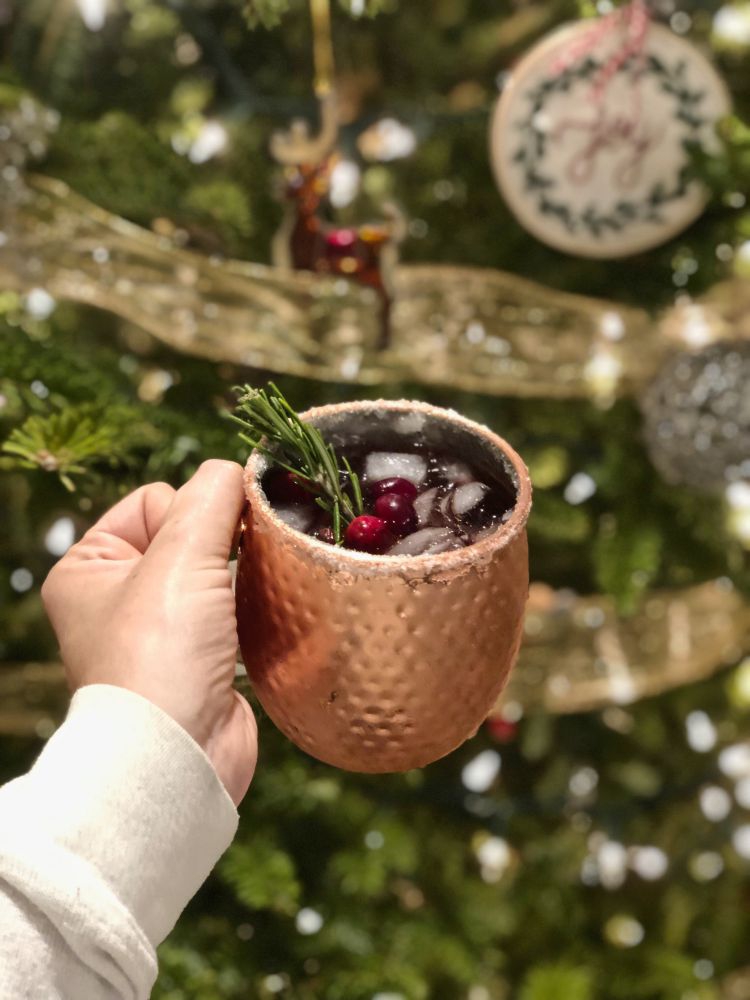 Eric's Infamous Classic Cranberry Moscow Mule Recipe:
1.5-2 oz gin or vodka of choice
6-8 oz ginger beer (non-alcoholic) I prefer Fever Tree.
Fresh squeeze lime juice
Splash of cranberry juice
Garnish with cranberries and rosemary
Directions:
For sugar encrusted rim, apply lime wedge around rim of glass. On flat surface spread sugar and dip rim of glass in jar.
Simply add gin or vodka, ginger beer, lime juice, splash of all-natural cranberry juice to cup or glass and garnish with cranberries and rosemary!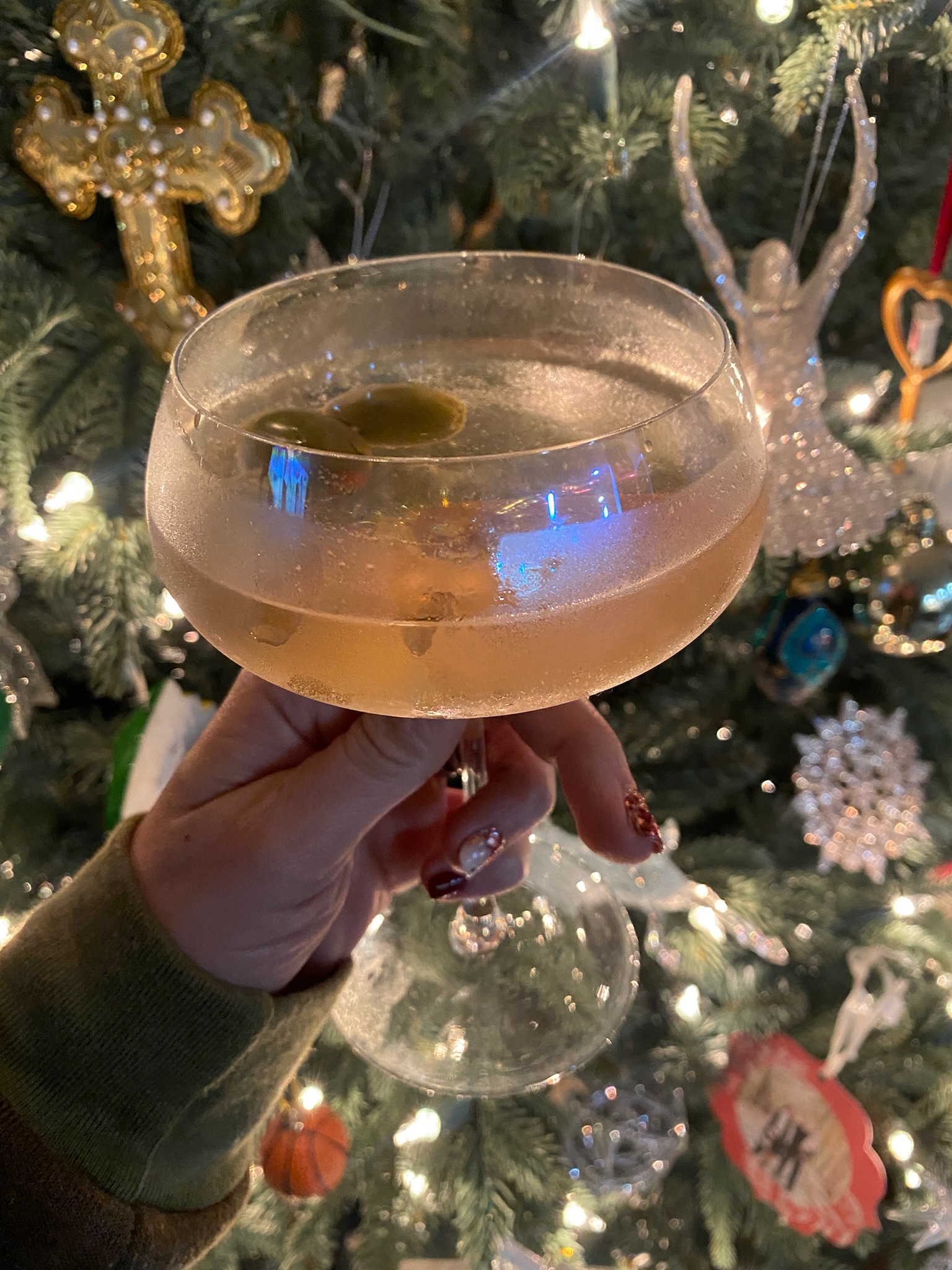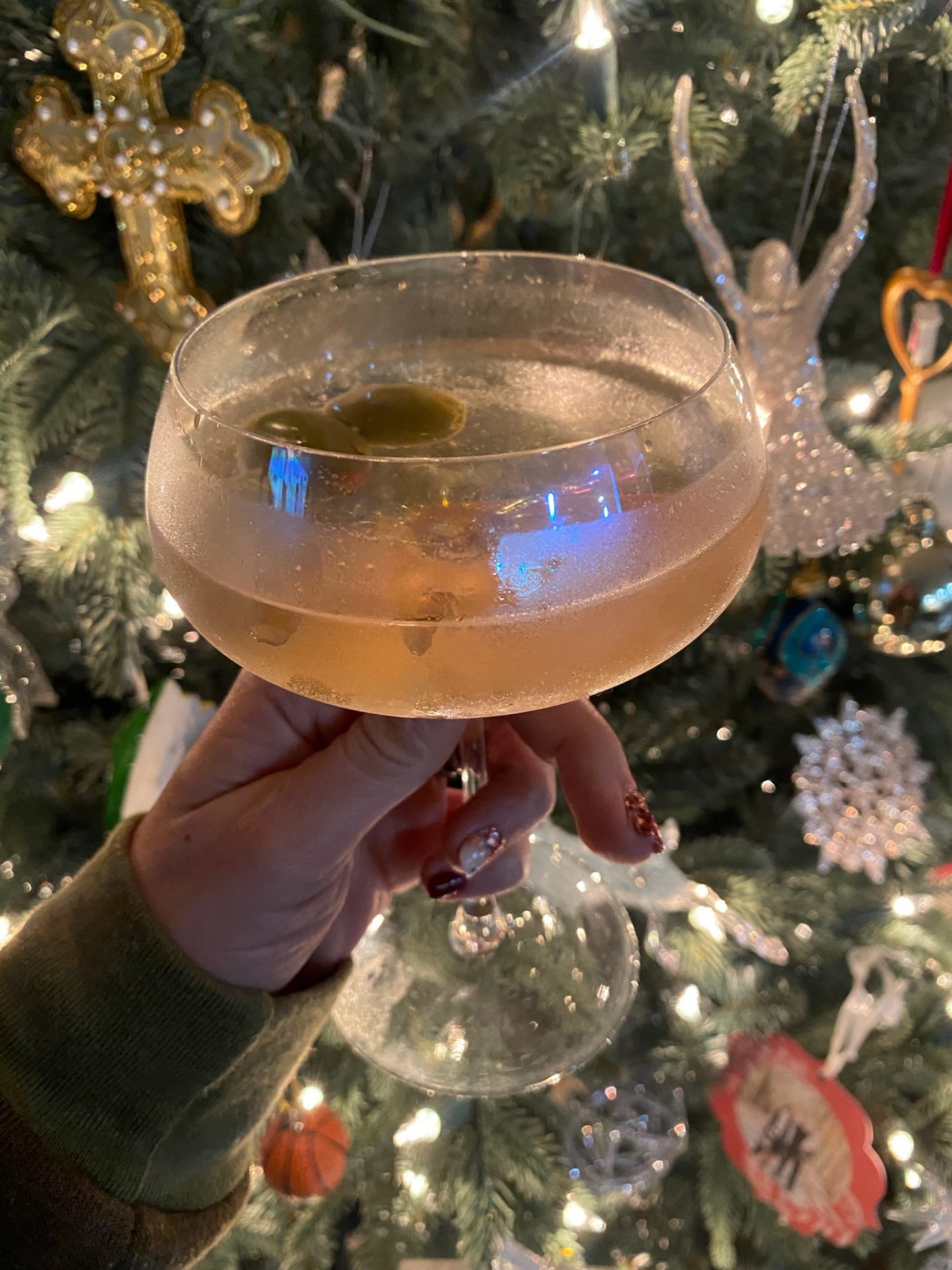 Extra Dirty Martini Recipe:
3 oz vodka
Dash of dry vermouth
1.5 oz olive juice
8-10 large ice cubes
Instructions:
Place ice in martini shaker.
Measure out vodka, vermouth and olive juice and pour into shaker.
Shake vigorously for 45 seconds to 1 minute.
Strain martini into glass.
Garnish with olives from Spain and toothpick.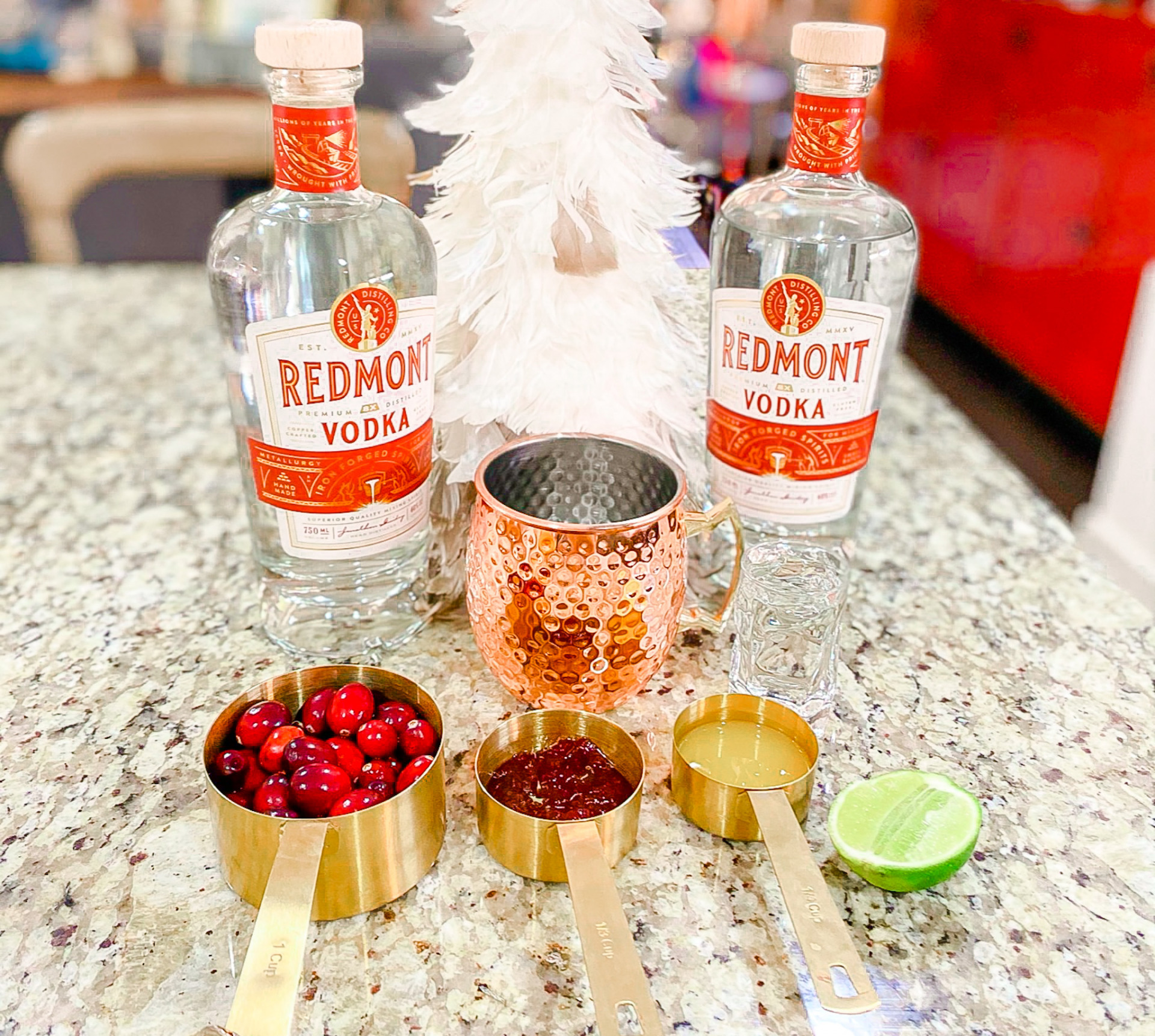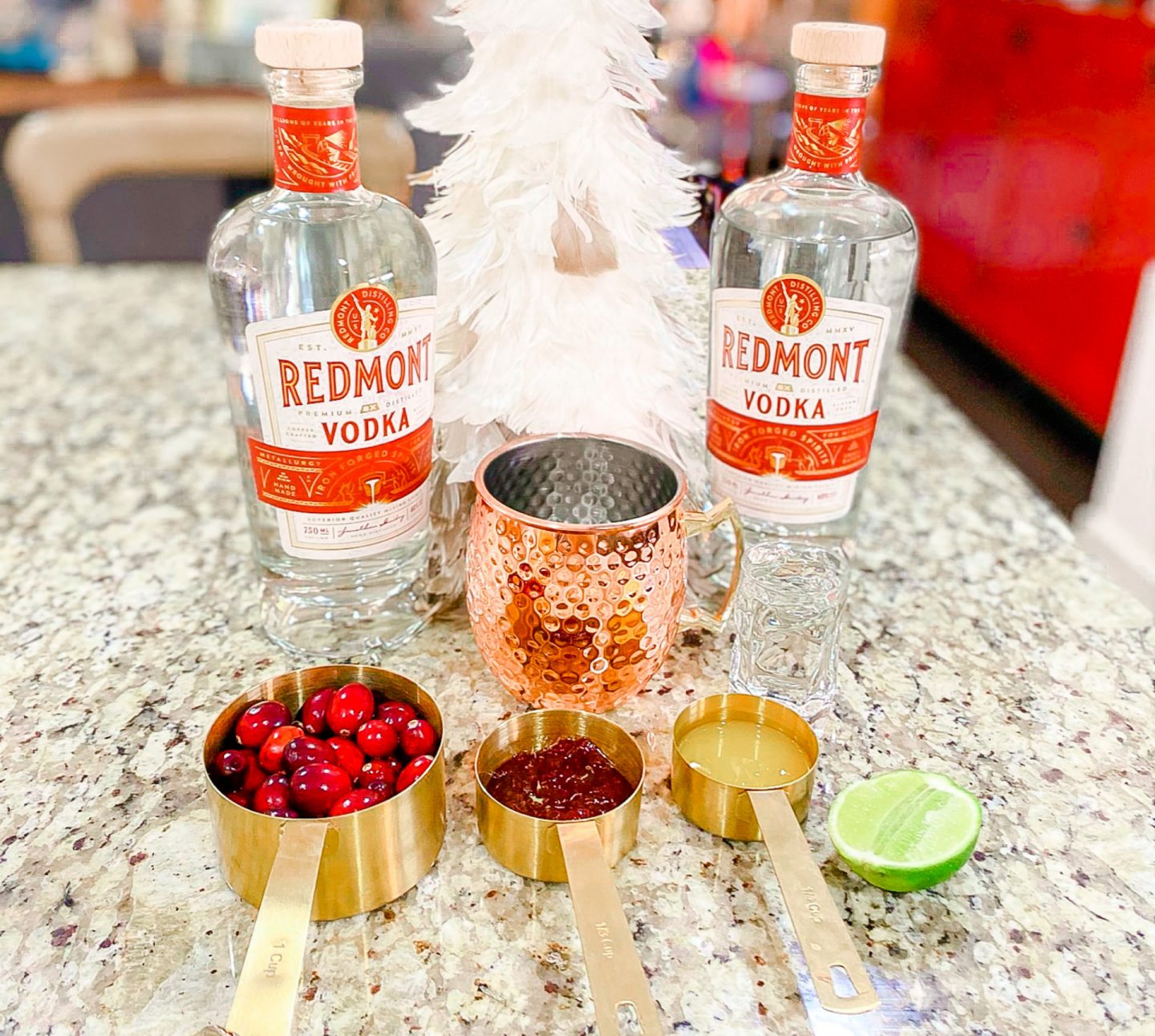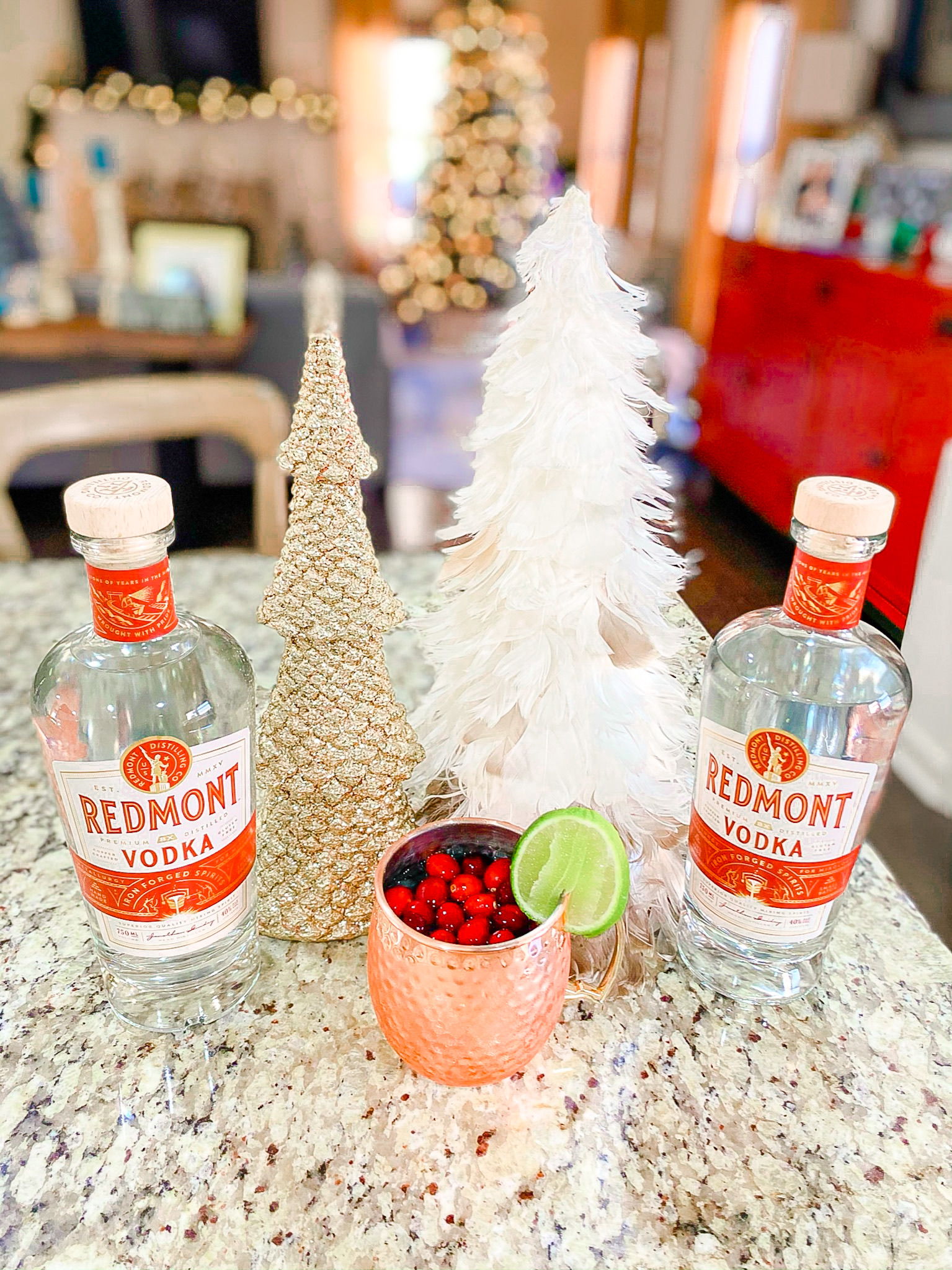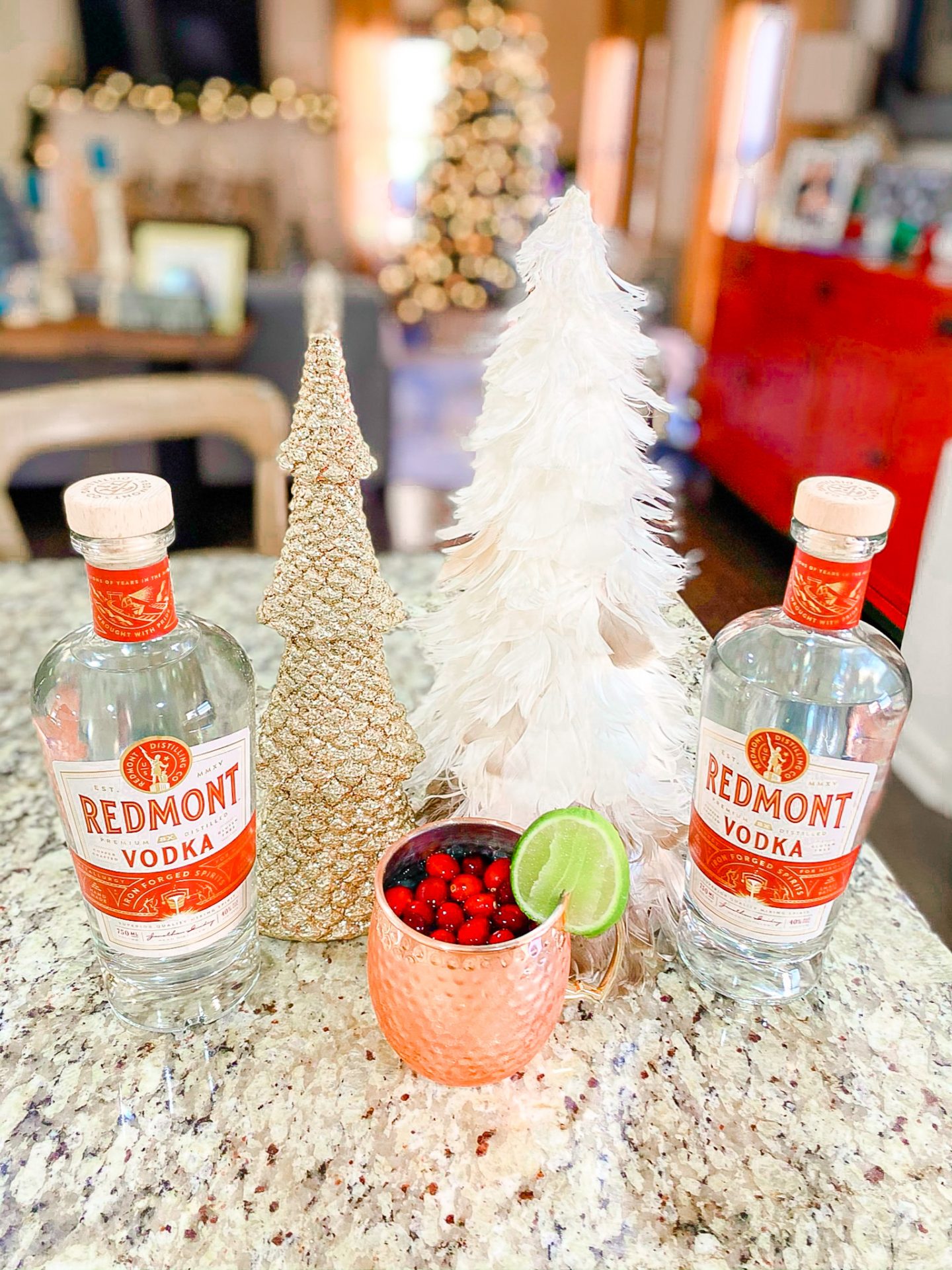 Mule Cups // White Tree // Gold Measuring Cups
Fancy Cranberry Moscow Mule Recipe:
Fever Tree Ginger Beer
Ice
Limes
Cranberry Jam
¾ cup fresh cranberries
¼ cup sugar
½ teaspoon grated orange zest
½ teaspoon grated lime zest
2 Tbsp fresh orange juice
Directions:
Cook your cranberry mixture together until it is the consistency of jam.
Fill a copper mug with ice. Pour in 2 shots of Redmont Distilling Vodka.
Pour in ginger beer until the mug is about ¾ full.
Squeeze half of a lime and add lime juice to mug.
Zest half of the lime and stir in drink.
Take a dollop (about 1 Tbsp) of cranberry mixture and stir in mug all together.
* Wanna fall in love with this original recipe paired down a bit? Our neighbors ask for Eric to make this Cranberry Moscow Mule for them each year!
SHOP The Easy Holiday Cocktails Post HERE:

Check Out More Holiday Recipes HERE:
PIN The Post For Later!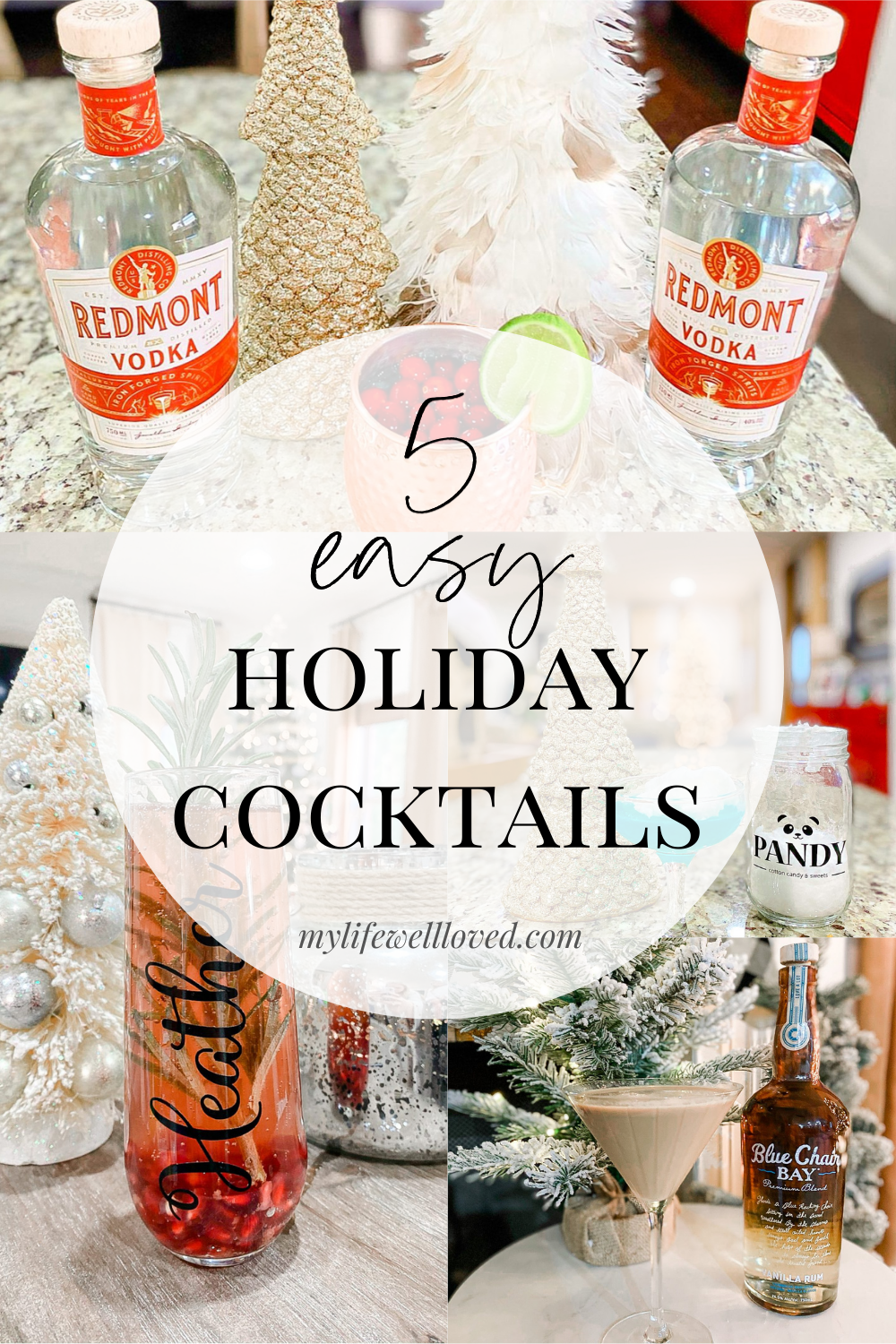 Heather Brown helps busy mamas of young littles who are caught in the hustle to find encouragement in their journey to true health, from the inside out, starting with the heart. Read her journey of learning to live a life well-loved
HERE!