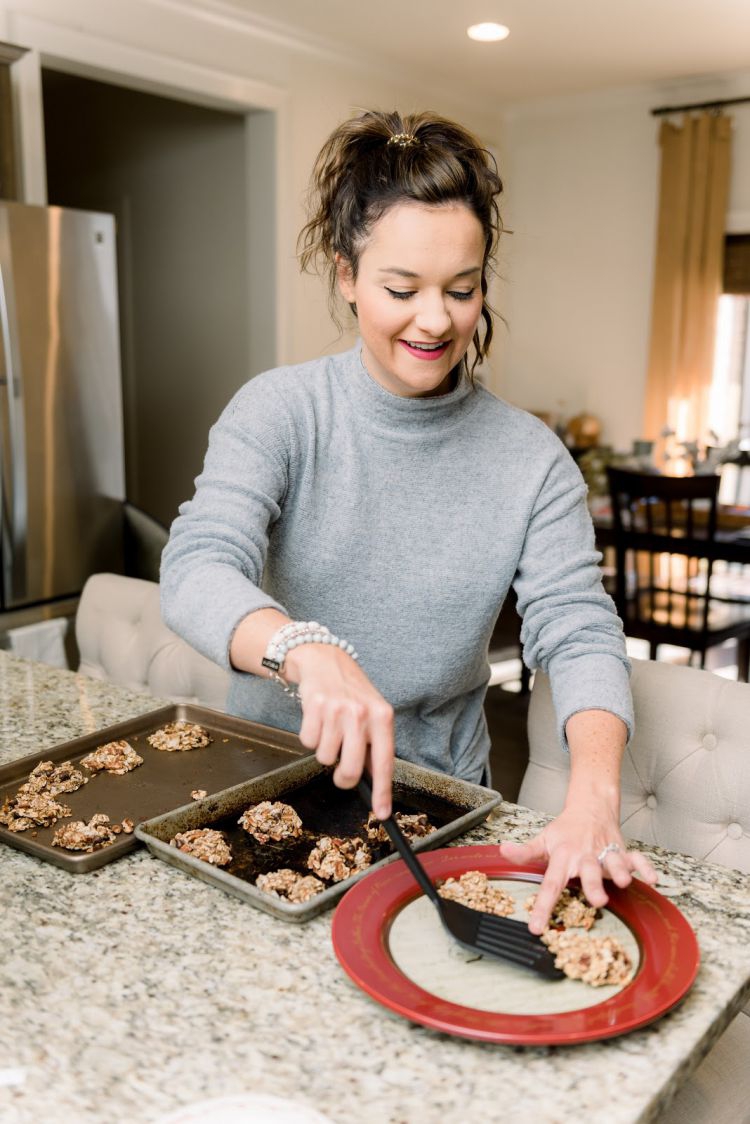 Thank you to Publix delivery, Powered by Instacart, for partnering with me on this post! If you are looking to try out Publix delivery,  Powered by Instacart, I have exciting news!! You can get $10 off your first order of $35 or more, and your first delivery fee waived with code WellLoved10.

If you love a good healthy cookie, this oatmeal-based recipe will surely hit the spot for you! Cinnamon, vanilla, chocolate, oh my! These are quite tasty, without the feelings of guilt that come with sweet treat indulgences. With our health and fitness challenge in full swing this holiday season, I have been on the hunt for a lighter cookie recipe to enjoy throughout the holidays, especially for Santa 😉
I would love to be able to say I can do it all this Christmas season, but reality is there are not enough hours in the day. Between taking care of the boys, working, taking Pure Barre classes, and meeting with my trainer, I find that the hours slip away really fast. Even picking out our Christmas tree had to be put on hold because of our crazy schedules! I want to be able to make special Christmas memories with Leyton and Finn, and sometimes the only way we have time to fit in those moments are with convenient services like Publix delivery, Powered by Instacart.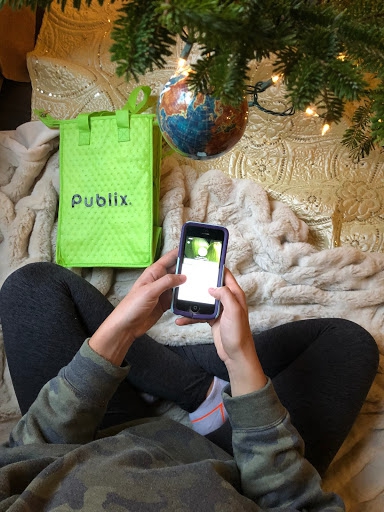 As we were traveling back from Tampa after Thanksgiving, I knew I would be away again within a few days for a business trip and wanted to make the most of the 2 days with Leyton and Finn! While I was at the airport, I downloaded the Publix Delivery app to save that time spent at the grocery store! The groceries were delivered straight to my front door, which saved me the hassle of taking the boys to the store and unloading in and out of the car. It  gave me time to spend at home unpacking from Tampa!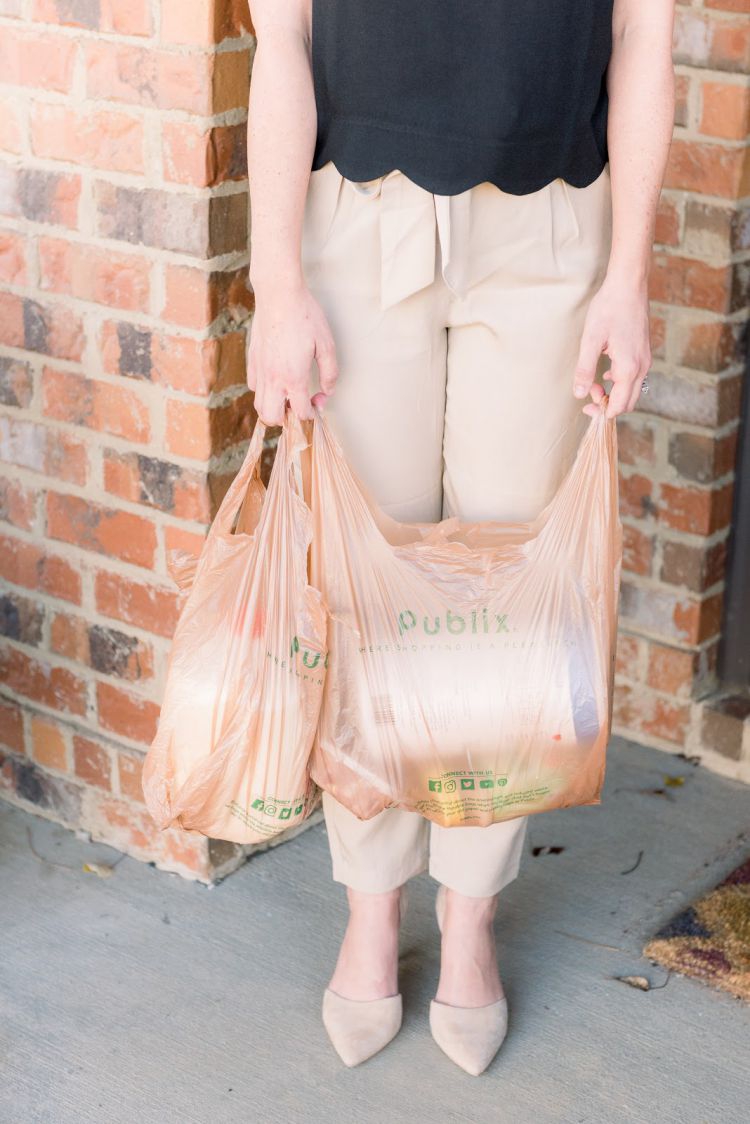 The delivery included all the ingredients I had chosen on the Publix Delivery app to make these lightened-up cookies. There was 1 ingredient unavailable, and my delivery person checked with me about a substitution. This personal shopping experience truly is every mama's dream come true!
If you too are feeling the weight of the busyness this time of year, I encourage you to take a step back and focus on what is most important. Instead of trying to do ALL the things, pick out a few fun activities that will be special for you and your husband and/or kids. Our kids won't remember if every sugar cookie was made from scratch or if you crossed off every item on your to-do list. What they will remember is the time spent together!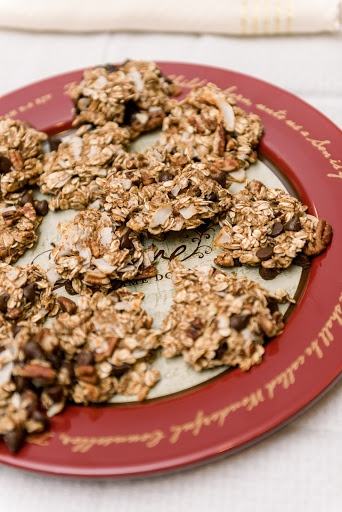 If you are looking to try out Publix delivery,  Powered by Instacart, I have exciting news!! You can get $10 off your first order of $35 or more, and your first delivery fee waived with code WellLoved10 🙂 The promo code expires 1/31/19, so be sure to use while you can!
Now on to these cookies… I love that they have oatmeal in them for boosting my milk supply while I am nursing Finn. Right now I am trying to add oatmeal wherever I can to give me an extra boost! If you haven't checked out my Lactation Cookie Recipe, click here! This lightened-up cookie recipe is very customizable and easy to substitute and swap different ingredients. As you see below, I made them with coconut flakes and pecans, but you could easily use walnuts, almonds, or omit nuts if you prefer. I had regular chocolate chips on hand but if you wanted to make them dairy free, you could choose the dairy-free chocolate chips as an alternative.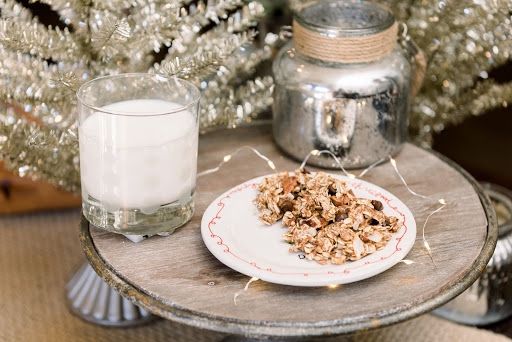 I think these cookies would be great to take for a Christmas cookie exchange party, or to make for Santa on Christmas Eve, gift a new nursing mama, or simply to have on hand to enjoy with your kids after dinner!

Lightened Up Cookies for Santa
Ingredients
1½ cups oats*
2 teaspoons cinnamon
½ teaspoon salt
1 large banana, mashed
½ cup unsweetened applesauce**
1 teaspoon vanilla
⅓ cup chopped pecans
⅓ cup shredded coconut
⅓ cup semi-sweet or dairy-free chocolate chips
melted chocolate for drizzling, optional
Instructions
Preheat oven to 350 degrees.
Line a baking sheet with parchment paper, or spray with non-stick cooking spray. Set aside.
In a large bowl, combine oats, cinnamon, and salt.
Add mashed banana, applesauce, and vanilla, and stir to combine.
Stir in remaining ingredients until combined.
Drop by spoonfuls onto prepared baking sheet.
Press down each cookie gently with back of greased spoon or oiled hands to flatten.
Bake 12-14 minutes, or until firm and golden brown.
Drizzle with melted chocolate if using.
Let cook 5 minutes before removing from baking sheet.
Looking for more cookie recipes? Try out some of my other favorites:
What is your your best time-saving hack for the holidays? What is your favorite cookie for Santa? I would love to hear in the comments below!
Pin The Lightened Up Cookies For Santa Post For Later!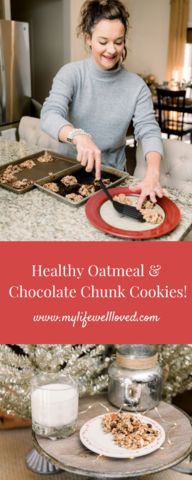 Heather Brown helps busy mamas of young littles who are caught in the hustle to find encouragement in their journey to true health, from the inside out, starting with the heart. Read her journey of learning to live a life well-loved
HERE!