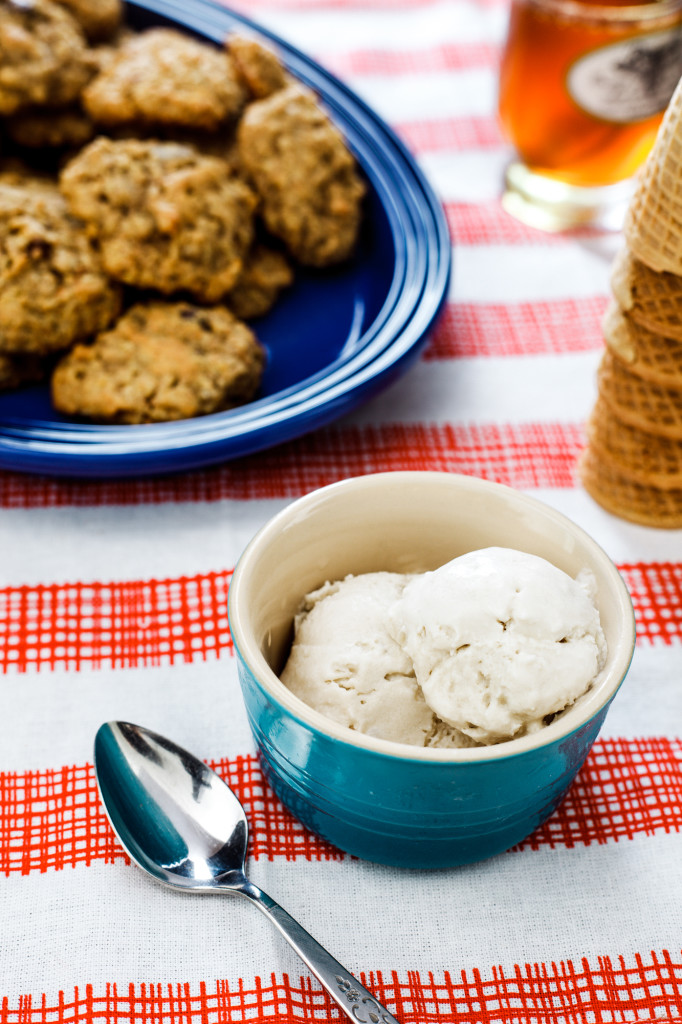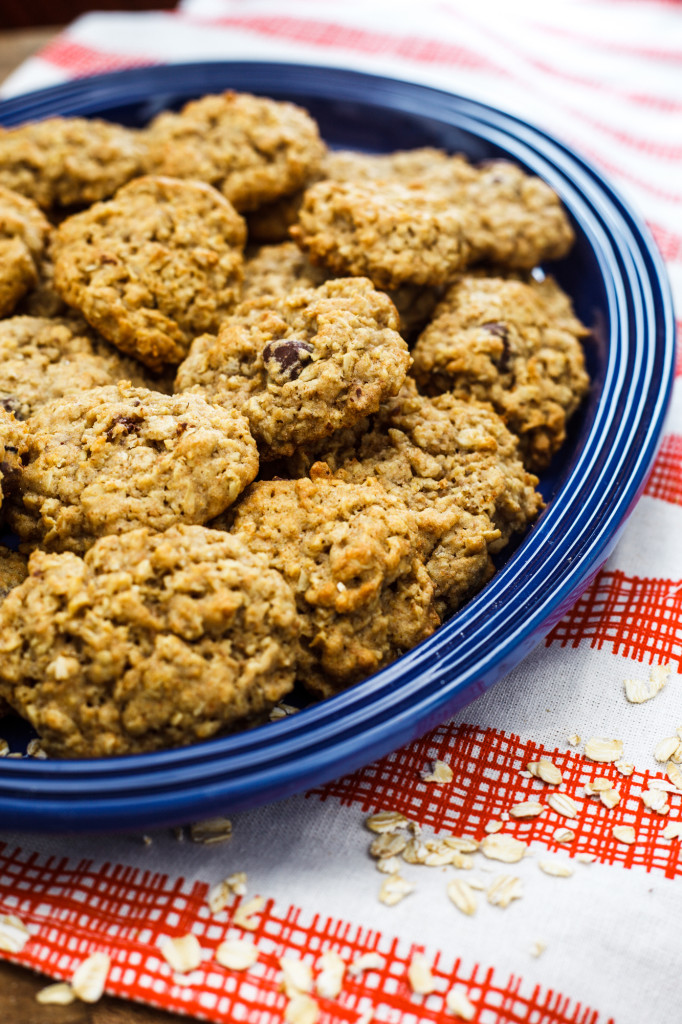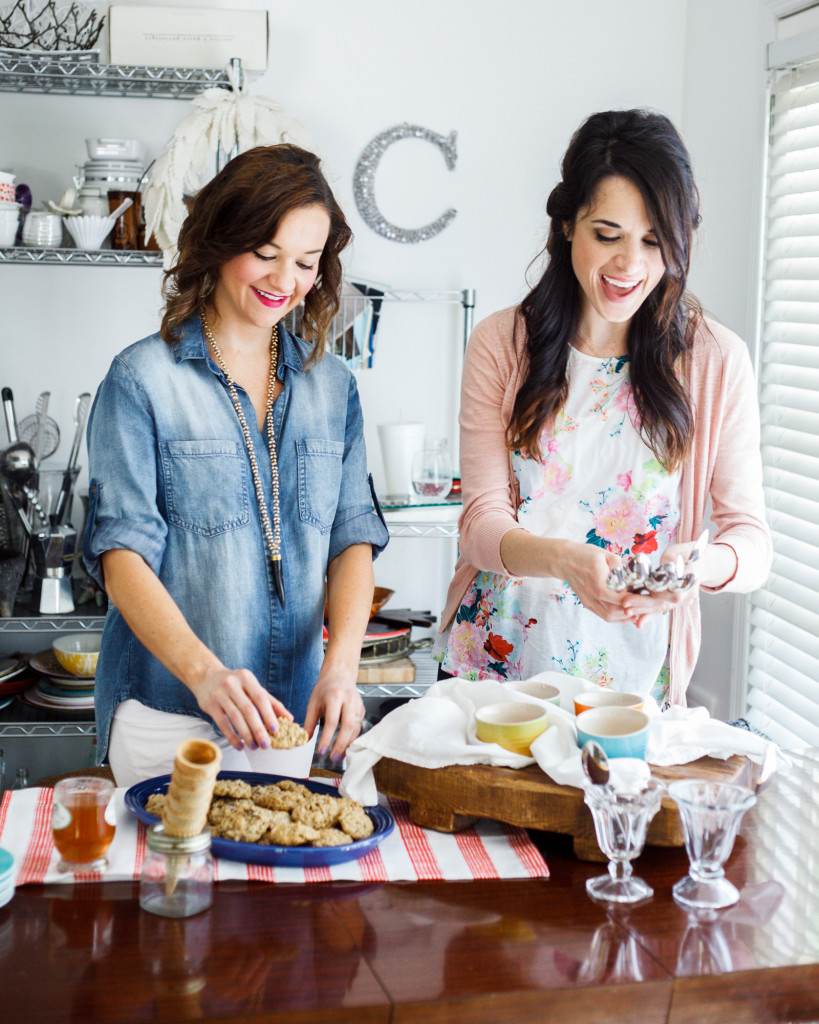 WHAT!? Bet you didn't think healthy and cookies and ice cream could go together did you?! When you meet my friend Callie of Luv Cooks, you'll understand how this awesomeness happened. Callie is a professional food stylist and an incredible cook and baker. We teamed up to share some of our best hostessing tips with you for the summer and to show you how to put a healthy twist on a lighthearted summer party! Consider this your official invitation to our Healthy Cookies and Ice Cream Party!
Make sure you head to Callie's blog to get this vegan coconut coffee ice cream to pair with my recipe for the perfect healthy cookies and ice cream social! Special thanks to the Outlet Shops of Grand River's Le Creuset who provided the pretty blue cookie platter and beautiful ice cream bowls!
My dilemma to create a healthier cookie recipe all began with a pregnancy craving…imagine that! I have always loved my mom's oatmeal chocolate chip cookies. She makes the recipe on the Quaker oatmeal jar with a few tweaks. I tried to make it via a different recipe a few weeks ago and let me just tell you, the pregnancy craving was not satiated. They were not the same. And that decadent, fluffy texture melded with the oaty density was worlds apart. I was not a happy pregnant lady.
So, the quest began to re-make the recipe my mom makes with a few healthier tweaks. Now, is it clean eating or paleo friendly? No. Is it delicious and slightly better for you? YES. Glorious YES. I asked some of the dietitians and cooking experts at eMeals about replacing all the all-purpose flour with whole wheat, and they told me that was a bad call. Long story, short it messes with the chemical make up of the cookie and won't rise and react the way you want the cookie to. The solution? Use half whole wheat flour and half regular.
Also, instead of regular chocolate chips, I upped the ante with dark chocolate chips. Dark chocolate is loaded with nutrients that can positively impact your health. It is one of the best sources of antioxidants on the planet. Studies show that dark chocolate can improve health and lower the risk of heart disease, and that's a big win for chocolate and this cookie in my book!
Another tip I learned from our on-staff dietitian is to let the dough sit in the refrigerator for at least 2-3 hours or even overnight if possible. It helps the cookies have a better texture! Without further ado, here's my healthier version of Oatmeal Dark Chocolate Chip Cookies.

Oatmeal Dark Chocolate Chip Cookies
Prep time:
Cook time:
Total time:
Ingredients
½ cup plus 6 tablespoons butter, softened
¾ c firmly packed brown sugar
½ cup granulated sugar
2 eggs
1 teaspoon vanilla
¾ c whole wheat flour
¾ c all-purpose flour
1 teaspoon baking soda
½ teaspoon salt
3 cups oats (quick or old fashioned, uncooked)
½ cup dark chocolate chunks/chips
Instructions
Heat oven to 350.
In large bowl, beat butter and sugars on medium speed of electric mixer until creamy.
Add eggs and vanilla; beat well.
Add combined flours, baking soda and salt; mix well.
Add oats and dark chocolate and mix thoroughly.
Drop dough by rounded tablespoonfuls onto ungreased cookie sheets.
Let sit in refrigerator for 2-3 hours or overnight.
Bake 8-10 minutes until light golden brown. Coll one minute on cookie sheets; remove to wire rack to finish cooling.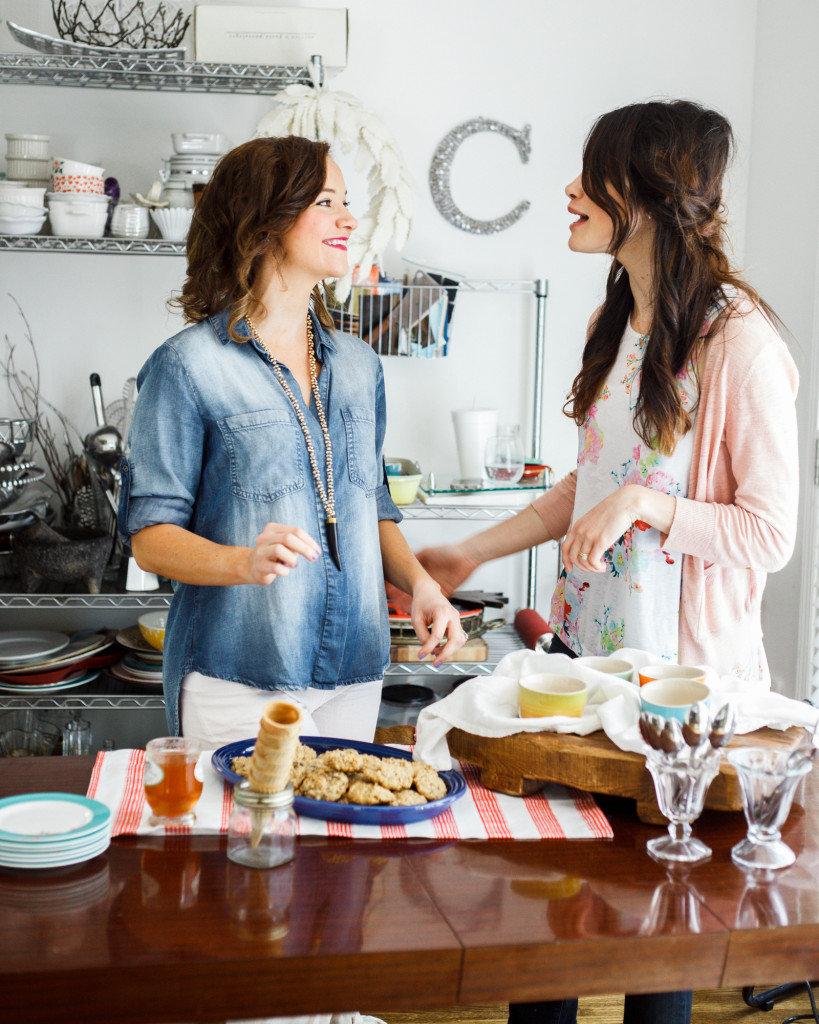 If you try out our recipes, make sure you let us know what you think in the comments!
Heather Brown helps busy mamas of young littles who are caught in the hustle to find encouragement in their journey to true health, from the inside out, starting with the heart. Read her journey of learning to live a life well-loved
HERE!