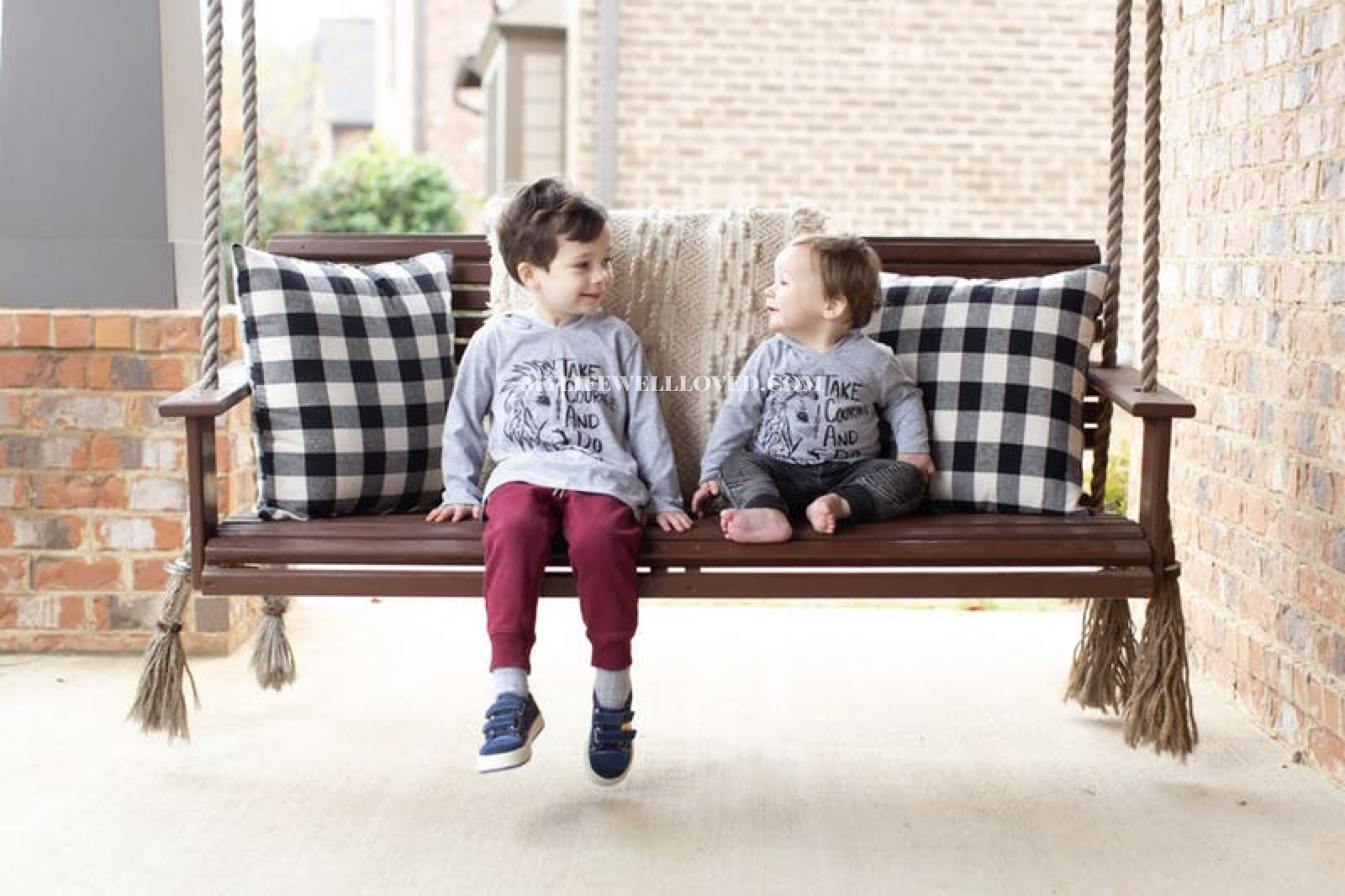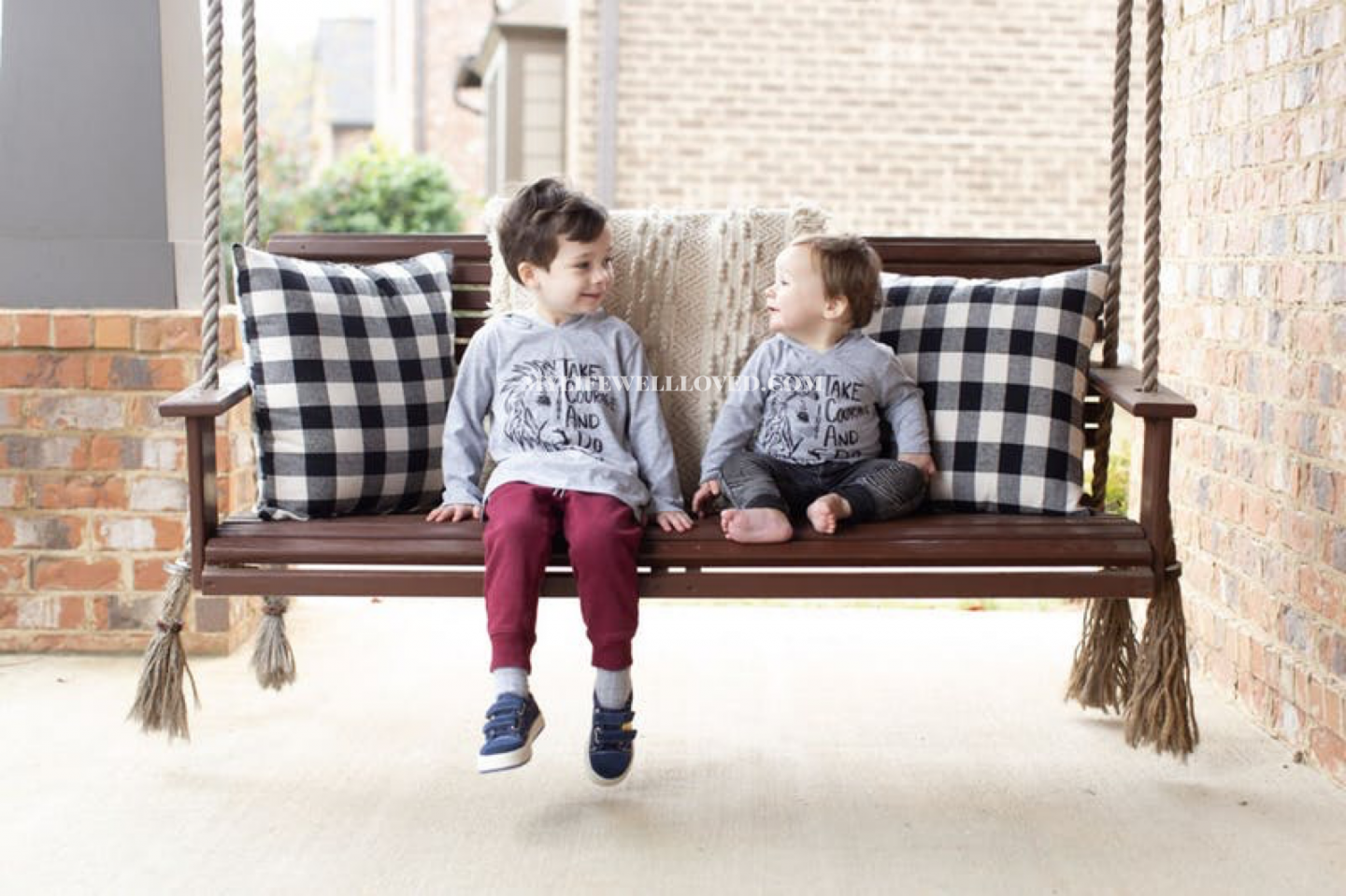 SHOP The Free Educational Resources For Kids Post HERE: Buffalo Plaid Pillows // Take Courage Hoodies – sold out but from His Kids Company
Photos by Magen Davis Photography
Hey girl gang!!
You asked and I delivered! I don't know about you but over the last 10 or so days, I have heard so many friends, online articles, and even Y'ALL buzzing about the free educational resources out there for kids!
I have been researching and saving every resource that comes my way so I could put together a massive MEGA list for you, mama! I hope this serves you in those chaotic mommy moments when you just need something new/different to change the pace in your day!
I decided to break it down by category so you can easily scroll through and find what you need. Do you have great free educational resources to add? If so, drop a comment below and I'll add it to my list!
Before we get to the free educational resources, I want to share some encouragement from fellow moms and educators. Give yourself GRACE. Grace upon grace. We are navigating new schedules and new learning environments with our kids!
Encouragement From Moms, For Moms:
@Randysandi – "Our school where I work told us in our meeting, per grade level, what to expect. For my 2nd grader, no more than 2 hours. If you think about it, when they are at school they break up the 6 hour day with many other things. Recess, lunch, music, PE, etc. RELAX moms! We can do this. Do not worry about what others are doing! Do you!"
@Katiepriest1 – Okay, as a teacher during these times: I don't give a flying you know what if your family does any "structured learning" at home. Living your everyday life IS LEARNING! I take heart in knowing my students are safe and fed. That's it. That's literally it. Love on your family!!!
@Mcelrathst – "I have a 7 year old 1st grader and a 5 year old pre-k student. I'm an elementary teacher and have set up a schedule for them. Right now, for "learning time" one goes on the computer for 45 min while I can work with the other on a variety of things. Then they switch. That has worked best for us right now."
@Myaroham – "As much as education is important, children need their parents/caregivers to just spend time with them and love them as much as possible. There are SO SO many other ways to learn than things provided by teachers and educators. We kept that in mind as we created our distance learning material so people can focus on what really matters right now. Thanks for sharing and being positive for people."
Shared by Meredith Craven from a teacher – "Don't worry about them regressing in school. Every single kid is in this boat and they all will be ok. When we are back in the classroom, we will all course correct and meet them where they are. Teachers are experts at this! Don't pick fights with your kids because they don't want to do the math. Don't scream at your kids for not following the schedule. Don't mandate 2 hours of learning time if they are resisting it. If I can leave you with one thing, it's this: at the end of all of this, your kids' mental health will be more important than their academic skills. And how they felt during this time will stay with them long after the memory of what they did during those 4 or more weeks is long gone. So keep that in mind every single day."
@Demagee – "Yes! I was homeschooled all the way through high school. The most amount of time I spent on school was roughly 4-6 hours, and that was when I was in high school grades. As long as we got a lesson done in our work books on each subject we were good. No hour on each subject kinda thing, if it took an hour to complete it then that's fine, but most of the time it didn't take that long. If you child/children is getting even 1:2 or 1:3 teacher time compared to their usual 1:15+ teacher time, they are going to understand and completely their lessons faster. So YES! They only need a few hours at most."
@Hbmimi – "Exactly, I've decided to think of this like an extended snow day. I never take a snow day to clean extra or catch my kids up on all the extra stuff but to enjoy the gift of time that I never intentionally take. To slow down, have a tickle fight, pour Gods life over my kids more, sleep in, enjoy a good book, watch that movie we always fall asleep to…life and responsibilities does go on but I'm also so thankful that in crazy unpredictable change right now I can draw close to my family even more. It's a gift truly. ? At least that's how I'm trying to see it :)"
"We have homeschooled the last 3 years and it's so true. While we have about a 6 hr school day it's really only 3 hrs of focused academic work and then we just do fun stuff. Burn out it real for them and me. I also worked in the school for 10 years and the reality is no kid works for 7 hrs straight. There really is a lot of down time, transition time, getting set up, putting things away that even though kids are there for a whole day they aren't doing focused work the entire time."
MY MEGA LIST OF FREE EDUCATIONAL RESOURCES TO KEEP THE KIDS ENTERTAINED:
FREE GENERAL LEARNING WEBSITES:
The Cultured Kid – Teach your littles new languages at home! This program is the #1 language learning program for kids! Start a 7 day trial HERE! Plus, get this FREE checklist all about how to teach your kids a new language!
Khan Academy

– Free educational videos followed by practice questions for grades K-12 in math, science, engineering, arts, humanities, as well as SAT and ACT prep. 

Funbrain

– Free games, reading exercises, and videos in all subjects! Best for K-8 students. 

Scholastic

– 20 days of online lessons for kids from pre-K thru 6th grade. 

ABC Mouse

– Try FREE for 30 days. Access a full online curriculum for ages 2-8. 

Literacy With The Littles

– An entire page of FREE printables and activities! So cute and eye catching too!

BrainPop

– FREE access to educational videos on all topics for a wide range of ages. 

Ted Talks

– An entire playlist just for kids! FREE to watch.

PBS Kids

– FREE interactive lesson plans are curricular-aligned to meet standards from preschool all the way through high school. 

Duolingo –

Teach your kiddos a new language, for FREE!

Youngzine –

FREE news articles + more for young minds! Also check out their comics + videos. 

Fuel The Brain –

Access games, printables and mini books. Register for FREE!

Mr. Nussbaum

– Subscriptions to MrN365.com at 80% off the normal price through March. Use the coupon code "keepeducating" when you register.

Turtle Diary –

Tons of FREE games and activities for kids in grades K4-5. 

Grid Club –

So many fun online games for your elementary age kiddos. 

Magic Tree House – Play FREE games or purchase the classic book series.
NewsELA –

Enjoy FREE access to NewsELA's entries site for the remainder of the 2019-2020 school year. 

Zearn

– Entire K-5 curriculum – including 400 hours of digital lessons with on-screen teachers and supportive remediation – is available for free during this time.

Freckle –

FREE differentiate instruction for Math, ELA, Social Studies and Science. 
FREE SCIENCE WEBSITES: 
FREE SOCIAL STUDIES WEBSITES:
Google Earth –

A FREE way to see the earth from any angle! Search for your house, neighborhood, school, or church!

Crash Course (YouTube)

– A FREE YouTube channel that's ideal for elementary age kids. 

National GeoKids –

FREE way to explore the world through games and videos!

Time for Kids

– Access FREE articles for kids in grades K-6!

Smithsonian for Kids

– A great resource for kids prek-12. Find FREE games, videos and activities!

History For Kids –

Take FREE quizzes, complete worksheets on all the ancient civilizations! 

DOGO News

– FREE articles geared towards ELA, Science and Social Studies
Head here to check out my NEW Easter Basket Gift Guide// Head here to check out Indoor & Outdoor Games for Kids
FREE MATH WEBSITES: 
Math Game Time

– This site offers lots of free math games for ages Pre-K – 7th grade all for FREE! 

Math Playground

– Math Playground offers hundreds of free math and logic games for grades 1-6, as well as free teaching resources for parents. 

Splash Learn

– FREE, fun, animated math videos for students K-5!

Crypto Club

– Crypto Club allows students to immerse themselves in Cryptography through free challenges, games, and comics. 

Study Jams

– Study Jams offers free interactive math and science activities best for 3rd-8th grade. 

Cool Math Games

– This site offers tons of games that incorporate math into the strategy, from virtual Chess to more video-game like math games. Search by skill or take a break with some math trivia. FREE.

STMath –

Available at no cost to parents, schools, and districts affected by closures.
FREE WRITING WEBSITES:
Fun Fonix

– FREE resources for kids in grade K-12. Download worksheets and interactive printables. 

The Story Starter –

Create your own story! FREE for kids in grades K-6. 

Typing Club

– Learn touch typing for FREE! Advance to new levels as you progress. 

Keyboarding Without Tears – You can now access the Pre-K Interactive Teaching Tool and/or Handwriting Interactive Teaching Tool for 90 days at no cost.
FREE READING WEBSITES:
Squiggle Park –

Build reading skills and comprehension for FREE. Great for ages 3-15+.

Storyline Online

– Amazing free resource to listen to stories being read!

Readworks –

FREE content, curriculum, and tools to power teaching and learning from Kindergarten through 12th grade. 

Reading Rockets –

Access FREE literacy apps, podcasts and booklists for kids ages 0-12.

All About Learning Press

–

Find FREE ebooks, activities, and checklists!
FREE ART WEBSITES:
Maker Stations

– 3 Weeks of Free Printables!

DIY.org

– Kids can watch videos and learn how to make something all on their own with DIY.org. A free 14-day trial is available.

Hello Kids (Drawing) –

Free online coloring for kids!
FREE SPORTS + EXERCISE RESOURCES:
BEST FREE RESOURCES FOR TODDLERS:
Busy Toddler

– So many free ideas on how to keep your toddlers entertained + free printables!

Days With Grey

– A multitude of ideas on how to keep your little ones entertained for FREE!

Sesame Street

– A great website with familiar characters and interactive learning!

Seussville

– Another FREE website for learning and play!

Starfall

– Great for preschoolers and those in the early elementary years, from pre-K through third grade. (Some FREE options, also membership options for more content.)

His Kids Company

– FREE Faith-Based Coloring Book Printables!

Catechesis Books

– Enjoy the printable First Bible Basics coloring pages for free!
VIRTUAL CONCERTS + STORYTIME:
VIRTUAL CLASSES:
VIRTUAL MUSEUMS, ZOOS, AND MORE:
FREE PODCASTS FOR KIDS: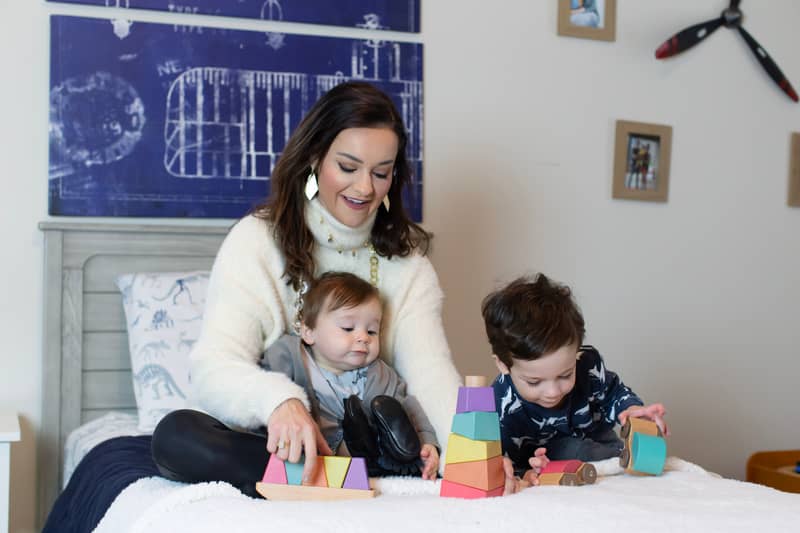 For more details about Leyton's big boy room click HERE!
Head here to check out my NEW Easter Basket Gift Guide // Head here to check out Indoor & Outdoor Games for Kids
FREE AUDIOBOOKS: 
EPIC –

Join FREE for 30 days and get access to audiobooks for kids age 5-12!

Overdrive –

Access eBooks, audiobooks and videos from your local library.

Libby –

Access eBooks, audiobooks and videos from your local library.

Bookshare –

Get unlimited access: FREE for qualified U.S. students. 

RAZ Kids –

Start a FREE trial + get FREE samples. For kids in grade K-5. 
FREE APPS FOR KIDS:
FREE PRINTABLES:
Busy Toddler

– So many free ideas on how to keep your toddlers entertained + free printables!

His Kids Company

– FREE Faith-Based Coloring Book Printables!

Maker Stations

– 3 Weeks of Free Printables!

Fun Fonix

– FREE resources for kids in grade K-12. Download worksheets and interactive printables. 

Catechesis Books

– Enjoy the printable First Bible Basics coloring pages for free!

Fun Learning For Kids – All kinds of FREE printables for a range of ages and subjects!
Education.com

– A full website devoted to free printable worksheets for you to do at home with your kids!

Teaching 2 And 3 Years Old

– Printables and resources devoted to 2 and 3 year olds for free!

My Bored Toddler

– All the activities + printables you need to keep your toddler occupied!

Crayola

– Did you know Crayola offers FREE coloring pages? 
OTHER IDEAS TO KEEP THE KIDS ENTERTAINED:
SCAVENGER HUNT + LOOK FOR:

Blue house
McDonald's
Jeep
Alabama license plate
Traffic cone
Police car
Dog
Fire station
Gas station
Bike
Yellow car
Wiggle wagon
Red truck
Baseball field
Basketball court

NEIGHBORHOOD WINDOW WALK:

March 23rd: Animals
March 26th: Encouraging Words
March 29th: Flowers
April 1st: Jokes!
April 4th: Easter Eggs

Explore new chapter books with your older elementary kiddos
Solo cup fun

Build pyramids, mazes, stack them and more!
RESOURCES FOR PURCHASE:
SHOP The Free Educational Resources Blog Post HERE:

PIN The Free Educational Resources Blog Post For Later!