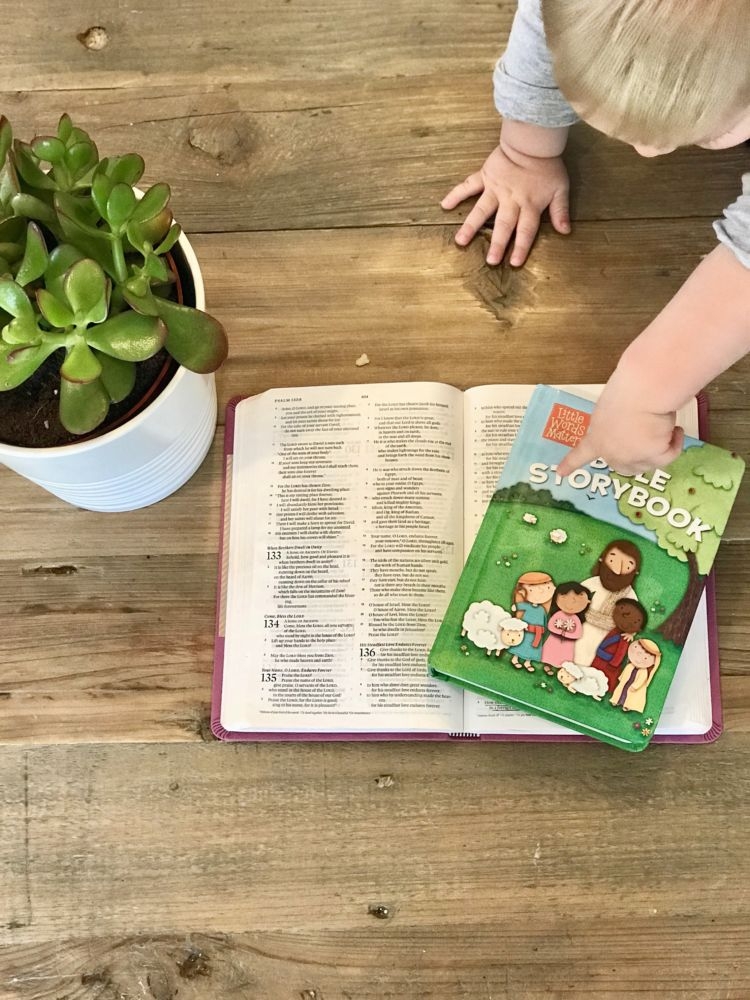 I'm excited to welcome the OTHER Heather Brown back to the blog today as a guest poster. Lots of you loved her last article about involving your kids more in faith activities so I asked her to elaborate a bit more about Bible verses toddlers can memorize with us today. While I'm thinking about it, I wanted to share that the Jesus Storybook Biblethat we have is still on sale on Amazon if you'd like to check it out. 
I'm so happy to be back with y'all again! In my last post, Faith Activities for Toddlers & Families, I mentioned that even very young kids can begin to memorize Scripture. So this time, we wanted to dive more into easy Bible verses toddlers can memorize and give you some practical steps on how to shepherd your children in that way.
The first question that comes to mind with this is, "At what age can kids begin memorizing verses?" Of course, we have to acknowledge that every child is created uniquely and so we can't point to an exact age. However, as soon as a child begins to speak, you are already teaching them different things to say, so why not let some of those things be words from God? And following that line of thinking, before they talk, they are absorbing what they hear. So even just speaking Scripture out loud in their presence can be powerful. I know reciting verses for myself is never a bad idea!
My personal experience with starting this was that I put my oldest son into a Mother's Day Out program on Tuesdays and Thursdays from 9:00-11:30 am when he was 2 ½. At that time, it really hadn't crossed my sleep-deprived mind to begin teaching him Bible verses. Thankfully, though, the sweet teachers at his school knew what those little minds were capable of! They learned a new letter each week and so with their letter, they learned a corresponding Bible verse that started with that letter.
One day, we were driving down a country highway, and the police had a woman pulled over and in handcuffs. As we passed, my son asked what was going on. I told him I didn't know but that the lady must have done something that wasn't allowed. He said "They should tell her to keep her tongue from evil and her lips from telling lies (ps 34:13)." I was like, "What?!" I hadn't realized how he was already trying to apply the verses he was learning. (We had a little talk after that about minding our own business, not judging and praying for people- so many teachable moments as a parent!)
At the end of the year, the class was able to recite 26 verses! This was all done in a class that was only five total hours per week. Their brains are like sponges!
Also, don't forget to see what is offered at your local church. The things they learn in Sunday school or in different classes can be reinforced by you throughout the week. For older kids, Awana is a popular curriculum many churches use to help teach kids about God's Word and discipleship. They have resources for parents as well.
It is important to try to balance (story of motherhood, amiright?) the knowledge that our kids may be more capable than we think, with the appropriate expectations for a small child. Some of us struggle with perfectionism more than others so this may be a good time to gently remind ourselves that perfection is not possible, nor is it the goal. Any Scripture that our kids absorb is a help to them! I'm sure now that my son is five, he probably can't recite all those same verses he learned when he was two, but the seed of the message of the verses has been planted in his heart.
Bible Verses Toddlers Can Memorize:
If you want to keep it simple, just pick one verse each week and recite it several times a day as a family. I have created a list of short verses, in alphabetical order, that are great for kids. (Feel free to download the printable list here.)
A gentle answer turns away wrath. Prov 15:1
Be kind one to another. Eph 4:32
Children, obey your parents, for this is right. Eph 6:1
Don't fret or worry; it only leads to harm. Ps 37:8
Every good and perfect gift is from above. James 1:17
Forgive and you will be forgiven. Luke 6:37
God is love. 1 John 4:16
He cares for you. 1 Peter 5:17
"I am the bread of life." John 6:35
Jesus said, "Let the little children come to Me." Matt 19:14
Kind words are like honey, enjoyable and healthful. Prov 16:24
Love one another. John 13:34
My mouth is filled with your praise. Ps 71:8
Now is the time to come to Jesus. 2 Cor 6:2
Obey God because you are His children. 1 Peter 1:14
Pray about everything. Phil 4:6
Quick Lord, answer me, for I have prayed. Ps 141:1
Remember your Creator now, while you are young. Ecc 12:1
Sing a new song to the Lord. Ps 98:1
Thank God for Jesus, His gift too wonderful for words. 2 Cor 9:15
Understanding is a fountain of life. Prov 16:22
"Vengeance is mine, I will repay," says the Lord. Deut 32:35
We love because God first loved us. 1 Jn 4:19
Exalt the Lord our God and worship at His holy hill. Ps 99:9 (I couldn't find any "X" verses!)
You must be born again. Jn 3:7
Zion hears and rejoices. Ps 97:8
I will be praying for you, Lovies! Motherhood is a hard job but you are not alone!
What other Bible verses toddlers can memorize would you suggest? I'd love to see in the comments below!