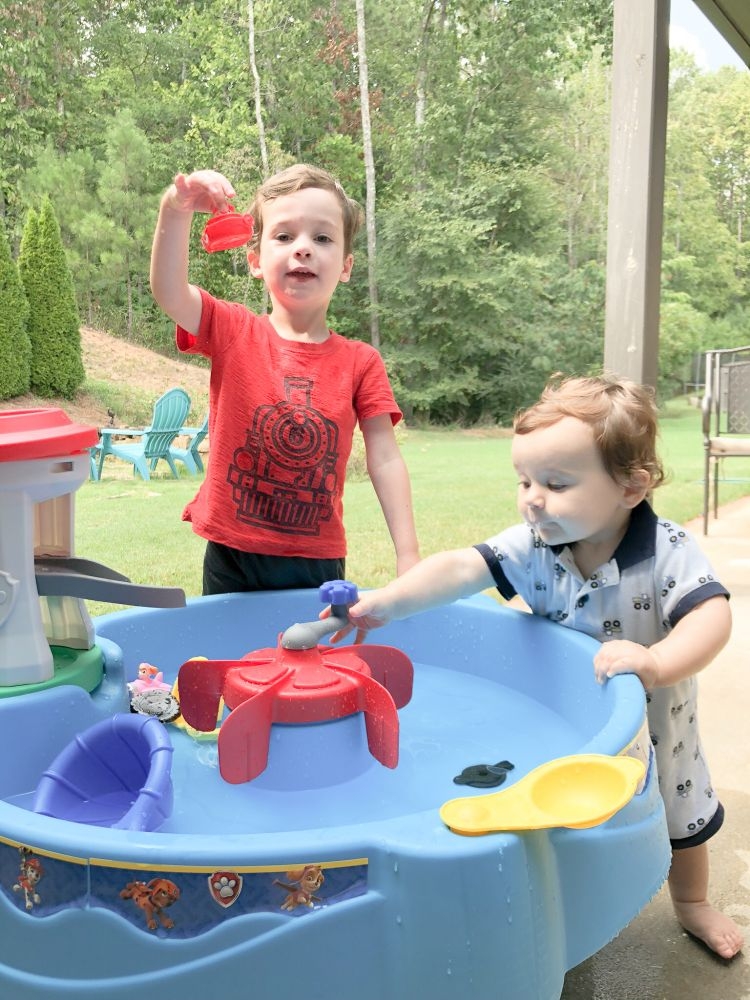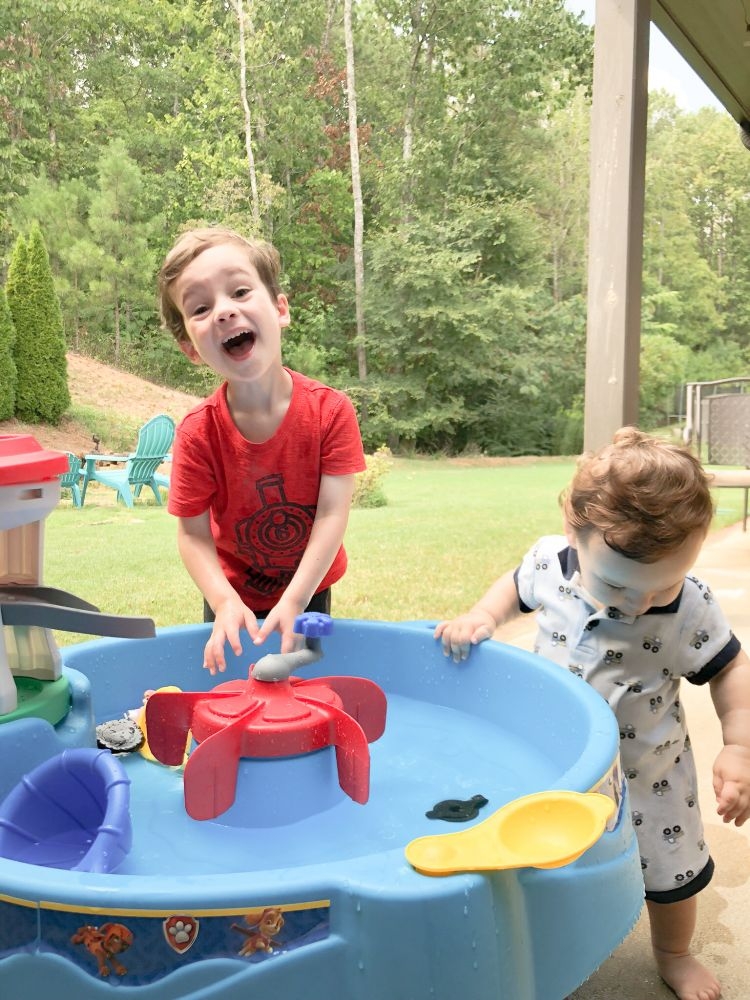 SHOP The Water Table Activities Post HERE: Water Table // Finn's Romper
Even though fall is just around the corner, we are still sweating it out down here in Alabama! It's HOT y'all!! So we are taking part in activities that can cool us down — STILL! Both of my boys have been loving playing in their water table outside! Leyton actually got this new table from my parents for his 4th birthday last month!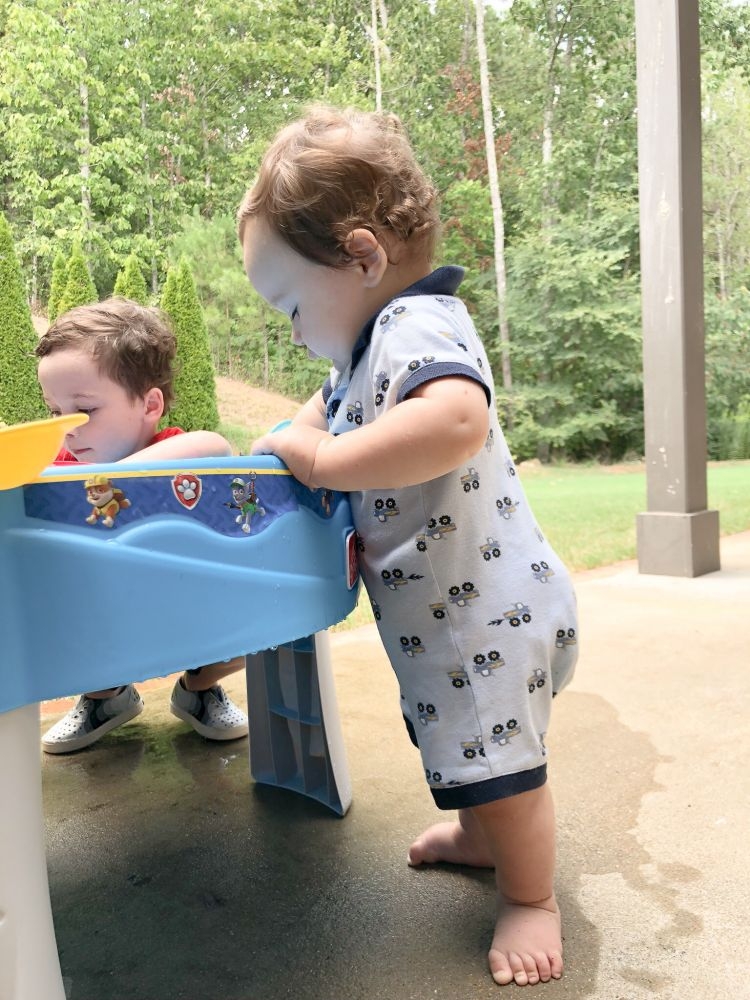 I decided to get creative (and a little wet) and move our sensory playtime "tivities" outside to the new water table. This was a serious mom-win for me!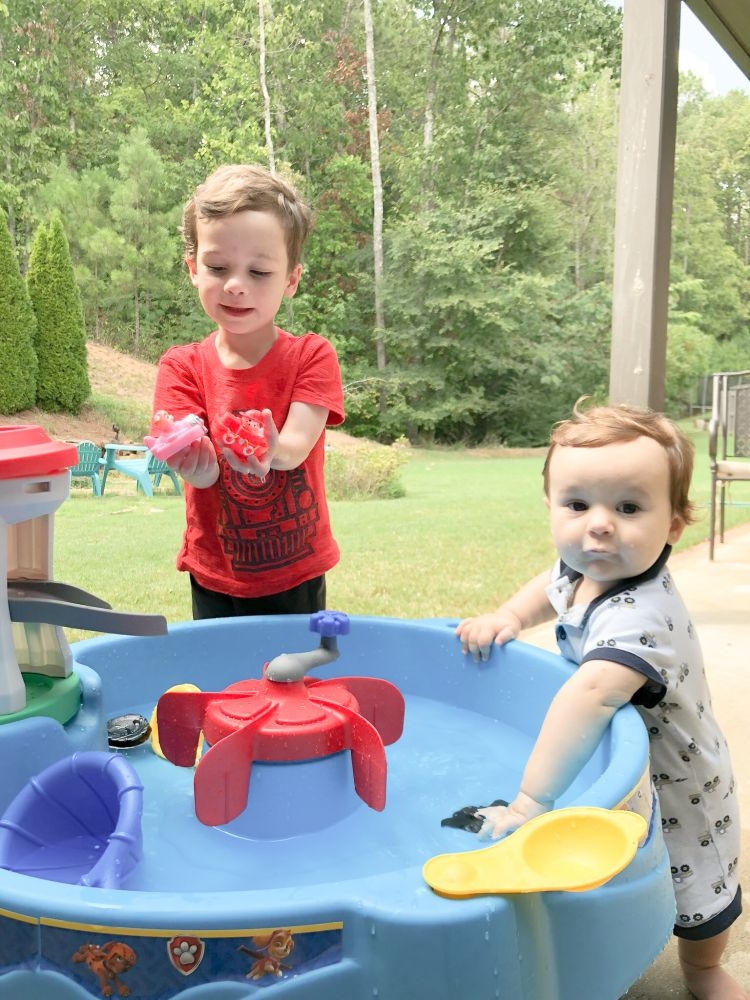 Something I always like to stress to y'all with these sensory playtime activities is they don't have to be done with any fancy toys or tools! Use whatever you have at home (like we did for this simple rice "tivity" last month) and call it a day!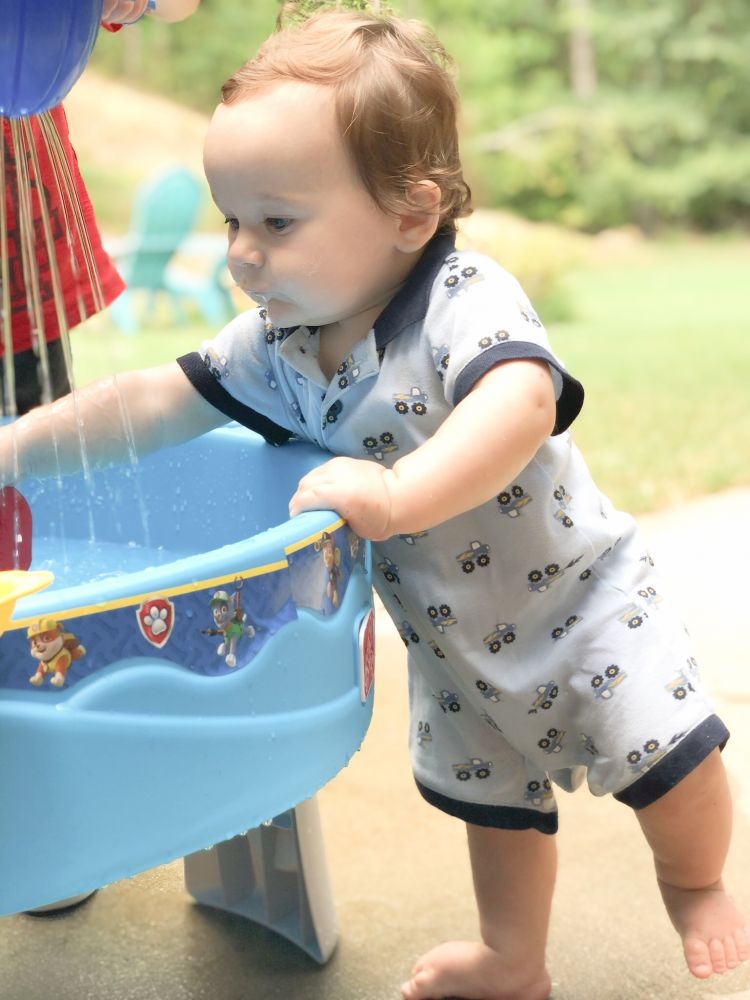 If you are new around here and aren't sure why we do sensory activities or what the benefits are for your little ones, CLICK HERE To Read: Benefits Of Sensory Activities.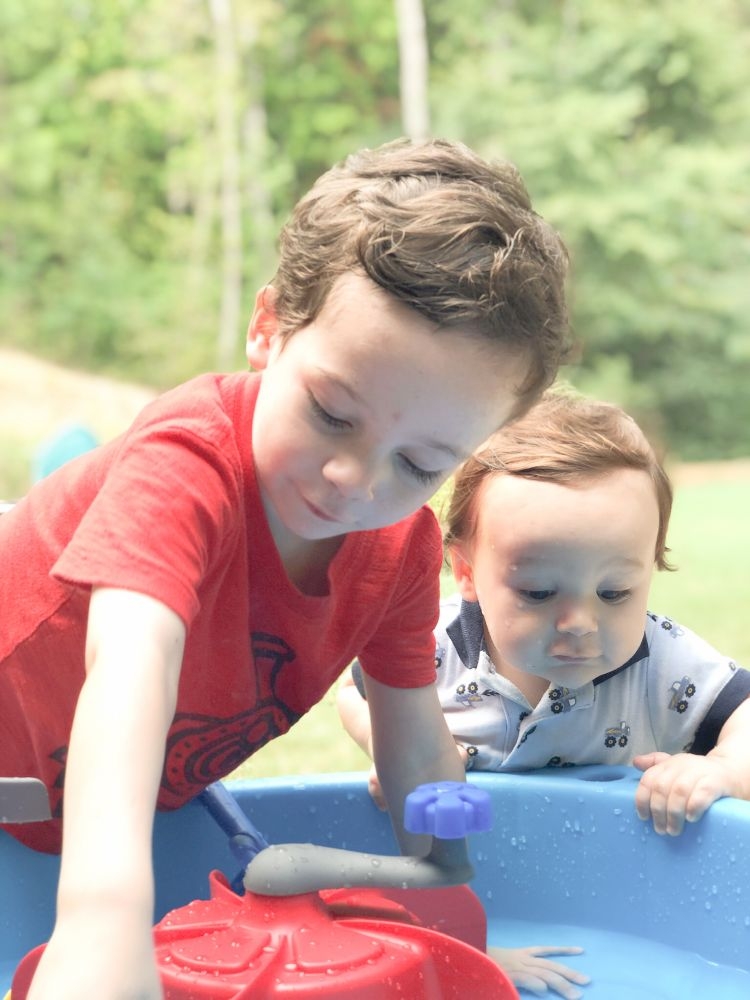 Today, I want to share with y'all how you can take your water table activities to the next level for your little ones! Below are 5 easy water table activity ideas that are little to no cost or time commitment to mom!
5 Super Fun Sensory Water Table Activities
1. Car Wash: While the water table filled with water will do just fine by itself, it's always fun to mix it up with new ideas to keep your little's mind engaged! We love taking our water-proof toys – like trucks and the Paw Patrol figures – to the table to play "car wash"! You could add a little soap and dish brush too for the full effect!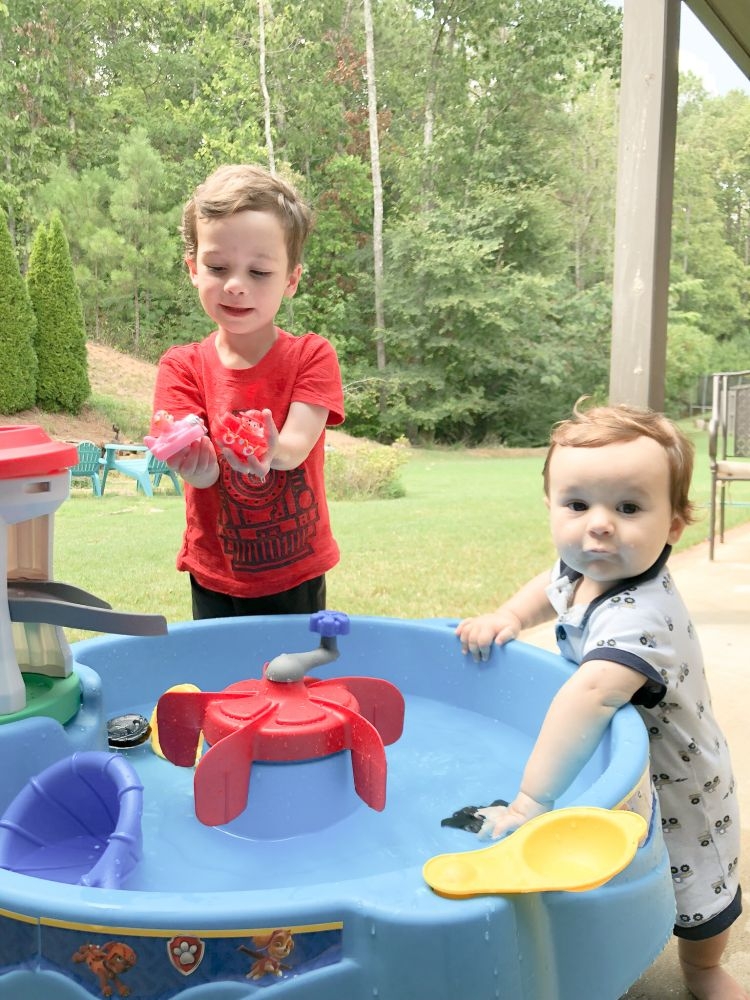 2. Alphabet Fishing: All you need are the foam alphabet letters you get for bath time and a big kitchen ladle or scoop of some sort! Playing alphabet fishing also helps with letter recognition and as your little one gets older, you can work on spelling their name!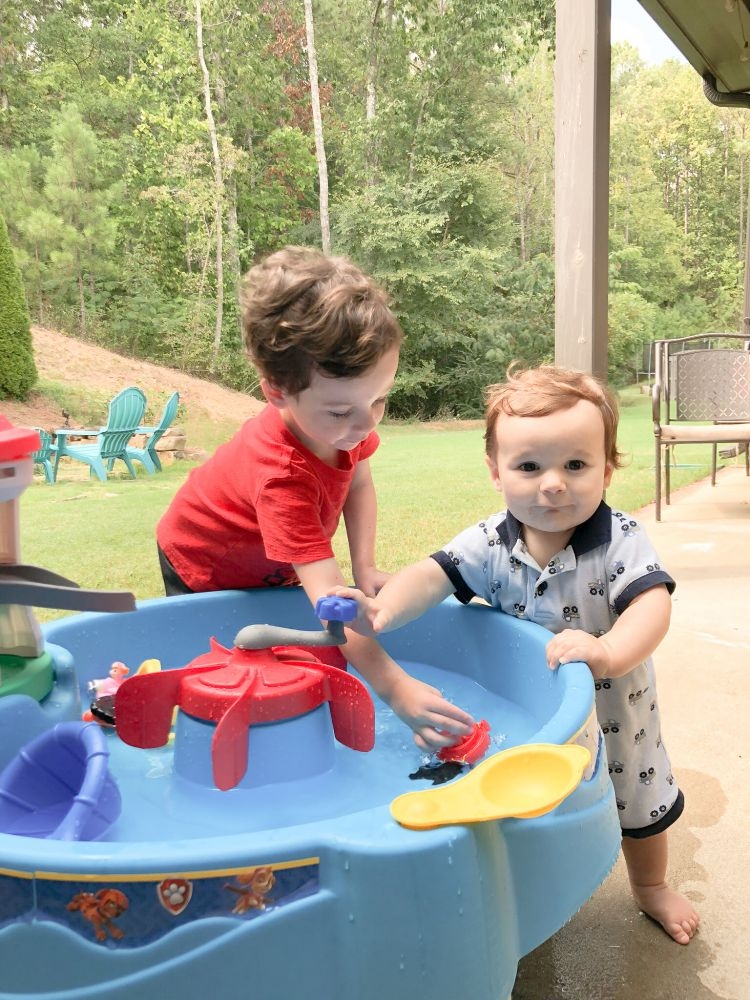 3. Pom Pom Soup: For this fun activity, I get a big bag of pom poms and dump them in the water. Yep, that's it! They get mushy and the texture is a little funny feeling – perfect for sensory play!
4. Water Beads Galore: You guys already know about our love for water beads but playing with them in the water table is extra fun! You can use different scoops, shovels, measuring cups, trucks, etc. to play with these!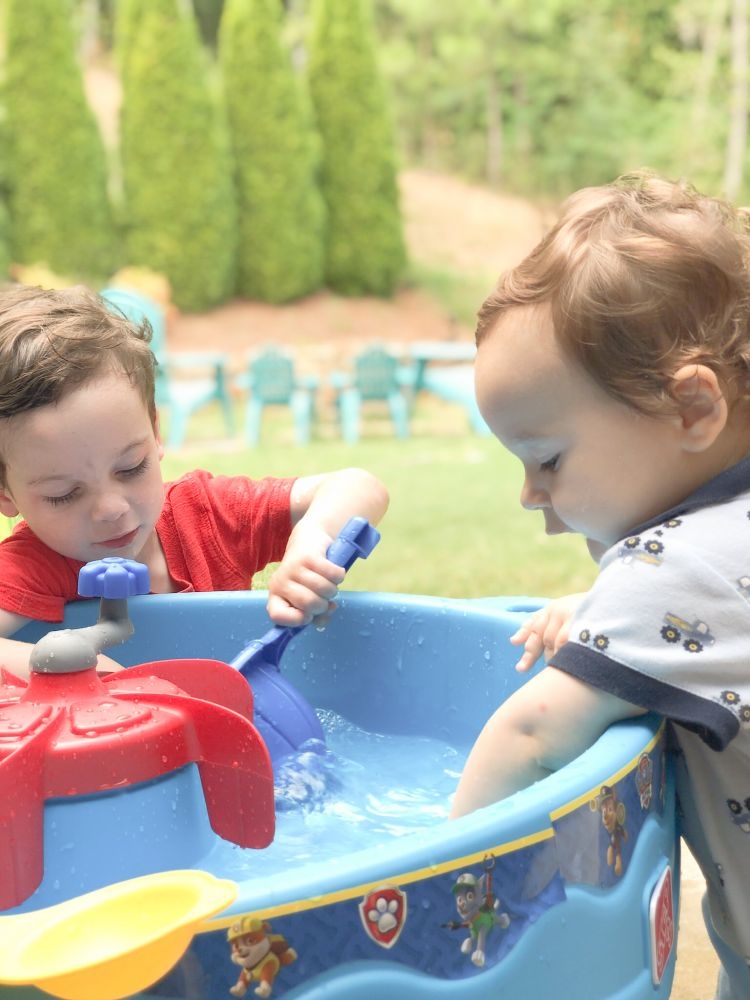 5. Ice Bath: This one is as simple as it sounds! Dump your ice from your ice machine into your water table and let your toddler play! This is a cold sensory activity but also teaches what ice is, how it melts, and you can watch your toddler's face as it magically all disappears!
SHOP The Super Sensory Water Table Activity Post

PIN This Super Sensory Water Activity Post for Later!