SHOP the Sensory Activities for Toddlers Photos: Mama Bear Shirt // Baby Bear Shirt // Monogram Pullovers // Wedge Sneakers
Photos: Eric and Jamie Photo
A huge thank you to Teach My, MindWare, and ModFamily for partnering with me on this post! 
Toddler time!!! Baby Finn has been getting a lot of the spotlight around here lately, so it's time for me to give Leyton and all my toddler mamas a little extra love today! As you know, we love to do toddler activities or "tivities" as Leyton calls them to keep busy hands and minds entertained.

My mom loves to remind me that I would always come up to her and my teachers and ask, "What's next?" after I would finish the last task they gave me…so Leyton gets it, honestly! He always wants to be doing something, talking, or getting into SOMETHING as most toddlers do. In order to entertain him (and honestly not lose my mind) I've started making ACTIVITY TIME something we do each day we are home together all day as a special time for he and I to spend together.

I try to do it during Finn's morning nap so that Leyton feels seen and heard and gets special one on one time.  However, if Finn is a part of it, that can be ok too. I usually put on a country or christian Spotify playlist while we do our sensory play activity so that we can just enjoy each other's company without as much of the need to fill the silence. Or at least…that's my hope, ha!

Since some of Leyton's eating struggles that I've documented here on MLWL have to do with sensory input issues, I started researching sensory play about a year or so ago. I've gotten really into it and so has he! I've been amazed to see how far he has come with the things he is willing to touch and play with now that at first he was very hesitant to touch.

These are great ideas most toddlers will enjoy and the great thing about them is usually I just end up using whatever we have on hand. If I'm having a mom brain moment, I'll even google or search on Pinterest for sensory activities for toddlers + name some items we have at home to find ideas. DEFINITELY pin this post for a rainy day so you'll have it on hand instead of turning to the TV or devices all day. You'll be surprised how into it your kids get if you just give them the opportunity to play and spend time with you instead of getting into their screens.
Many of you already know but I was actually featured on The Birth Hour Podcast this week sharing my birth with Leyton, the many struggles I went through during birth and after with Postpartum Depression. You can listen to the full podcast HERE!
Our Favorite Brands for Toddler Sensory Activities & Educational Toys:

I am all about finding everyday items from around the house to supply these activities! However, I have found a few brands that just make life so much simpler when it comes to already-ready sensory toys, activities, or educational stimulation for Leyton. I am sharing them below with a little bit of "why" I love them 🙂 If you are looking to simplify toddler activity time, I cannot recommend these companies more!
TEACH MY: I recently discovered Teach My and fell in love with their products. We have their Toddler Bathtime ABC'S Learning Kit and the basic Toddler Learning Kit which has activities focusing on the alphabet, numbers, shapes, and colors. These are so perfect for activity time and the bathtime kit is a HUGE hit in our house! We also have Teach My products for Finn. You click HERE can see what I got him in his Easter Basket!
KIWI CO: Y'all have seen me share about KiwiCo so much on stories because we LOVE them! It is a monthly subscription that is delivered to your front door with all the supplies needed for the best toddler activities, crafts, and sensory play. The crates are designed for all ages – babies to teenagers! Click HERE and use code MYLIFEWELLLOVED to get 30% off your 1st month of any subscription.
MODFAMILY: One of my very favorite items from modFamily are their Mod Paint Sticks – aka paint without the mess! I don't know about your toddler but we steer clear of playing with paint to avoid the inevitable mess that is to come with it. But with these paint sticks, we are able to allow Leyton to be creative and paint pictures without worrying about spilling or cleaning brushes, bowls, etc. LOVE! We also have their Brick Case and Travel Tray!
MINDWARE: The last go-to brand for educational toys and sensory activities is MindWare! We have always looked to MindWare when shopping for Leyton's birthday or Christmas presents. We recently got him the Peaceable Kingdom's Guess It Get It Gumballs Game, which focuses on faces and feelings, and Peaceable Kingdom's Firetruck Floor Puzzle, because we LOVEEE firetrucks over here! Both are great toys/activities to do with your toddlers as an alternative to screen time!
Our Favorite Toddler Sensory Must-Have Household Items:

These are the items we have on hand almost regularly for sensory activities for toddlers! Things like beans, rice, measuring cups, little trucks, and shaving cream you probably already have on hand! I typically go to the Dollar Tree and grab all the other things for just $1 to keep for days we want to do a "tivity"! My biggest tip is it does not have to be elaborate. These are toddlers we are talking about 😉
Shop Ultimate List of Sensory Activities for Toddlers Post HERE:
Pin Toddler Sensory Activities for Later!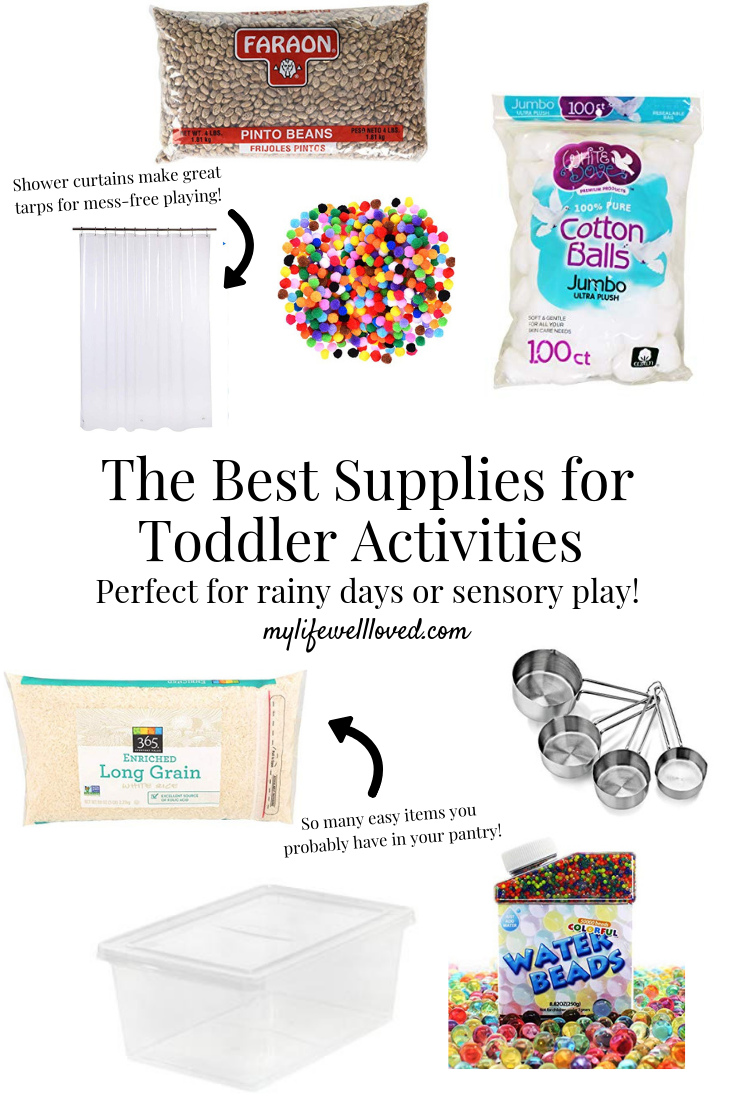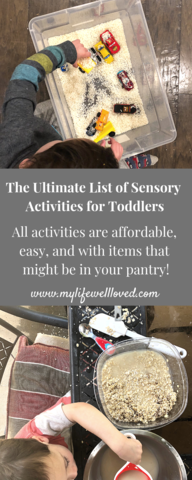 Heather Brown helps busy mamas of young littles who are caught in the hustle to find encouragement in their journey to true health, from the inside out, starting with the heart. Read her journey of learning to live a life well-loved
HERE!