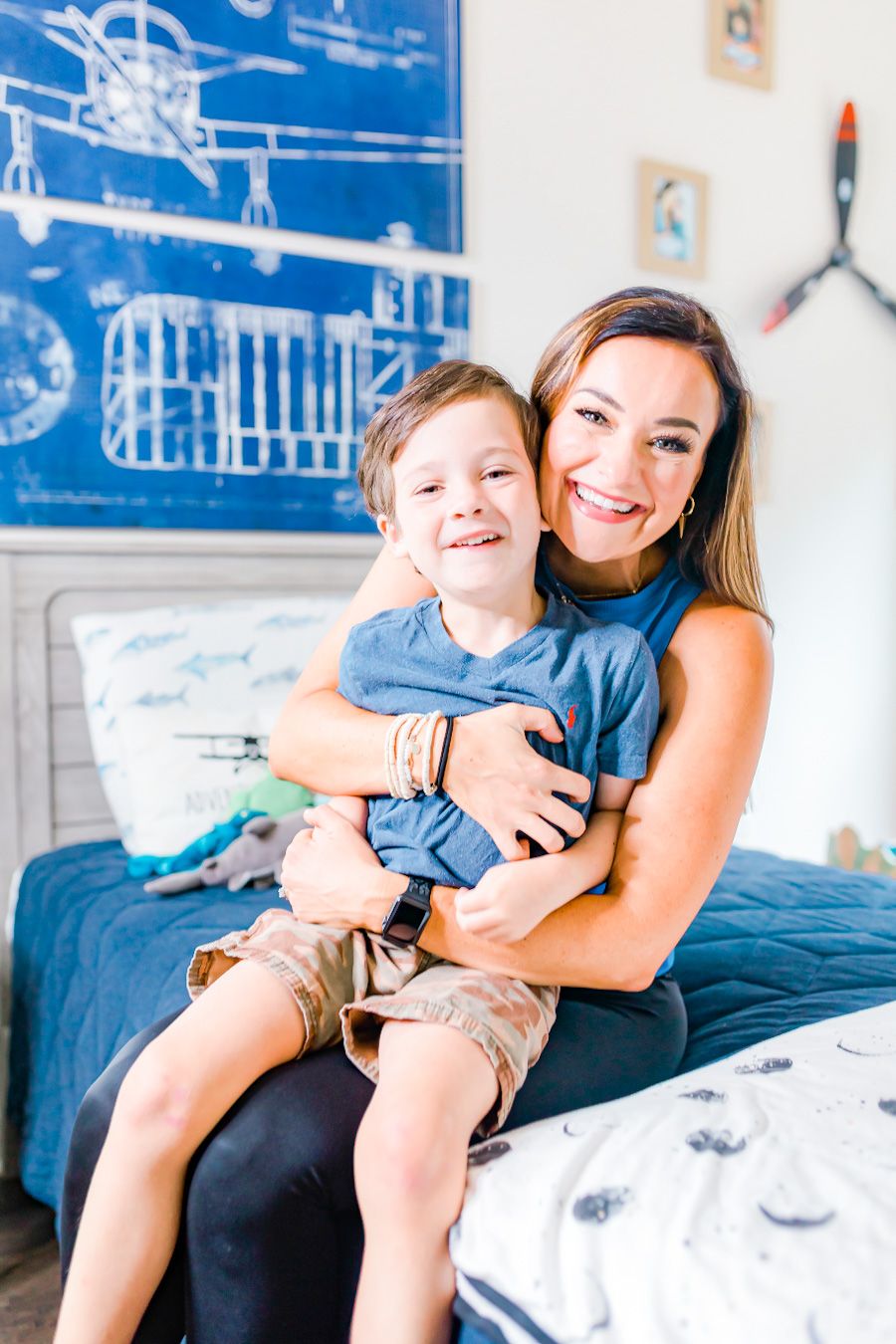 Shop The Back To School Morning Routine Post Here:

Photos by Margaret Taylor Photography
Today was Leyton's first day of kindergarten! 😳 Wow, it was a madhouse getting out the door this morning. I'm hoping to get into more of a groove as this becomes our new normal! We all know school mornings can be rushed and crazy, and cooking a full breakfast isn't possible every day. Most mornings I know we will be running out the door, like today, with only seconds to spare and likely will not have time to sit down at the table for a full breakfast. Today I'm sharing with you my HOLY GRAIL of morning routine hacks to save some of your sanity as the craziness ramps up in the coming weeks. If I'm missing something major, send me a DM on Instagram and let me in on your secrets, too! 😉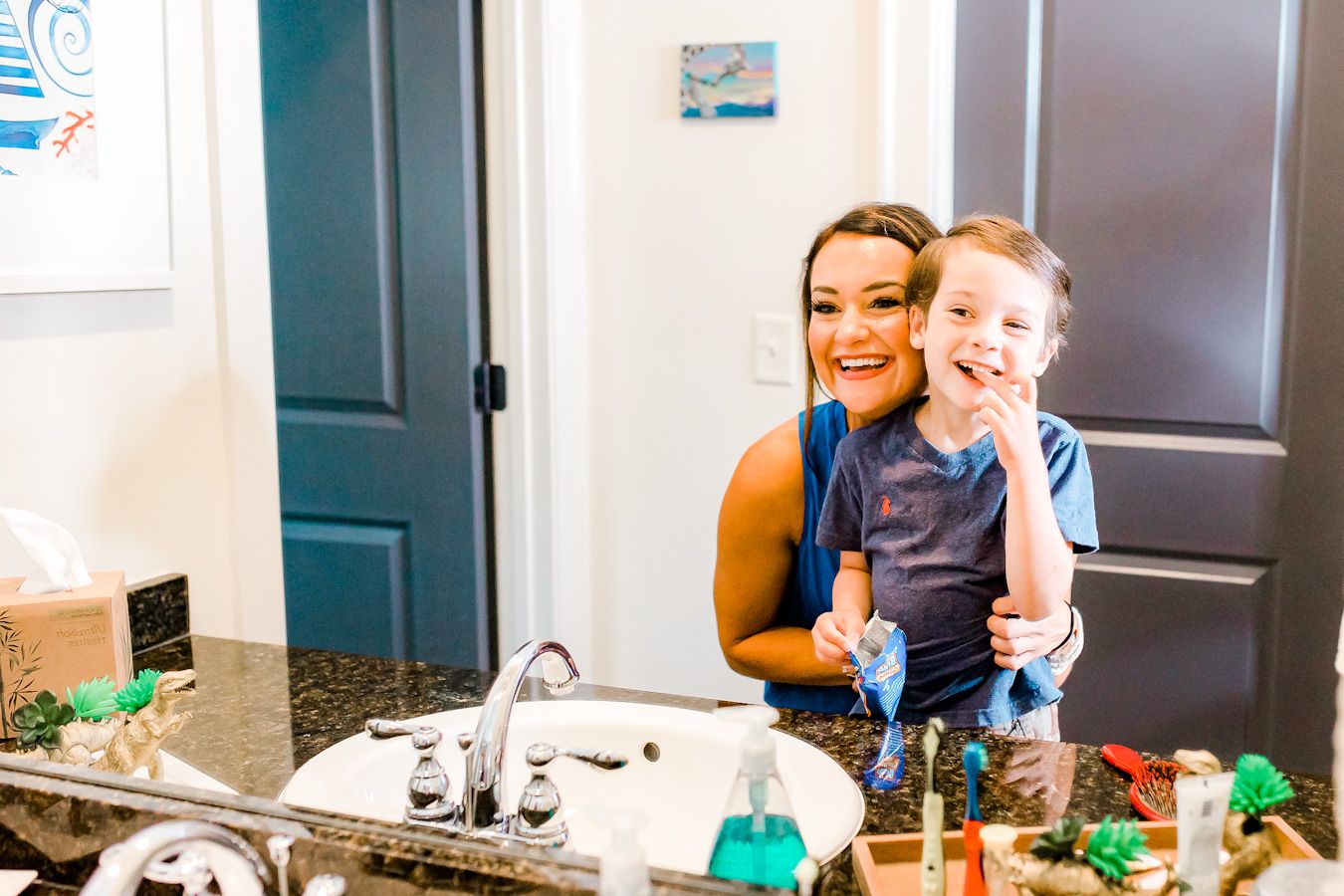 Take A Moment For You In The Morning, Mama!
As mamas, we are responsible for SO MUCH (especially when it comes to back to school season!) From school supplies shopping, making sure your kiddos have the right clothes to wear, buying new shoes, packing lunches and so much more, we have to be on our game so that our kids can be on their game, too! In order to do our best, we need to feel our best. Everyday, I drink AG1 by Athletic Greens, which I add in my magical mix to make my Pond Water.
I've been taking AG1 for over a year now, and I am not exaggerating when I say that incorporating this drink into my daily routine has been a game changer for me. I feel more energized when I drink my greens each day, and I have noticed a significant change in my digestion which has helped with bloating. I prep my greens at the beginning of the week so I never have an excuse to miss a day. If you meal prep, try prepping your greens too to ensure you get the vitamins, minerals, pre and probiotic and multivitamin benefits that are all packed into one cup. You can do that mama – one drink a day to change your life?! That's not even a question!
Just like with any part of your health journey, consistency is key. As we're getting ready for back to school, I encourage you to revamp your routine to fit your health needs just as you're getting your kids into the school routine, too. When you're walking out the door for drop off, grab your greens on the go. When you're sitting at soccer practice after school, grab your travel packet and mix it in your water bottle. While this season of getting back to school can be stressful for the whole family, I really encourage you to take time for yourself and make the small changes in your daily routine that can make the biggest difference in the way you feel!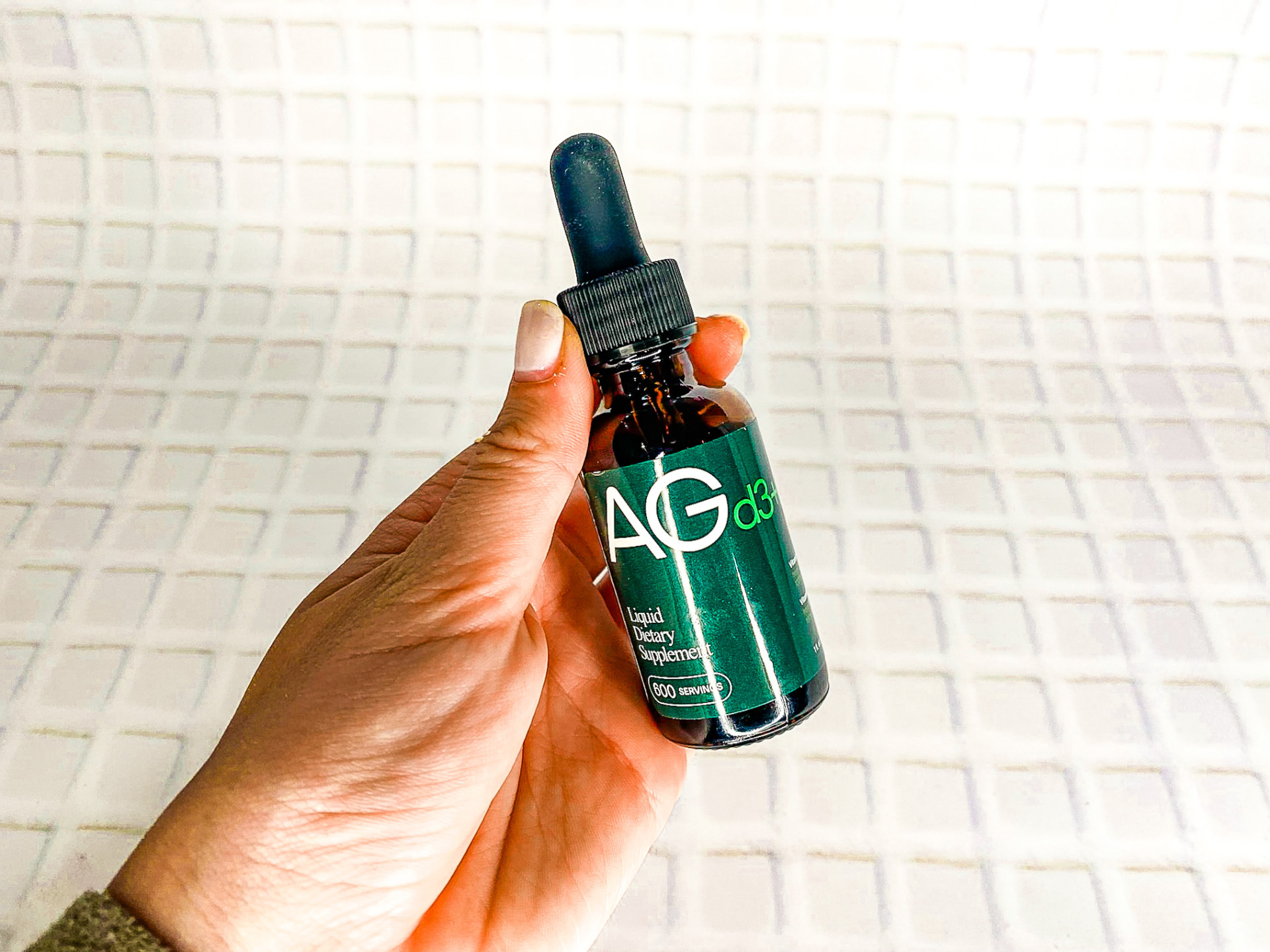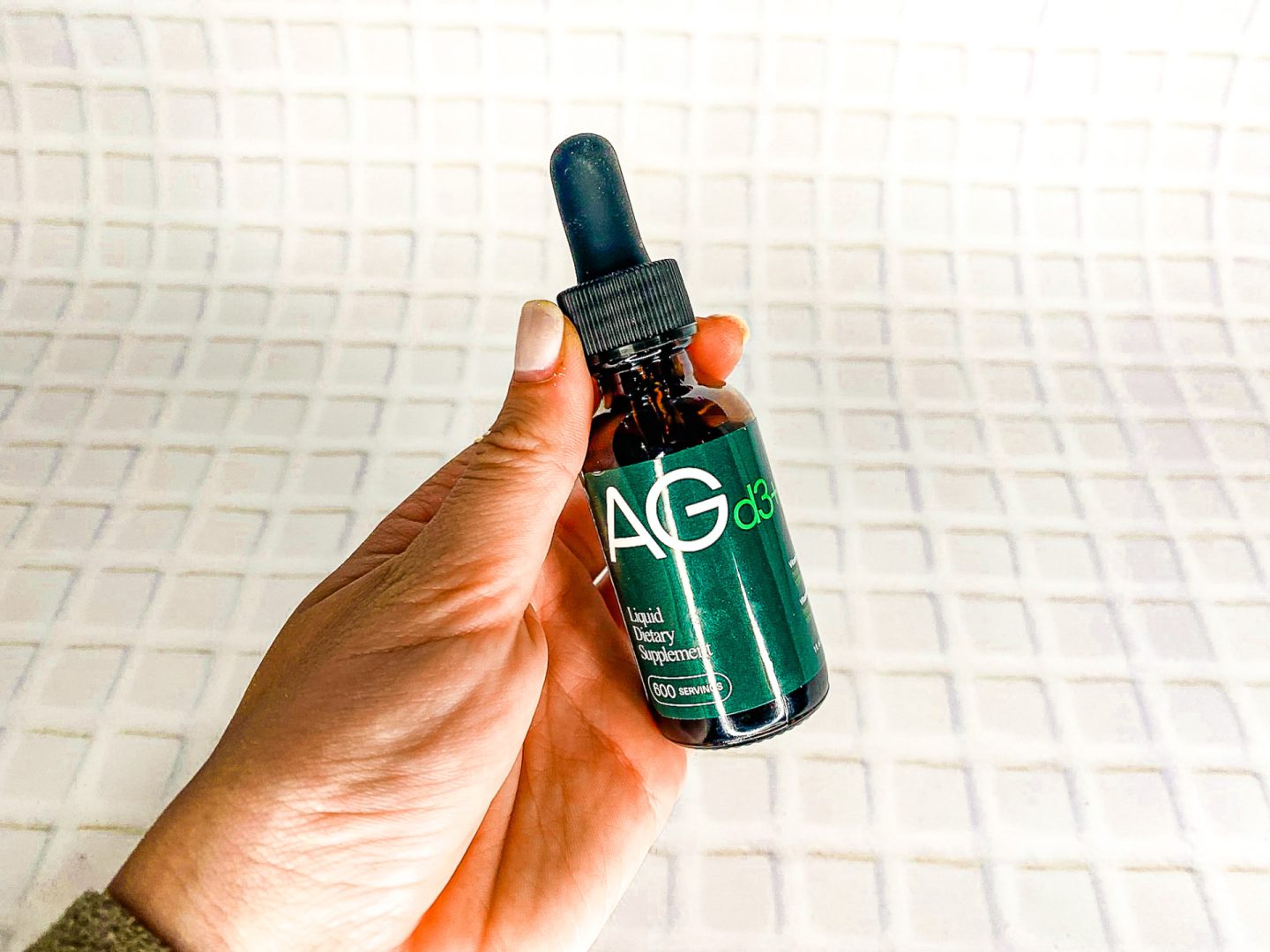 Hacks To Simplify Your Back To School Morning Routine
#1 Keep a cereal box in the car // We do this so it's accessible to the kids to feed themselves on the way. This is a BIG game-changer for crazy mornings when we're in too big of a rush to fix breakfast!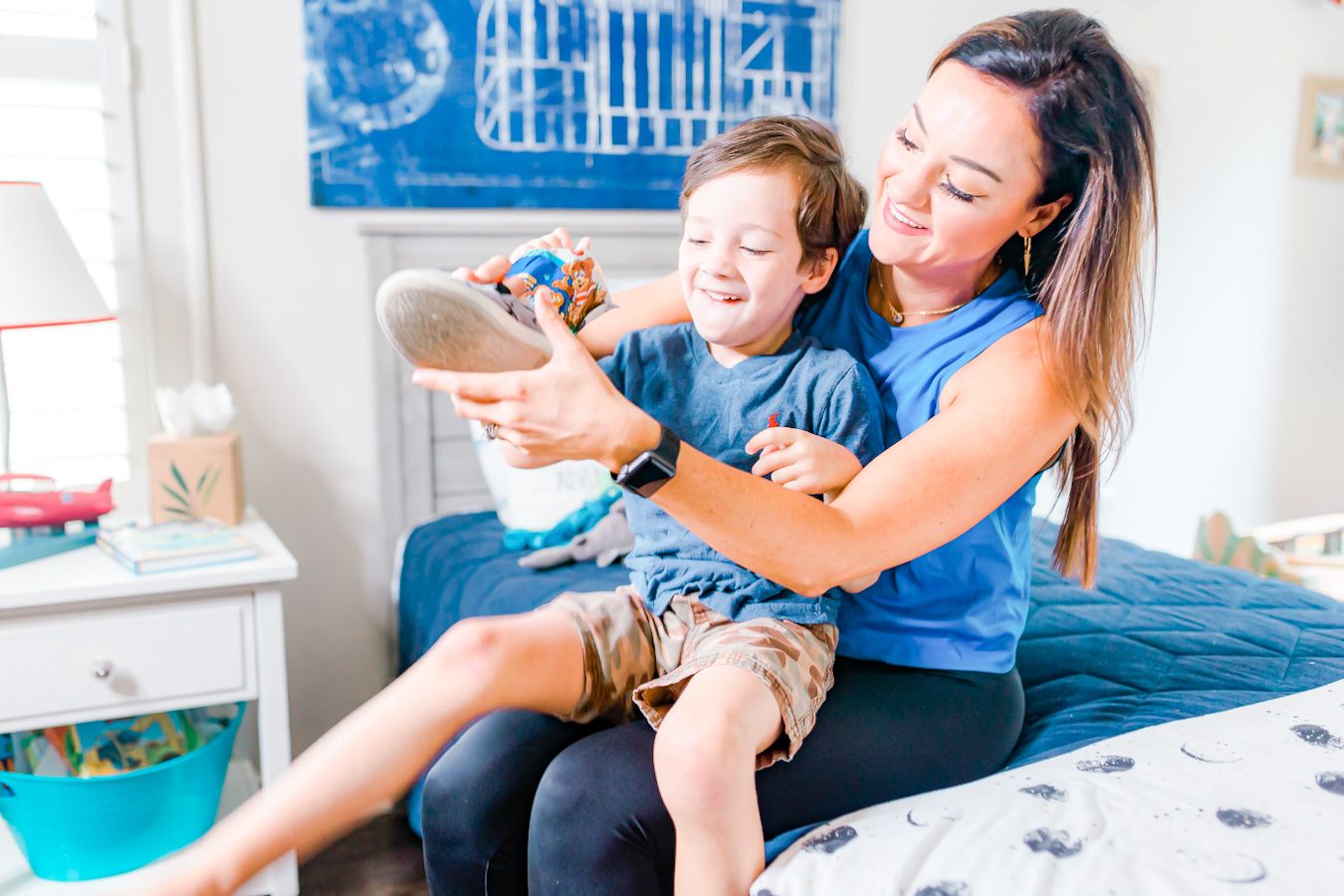 #2 Grab-and-go is your friend // We always have a full stock of "monkey juice" (what the boys call the bottles of drinkable yogurt) or "moo-cow squeezes" (what the boys call yogurt tubes) because they're yummy and easy to eat in the car!
#3 Shop the back to school sales to simplify // Look for sales this time of year on breakfast and lunch items at the grocery store for back to school! Many times some of the boys' favorite snacks, and quick lunch box additions will be buy one, get one free. This is a great time to stock up on your little one's favorite snacks and breakfast items to grab-and-go. If you have the space in your kitchen and budget to store an inventory of backup snacks, definitely take advantage of the upcoming sales and make your first month back at school a little easier! Save money now to have your pantry fully stocked for the next few months instead of buying full-priced next week. Heather's Budget Hack: Try the $40/Week Grocery Budget Challenge!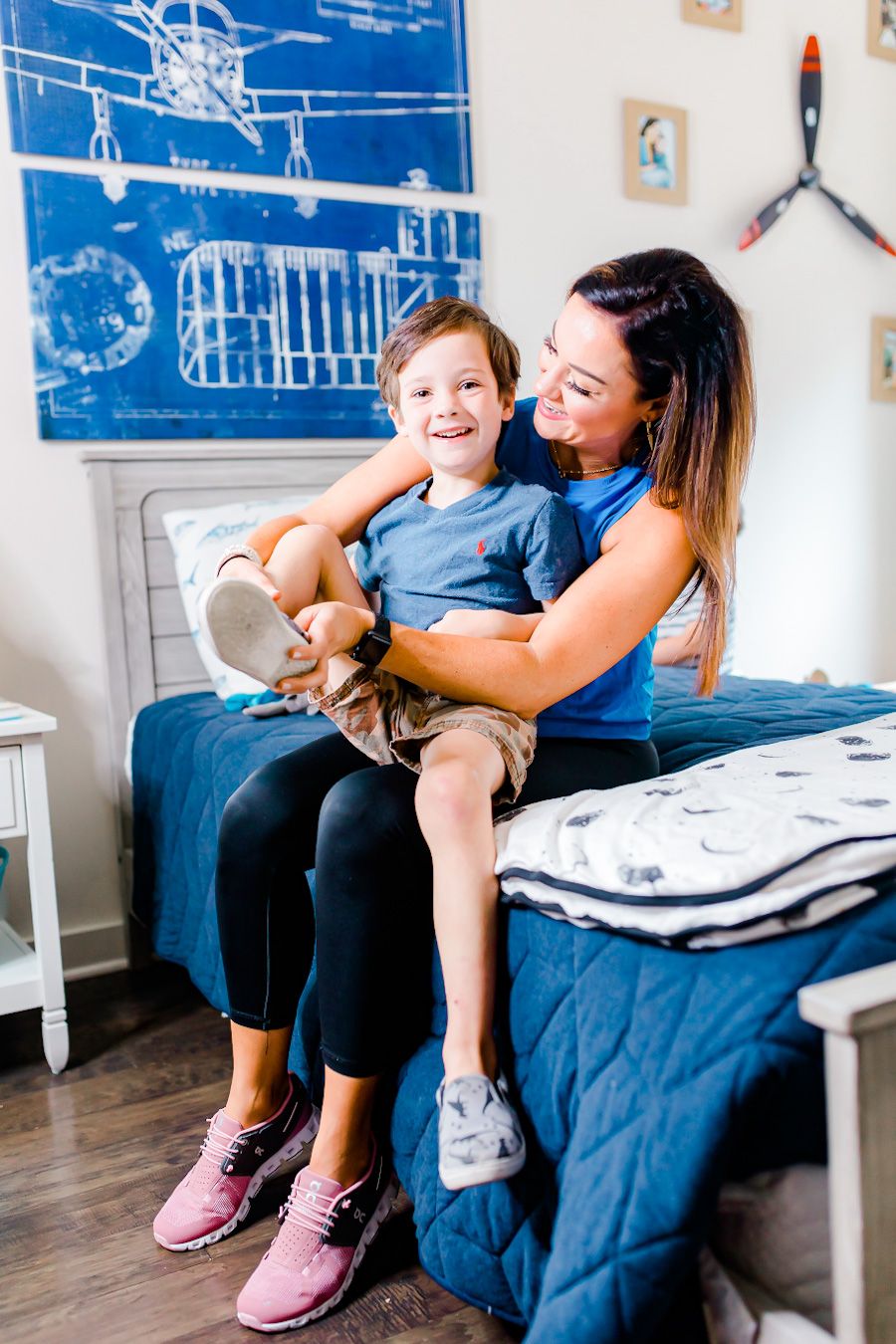 #4 Lay out everybody's clothes ahead of time // Lay out your kid's clothes ahead of time so they (and you) know exactly what to put on in the morning! This goes for you too, Mom! I try to lay out my gym clothes the night before and it totally saves me in the mornings. I head to the gym first thing, so if I don't lay my clothes out the night before, it causes a snowball effect of delays in our mornings. If you're wanting help getting back into the swing of working out as we start a new school year with new routines, the next round of FASTer Way To Fat Loss starts August 16th!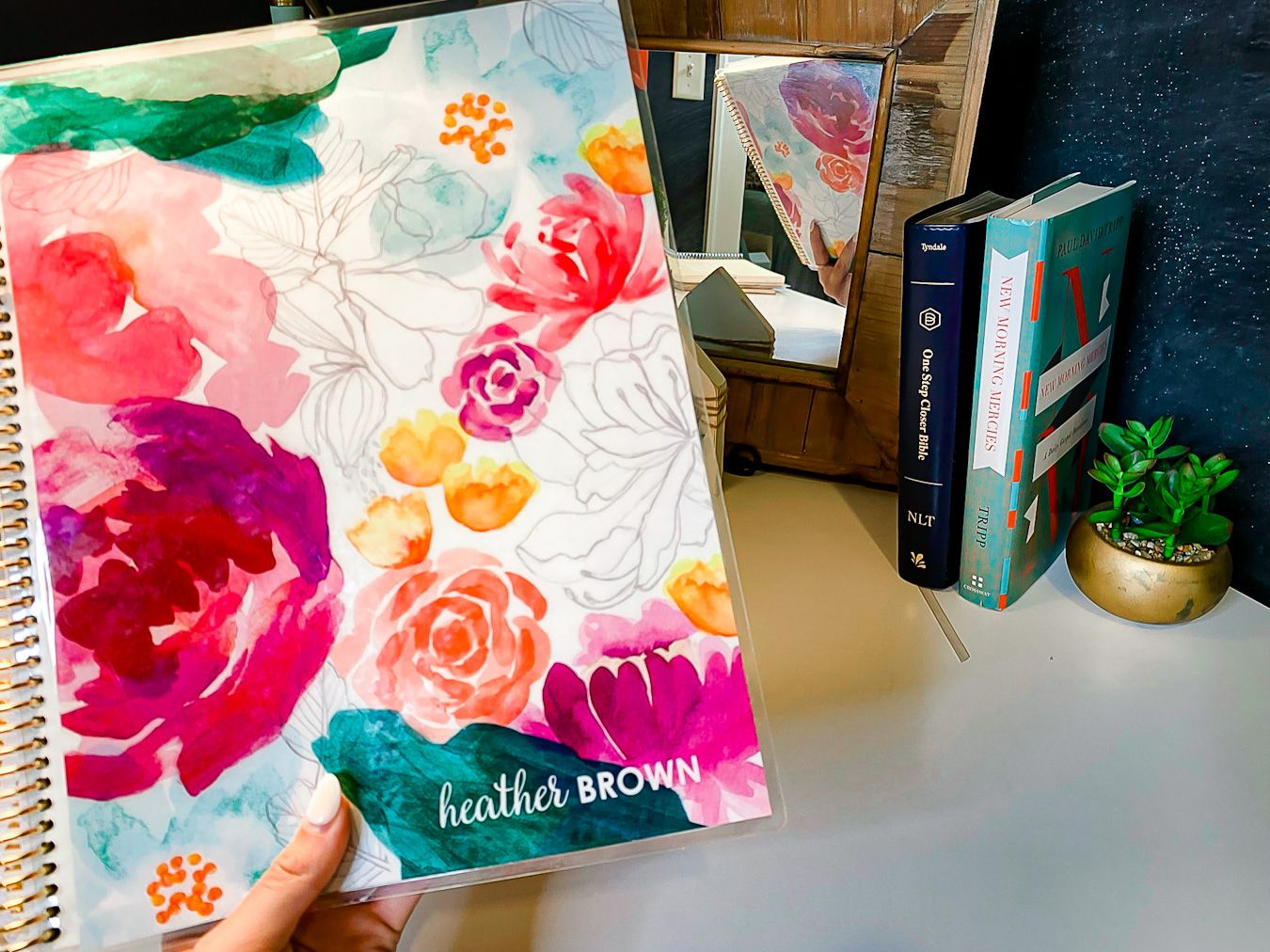 #5 Prepare the night before // This one goes along with laying clothes out the night before but I also recommend preparing for your day the night before! Run through your planner and schedule and make your to-do list the night before so you have a game plan for how to tackle the next day. My favorite planners and organizational desk supplies and calendars are linked below!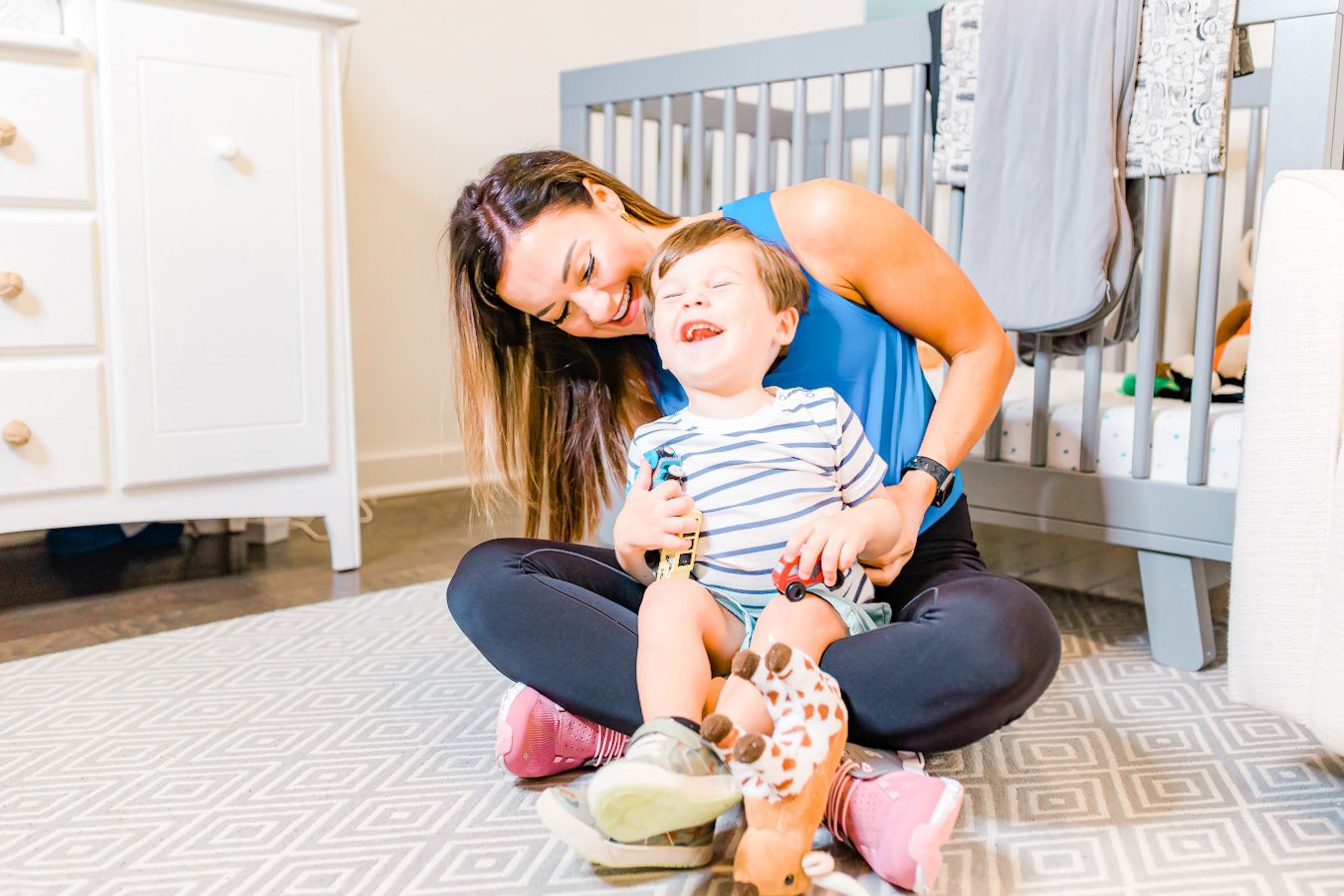 #6 Set an alarm for getting in the car // I usually set a timer on my phone to go off with an alarm so when my kids hear it, they know they have 5 minutes till their booties need to be in their car seat and they can start grabbing water bottles, backpacks and other back to school essentials!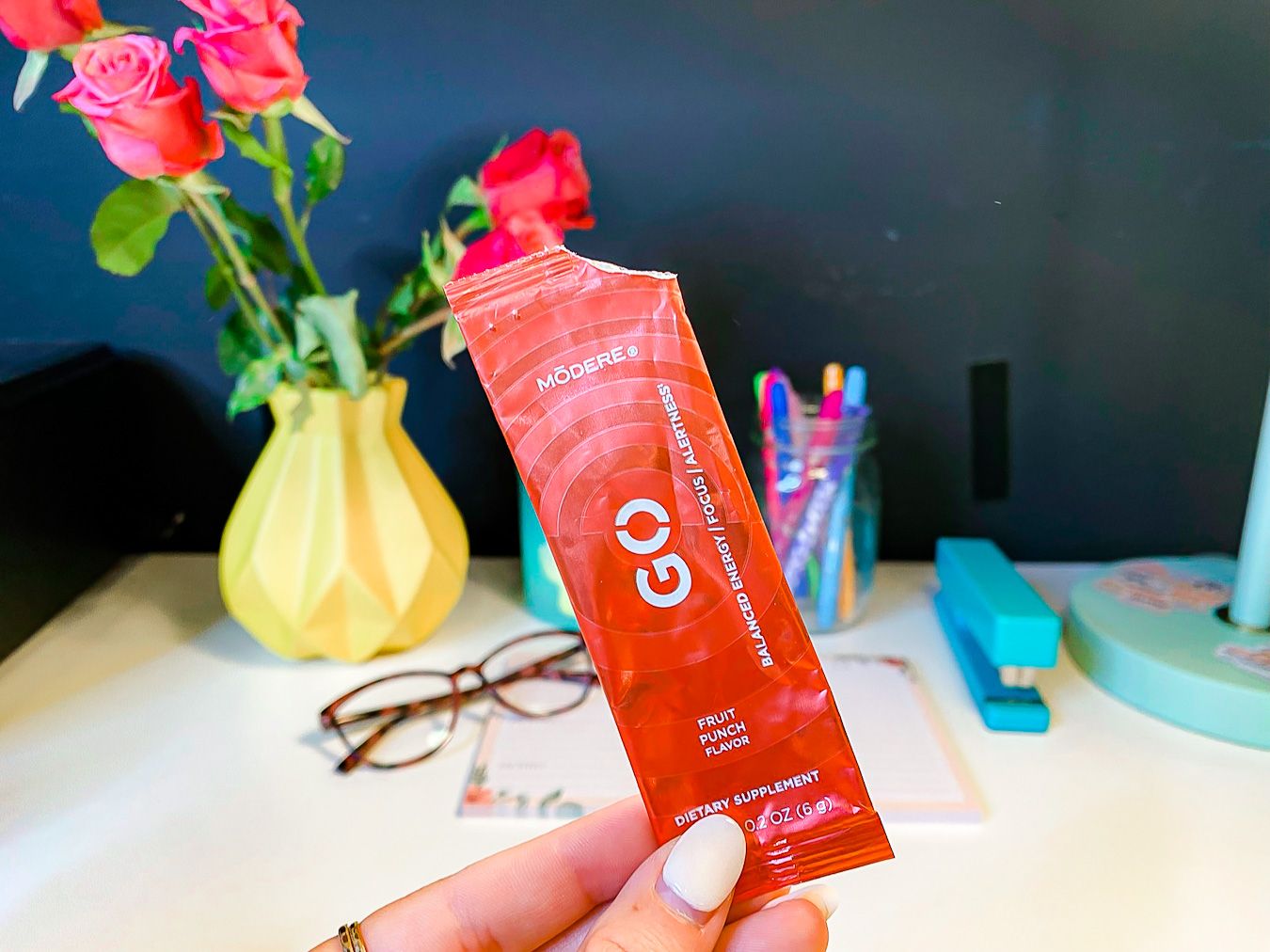 #7 Caffeinate, caffeinate, caffeinate! // I use my coffee time in the mornings to prep my day and write in my journal. There are so many benefits to drinking coffee! When I'm in more of a hurry and need a quick caffeine fix, I swear by my Go energy packs! New customers save an additional $10 when you use code 2256749.
#8 Morning affirmations // This is a big part of our back to school morning routine! I try to say morning affirmations with the kids every day to help settle the chaos in the car. Some examples of ours are:
I am kind.
I am smart.
I am a child of God.
I am brave.
I am a good listener.
Mommy & Daddy love me
and God does too.
I am a good sport.
And I'm going to have a GREAAAAAT day!
We also do a turkey bible verse from the fall into giving back printable. Give thanks to the Lord for He is good, His love endures for- EVERRR in a sing-songy voice and then say GOBBLE GOBBLE!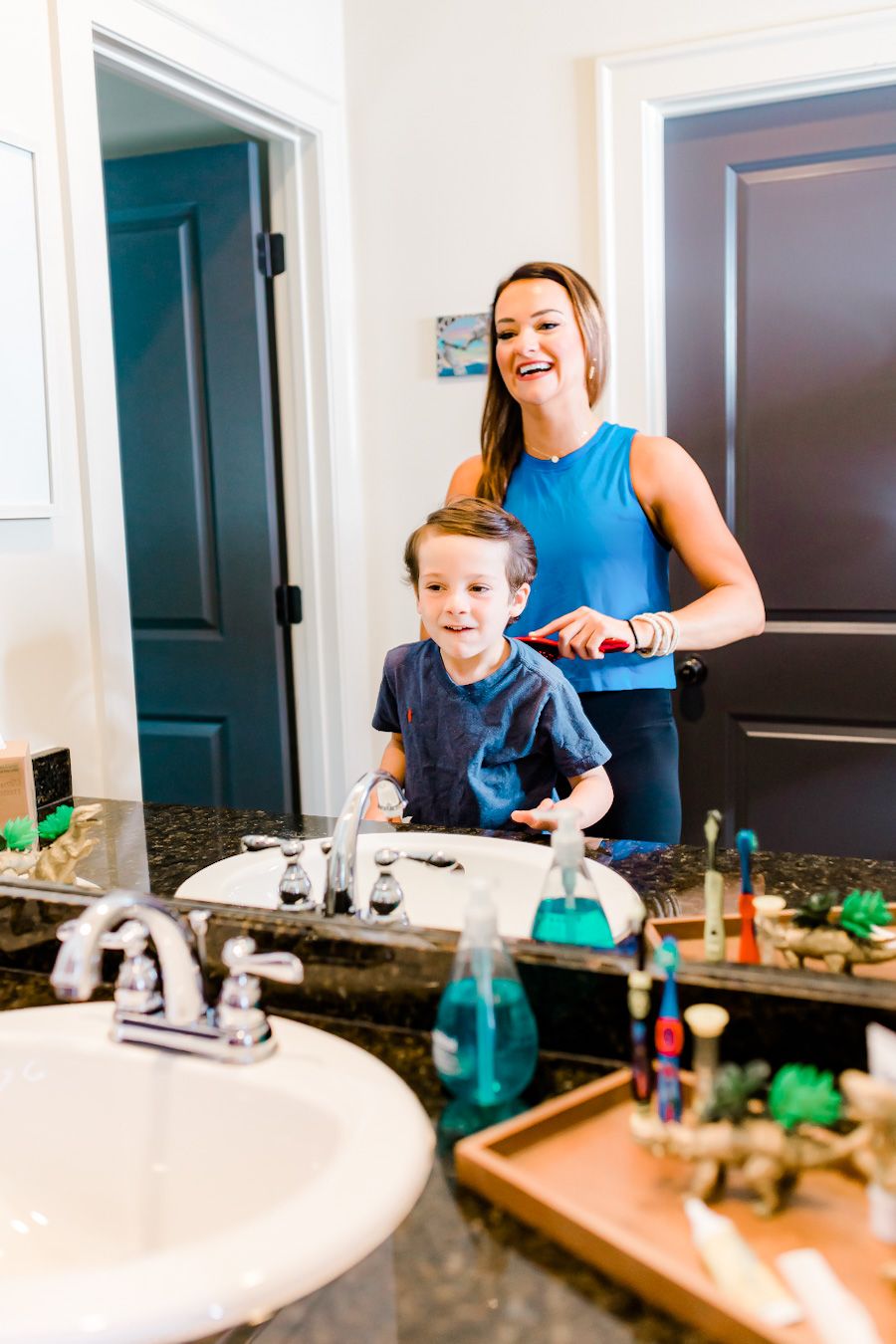 #9 Be intentional // Set your day with the right intentions. Positivity & gratitude change everything! I've recently incorporated my Motherhood Journal at night to write down a few things that I want to remember about the boys' day and things to be thankful for. In the mornings, I love to listen to either a devotional app or worship music (see my favorite playlist I created here!) that helps set my day out on the right course. I love these devotional apps because they play audio so I can listen on the car rides to or from school.
#10 Set the expectations // Make sure your kids know what the expectation is for school mornings. For example, no tv until they've made the bed, brushed their teeth, fed the fish, opened their curtains, turned off their sound machine, put their shoes on, etc! Set those expectations upfront so they can get into a rhythm each day. Another great idea is to use chore charts. I've linked some below!

#11 Pack breakfast ahead of time // If you DO have time in the week to stop and prep breakfast, pop it into baggies that you can easily grab for them as you are walking out the door! Set out some bananas, or granola bars, anything that's easy to bring in the car with them on the way to school. That way, you aren't having to tear the pantry apart looking for something for breakfast in the mornings! I also try to make sure everyone's water bottles are full and in the fridge so that's one less thing we have to worry about as we're rushing out the door.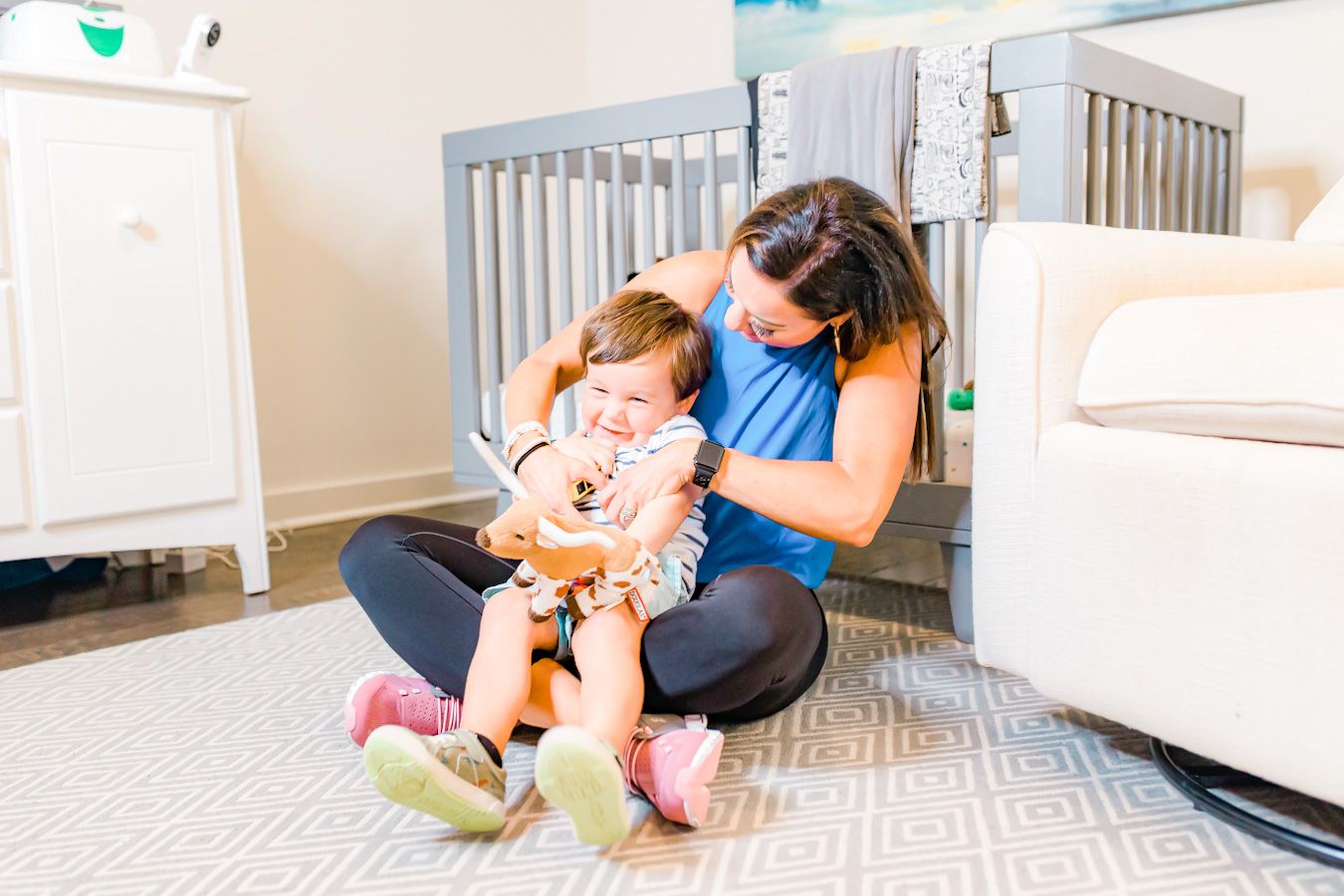 #12 Meal plan // Y'all know that I am a huge advocate for meal planning because it really is the biggest help to me as a busy mom. Dinner is one less thing on my scattered brain when I take the time to plan ahead. Make sure you reference your meal plan you made the night before so you don't forget to start the crockpot in the AM or thaw the chicken from the freezer! For ALL the tips and tricks for meal planning, check out my Meal Planning For The Busy Mom eBook.
Want my list of 15 easy breakfast ideas you can make ahead or quickly grab-and-go as you're headed out the door?
Check Out More Back To School Posts Here
Shop The Back To School Morning Routine Post Here

Pin The Back To School Morning Routine Post For Later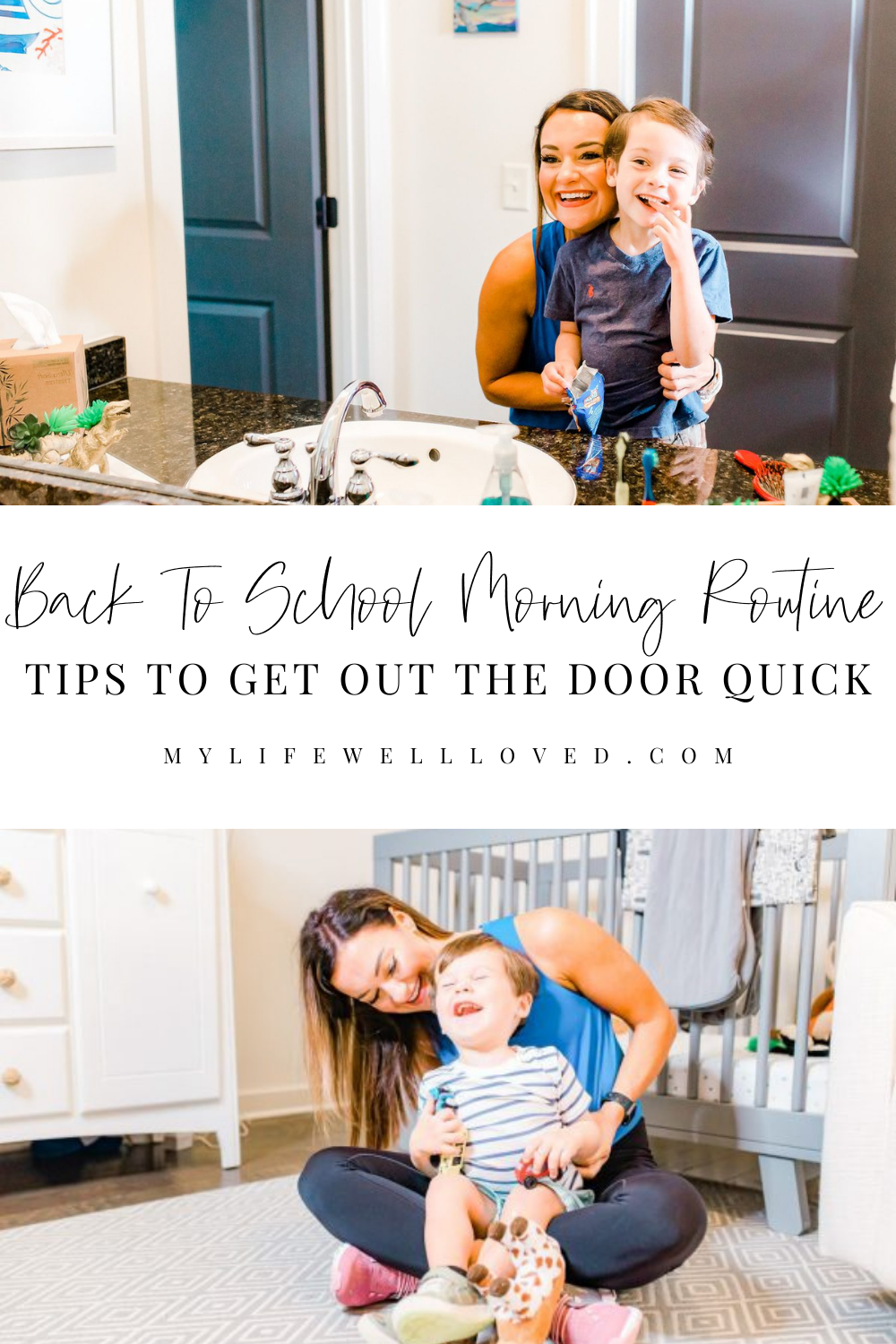 Heather Brown helps busy mamas of young littles who are caught in the hustle to find encouragement in their journey to true health, from the inside out, starting with the heart. Read her journey of learning to live a life well-loved
HERE!