The Morning Routine With A Toddler And Baby Post was originally published in September 2019 and updated in September 2020.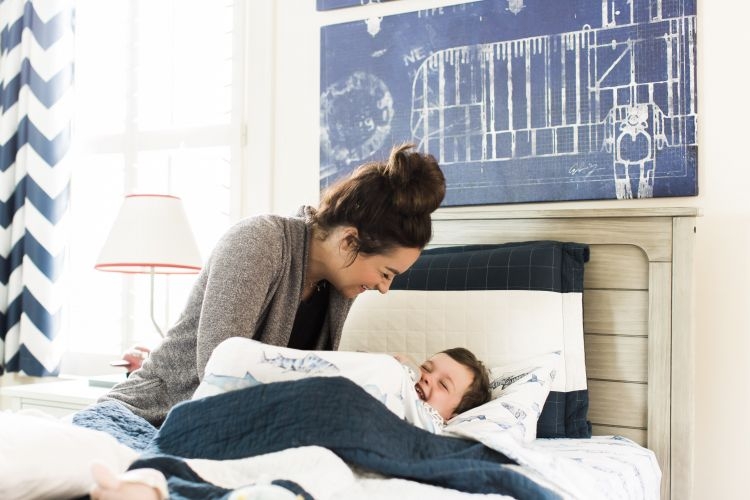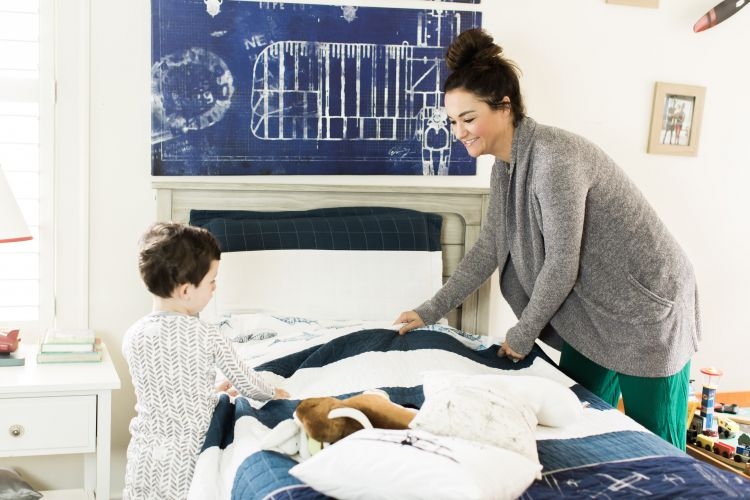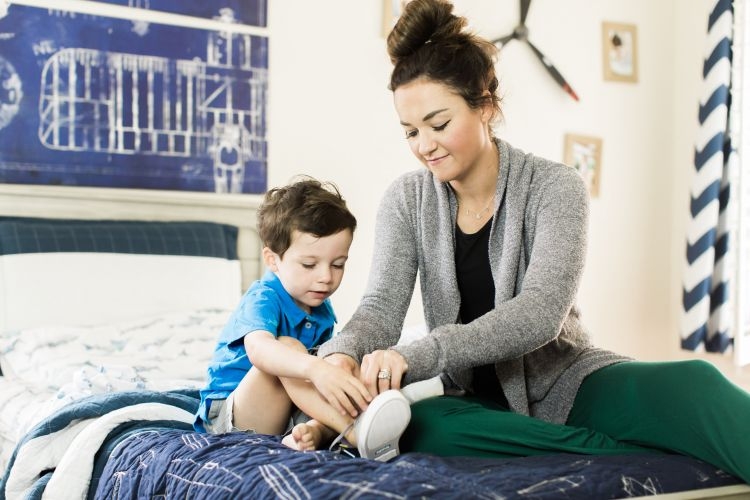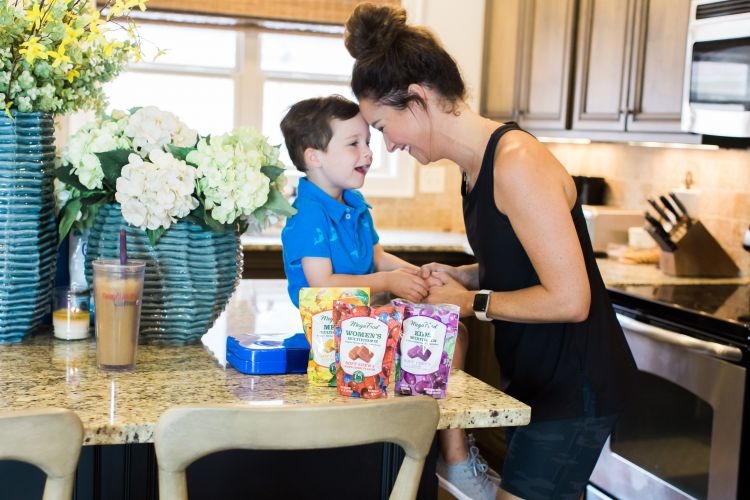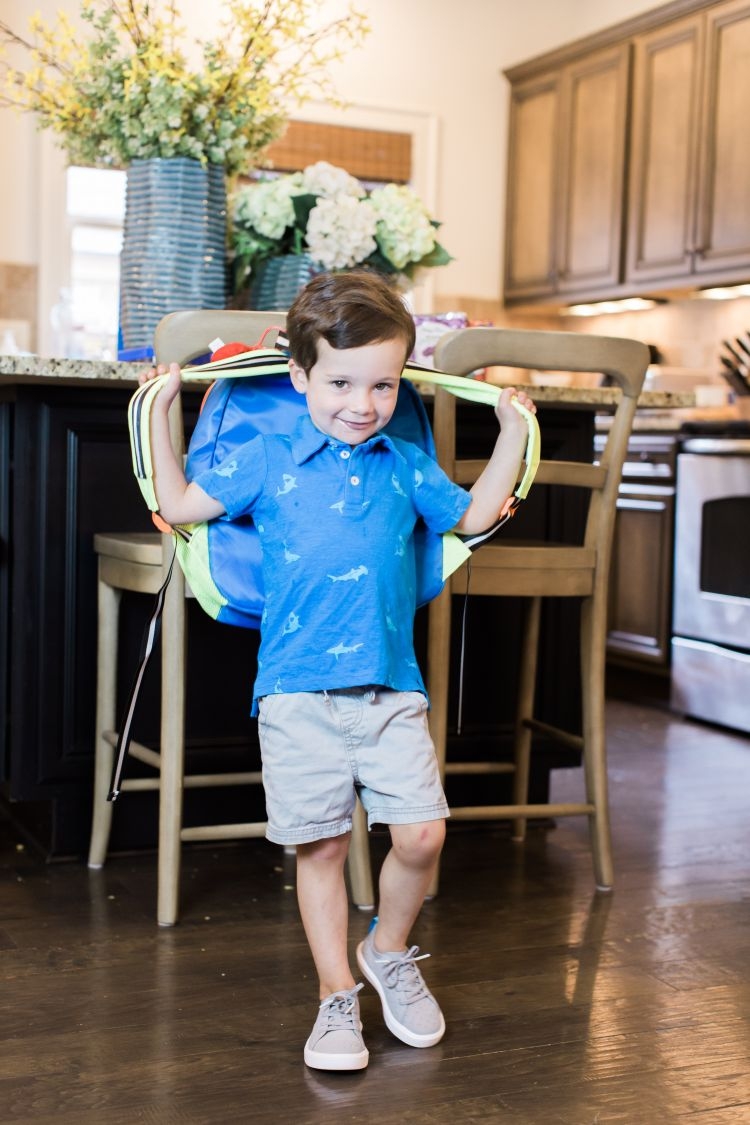 SHOP Our Morning Routine With Toddler And Baby Photos HERE: Cardigan // Leyton's Shirt (similar) // Leyton's Shorts// Leyton's Backpack // Leyton's Shoes // SHOP Leyton's Big Boy Room HERE
Photos by Magen Davis Photography
This post is in partnership with MegaFood®️. All thoughts and opinions are my own.
"How do you make your mornings not crazy with a toddler and a preschooler?" When I get this question, I often laugh just a little to myself because mornings with a 2 and 5-year old, getting dressed, eating breakfast, making sure mama has 2 of the same shoes on, and getting out the door, will always be a little crazy.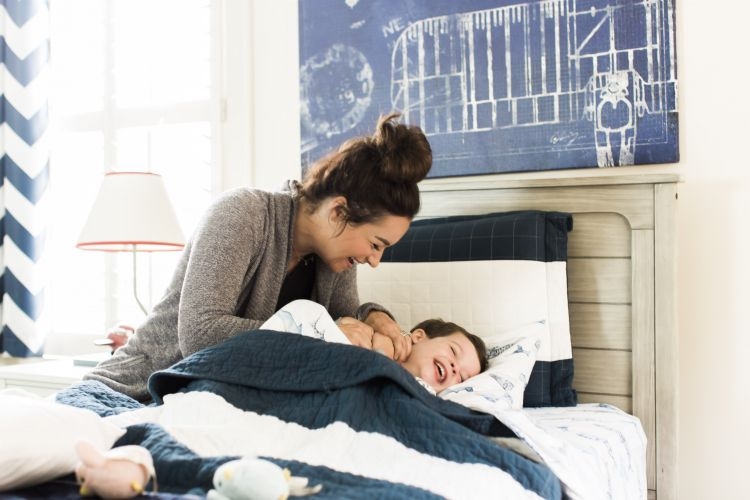 We pretty much run around until we eventually get in the car and are on the way to our destination. I consider it a lucky morning if no coffee is spilled, no meltdowns are had, and we don't have to run back home a few times for things forgotten.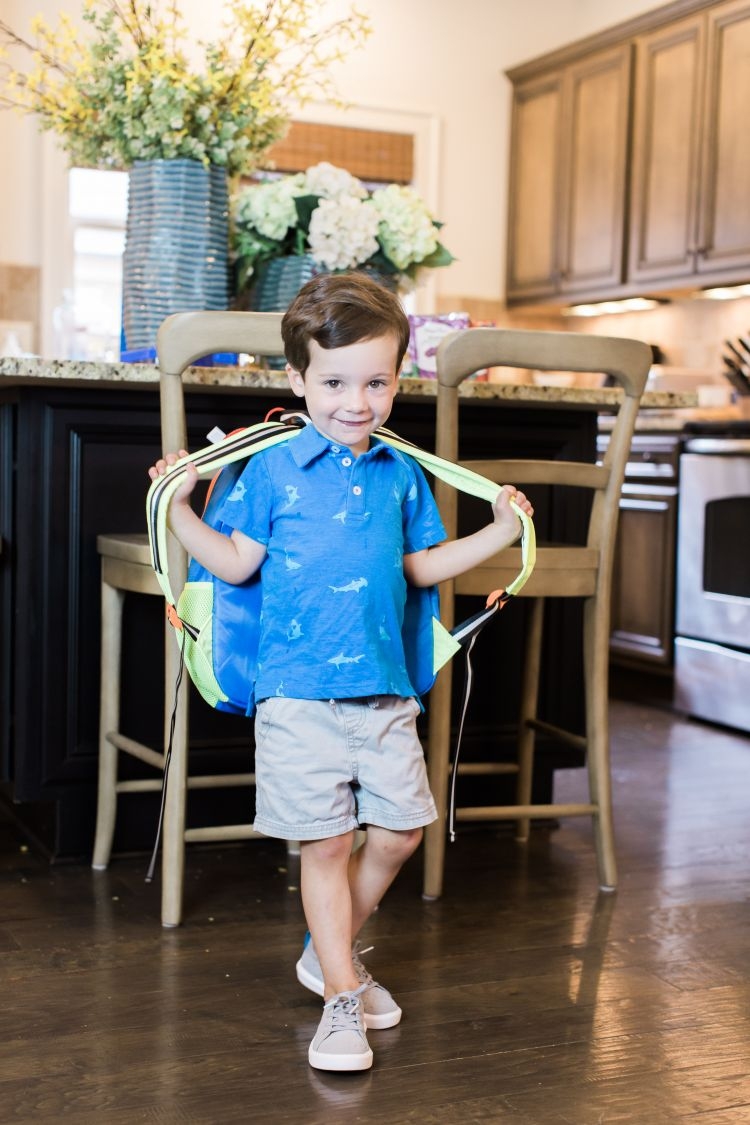 However, since you have asked for a glimpse into our morning, I am happy to share it! This is the routine that works for us and the order in which I do things with the boys to get us from point A to point B on time (read: somewhat on time). 😉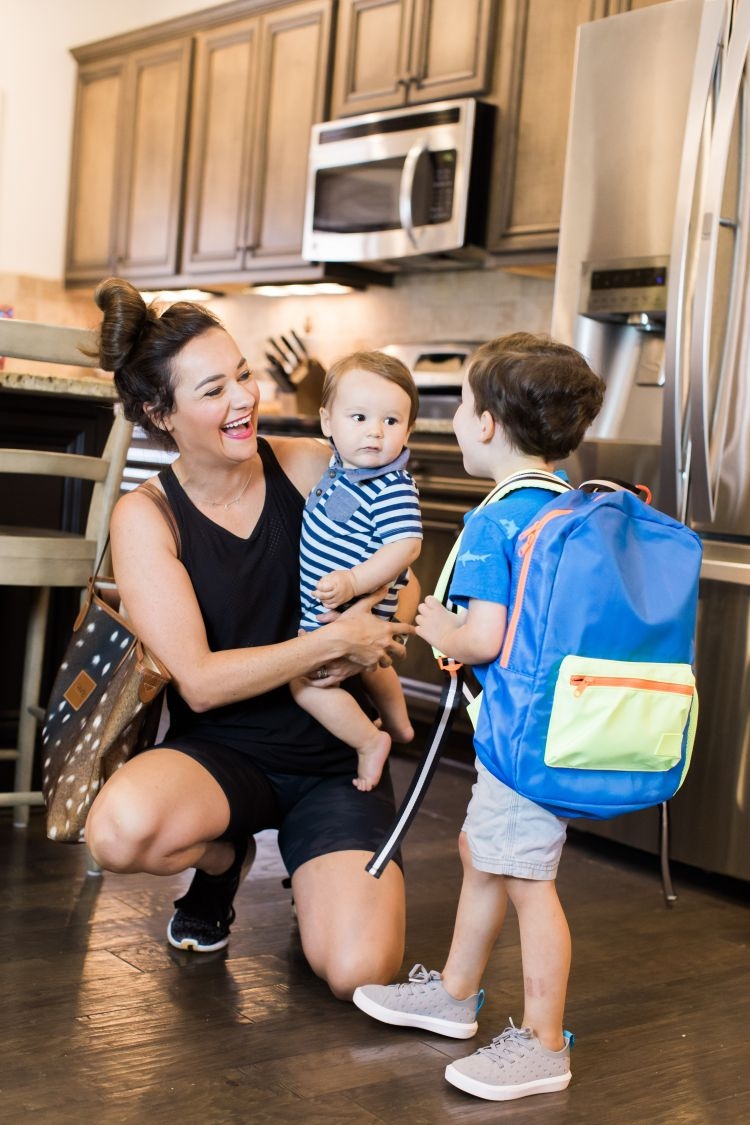 SHOP Our Morning Routine With Toddler And Baby Photos HERE: Barrington Bag // Tank // Camo Biker Shorts // Finn's Onesie // Adidas Edge Sneakers
I shared this post last year when the kids were a little younger and Finn was just then weaning. As we are in the season of back-to-school, I know we are all looking for magical fixes to our routines to simplify life and make it "easier" so I thought I would update and share again!
I think the best advice I can give is to figure out what works for YOU and for your kids! Be sure to keep scrolling so you can read about the new vitamin we tried with Leyton and how we incorporate that into our morning routine!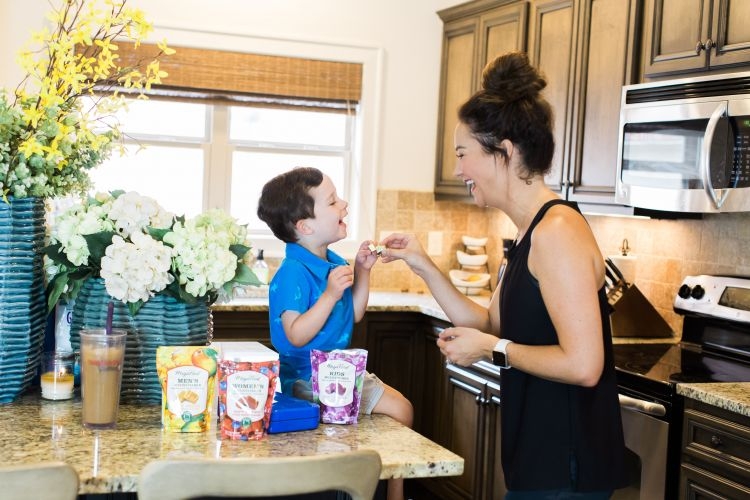 Our Morning Routine With Toddler And Baby On A Typical School Day: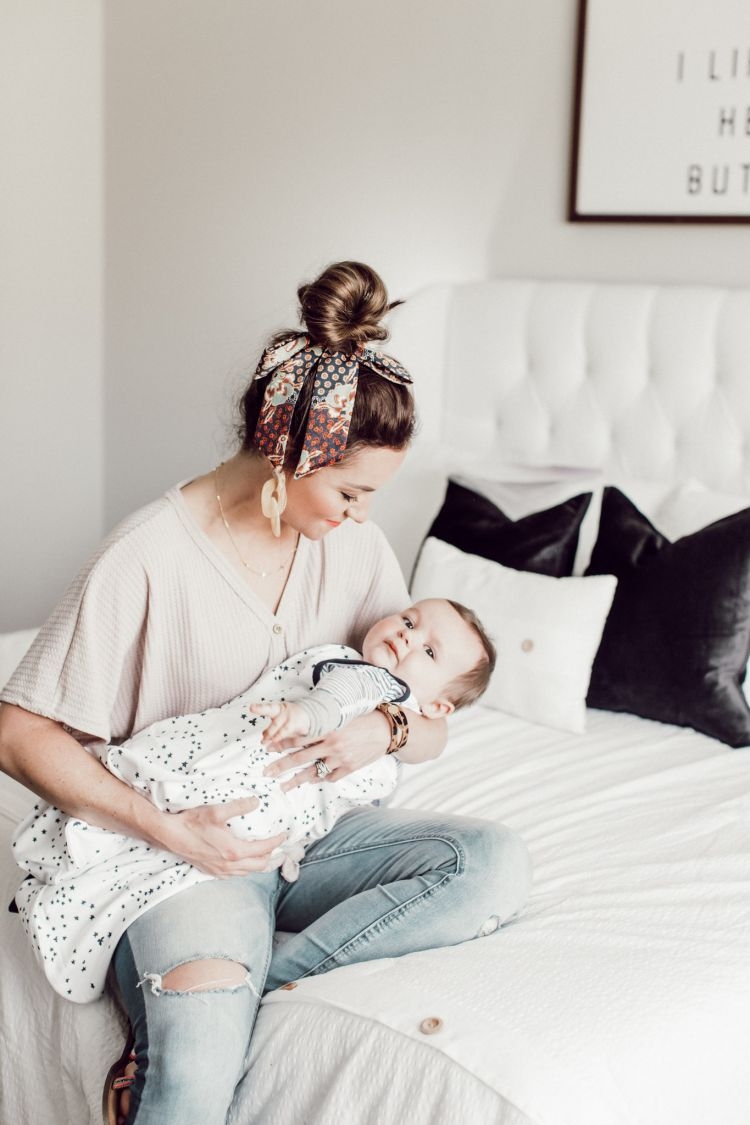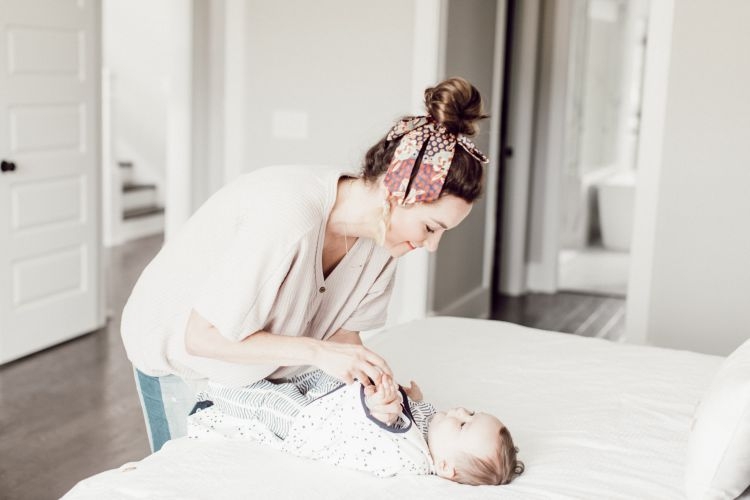 SHOP Our Morning Routine With Toddler And Baby Photos HERE: Top // Denim // Hair Scarf // Necklace – use code HEATHER20 // Finn's Swaddle // Bracelet // Earrings
1. When Finn was younger, he would wake up first around 7:00 am or 7:30 am to feed. This is one of the times I was still nursing him up until about this time last year! After I fed him, I lay him back down to sleep a little longer. PS – If you want to see more of his daily routine at about 12 months old, click HERE!
2. Now that Finn is a little older, he sleeps until I get him out of bed. So first, I head to the kitchen to start my coffee around 7:30am with my Nut Pods (use code MYLIFEWELLLOVED for 15% off) and Oat Milk before the kids are awake. #necessity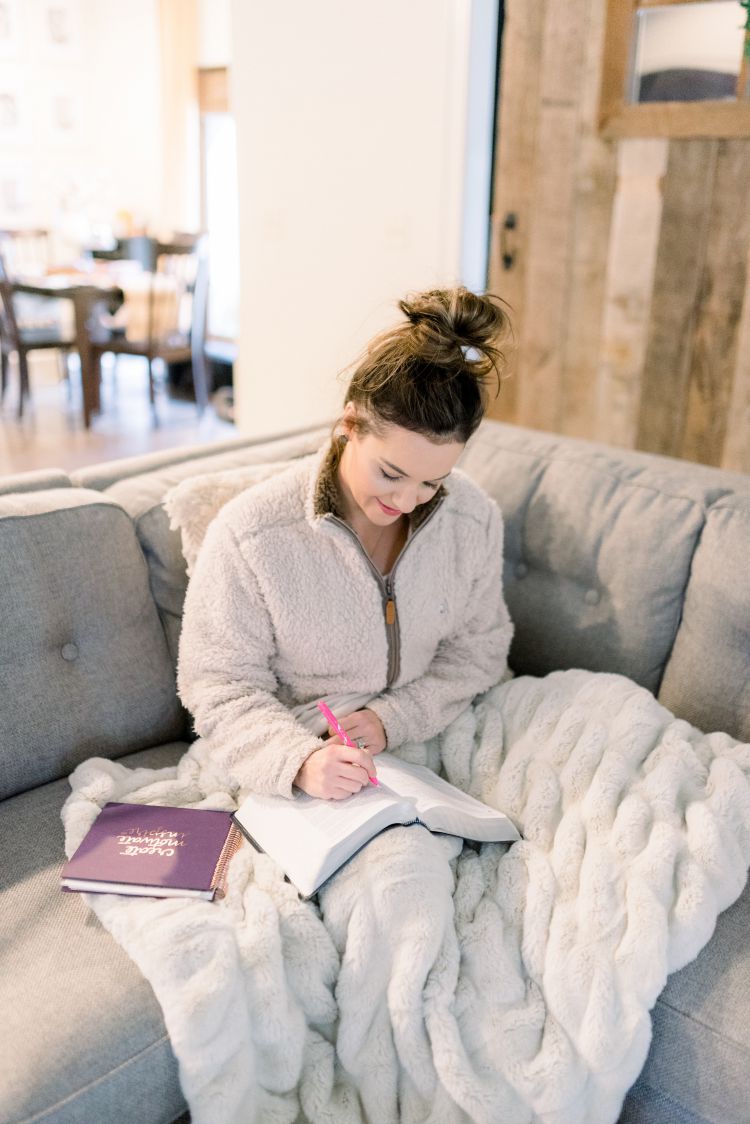 SHOP Our Morning Routine With Toddler And Baby Photos HERE: Blanket // Similar Couch // Similar Pullover
While my coffee is brewing or while I am drinking my coffee, I do a quick run-through of Instagram DMs, texts, and emails to make sure nothing crazy happened overnight that is urgent and needs immediate attention.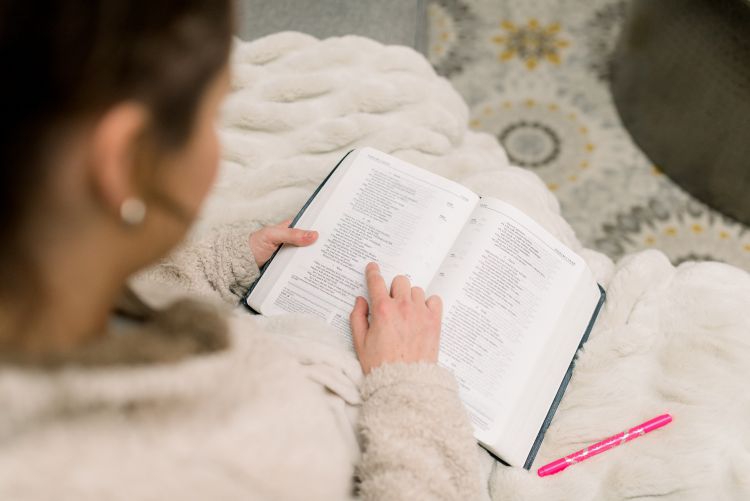 ***Note: I would love to be better about doing my Embraced Devotional or New Morning Mercies Devotional here. As I said, we are all figuring it out and there are things about everyone's mornings we wish we had more time for or we wish could be different.
3. At this point, I go ahead and make Leyton's breakfast and pack his lunch box. If there is anything additional for school that needs to be prepped, I do this before the boys wake up so it is ready to go! Be sure to read my full list of kid-approved lunch and snack ideas HERE!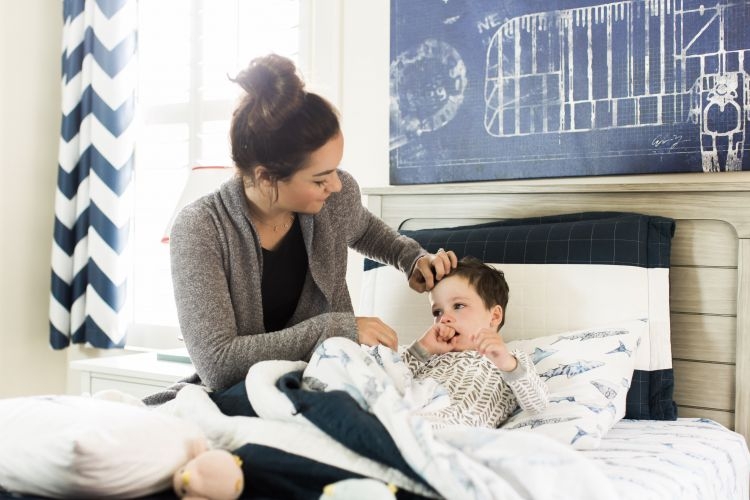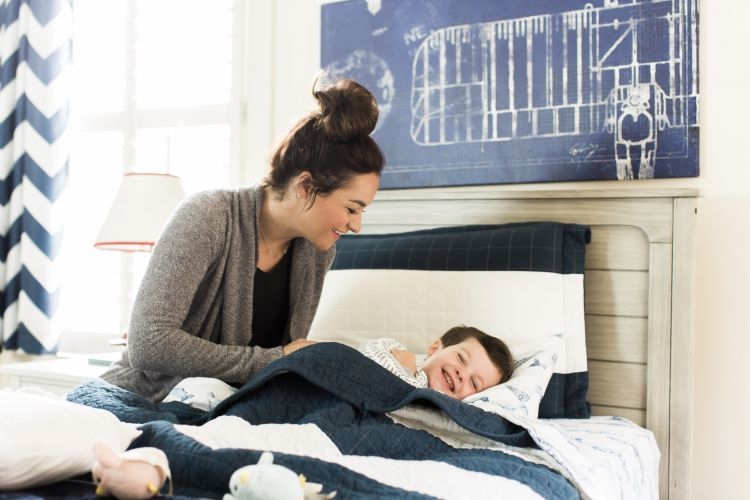 4. Next, I wake up Leyton and Finn for the day ahead. We lay out Leyton's outfit the night before, which is another huge time saver. Leyton can get dressed by himself. I encourage him to wear slip-on shoes as much as possible since he can put those on himself. After he gets his hair brushed and clothes on, we head to the kitchen!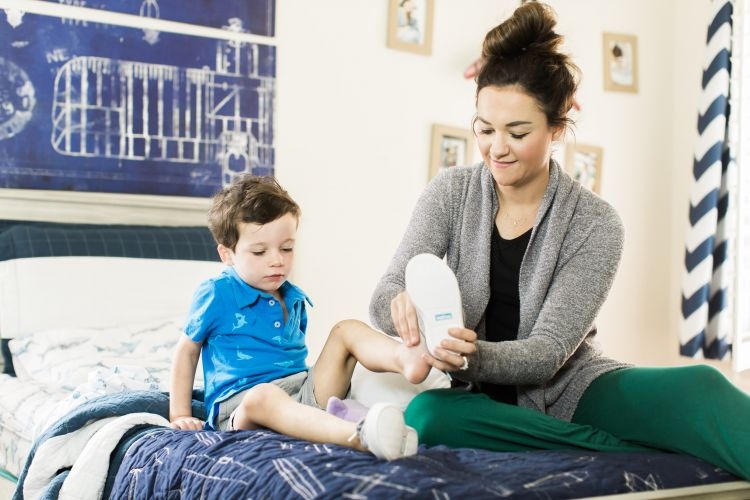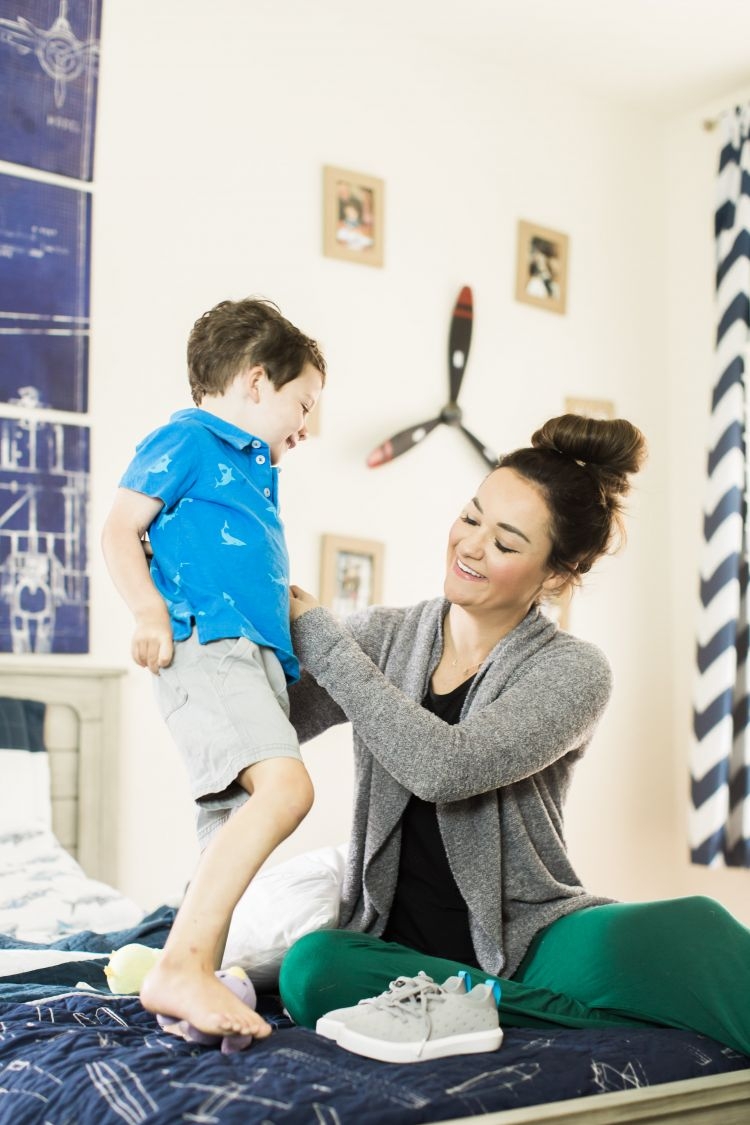 5. Leyton pretty much always starts his day drinking a "monkey juice with a straw" (aka yogurt smoothie) and cereal or "choc bar". If you've been following along, you know we've struggled with picky eating and I am so glad we have found a few no-fail items he will eat/drink in the mornings!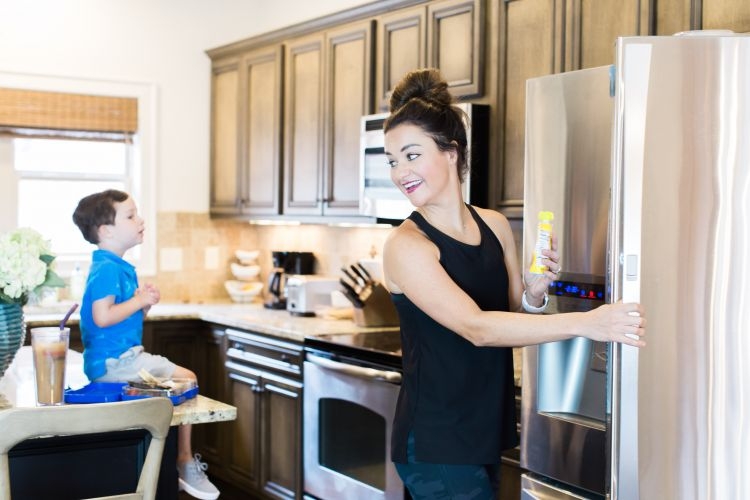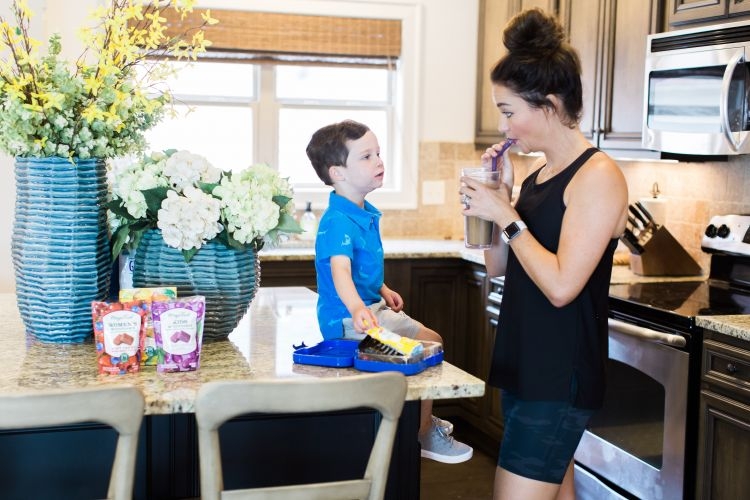 6. At this time, I typically have Leyton take his MegaFood Kids Multivitamin Soft Chew! This is a new line the award-winning supplement brand just launched for kids, women, and men! We love the colorful packaging and yummy flavors which gets Leyton excited and I get excited that they're made with vitamins, minerals, and added food from trusted farm partners! And yes, Eric and I are taking them too!
The Multivitamin Chews are non-GMO, organic, vegetarian, and dairy/soy/gluten-free! I love that these are made to support Leyton's development and growth. They include a blend of real fruits – oranges, cranberries, and blueberries – to contain Vitamin C, E, and beta carotene. Starting Leyton's day with something good for him and healthy for his body helps to ease my mind. I worry less about other things he may or may not eat throughout the day.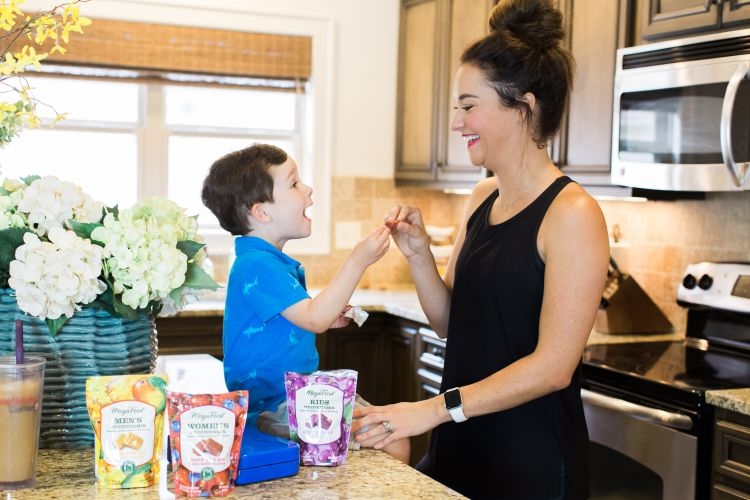 Like I mentioned, with Leyton's picky eating, we are mostly focused on getting him to eat something. As a mom, I have had to surrender a lot of control with his diet. Whether picky or not, it is hard to get our littles to eat a well-balanced meal 3x a day. And let's not forget about healthy snacks. I love that the MegaFood Multivitamin Chews are a great source of fruit and vitamins for him to start the day!**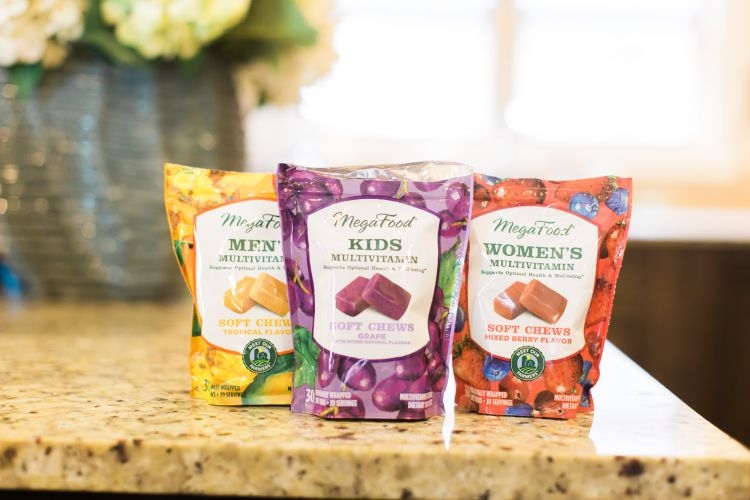 7. After we get his breakfast and vitamin, he grabs his backpack and heads to the car to buckle into his car seat.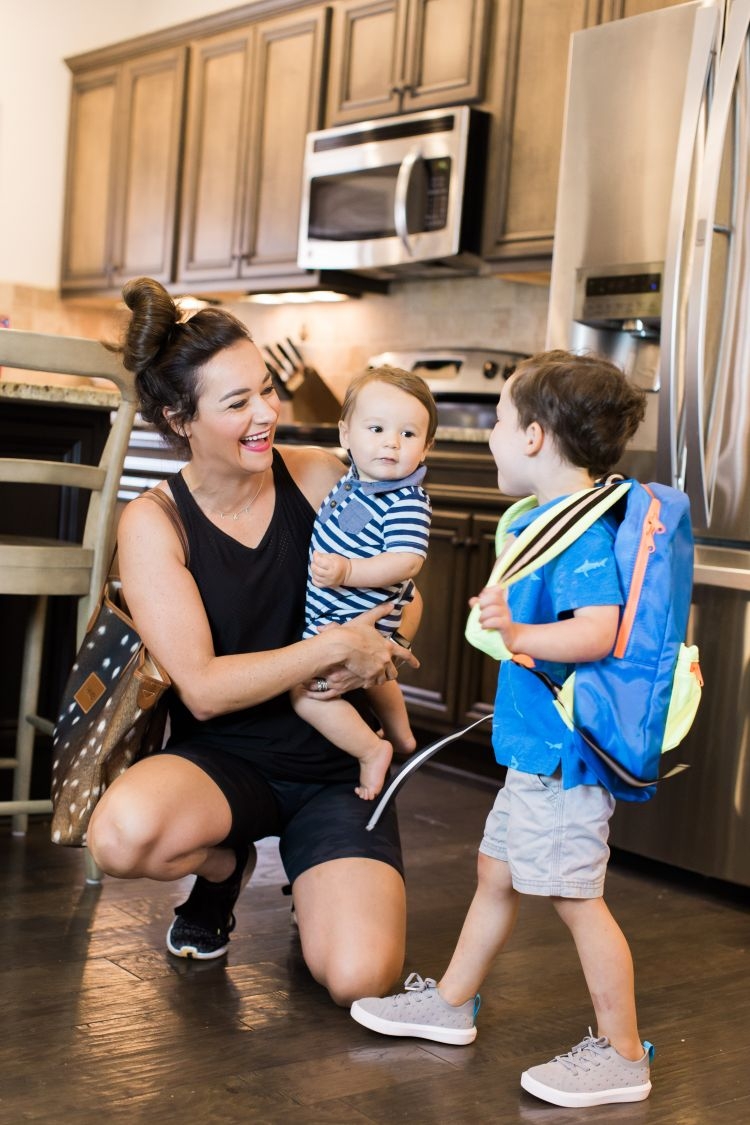 8. While Leyton is getting his backpack and getting in his car seat, I run back in to grab Finn and quickly change his diaper!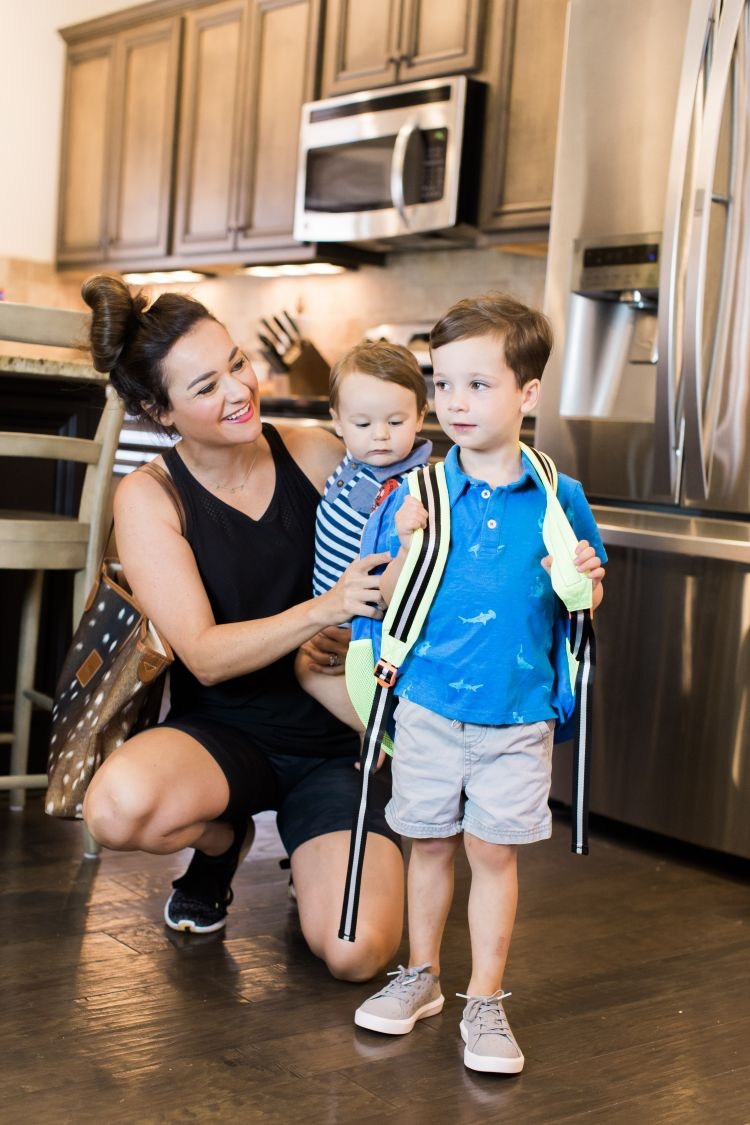 9. And we are off! We drive to Leyton's "preschool" program, Mother's Day Out, usually listening to kid's music or a kid's podcast along the way while the boys snack on cereal in the backseat!
10. Once I drop off Leyton, Finn and I head to Burn Bootcamp to workout and that's when I usually check in with y'all on Instagram Stories to say hi!
What is your morning routine like? I would love to hear any hacks you have for making sure your mornings run smoothly!
*This statement has not been evaluated by the Food and Drug Administration. This product is not intended to diagnose, treat, cure, or prevent any disease.
SHOP The Post HERE:

PIN The Post For Later!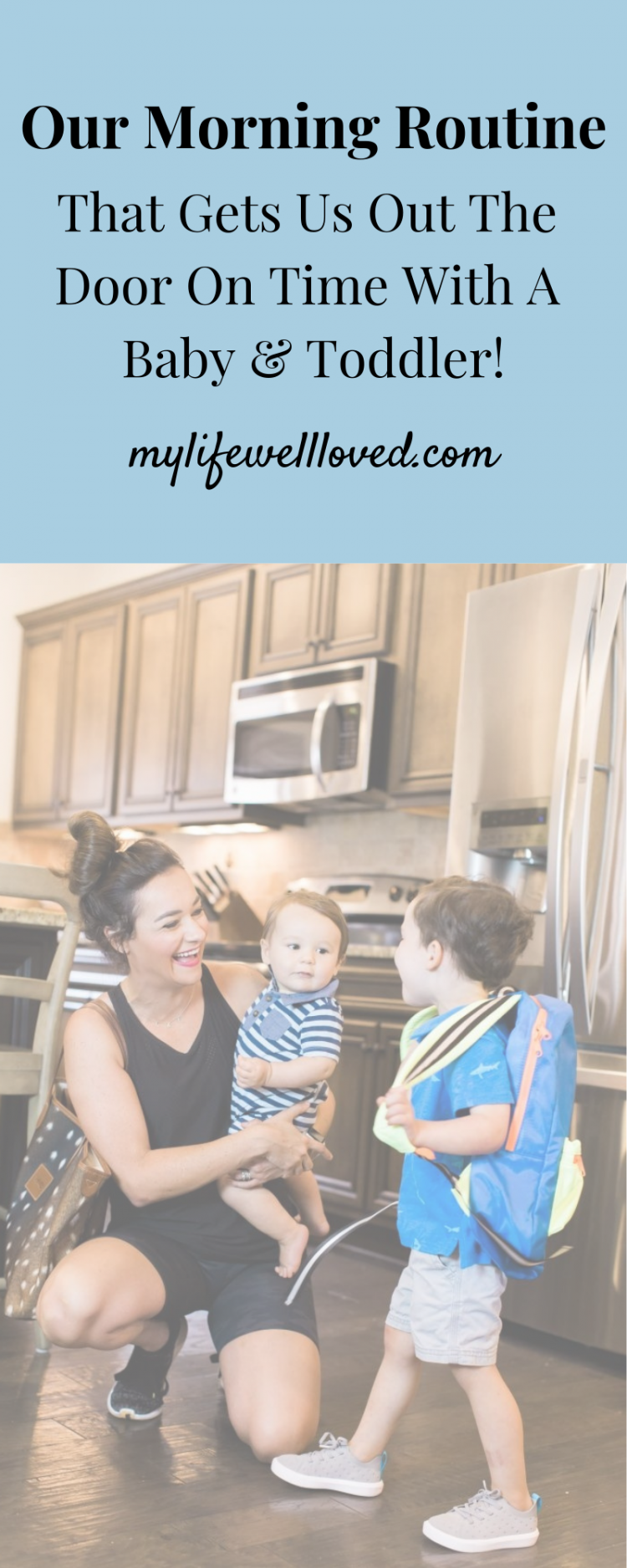 Heather Brown helps busy mamas of young littles who are caught in the hustle to find encouragement in their journey to true health, from the inside out, starting with the heart. Read her journey of learning to live a life well-loved
HERE!