The Ways To Give Back To Your Community Post was originally published in October 2019 and updated in September 2020.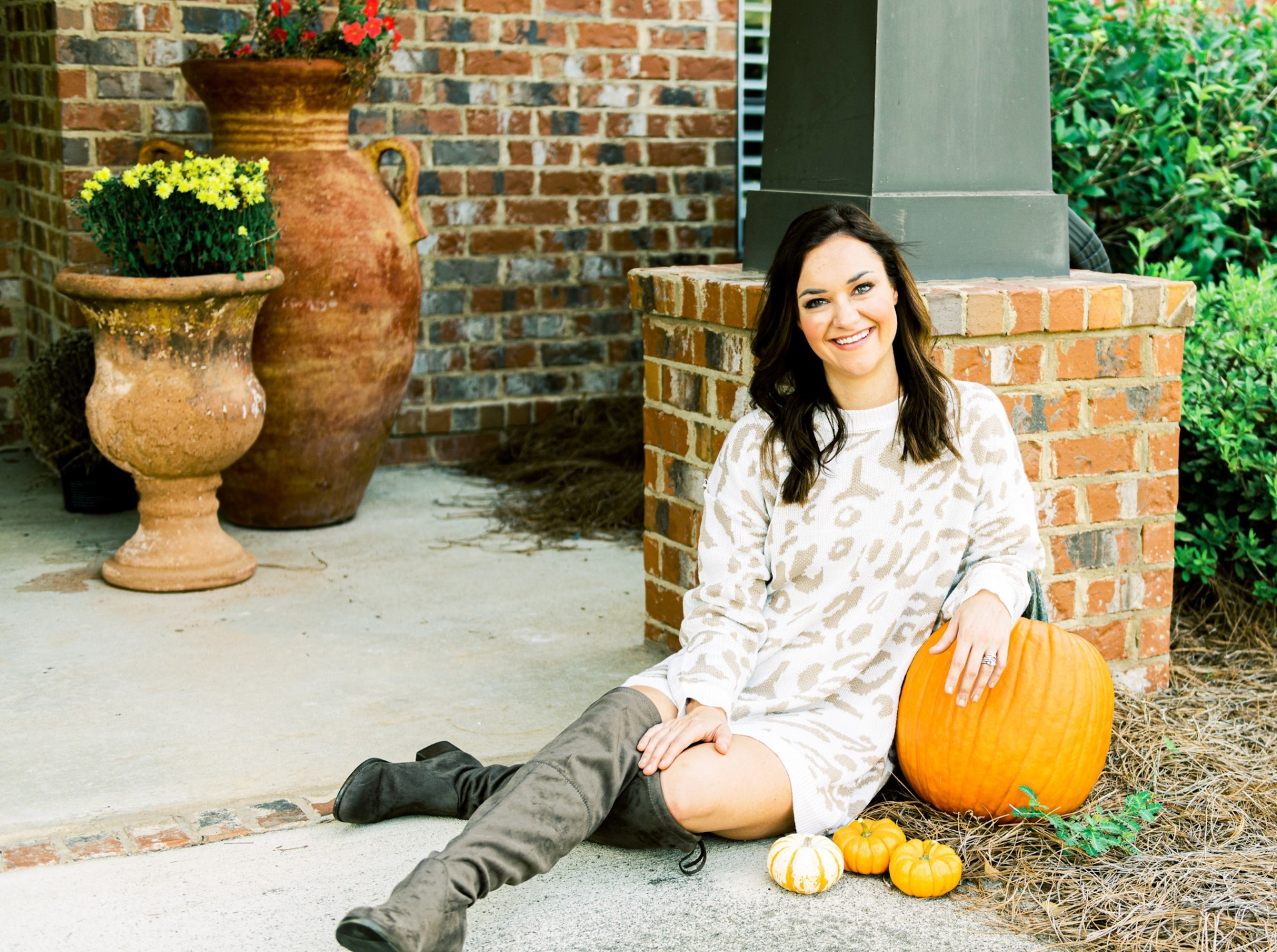 SHOP The Ways To Give Back To Your Community Post HERE: Oversized Leopard Sweater Dress – fits TTS wearing size small // Similar OTK Boots
To highlight more than Pumpkin Spice Lattes and all the "fall vibes", we want to encourage this community of incredible women to GIVE BACK and be inspired by new ways to brighten someone's day. We are dedicating the entire fall season to FALL Into Giving Back! The upcoming months can come with a lot of fun as we near the holidays but also a LOT of stress. Let's join together and take back a LIFE WELL LOVED by spreading some kindness!
Throughout the rest of September and October, we want to encourage you to pay it forward, give back, and spread joy by random acts of kindness we can all easily incorporate into our day! Whether it's treating the person behind you in line to their coffee, paying for someone's meal in the drive-thru, texting someone to tell them you are grateful for them, encouraging a mom, teacher, friend, spouse, or donating to a worthy cause! This is a FUN way to give back and get your kids involved in encouraging others in our communities.
As a busy mom myself, I know how crazy the days can get, so to help make your life a little less stressful, I put together a fall meal plan for you and your family. It's completely free, and I hope that it helps you keep your cup full, so that you can continue to fill the cup of those you love this season! Click HERE to get your fall meal plan for free!
Now that you've got your meal plan set, to help you succeed this season, I have created a brand new virtual resource for you to use with your kids, and even to use within your neighborhood and community! The Busy Mom's Holiday Planner will help you put everything into perspective. Make this last quarter of the year life-giving instead of soul-sucking and stressful! I hope this serves you well and will inspire you in the weeks ahead. Grab your own copy right here at a discount that we've created just for our readers.
Be sure you are participating on Instagram too!! Share how you are using your Busy Mom's Holiday Planner with your family and during this season. It helps to motivate me when y'all share how you utilize my resources in ways I might not think of. And, who knows? Maybe you'll inspire someone else to take this season into their own hands, and make this a less stressful time for them too!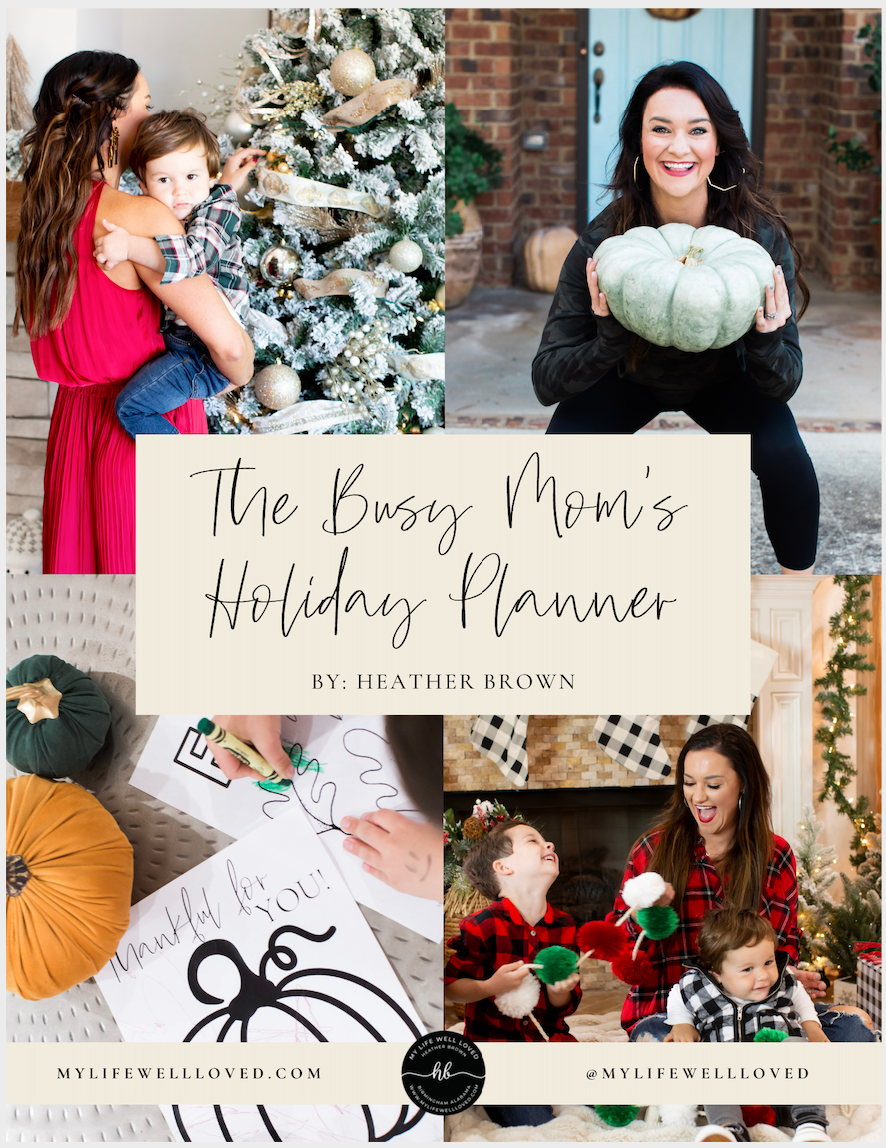 Unique and practical planner pages for brainstorming
Focused encouragement from my heart to yours on how we can find balance
Cute monthly calendars to map out your season
Themed memory verses each month for you and your kids
Themed wellness challenges, complete with ready-to-go tracker pages
Initiatives & ways to give back to your community with your kids
Holiday coloring sheets for your littles
My favorite fall and winter EASY recipes
My best hacks & tips for creating & maintaining family traditions
And SO much more!
Let's go, girl gang!
If you just looking to give back, here are some of the organizations I personally support and believe in:
The Well House – Exists to honor God by rescuing and providing opportunities for restoration to female victims of human trafficking who have been sexually exploited
Our Rescue – In the past six years of existence, O.U.R. has rescued 3,800 victims and assisted in the arrests of more than 2,100 traffickers around the world. The partners they are empowering have collectively helped rescue the lives of more than 10,000 survivors who were enslaved, exploited, or at risk
End It Movement – On the ground, in the streets, busting down doors, manning hotlines, prosecuting traffickers, freeing people. Creating systemic change.
Child Rescue Coalition – Nonprofit that enables law enforcement to track, arrest & prosecute child predators. Over 12000 arrests, 2500 child rescues, 90+ countries, and counting. Protecting innocence through technology.
Make-A-Wish — Helps fulfill life-changing wishes for critically-ill children, worldwide!
Operation Christmas Child — Gives a tangible expression of God's love by filling a shoebox for a child overseas. Select items on your phone in just a few clicks and local believers will deliver it to children overseas.
Compassion International — Changes the lives of children around the world by connecting them with caring sponsors. Through Compassion International, children receive supplements, education, medical care, recreational activities, and a relationship with both a local church and their sponsor.
DHR, CASA, Or Other Foster-Care Advocacy Organization — You can support community volunteers who advocate for abused and neglected children in foster care and help those children move toward safe, permanent homes. If you were around in 2019, we rallied together to purchase $5 Walmart blankets to donate to the children in foster care.
Check Out More Fall Inspired Posts HERE:
SHOP The Ways To Give Back To Your Community Post HERE:

Heather Brown helps busy mamas of young littles who are caught in the hustle to find encouragement in their journey to true health, from the inside out, starting with the heart. Read her journey of learning to live a life well-loved
HERE!