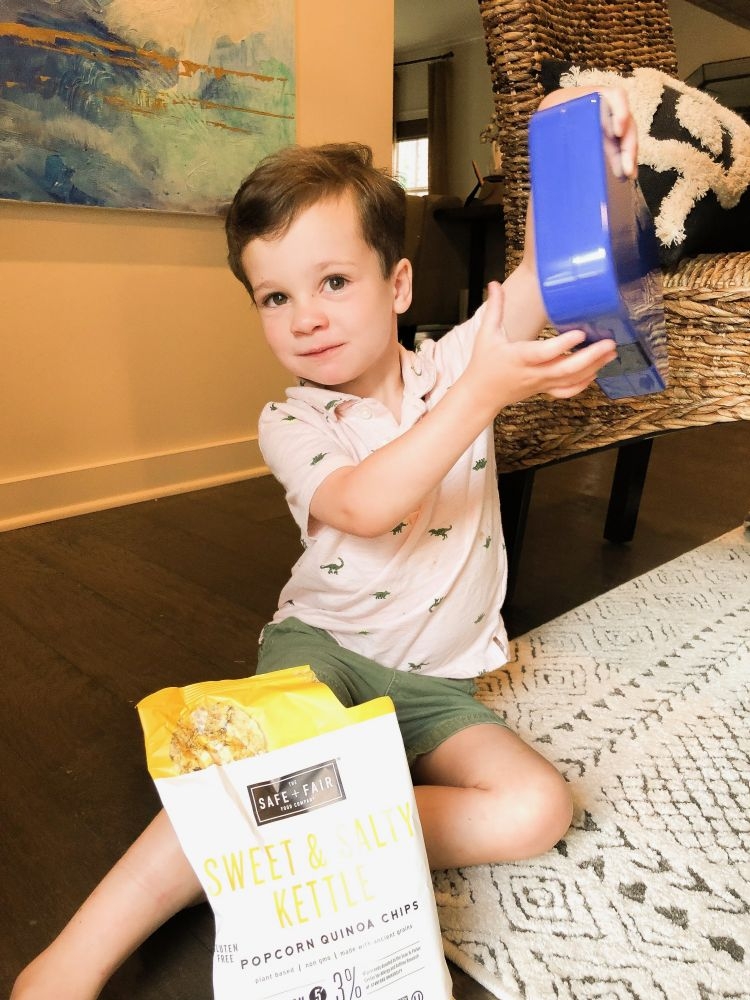 SHOP The Healthy Kid-Friendly Lunch Ideas Post HERE: Collared Dinosaur Shirt // Green Boys Shorts // Bentgo Lunchbox // Safe + Fair Allergy Free Snacks (use code WELLLOVED10 for 10% off)
Can anyone else find it hard to believe that we are already talking about back to school? Where did the summer go?!
I know lots of y'all have kiddos heading to school in some capacity (whether in person or online) and I know many of you will be packing those lunches! Leyton is supposed to go back to Mother's Day Out next month as well so we are also on the lunch box ideas struggle bus at times. Today, I wanted to share some of the best options for easy, healthy lunches for your kiddos to take to school from my brain and yours! Because our forces combined are better than one of us alone, right?! 😉
Also!!! Exciting news!! My Meal Planning For The Busy Mom eBook just released and it has multiple chapters DEVOTED to easy breakfast, lunch, and dinner ideas for kids! You can use MLWL25 for 25% off or enter your email below to get it 50% off!!! HURRY! Discount codes expire 8/11/2020 at 11:59pm.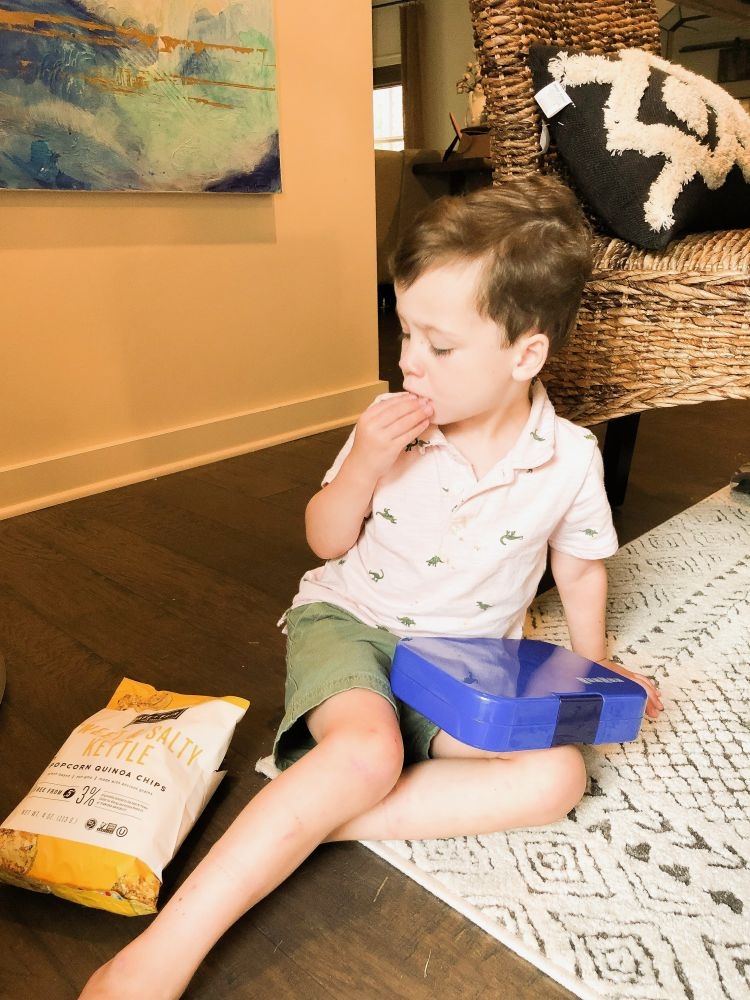 At our house, we have a picky toddler and so sometimes, finding something that he will eat can be tricky. Actually, picky may be a mild term for it. You can read about the eating struggles we've had with Leyton and some of the tips I've learned from dietitians for how to combat these issues.
However, we do have some easy go-to's that we try to keep on hand for him! Some of those include these Bob's Red Mills bars, Orgain Kids Bars, RX bars (he loves to steal mine and he also frequently steals my low-carb Aldi chocolate coconut bars). He calls these "choc bars" and has since he was a little baby!
He also loves any kind of cracker, chip, or cereal! Anything crunchy (like Veggie Straws, pretzels, Barbara's Puffins and most cereals, popcorn including the Safe + Fair allergy-free snacks (use code WELLLOVED10 for 10% off ) especially their sweet & salty kettle popcorn quinoa chips, and his favorite right now is Pringles) and "happy apple" which is apple sauce pouches.
Other favorites include "monkey juice" from Danimals or another yogurt "moo-cow squeezies."
We have finally gotten him to get on board with "half-moons" aka popcorn shrimp, chicken nuggets (still a struggle), buttered toast, and he's hot and cold about smoothies or shakes.
I polled y'all on Instagram to find out some of your favorite ideas for lunches and snacks for your kiddos and here's what YOU love down below.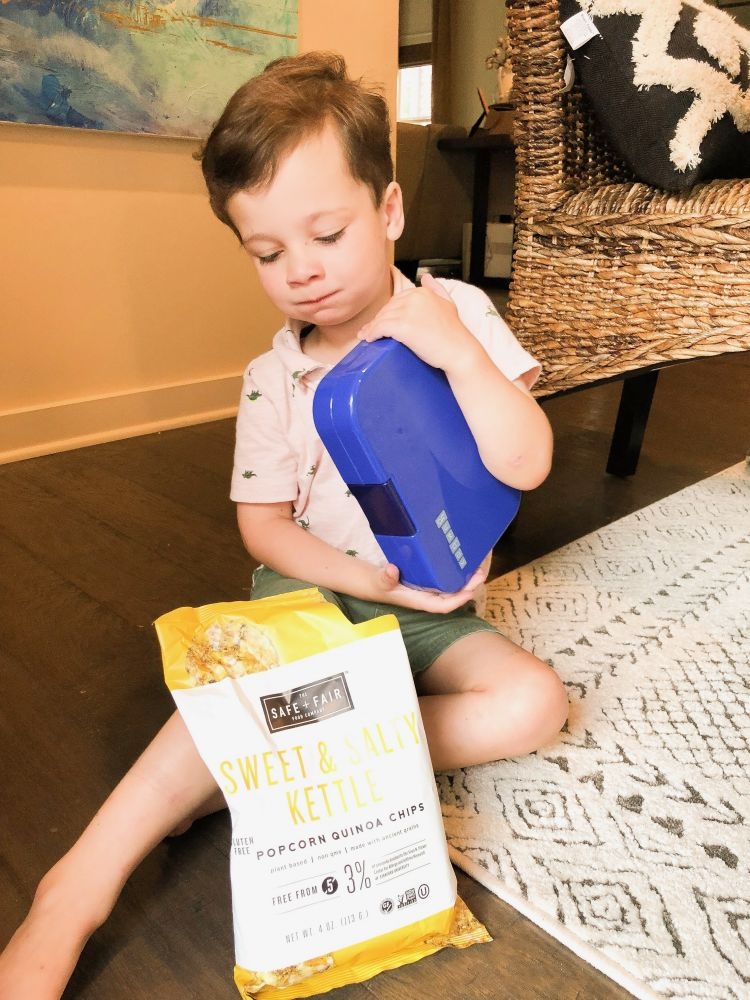 Healthy Lunch Ideas:
Turkey roll ups w/ string cheese and fruit. @erinsteague
Turkey rolls (no bread) with fresh fruit and crackers instead of chips. @dlizziebeth
Yogurt, cheese stick, ham and cheese sandwich. @janellehutto
Make a rotisserie chicken in the instant pot at the beginning of the week. @a_beritriley
I can't recommend @feedlinglittles enough. Fantastic kiddo lunch ideas. @rachelsmith1208
Fruit, cheese cubes, crackers, berries and carrots (my girl is not a fan of sandwiches). @meganpastasauce
Turkey roll ups in tortilla shells or homemade lunchables. @stephie1126
Feedling littles insta posts her kids lunches all the time on stories! @lacey_blackwell
We do school lunches. Way more healthy than what I could do and cheaper, too. @mssam0305
Can't go wrong with a classic sandwich & veggies/ fruit! @oakleysmammaa
My kids and I love Genoa salami! @erinsteague
Turkey and cheese roll ups, pretzels, string cheese, and sliced bell peppers. @wernerv
My daughter loves hard boiled eggs and pretzels flats with hummus. @mrslinzocon
English muffin pizzas! @made2sing
Salami and cheese roll ups, cuke sticks w/ hummus, strawberries, yogurt sticks! @leekathrynh_

Healthy On The Go Snacks:
Olives. @haley.rothwell
Blueberries. @haley.rothwell
All the fruit and apple sauce pouches. I make my own and have reusable pouches! @abeltz930
Baby peppers, baby bell cheese, yogurt drinks, grapes, hummus and carrots, strawberries. @campbellcomfort
Bambas from TJ's and applesauce pouches. @emilyjfry
String cheese, apple slices, grapes, fruit smoothie pouches. @alyssaleighw
Duke's smoked shorty sausages (healthy beef jerky basically!) @janellehutto
Aldi organic fruit snacks. Bananas are our go-to. @a_beritriley
Cheese sticks, applesauce, yogurt, smart food popcorn. @fit_mom_determined
Celery stick with fokkennuts peanut butter. @hisgurlforever10
Larabars! (Or easy homemade version = cheaper). @rachels411
Cheese @haley.rothwell
Whenever bars, chocolate chips, bananas, grapes, almonds, chocolate covered raisins. @chambraymason
Healthy harvest but packs from Walmart, yogurt raisins, pre-cut apple snack packs, cheese. @jennlace
Apples, which are easier to carry. Individual bags of healthy chips. Water. @mssam0305
String cheese, frozen gogurt, bananas, trail mix. @jessoman85
Grapes! @dlizziebeth
Dried fruit. @hrmcallister
Granola bars. @hrmcallister
Applesauce or fruit cups. @hrmcallister
Protein shakes, squeeze applesauce, go-gurts, cheese sticks, granola bars. @made2sing
Sliced apples with the min PB cups, trail mix, PB filled pretzels, apple sauce squeezes. @leekathrynh_
Veggie straws, grapes, cucumbers, snack bars. @kris32181
Pouches, sliced apples, baby carrots, any kind of bar is a favorite in our house haha. @wernerv
Organic Orgain Protein Shakes. @lbc8585
Almonds. @hrmcallister
Peanut butter roll ups (peanut butter in a tortilla rolled up) @hrmcallister
Related Easy Snacks For Kids Tips And Posts:
Check Out More Meal Planning Content HERE:
SHOP Easy Healthy Kid Friendly Lunch Ideas HERE:

PIN The Healthy Kid Friendly Lunch Ideas Post for Later!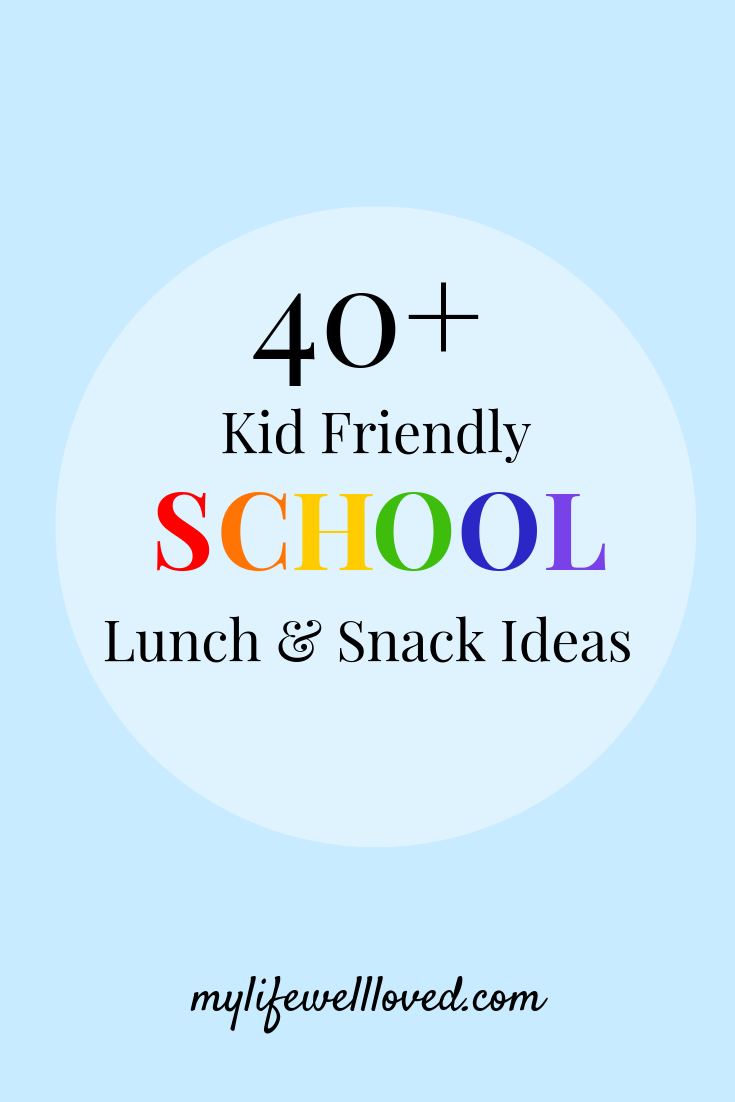 Heather Brown helps busy mamas of young littles who are caught in the hustle to find encouragement in their journey to true health, from the inside out, starting with the heart. Read her journey of learning to live a life well-loved
HERE!