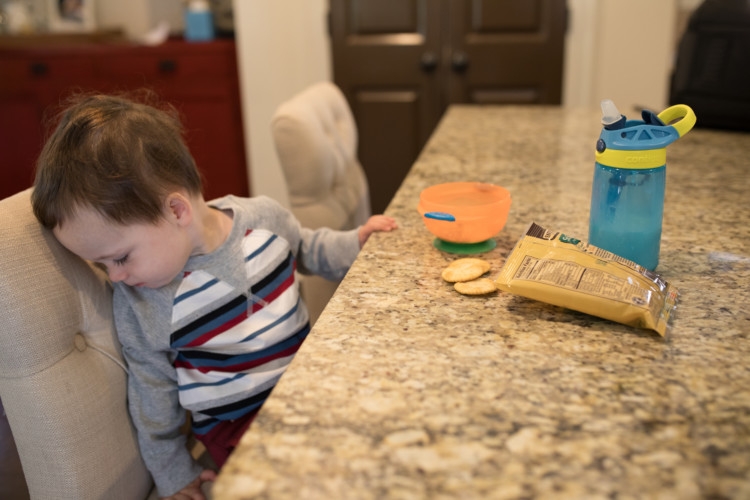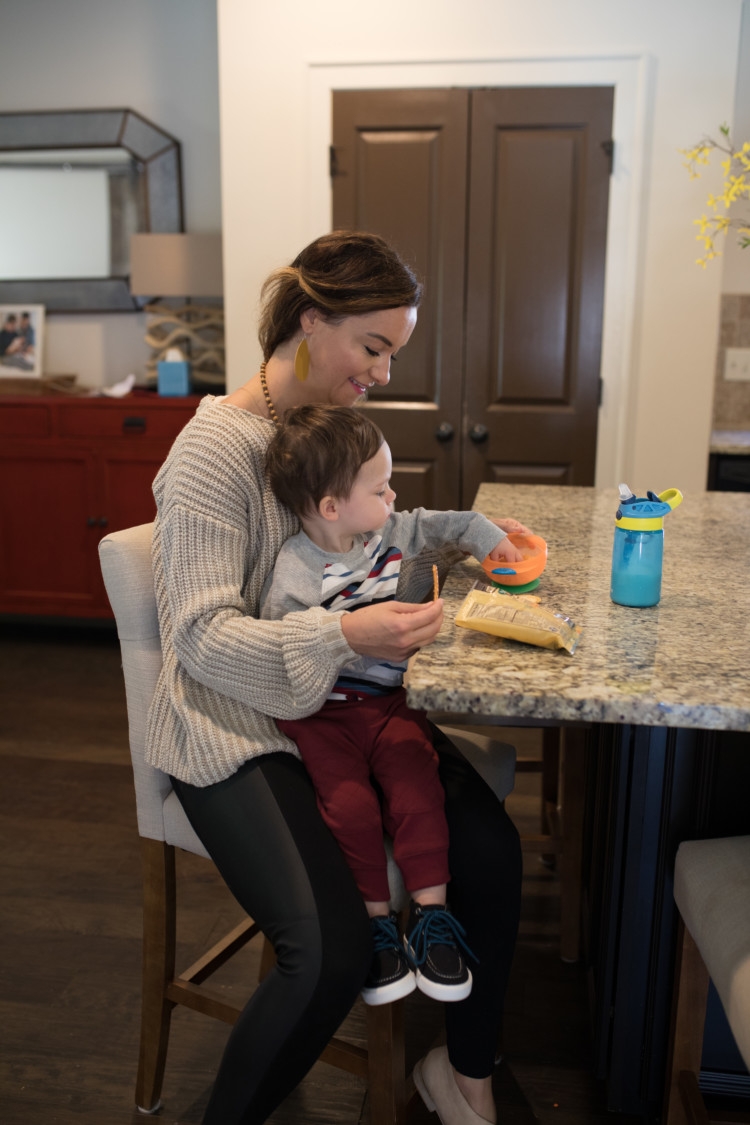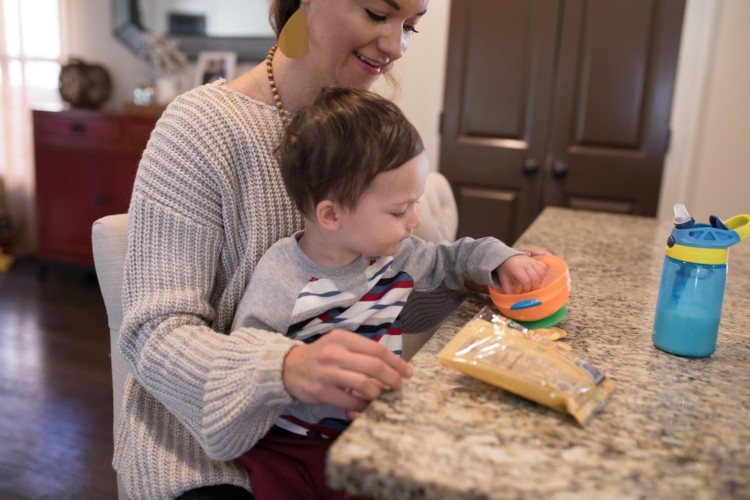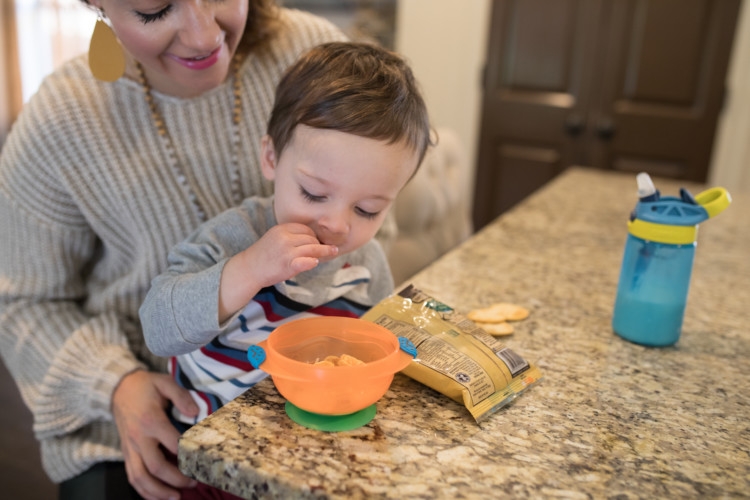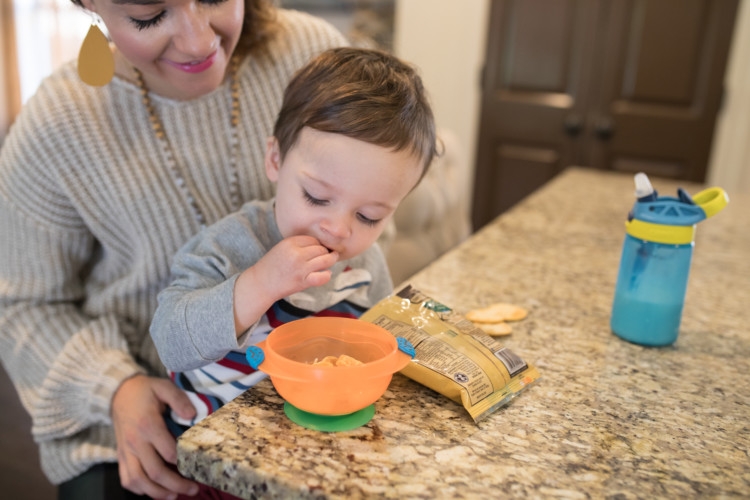 Y'all that top photo is my life. Leyton hates pics so he's hiding from the camera, but sometimes, that's what he does when he doesn't want to eat too. Bless him…and us! Geeze! The food battle can be exhausting. Currently Leyton basically only wants to eat some form of crackers/pretzels/popcorn, candy-this was a recent first time treat for Halloween- and some fruits. The bananas Amy references in this post are currently a no-go for some odd reason. But then if we try them next week, he may gobble them up. #ToddlerLife
If you missed Amy's last guest post and all her credentials, make sure you read this post she did as an intro for Picky Eaters!
Hi guys! Heather asked me to come back on the blog and share with you all some information I shared with her about feeding Leyton.
I talk with many moms who have concerns about the kids being so picky and not being interested in food. I personally can't relate to this problem (I think the only time I'm not interested in food is when I am sick!), BUT I can understand the struggle and frustration of a child not eating!
Here are some ideas I shared with Heather:
I suggested that Heather & Eric have 3 meals and 2-3 snacks for Leyton, about 30 minutes each (5-15 minutes for snacks). If Leyton doesn't want to eat during his meal or snack time, he can eat at the following one. This avoids grazing during the day (filling up his belly, so he's not really full) and puts you back into control of when your kiddos eat. I recommended having a consistent "eating place" for Leyton, whether that's his high chair or around the coffee table with his parents. I recommend kids don't run around with food in their hands. When they leave "their spot," that meal/snack is done. (note: you can always stick their leftovers in the fridge for the next meal)
Side Note: What is "a meal" and "a snack"?
I consider a meal at least 3 up to 5 different foods: 2 Tablespoons* of green beans + 2 Tablespoons* of mashed potatoes + 2 Tablespoons* of cut up chicken + ½ cup milk
I consider a snack at least 2 up to 3 different foods: 3 apple slices + 1 cheese stick + ½ cup water
* for most little kids, 1 Tablespoon for year of life is an appropriate portion size
I encouraged Heather not to give into Leyton's fussing about food. If he pushes away food at his plate, he can be done. When he gets down, if he fusses for more food, he can wait to the next meal. Granted, easier said than done and sometimes for your own sanity this doesn't always work. However, you want to teach your kids YOU provide what foods they get. They can decide how much they will eat.
Finally, I shared with Heather and Eric some new foods they could try with Leyton. Leyton eats peanut butter and bananas in the morning; I suggested they add a whole grain frozen waffle or half a bagel to the morning routine. Waffles and bagels can be dressed up with cream cheese, peanut butter, jelly, honey (if they are older than 13 months), hummus, and avocado. These are great additives if your little ones are struggling to gain weight.
Making a trail mix with dry cereal (can be a mix of fun & healthy), raisins, goldfish, granola, and other dried fruits. Nuts can be used too if your child can eat them without choking. I made one for our work Valentine's Day party with teddy grahams, pretzels, cheerios, m&ms, and dried cranberries. If you add ¼ cup of the mix to snack bags, you have a quick go-to snack on the run.
Leyton used to drink a lot of smoothies, but Heather said he has recently been turning them down. One idea is a Smoothie Bowl. Make a smoothie with frozen fruit, veggies, yogurt, milk, peanut butter… and pour it in a bowl and give them a spoon! Call it ice cream and let them put 1 Tablespoon of a fun cereal in it!
Some other ideas of higher-calorie, healthier food options are cottage cheese, muffins (they can also be good places to hide fruits and veggies), granola, croissants, tortilla with cheese, eggs (scrambled, boiled, fried…), breakfast for dinner, and english muffin pizzas.
Want to read more tips for picky toddlers? Check these posts out!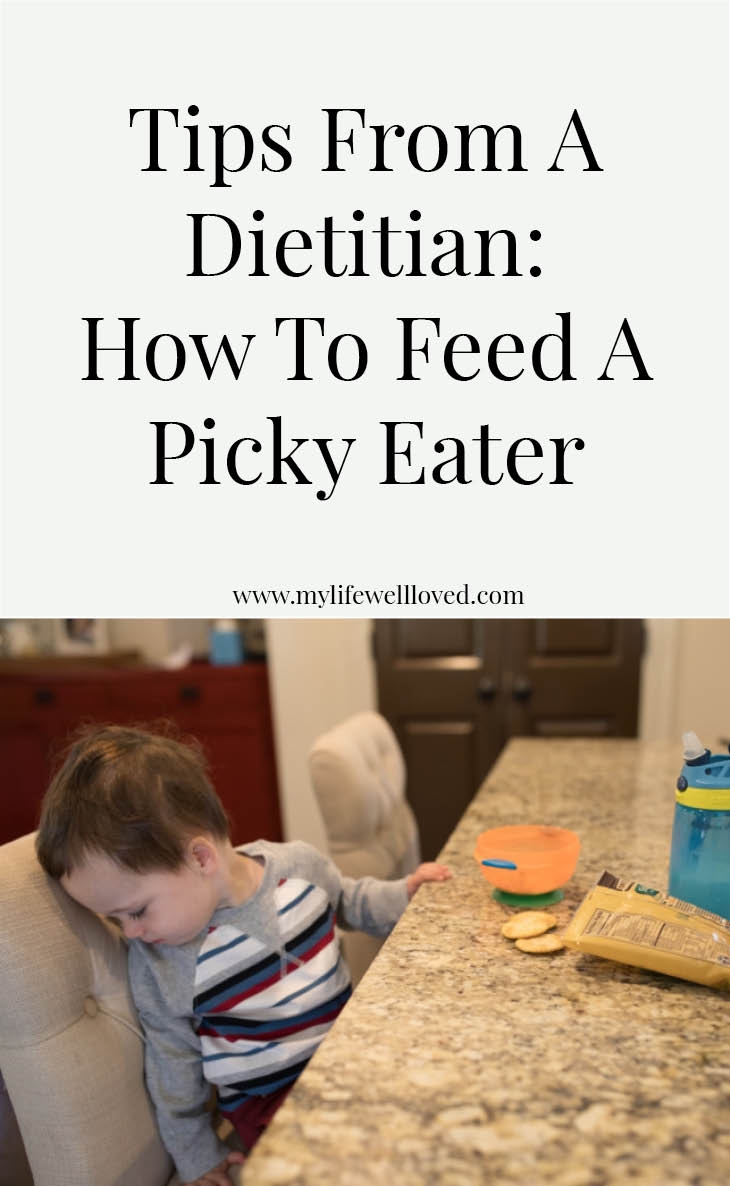 Does any of this sound familiar to you? I'd love to hear your tips for Picky Eater Toddler edition… We are always all ears!