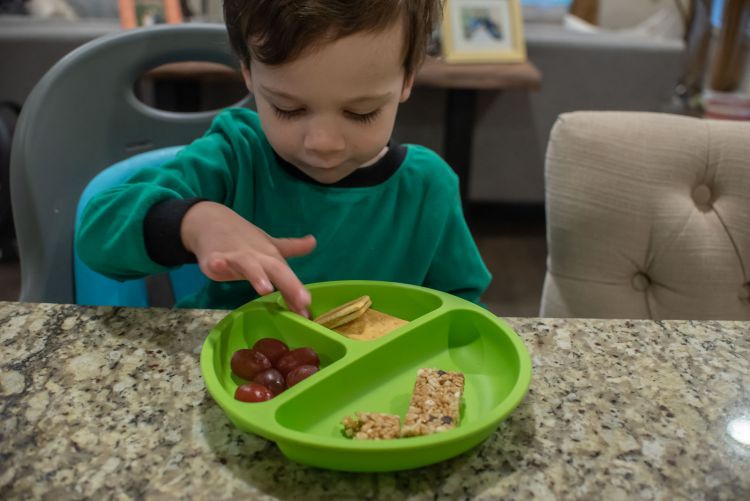 Shop the Toddler Nutrition Post: Sweater // Leyton's Shirt // Bar Stools
Thank you to Weesprout for sponsoring this post. All thoughts and opinions are my own.
Picky toddlers are no joke when it comes time to eat dinner. A battle of the wills ensues that involves everything from bribery, crying, high fives and pulling out all the stops just to get through a simple meal. I had no idea how stressful a meal time could be until Leyton was about two. We were told at his checkup he had fallen off the growth chart in weight and that we had to do something to make him eat more and gain weight.
We've learned through feeding therapy, many months of experience and by picking friends' brains (including you guys) a few tips and tricks along the way. Since so many of you have asked for a Leyton feeding update and wanted to know what is working well or not working for us, I thought I'd share today in hopes that it will help some other mamas out there.
I am by no means an expert, so if you have concerns about your child, please speak to their pediatrician.
Shop the Toddler Nutrition Post: Plates
Toddler Nutrition Ideas We Use to Help Make Meal Time More Fun!
One of the things we kept hearing over and over again when we started feeding therapy was to make meal time fun again so it wouldn't be a dreaded task for Leyton.
Part of making meal time fun for us is playing music. We love music in our home so we let Leyton choose the music sometimes. He usually chooses "Thunder" by Imagine Dragons.
Let your child choose as much as you can. For example, Leyton do you want the orange protein bar or the purple one?
Get fun plates or silverware they'll love! Leyton is obsessed with getting blue everything right now, so his favorite plate is the divided silicone blue plate. He likes dictating what foods should go in each divided spot. His Lightning Mcqueen cup is also a favorite.
We get SILLY with our food. This may sound crazy, but we'll call D'animals "monkey juice" or make train tracks out of cheese…whatever it take to make him start interacting with it, especially if it's a new food.
We allow 1 toy to come with Leyton to the table. However, sometimes we see it becomes too big of a distraction so we make it park until he takes his next bite. Usually it's a car of some kind as you probably inferred.
We aren't above bribery. Whoops! We bring out his favorite candy or gummy bear vitamins and tell him if he takes a bite of something new on his plate or finishes his plate, he can have one of them.
A tactic we learned from our feeding therapy is that even if he doesn't want the food and starts saying, no, we just kindly explain that he doesn't have to eat it BUT it has to stay on his plate.
Along this same thought process is that if he says "no thank you" to eating a food, he has to kiss the food goodbye. We learned that just getting him used to bringing a different texture to his mouth and kissing it is a win. Then we move to the next step of him tapping it to his teeth. This hopefully starts to de-sensitize him to being afraid of that food texture.
Sensory activities: If you follow me on Instagram, you know we do lots of sensory activities to help keep Leyton used to different textures, touching different things and understanding different inputs. It's great for stimulating his mind as well!
Get creative! These reusable pouches are great for things like yogurt, apple sauce or smoothies when he doesn't want these items straight out of the cup or jar. For some reason a pouch makes everything better for him.
We offer one "don't like it" food per meal. We still put an item on his plate at least once a day that he doesn't like just to keep him used to it and to keep exposing him to different things.
Sit together as a family at the table. As basic as this premise is, it gets harder to do the busier we get. We make a very concerted effort to make this happen at least 5 nights a week.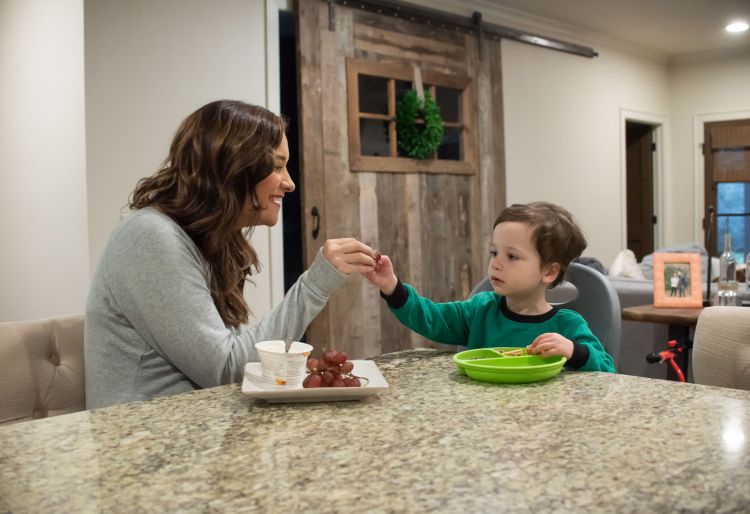 Shop the Toddler Nutrition Post: Plates
Leyton is now almost 3.5 and finally eating things we never thought he'd eat like chicken nuggets. The craziest thing he has tried was calamari at the beach last year…and it was because we told him it was like skinny fries. His diet is mostly comprised of fruit (he'll eat most except for bananas for some reason), yogurt or smoothies of most kid-friendly packaging, Mickey waffles, peanut butter balls, dino chicken nuggets, protein bars, dried fruit, cereal, granola, chex mix, peanuts, cashews, crackers, chips, smoothies are VERY hit or miss, and any kind of candy or cookie.
He doesn't like any of the drinks pediatricians recommend you give kids to gain weight, pasta, sandwiches, pepperoni, pizza, ice cream, peanut butter/dips/salsa or any condiments, meats, rice, potatoes other than fries, oatmeal, and a host of other foods that most kids love. BUT we are making small strides so we just keep plugging away.
A fun idea may be to get some of your child's favorite color plates or some new squeeze pouches from Weesprout for Valentine's Day! We always think when we can get Leyton a gift on a holiday that he thinks is fun, he's more likely to get excited about it!
I hope this encourages some of you mamas out there that there is hope and to just keep being consistent. I'd love to hear your tips and your kid's favorite foods in the comments below! We always love hearing new foods to try!
Other Toddler Nutrition Posts
If you are new around here and haven't read the backstory on Leyton's picky eating, check out these posts!
SHOP the Toddler Nutrition Post

Pin the Toddler Nutrition Post for Later!
Heather Brown helps busy mamas of young littles who are caught in the hustle to find encouragement in their journey to true health, from the inside out, starting with the heart. Read her journey of learning to live a life well-loved
HERE!