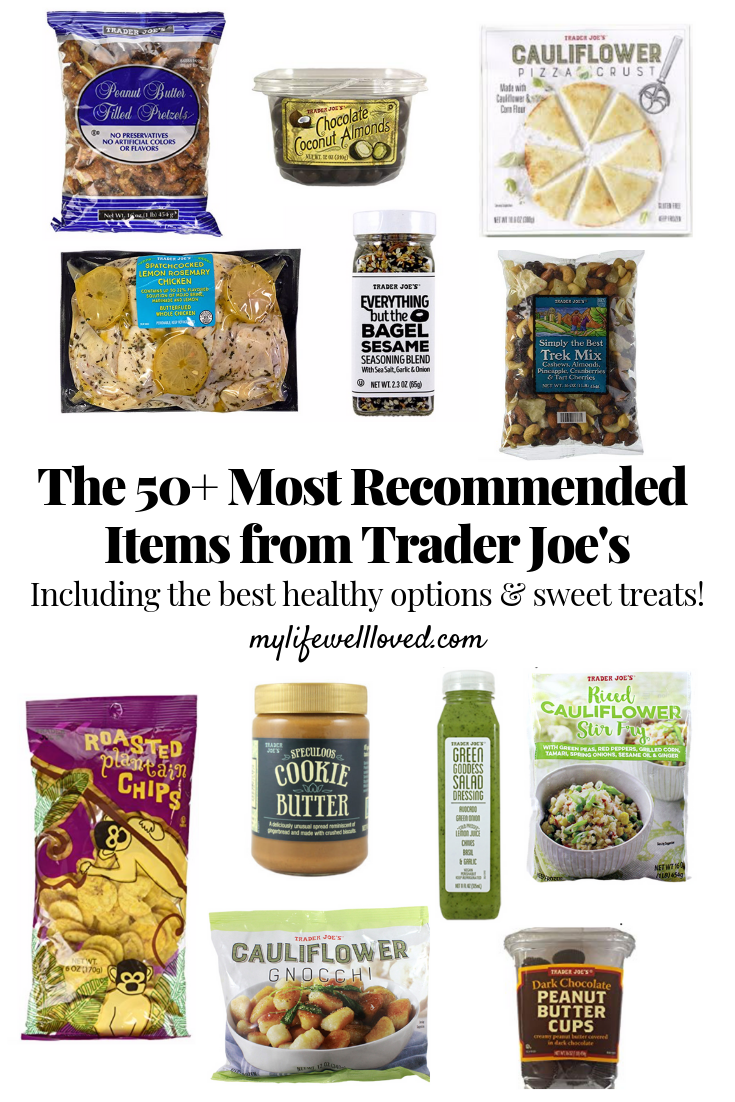 We made it to WEEK 4 of our January Whole30 Challenge! If you missed Week 1-3, be sure to checkout those posts below. We are excited to end this challenge by saying THANK YOU for joining us! Molly, Lindsey, Jessica, and myself have put together an awesome prize pack for 1 lucky winner so be sure to head to the bottom of this post for info on how to enter the giveaway!
To wrap-up our Whole30 challenge, I wanted to share Trader Joe's favorites you can shop for as you begin introducing foods back into your diet. think it is safe to say we all LOVE Trader Joe's! I was so excited when they came to Birmingham a few years ago and I could finally try all the amazing things you guys talk about. One of my favorite things about Trader Joe's is how great the quality is and how easy it is to find everything! I also LOVE how many fun and unique things they have each season! It's super affordable and does not disappoint in quality. There are always so many delicious items to try which is why I reached out to you guys to see what your Trader Joe's must haves are! SO many of you wrote back which means I'm not the only one loving this place! If you haven't checked out my complete Trader Joe's Shopping List for WHOLE30, click HERE!
Trader Joe's Favorites from the MLWL Community
Here is the full list of what the MLWL Community suggested! I have included a few notes about the items I have tried, loved, and how we incorporate them into our meal plan! Please note: the healthy items are linked at the top and then there are more sweet treat/alcoholic/indulgent items at the bottom! I can't be held responsible for addictions to #1 or #7 but they are my faves 😉
Trader Joe's Favorites: Healthy Recommendations
1. Everything But The Bagel Seasoning (most popular recommendation!)
This seasoning is a MUST HAVE. Seriously. I love putting this on everything – eggs, avocado, sweet potatoes, roasted veggies, etc. It is actually Whole30 approved so it is perfect to incorporate now and post-Whole30.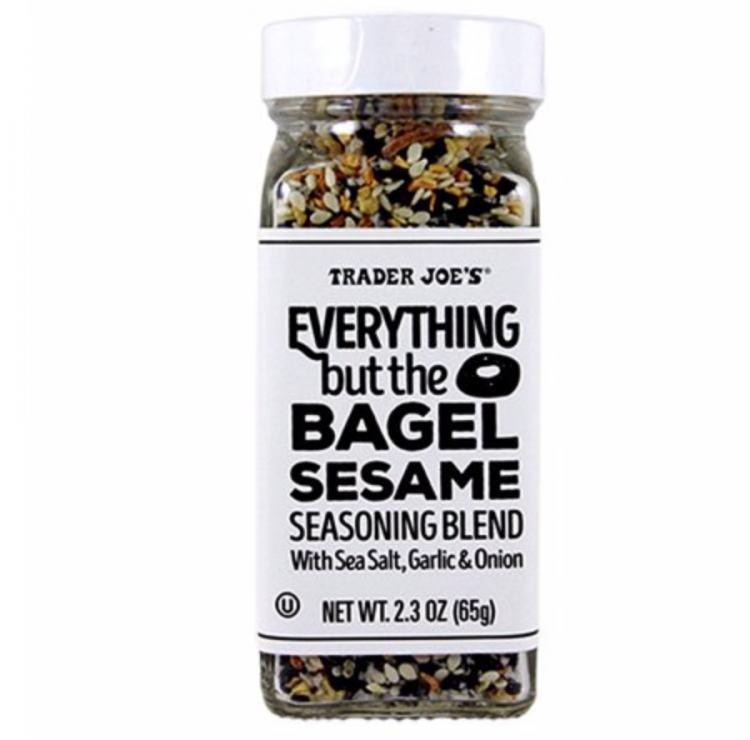 2. Green Goddess Salad Dressing
This salad dressing is also Whole30 approved! It is perfect to grab for this last week of W30 and to have as a healthy alternative to other high-calorie dressings!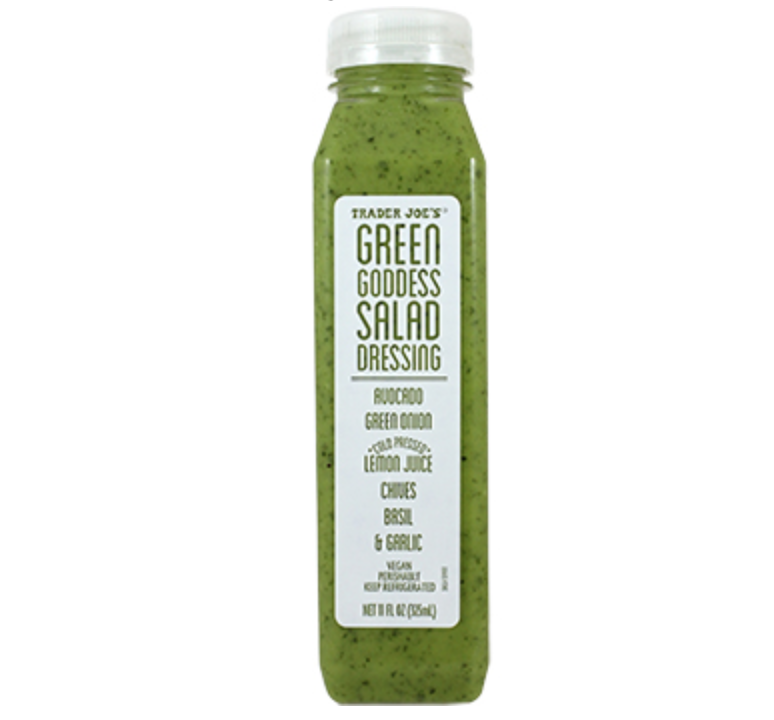 3. Raw Almond or Peanut Butter
Double check for sugar but several of Trader Joe's nut butters are Whole30 compliant. If you are introducing peanuts back into your diet, this is a great option as there aren't any added preservatives, fat, etc!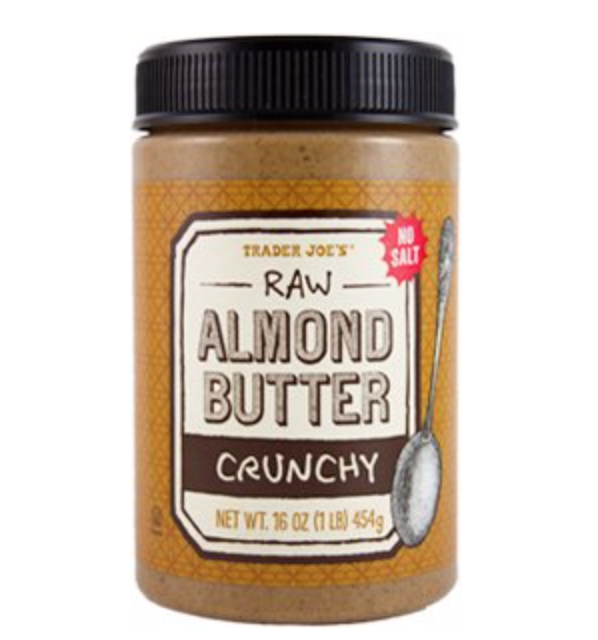 4. Frozen Cauliflower Fried Rice
Another great transitional meal for post-Whole30! You could pair this with Coconut Aminos to make it soy-free but you can always do regular Soy Sauce too!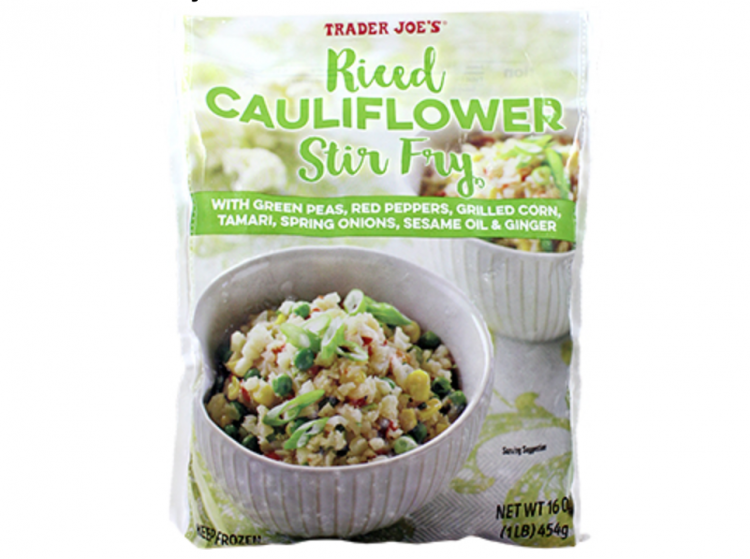 5. Trail Mix
Trader Joe's does have one trail mix that is Whole30 approved without added sugar. But regardless, their trail mixes are really tasty and perfect for healthy snacking, adding protein throughout your day, and staying fueled for workouts!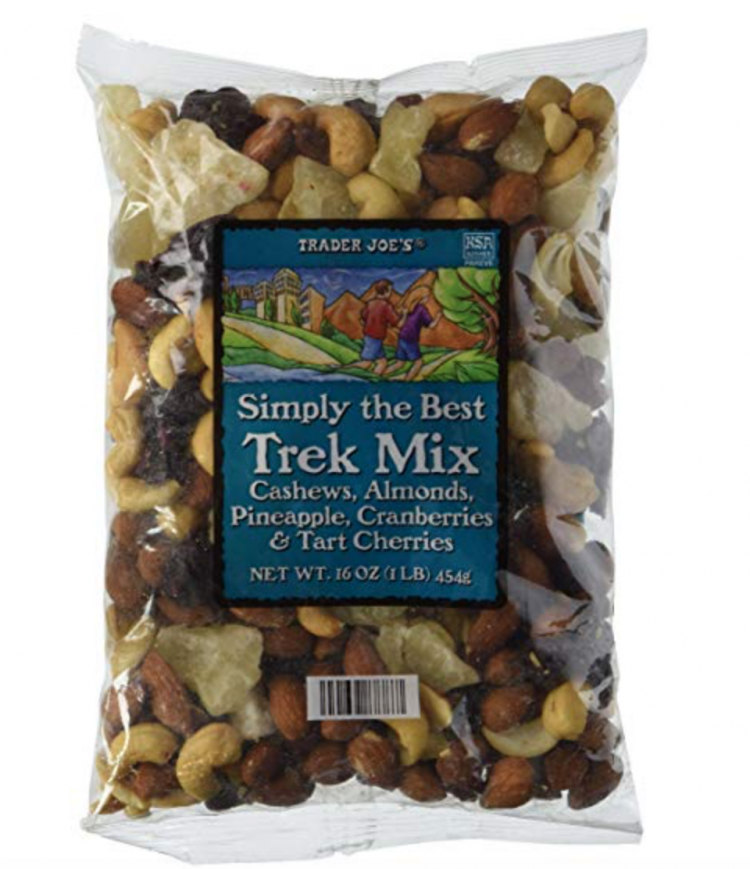 6. Roasted Plantain Chips
We love these "monkey chips" as Leyton calls them! They are technically Whole30 approved ingredients but we aren't supposed to have "chips" on W30. Which means these are great for transitioning to Paleo or healthy snacks after Whole30!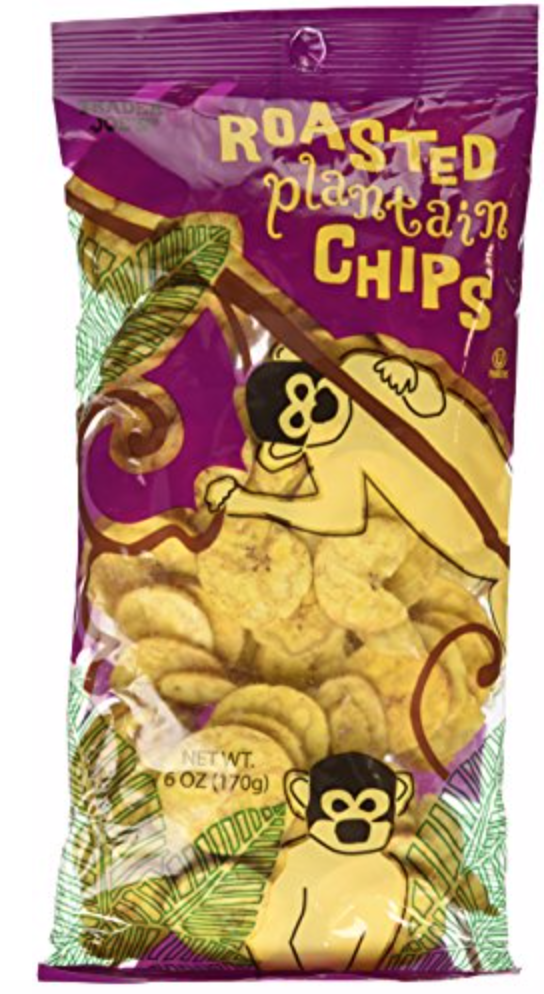 7. Red Lentil Pasta
So many of you recommended this pasta to me! It is gluten-free and is made from red lentils! If you do decide to cut gluten after Whole30, this is a great pasta alternative!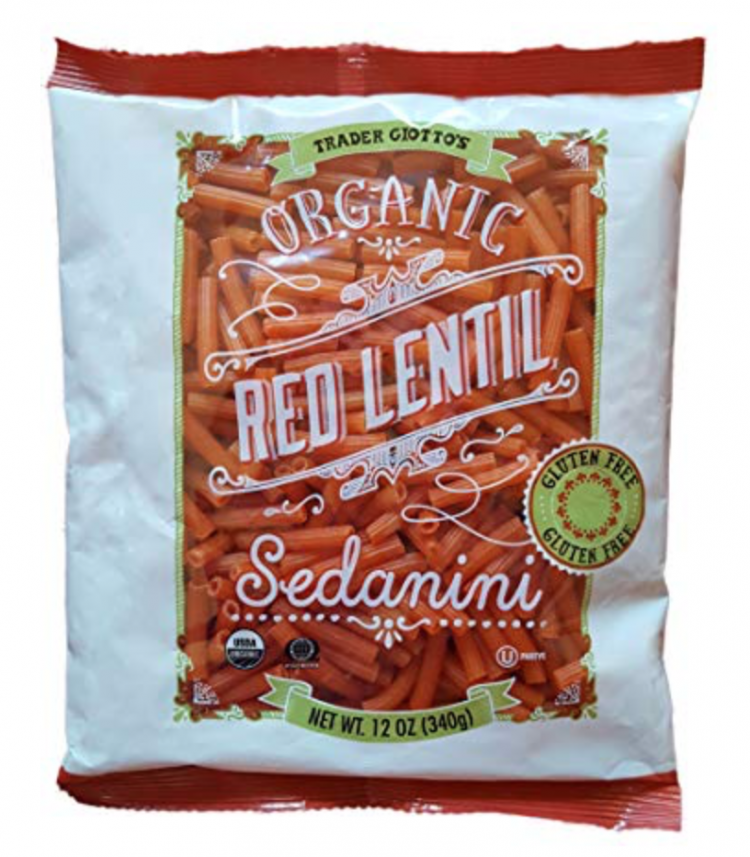 8. Frozen Cauliflower Gnocchi
Another light dinner option that is an EASY meal to throw together after work! Perfect for transitioning out of Whole30 and staying healthy! Many of you also recommended the Sweet Potato Gnocchi.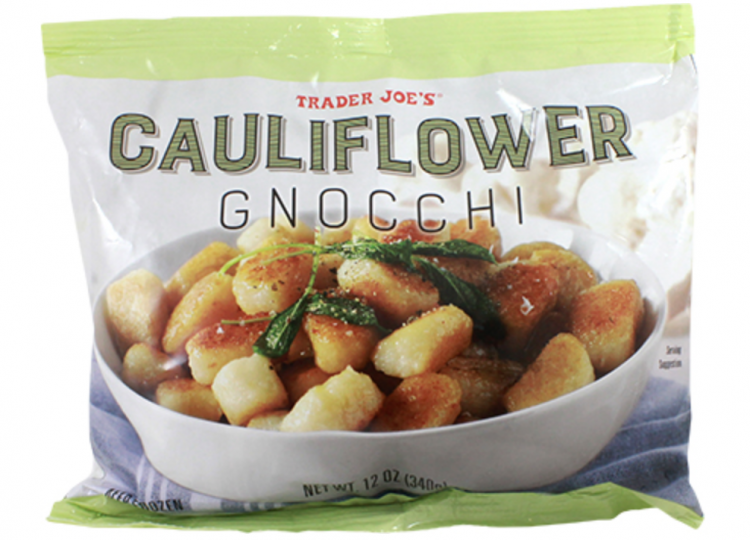 9. Lemon Chicken
Talk about a ready-to-go dinner! This is perfect for healthy meal planning!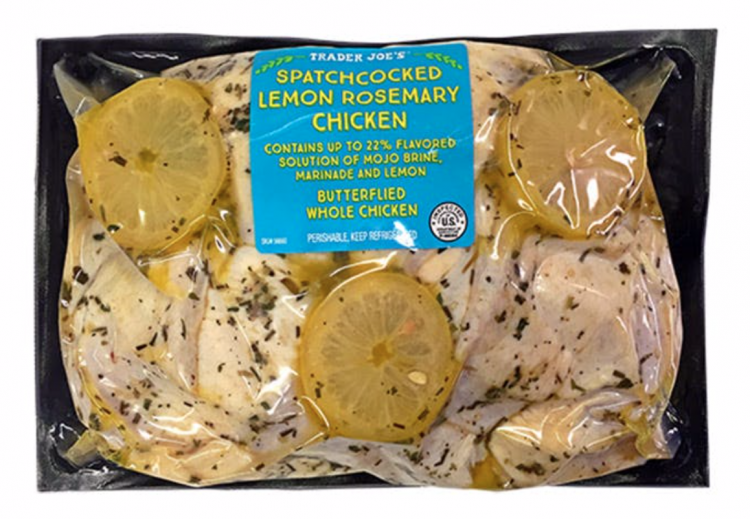 10. Frozen Mandarin Orange Chicken
A little heavier in calories but a great option for quick meals! This would pair great with the Veggie Fried Rice that many of you suggested!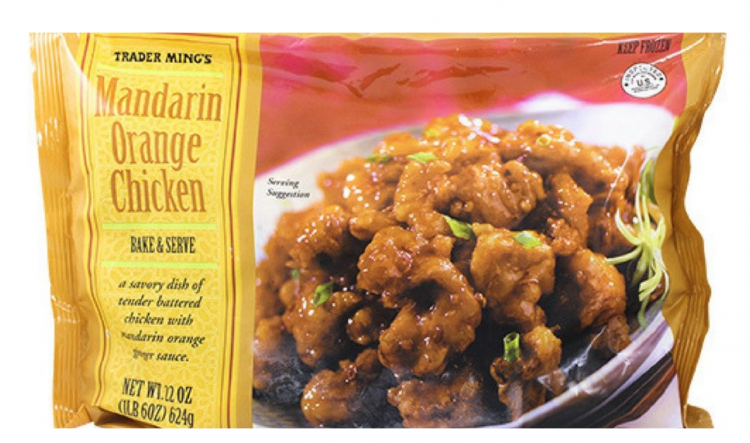 11. Reduced Guilt Greek Yogurt Spinach Dip
If you are hosting friends soon, I would definitely add this reduced guilt spinach dip to your line up! It is made with greek yogurt so not dairy-free but still better for you than the real deal.
12. Cauliflower Pizza Crust
These are so great to have on hand for homemade pizza night! Add tomato sauce and your favorite toppings for a lighter pizza night! Many of you also recommended the Cauliflower Crust Cheese Pizza!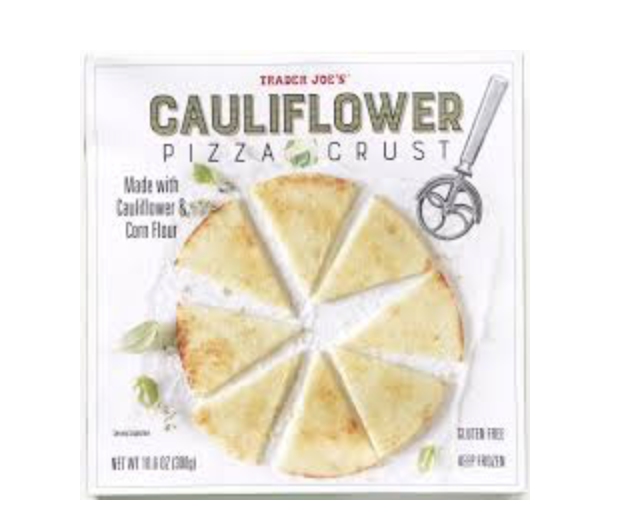 13. Plumcots
I actually haven't tried these but so many of you recommended them that now I am thinking I might should grab them next time! If you like plums, be sure to check these out for whole fruit!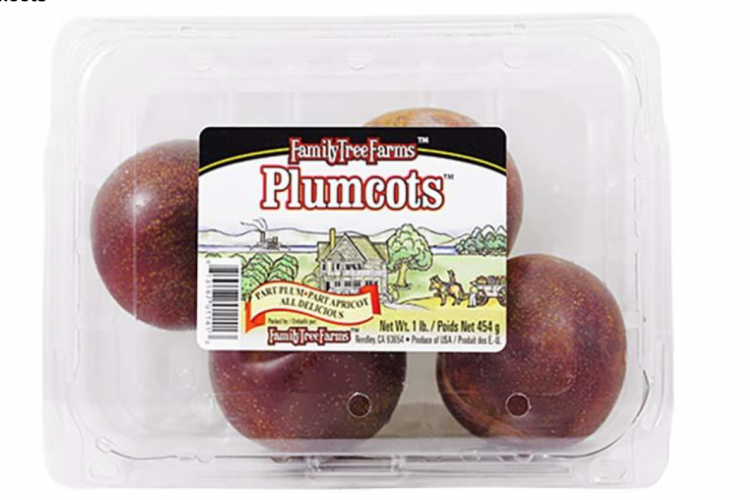 14. Everything Pretzel Crisps
Not necessarily "healthy" but better for you than other chips and sugary snacks on the shelves! I would pair these with a nut butter or guacamole!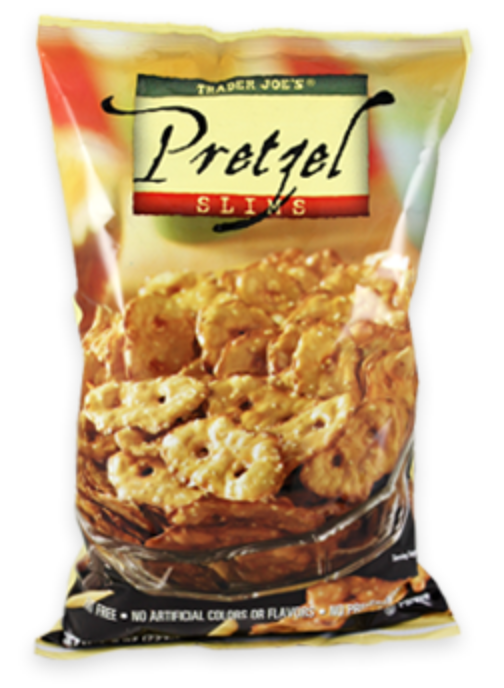 15. Spicy Chai Tea Latte Mix
I can't believe this was such a popular recommendation! If you like Chai Tea Lattes, I guess this is a must get at Trader Joe's!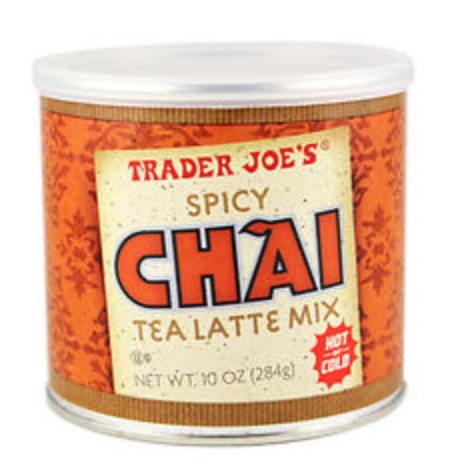 Trader Joe's Favorites: More Healthy Recommendations
16. 21 Seasoning Salute
17. Pumpkin Butter
18. Pineapple Salsa
19. Kale Cashew Vegan Pesto
20. Con Salsa
21. Cilantro Dressing
22. Fall Harvest Pasta Sauce
23. Broccoli Rice
24. Bagged Southwestern Salad
25. Zucchini Spirals
26. Butternut Squash Mac and Cheese
27. Mandarin Oranges
28. Frozen Sweet Potato Fries
29. Cruciferous Crunch Salad
30. Acai Packets
31. Marconi Almonds with Rosemary
32. Frozen Tamales – These are gluten-free and there are some dairy free options too!
33. Frozen Brown Rice (Individual Servings)
34. Spinach & Kale Bites
35. Frozen Cauliflower Rice – This is Whole30 approved and great to continue to have on hand as an alternative to regular rice for lower-carb meals!
36. Mexican Corn
37. Frozen Green Beans
38. Organic Brown Rice
39. Light Shredded Cheese
40. Chicken Sausage
41. Lamb Chops
42. Chicken Jalapeño Sausages
43. Frozen Chili Lime Chicken Burgers – Another approved Whole30 frozen food that is great to continue to have on hand for healthy dinners!
44. Frozen Meatballs
45. Turkey Lime Fiesta Burgers
46. Heat and Serve BBQ Beef Brisket
47. Sparkling Waters
Trader Joe's Favorites: Sweet Treats & Indulgent Recommendations
1. Cookie Butter (most popular sweet treat recommendation!)
Okay, we all know how amazing this stuff is! If you haven't tired it, you are truly missing out!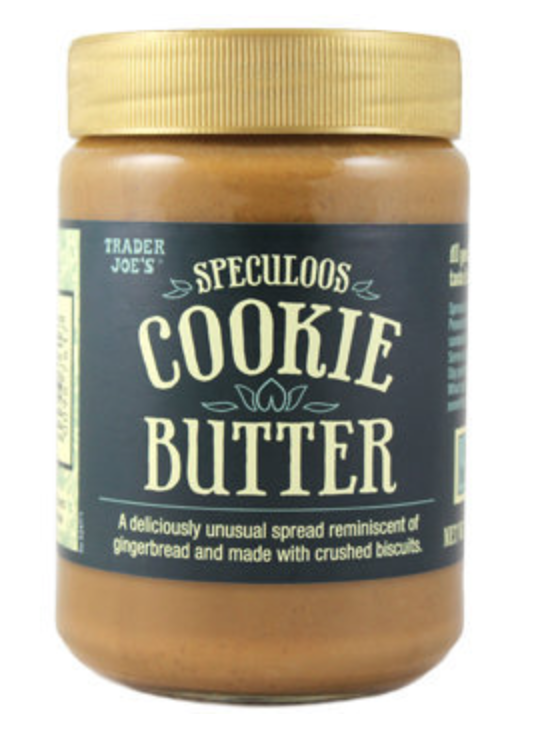 2. Peanut Butter Pretzel Nuggets
These are so tasty and perfect road trip snack or snack for your kiddos! Not necessarily "healthy" but definitely delicious!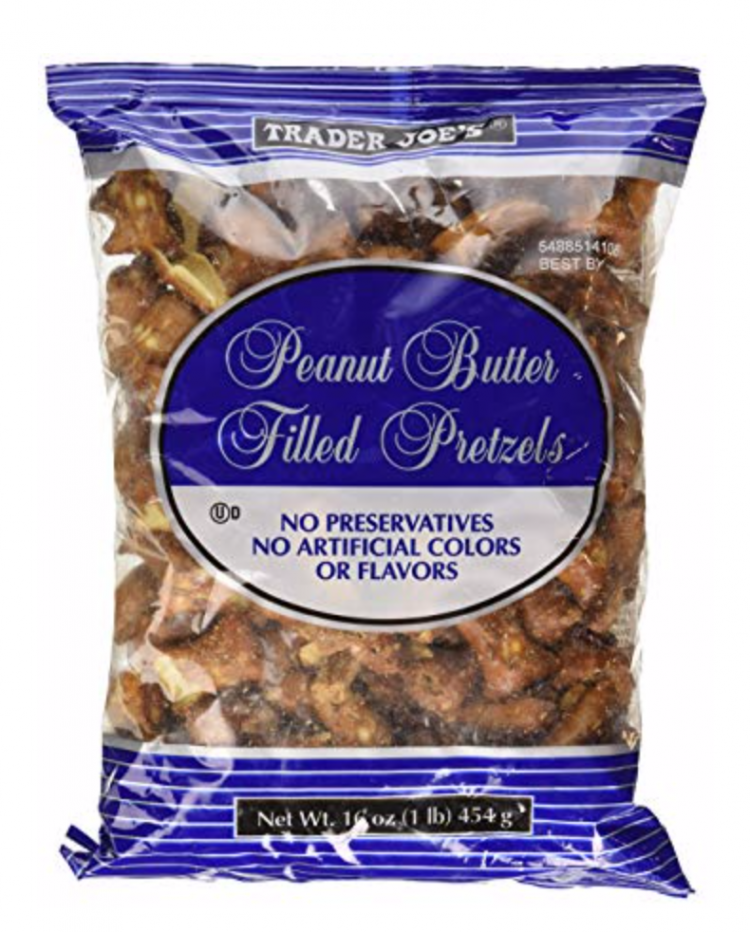 3. Dark Chocolate Peanut Butter Cups
Think of Reese's Peanut Butter Cups but better + dark chocolate. OMGGGG. Just trust us, they are yummy!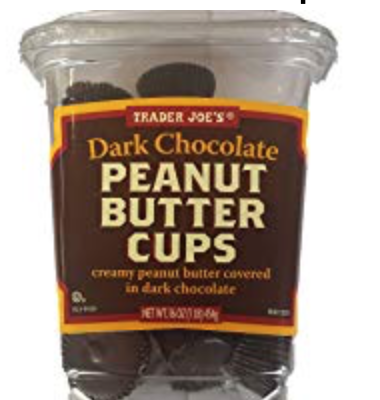 4. Chocolate Covered Almonds
Another amazing dark chocolate find at Trader Joe's.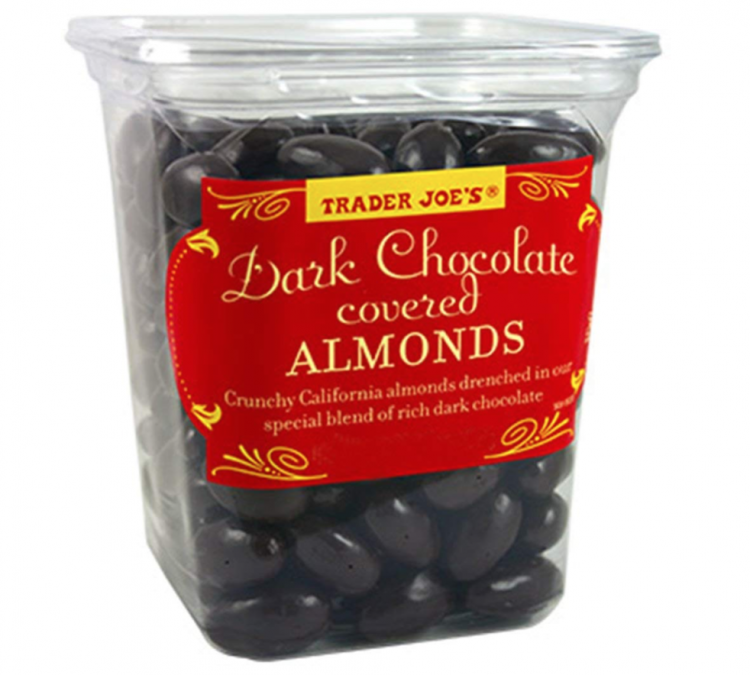 5. Triple Ginger Cookies
I haven't tried these but many of you recommended them so of course, now I feel like I need to try them!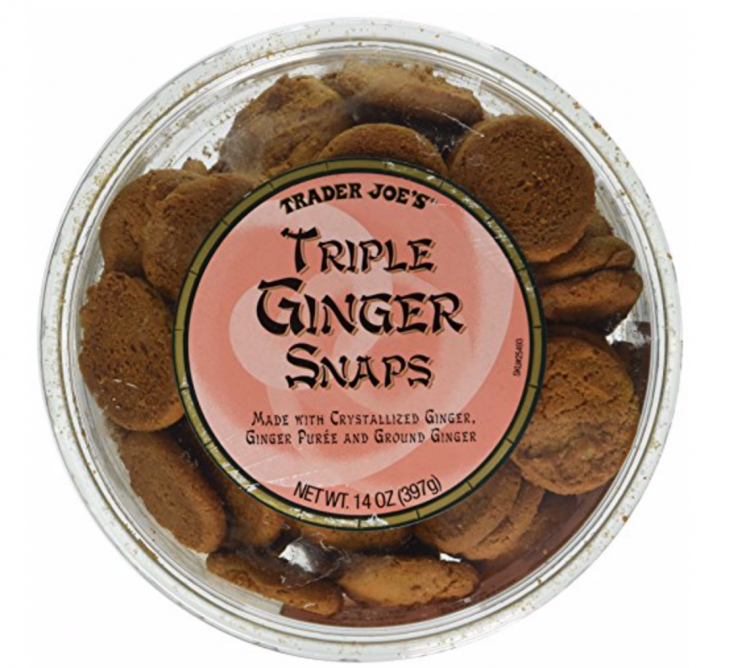 6. Black Licorice
I am shocked this made the top list of sweet treats! Another one I guess I need to try!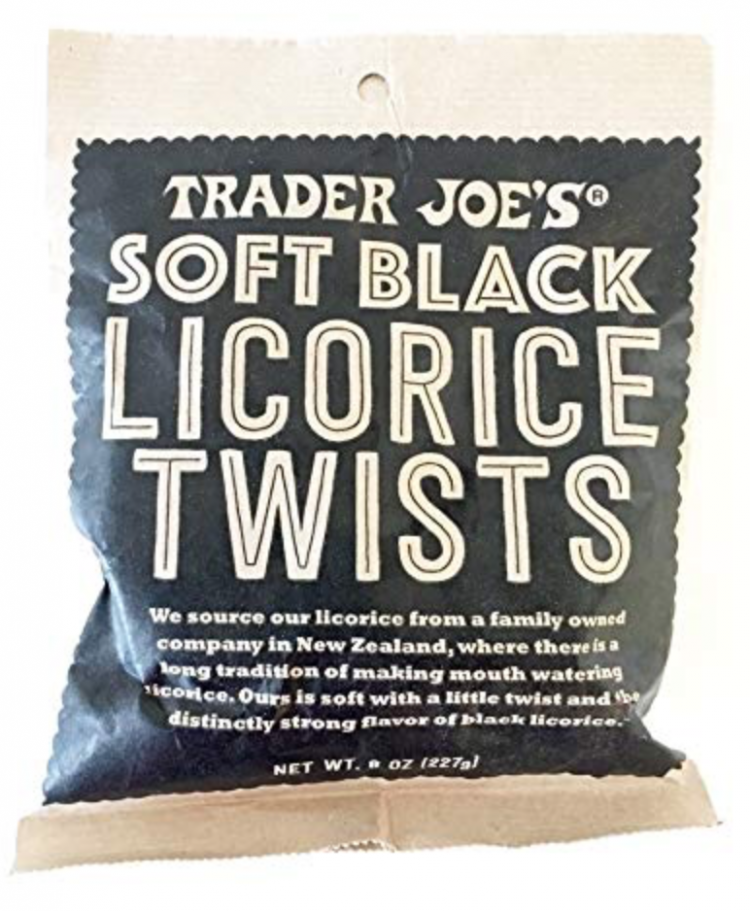 7. Chocolate Coconut Almonds
If you follow me on Instagram Stories, you know these are my weakness! Something about the chocolate + almond + coconut is just irresistible!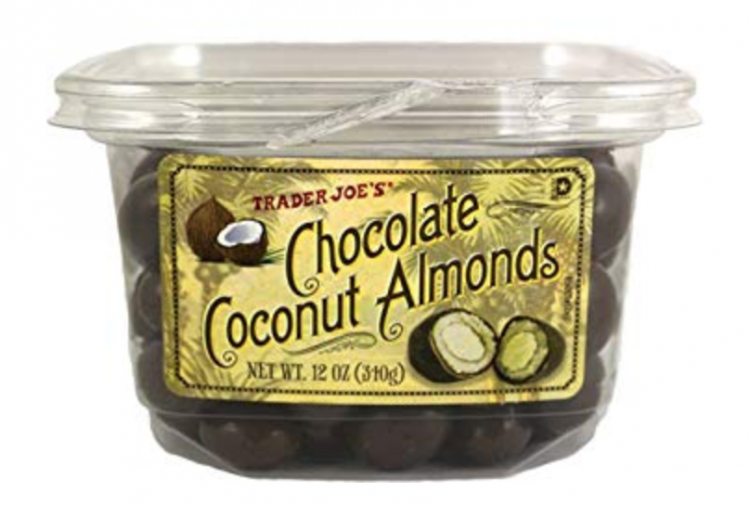 8. Churro Puff Bites
Crispy baked corn puffs coated in cinnamon and brown sugar!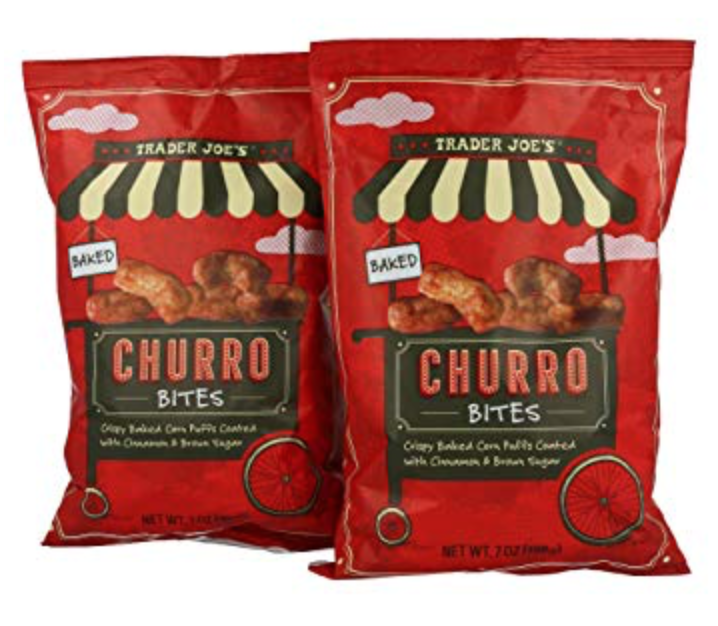 9. Handmade Flour Tortillas
If you are trying to eat cleaner or are aiming for lighter meals, I would recommend Trader Joe's Corn Tortillas instead of these BUT these are so fluffy and really do taste handmade!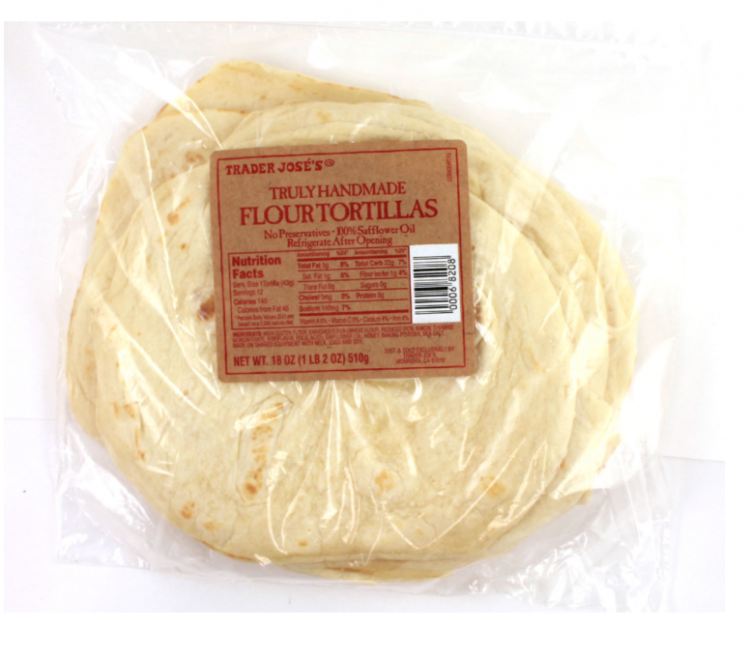 10. Hatch Chile Mac & Cheese

Wow this looks amazing! Perfect comfort food!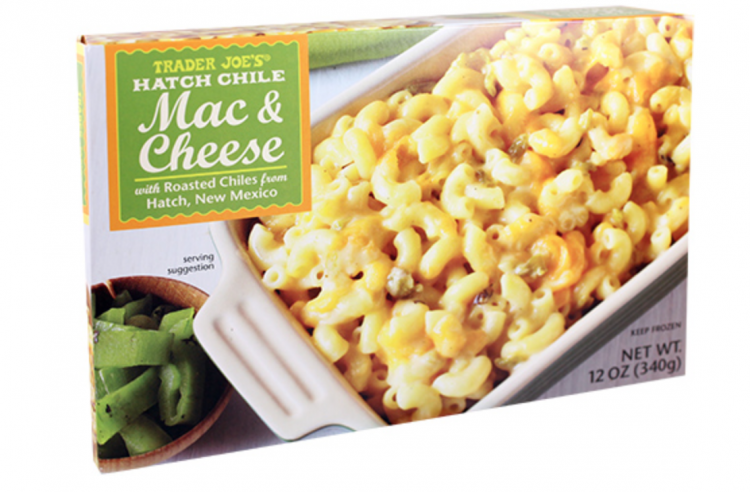 11. Carmelized Onion Cheddar Cheese
I think another wine & cheese party is calling my name! I bet this would pair perfectly with the infamous Goat Wine we all love!!!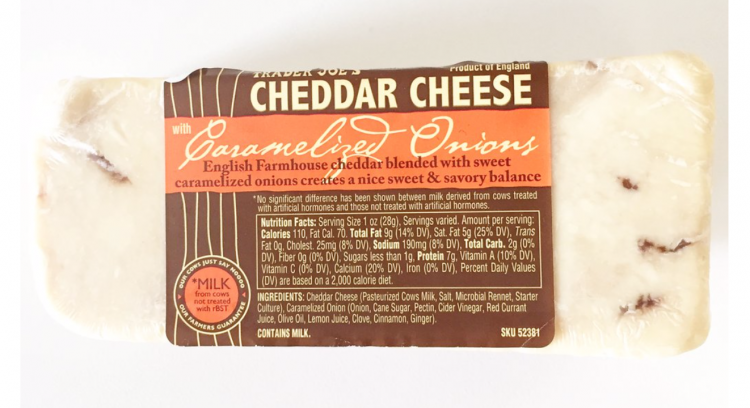 12. Frozen Turkey Corn Dogs
Maybe a little better for you than traditional corn dogs but a corn dog is a corn dog. These are good though. Great for kids too!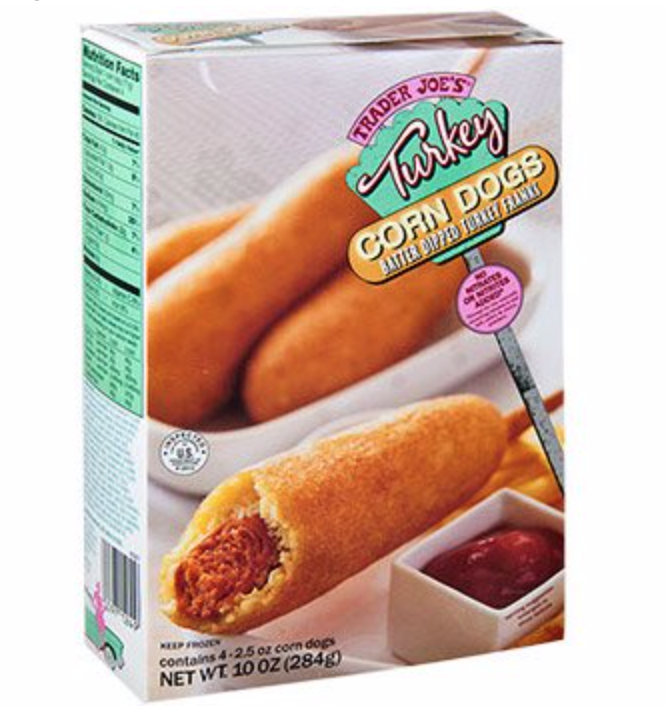 Trader Joe's Favorites: More Sweet Treats & Indulgent Recommendations
13. Honey Wheat Pretzels
14. Chocolate Mousse Pumpkins
15. Mochi
16. Gluten Free Chocolate Chip Cookies
17. Fig Bars
18. Coconut Clusters
19. Gluten Free Pumpkin Bread Mix – Usually all of the "pumpkin" flavored items are only seasonal so stay tuned in September for these things!
20. Gluten Free Pumpkin Pancake Mix
21. Gluten Free Brownie Mix
22. Pumpkin Spice Waffles
23. Frozen Lobster Ravioli
24. Frozen Chocolate Covered Strawberries – I think the frozen chocolate covered strawberries and bananas are your "healthiest" sweet treats on this list! They are literally just fruit + chocolate and oh my they are delicious!
25. Frozen Chocolate and Almond Croissant
26. Frozen Chocolate Covered Bananas
27. Frozen Prosciutto Pizza
28. Frozen Spinach and Artichoke Dip
29. Frozen Veggie Pizza
30. Frozen Mini Ice Cream Cones
31. Frozen Cookie Ice Cream Sandwiches
32. Frozen Vanilla Ice Cream
33. Black Pepper Toscano Cheese
34. Cocoban Red Wine
What are other Trader Joe's favorites of yours? Please leave a comment below so I can add to our list! I hope this list helps on your next trip to Trader Joe's!! xo
Whole30 January Challenge GIVEAWAY!
This giveaway includes the following! Enter the giveaway by clicking the Rafflecopter below!
PIN the Trader Joe's Favorites Post for Later!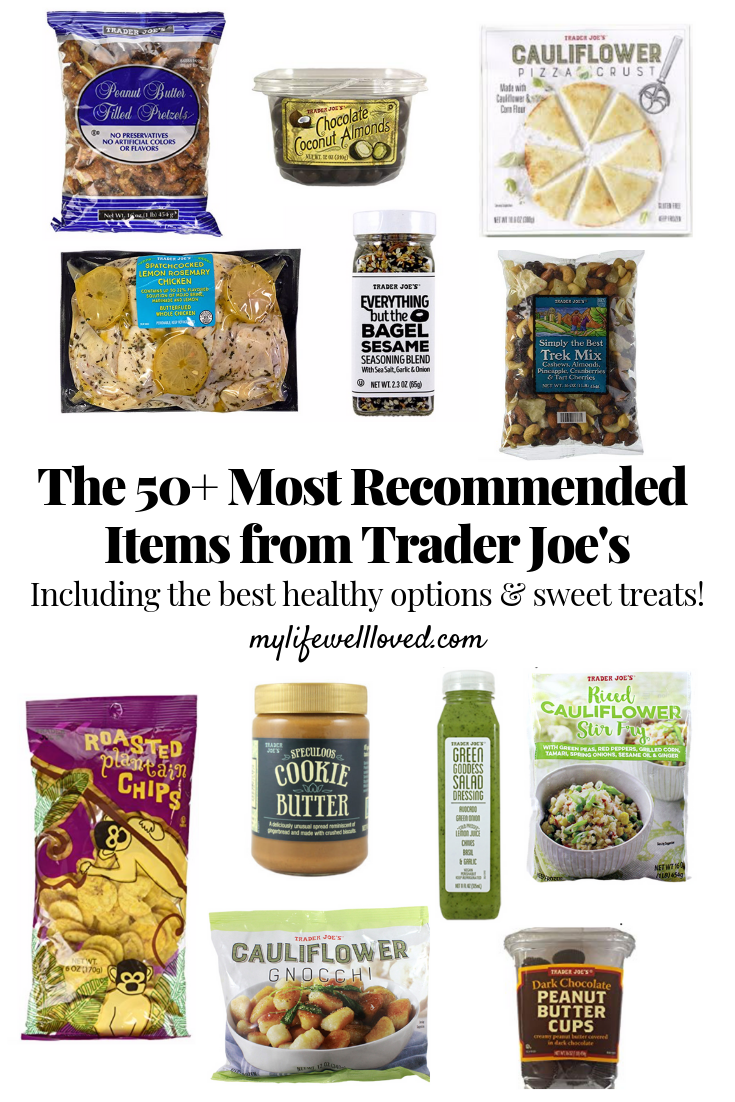 Heather Brown helps busy mamas of young littles who are caught in the hustle to find encouragement in their journey to true health, from the inside out, starting with the heart. Read her journey of learning to live a life well-loved
HERE!