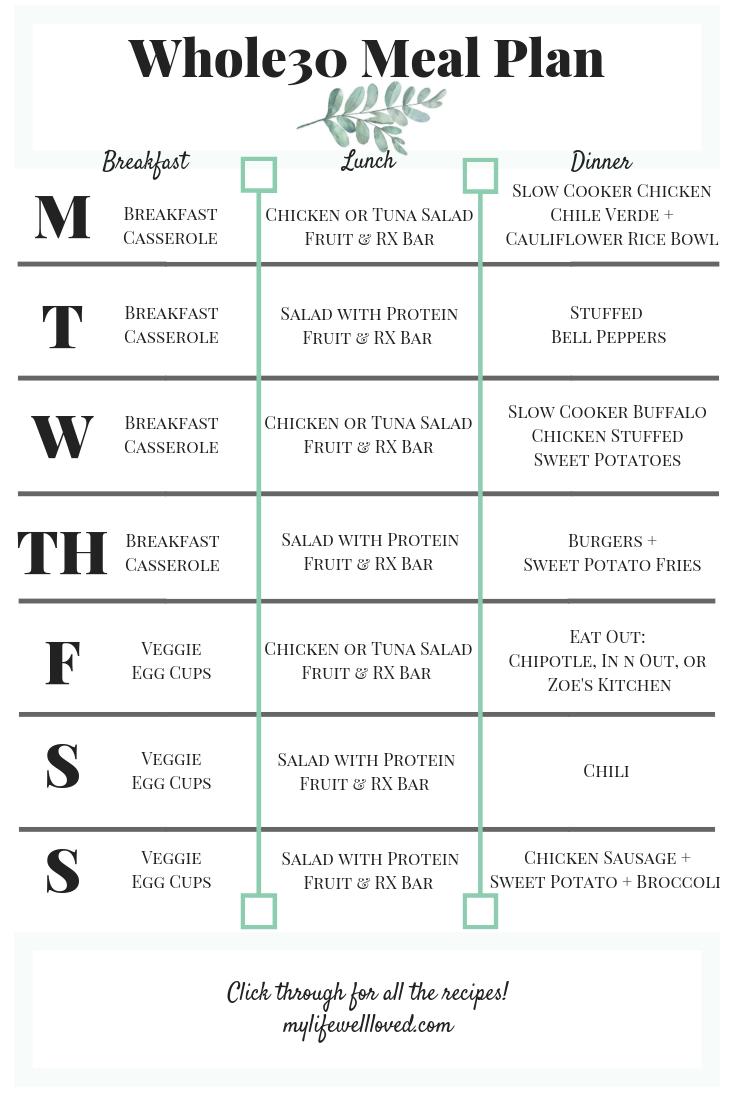 Today on the blog, I have a special guest writer – my assistant, Alissa! Y'all have heard me mention and tag Alissa on Instagram Stories and we recently traveled together to North Carolina, as seen below! <3 She is here to kick-off Whole30 Week 1 with us by sharing her experience with Whole30 as well as her in-depth and comprehensive Whole30 meal plan! Make sure you are following along with my fellow bloggers, Molly at Stilettos and Diapers, Jessica at Happily Hughes, and Lindsey at Life Lutzurious as we share our Whole30 tips and tricks. Join our Whole30 Facebook Group HERE and be sure to tag us in all your Whole30 posts on social media!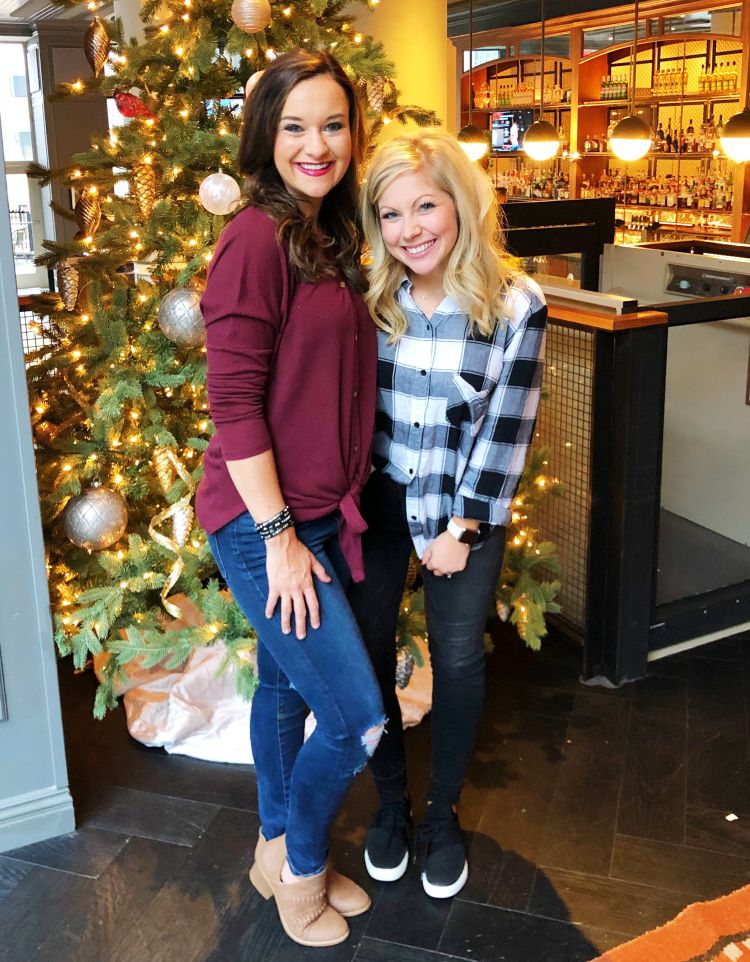 SHOP My Outfit: Top – nursing friendly fits TTS wearing size small // Similar Denim // Similar Booties // Victoria Emerson Wrap Bracelet // Fave Lip Combo – NYX Buter Gloss- Creme Brulee/NYX Suede
Hi friends! I am Alissa, Heather's Editorial Assistant, and I am so excited to be here sharing about my experience with Whole30 and my doable meal plan to follow this week or any week during Whole30. Funny enough, I actually first started following Heather and found her because of Whole30 back in January of 2017! I had never heard of Whole30 and I was intrigued by the diet and challenge of eliminating foods and retraining myself to eat WHOLE foods for 30 days. Plus, I love a good challenge and love achieving a goal so this was right up my alley!
I have always been a somewhat healthy eater. Fruit and veggies are my favorites, I am picky when it comes to meat and seafood, and my weakness is salty snacks. Up until 2017, I felt like I had a pretty balanced diet but my relationship with food was extremely corrupted. Anytime I ate anything, I was calculating the calories in my mind and had the mindset of "If I eat this, I have to do (insert workout) to burn it off." I constantly felt guilty for eating, regardless of what I ate. In my mind food = fat.
I never do anything halfway so when I began Whole30, I dove straight in and read every article I could get my hands on, the book, scoured Pinterest, you name it. The core principles of the diet? Food is good. Food nourishes you. Eat REAL food. Whole30 helped me realize how sneaky brands are with adding sugar and other bad ingredients into everyday items we had in our pantry. Whole30 challenged me to find new recipes and cook. A LOT. The very first time we did Whole30, my husband and I spent hours in the kitchen together for the first time ever – after being married 3+ years! Our repertoire of recipes is now much bigger and healthier, thanks to Whole30! But most importantly, I overcame my corrupted view of food. For the first time in a long time, I was able to eat whole, real, nutritious foods, and know I was fueling myself with the best of the best without feeling guilty. This ultimately improved my self-image, body positivity, and made me happier and healthier from the inside out!
This is a snapshot of what a typical Whole30 meal plan looks like for us on any given week. These are our go-to recipes for breakfast, lunch, and dinner. I hope you enjoy!! xo
Whole30 Meal Plan BREAKFAST: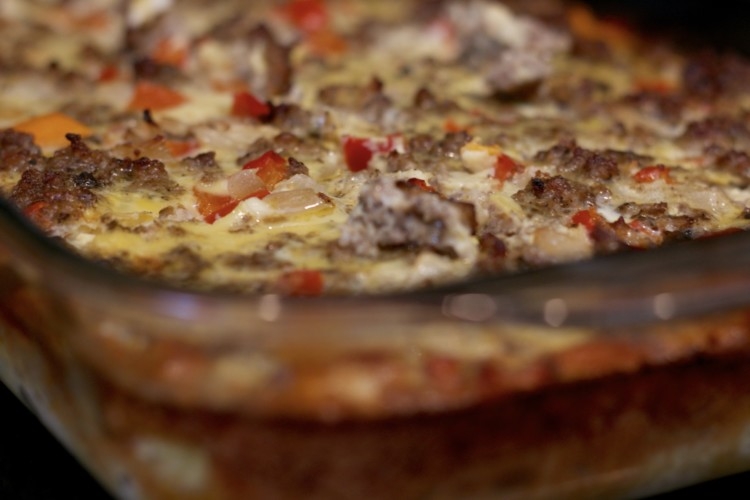 I love Heather's Whole30 Egg Casserole and it is the perfect recipe to meal prep on Sunday to enjoy for the first half of the week! We try to cook this casserole so we can have a piece each morning for breakfast Monday-Thursday. Another easy recipe we love is Veggie Egg Cups. These are so simple and all you need are your favorite chopped veggies, eggs, and a muffin tin! Always paired with my Egg Casserole or the Veggie Egg Cups is coffee with almond milk and vital proteins!
Whole30 Meal Plan LUNCH: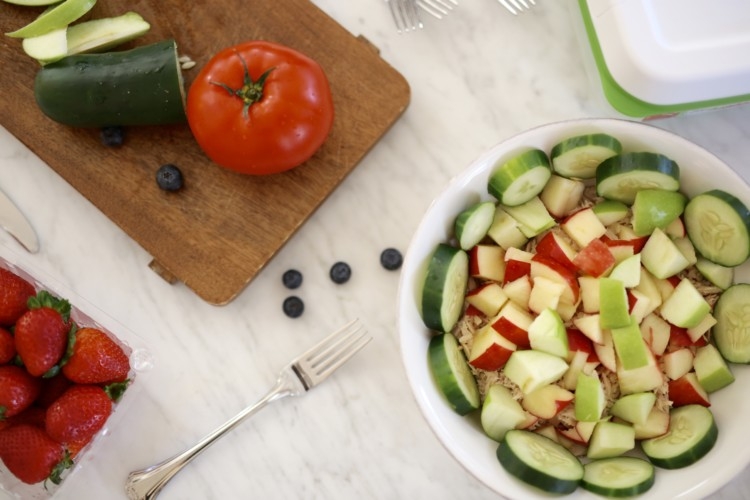 For me, I feel like lunch is the trickiest time of day for Whole30. Without a full kitchen to cook a fresh lunch every day at work, this on-the-go meal looks different from week to week. An easy lunch recipe to make ahead and enjoy throughout the week is Heather's Tuna Salad. As I mentioned before, I am not a fan of seafood so I will substitute with chicken! Another easy lunch option is a big salad full of veggies with some type of protein: hard-boiled egg, grilled chicken, or turkey lunch meat. I typically alternate between the chicken/tuna salad and a veggie salad with protein. My favorite salad dressing is always Primal Kitchen's Ranch!
I almost always pair my lunch with a piece of fruit (banana, apple, avocado, or orange) as well as an RX Bar.
Whole30 Meal Plan DINNER:
This truly is our weekly list of favorite dinner recipes to cook at home. Sometimes we add in some variety but for the most part, these are our tried and true, quick and easy options!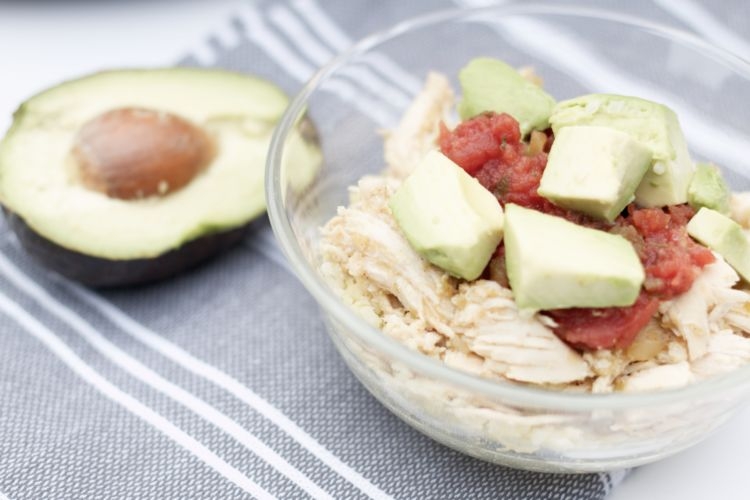 Monday: This Slow Cooker Chicken Chile Verde is one of our favorite crockpot meals! With only 3 ingredients + some spices, it truly is the cheapest and easiest meal on this list! We love eating the chicken in a bowl of cauliflower rice topped with salsa and guacamole or avocado. TIP: We always sit down at the beginning of the week and figure out which nights will be the busiest with working late or events after work, etc. We plan our slow cooker meals for these nights so that we aren't trying to cook late at night once we get home or end up eating out when we don't need to!
Tuesday: We keep our Stuffed Bell Peppers very simple! I cook either 1lb of ground beef or ground turkey using this homemade taco seasoning recipe and stuff the peppers with the meat + cauliflower rice then bake for 15-20 minutes at 350 degrees!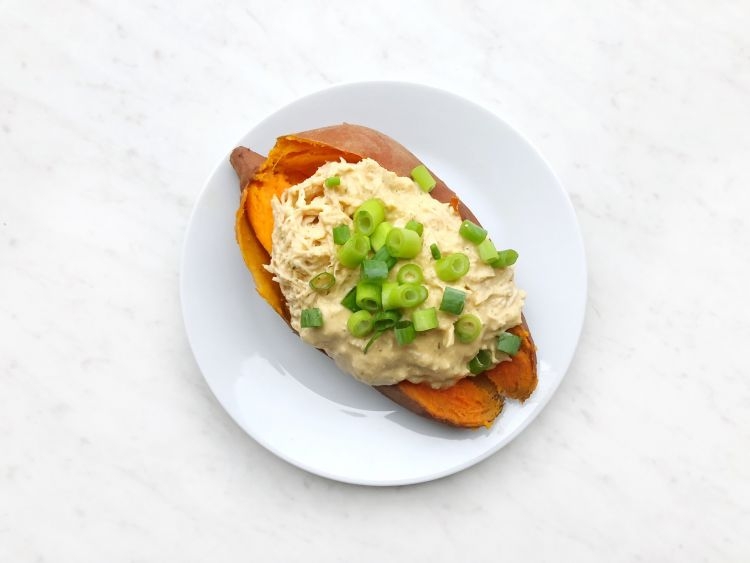 Wednesday: Another favorite Whole30 dinner of ours is Buffalo Chicken Stuffed Sweet Potatoes! Heather has a similar recipe on her blog HERE! However, we love the slow cooker version for busy days when we need to save on cook time!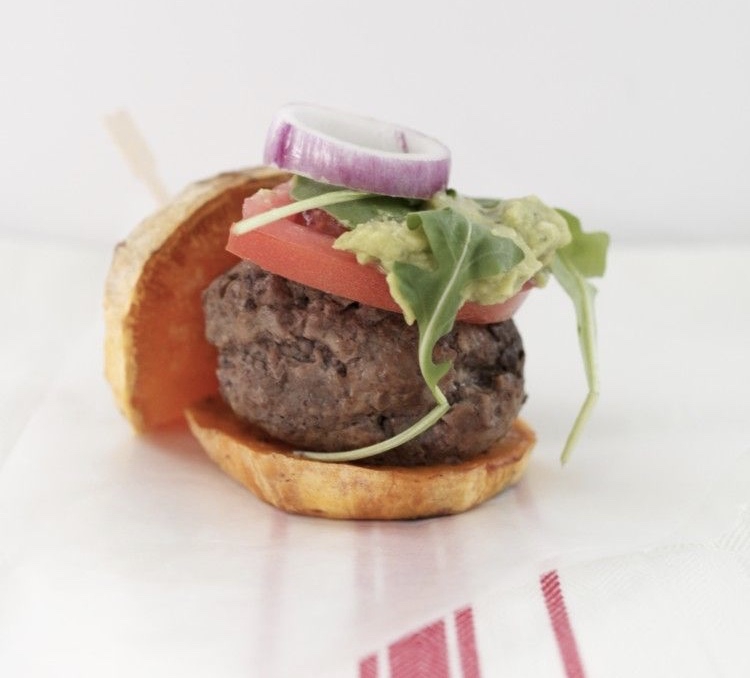 Thursday: My husband recently got a Gotham Steel Smokeless Grill and we have been loving using it to grill our Whole30 Burgers on! We use this seasoning blend (omitting the brown sugar, of course) for the meat and love pairing the burger with a lettuce bun or Heather's amazing sweet potato buns!
Friday: On Fridays we try to give ourselves a break from cooking! We enjoy going to Chipotle, In N Out Burger, Jimmy John's, Zoe's Kitchen, or other local Whole30-friendly restaurants!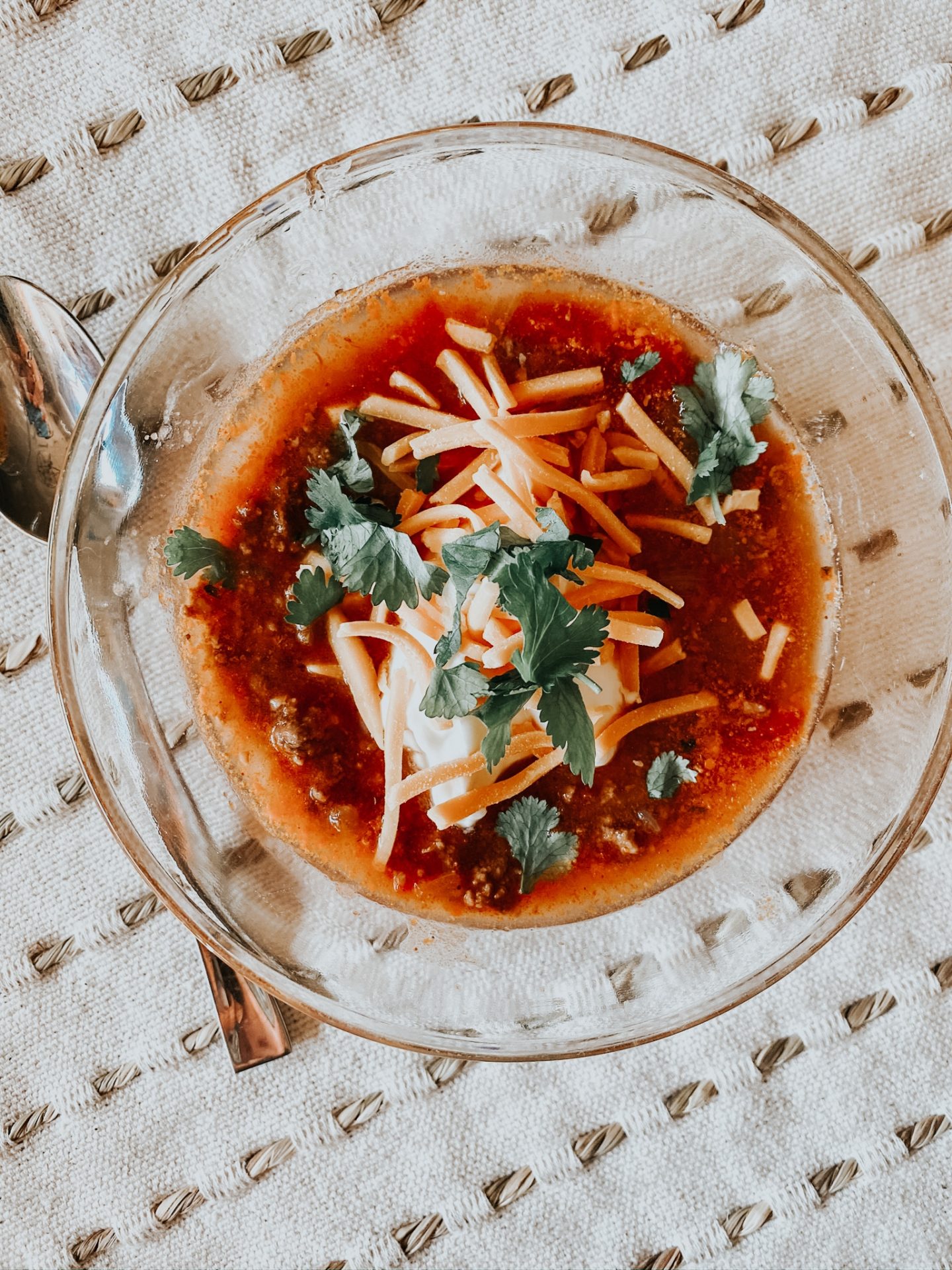 Saturday: We like to save our more in-depth recipes that take a little longer cook or prep time for Saturdays when we are home most of the day. Since we typically do Whole30 in January, we love incorporating soup and chili into our weekly Whole30 meal plan. This chili recipe is our absolute favorite – it is simple and tasty! We also love Heather's White Chicken Chili recipe.
Sunday: Chicken Sausage + Broccoli or Brussels + Sweet Potato – quite possibly the easiest meal of all but still very nutritious and delicious! We buy the Aidells Chicken & Apple Sausage in bulk at Costco and use frozen vegetables. We toss everything on a sheet pan and cook until its crispy!
Thank you for taking the time to read through my sample Whole30 meal plan! What is your favorite Whole30 recipe? I would LOVE to hear below in the comments so we can try it next week!
Looking for more Whole30 posts in this challenge? Checkout Week 2, and Week 3.
Find More Meal Planning Content Here:
SHOP Whole30 Week 1: The Ultimate Whole30 Meal Plan Post HERE:

Pin The Post For Later!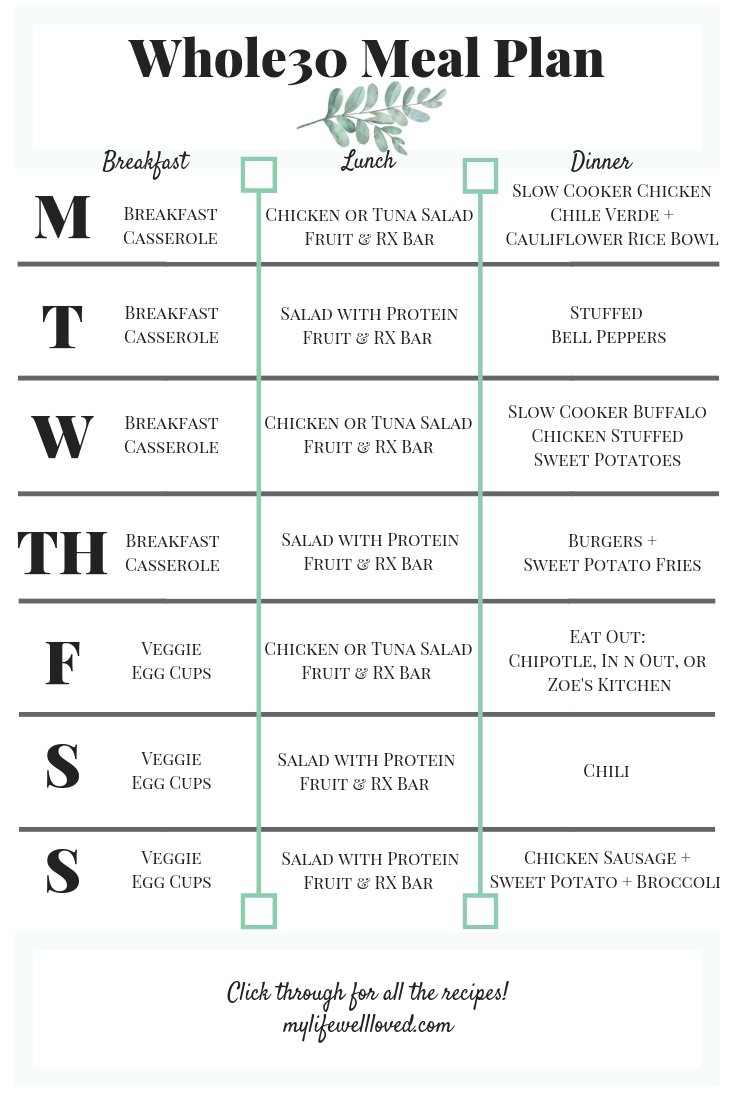 Heather Brown helps busy mamas of young littles who are caught in the hustle to find encouragement in their journey to true health, from the inside out, starting with the heart. Read her journey of learning to live a life well-loved
HERE!