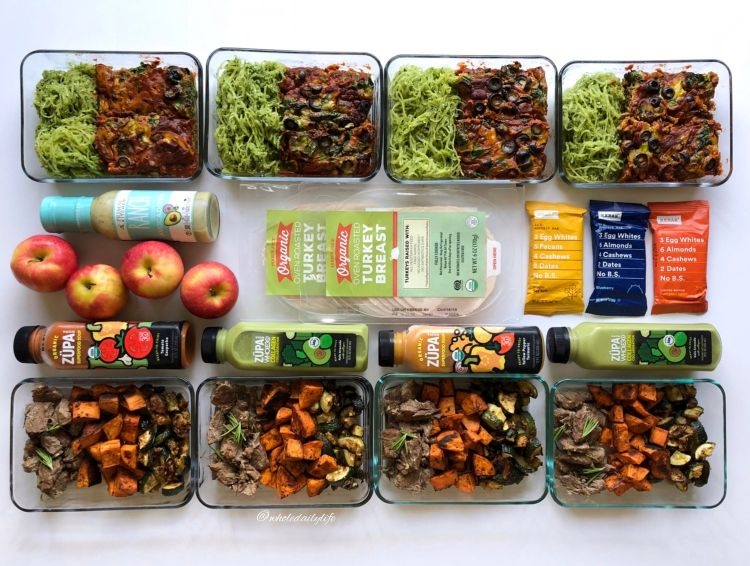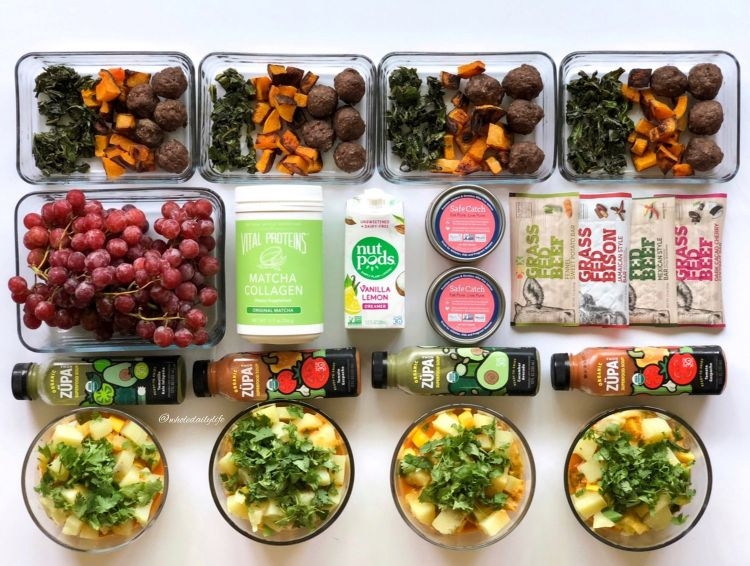 I am so excited to introduce you to Tracey over at the Whole Daily Life! She has inspired me so much with her healthy lifestyle and Whole30 meal preps (shown above) , tricks, tips, and recipes! We are doing a fun blog swap today so head over to her blog to get my Paleo/Whole30 Chicken Chili Recipe! I know you will enjoy her content just as much as I do! If you are looking for more Whole30 Meal Prep meals, head over to my recipes tab to see more!
Hi there, it's Tracey from @wholedailylife! As a real food-focused registered dietitian who has healed from both SIBO and Hashimoto's, I am always working with clients to make it easy to sustain a healthy lifestyle that supports optimal digestion in the context of a busy life. One of my favorite ways to do this is to prep healthy meals on the weekend! If you follow along on Instagram, you'll see that I knock out a work week's worth of meals in a couple of hours every Friday night. It's definitely not a flashy way to spend the evening, but it makes my week so much easier!
Whole30 Meal Prep: Tips On Increasing Efficiency In The Kitchen
Keep the recipes simple. I usually don't cook things that can't tolerate a few extra minutes if I forget them in the oven or on the stove, because let's face it, it happens! I'm usually juggling a lot of things while I prep…see next point.

Multitask. I'm almost always using my

Instant Pot, both racks of my oven, and all of the burners on my stove at the same time.

One-pot meals are your friend. If I can condense a meal into one dish, I do! For example, if I'm making a stir fry, rather than having the chicken, veggies, and cauli rice all separately, I just toss it all in together.

Portion food out immediately. When I'm done cooking, I portion the food right into

single serving dishes

so that I don't have to do it later. (Throughout the week I reheat my meals in my

Hot Logic Mini

, which I seriously couldn't live without. Just plug it in and it heats up your lunch while you get other things done!)
I use these strategies on a weekly basis to make sure that I have meals ready to go for the week before the busyness of Monday kicks in. I work a full-time job with unusual hours as well as maintain a private practice, so I don't have much time during the workweek!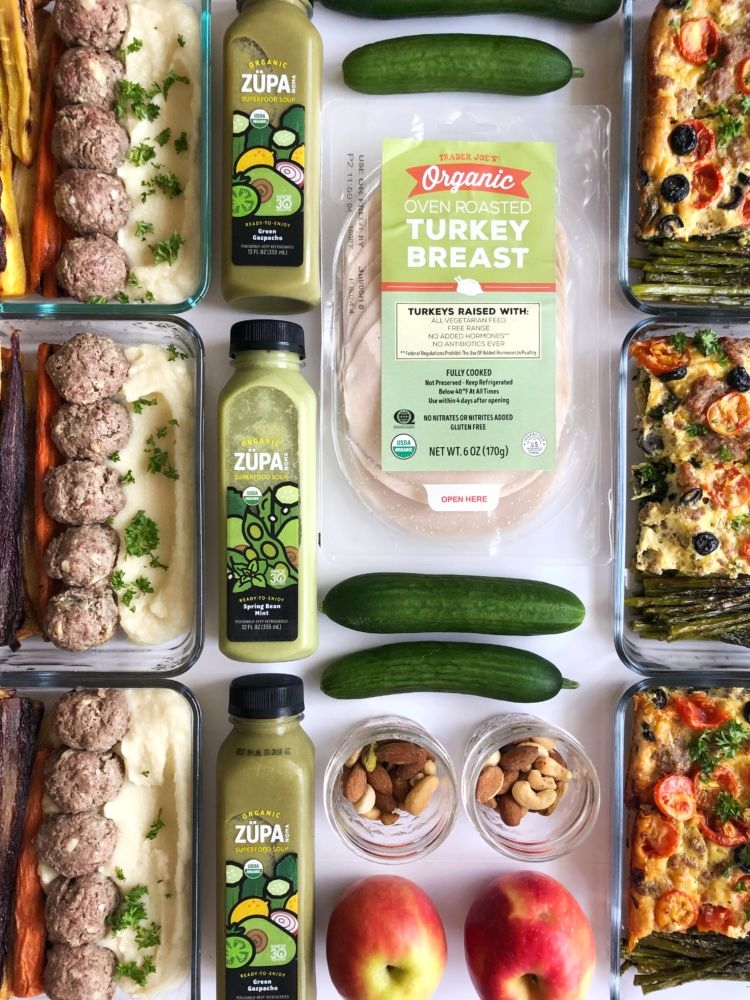 This Week's 2-Hour Whole30 Meal Prep:
1. Breakfast: Batch Prep Frittata with Asparagus (45 minutes for prep and cooking)
You really can't go wrong with a frittata! You can throw in anything you have and they're pretty forgiving. For this one, I started by preheating the oven to 350 and cooking 1 pound of sugar-free pork sausage from US Wellness Meats (where I get the majority of my meat) in a large skillet on the stovetop.
While that was cooking, I thinly sliced 1 pound of zucchini to use as a "crust" and roughly chopped one 5 oz bag of baby spinach. I also sliced about 1 cup of cherry tomatoes in half and drained a small can of sliced olives.
When the pork was cooked through, I added in the spinach so that it could wilt, then set it aside.
In a large bowl, I whisked together a dozen eggs with about 2/3 cup original nutpods creamer (new customers save 15% when you use code MYLIFEWELLLOVED) and seasoned with 1 tsp salt.
Now, for the assembly! Drizzle some olive oil on the bottom of a large glass Pyrex baking dish, then arrange the zucchini in a flat layer on the bottom. Distribute the pork and spinach layer over the top, then the olives and the tomatoes. Pour the whisked eggs over the top.
Bake at 350 for about 30 minutes, until the middle is set. The cooking time will vary depending on how thick it is.
I also added some asparagus on the side, which I roasted alongside the frittata for about 15 minutes. I would have just added this in but I forgot!
2. Lunch: No-Cook Plate (5 minutes for prep)
The no-cook meal is one of my work week staples! (See examples on the #wholedailylifenocook hashtag!) My template is simple: protein, fat, veggies, carbs. Here are some of my favorites:
Proteins: turkey (I use True Story or Trader Joe's), jerky (I especially love Ayobayo Droewors sticks), hardboiled eggs, etc.
Veggies: my favorite is a bottle of Zupa soup! I love the tomato gazpacho, yellow pepper turmeric, and cucumber avocado the most. You can get 15% off and free shipping with the code "wholedailylife." I also love to use sliced cucumber, radish, carrots, and whatever else I have on hand.
Fats: nuts and avocado are my go to's, along with Primal Kitchens Caesar dressing!
Carbs: fruit is usually my no-cook carb of choice, probably an apple or berries
3. Dinner: Sweet Potato Meatballs with Carrots and Smoky Cauliflower Puree (60 minutes for prep and cooking)
These Sweet Potato Meatballs are one of my most popular recipes! The sweet potato keeps them tender without the use of bread crumbs. You can find the recipe here, with the note about adding the sweet potato at the bottom!
To pull this together, I started with the carrots, since they take the longest. All I did was slice the bigger ones lengthwise and roast at 350 with oil and salt for about 20 minutes on each side until tender and golden. (These can be in the oven at the same time as the frittata!)
While they were roasting, I steamed one head of cauliflower until tender (8 minutes in the Instant Pot or about 15 minutes stovetop), then pureed with about 3 tbsp ghee, 1 tsp salt, and 1/4 tsp liquid smoke.
While the cauliflower steamed, I made and rolled the meatballs, then put them in a glass baking dish to bake at 425 for about 15 minutes. If there are still other things in the oven, I go ahead and turn the temperature up. The meatballs also might take a little longer in a crowded oven, so cook until internal temperature reaches 165.
And there you have it! 5 breakfasts, 5 lunches, and 5 dinners in under 2 hours! As I mentioned above, I portion everything out into these single-serving dishes. I freeze them (except for the no-cook stuff) to keep them fresh and pull them out day by day when I use my Hot Logic Mini to reheat about 90 minutes before I plan to eat!
I hope you enjoy this easy meal prep and are able to take advantage of some extra free time during the workweek because of it!
If you'd like to receive more easy meal plans like this, be sure to sign up for my newsletter (where you'll also receive a PDF of 21 of my favorite Whole30 compliant recipes for free) and follow me over on Instagram, where I share tips, tricks, and strategies for developing your own sustainable approach to healthy living!
In health,
Tracey
Check Out More Meal Planning Content Here:
Pin The 2 Hour Whole30 Meal Prep Post For Later!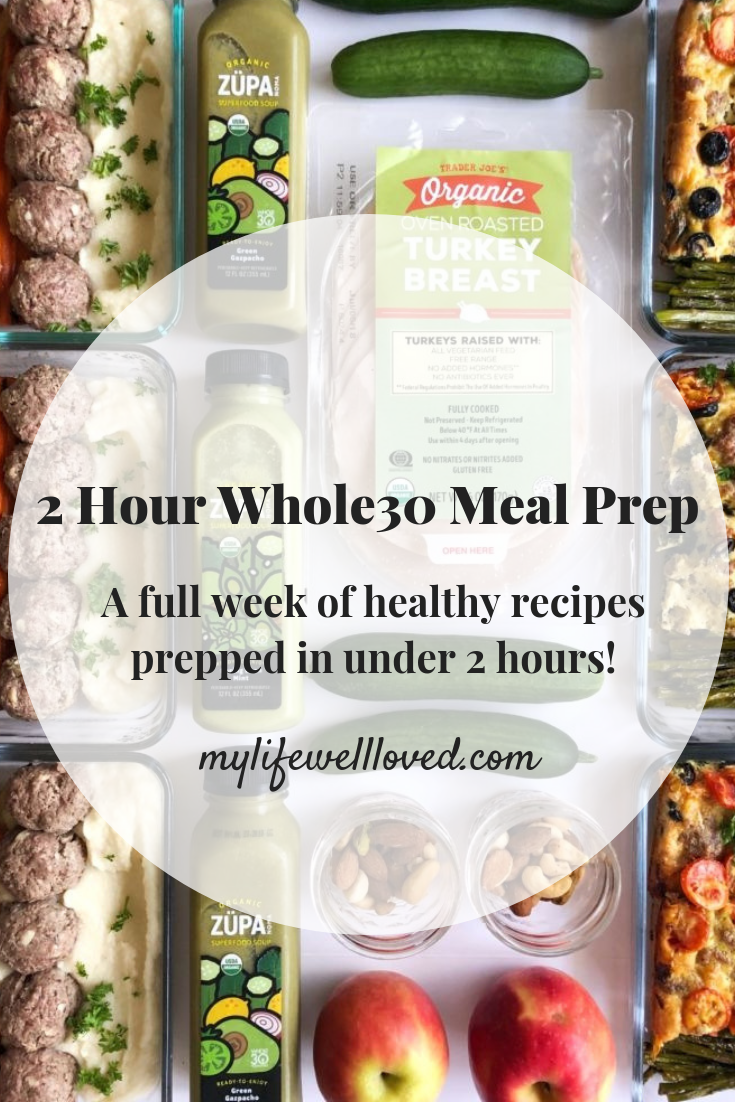 Heather Brown helps busy mamas of young littles who are caught in the hustle to find encouragement in their journey to true health, from the inside out, starting with the heart. Read her journey of learning to live a life well-loved
HERE!