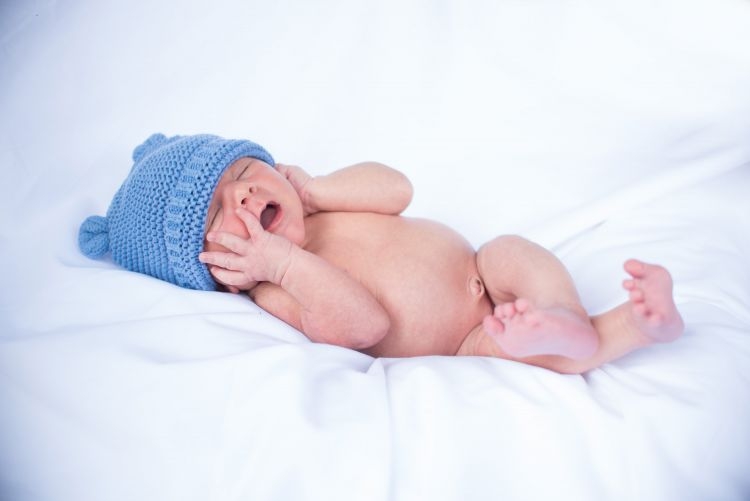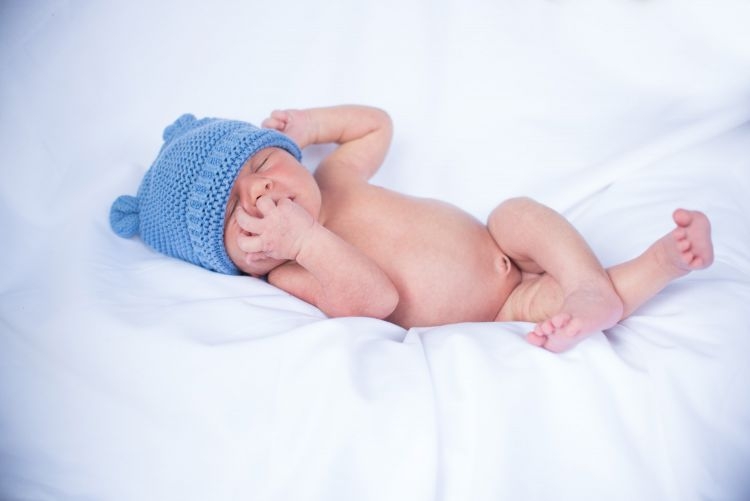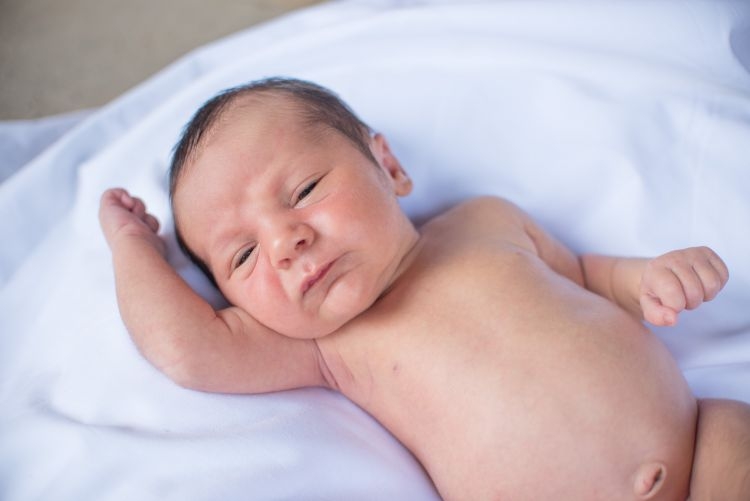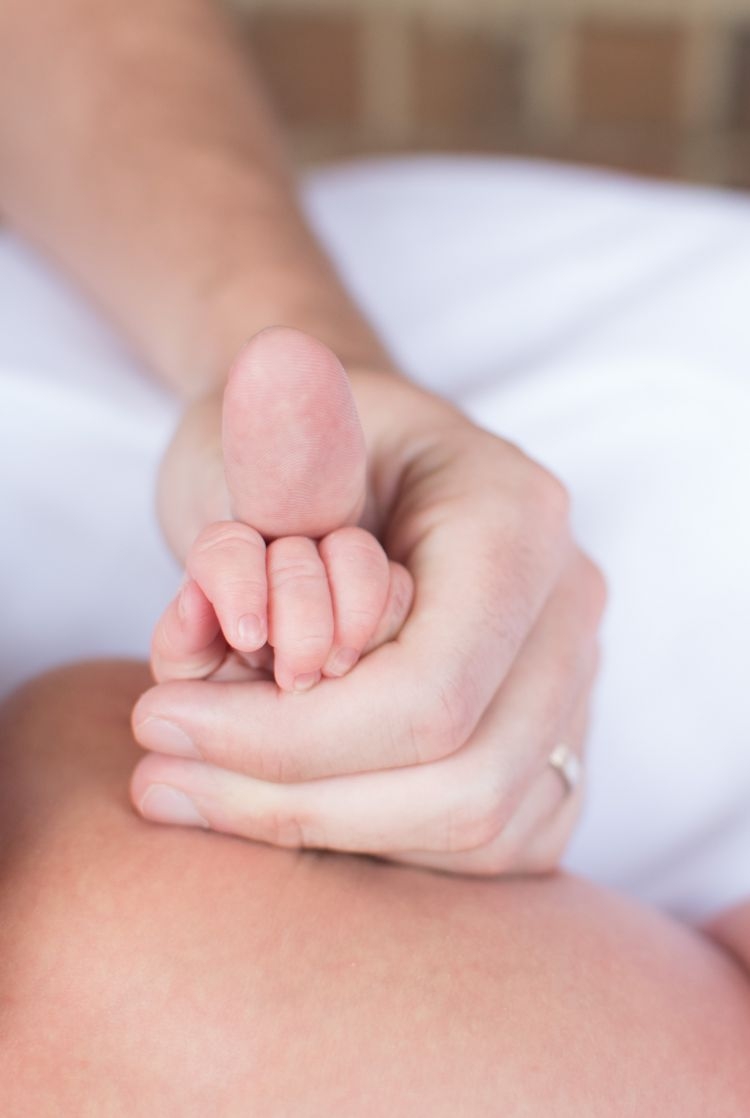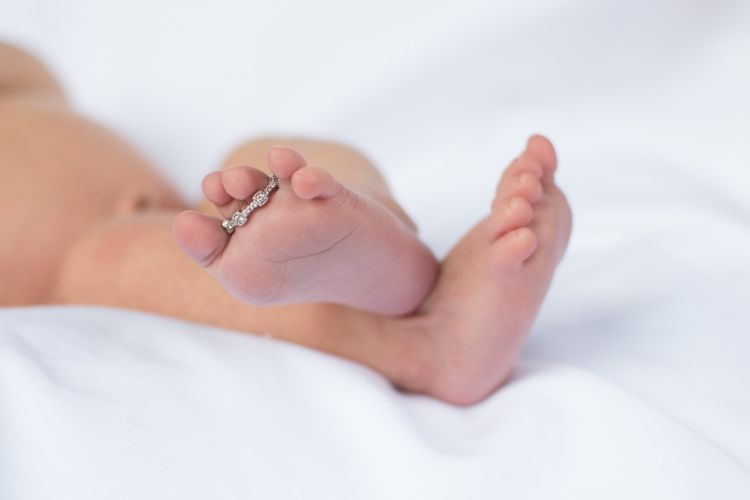 Finn's Beanie – Also seen HERE on Leyton!
I am excited to finally share our newborn photos with you today! These pictures melt my heart and will be keepsakes I treasure forever. From Finn's tiny hands and feet to Leyton's sweet expressions, I love everything about them. We had Kristie Allen Photography do our newborn photos and I'm so glad we did. Kristie also took our in-hospital birth pictures which I'll be sharing with Finn's birth story soon! It takes an experienced photographer to be able to get a toddler to cooperate and capture a couple good photos and also get the lighting right…can I get an amen?! I can't wait to print these photos and hang them in our home.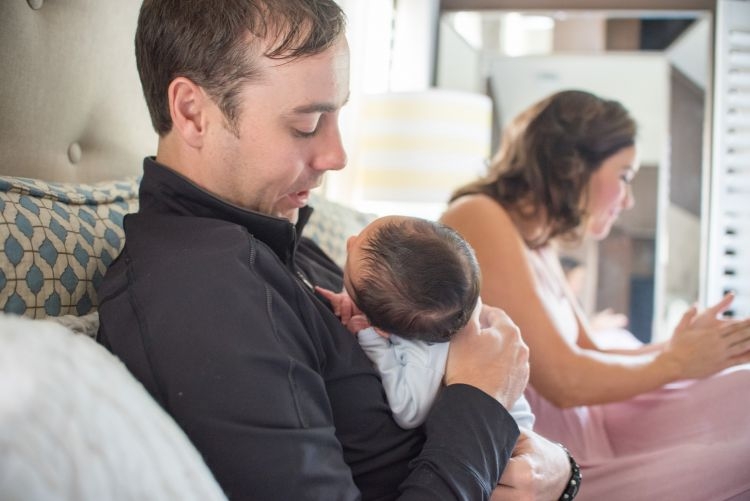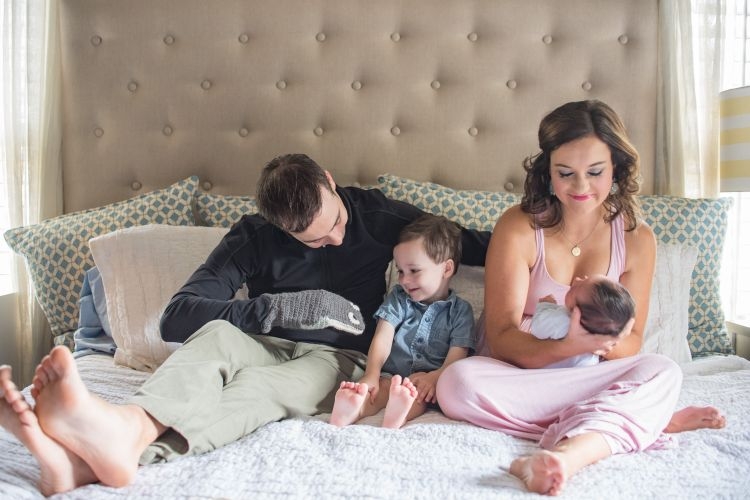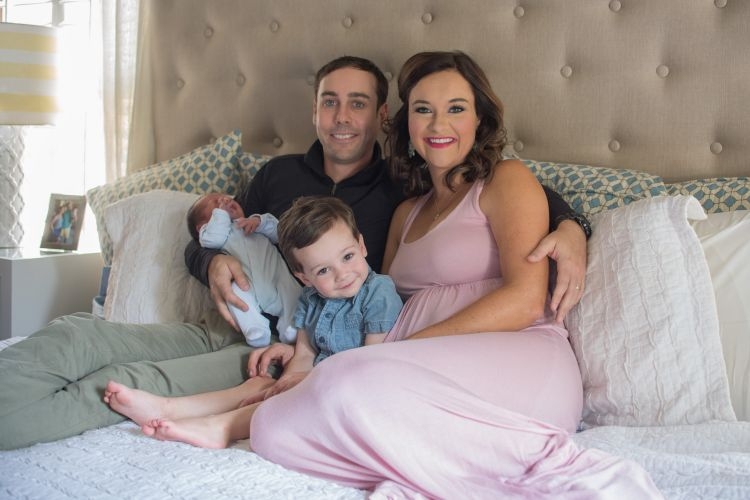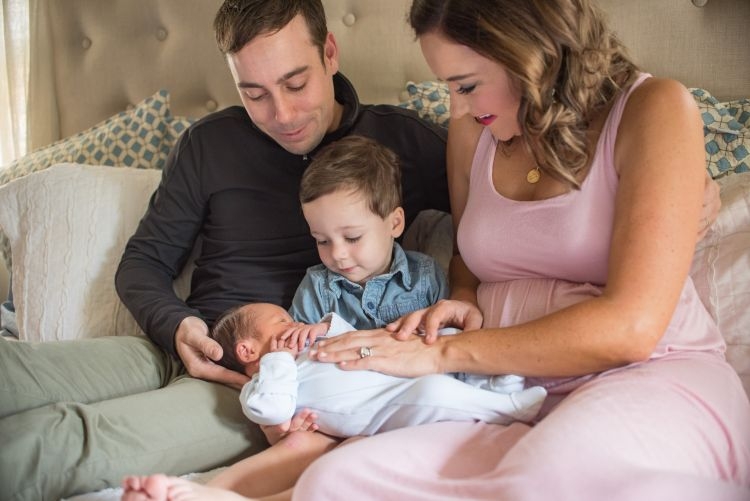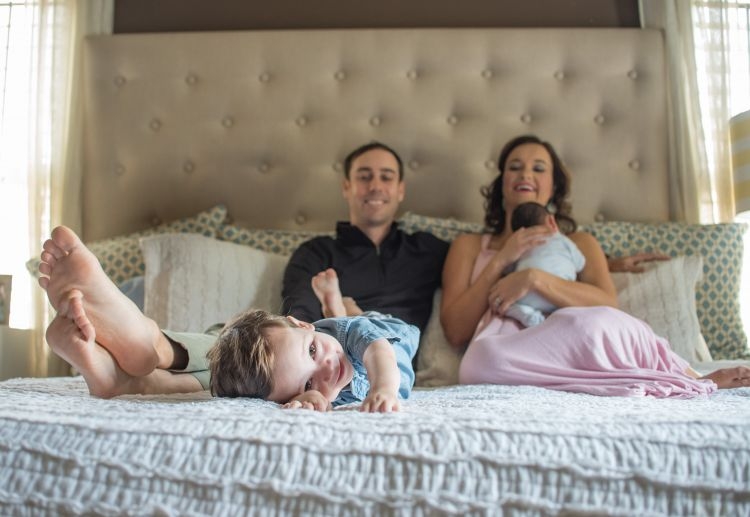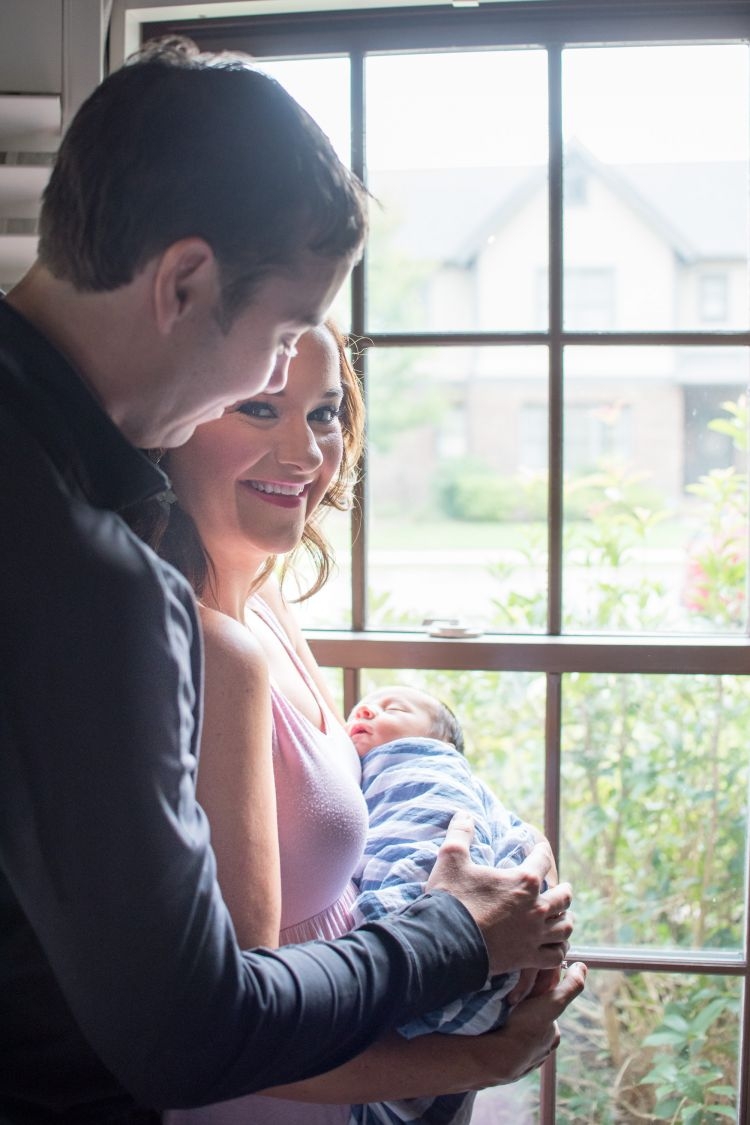 Maxi Dress // Eric's Pullover (similar) // Eric's Pants (similar) // Leyton's Shirt (similar) // Leyton's Shorts (similar) // Finn's Stripe Swaddle // Finn's Sleeper
As with Leyton's newborn photoshoot, we wanted a lifestyle approach to our photos. We loved being in the comfort of our home, especially with a toddler, and making everything as natural as possible. We love capturing our bedroom, natural light from the windows, the nursery, etc. in these photos and having memories of our home to keep forever! The textures of our bedding provide great backdrops for baby to lay on and being in your home, you are never limited to one space!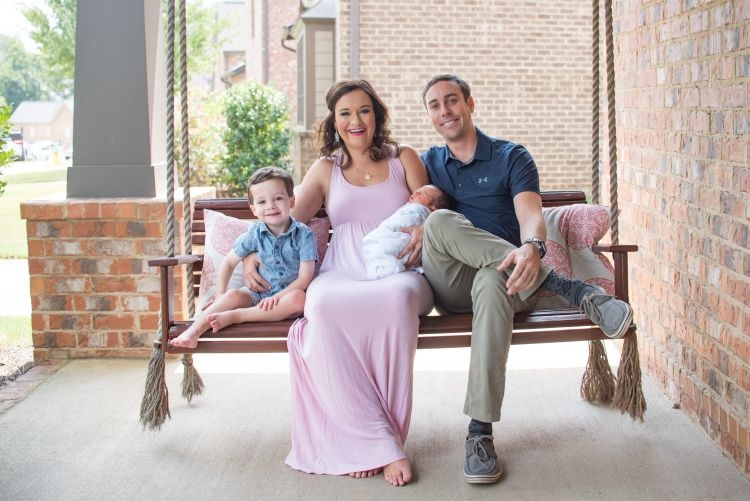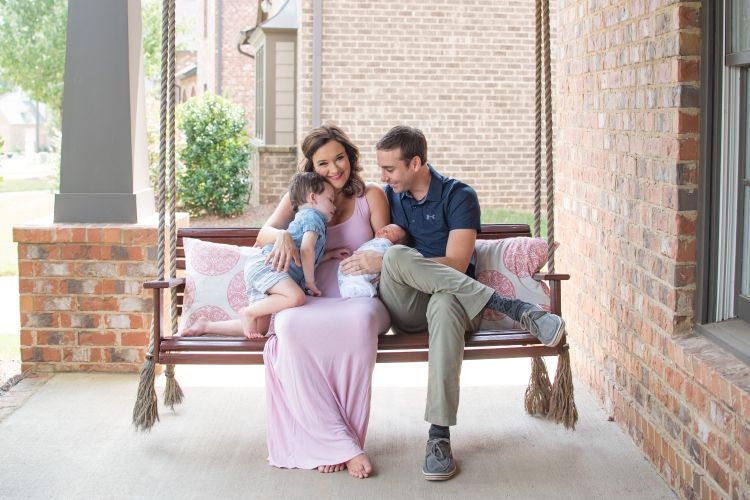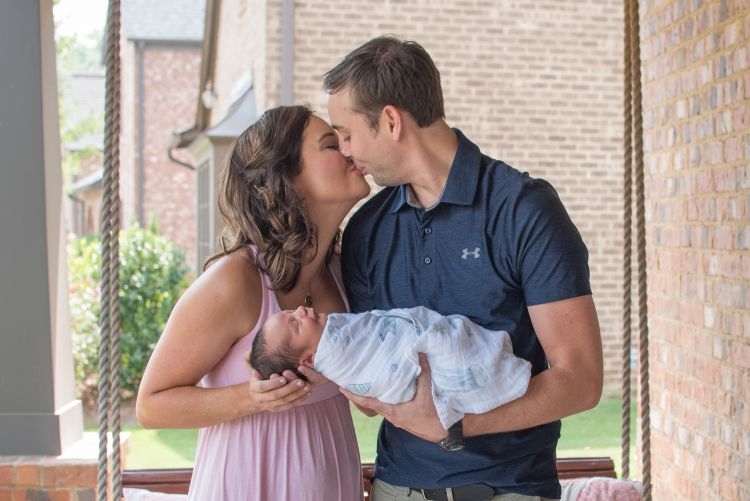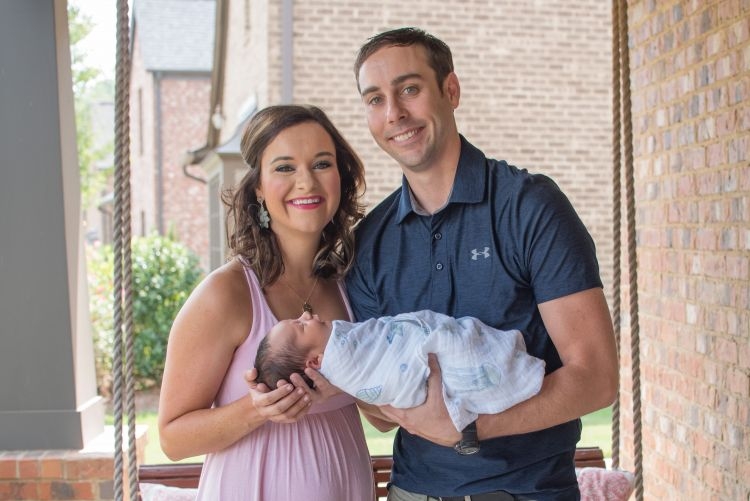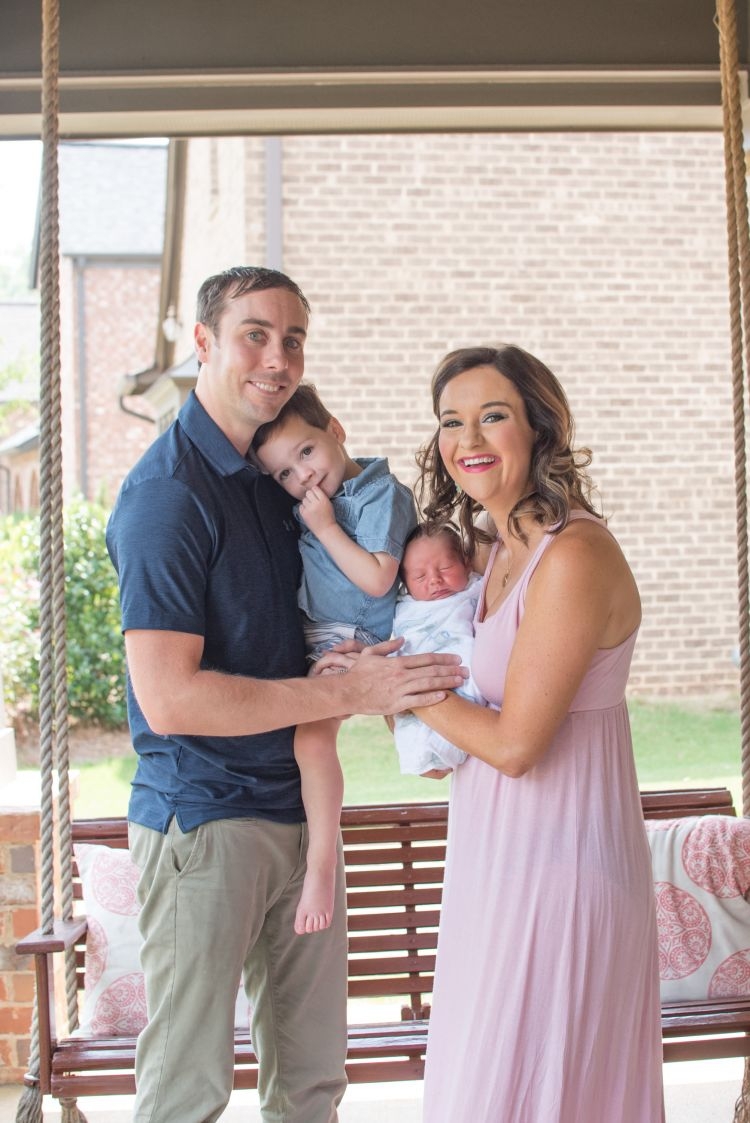 Maxi Dress // Eric's Polo (similar) // Eric's Pants (similar) // Eric's Shoes // Leyton's Shirt (similar) // Leyton's Shorts (similar) // Finn's Swaddle
Our front porch swing holds a special place in our home and we always try to incorporate it in our photos. Eric and I enjoy swinging with a cup of coffee in hand or a glass of wine and discussing our days. When the boys are both sleeping, we will sneak outside to swing for a bit, giving us a bit of a date night feel and many times we take the boys out with us. That swing was my saving grace when I first had Leyton…I'd go out and swing with him, talk on the phone, greet neighbors…etc, anything to get out of the house!
For us, our swing is a symbol of so many sweet memories so getting a few pictures on it are a must! I'd highly encourage you to incorporate a special part of your home into your photoshoots because it incorporates something unique to you and your family! To read more tips for a newborn photoshoot, click the link here.
If you are planning your baby's newborn photoshoot or family photos for the holidays, I am hoping this post provides some easy and doable styling tips for you and your family! My main tip is to not overthink what to wear for family pictures and to keep it simple! Like I mentioned, we stayed at home and this was the best decision for us! Not having to load everyone up in the car and travel somewhere instantly took away loads of stress. I was fortunate enough to have my amazing hair stylist Briana come TO MY HOME to fix my hair for the photoshoot! (She offers 20% off when you mention MLWL.) If you are a new mama and this is an option for you, please do it! The last thing you want to do or have time to do is fix your hair for photos.
What to Wear for Family Pictures
: Styling Mom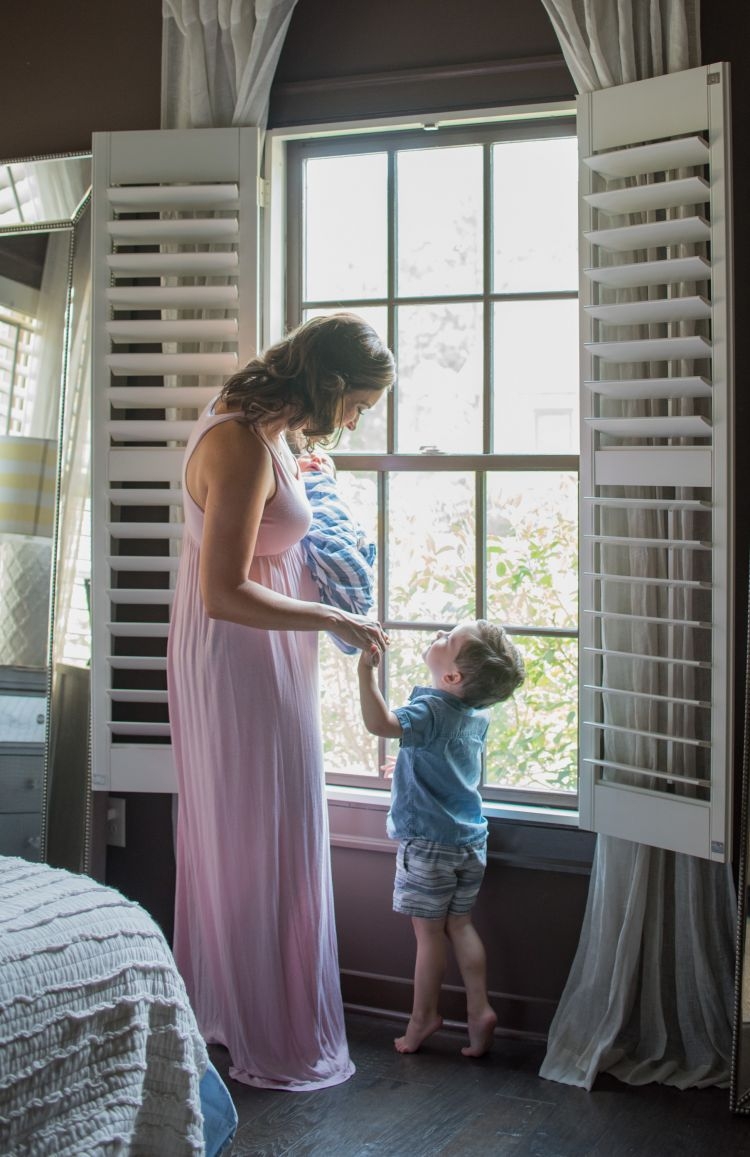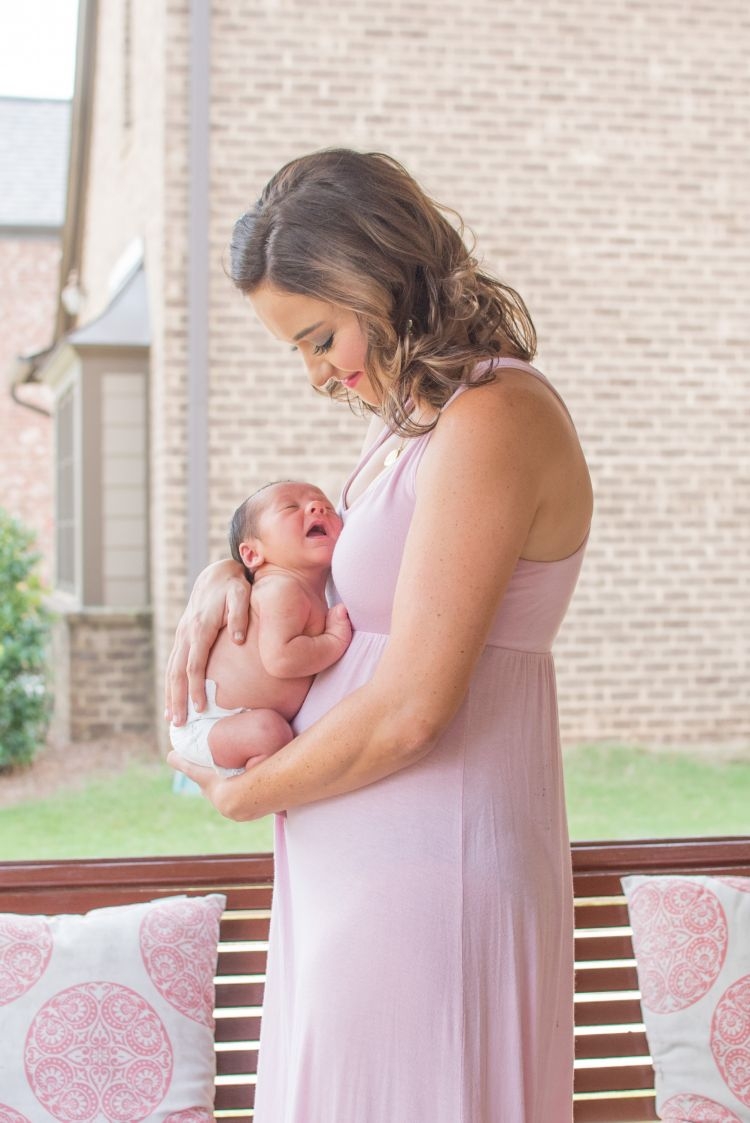 When it comes to figuring out what to wear for family pictures, this is where most people get stuck! I always recommend YOU picking out your outfit first. It is much easier to style your husband and your kids based on an outfit you love than the other way around. Once you have your outfit chosen, start picking colors that would compliment or coordinate. I decided to go with this pink maxi dress and the boys in hues of blue. It was very soft and natural and also coordinated with our home decor too!
If you are looking for dress or blouse options for your upcoming family photoshoot, check out these! I am loving all the fall colors and they are so easy to pair with other plaids or solids for your hubby and kiddos!
What to Wear for Family Pictures
: Styling Dad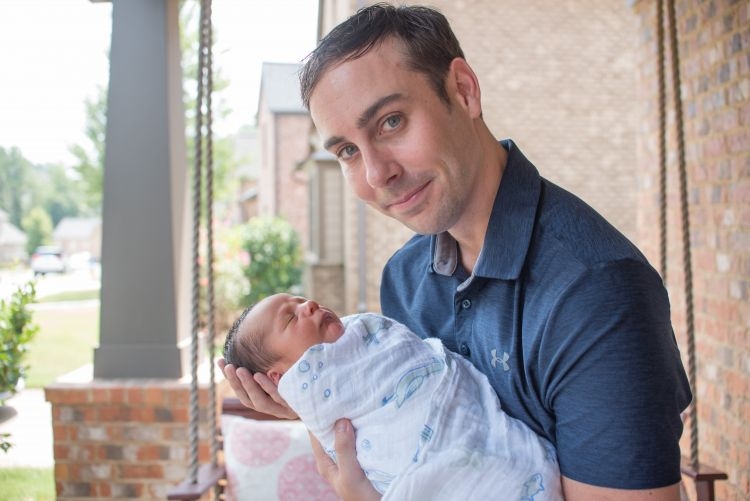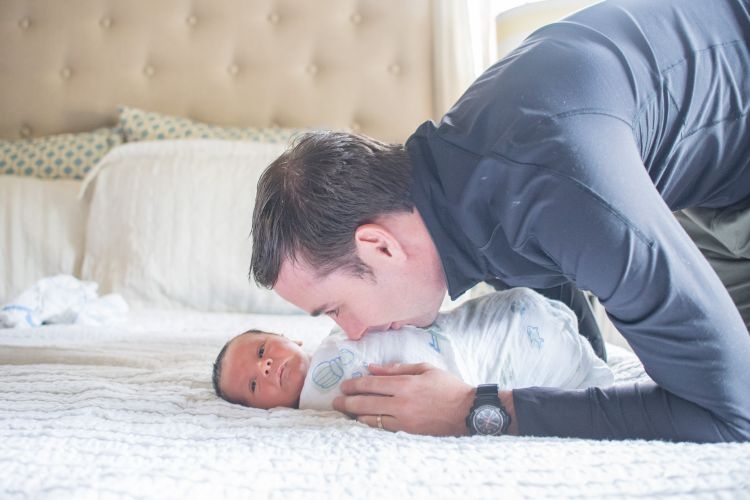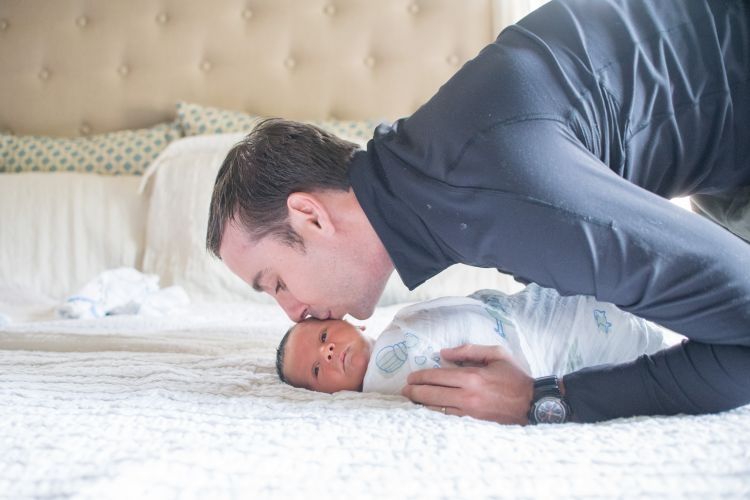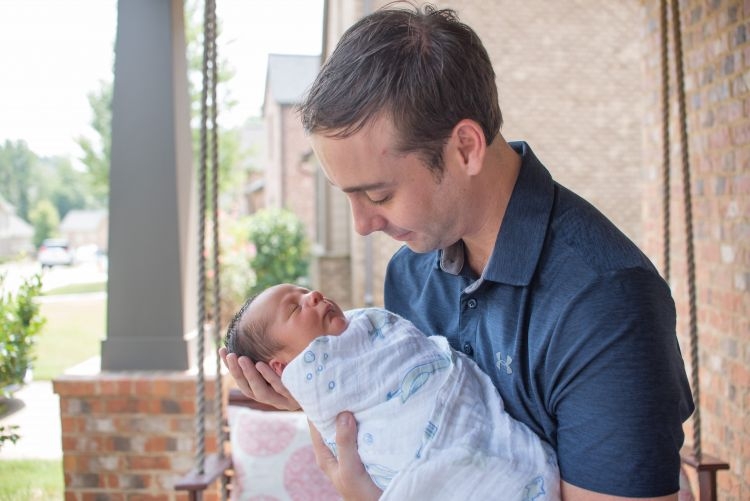 For your husband, depending on the season, I recommend going with a casual jean or khaki option as that always seems to be what will pair best with everyone else. For our photoshoot, we chose to keep it simple with a solid long sleeve pullover and solid short sleeve polo for Eric. The blue color worked perfectly with Finn's swaddles and Leyton's chambray/denim shirt! If you are wanting a pattern, plaid is always great and can be subtle enough to not clash with what your or your kids are wearing. For Eric, I told him he could pick what to wear for family pictures that he'd feel most comfortable in. He asked if there was anything I definitely DIDN'T want, which was nice that I could veto something at least if I thought it was a hard no. 😉
If you are shopping for your husband and stuck on what to wear for family pictures, try some of these options that would pair great with the dresses and tops above!
What to Wear for Family Pictures: Styling Little Ones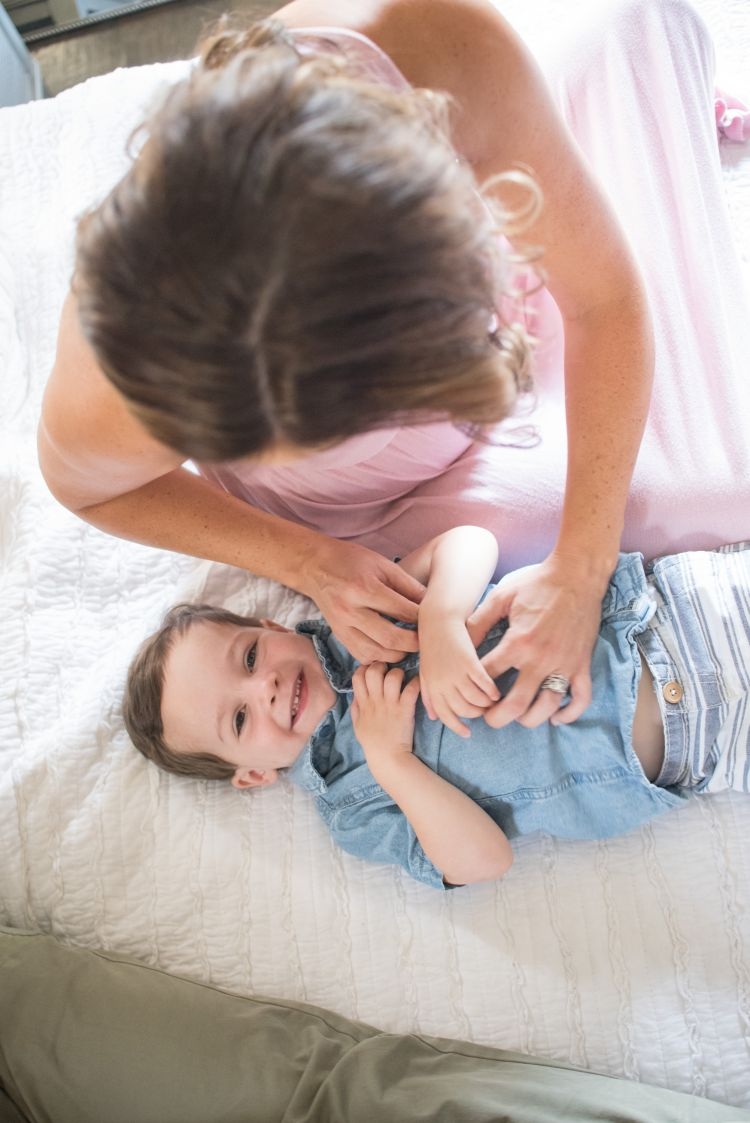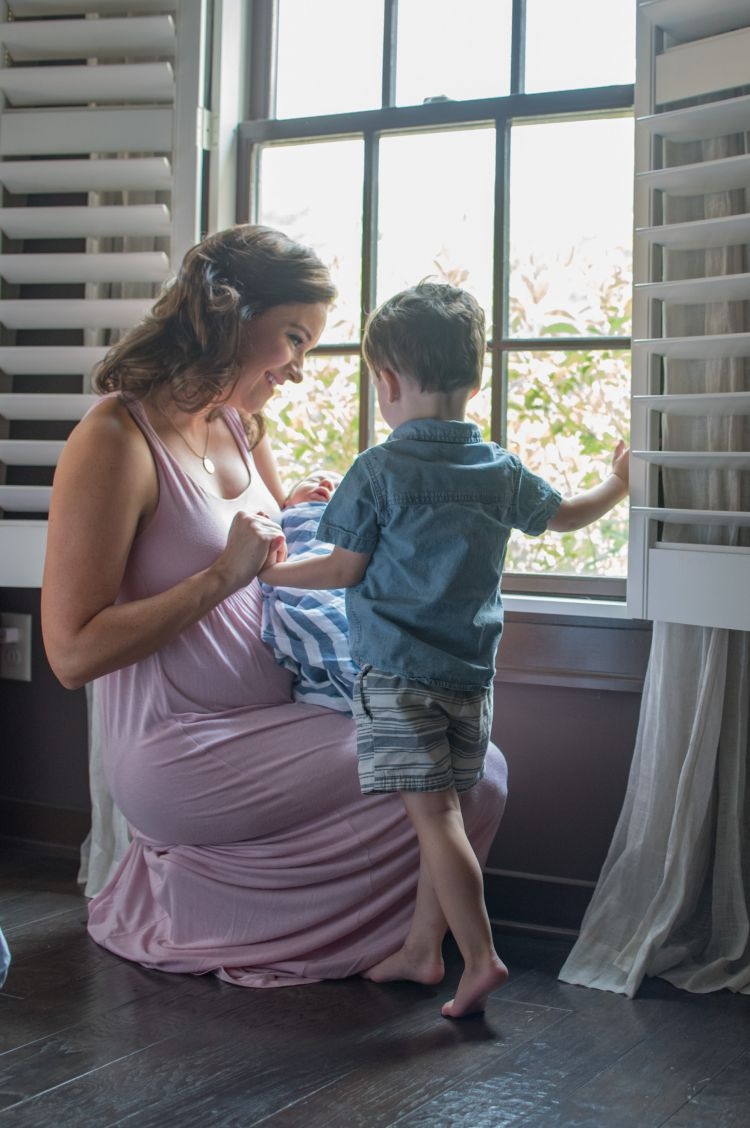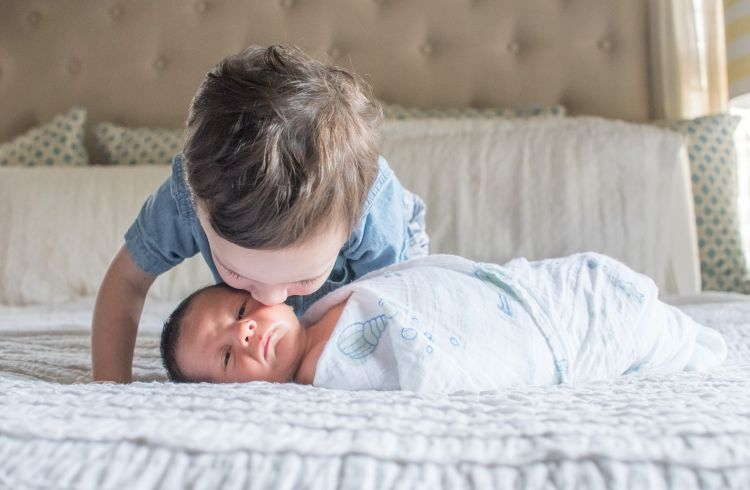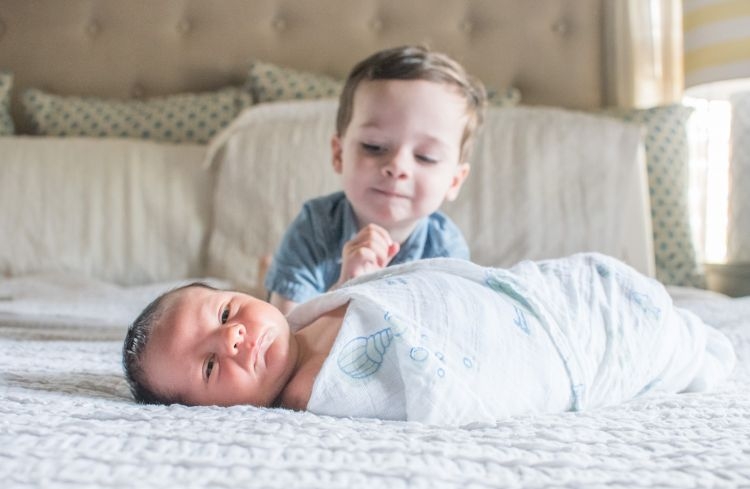 For Leyton, we chose something he already had in his closet (remember, we are keeping it simple)! I love this little denim polo paired with these stripe shorts and again, blue was the theme for the boys! I love how his shirt popped and gave a nice contrast to my pink! His shirt also helped to pull the blue out of Finn's swaddles.
If you are looking for what to wear for family pictures for your little girl or little boy, be sure to checkout these options below that would coordinate with the women's and men's picks above!
What to Wear for Family Pictures: Styling Baby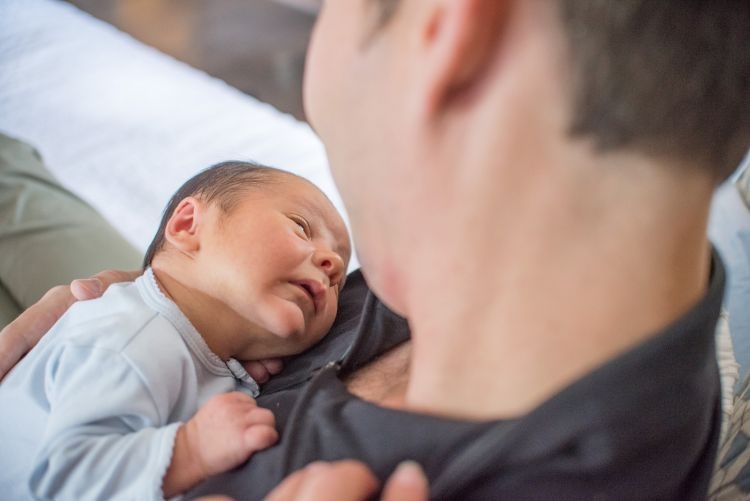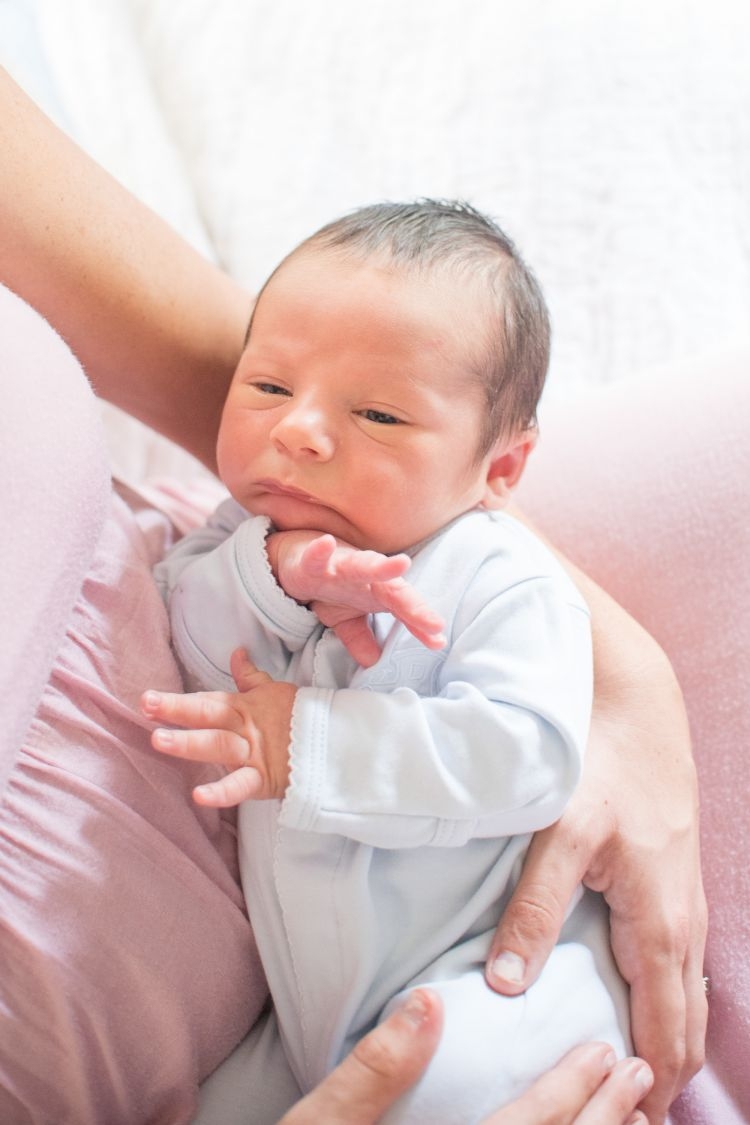 Finn's Long Sleeve Zip-Up Sleeper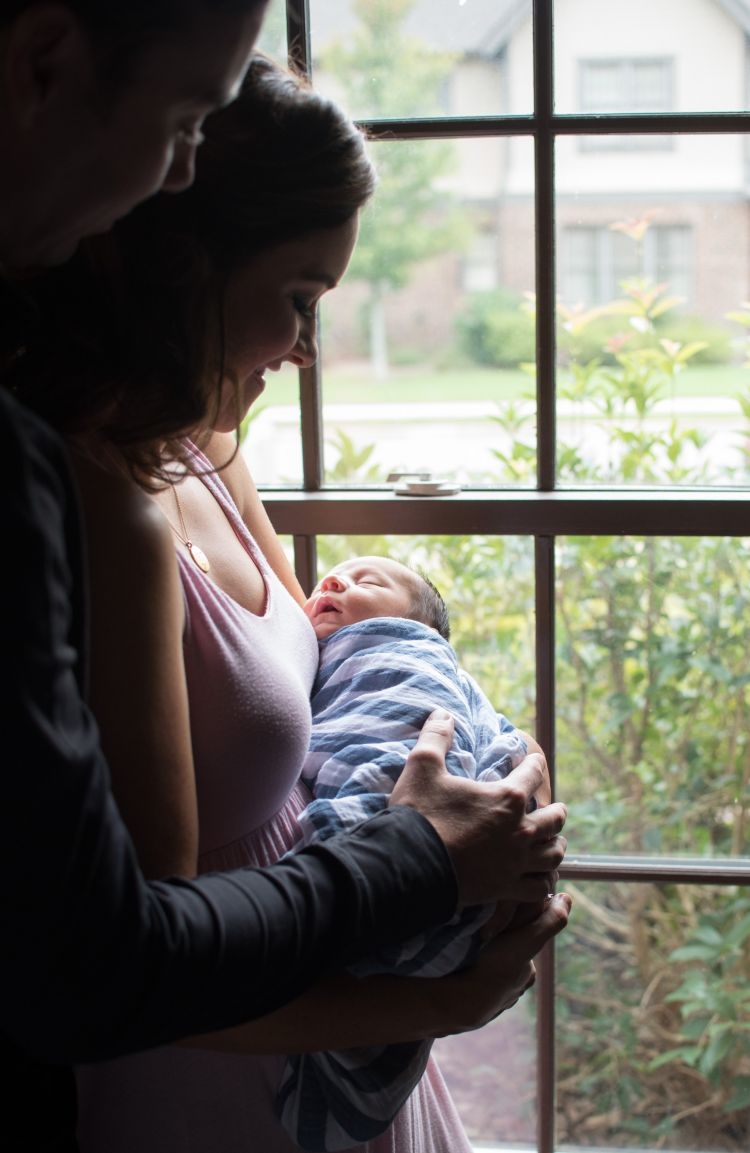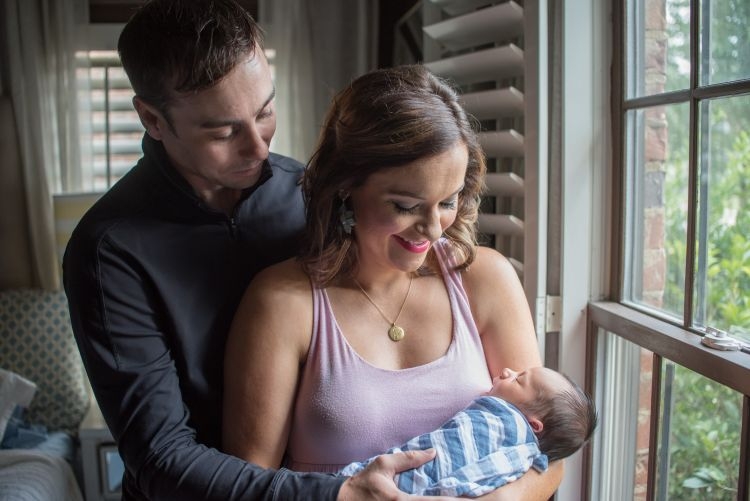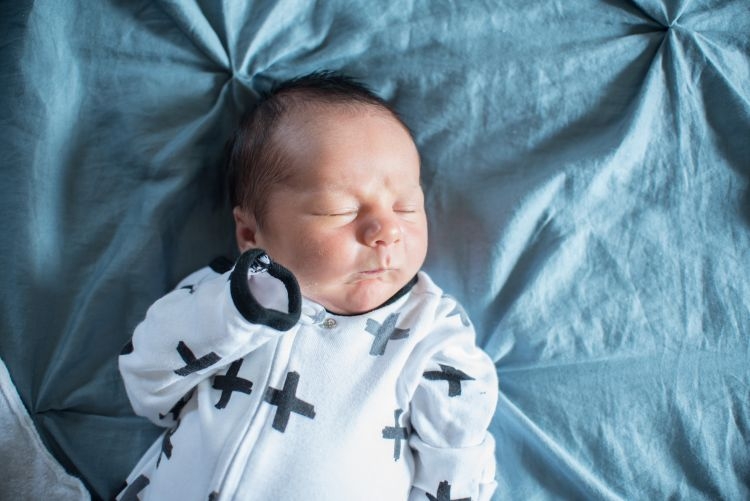 Finn's Cross Zip-Up Onesie is sold out but here is the short-sleeve option!
For baby Finn, we did 4 different "outfit" options, if you will! Aside from the naked shots which are always a must for newborn photoshoots, we decided to keep it simple (shocker!) with just wrapping him in a couple of our favorite swaddles. Sticking with the blue trend, we wrapped him in this ocean inspired swaddle and a blue stripe swaddle. Use code HEATHER20 to get 20% off these swaddles at Newcastle Classics. We also wanted a couple in onesies and decided a solid pastel blue would work best against my baby pink dress and with Leyton and Eric's darker blue. The black and white onesie is one of my favorites so we had to get at least one shot in it!
When styling your newborn, don't overthink it! The swaddles were so easy to take off and swap it out which saved us time, tears, and trouble! If you are decided what to wear for family pictures for baby, try some of these options below.
I hope this was helpful for your upcoming newborn or family photoshoot! What are your styling tips for deciding what to wear for family pictures? I would love to hear in the comments below!
Shop the What to Wear for Family Pictures Post Here
:
Pin the

What to Wear for Family Pictures post for later

!