The Whole30 Breakfast Casserole Post was originally published in January 2018 and updated in August 2020.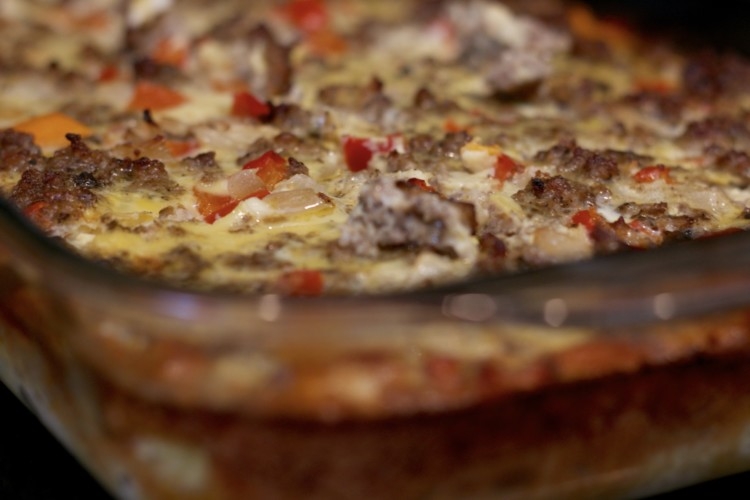 Get The Whole30 Breakfast Casserole Recipe Below!
Eric and I had this whole30 breakfast casserole for the first time a few years ago at our friends' house in Arizona when we were visiting for their wedding. This whole30 breakfast casserole recipe made such an impression that I remembered it years later! AND y'all know I'm all about EASY whole30 meals so this one fits the bill because it's a cook once, and eat it all week situation.
Eric and I are very fortunate that both of our personalities lend to hosting and entertaining and we really work well together as a team. Whether it be hosting a brunch, inviting another couple over for dinner, or going out to a concert, it seems like people don't take the initiative to do those things as much as they used to.
Is it perhaps that we are all so stuck staring down at our phones and seeing what others are doing that we don't realize days or weeks or even months have gone by without us inviting a friend to lunch or coffee? Think about the last time you asked your friend/mom/sister etc to go do something. If you can't think of the last time, let me challenge you to pick up your phone and text or call them to ask if they're free one day or night this week.
I love including this recipe in my weekly meal plan because it is such a crowd-pleaser. Did you know that my Meal Planning For The Busy Mom eBook launched yesterday!? You can check it out to shop HERE! Or if you want a discount, click HERE and I'll send you a 50% off code!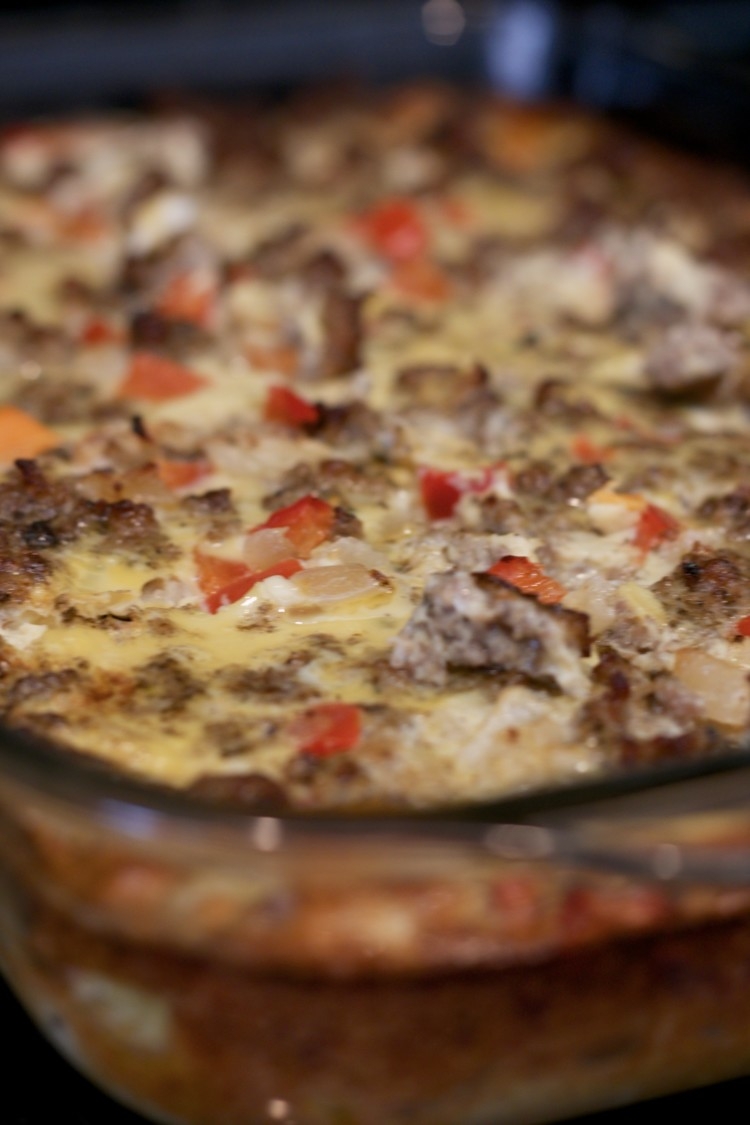 I bet if you start to make the effort more, you'll find that your calendar fills up faster than you think and that you don't feel "bored" or "discontent" as much anymore. I really hope this encourages you outside your comfort zone. If you need some more help with this, I'd highly recommend checking out my post about how to make mom friends.
God has created us to crave relationships. He is the only one that can fill the ultimate void that our soul longs for, but he also created the body of the church to help encourage us along the way. Because, news flash, life isn't easy and we need people to come alongside us to make this world more fulfilling. I'm pretty sure I'm not telling you anything you don't already know here. 😉 But sometimes, it's nice to have a reminder, am I right?!
OK, ok, now back to this delicious Whole30 breakfast casserole recipe. Ha! I told Eric that I wanted to have something on hand that I could eat without any guilt other than the fruit so that's when we decided to make the Whole30 breakfast casserole we'd fallen in love with years ago. Our friends couldn't believe that it was Whole30 approved because it tastes so good and flavorful. In fact, I've even been asked for the recipe several times.
What's so great about this Whole30 breakfast casserole recipe is that it's super filling with the sweet potatoes + meats + eggs and it also makes a great big pan so that you can microwave a small piece each morning for breakfast on the go!

Whole30 Breakfast Casserole Recipe:
Yummy Whole30 Breakfast Casserole
Ingredients
4 sweet potatoes, peeled, cubed and boiled or sautéed to soften them up a bit first
sausage; about 1 and ½ lbs (You can use whatever protein you like, chicken or pork)
1 large yellow onion, peeled and chopped
1 large red bell pepper, chopped
10 eggs
1 cup of almond milk
½ teaspoon of sage
salt and pepper (to taste)
olive oil
Instructions
Preheat oven to 350 degrees.
Grease a glass 7×12 inch/ 3 quart Pyrex baking dish.
Peel and cube the sweet potatoes.
Heat about 2 tablespoons of oil over medium-high heat in a pan.
Cook the meat until no longer pink, usually about 8 minutes.
Saute chopped pepper and onion in the same pan as you used to cook the meat.
Season with salt and pepper and cook until sausage is no longer pink and onions are translucent.
Layer the sausage and onion on top of the sweet potatoes in the baking dish.
Put the eggs, sage, and almond milk in a mixing bowl and mix thoroughly with whisk.
Pour liquid mixture on top of the sausage and onions.
Bake uncovered for 40-45 minutes.
More Whole30 Recipes:
PIN The Whole30 Breakfast Casserole Post For Later!

Heather Brown helps busy mamas of young littles who are caught in the hustle to find encouragement in their journey to true health, from the inside out, starting with the heart. Read her journey of learning to live a life well-loved
HERE!