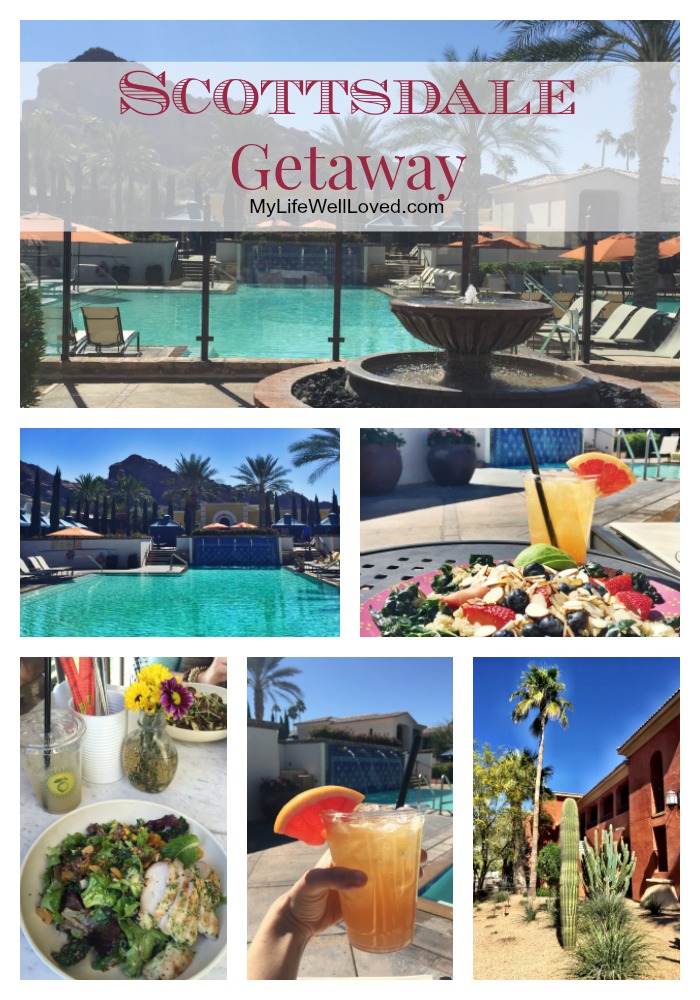 Eric and I left the baby for the first time this past month! I can't believe we had our first getaway half way across the country in Scottsdale, Arizona. We felt so incredibly lucky that my mom and dad kept Leyton for 2 days and my sister and brother-in-law kept him for two days. Eric had a work conference at the Omni Hotel in Scottsdale, so I knew I had to tag along to enjoy this beautiful hotel and catch up with some good friends. We made a long weekend out of it and enjoyed a few days in Scottsdale and then road tripped to Tucson to visit some of our friends. We crammed in as much fun as we could in those short 4 days and loved the opportunity to spend some time just us as an investment in our marriage.
Where to Stay in Scottsdale, Arizona: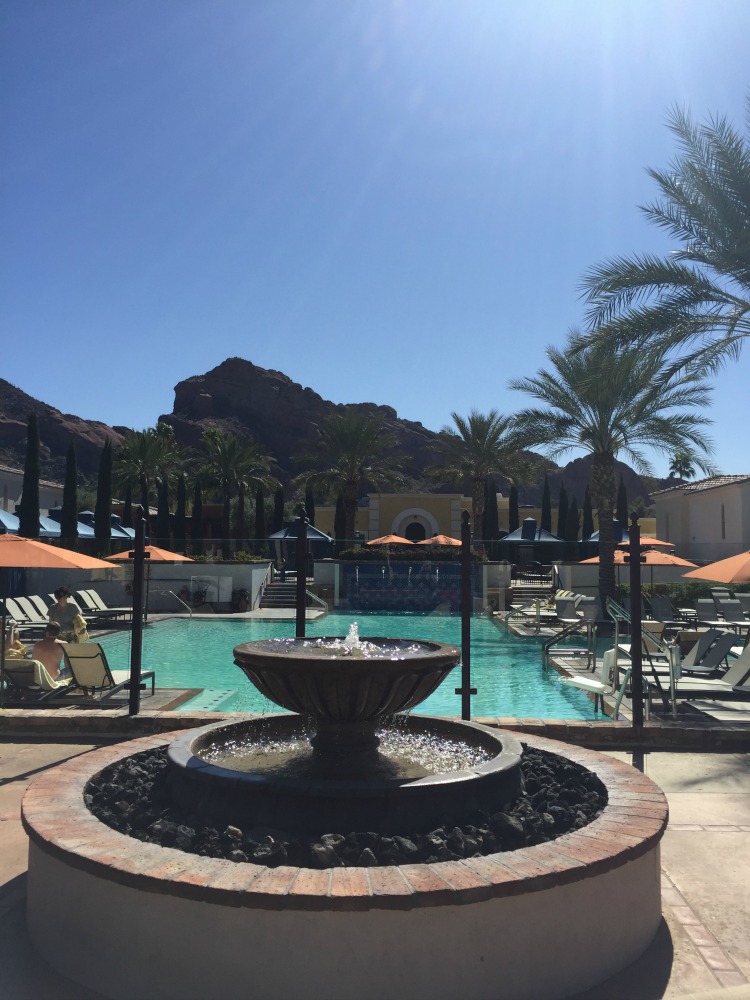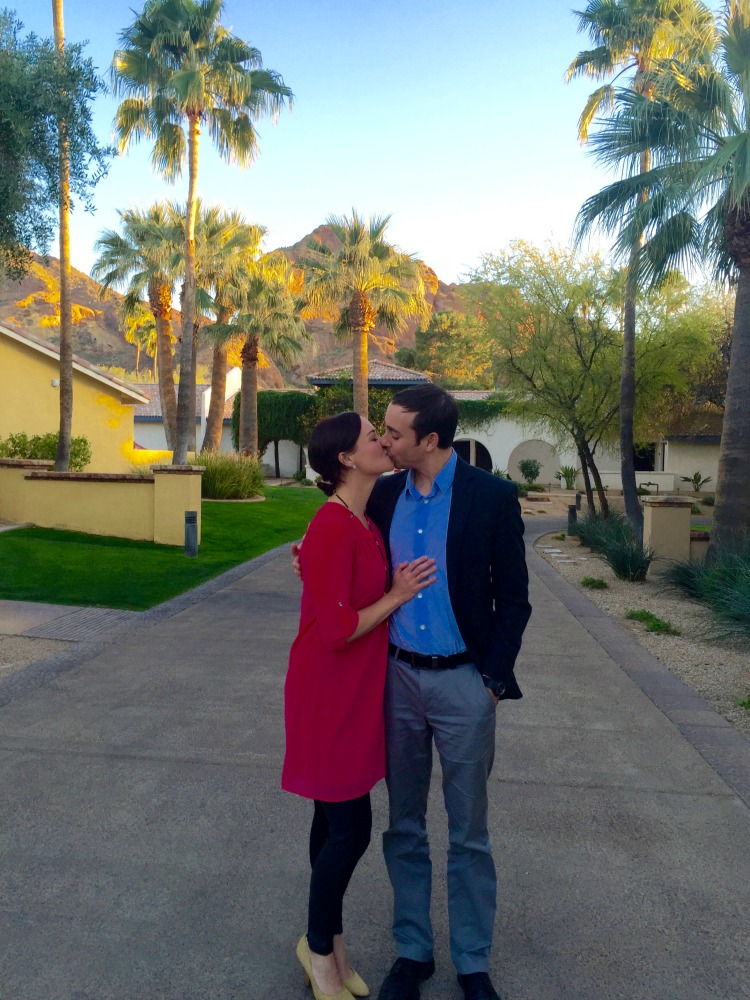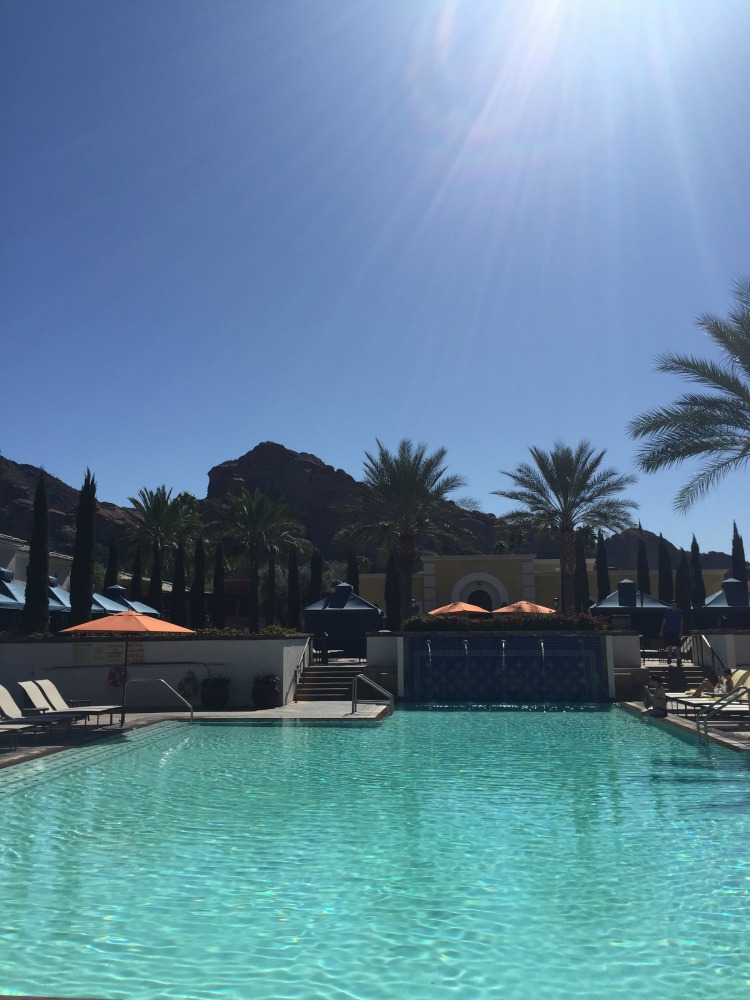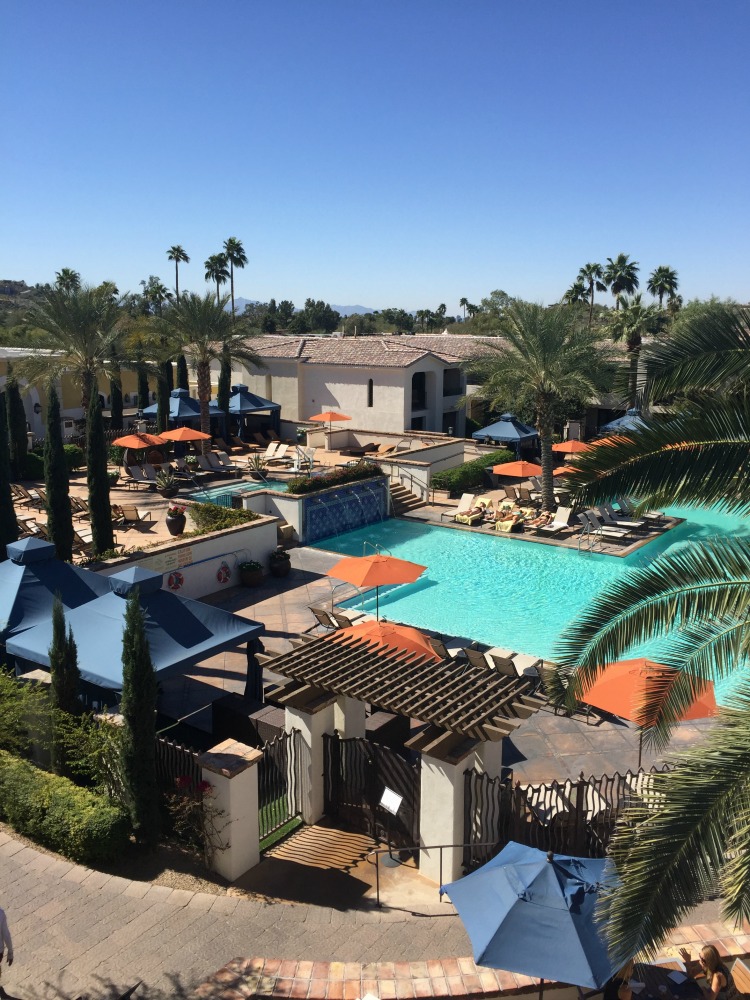 Nestled at the base of Camelback Mountain, the Omni Scottsdale is a Spanish inspired oasis. There are 3 beautiful pools where as soon as you are seated a server comes over with a large pitcher of water and cups to serve you, a menu and a smile. I literally couldn't stop snapping pictures every few steps on this property because it was so beautiful. Not only is it surrounded by natural beauty when you look out your room and see the mountain, but there are beautiful potted plans, palm tree lined walkways, orange trees producing fruit, beautiful seating areas, outdoor fire spaces, and hammocks!
The bottom picture was taken from the on-site gym that had every kind of cardio and weights equipment you could have wanted. They also offered spin classes, yoga and other classes each morning. I literally was in awe! Hope over to my Instagram to see even more pictures!
What to Eat in Scottsdale, Arizona: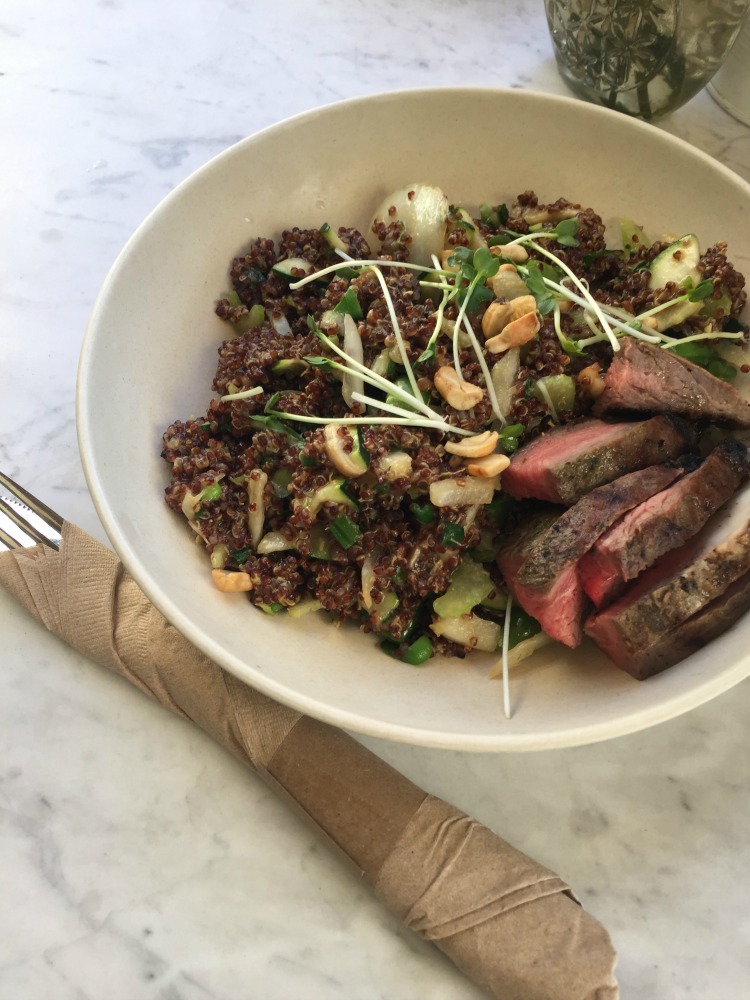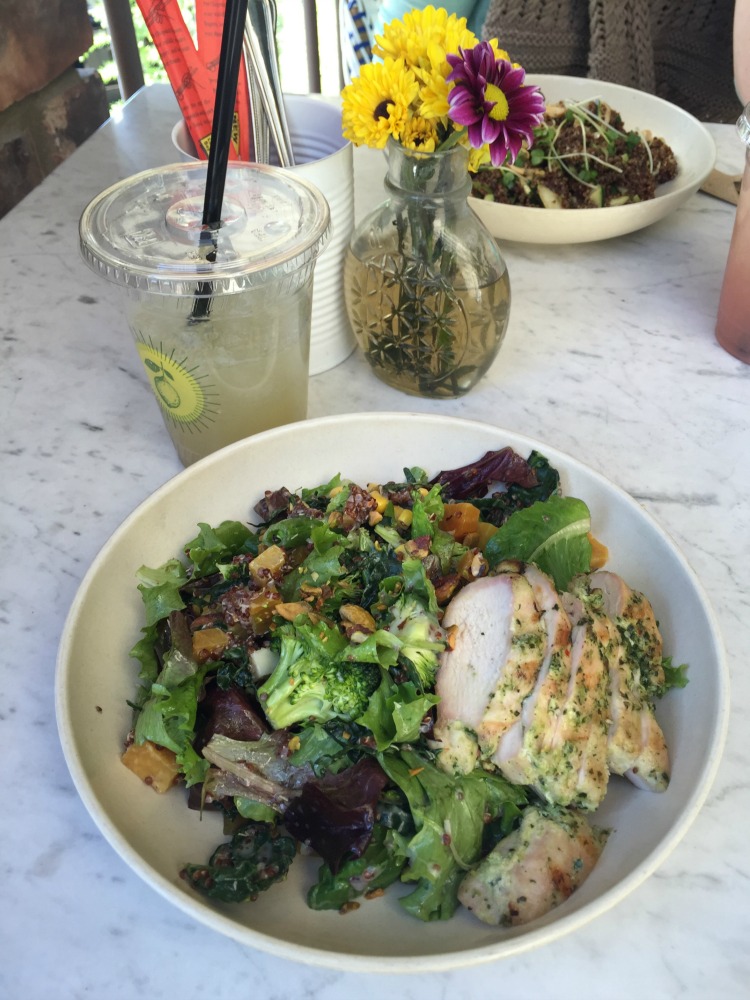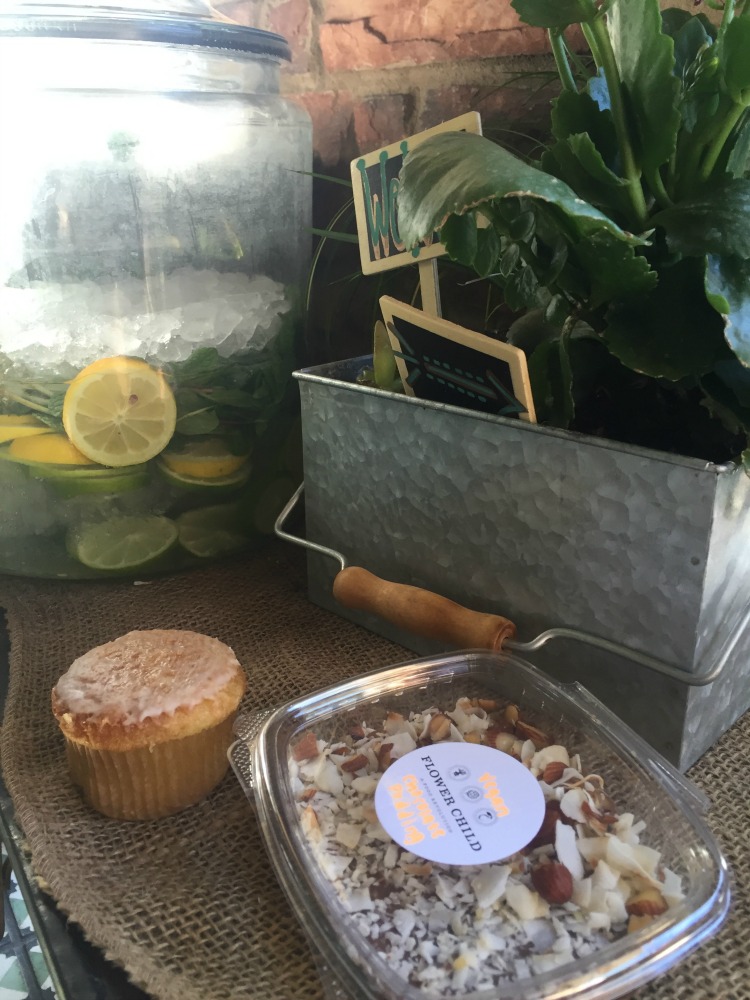 The first meal I had when we landed in Scottsdale on Thursday afternoon was at a cute lunch spot called Flower Child. My friend, Ashley, who used to teach at the Birmingham Pure Barre with me moved out to Arizona a few months ago and told me in no uncertain terms that this was THE spot to go. And, I must admit, she was right. I am itching for Birmingham to get a Flower Child restaurant now. It is locally sourced and all natural foods with lots of vegan options. They have everything from beer on tap to kombucha to multiple specialty teas and lemonades.
I tried their Peach Lemonade and Iced Acai Green Tea with Hibiscus Blossom with the Steak Thai Cashew Quinoa Bowl. Ashley got one of their salads with chicken and we both LOVED our dishes. We capped off the event with a vegan chocolate pudding and a lemon muffin. And, yes, it is an event…this restaurant is very up and coming in several cities out west and I can see why. The open air atmosphere and abundance of healthy choices simply delighted me. I could've hung out there all day!
I know I've already raved about the Omni, but they also have 5 restaurants on-site. I had their Berry Power Salad and a Grapefruit Shandy that were to die for! One of the restaurants had a delicious red sangria and the gelato in the gift shop was outstanding…although I've never met a gelato that wasn't outstanding.
We also went to Eddie V's for dinner with Eric's co-workers and the medical company that hosted the trip, but I didn't take any pictures there. We had an awesome seafood tower for the appetizer and yes, it killed me a little bit inside as a blogger not to snap a picture of that bad boy. But I minded my wife on the trip manners and resisted the urge to snap a million pictures of our dinner. After all, they didn't have to invite me to come. We had SUCH a wonderful time on this trip, and I see many more Arizona trips in our future.
Stay tuned for my next travel post on Tucson, Arizona where we went after Scottsdale or you can check out the Tucson Wedding we went to last year when I had just found out I was pregnant! Where are you planning your next trip?
Heather Brown helps busy mamas of young littles who are caught in the hustle to find encouragement in their journey to true health, from the inside out, starting with the heart. Read her journey of learning to live a life well-loved
HERE!