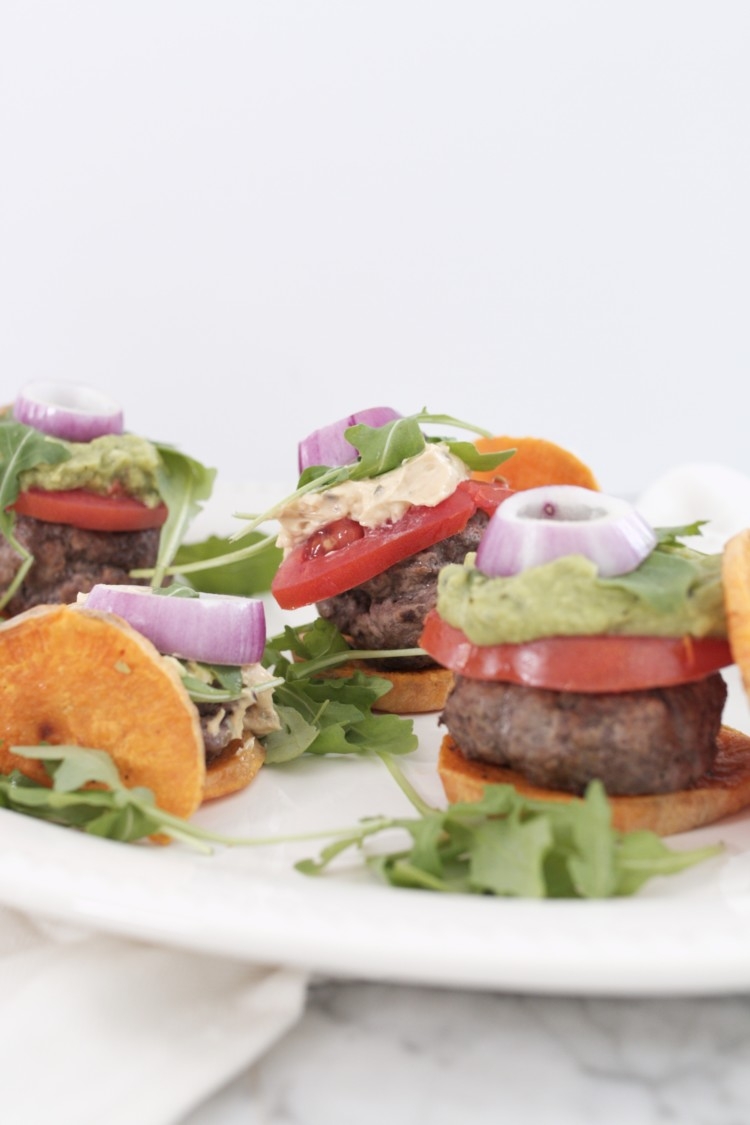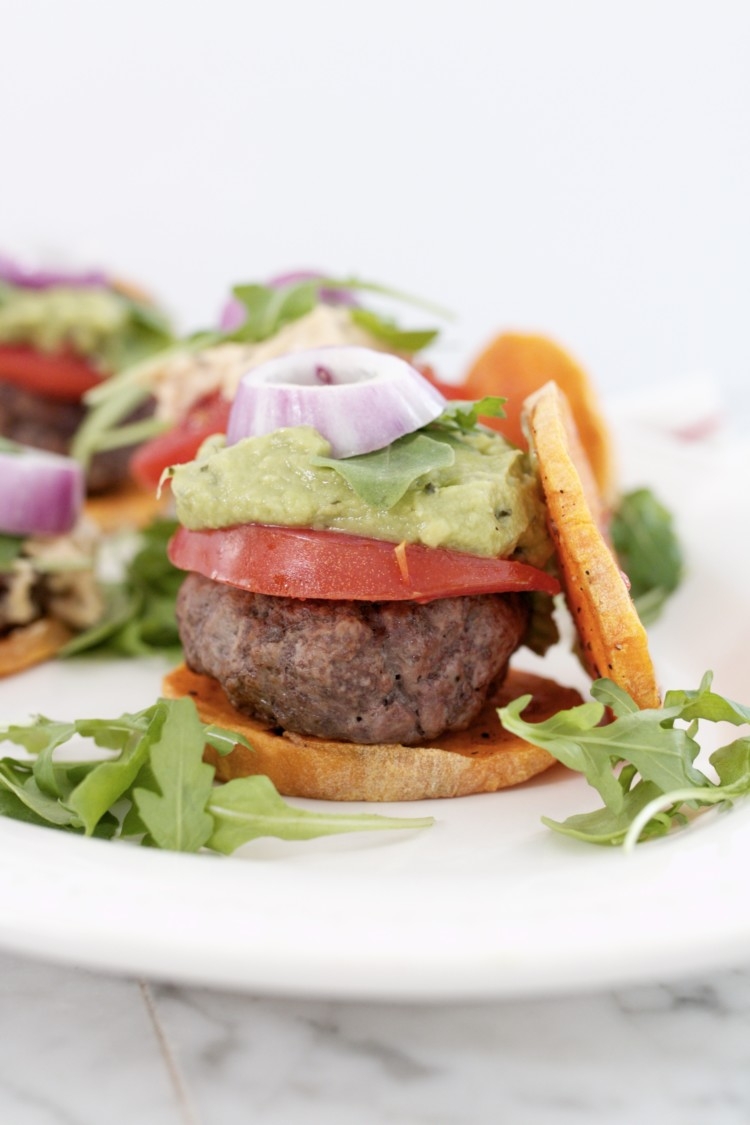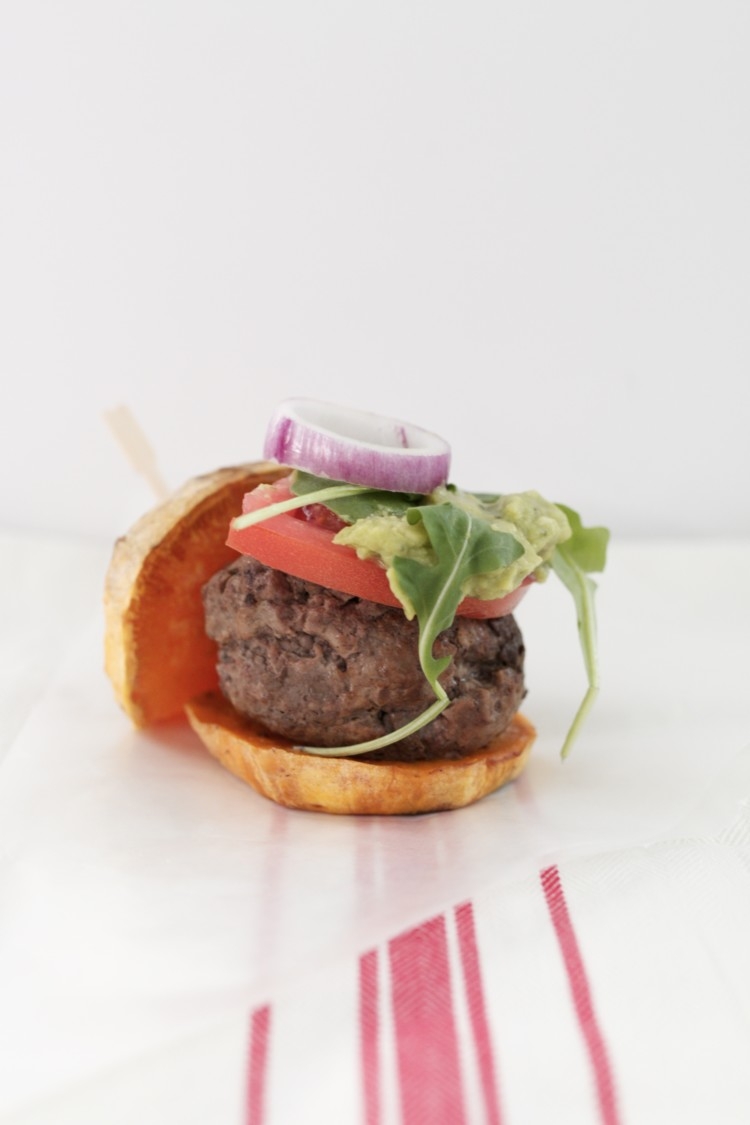 During Whole30, I wanted a good game day food that satisfied my craving for something good and bite-sized. With the ultimate big game coming up this Sunday, I thought it would be a perfect time to share these Whole30 Sweet Potato Bun Sliders. Even if you aren't eating paleo or Whole30 foods, this is a delicious appetizer that's also super filling with the guacamole, beef, and sweet potatoes!
The great thing about this recipe is you can customize it however you would like! The basics you need for this recipe are beef, sweet potato buns and then honestly, you can use whatever toppings appeal to you and your crowd. I started off with PRE Brands 100% grass fed beef and you guys, I am newly obsessed with this company. I just learned about them by doing Whole30. Not only is their beef high quality, but their packaging is completely transparent as well so you can see the quality of the beef on EVERY side. It's so nice to rest easy that the food you are eating is high-quality without all the additives and I love that the PRE brand is committed to that. If you live in New York, Chicago, Los Angeles, or San Francisco (just to name a few), you can also order them through AmazonFresh!
I met up with my blogging friend and photographer Brittany to shoot these Whole30 Sweet Potato Bun Sliders and she said even though she doesn't typically eat like this, she really loved the flavors and thought it was really good! So, see? You can enjoy delicious food even if you aren't used to eating paleo or Whole30!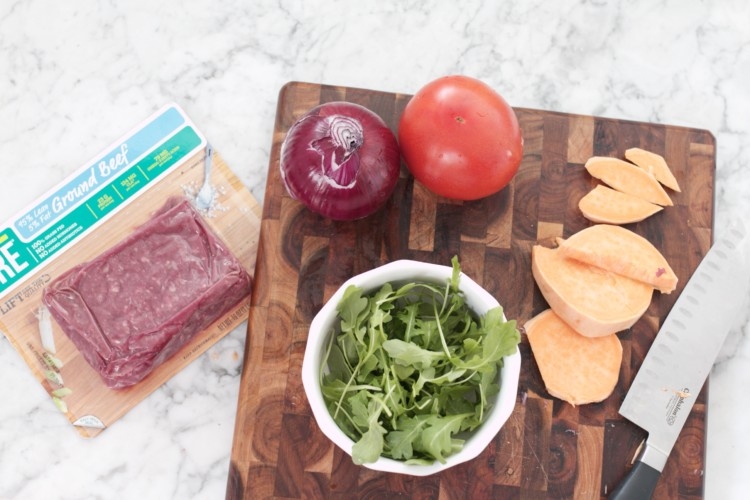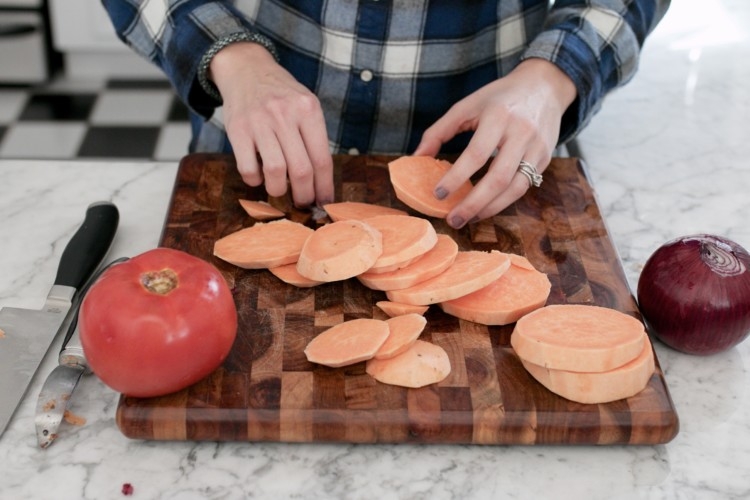 Whole30 Sweet Potato Bun Sliders:
Whole30 Sweet Potato Bun Sliders
Ingredients
1 lb PRE Brands ground beef
1 tsp garlic powder
Salt
Pepper
2 sweet potatoes
2 tablespoons coconut oil
Arugala
1 Tomato
1 small red onion
Guacamole or Primal Kitchen Chipotle Mayo
Instructions
Combine beef with garlic powder, salt and pepper to taste.
Form in small patties and set aside. (Number and size will depend on the number of sweet potato slices you have.)
Slice sweet potatoes into ¼-1/2 inch thick slices.
Melt coconut oil in microwave. In a small bowl, toss sweet potato slices in coconut oil and season with salt and pepper.
Roast in oven at 400 for 20-30 minutes (flipping half-way through). Edges should be slightly crispy.
While potatoes are roasting, grill the burgers on a grill pan or grill. Place patties on a well-heated grill/pan flipping after 3-4 minutes, and cook until desired doneness.
Slice toppings like red onion and tomato.
Assemble burgers, placing a mini burger in between two roasted sweet potato slices.
Garnish burgers with arugala, red onion, and guacamole or mayo and your desired toppings.
If you want to buy compliant guacamole or just top with avocado, feel free or you can make my famous Garlicky Guacamole! Although if you top your sliders with the garlicky guacamole, you may want to use less garlic in your burger patties. If you want to use the Primal Kitchen Chipotle Lime Mayo, you can find it on Amazon as well to give your burgers a little kick. I love the versatility this recipe offers and how healthy it is!
Check Out More Recipes HERE:
PIN The Post For Later!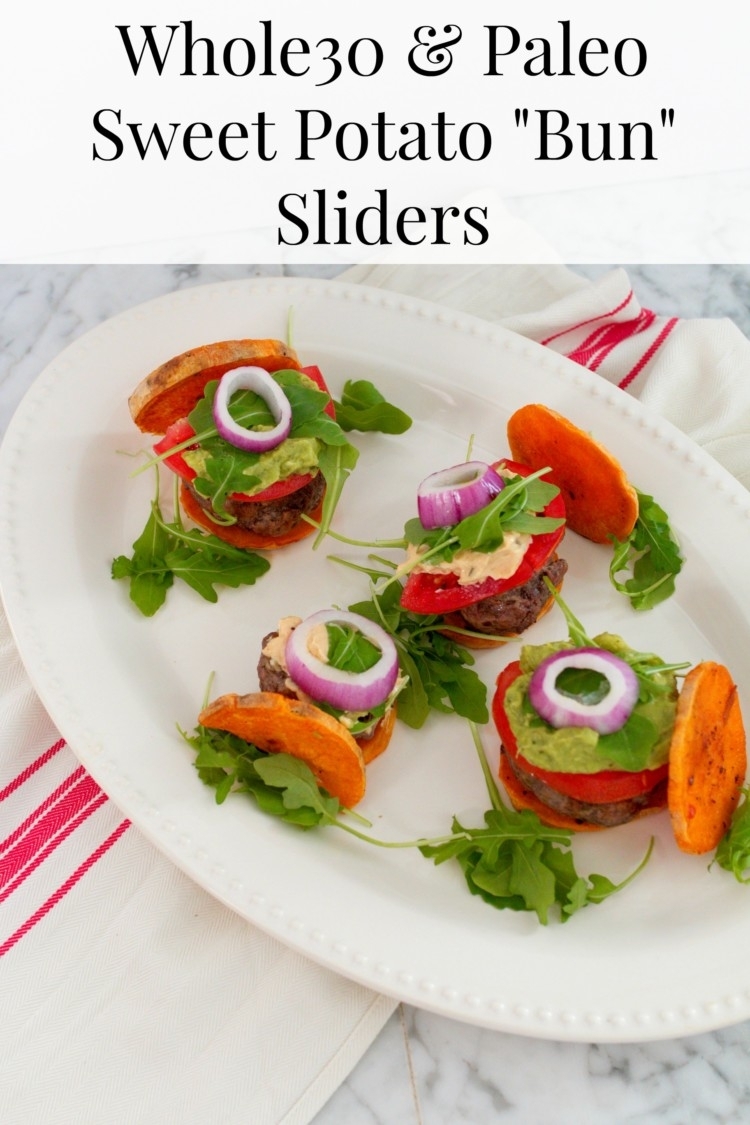 Heather Brown helps busy mamas of young littles who are caught in the hustle to find encouragement in their journey to true health, from the inside out, starting with the heart. Read her journey of learning to live a life well-loved
HERE!