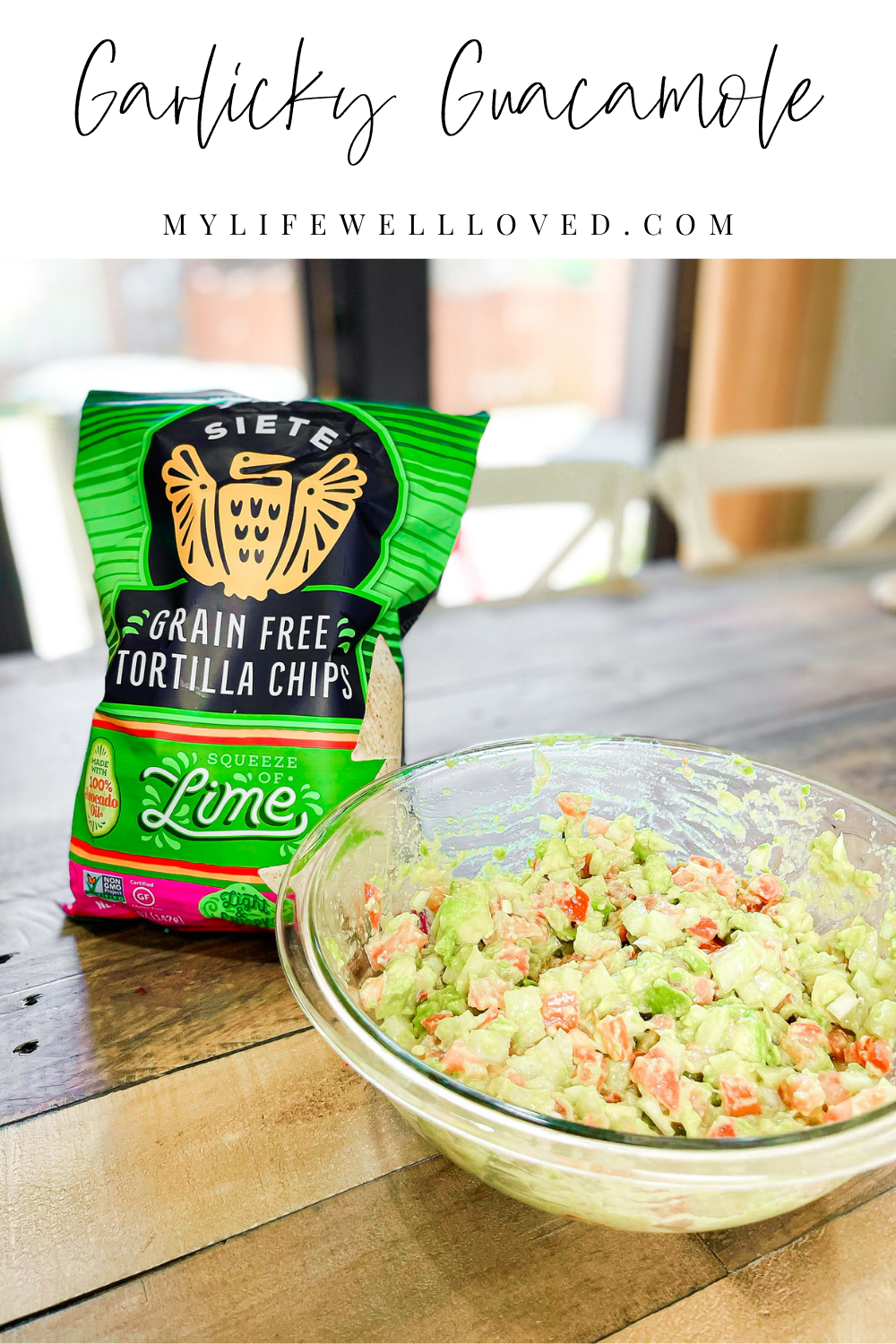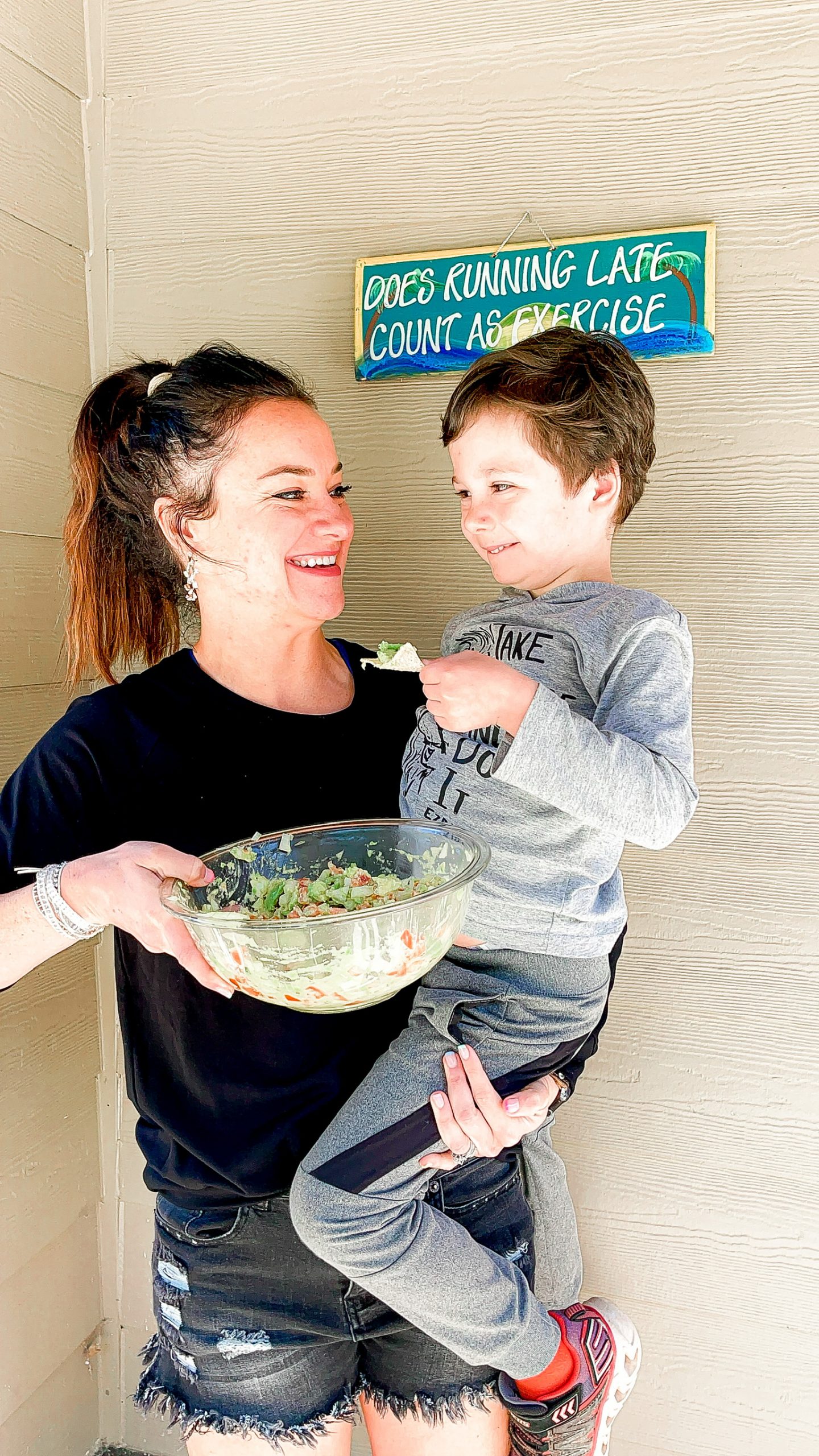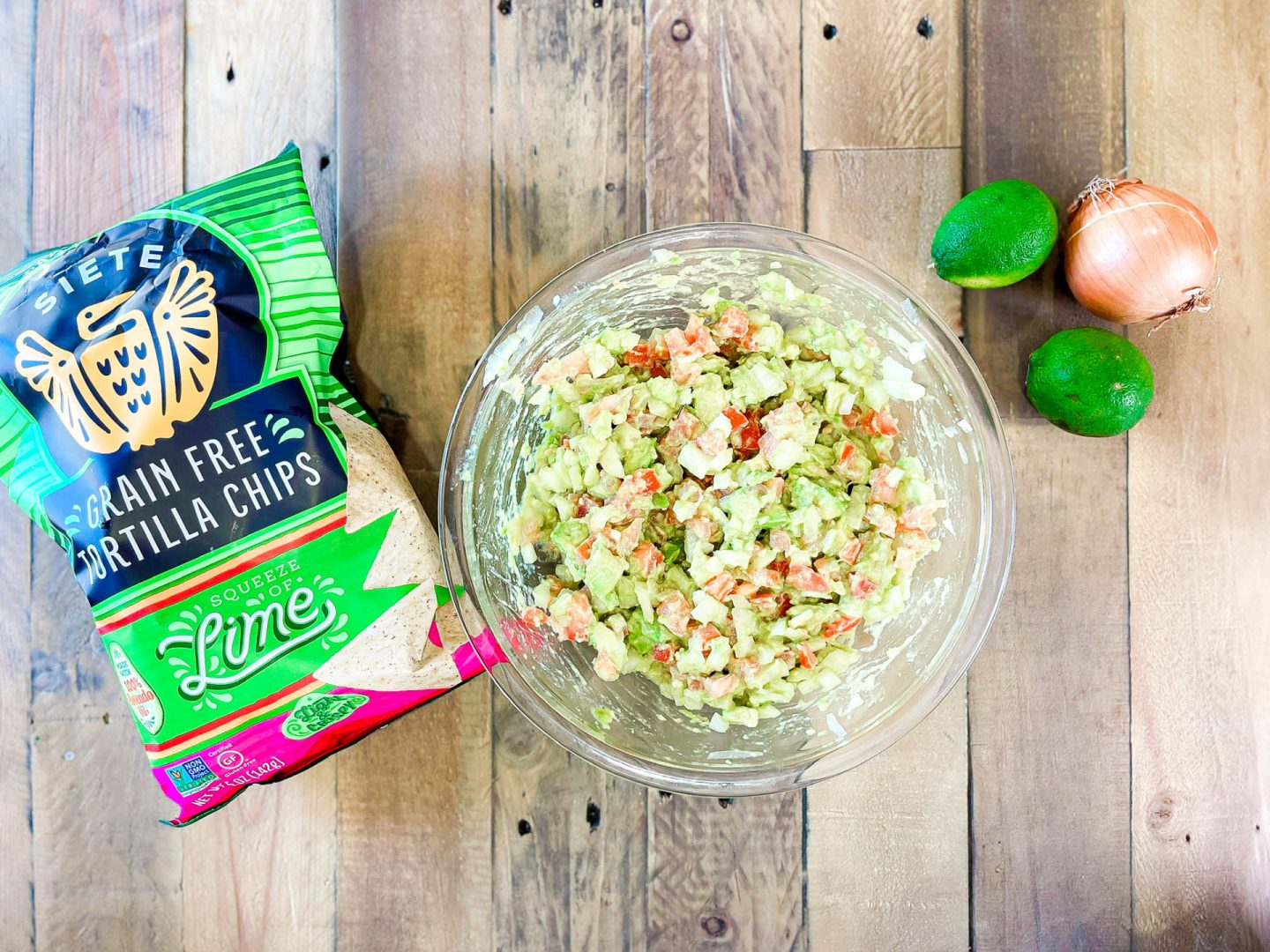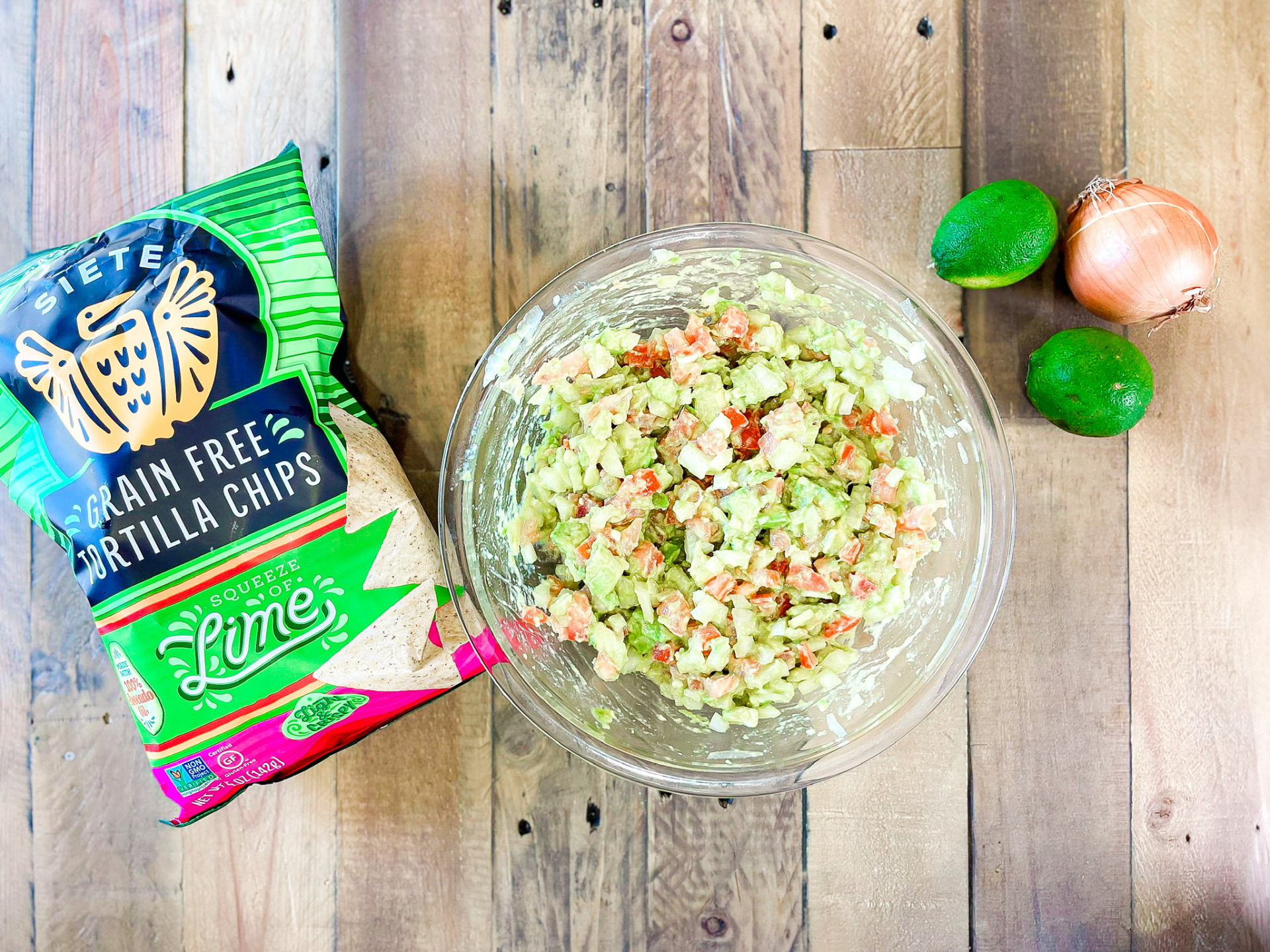 SHOP The Garlicky Guacamole HERE: Black Tee // Bracelets // Hair Tie // Jean Shorts // Leyton's Pants // Dining Table // Dining Chair // Serving Bowl

I am embarrassed to admit this to you all… but I used to be one of those weirdos that didn't like guacamole. There, I said it and it's out. I was repulsed by the thought of it as a kid and even into high school and college. But, then a friend made this Garlicky Guacamole recipe. I took the first bite and was sold! No turning back for this girl! I think the garlic flavor in this recipe is what drew me in. I've always loved garlic in any recipe so I should've known the little anti inflammatory ingredient could turn me into a fan of pretty much anything!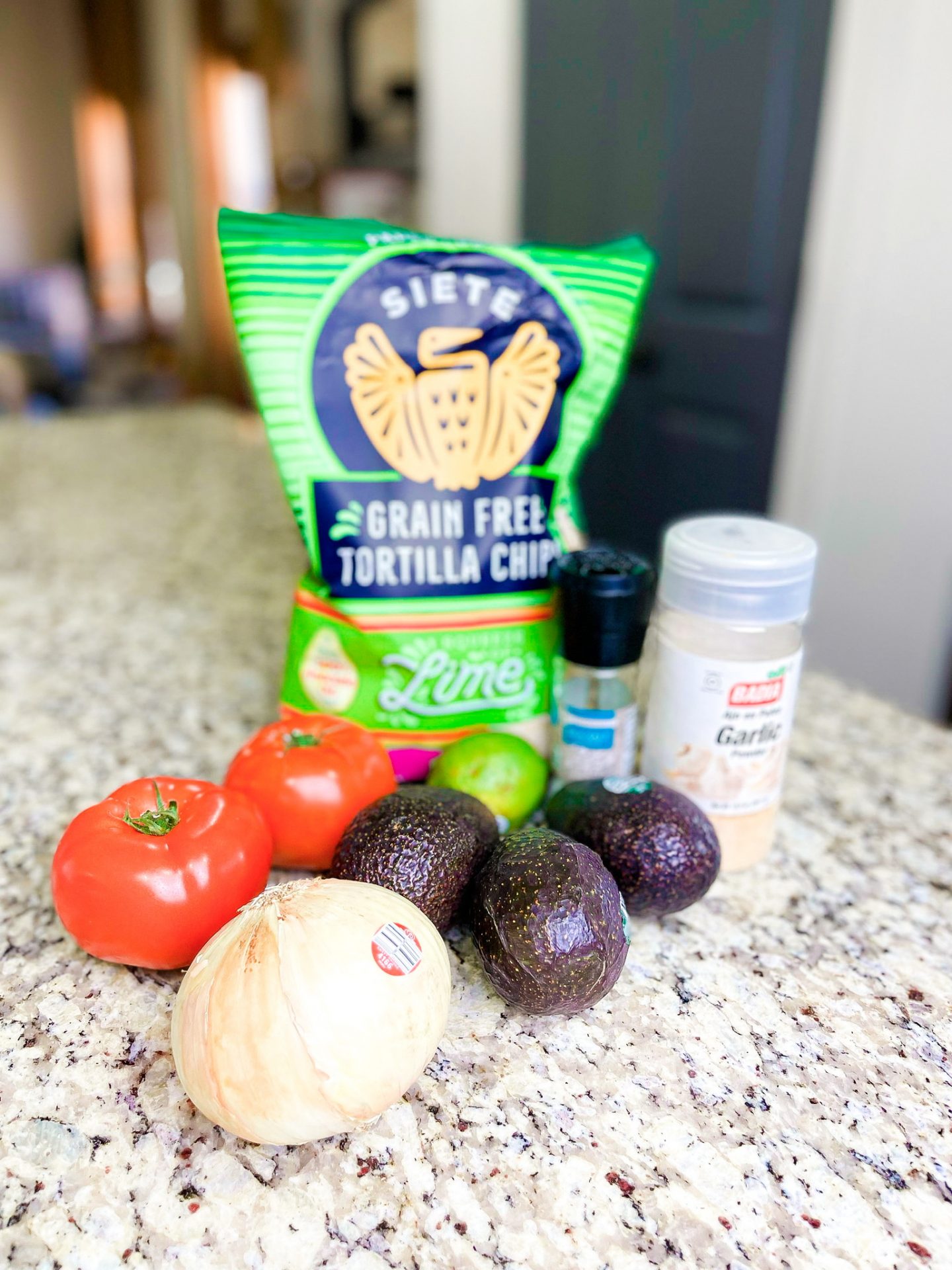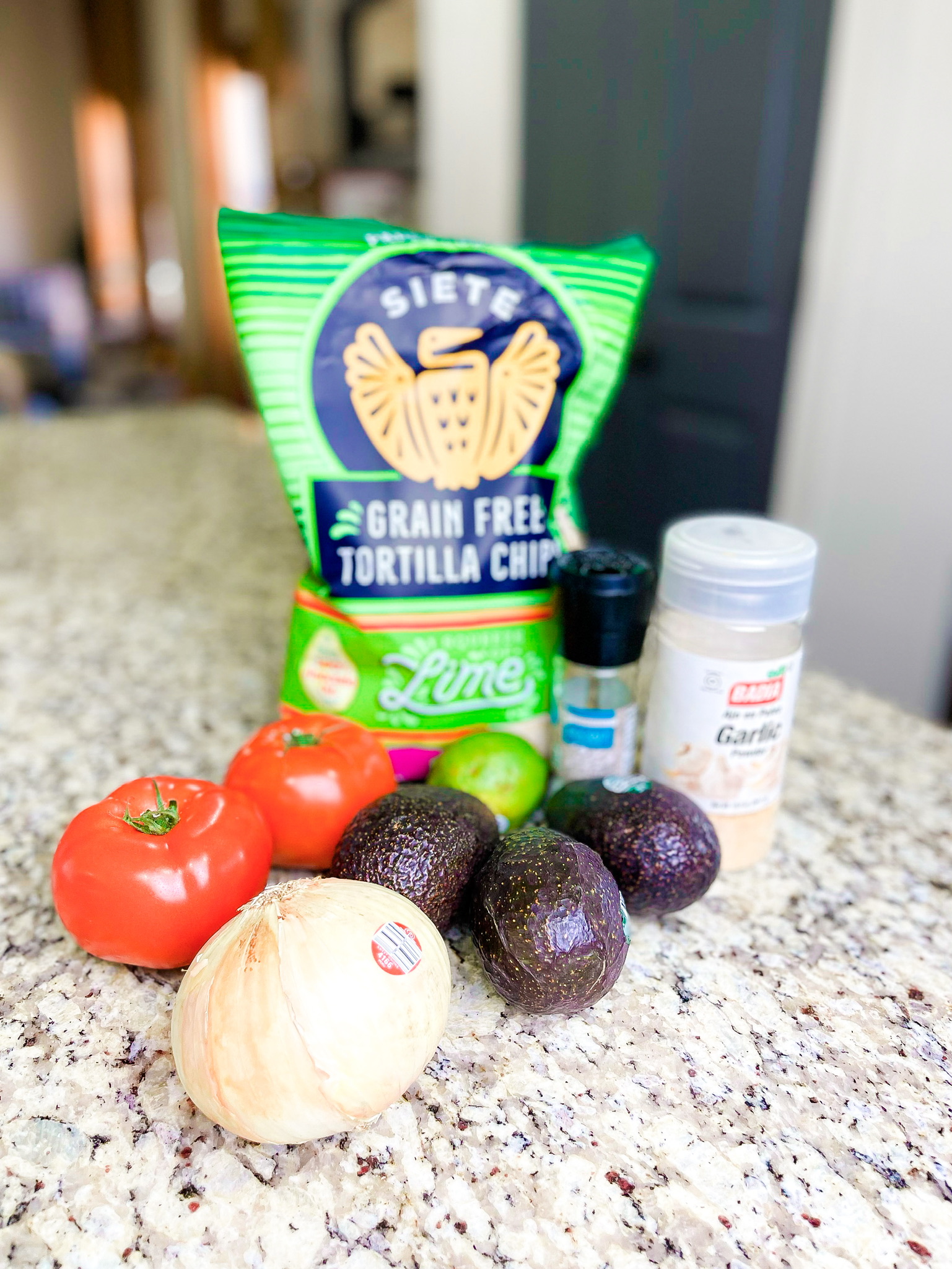 Since I've been turned onto guacamole, I'm known by my friends and family to go to Mexican restaurants and just order a taco and guac or a taco and queso as my meal. It's really all I need to be a happy camper! Ok, and a margarita doesn't hurt either! So, even if you don't think you like guacamole, I'm going to dare you to try this recipe and give it another whirl!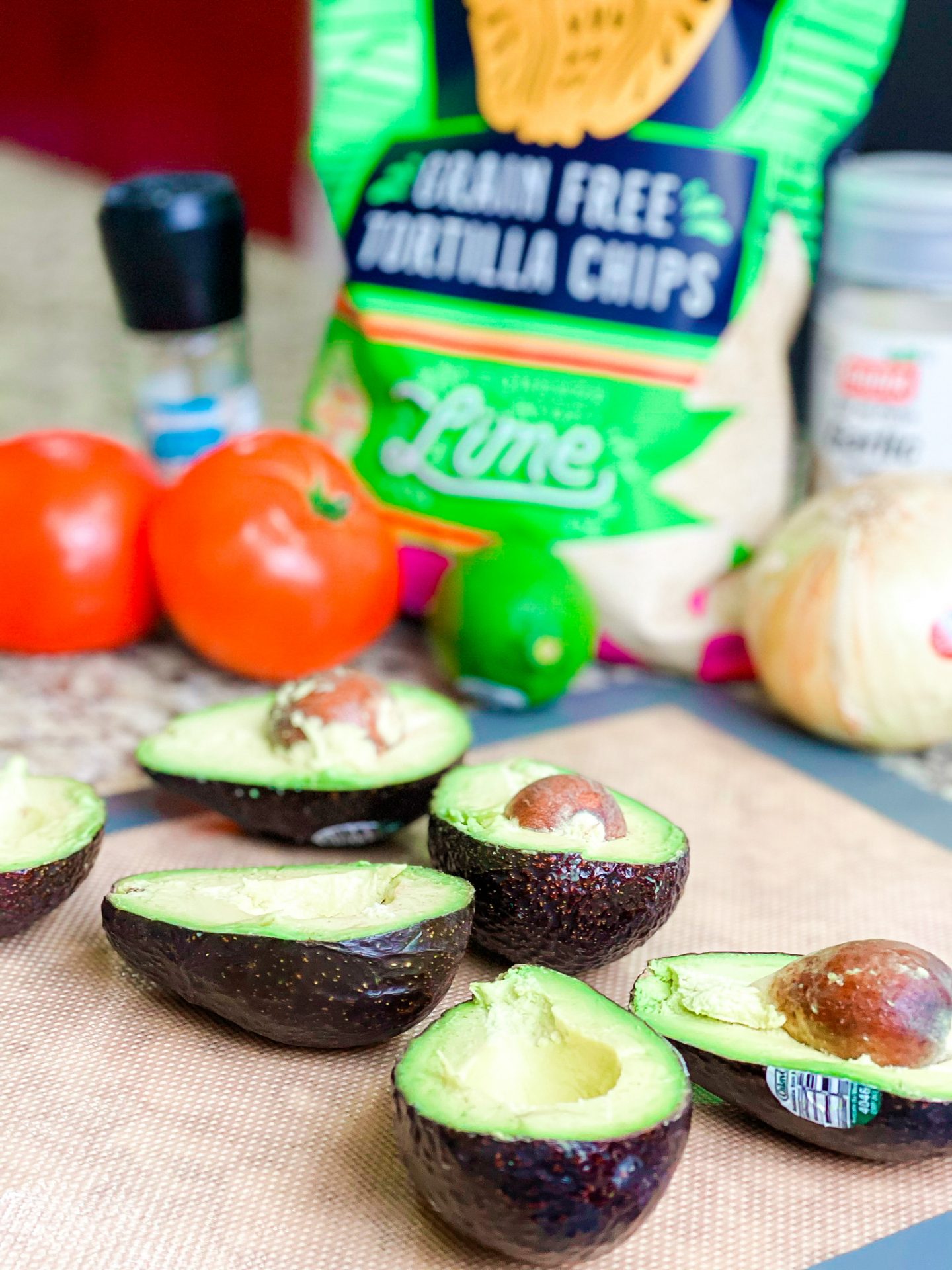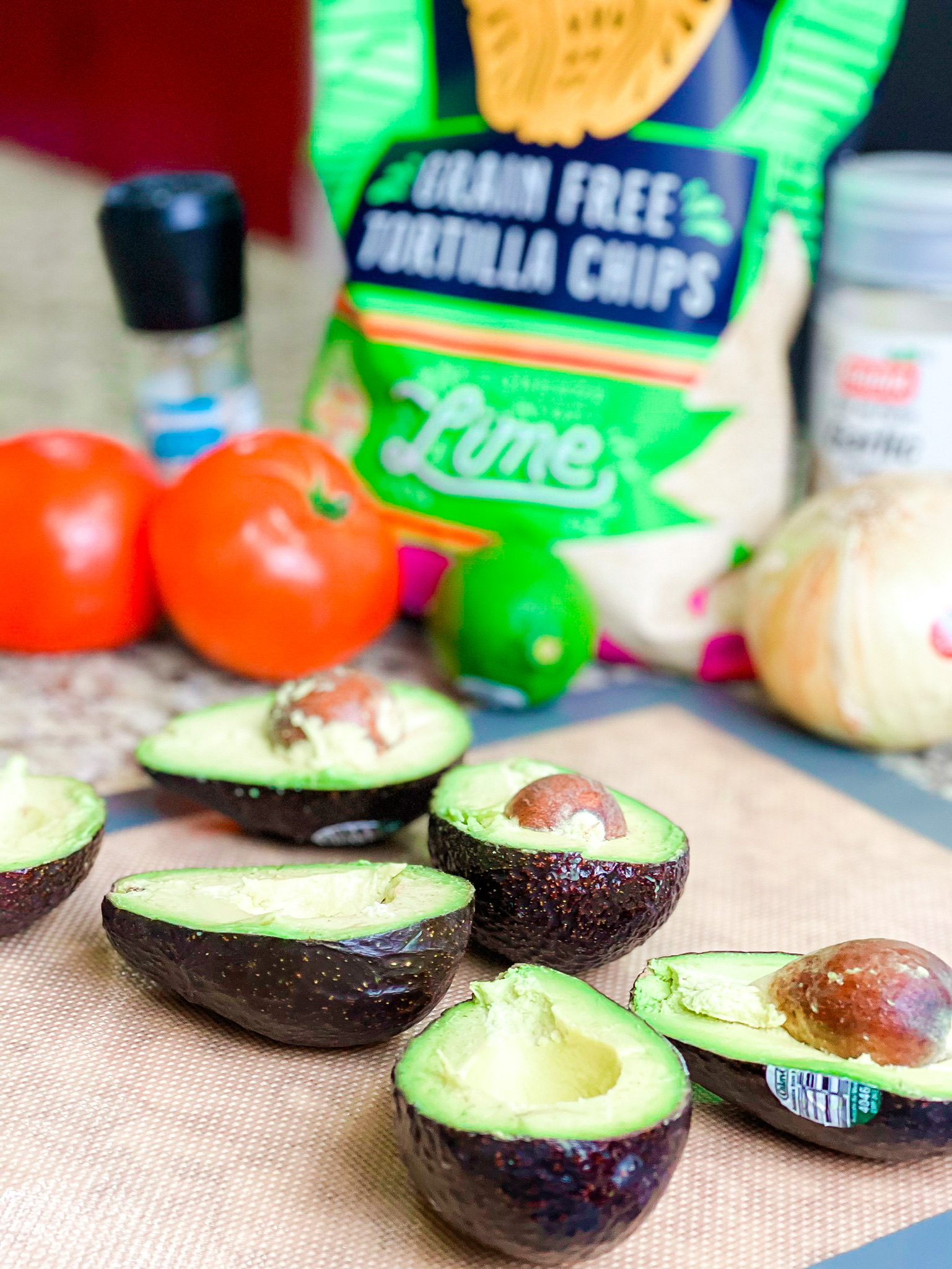 With all kinds of big sporting events happening (Masters, Superbowl, March Madness, and even just fun game nights with friends!), I figured you could use this recipe to be the hit of the party!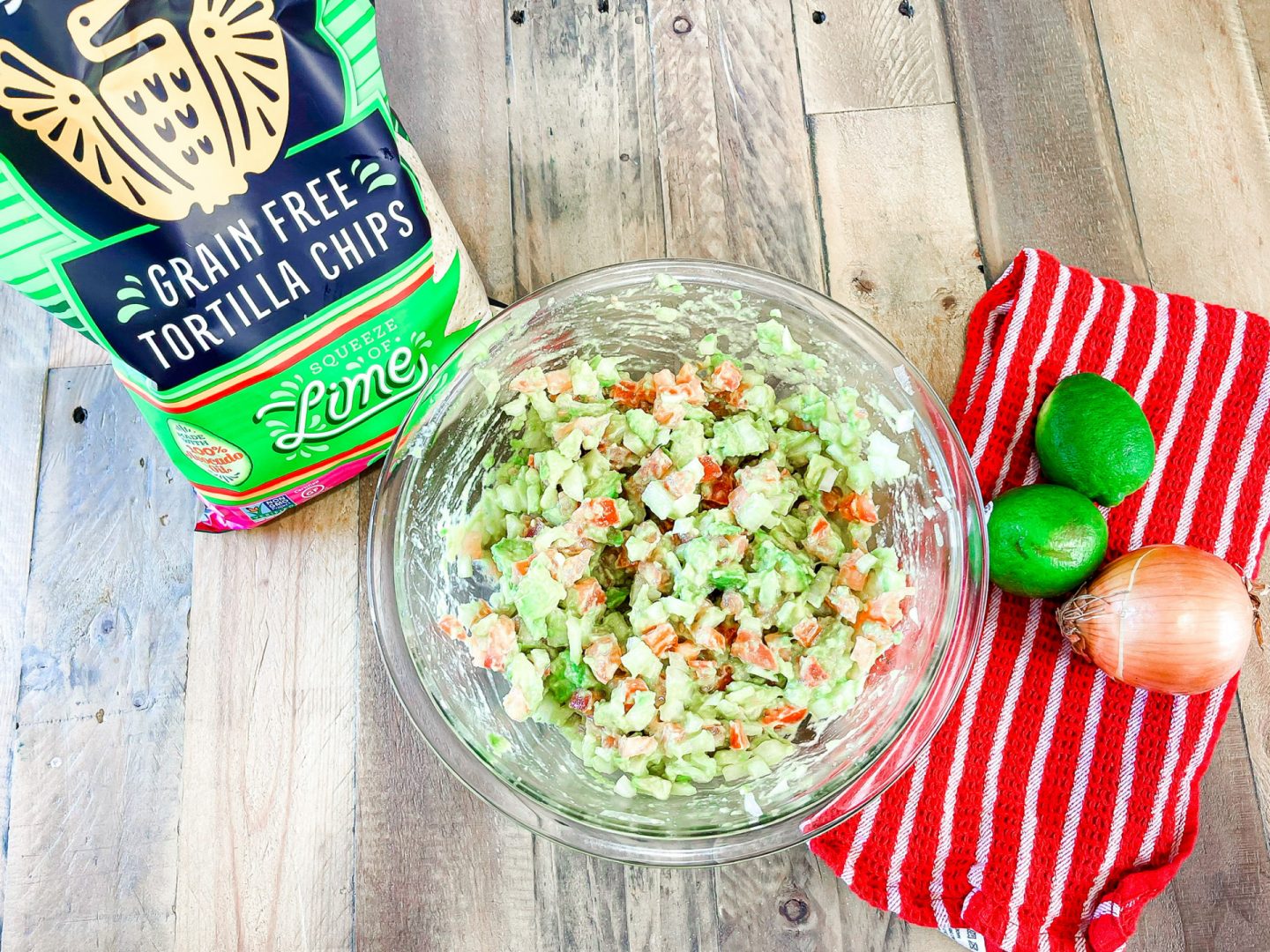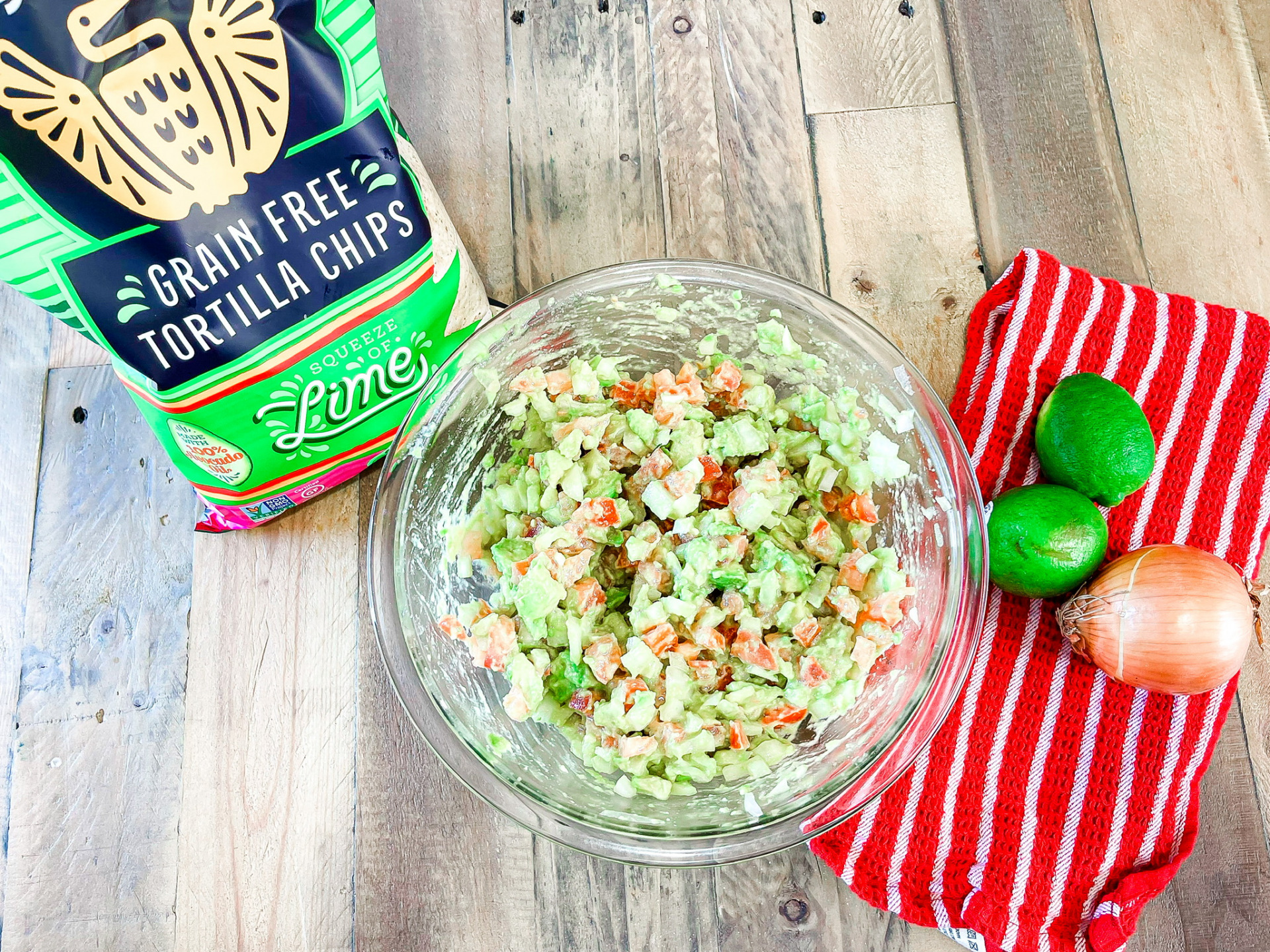 And aside from parties, this is my GO-TO beach day snack! Nothing quite beats sand between your toes, the ocean in the background, a cold beer or drink in hand, and lots of snacking on chips and guac! MMMM!!!
How To Serve The Garlicky Guacamole:
Serve as a topper for tacos or nachos, soups, shredded chicken, salad, etc
Serve in a short clear cup layered with refried beans, taco shells crunched up, tomatoes, ground beef or chicken and sour cream
Serve as shown here straight up with chips or for a Whole 30 or Paleo option with bell pepper strips
Serve as a layer for Mexican Layer Dip
What's your favorite snacking dip? Let me know in the comments below or drop me a DM over at @MyLifeWellLoved on Instagram!
15 Minute Garlicky Guacamole Recipe:
Garlicky Guacamole
Ingredients
3 ripe avocados from Mexico
½ lemon or lime, juiced
⅛ teaspoon of garlic powder OR a clove of garlic
2 small plum tomatoes, chopped
½ onion, finely diced
1 teaspoon sea salt
organic, all natural chips for serving
Instructions
Cut avocados in half around the pit. Separate the halves.
Take your knife and "hit" the seed with the blade, twist to remove.
Score avocado with knife in a criss cross pattern and then scoop flesh of avocados into a bowl. Squeeze the juice of a lemon or lime over the avocados.
Add garlic, tomato, onion and salt to the bowl. Mash and mix the ingredients into a chunky dip using a fork.
Looking For More Quick Recipes? Check These Out:
SHOP The Recipe Post Here:

PIN The 15 Minute Garlicky Guacamole Recipe For Later!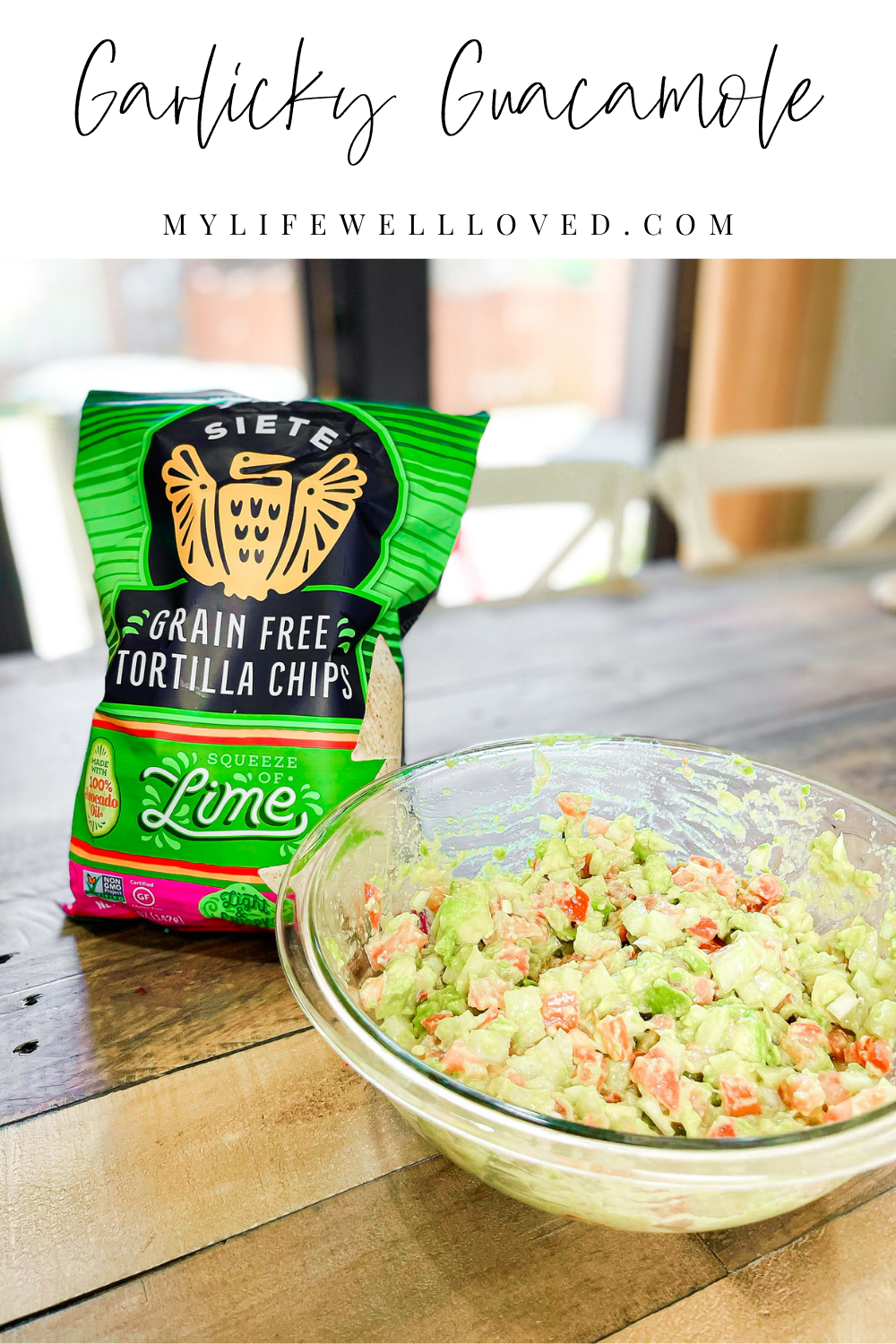 Heather Brown helps busy mamas of young littles who are caught in the hustle to find encouragement in their journey to true health, from the inside out, starting with the heart. Read her journey of learning to live a life well-loved
HERE!