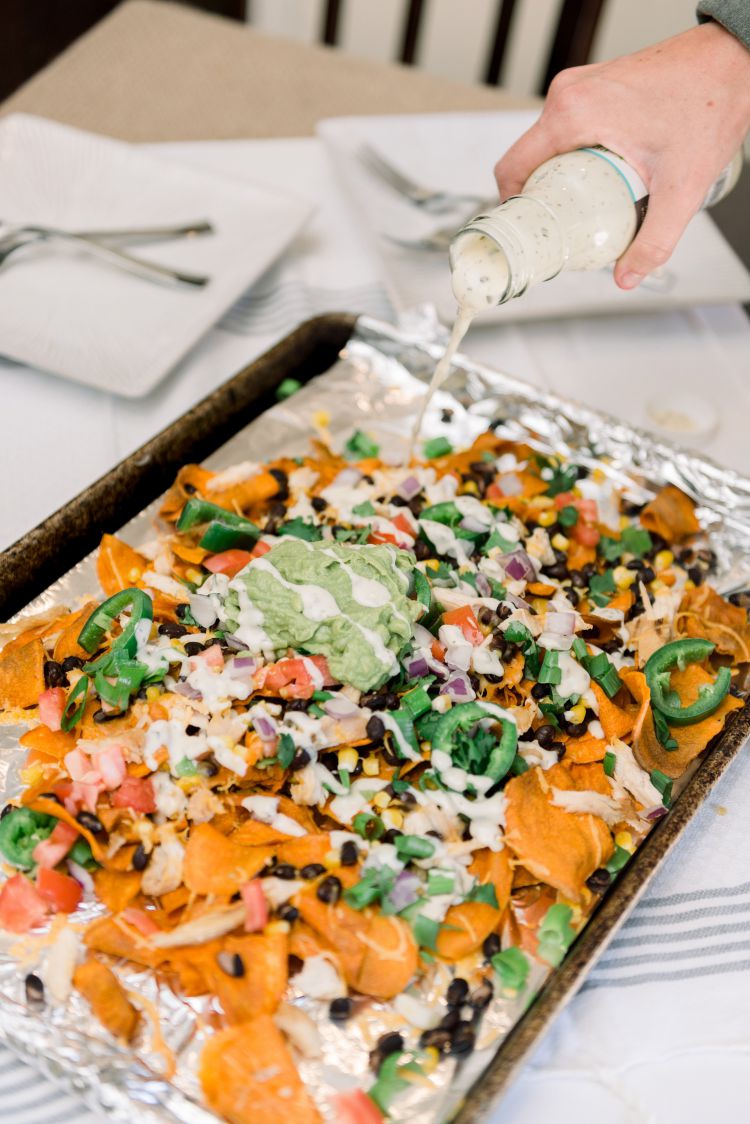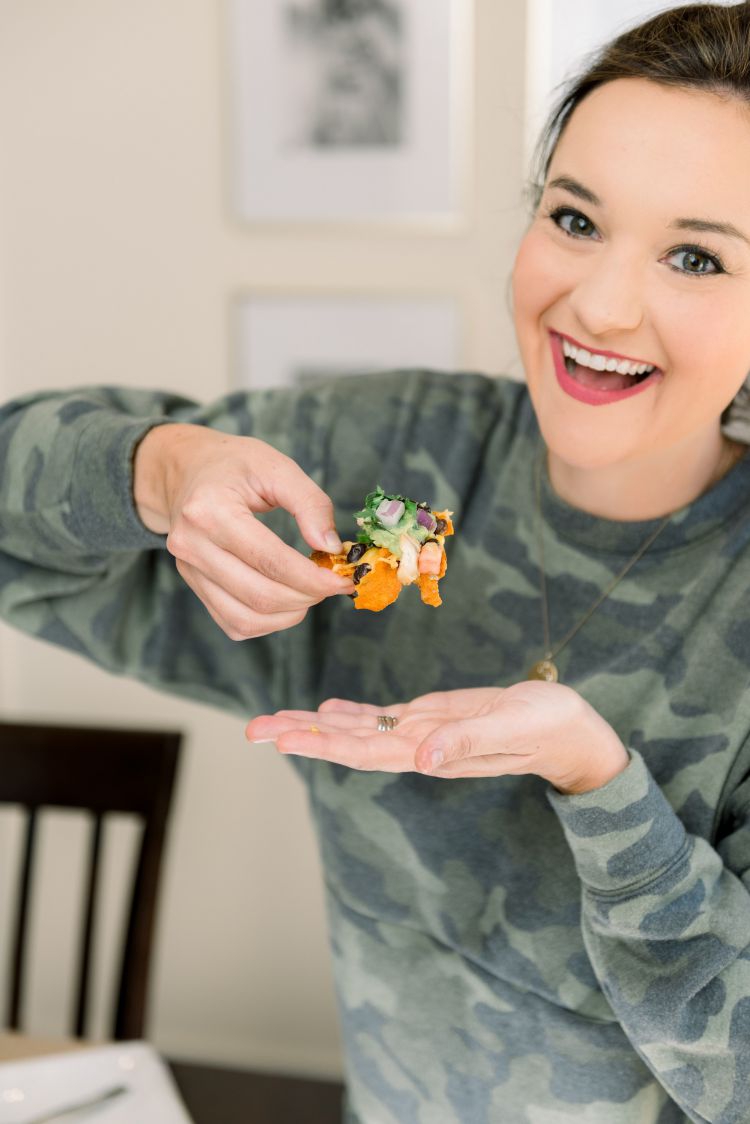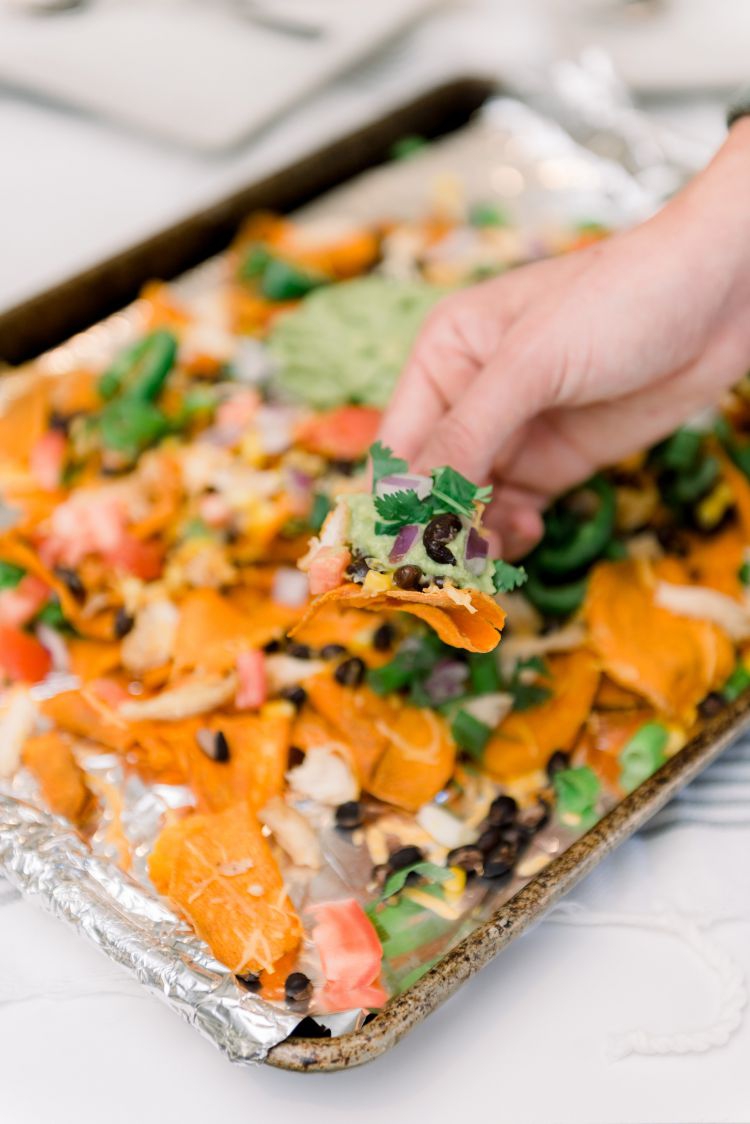 SHOP The Super Easy Sweet Potato Nachos Post HERE: Sweatshirt // Jeans // Necklace 
Photos: Eric & Jamie Photo
Thank you to Wholly Guacamole for partnering with me on this sweet potato nachos recipe!
Friends! I am so excited to share with you my Loaded HEALTHY Sweet Potato Nachos! With all the college football bowl games coming up, I am getting in the tailgating spirit. As you know, I am trying to save as many calories as possible with the holidays here and the #HolidayHoneyHustleChallenge in full force. One of my favorite things to do in the kitchen is to come up with a "healthy" spin on a favorite classic! And that is exactly what these sweet potato nachos are!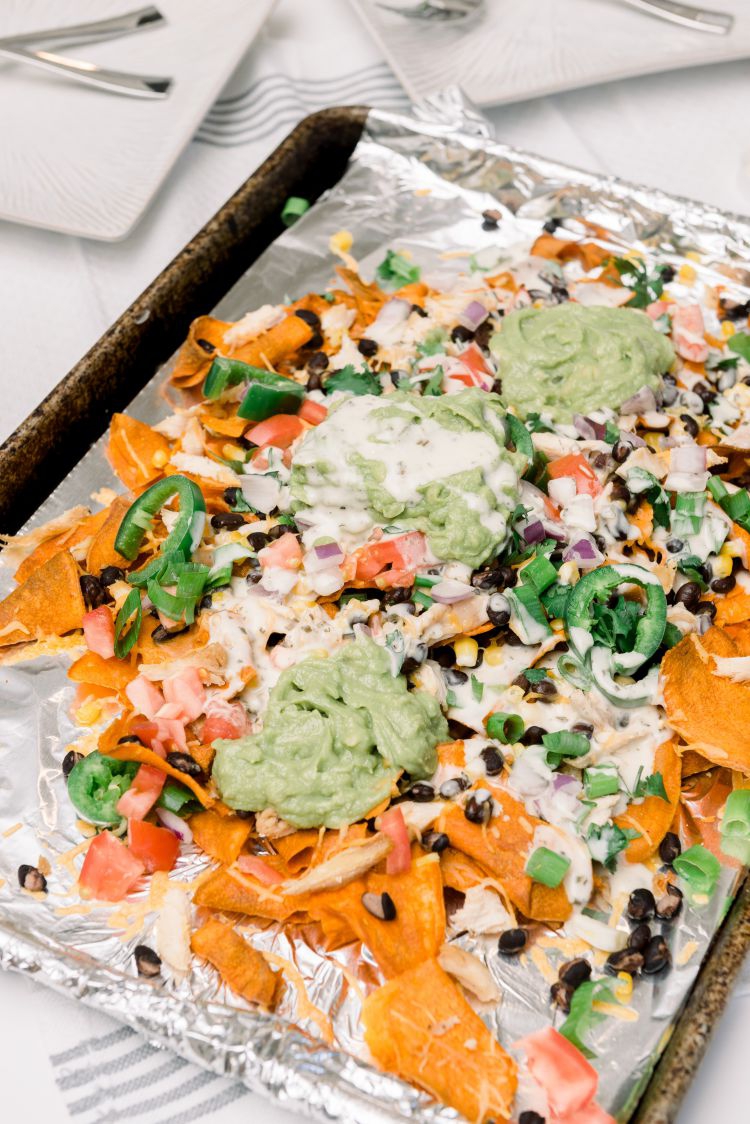 After sharing these Loaded Sweet Potato Nachos on my Instagram Stories when we were shooting the photos with my photographer earlier this week, I had an influx of messages asking for the recipe. I am happy to report these nachos are just as amazing as they look! What I love most about this Sweet Potato Nacho recipe is you can add or subtract any of the ingredients to make it your own. I loaded my nachos with grilled chicken, black beans, corn, jalapeño, green onions, tomato, and of course GUAC! However, these would be great with beef or pork and any other toppings your tastebuds desire.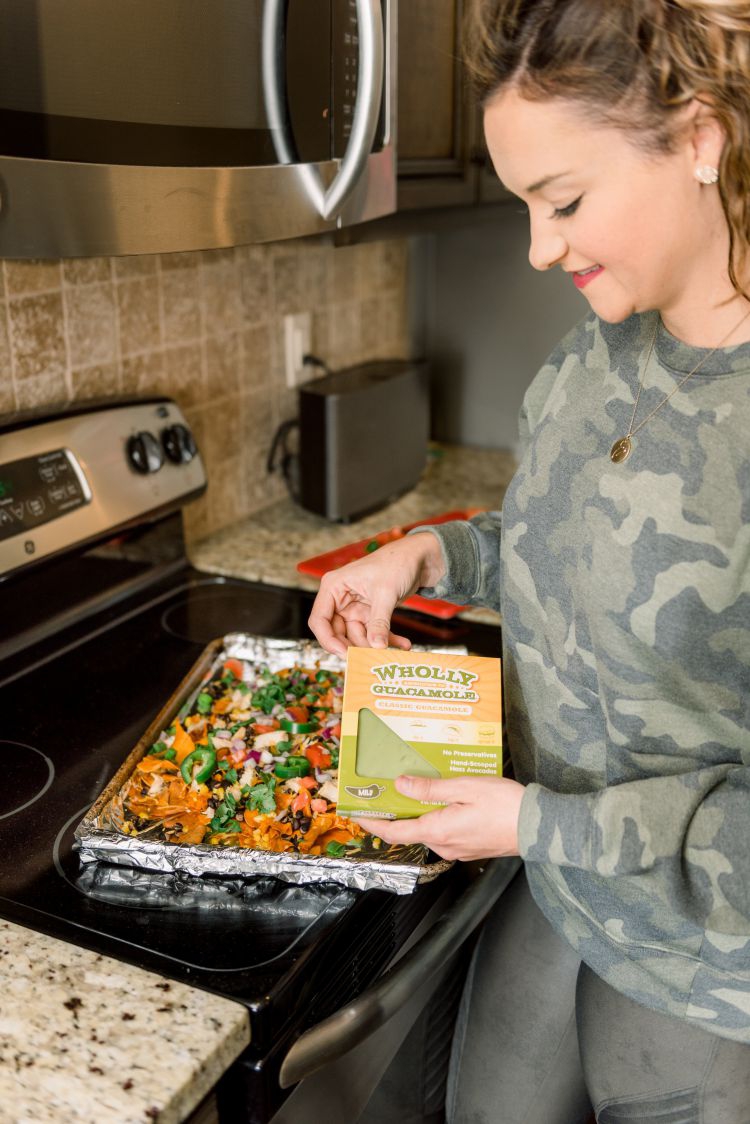 You could easily keep this lighter by adding more veggies like lettuce, tomato, and bell peppers or more indulgent with cheese and sour cream! I drizzled Primal Kitchen's paleo ranch on top and it was DELISH! If you have time, I think roasting real sweet potatoes would be the way to go but in a pinch, these sweet potato crispy chips work great!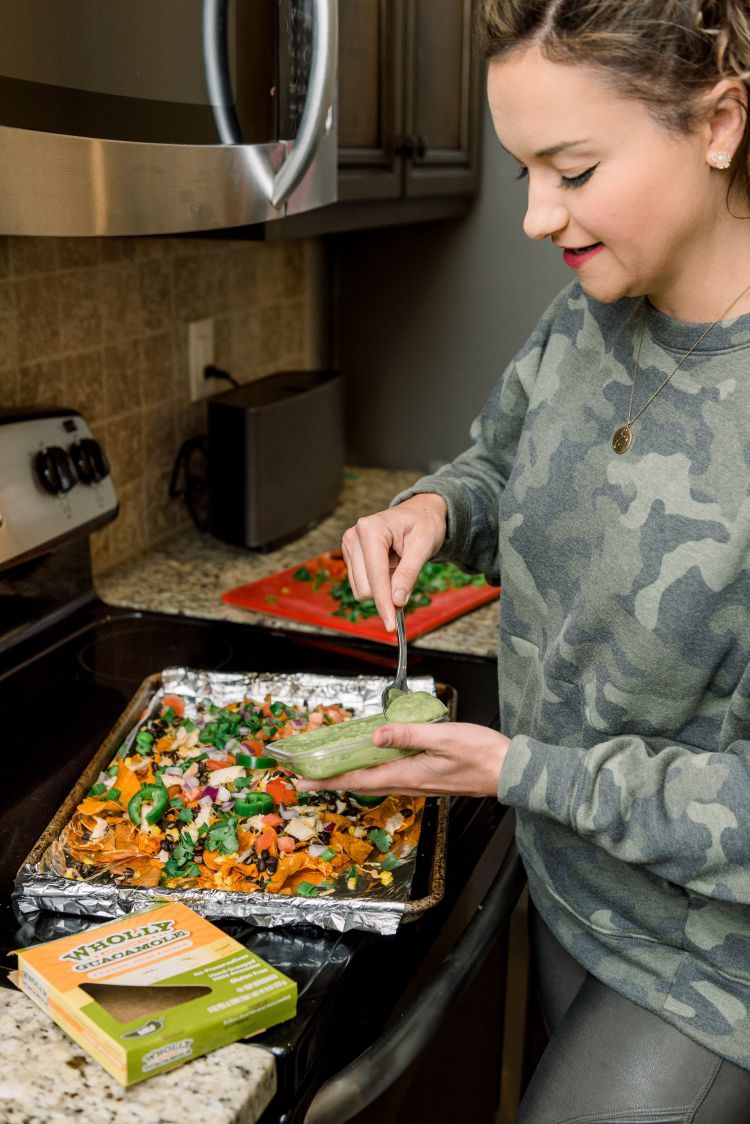 Quite possibly the shining star of this Loaded Sweet Potato Nacho recipe is the Wholly Guacamole. I don't know about you but adding guacamole to anything automatically makes it better, in my opinion 😉 We love using Wholly Guacamole's pre-made guac because it saves a ton of time without compromising taste! Wholly Guacamole uses real Hass avocados that taste SO fresh! We love that the ingredient list is extra clean and we don't have to worry about weird preservatives or other things we try to avoid (dairy, soy, sugar, etc). If you haven't tried Wholly Guacamole, make sure you add it to your grocery list for your next trip! It is available nationwide at select grocery stores as well as Walmart and Mex Grocer. 
Now onto the recipe… I hope you enjoy it! And if you make it, be sure to send me a picture or tag me on Instagram and Facebook so I can see! 
Loaded Healthy Sweet Potato Nacho Recipe:
Super Easy Sweet Potato Nachos
Ingredients
2 Medium Sweet Potatoes, Sliced in rounds, or Sweet Potato Chips
Grilled Chicken Slices (Can substitute beef or pork if desired)
1 Package of Wholly Guacamole
¼ Cup of Black Beans, Drained and rinsed
¼ Cup of Frozen Corn, Cooked according to package
1 Roma Tomato, Diced
¼ Cup Red Onion, Finely Chopped
1 Jalapeño, sliced thin
1 Cup of Mexican Cheese
1 Bunch of Green Onions, Optional for topping
Bacon or Turkey Bacon, Optional for topping
Greek Yogurt or Sour Cream, Optional for topping
Cilantro, Optional for topping
Salt & Pepper to Taste
Instructions
Wash and slice sweet potatoes into ⅛" rounds
Toss the sweet potatoes in olive oil, salt, and pepper
Place in a single layer on a baking sheet and roast at 425 degrees for 15-20 minutes
Once cooked, allow to cool, then transfer to a new baking sheet to begin assembling
If using sweet potato chips, skip #1-4 and spread chips out on a baking sheet to begin assembling
Drain and rinse black beans then add to nachos
Cook frozen corn according to package then add to nachos
Chop roma tomato, red onion, jalapeño, green onions then add to nachos
Top with cheese and place in oven at 425 for 5 minutes, until cheese is melted
Once cheese is melted, spread an even layer of guacamole over the top
Add on any toppings (green onions, bacon, greek yogurt/sour cream, cilantro, etc) and enjoy your sweet potato nachos!
Macros:
Carbs: 42g
Fat: 5g
Protein: 12g
Check Out More Recipes HERE:
SHOP The Loaded Healthy Sweet Potato Nachos Post HERE:

PIN The Loaded Healthy Sweet Potato Nachos For Later!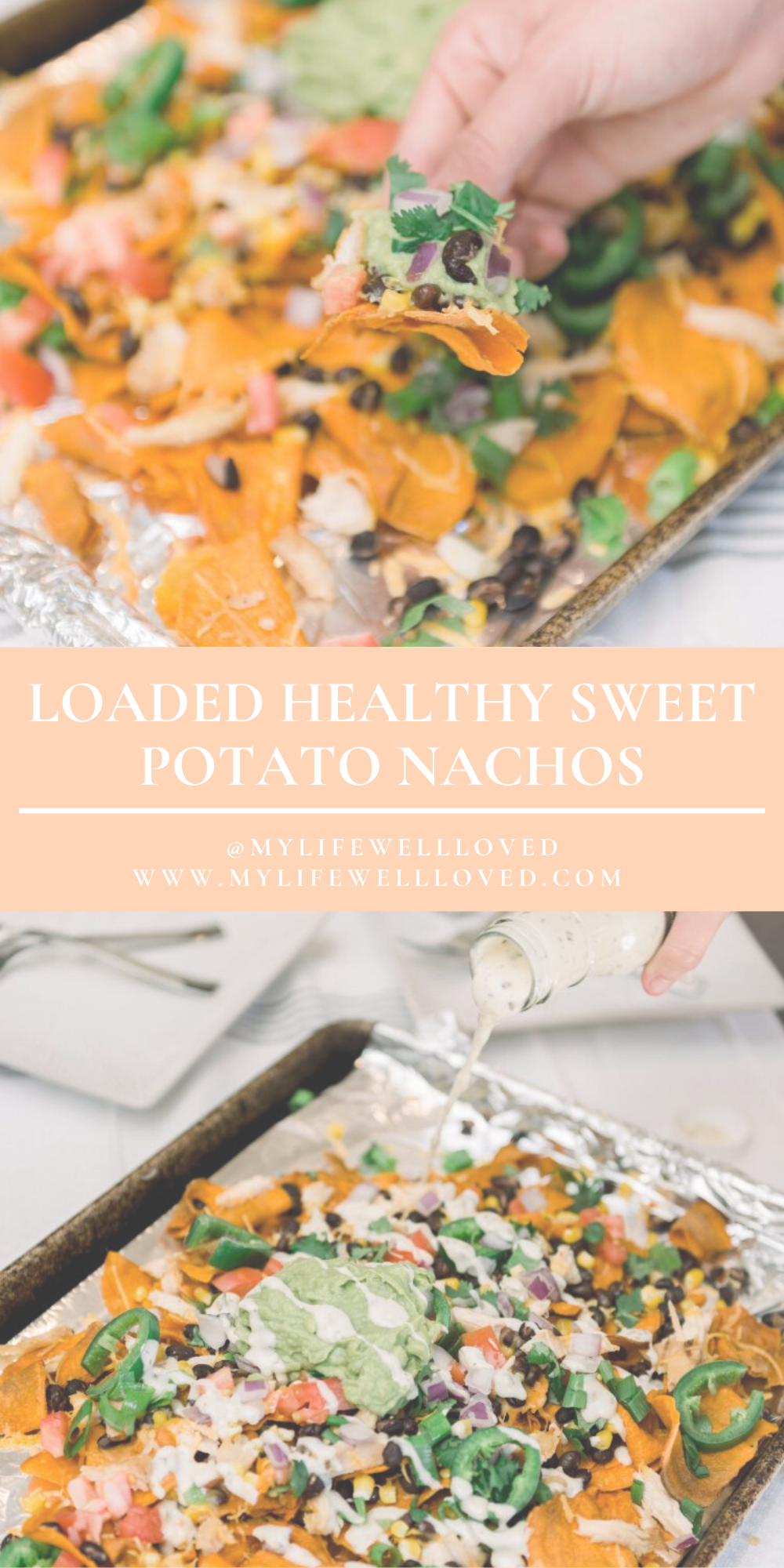 Heather Brown helps busy mamas of young littles who are caught in the hustle to find encouragement in their journey to true health, from the inside out, starting with the heart. Read her journey of learning to live a life well-loved
HERE!