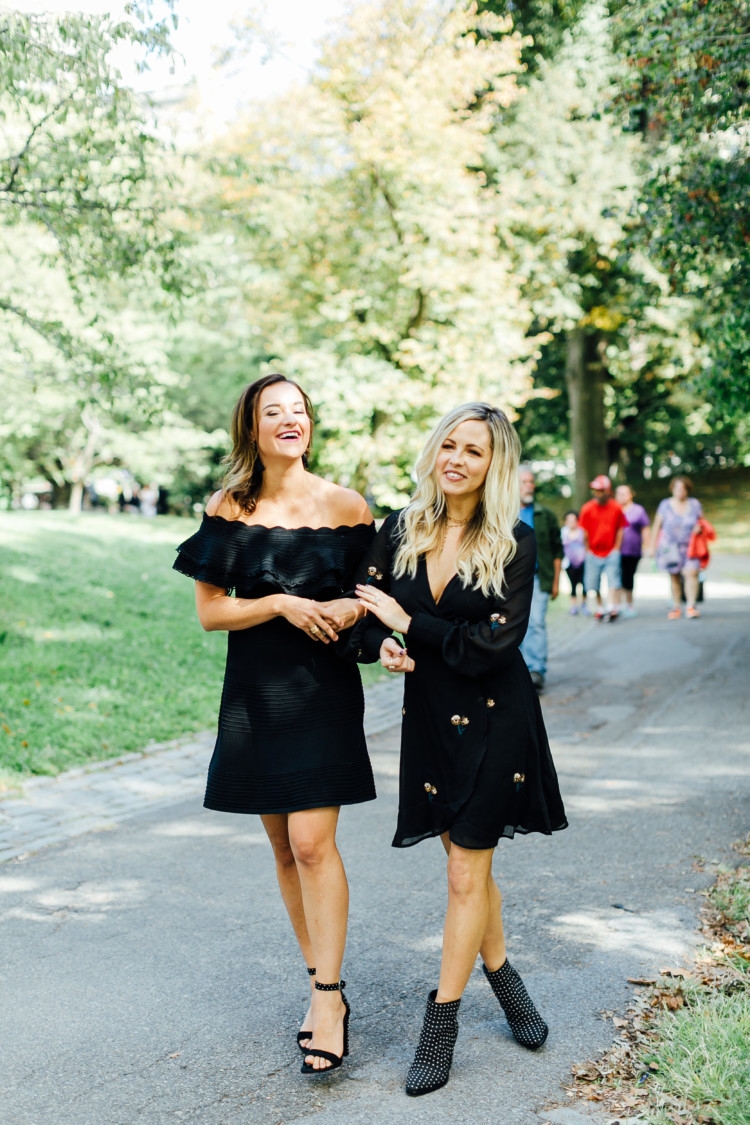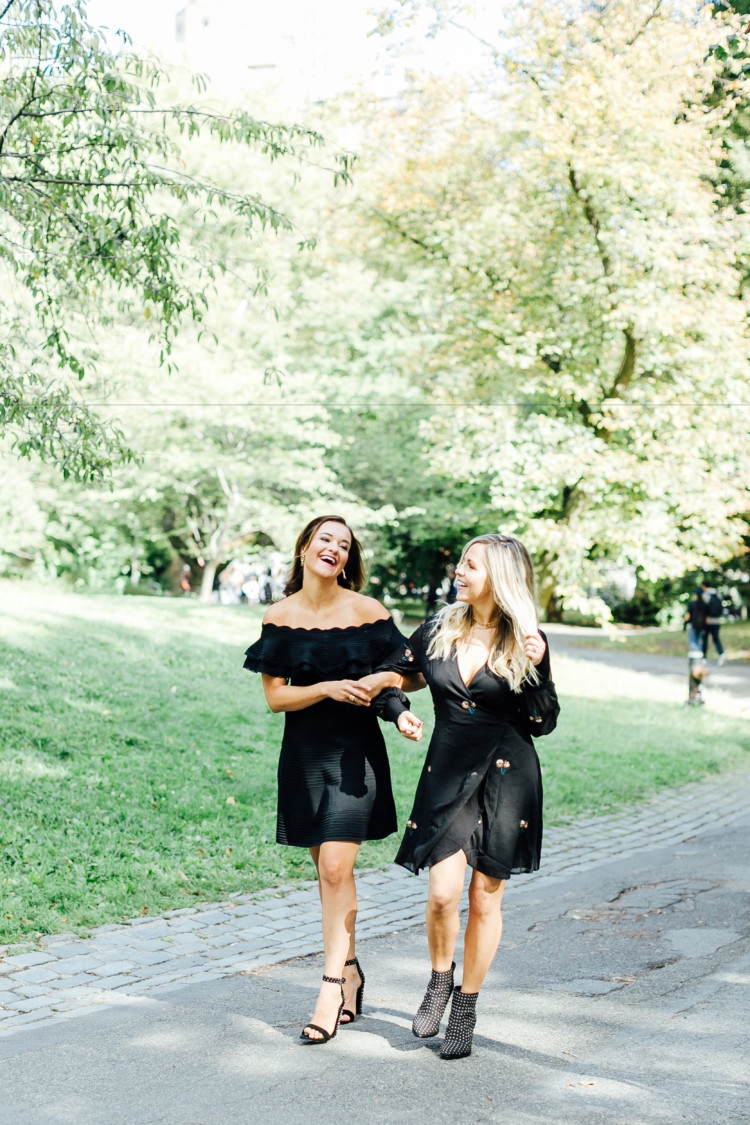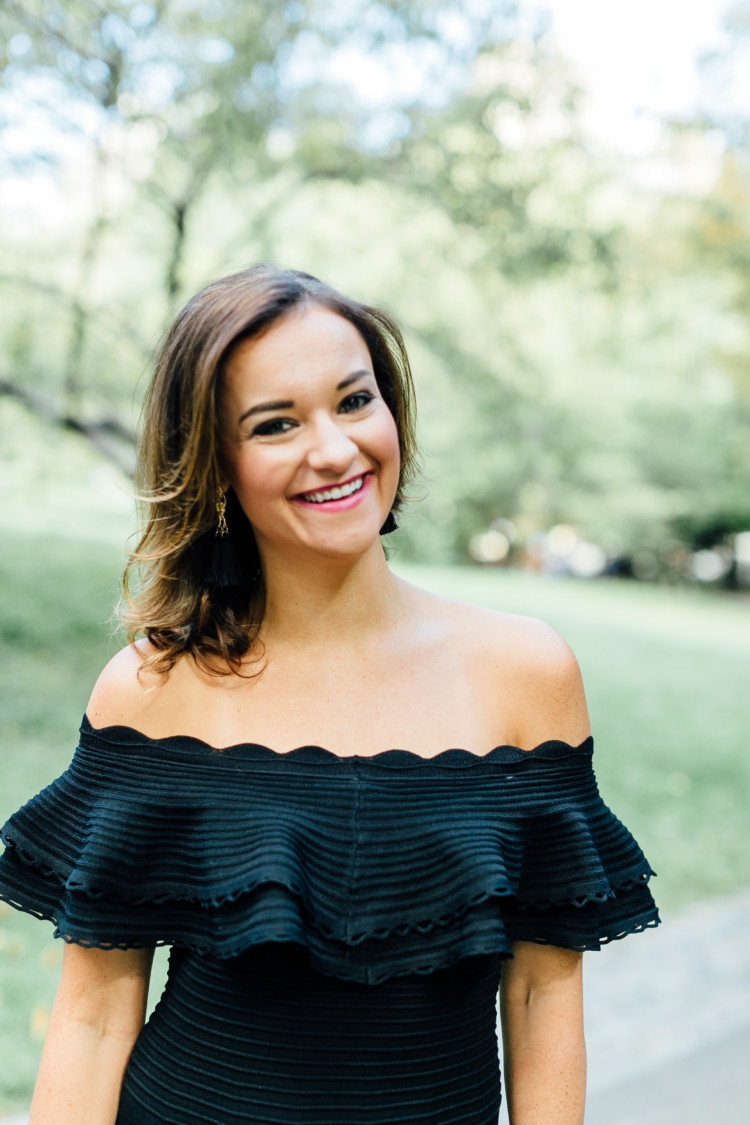 SHOP THE POST: My dress // My shoes // Earrings // Ashley's dress (similar) // Ashley's shoes (similar)
Photos: Mary Kate Steele
Making friends as an adult isn't as easy as it was when we were kids. You don't go to school and see your bestie every day on the playground. You don't spend hours on end together with no commitments pulling you back home. You don't spend the night together laughing on end as you get tangled up playing Twister. You don't bond over the truths you spill over truth or dare. It's just different now. Today we will be talking about how to meet new mom friends.
Now, if you don't live in the same city as you grew up in, or at least in the same college town where you attended your University, it's just hard to find your new BFF. Several of you mention this to me on a daily basis on Instagram. You tell me that I'm one of your best friends and is that weird? (Hint: NO! It's not weird, lol) You say that you wish we lived in the same city and trust me when I say, I'm working on some fun events to bring us together soon!
One positive of social media and our connected world is that you can make friends online, like me! 😉 But a negative can also be that we all have our nose down at our phone so much that we don't look around to find friends around us.
I did an interview the other day where the hostess was asking me how I got through those first few hard months after having Leyton (I struggled with baby blues.) and one of the biggest ways I did that was through leaning on my girl gang.
The first few weeks after Leyton was born, I scheduled friends and family members to come visit me almost every day of the week so that while my husband was away at work, I'd have someone there to rally around me, encourage me, sit with me, pray with me and some even brought me dinner, babysat or did my shopping. I could not be more blessed to be surrounded by amazing women who I adore.
As I've been marinating on this, I'd like us all to concoct some new ideas to share with each other about ways we can meet other rocking women we want to be friends with. See below for some of the ideas I've come up with, and then PLEASE leave comments below or shoot me a message on Instagram and I can add in some of the best ones.
One of my favorite responses from you guys about this topic was from @Kpstrickland on Instagram. She said, "This is not necessarily a way to meet people, but I've learned that it is just really important to not be afraid to make the first move. I listened to a lot of lies for a long time like, "She's probably to busy to hang out with me," or "She has too many friends already to need any more," or "she's way too pretty/in shape/polished to want to spend time with me," and the simple truth is that those are LIES that Satan feeds us to keep us from true community.
So my encouragement for those women out there is to put yourself out there, be brave and make the first move. It is sooo worth it! And the girlfriend you ask to coffee/ breakfast/ lunch/ play dates is probably already trying to figure out a way to ask you." Such good wisdom in these statements!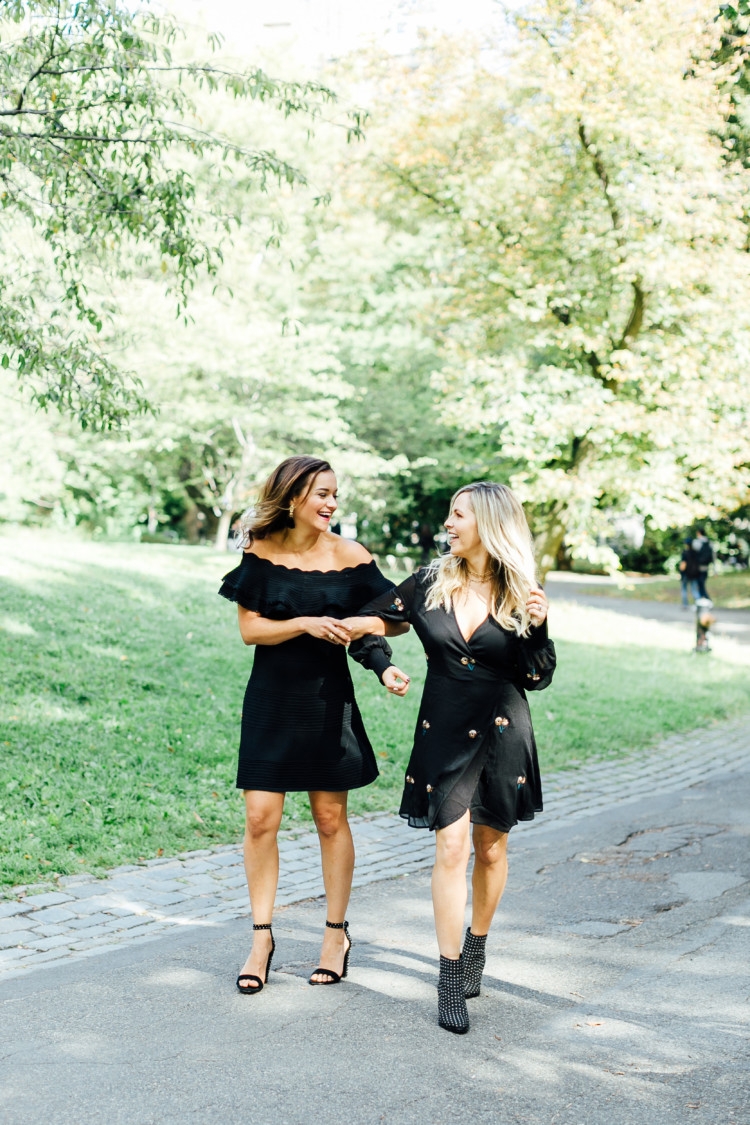 How to Meet New Mom Friends:
First of all, I realize if you are shy that this is going to take more effort. BUT, every one and I mean every one could spend less time looking at their phone–myself included. It is so much more intimidating and hard to strike up conversation with someone if their head is buried in their phone. Look up, smile, be confident, and look open to meeting new people. Don't be afraid to say HI!
Church: Your local church probably has women's groups, small groups, Sunday school classes, or even play groups geared towards moms. Ask how you can get plugged in!
Your Gym/Pure Barre: I love watching the women at Pure Barre become friends. Some of them come to class and then head out for drinks or dinner after. Make sure to try to go to the same class time each day so that you'll see the same familiar faces and get there early so you have time to chat it up pre-workout.
Moms Run This Town: "This group is for mom runners and the groups are all over the country. It is a Facebook group, people will post when and where they are going to run and whoever wants to join, does. There is also a monthly group run that is for the major metropolitan area. The runs can be with or without kids, and normally if only one person brings their kids the other moms will help and take turns pushing the stroller. My local group also does ladies' nights and donut runs." (Thank you to @SECHARD8 on Instagram for this!)
MOPS: This nation-wide group is short for Moms of Preschoolers. While I'm not a member, I know lots of friends who are and love it.
Be a good neighbor: When you walk the dog, run with your baby in the stroller, get the mail, walk out the trashcan, whatever it is… say hello, smile and introduce yourself. Each time you see that person, ask them something about themselves. People love to talk about themselves!
Use Neighborhood/Local Facebook pages: We have a local Facebook page that I've used to at least network with a few women. Then as I see them in the neighborhood, it's a nice ice breaker to be able to talk about things going on in the neighborhood FB groups. Now, I even have some of their phone numbers and I'll randomly shoot them a text and say something like grabbing the baby and stroller and going to go for a walk or run in about an hour, wanna join? Make it simple!
Blogging has opened up a world of friendships to meet that I would have never had without it. Ashley from Nashville Wifestyles (in the pictures above with me) already felt like friends long before we met in real life at New York Fashion Week. Since meeting in NYC, we have now hung out in Nashville and text on the regular.
I feel so fortunate to have friends like her and other bloggers that I would have never met without social media. You may remember the blogging friends I made in Tampa and in Atlanta that would have never been possible without connecting with people in my work world. Start to look online for people with similar interests or commonalities as you and just start commenting/connecting. You never know what kind of beautiful friendship it could lead to!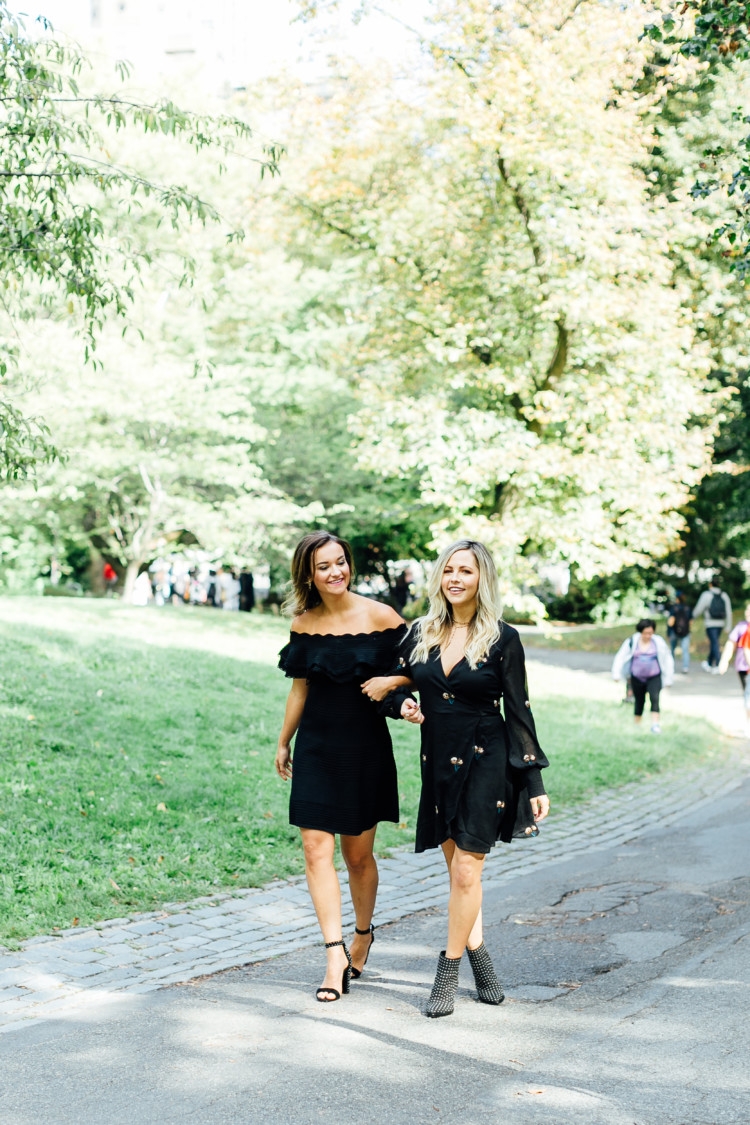 Now, onto an extra fun part of this post…a GIVEAWAY with Eliza J! Ashley and I are both wearing outfits from Eliza J and love their elegant pieces! You can enter to win a dress or jumpsuit from Eliza J valued up to $300 via the Rafflecopter below!
You've seen me in other Eliza J pieces in my other New York Fashion Week Posts like that beautiful floral maxi dress! In case you missed my other Fashion Week posts, you can see them below:
The New York Fashion Week Blogger Experience
Where we Stayed at New York Fashion Week + Day 2 Recap
When someone asks you how to meet new mom friends, what do you say? I'd love to hear in the comments below!
Shop the How to Meet New Mom Friends Post:
Enter to win the Eliza J GIVEAWAY!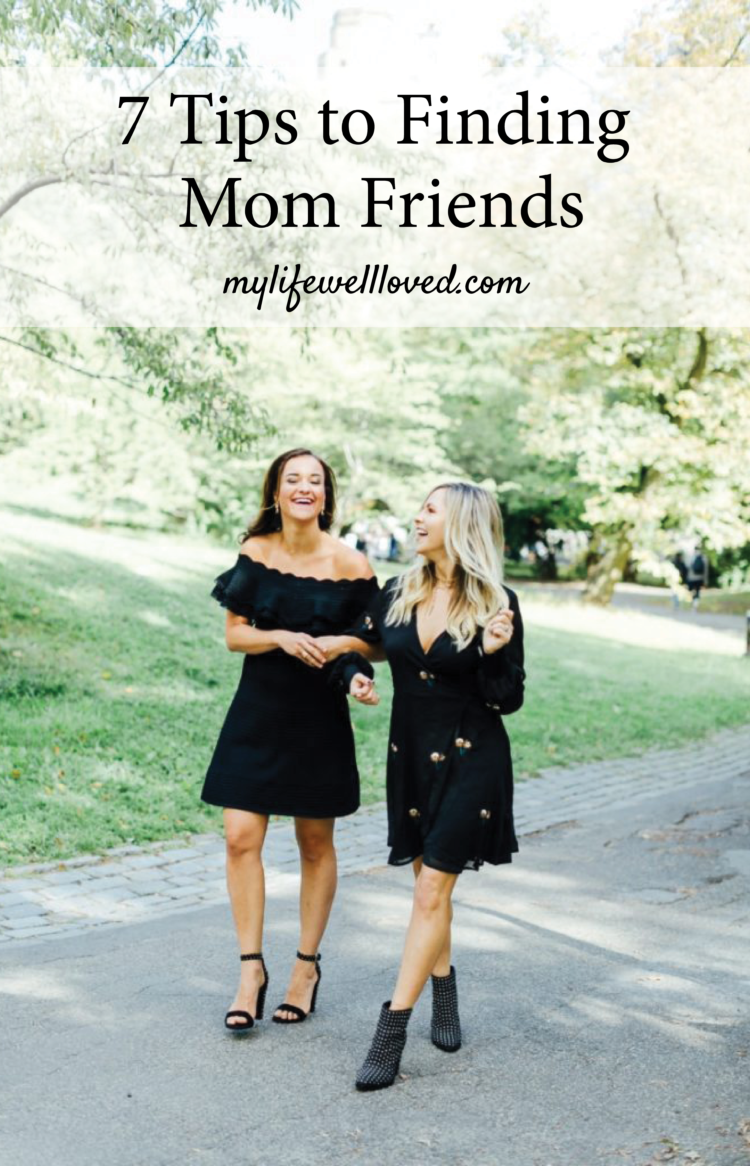 Heather Brown helps busy mamas of young littles who are caught in the hustle to find encouragement in their journey to true health, from the inside out, starting with the heart. Read her journey of learning to live a life well-loved
HERE!