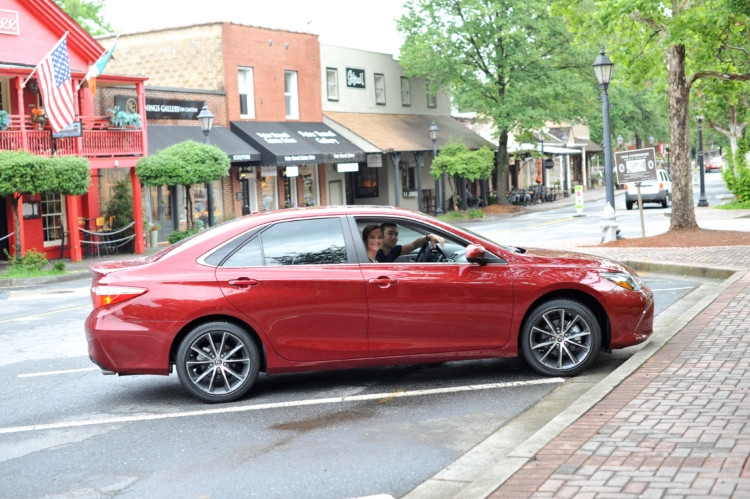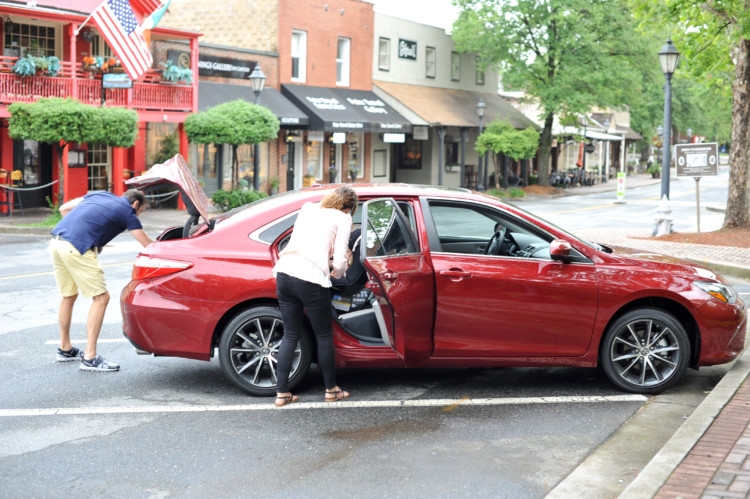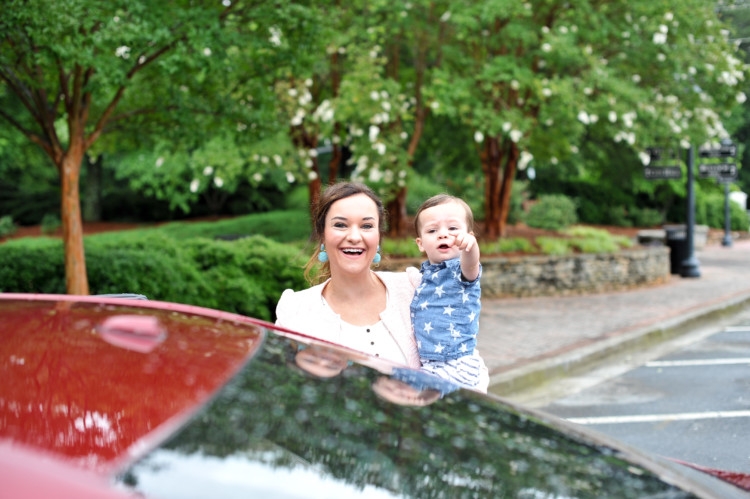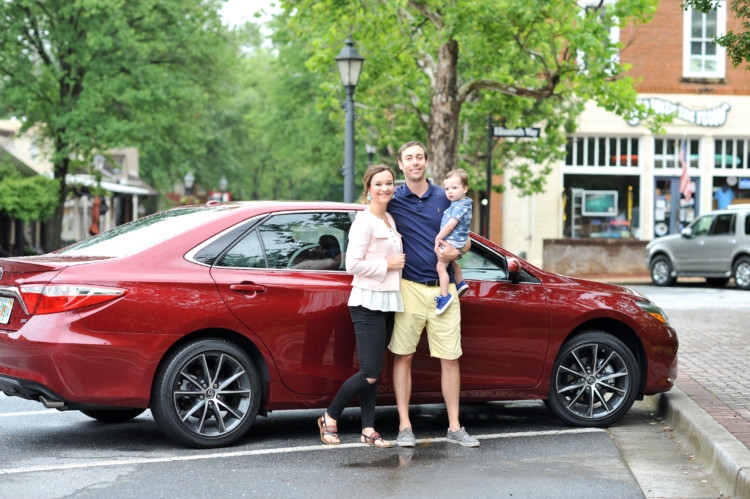 This post is sponsored by Toyota.  All opinions are my own.  I only work with brands I love, so thank you for helping me support them!
We hit the road for an Atlanta road trip over Memorial Day weekend! We were overdue to see friends and meet their new baby, so we took the opportunity to jet over to soak up a long weekend of fun. Many of you followed along on my Instagram stories which was a ton of fun to have you suggest places to stop and things to eat.
To start off our trip, we stopped by the Hoover Toyota to pick up our red Toyota Camry. We were excited to test drive this new model and see how Leyton liked getting to try it out. You won't be surprised to know that with a Leyton in tow, we packed that baby to the brim.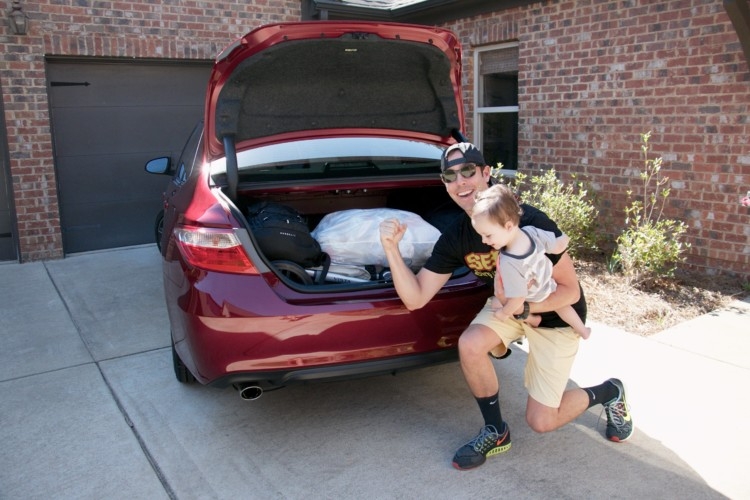 The car fit our luggage, stroller, car seat and even a donation bag we dropped by The Salvation Army on the way out of town! When we were headed that way to get on the interstate anyway, I couldn't pass up the opportunity to cross off one more thing on my to-do list. 😉
The first two unique safety features that I fell in love with while driving the car, were the Blind Spot Monitor (BSM) and the Dynamic Radar Cruise Control (DRCC). If someone was in my blind spot, an indicator on the sideview mirrors would light up letting me know there was a car there. Now, I'm bummed out that my car doesn't have that feature…it was so nice!
I was so amazed by the DRCC because it automatically adjusts the speed of the car to help maintain a preset following distance between you and the vehicle directly in front of you.  How amazing is that?! That way if someone jetted over in front of you or a deer decided to get a little testy playing dash on the interstate, the car will automatically slow down. Color me impressed!
We got to Atlanta around 8:00 and were starving so we went straight to Yeero Village to grab a bite to eat. I got a salad with shrimp and pita and Eric and I couldn't resist the wedding cookies either! 😉 After that, we headed over to our friends, the Smiths' house to get Leyton settled in for the night and catch up with them.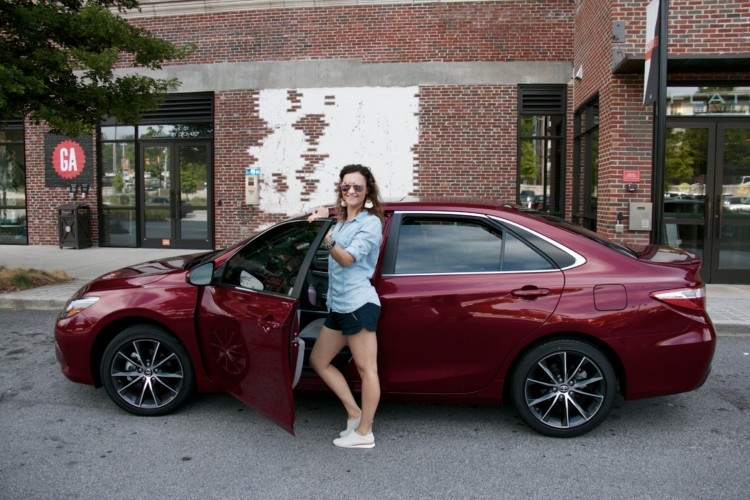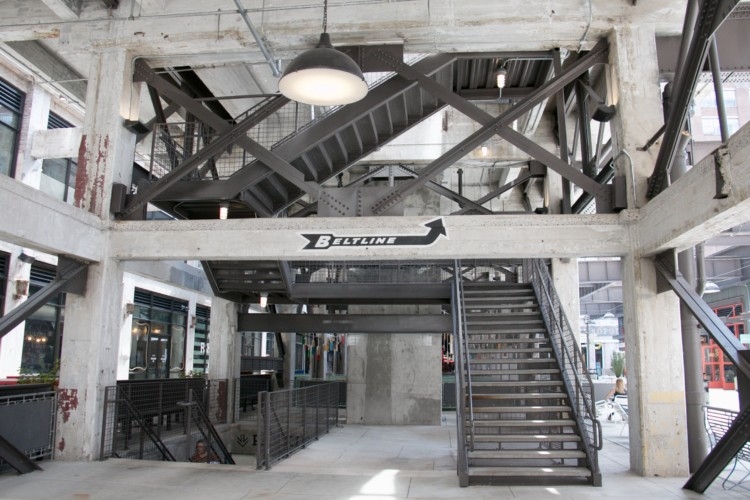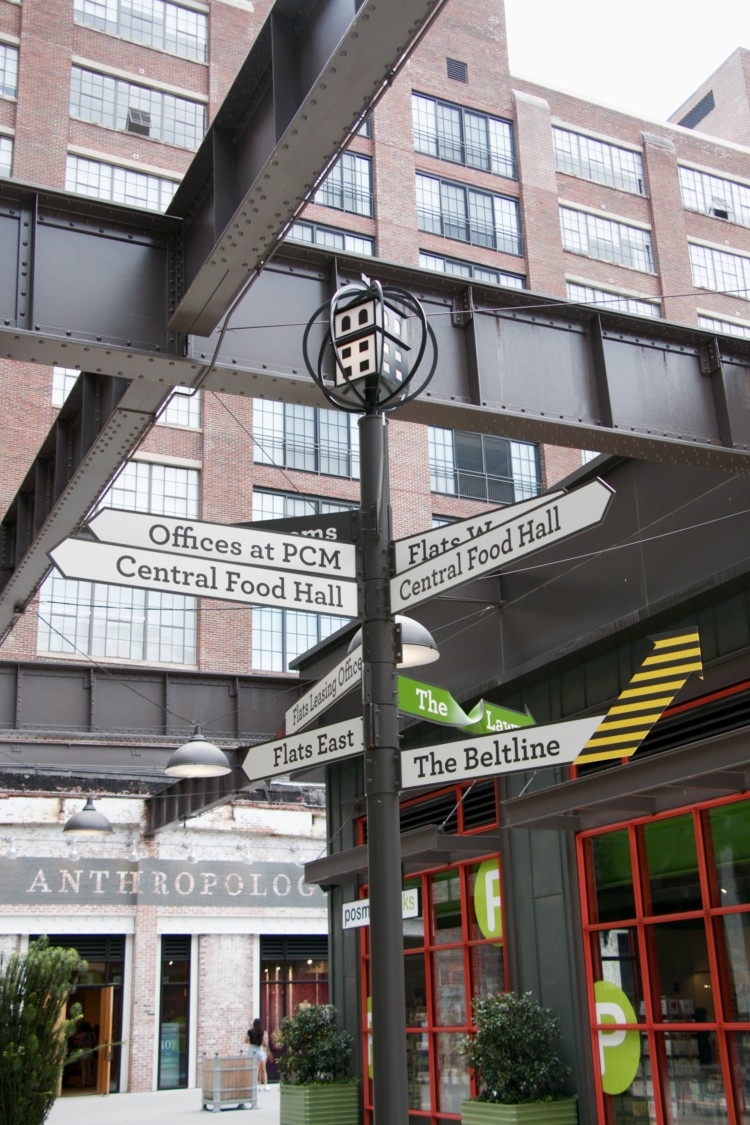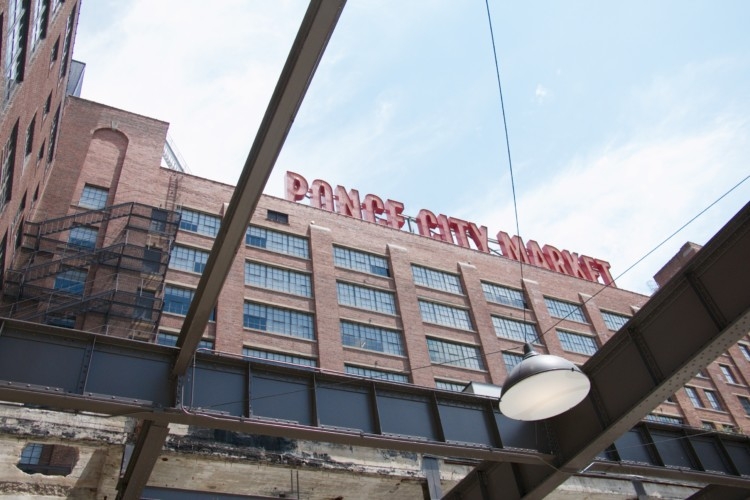 We woke up Saturday morning and hit the road with their two kids and Leyton to check out Ponce City Market in Atlanta which was a little bit of a jaunt from the Smith's home in Roswell but well worth it. This is one of the coolest markets I've ever seen. They have the most amazing food hall surrounded by premiere shopping like Frye Boots, Alex & Ani, Candlefish, Chubbies, Lululemon and countless others. Of course, the first order of business for us was to walk around taking it all in and then settling down in the outdoor area to sample some of the food hall goodness.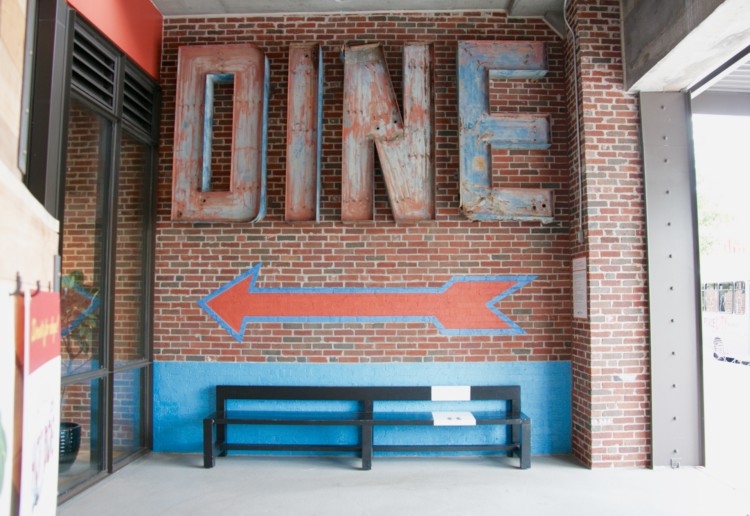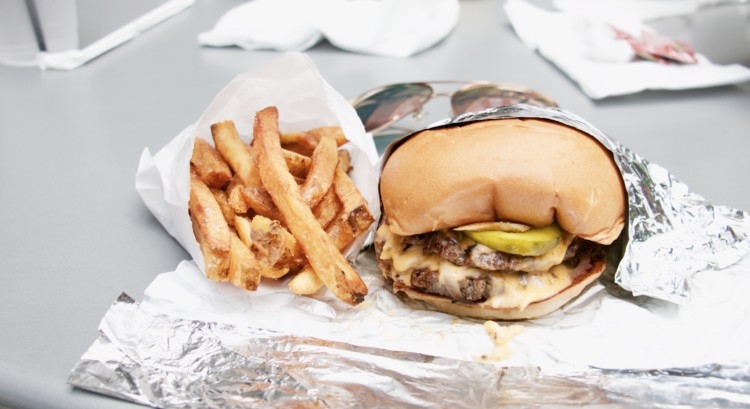 We heard AMAZING things about H&F Burger so of course we had to try that out. Supposedly they have two locations at the Braves stadium and both are always slam packed! After trying the burger, a sip of Kelley's milk shake and the fries, I can see why! It was delicious! They even have homemade sauces and ketchup.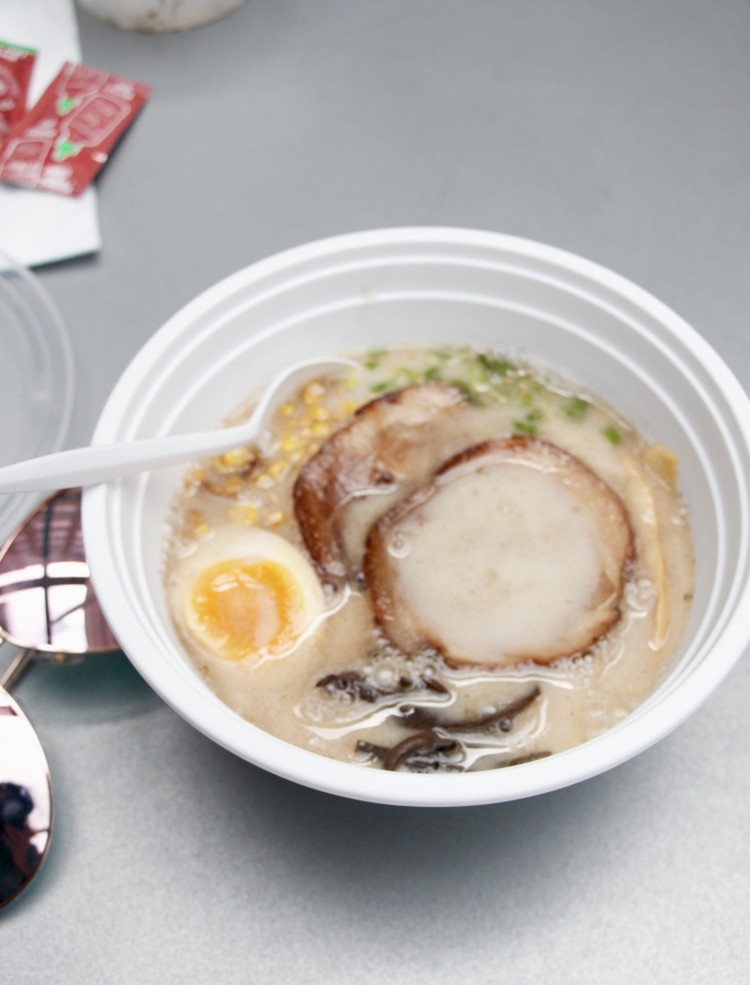 Eric got one of the Ton Ton ramen bowls after hearing rave reviews from our friend Bobby so he got that and of course we split our burger and the ramen bowl. That's part of the beauty of marriage, right? Splitting food… 😉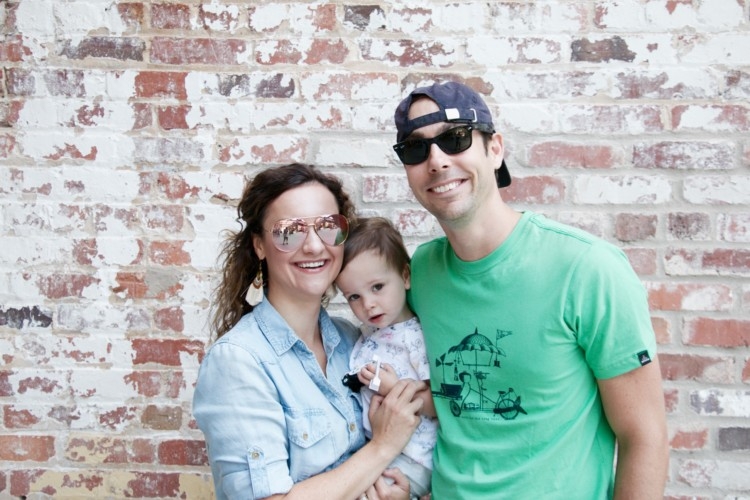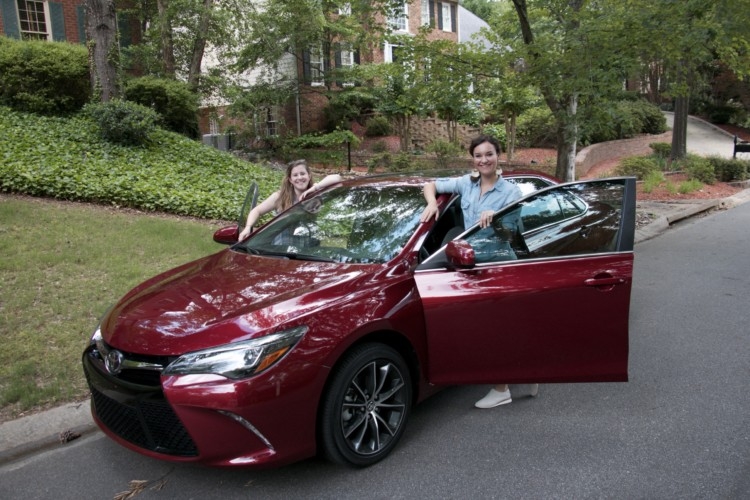 After Ponce City Market, we popped by Piedmont Park for a bit but they had a huge event going on and the babies were getting tired so we headed home for naps. It is really cool to see this huge park in the middle of downtown Atlanta and there's tons of bars and restaurants all around it!
The guys were great and let Kelley and I head out to get our nails done and go shopping while the kiddo's were down so we checked out Ivy Lane boutique, Trader Joe's to get cheese board ingredients, and I got my first powder manicure. It's still going strong 3 weeks later and needs to be removed badly…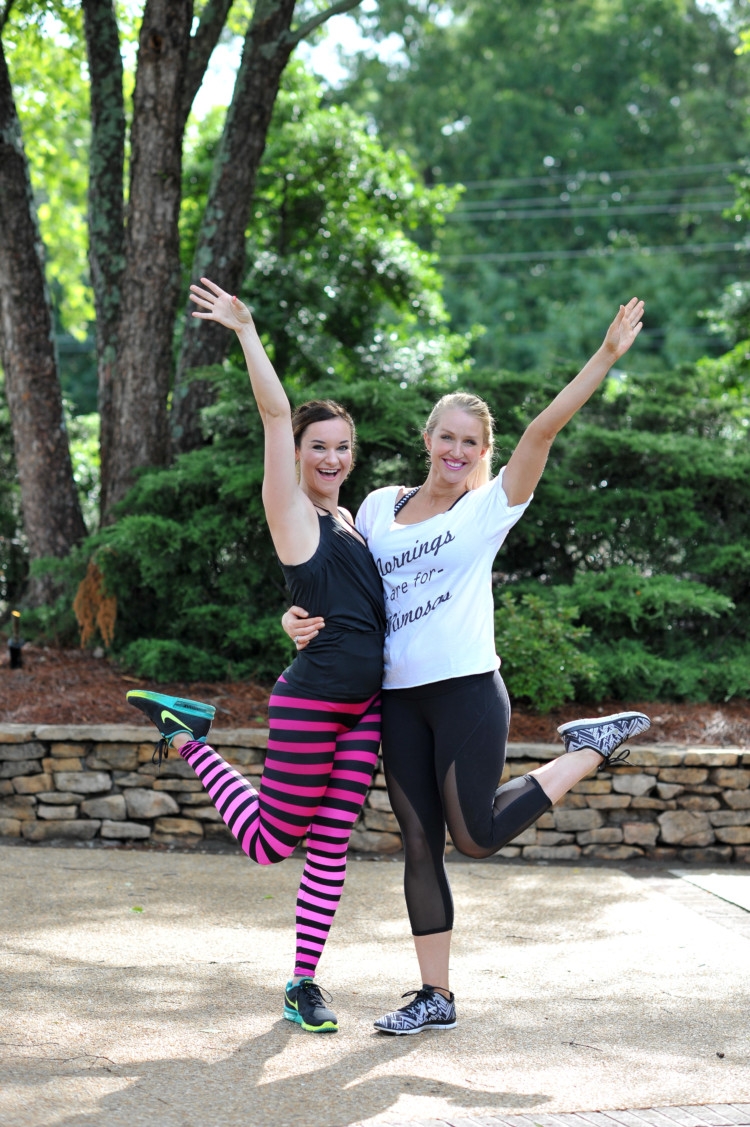 On Sunday, we got up early and headed to downtown Roswell which I promptly fell in love with. It has THE cutest shops and old buildings. We met Jnelly Photography for a family photo shoot and then I met up with my girl Jessica for coffee and brunch at Roswell Provisions. It's always such a blast catching up with this girl. She's a HOOT!
If you come to downtown Roswell, make sure you check out Roswell Provisions for their adorable wine shop, cutesy market, and delish brunch. Also, must stops are Ceviche, Salt and Fickle Pickle. We also loved that they had a little park for Leyton to run around in.
After that, we went to Bobby's church (Johnson Ferry Baptist Church) where he leads worship in the contemporary service. Bobby and Kelley that we stayed with, actually are Samford friends of ours and Bobby played the piano in our wedding, so they are very near and dear to our hearts. It's always such a joy to see him lead worship.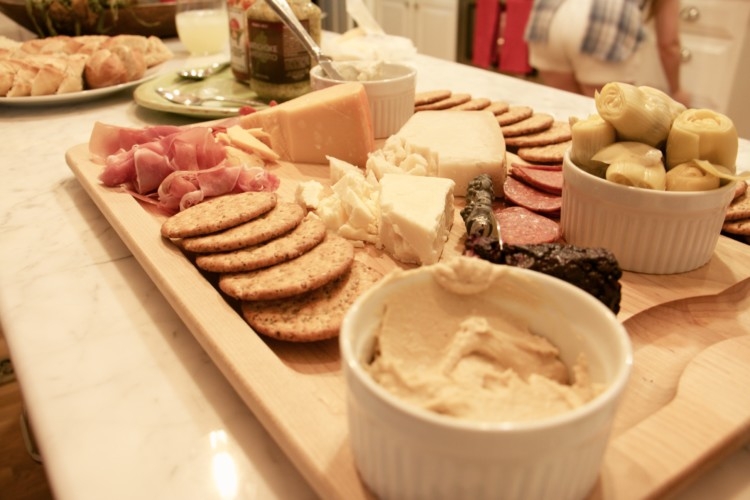 On Sunday, we let the kids play in the driveway with water and a toy car…Leyton's dream vacay. 😉 We grilled out an awesome marinated chicken, had twice baked potatoes, and finished off our cheese board. Kelley introduced me to Southern Charm which we binge watched while the boys went to the soccer game and we truly had the best time.
It was such a fun getaway and we're so thankful that Toyota sent us on this adventure. Where are your favorite places to roadtrip to and enjoy in Atlanta? I'd love to hear!
Want more travel goodness with kids? Make sure to check out my Tampa Florida travel guide with kids!
Heather Brown helps busy mamas of young littles who are caught in the hustle to find encouragement in their journey to true health, from the inside out, starting with the heart. Read her journey of learning to live a life well-loved
HERE!