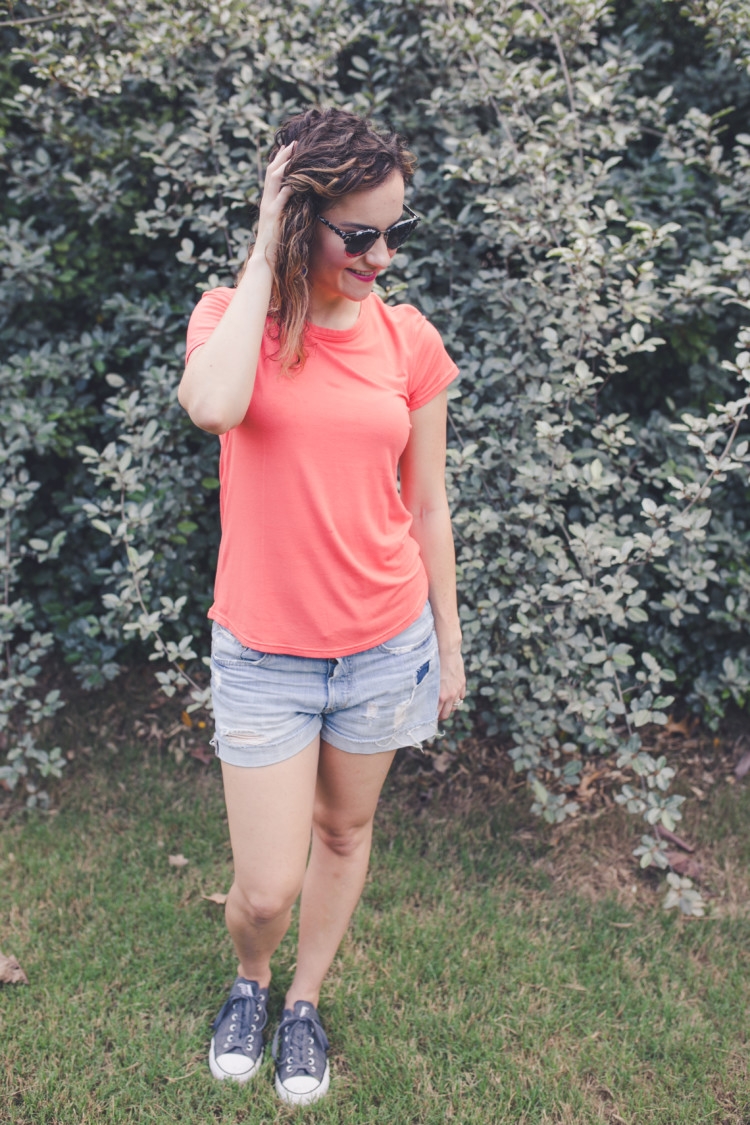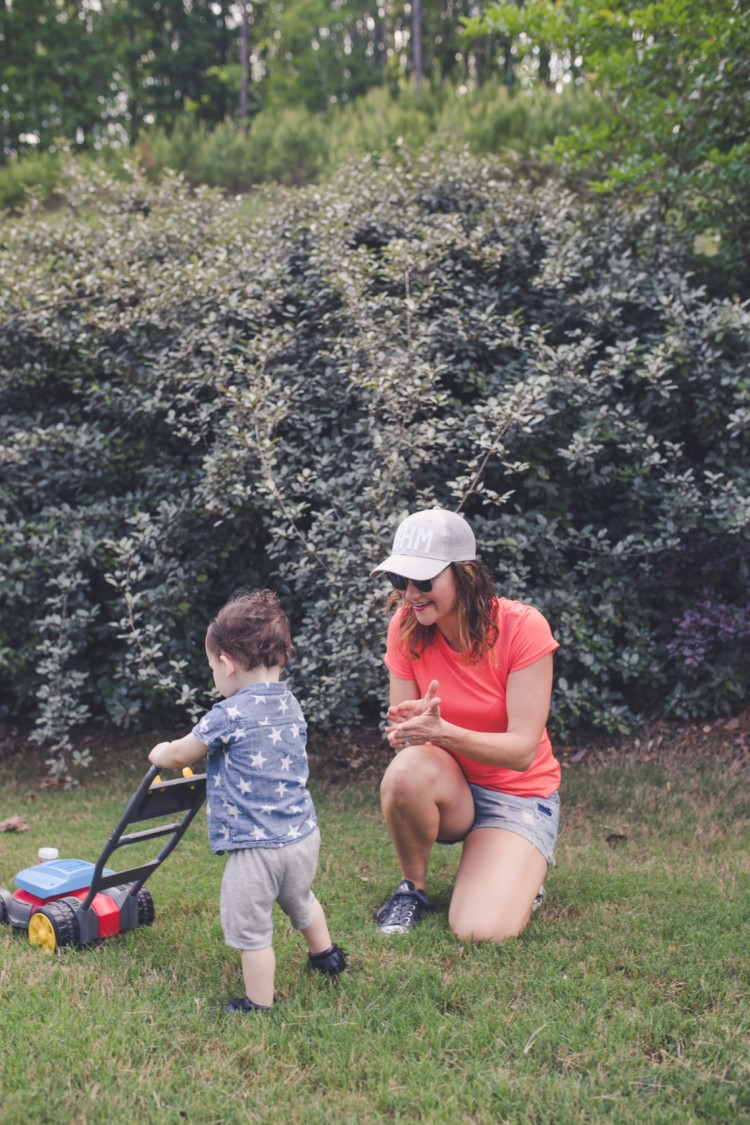 Top (c/o) // Shorts (similar) // Converse // Sunglasses // Earrings // Leyton's shorts // Leyton's shirt-old (similar) // Moccasins // Leyton's lawnmower Photos: Casey Marie Photography
Happy Friday! We are glad this week is behind us to be honest. Being sick and all this rain has had us in a funk! It's a funny time to do a sun safety post after seeing all this rain but since it's the start of summer, we'll go with it! 😉 Time to "Shake it Off" as Taylor Swift would say and look forward to a good weekend.
Friday Five: Sun Safety
The MOST important thing I want you to take away from today's post is to be AWARE of the sun this summer. Especially as a mom, I'm shocked by how much time I spend outside without even realizing it. We go for tons of walks, out to the pool and play in the yard all the time with this lawn mower, bubbles, and a toy car.Next on our list is a water table! I am obsessed with Swimzip and Shedo Lane as you may have noticed from all of Leyton and my swimwear and shirts. Shedo Lane makes an adorable gray open back shirt I throw on after Pure Barre a lot in the winter in my Instastories and Leyton is always in his Swimzip swimwear. My orange top in this post is also Shedo Lane and all their clothes are UPF 50+.I love Swimzip so much for Leyton because we really only have to put sunscreen on his face, neck, feet and hands. Everything else is covered! You can see Leyton in his Swimzip from last year and more sun safety tips here.
Speaking of sun safety, I've been trying out Coola's SPF 30 organic BB+ cream in light/medium which is water resistant and also gives me a dewy glow. It's a lighter coverage perfect to throw on before a busy summer day spent chasing toddlers around. I like it because I know I'm killing two birds with one stone: makeup + SPF. I mix in my Coola Sunless Tan Anti-Aging Face Serum with the BB+ cream to multi-task as well!
Did you see Anthropologie is having a huge sale? I'm dying over this dress that's 1/2 off!
Mac Lipstick Sale: Holy smokes! You can get 3 Mac lipsticks for $34! That's an insane deal. MAC lipsticks are INCREDIBLE in color and quality. It stays for hours, has a pretty pigment, and is available in several shades. If you've wanted to try a red, try Russian Red. It works on almost EVERY skin tone! I'd be shocked if you don't like it. I ordered Snob, Show Orchid, and the freebie was Capricious.
Baby boy curls: See those DARLING curls Leyton's rocking in the back in the picture above? Y'all, help me with what to use on them! He needs his first hair cut, so I'm going to take him to my girl Haley but in the meanwhile, what do you use on your kids' curls to help them stay tamed?
Shop the Sun Safety Post:

What are your best sun safety tips? Make sure you are using your sunscreen on the daily and grab a hat if you are going to be outside for a long time!
Heather Brown helps busy mamas of young littles who are caught in the hustle to find encouragement in their journey to true health, from the inside out, starting with the heart. Read her journey of learning to live a life well-loved
HERE!