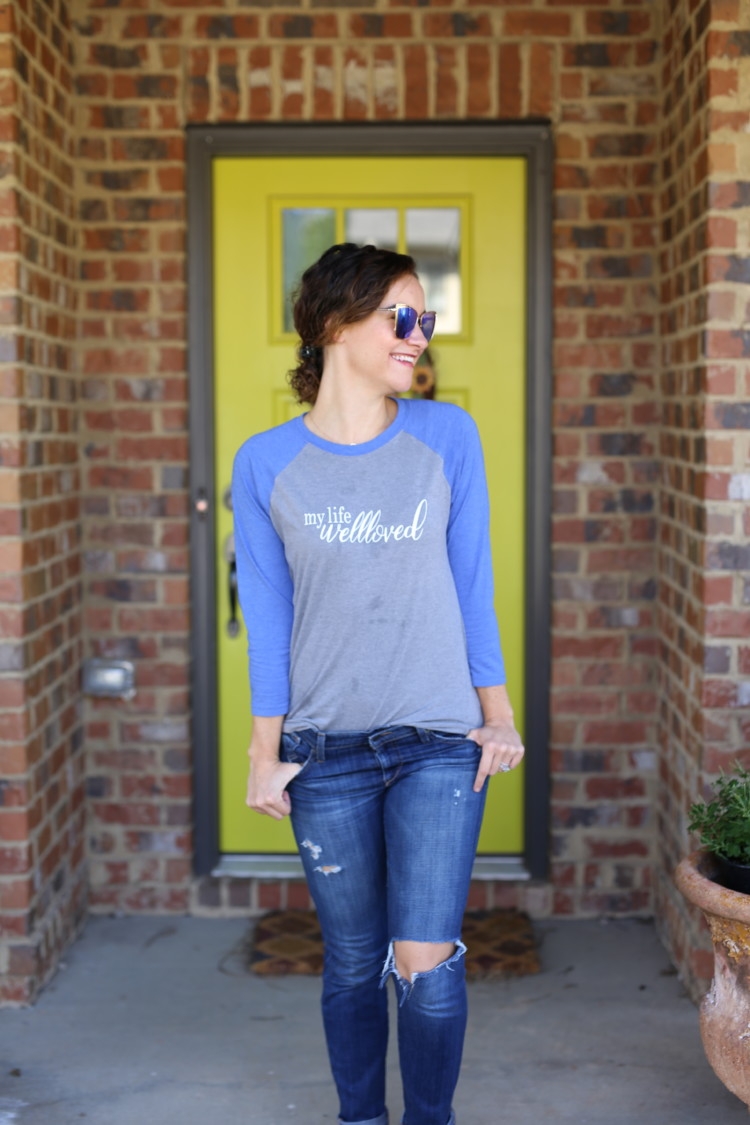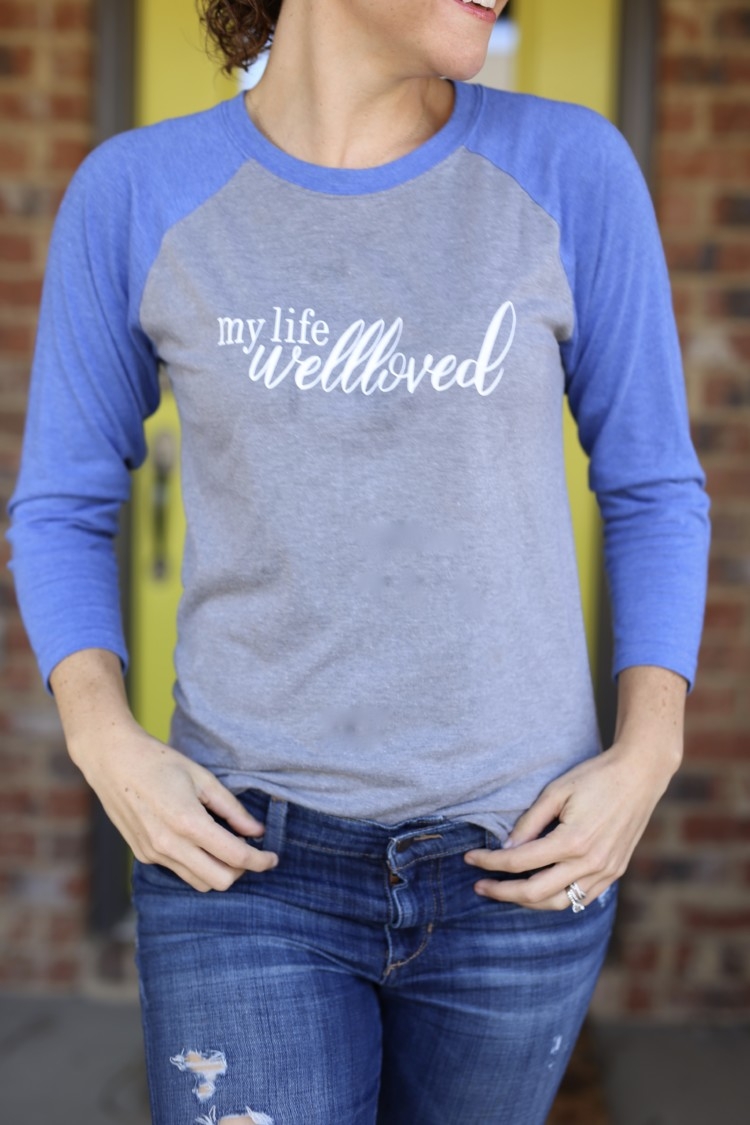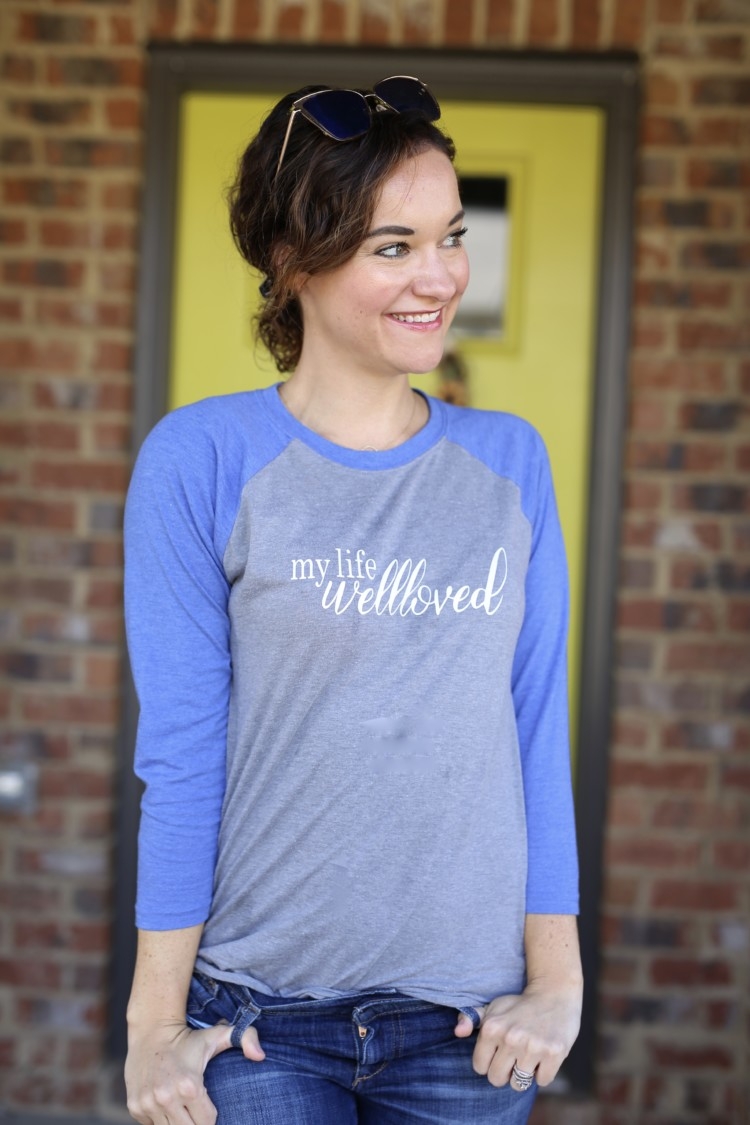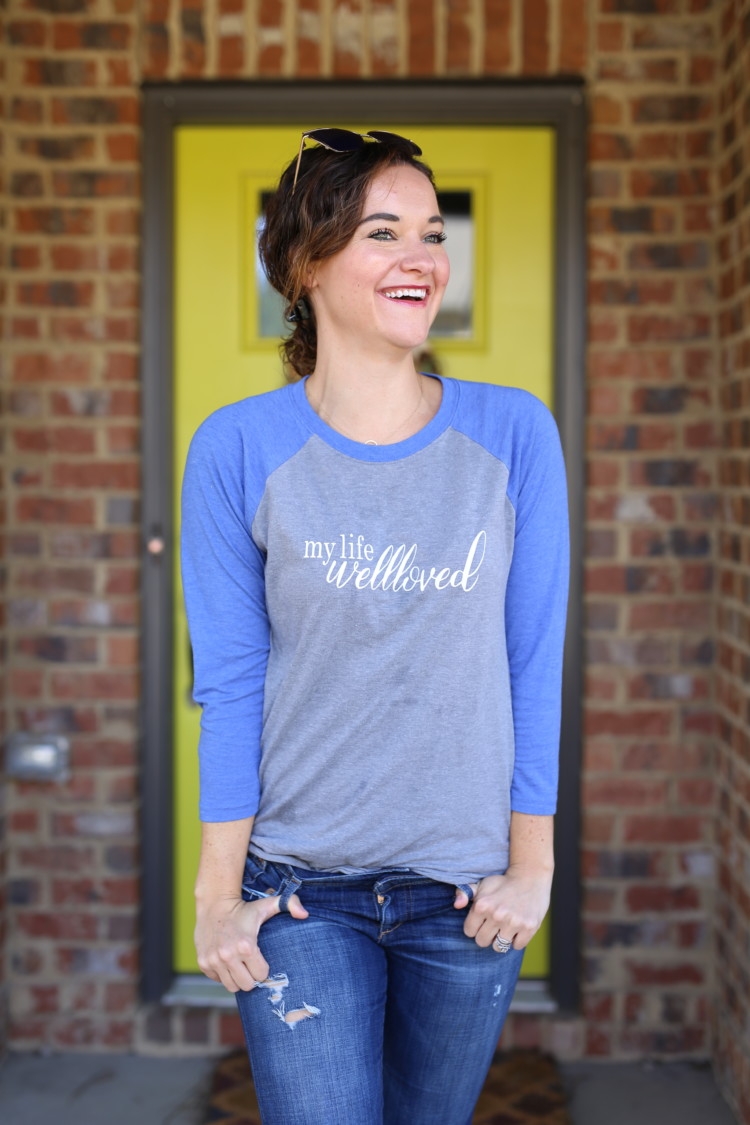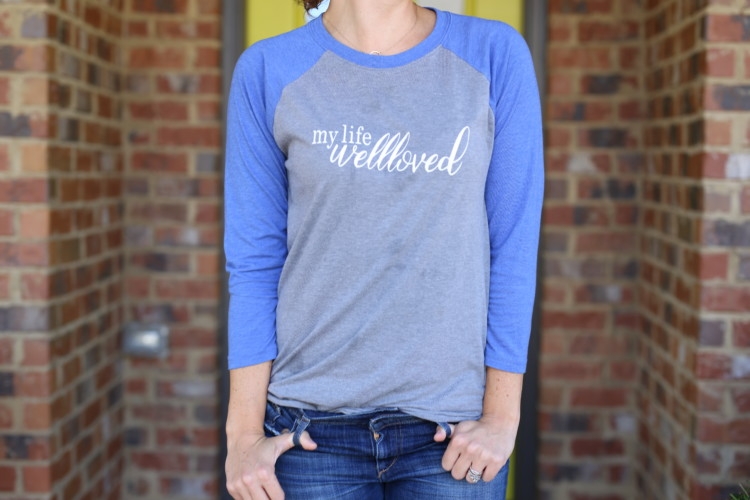 Baseball Tee: Place your pre-order with me by following the steps below! // Jeans // Sunglasses-Use code WELLLOVED for 25% off // Necklace
This t-shirt journey all started when a sweet follower of my blog, Emily, sent me this baseball tee in the mail. She sent it as a "Thank you for keeping me entertained in the carpool line." I thought it was such a sweet gesture, loved the thoughtfulness and of course, put on the baseball tee as quickly as I could. It is soft to the touch and quickly become an every day staple for me.
As soon as I put it on and shared about it on Instagram stories, I got message after message with you guys mentioning that you'd love to buy one to support me and the blog which truly touched me. In my head, I still thought well probably only 2 people really want one though…so to confirm (or so I thought), I put up an Instagram story poll asking if I sold them how many people would want to buy one. I expected only about 25% of people to say yes, that they would want one.
I am BEYOND astounded with the  response I had from you all that you wanted to buy these baseball tee's when I asked! I also asked if you wouldn't mind suggesting a charity that you would like me to give a portion of proceeds to. One message I got in particular stood out from @drivingmissdesi.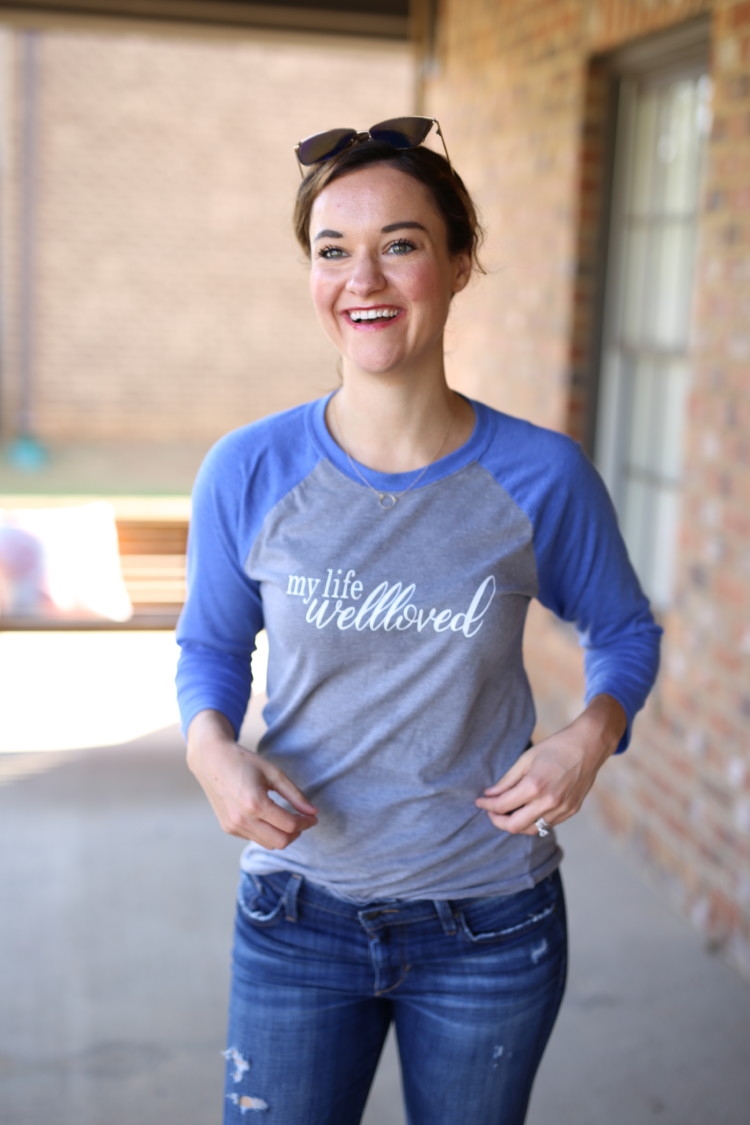 "…Looks like a super comfy shirt! No doubt they will be a hit! In your search for a charity to donate to, I would appreciate you considering the Cystic Fibrosis Foundation.
They lead the charge in funding research for a cure for Desi (her daughter who is around Leyton's age) and others living with CF. There aren't enough folks with Cystic Fibrosis so it doesn't receive government funding for research. All the medication we have for Desi has come about because of donations, which we are grateful for but we need (and want!) more. People living with CF's lives are still being cut far too short!
Happy to share more information if you have questions. War Eagle!"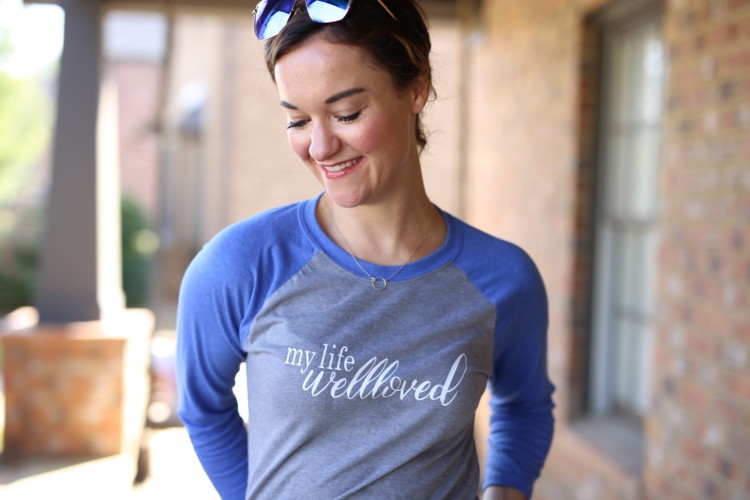 To Pre-Order Your Baseball tee & Help Us Support CF:
Paypal $28 via Friends and Family to MyLifeWellLoved@gmail.com ($25 for the t-shirt, $3 for shipping)
Include your T-shirt Size & Address in the notes section
All pre-orders are due by Sunday 10/22
I typically wear a size small and this is a small that I am wearing so it is TTS. Some people like them a bit longer/oversized so if that's you, you may want to size up. I'll be showing the fit on my Instagram stories today if you'd like to check it out. 🙂 The baseball t-shirts will be shipped at the beginning of November.
One of my incredible lovies who has CF, shared this with me to pass along to each of you:
"My name is Rachel Griffin I was diagnosed with CF (Cystic Fibrosis) at 6 weeks. I am 28 years old, I have been married to my  husband for 6 wonderful years. I own a hair and makeup business called "The Hair and Makeup Collective" here in Birmingham with my dear friend Lynsey Richardson. As a makeup artist I love to bring my clients inner beauty out and focus on building self confidence for women.
As you can see I live a very "normal" and busy life. What I haven't told you, is in the mix of my busy life, my daily routine to keep my self "healthy" makes it a bit of a struggle. I wake up every morning to do 4 breathing machine treatments, 30 minutes of a percussion vest, I take 30 pills throughout the day and before bed I do 3 more breathing treatments and 30 more minutes with the percussion vest. Most CF patients do all these treatments on a daily base and still have be hospitalized for 2 weeks (at least) every 3 months to a year for what we call a "tuned up." So, though I try to live a normal life CF gets in the way at times. I have loss many friends to this disease, watched many go through lung, liver, and kidney transplants and fight for their last breath.
All of the this being said, this is why the CF foundation is important because they work hard to bring awareness to CF, set up fundraiser, fund drug studies, and raise money for researchers to be able to work even harder to find a cure and allow CF to stand for "CURE FOUND." Thank you from the bottom of my heart for your support!"
Heather Brown helps busy mamas of young littles who are caught in the hustle to find encouragement in their journey to true health, from the inside out, starting with the heart. Read her journey of learning to live a life well-loved
HERE!