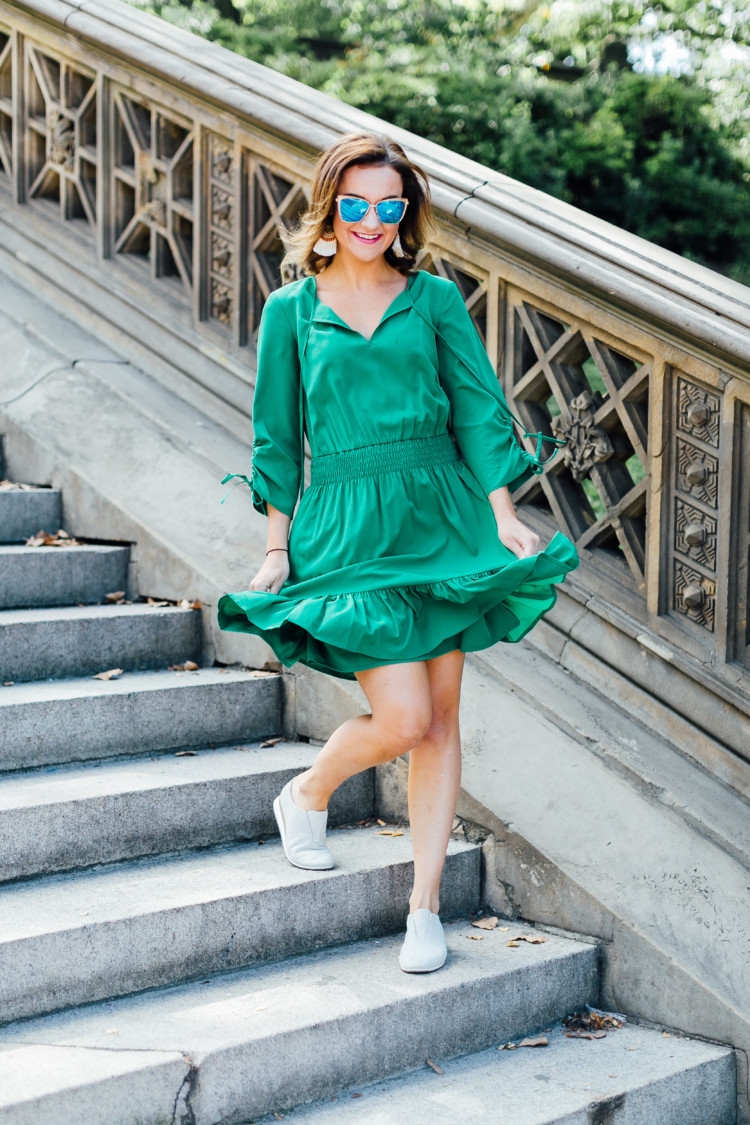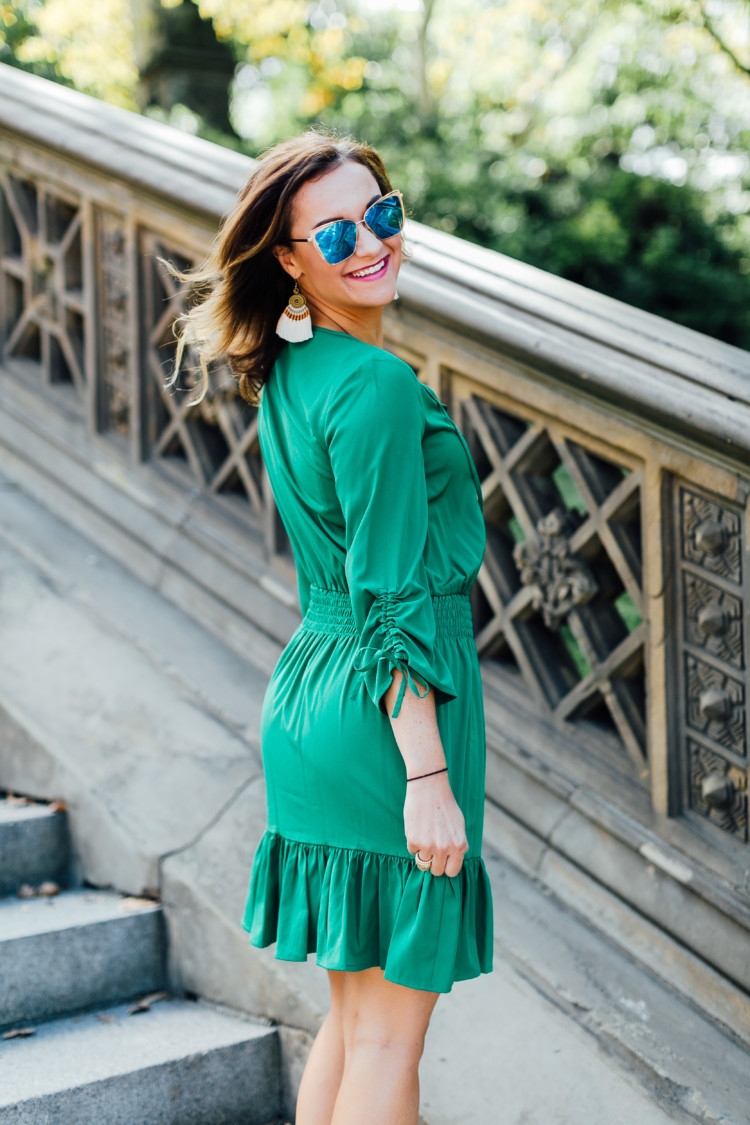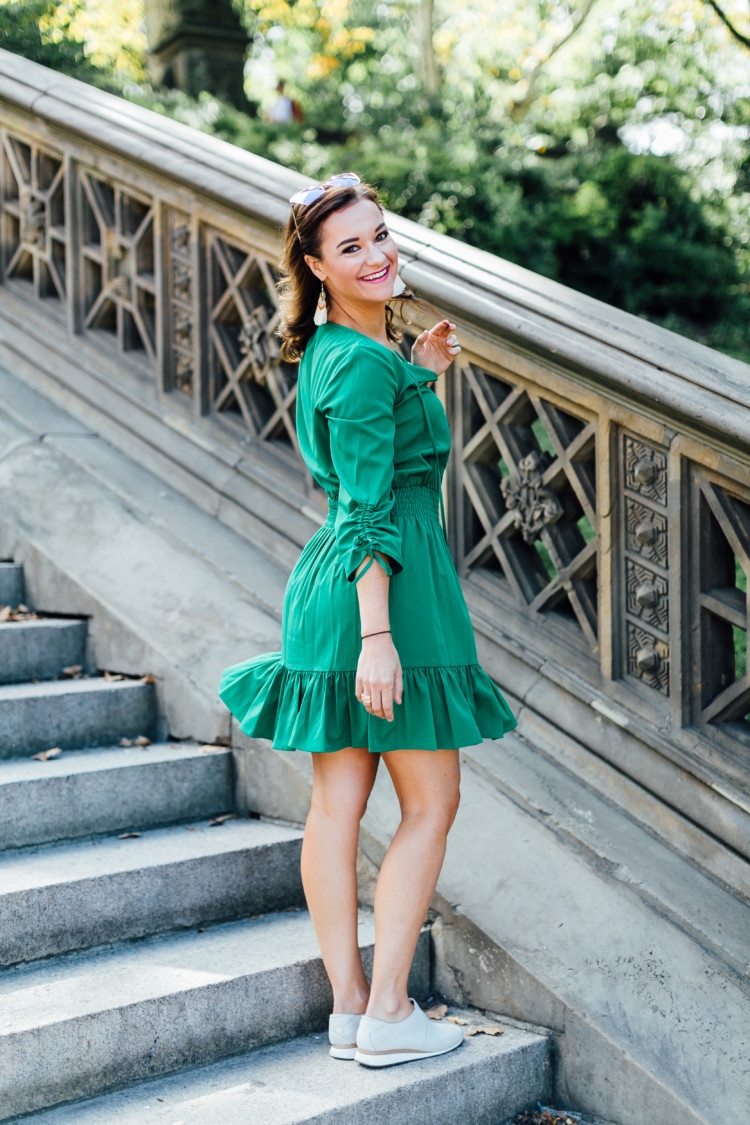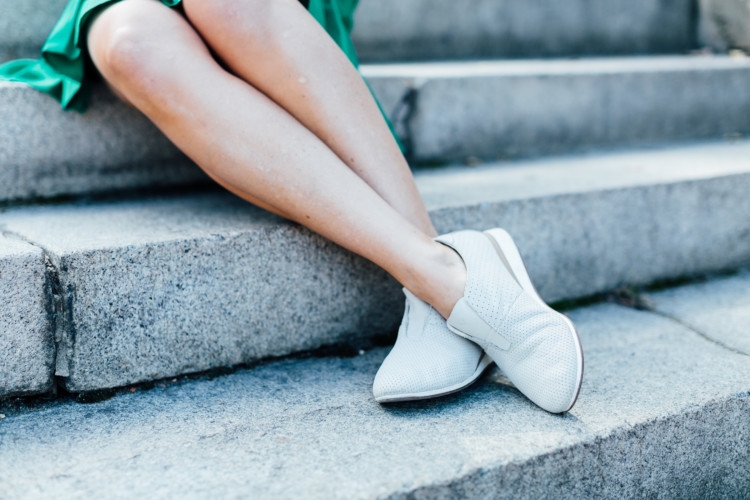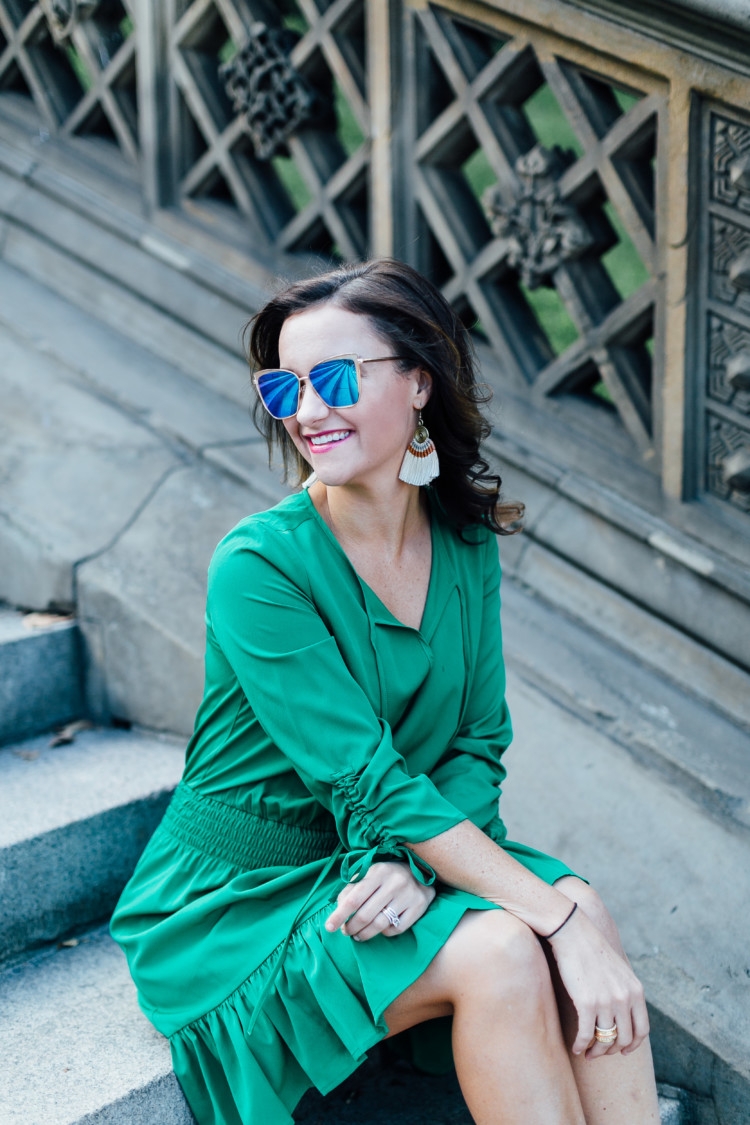 SHOP THE LOOK: Dress- On Sale! // Shoes // Earrings // Sunglasses // Ring (Affiliate Links Included)
Photos: Mary Kate Steele Photography
Y'all, I seriously felt like a mom playing dress up in Central Park taking these pics. HA! I did not know what to even do with myself getting up early each morning, putting on full hair and makeup, picking out a brand new dress and having no one else to get ready or prepare for but myself.
New York Fashion Week 2017 was my first time to go to Fashion Week and WOW, what a whirlwind it was. I was there from Thursday afternoon to Sunday morning, so it was a quick trip but felt like a game changer. I know I want to share lots about New York Fashion Week with you guys but I want to make sure I do it in an organized fashion, answer your questions, and also make it informative so that you aren't just reading a "fluff" piece. 😉 Because, let's get real, moms don't have time for that.
So, first up let's get to the most important topic…answering all your questions! The lovies have spoken and here's what you want to know.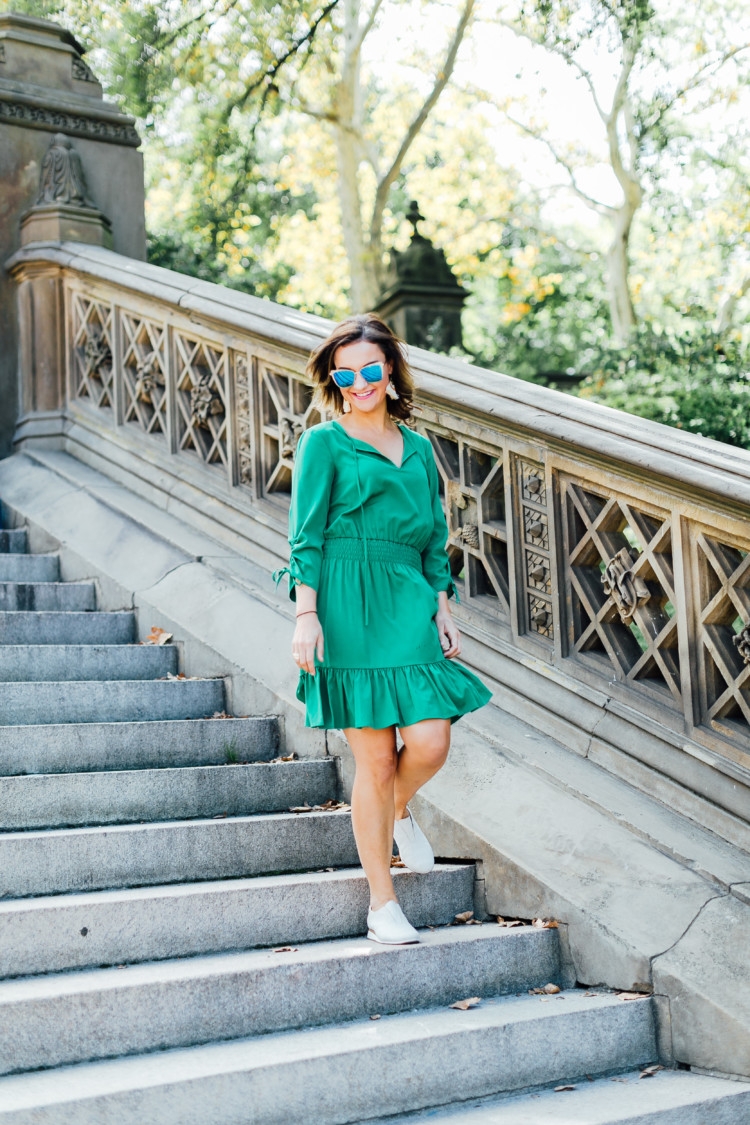 New York Fashion Week Blogger Questions:
How did you go to New York Fashion Week? Were you invited? Can anyone go? How do you be a New York Fashion Week blogger?
Girls, good news, anyone can go! I have wanted to go for a few seasons as a blogger, but wasn't ready to make the investment in the trip until I was "ready." What I mean when I say ready, because no one is ever REALLY prepared for all that chaos on their first time (ha!) is professionally ready.
Even though I've been blogging for about 8 years, this is my first year blogging full-time. I wanted to make sure I could easily justify to Eric and myself why it would make sense for me to go to New York Fashion Week as a work trip. I also wanted to be able to prove to myself that my income would more than cover the trip and that the trip had goals, a plan and reasons for going.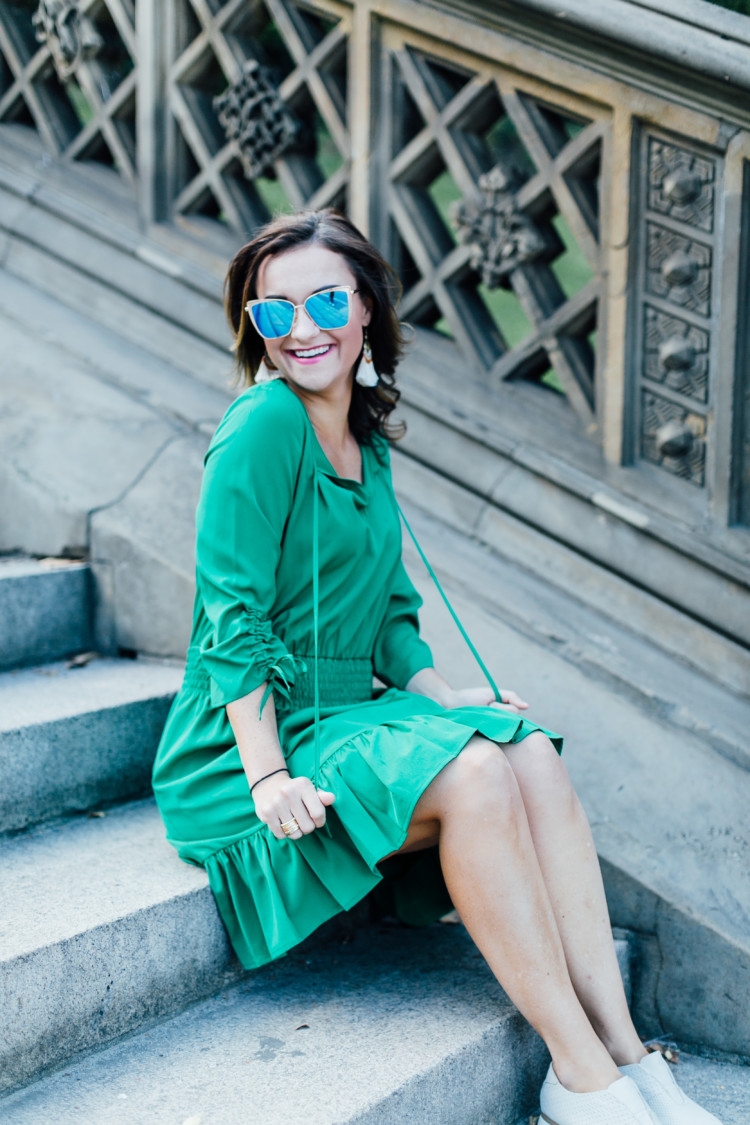 I decided I wanted to go to Fashion Week for these main reasons:
Networking: It was so nice to connect the relationships I've made online with other bloggers, PR firms and businesses in person.
The Experience: No explanation needed!
A Better Grasp of the Fashion World/PR Firms I connect with on a daily basis online. The way I view blogging and this field will never be the same. It's almost as if my mind is exploding with a million ideas.
Bloggers reach out to and pitch the shows they want to go to. My team and I sent no less than 100 emails to shows, PR agencies, brands and other services to try to get into different events, show rooms, shows, and other events.
Depending on the size of your audience, what the designer is looking for, scheduling and a number of other factors determines who gets into what. I got invited to several shows I would have loved to have gone to but most were on days that I wasn't there or even if I was there I had a schedule conflict.
Since I'm not a fashion blogger primarily, I knew going to shows wasn't going to be first on my priority list. I focus mainly on healthy lifestyle/fitness and mom life with a bit of fashion sprinkled in…(that is typically geared towards fitness or mom-friendly). So, this meant I would want to spend the majority of my time networking with brands and other bloggers I love. I only wanted to go to 1-2 fashion shows, just to experience it so I was very grateful for that opportunity.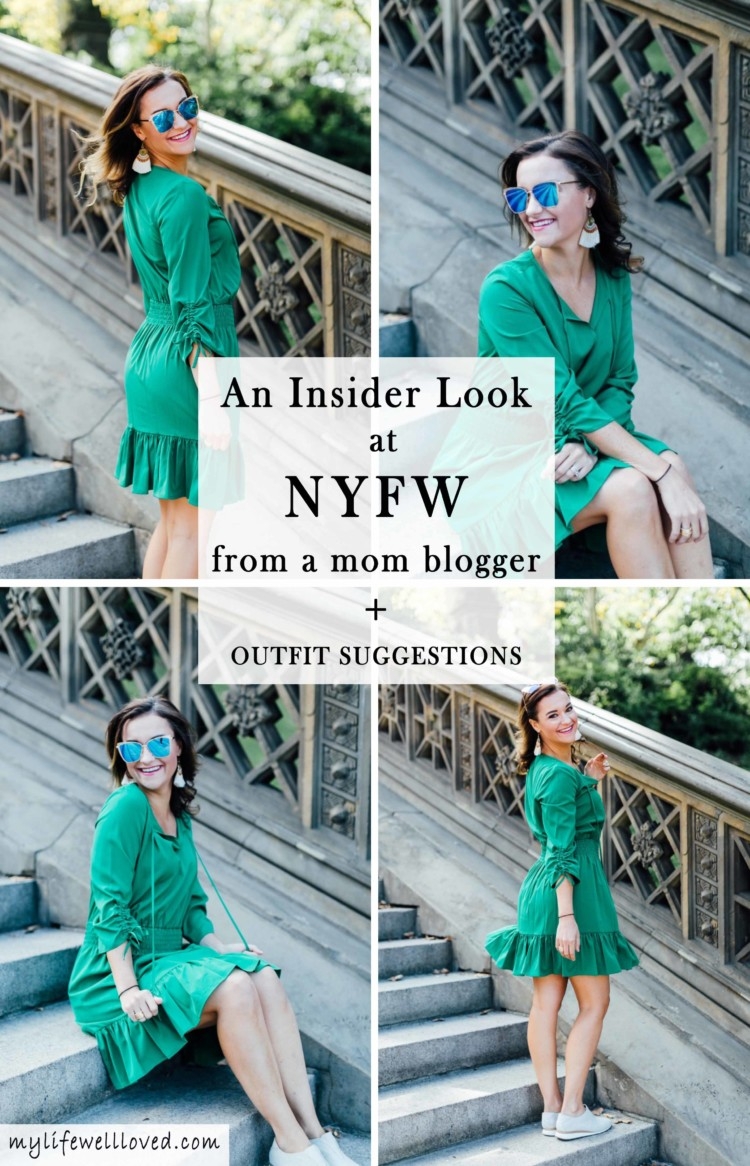 What does a day in the life of a New York Fashion Week blogger look like?
This is a little bit complicated because it's different for every blogger every day. I think it may be fun to share a day's activities for each post I do, so I'll start with Thursday in today's post. It was mainly a travel day, so here's what it looked like-
12-1 am Thursday am: Still up texting with my intern about my schedule, checking last minute emails from bed, and unable to fall asleep because I'm so nervous I'll forget something or miss my alarm.
1 am-5 am: Sleep intermittently waking up what felt like every 20 minutes to a harried thought
5 am: Alarm goes off, saint husband wakes up, gets baby ready and drives my happy booty to the airport.
11 am: Land in Dallas, meet up with some blogging friends for lunch before catching my next flight to LGA
3:40 pm- Land in LGA, rush to cab to go to first meeting at Alison Brod Communications. No, I did not have time to drop off my bags, so yes I did rush into my first meeting with my luggage, a phone that needed to be charged, same travel day outfit and hot mess express self. HA!
4:30-6 pm Meet at ABC: They were so amazing to host me and it was such a joy to meet Alyssa after working together on this Skinceuticals post a few months ago. She of course loaded me up on all the latest and greatest Skinceuticals products, introduced me to the cutest lady who represents Old Navy active-which of course-was a dream for me! Anyone remember me raving about their athletic clothes during maternity?
Then I got introduced to a fellow Samford ADPI alum who actually was an ADPI at the same time as my little sister! Such a small world. I ate champagne flavored gummy bears…yes, believe it or not it is a real thing, fawned over their modern office, and touched all the pretty Draper James garments. I now feel that it will be a struggle to go to NYC without stopping in their office. What a dream!
6:45-7:45 pm Finally get to my hotel room-Hotel Hayden (more to come on this later!), unpack, greet the roomies, quickly change into a new outfit, touch up hair and makeup and ran too late to go to a party I was invited too. 🙁
8:40 pm Rush into blogger meet up dinner with a bunch of new and old friends. Luckily I got to sit with my roomies and Bham gals Chelsea and Lindsey. We ate at Arno and I had a filling pasta dish + split dessert because I was starving at this point.
11 pm Back to hotel, review schedule for next day, lay out things needed, check in on social media and email to make sure nothing changed for the next day and head to bed.
What do you do at brand meetings?
It depends on the brand. When I went to the Eliza J showroom, they had their holiday collection out for us to browse, chatted with us about upcoming things for the brand, and had refreshments. When I went to Bloglovin' we talked about strategy for my blog and how to integrate with them more and other brands just wanted to connect after working together many times in the past. I loved the opportunity to meet with these brand contacts in person!
What lipstick colors were you wearing?
I wore lots of different colors but my go to was my Clinique Chubbystick in plushest punch and my Mac lipstick in Capricious. I would also layer them with my nude L'Oreal lipstick as well.
What bags did you travel with?
I carried my Urban Expressions clutch at night, my Michael Kors Bag during the day and my Cinda B computer bag as my carry on.

Shop the New York Fashion Week Blogger Post:
I really tried to experience New York Fashion Week in a way that made sense for me and my brand and followers. I wanted to dress like a southern girl with a little edge because I can in New York, right?! If you can't add a little flare at NYFW, where can you?!
I wore comfy shoes almost every day with the exception of parties. I wore fun dresses I love to wear when I'm at home anyway and paired them with high top glitter converse style shoes. I tried to stay true to who I am as a person and blogger and not let the chaos get to me. It was fun to experience it all but man, oh man, this momma is glad to be home to Eric and baby L!
Stay tuned for more outfit posts, hotel info and more about the whole New York Fashion Week blogger experience in the coming weeks!
Heather Brown helps busy mamas of young littles who are caught in the hustle to find encouragement in their journey to true health, from the inside out, starting with the heart. Read her journey of learning to live a life well-loved
HERE!