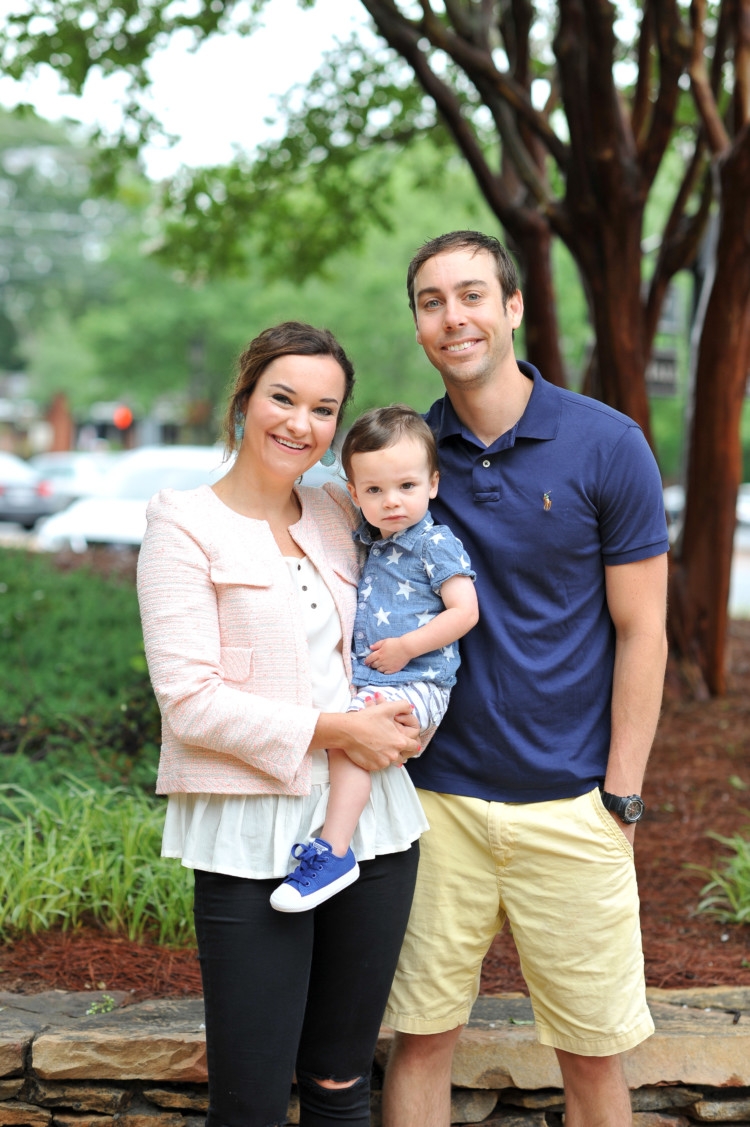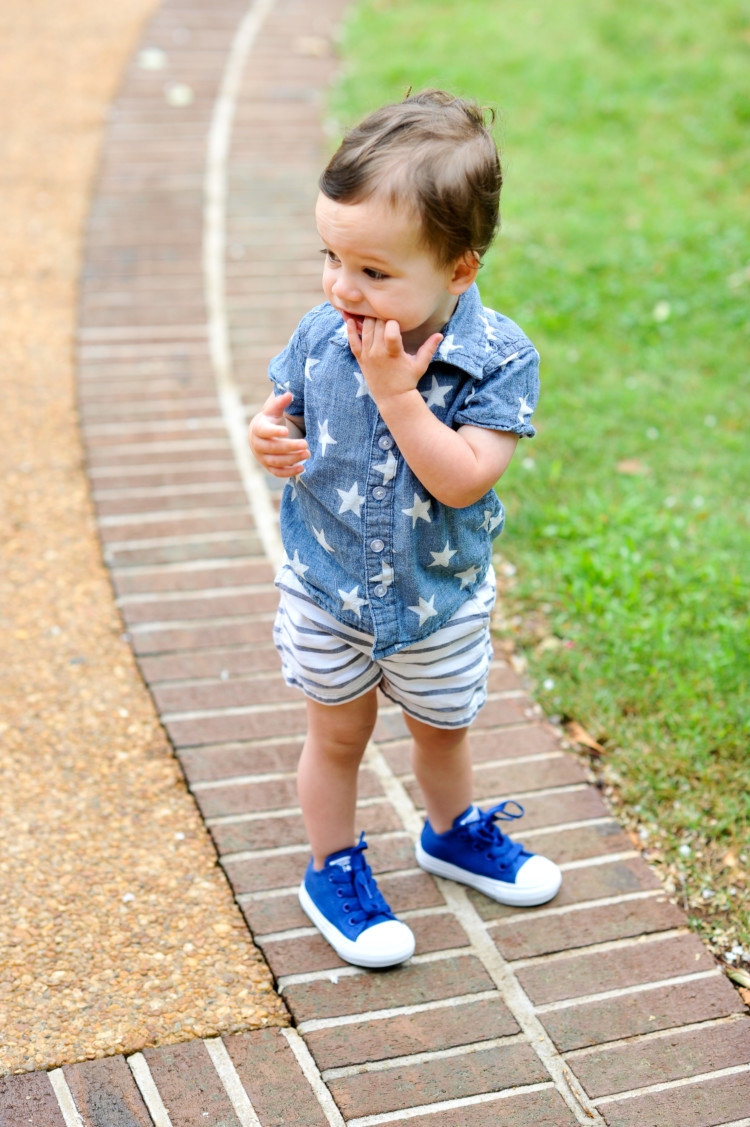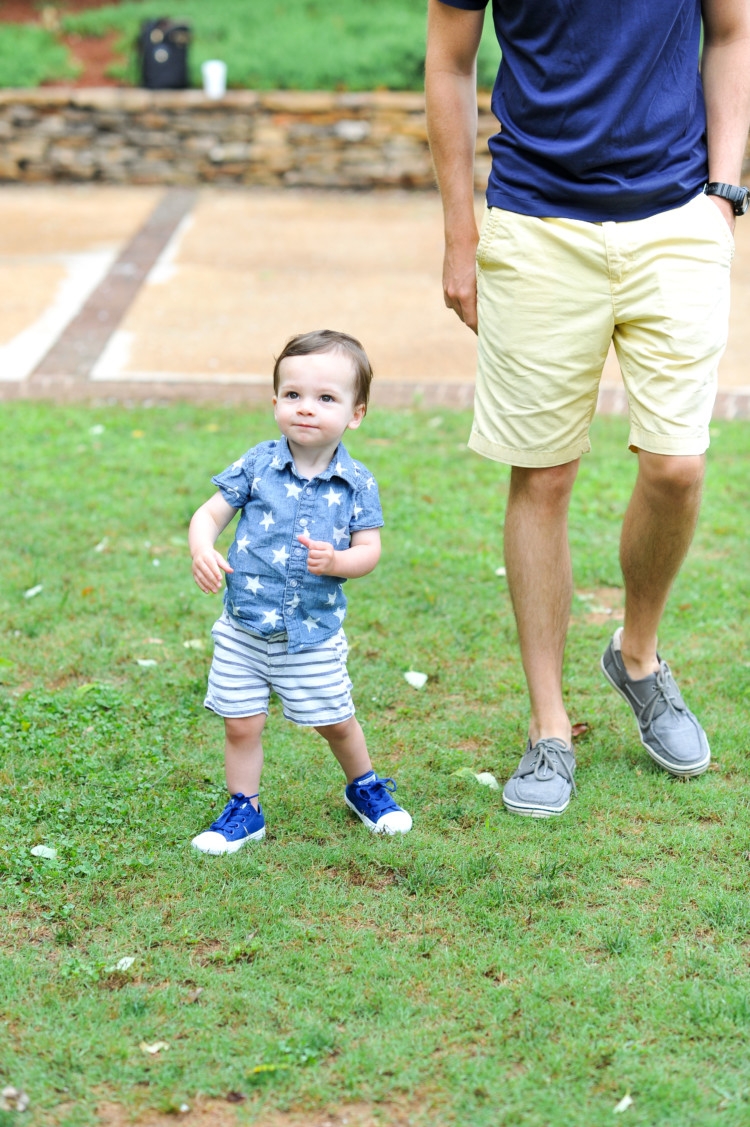 Jacket // Shirt // Pants // Earrings // Leyton's shirt-old (similar)  // Leyton's shorts-similar // Leyton's shoes (Affiliate Links)
Top Photos: JNelly Photography
Anyone else starting to notice pumpkins showing up everywhere, a drop in the temps and the fact that it is getting darker earlier in the day? Even though I'm sad to kiss summer goodbye, I'm also excited for fall! Several of you asked me for some quick and easy mom looks to help you transition from summer to fall so here's a few things I'll be wearing or have already broken out for Leyton and I.
If you live somewhere similar to Birmingham, AL you know that many times you'll wake up and leave your house while it's FREEZING and by the end of the day it will be blazing hot. I love buying clothes at the end of the season when they are on deep discount and layering them with my jackets to help me transition into fall. For instance, I'm wearing this blue and white summery tank y'all saw back in this mom and baby workout post…BUT paired with black denim and a coat, and you can't even tell how summery it is!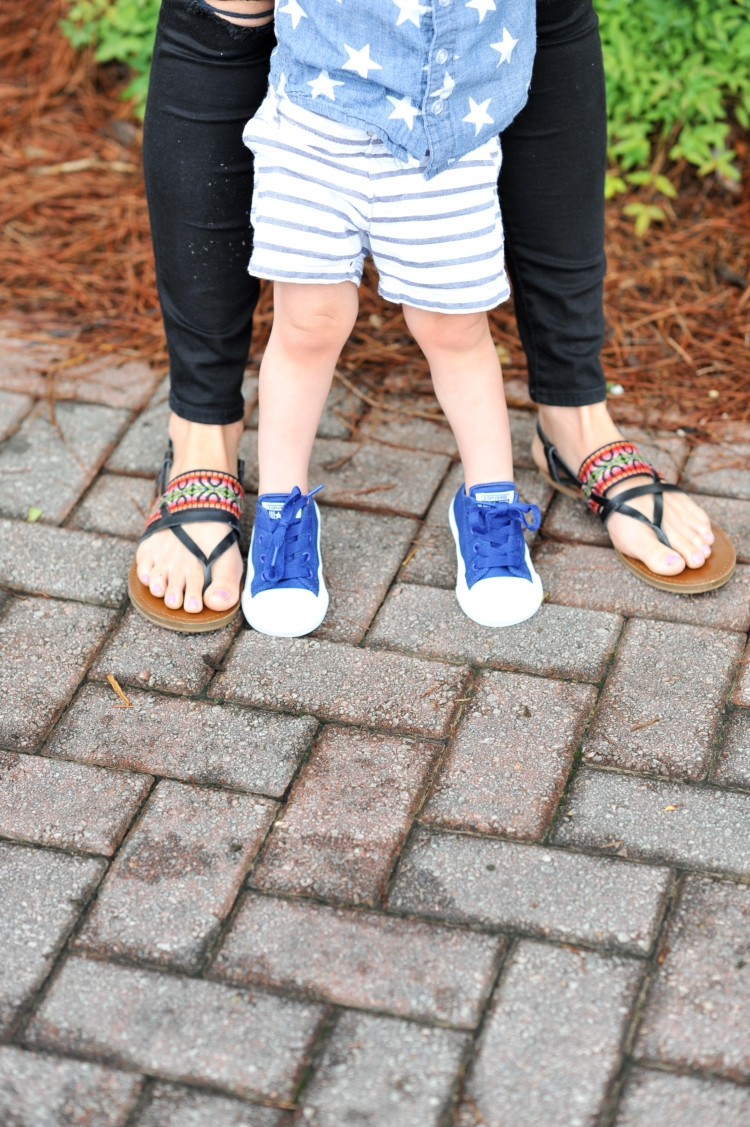 Next up, I have to rave about Easy Kicks. This amazing company sent Leyton his new pair of Converse. The cool thing about this service is that EVERY month you can get new kids' Nikes or Converse delivered to your door. When your kids outgrow the shoes every season…errr scratch that, it kinda feels like every 2 weeks, you just send them back and Easy Kicks recycles them. We all know how quickly our kids outgrow shoes so it's super nice to be able to have a new pair of cool shoes for Leyton every month that grow with him! If you haven't heard of them before, make sure to check them out.
The day we did this shoot in Atlanta, it was a little chilly in the morning, so I grabbed a blazer and tossed it on top of my outfit to make it pop and to help make it a little more weather appropriate.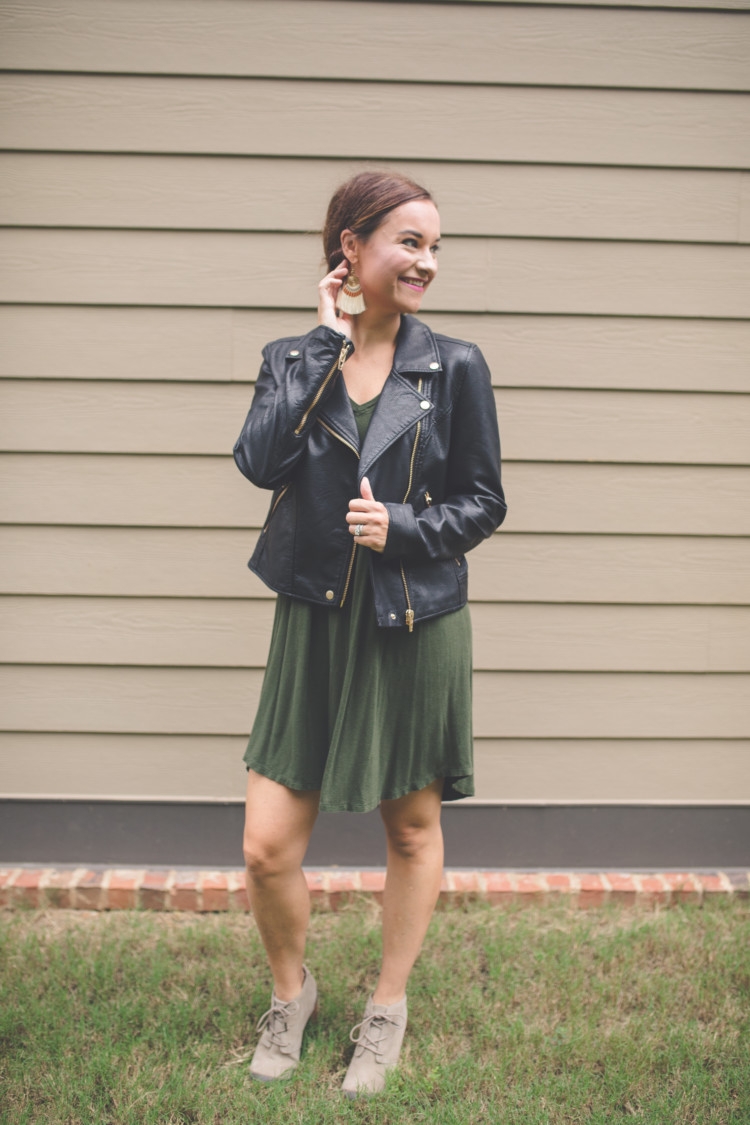 Dress // Jacket // Earrings // Shoes
I snapped up this blazer, a green army style jacket, and a faux leather jacket to help me have some layers to transition into fall with! I really like pairing my summer camis or casual dresses with booties and my leather jacket to help make it more fall friendly.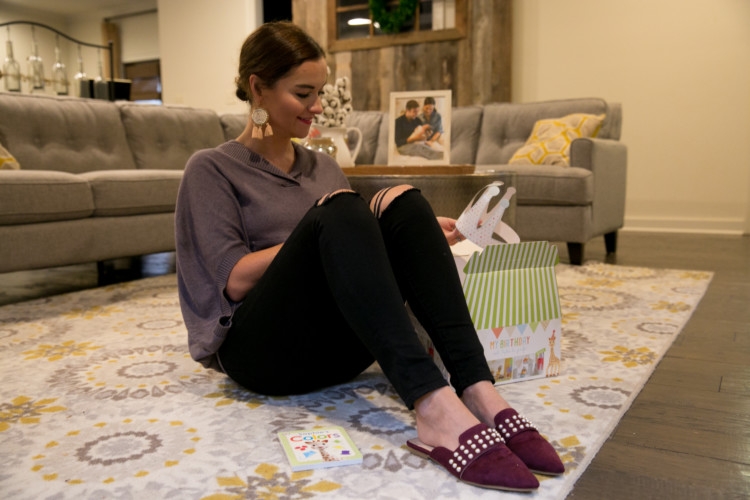 Cape Hooded Sweater-use code GHLW15 for 15% off // Pants // Shoes // Earrings
The outfit pictured above is one of my new fall favorites. The mule shoes were a steal and add a fun pop to any outfit! I decided they're not comfy enough to wear all day around NYC, but they're good for a lunch with girlfriends, church, or to quickly throw on and run to Target.
Mules are huge for fall, so get in on the trend early and snap up a fun pair. Tons of you freaked over this pair on Instagram as well and I think I may need them too. The gray color and bow detail is to die for.
The sweater is from Prana and I love it because I can easily throw it on and make a full outfit like the one above or throw it on over workout clothes and instantly look more put together!
Shop some of my favorite mom fashion finds to transition from summer to fall below: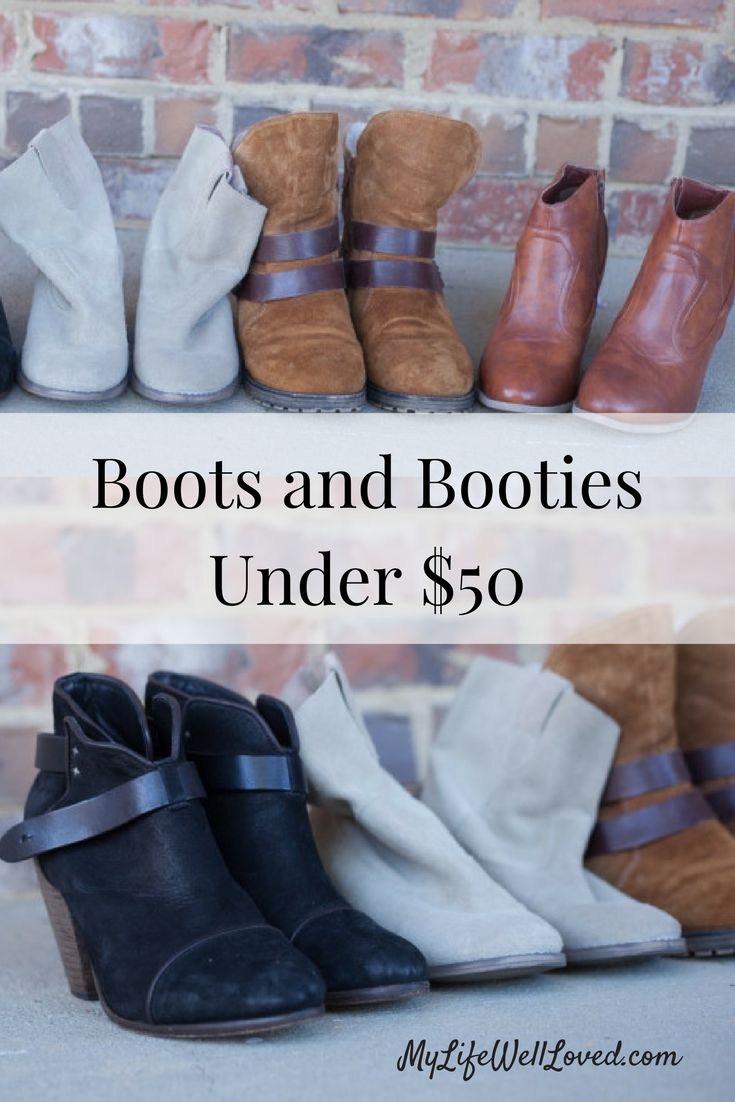 What are some of your favorite mom fashion fall transition pieces?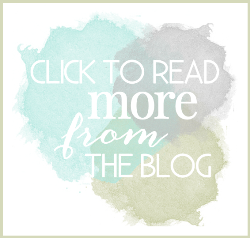 Free Pantry Staples List
Get the FREE Clean Eating Pantry Staples Printable List plus healthy living lifestyle tips from MyLifeWellLoved.com!