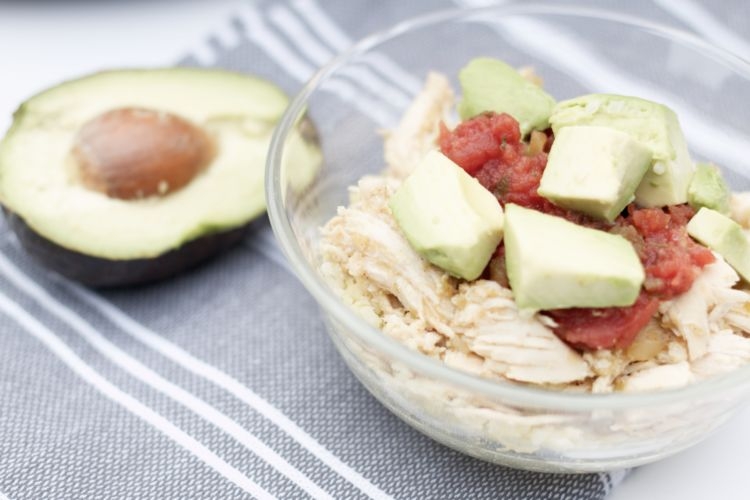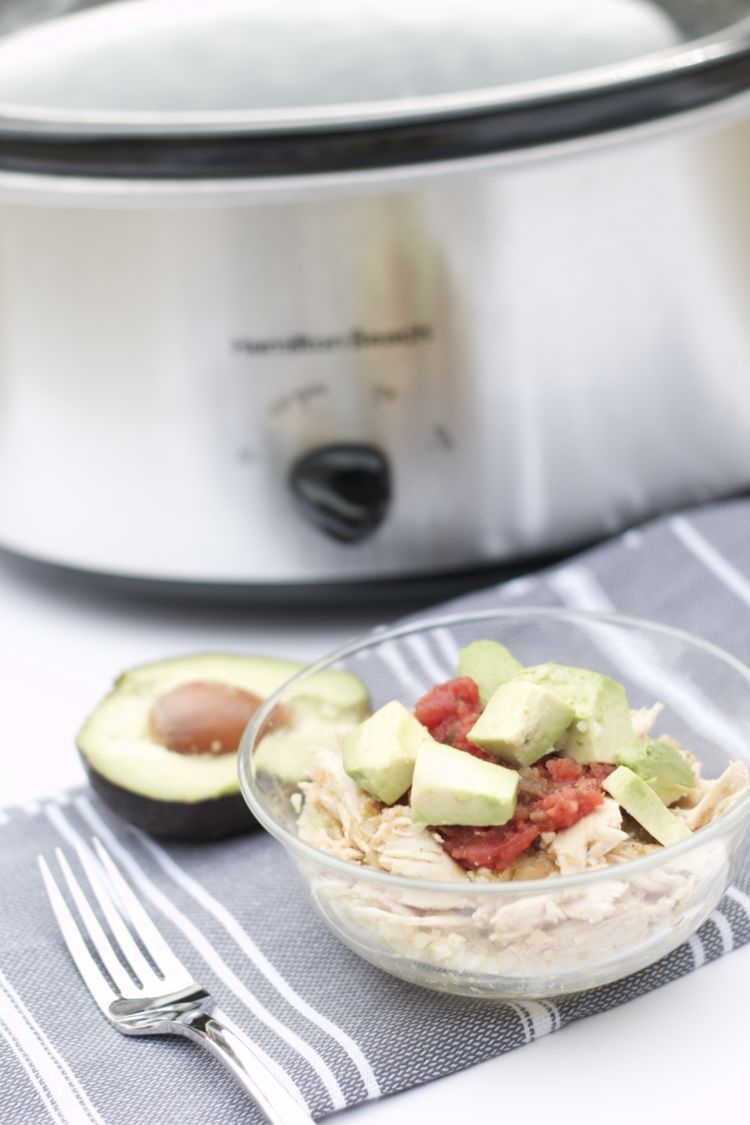 Leyton and I got home from a fun Atlanta trip not too long ago, so today's Whole30 chicken chili verde slow cooker recipe is coming to you a littler later than planned. We had a great time visiting friends and shooting some workout videos with my Whole30 partner in crime and friend Happily Hughes. We stayed at new The Omni Hotel at the Battery Atlanta and loved exploring the new area and development. If only there'd been a Braves game for me to take Leyton to!
Since my sweet intern gave me this Whole30 chicken recipe a few weeks ago and I showed it on my Instagram stories, I have gotten tons of messages asking for the it. I heard from some of you that you have made this Salsa Verde for years in the slow cooker without adding any other ingredients except for the Trader Joe's Salsa Verde. If you're new around here and haven't seen my printable Trader Joe's Whole30 shopping list, it's a great resource you can use.
We love using our slow cooker especially on our busiest days. I typically prep the slow cooker the night before mixing up all the needed ingredients and then put it in the refrigerator over night. That way in the morning, I just input the ceramic interior start it and when we come home, dinner is ready and the house smells delicious!
If you are on Whole30, you can serve this Whole30 chicken over cauliflower rice or serve it over a bed of lettuce or in a lettuce wrap as a taco meat. If not, you can of course eat it in a regular taco, with brown rice and make a taco bowl, in a burrito or whatever makes you happy.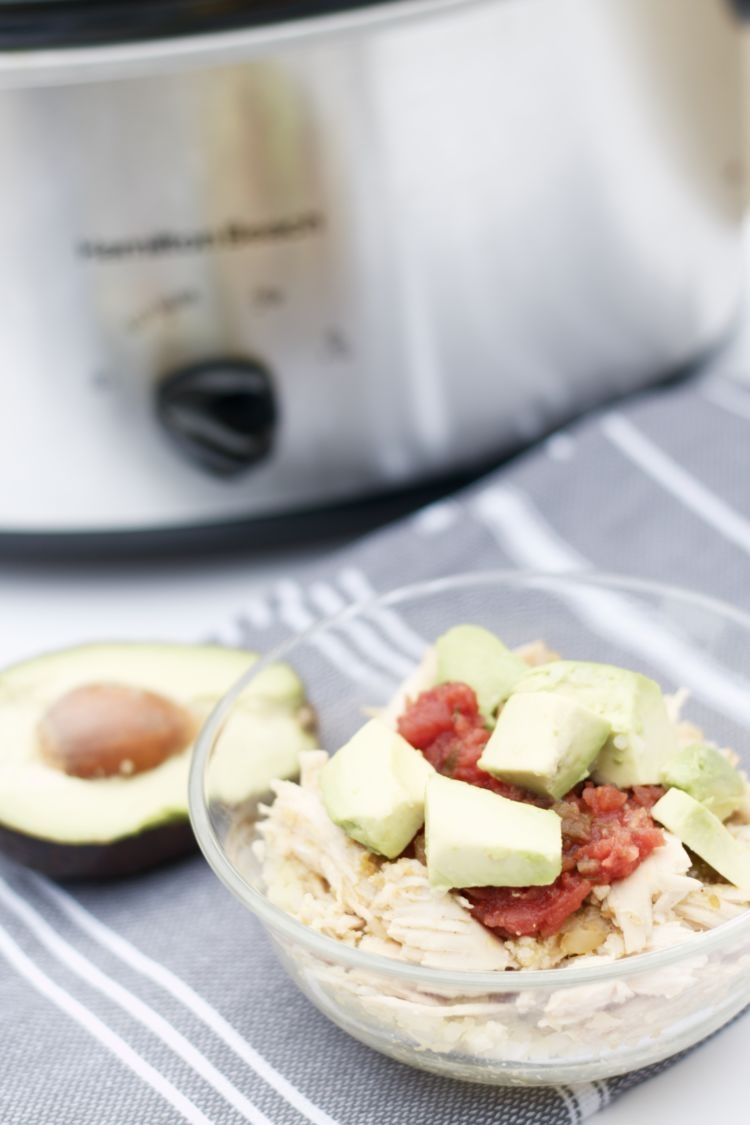 If you need more Whole30 help or want to see past posts I've done in my series with Happily Hughes & Life Lutzurious, see below and make sure to check out their content as well.
Whole30 Chicken Chili Verde Recipe:
Whole30 Chicken Chili Verde
Ingredients
1-2 lbs chicken
12 oz jar salsa verde
4 oz can green chilis
½ tsp cumin
½ tsp oregano
sea salt & pepper
Cilantro, lime, avocado for serving
cauliflower rice for serving
Instructions
Place chicken in slow cooker.
In a small bowl, combine salsa, chiles, cumin, oregano, salt and pepper.
Pour over chicken & cook on low for 4-6 hours.
Shred chicken.
Serve over cauliflower rice and top with desired garnishes.
Stats Per Serving:
– Calories / Serving : 2414 / 4 = 603.5
– Fat / Serving : 100g / 4 = 25
– Carbs / Serving : 253g / 4 = 63.25
– Protein / Serving : 163g / 4 = 40.75
– Fiber / Serving : 17g / 4 = 4.25
– Sugar / Serving : 26g / 4 = 6.5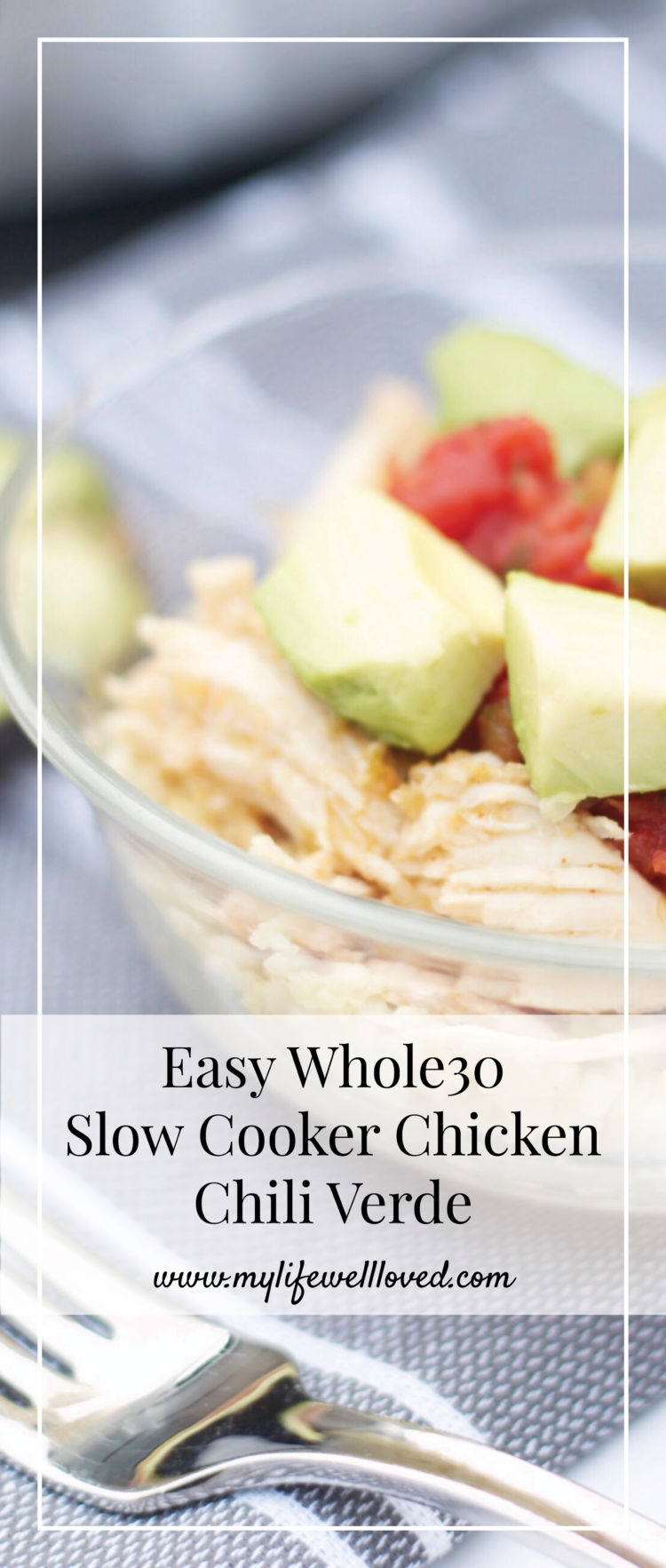 SHOP Whole30 Chicken Chili Verde Recipe Post HERE: