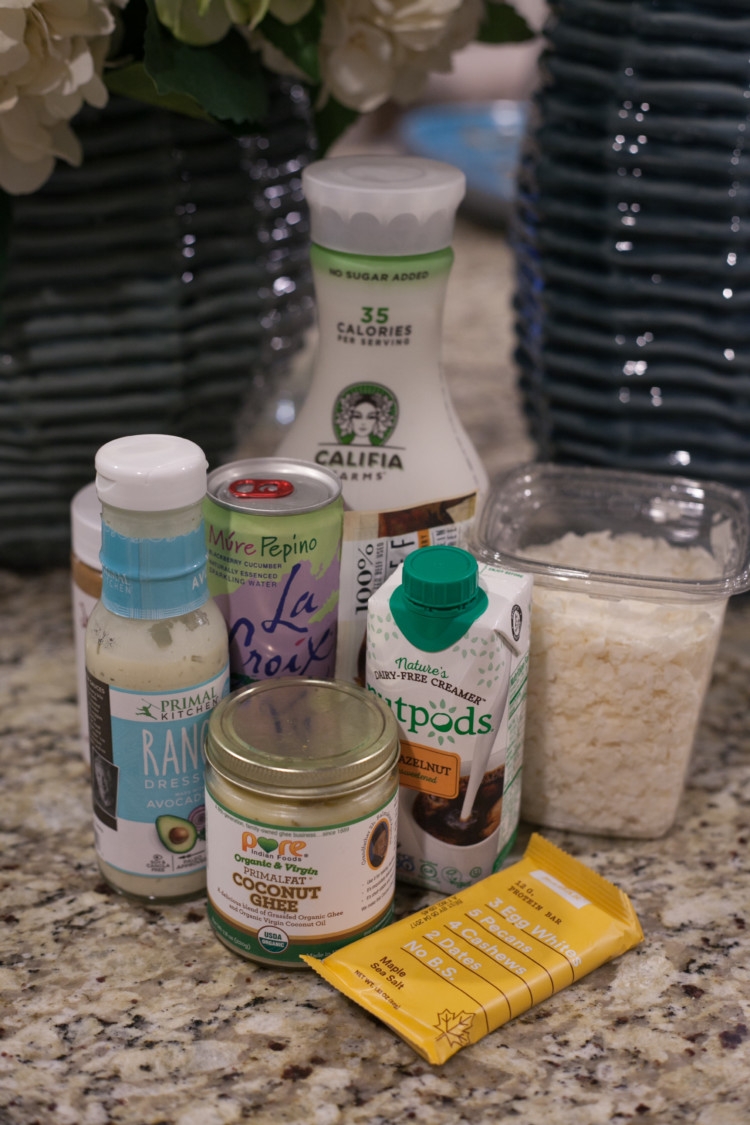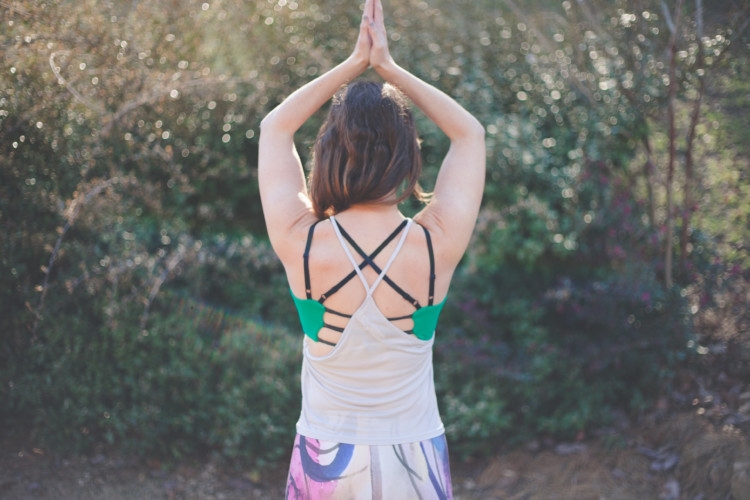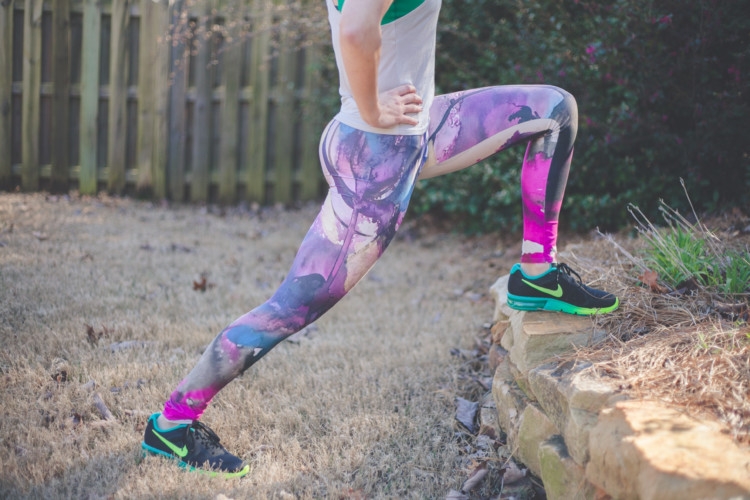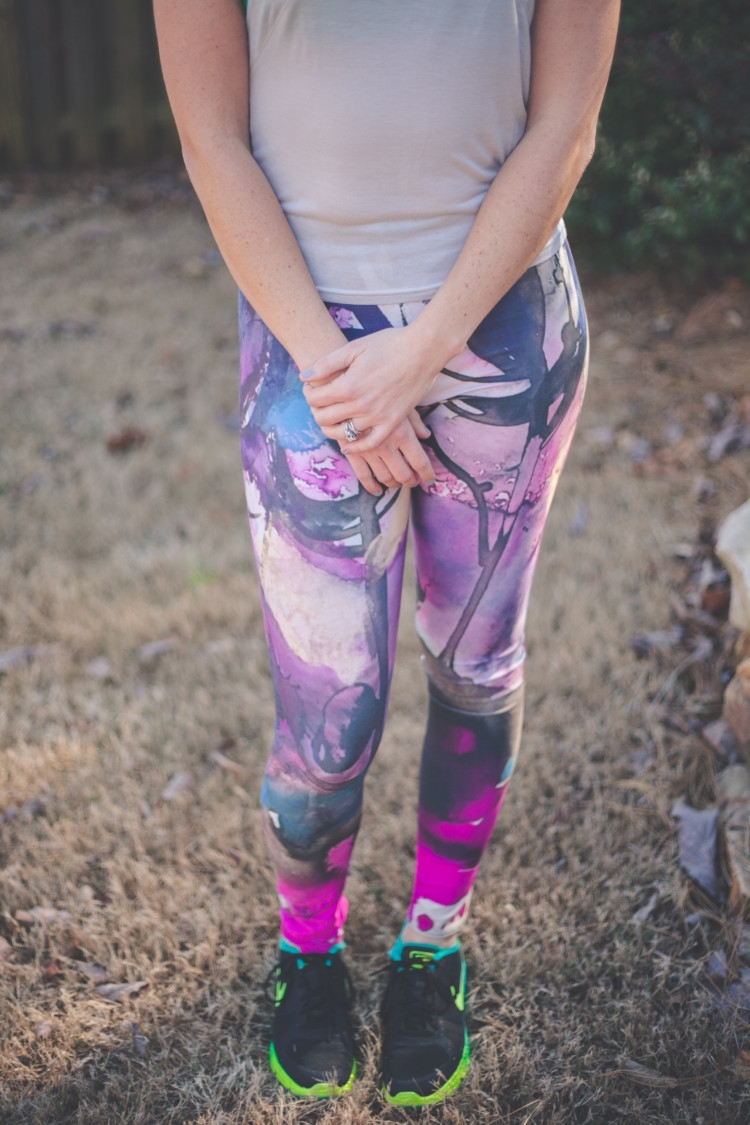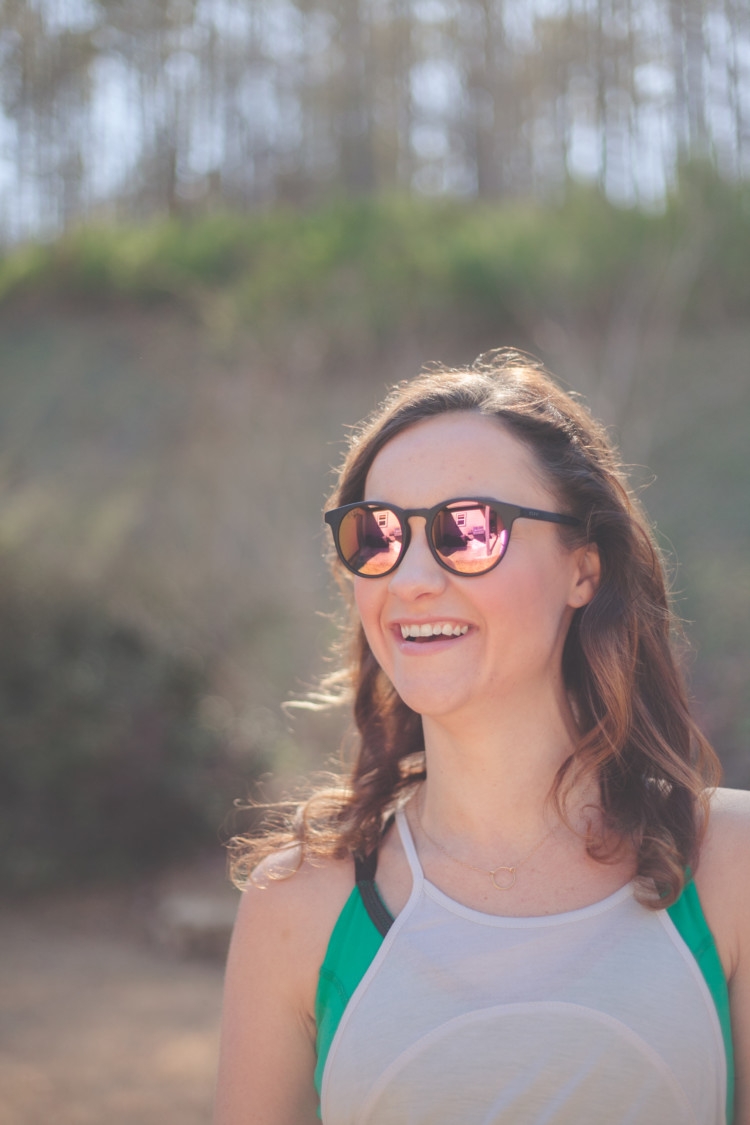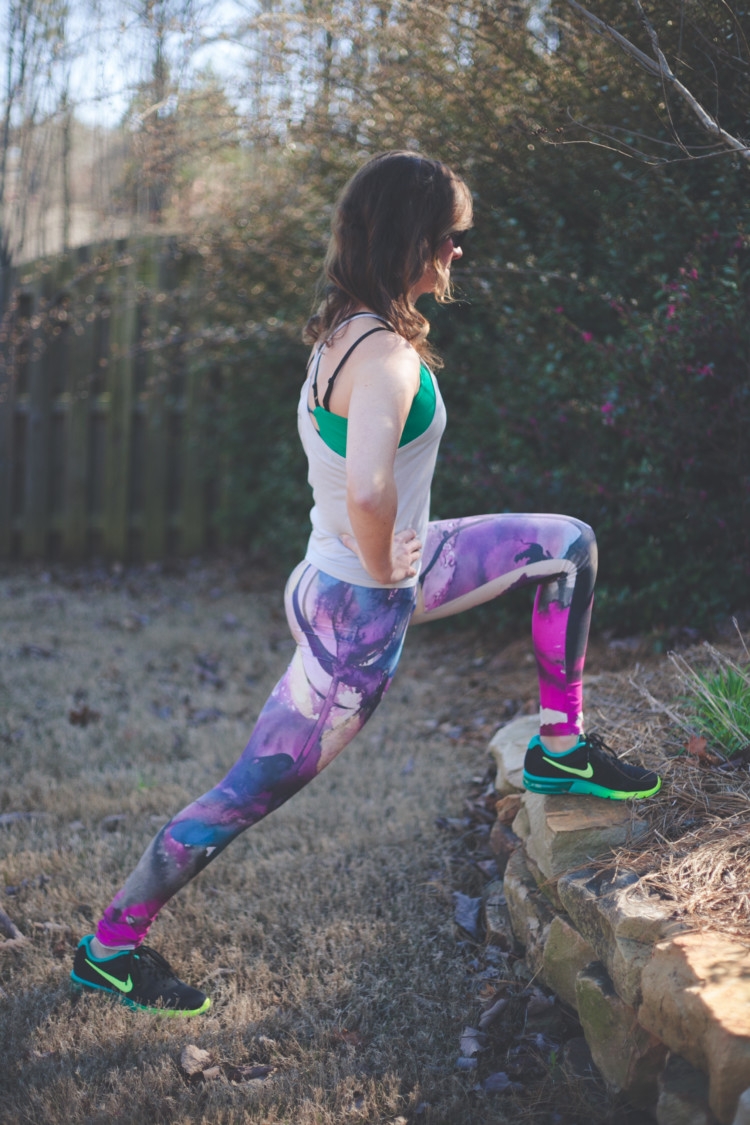 Tank // Sports Bra // Pants // Tennis Shoes //Sunglasses // No Show Socks
Hey y'all! This post has been so popular, I wanted to take some time to update it for you as part of my 30 day abs challenge post today. I've also been getting lots of messages and emails asking about Whole30 tips recently. You can read this basic post on how to get started on Whole30 if this is an all new concept to you!
If you are new to My Life Well Loved, AWESOME, grab your bulletproof coffee and let's chat Whole30, shall we? Don't worry, we'll get to the Whole30 must haves soon enough!
I am ecstatic to have you in my online "home." Feel free to browse around the site for all things health, fitness, fashion, mom and lifestyle related.
Lindsey from Life Lutzurious and I decided to do Whole30 together and with y'all in January. We filmed a Facebook Live (click to see replay) to answer questions, provide Whole30 tips, and get the Whole30 party started. Lindsey wrote a super comprehensive list about whole30 complete with a printable shopping list I'd highly recommend you use to help you get used to how to shop for Whole30.
Make sure you join the Life Well Loved Facebook Group, where you can find Whole30 tips, recipes, & ideas. It's an awesome community to share successes, vent, and inspire each other everyday. Feel free to post your recipe ideas, questions, or really anything fashion, style, mom, fitness, travel, etc related.
Lastly, make sure you stay in touch via Instagram, Pinterest (ESPECIALLY my Whole30 boards), Facebook, and most importantly email, so I can get to know you better and help hold you accountable to living your best life well loved in fitness and health! <3
---
Since I'm well over half way done with my 3rd Whole30, I've accumulated a few favorites to help me survive as easily as possible as a busy mom on the go. These products are my whole30 must have's to help me get from home to work to the gym to the babysitter's and back again without breaking from my whole30 foods and snacks.
The absolute biggest pitfall you can find yourself in during Whole30 is not being prepared. Today was a perfect example of that for me. I ran out to get gas in my car, go to the grocery, Verizon, and then Home Goods. By the time I was in the Home Goods checkout line, I was having a full blown hanger attack.
I was SO tempted to buy something in the checkout line but talked myself off the ledge with the promise of my Consider It Joy Baking Paleo Chili as soon as I got home. Normally I keep RX bars in my computer bag or purse with me at all times but I had just eaten the last one in my purse. #Fail
These products would be my Whole30 staples list without question. Although the below list doesn't include the obvious options of fruits, veggies and meat…duh! These are the products you can use to add more flavor or snack on to help you keep your busy day running smoothly. These are my ride or die for being a busy mom on the go!
FYI you're not supposed to snack very much on Whole30 unless you are breastfeeding or working out, but clearly I do work out several times a week as a Pure Barre teacher so snacks are a MUST to fuel my body. I'd love to hear what your whole30 must haves are in the comments below so don't forget to let me know if I'm missing something!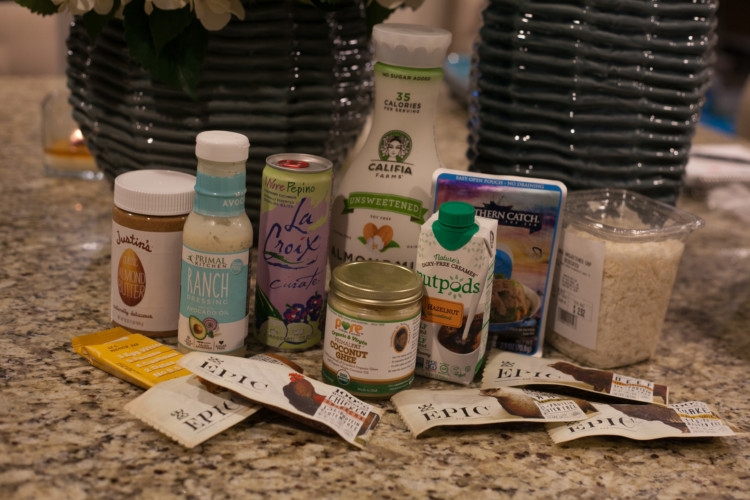 Busy Mom Whole 30 Must Haves
Whole30 Book & Resources: If you need to learn what the Whole30 is all about or don't know where to start I'd highly recommend reading the Whole30 book. It will tell you everything you need to know. If all else fails, you can Google "Is XYZ Whole30 compliant?" and most likely someone has asked it in the Whole30 forums and you can find your answer.-Having a friend online or in person to go through it with you is a GREAT help.Mark favorite recipes and tips to a Pinterest board to be a resource when you need something to kick up your interest level a bit! I'd highly recommend this White Chicken Chili, Burger Sliders on Sweet Potato Buns or reading some of my weekly meal plans to get some new inspo.
Nut Pods: This coffee creamer was new to me on this round of Whole30. My favorite is the vanilla. Don't expect it to taste like your classic vanilla creamer but it sure as heck beats black coffee in my book! I almost always take a cup of coffee to go with me in the mornings with a splash of this in it. Delish!
Vital Proteins Collagen Creamer: Another option for your coffee creamer! Here's what their website has to say about it: Collagen's amino acid spectrum provides the building blocks for hair, skin, nails, bones, joints, and other connective tissues + it provides an added boost of protein.
Ranch Dressing: If you love a creamy salad dressing, do yourself a favor and just go ahead and stock up on this before you get started! The Primal Kitchen brand tastes so good and creamy. I'd say along with this dressing, I almost always have prepared salad and avocados with me as well. Sometimes that's my lunch meal right there…this dressing, avocado slices, and some lettuce.
Tuna: One other thing I commonly add to said salad is a pouch of compliant tuna! I've found it at Aldi for under $.80! It's affordable and can easily be toted with you wherever you end up eating lunch that day.
Califia Farms Almond Milk: In case you don't want to pay the high price for Nut Pods, Califia Farms is always a back up option, plus it's readily accessible at Target, Publix, and many stores.
Ghee: Ghee is a type of clarified butter. Say what? I know, right??? I had to look it up too. It means butter that has had the milk fat rendered in order to separate the milk solids and the water from the butter fat. The butter fat, with the removed milk solids and water, is ghee. Since ghee has the milk solids removed, it is dairy free and therefore Whole30 A-OK. We use it a lot to sautee veggies or to cook our eggs in.
La Croix: La Croix was an acquired taste for me. I really had to train myself to like it, but now that I've found the blackberry cucumber, our whole family is a fan! I also like most of the multiple flavor kinds now and the coconut. It's worth it when you're wanting something fizzy if it keeps you away from your soda, trust me!
Unsweetened Coconut Flakes: This is another new staple in my Whole30 arsenal after this round. One of my favorite snacks right now is either apple slices or blueberries with almond butter and coconut flakes. Sometimes, I'll even eat the coconut flakes plain or on a spoon with the almond butter!
Almond Butter: Almond butter is my jam during whole30 and I think it tastes good enough to eat any time. I think the Justin's brand is the best I've had so far…it's the creamiest but by all means if you know of another one let me know! Just make sure you check the jar to make sure there's no sugar added. Whenever you see this on sale at Publix, stock up! Those of you that follow me on Instagram stories know I bought 2 jars last week.
Epic Bars: These hit the spot when you want some beef jerky or honestly when you're in a hurry and just need something convenient to tote with you. The hubs doesn't love these but I think when I eat them I'm usually so hungry that I'm all about them. Now, I don't know that I'd choose them over jerky after whole30, but who knows…stranger things have happened!
RX Bar: If you've heard me say I love RX Bars once, you've heard me say it a million times. These are all natural protein bars that have all-natural ingredients, no added sugar, no preservatives and "NO B.S." as their tagline says. 😉
Raw Cashews or Almonds: So great for throwing in my gym bag or grabbing out of the cupboard when I'm hangry. I love nuts especially as a quick protein before or after a workout.
In case you missed how I prepped for Whole 30, Week 1, or Week 2 make sure to catch up!
And, if y'all haven't joined the Life Well Loved Facebook group yet, make sure to do so HERE! It's a great place to connect with other women/moms and give each other accountability for whole30 or even just shoot the breeze about what to wear. It's all in there, although right now the major focus is whole30…any conversation is welcome!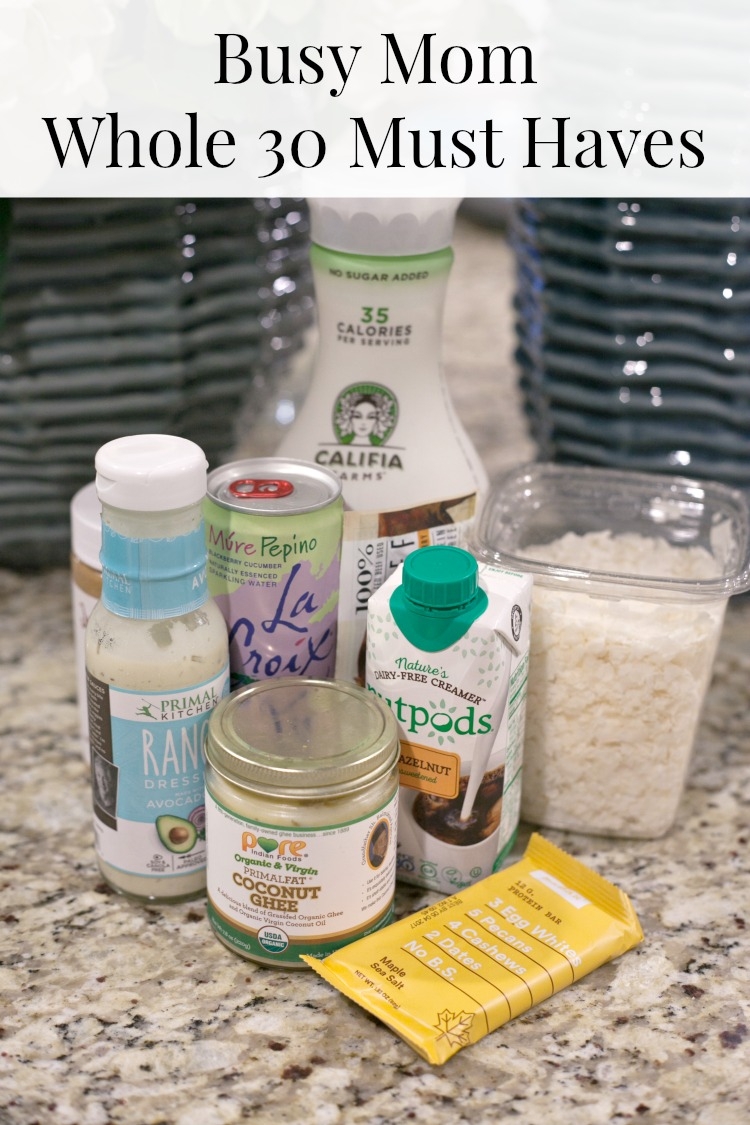 Make sure to visit my co-hosts for the 30 Day Abs Challenge series below to see how the abs challenge is going for them!
Photos: Casey Marie Photography