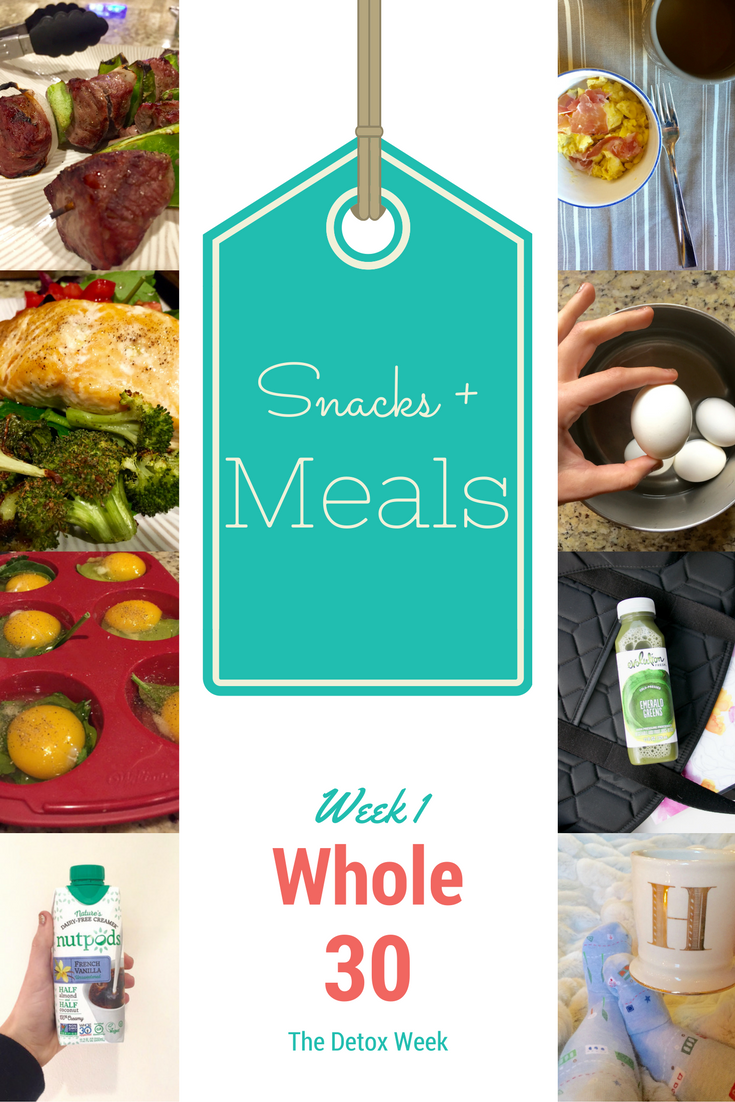 In case you've missed my incessant posting about Whole30 on my Instagram, Facebook group, or last week's post about how to prep for Whole 30; we just finished our whole30 week1! Woohoo!!! Big high fives for everyone. To celebrate, the hubs and I did a Facebook live Sunday night. If you missed it, don't worry, you can watch the replay here! I'll be on FB live with you guys every Sunday this month to help you get ready for your meal plan and snacks and such for the week. I hope to see you there!
I've loved hearing from lots of you in the Facebook group about what recipes you are loving, new ideas for healthy eating and hearing those of you who aren't even doing Whole30 are still loving the group for healthy new recipe ideas. I thought I'd share my meals for week 1 and how it's going so far for Eric and I.
I'm not going to lie to you, it started off rough. By the end of the first day, I had a headache. I almost canceled going to our friends' house to watch the Auburn bowl game and The Bachelor, because the headache couldn't be calmed by Tylenol and I started to feel slightly dizzy. It was really weird. The next morning I woke up feeling better but by afternoon the pesky headache had returned. But, after that day, I've felt much better, although I'm breaking out.
Compared to Eric though, I feel like my symptoms were a walk in the park. Eric said he felt like he was going through what he would imagine addiction withdrawals feels like. He had a headache for a day, then felt fatigued for a couple of days, always hungry and yet nauseous and had body aches one day. Day 6 was the first day he felt better. Thank goodness his Whole30 week 1 was done! We researched why we were feeling so bad and came upon THIS interesting article in my Whole30 support Facebook group.
We were very lucky that my boss gave us a Christmas gift of Nourish Meals, so we had lots of those to get us by this week. Every meal that was from Nourish, I've put a (N) by so you'll know. My favorite so far was the Pesto Beef but Eric said the Balsamic Beef is even better. We are also going to try Consider It Joy Baking in the coming weeks. I know they ship nationwide in case you are interested in having cooked meals delivered to your door.
Meals for our Whole30 Week 1:
Day 1:
Breakfast: Banana + Almond Butter and Coffee
Lunch: Chicken & Andouille Sausage with Cauliflower Rice (N)
Dinner: Baked Sweet Potato with Pulled Pork, Bacon & Compliant White BBQ Sauce (N)
Day 2:
Breakfast: Banana + Almond Butter + Coffee
Lunch: Pesto Beef with Squash Medley (N)
Dinner: Simple Whole 30 Salmon + Sauteed Green Beans
Day 3:
Breakfast: Egg Cups w/ spinach, tomato and cilantro (These were a fail so I threw out half of them and choked down the other half…hoping to find a winning recipe soon.) + mandarin mini oranges + Coffee
Lunch: Leftovers
Dinner: Asian Chicken + Brussel Sprouts (N)
Day 4:
Breakfast: Bacon + Scrambled Eggs  + Coffee
Lunch: Cashews + vegetable juice + roast beef slices
Dinner: Steak Kabobs with steak, green peppers and onions with Sauteed Garlic Green Beans (N)
Day 5: 
Breakfast: Egg Cup drowned in salsa + mandarin mini oranges with Coffee & coconut milk from the can frothed in my milk frother and cinnamon
Lunch: Roast Beef deli meat wrapped around apple slices + mandarins with La Croix Blackberry Cucumber (New favorite flavor!)
Dinner: Boiled Egg Slices, Grapes, Pistachios & Spinach Salad + mandarins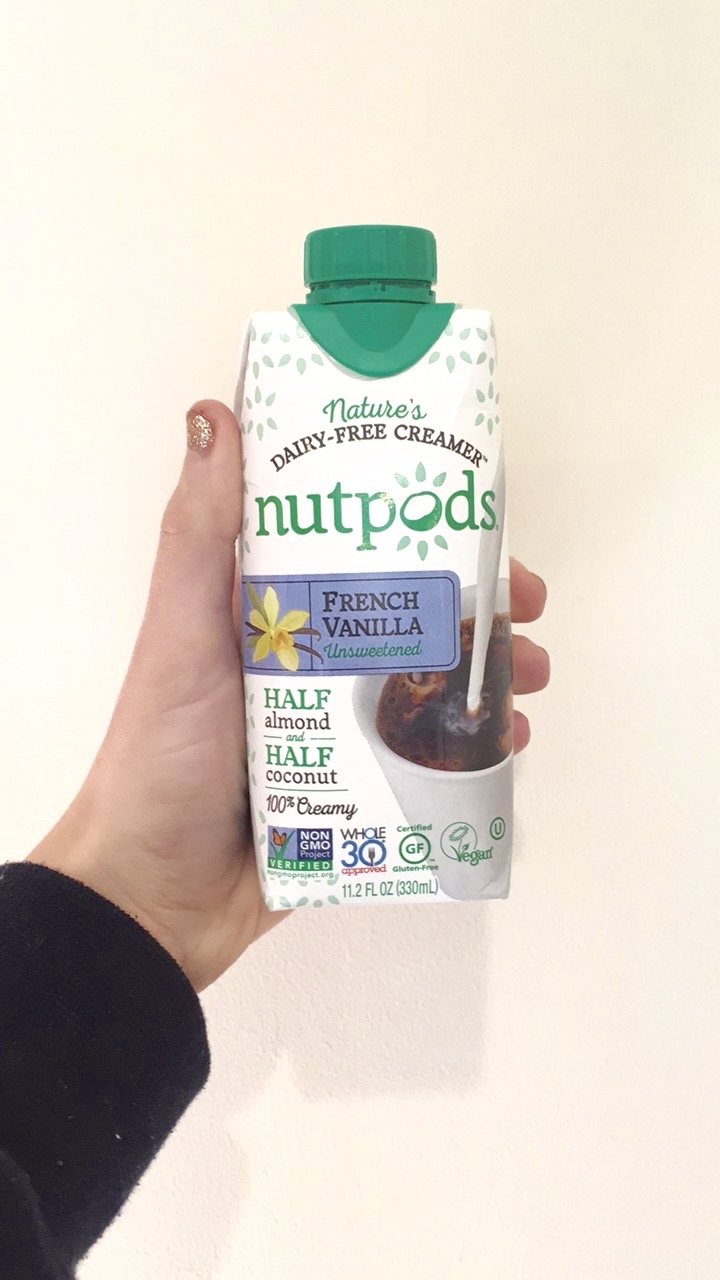 Day 6:
Breakfast: Scrambled Eggs with Capicola + Kiwi and Coffee with Nutpods Whole 30 compliant vanilla coffee creamer Hallelujah! These got in and they are awesome. Game changer for whole 30 coffee.
Lunch: Mixed Greens Salad + Roast Beef, Olive Oil, Red Wine Vinegar, Sea Salt + Pepper
Dinner: Pulled Pork with Kale & Compliant White BBQ Sauce (N)
Day 7:
Breakfast: Banana + Almond Butter with Nutpods Whole 30 compliant vanilla coffee creamer
Lunch: Balsamic Beef with Spinach and Onions (N)
Dinner: Simple Whole 30 Salmon and Roasted Broccoli
Whole 30 Snacks:
RX Bars: These are a game changer if you are a busy mom on the go! I always keep one in my computer bag or purse so I'm prepared when hanger strikes and nothing whole 30 compliant is available. (All flavors are ok except for the Peanut Butter.)
Banana + Almond Butter
Fresh Vegetable Juice
Compliant Beef Jerky
Nuts
Monkey Salad: sliced bananas, sliced pineapple, almond butter, some unsweetened coconut flakes and sliced pecans or walnuts
Larabars (Read the labels to find approved ones.)
Deli Meat or Prosciutto wrapped around apples or celery, etc
Sweet Potato + Cinnamon, Ghee & Nutmeg
Hard Boiled Eggs + Fruit of Choice
Sliced Avocado + Olive Oil, Sea Salt, Pepper & a Splash of Lemon
Whole30 Highs & Lows for the Week:
Low for our Whole30 Week 1: On day 4, which is defined as Kill all the Things Day, I went by my mom's to get some whole milk before the ice/snow settled in. I saw a glass jar of Hershey's Hugs which are one of my all-time favorites on her dining room table. It took all my power to walk by those tasty white chocolate treats. And then almost immediately I was so angry I couldn't have them. For some reason, it felt rational to want to throw the bowl. Thank God for shutting that thought down. Sorry, mom! Ha!!
High for the Week30 Week 1: It's hard to feed Leyton Aldi penguins, yogurt and oatmeal squares that I love and can't have. However, for the first time today I didn't even have to tell myself no. It seemed normal to not want them. Whoop whoop! Mindset change is coming…
Don't forget to join up with these awesome girls to get more Whole 30 recipe ideas + inspiration! You can use #Whole30Jan on Instagram to find the bloggers I'm teaming up with on this Whole 30 challenge and then we can all have an accountability group there as well as on my FB group. YAY for all the accountability we can get, right? 😉
What was your high and low for the week? Are there any new favorite recipes you have that I need to try? I'd love to hear in the comments below how your Whole30 week 1 went for you!
Heather Brown helps busy mamas of young littles who are caught in the hustle to find encouragement in their journey to true health, from the inside out, starting with the heart. Read her journey of learning to live a life well-loved
HERE!